Pumpkin Parade: Silver leaf pumpkin - decorating outside for Halloween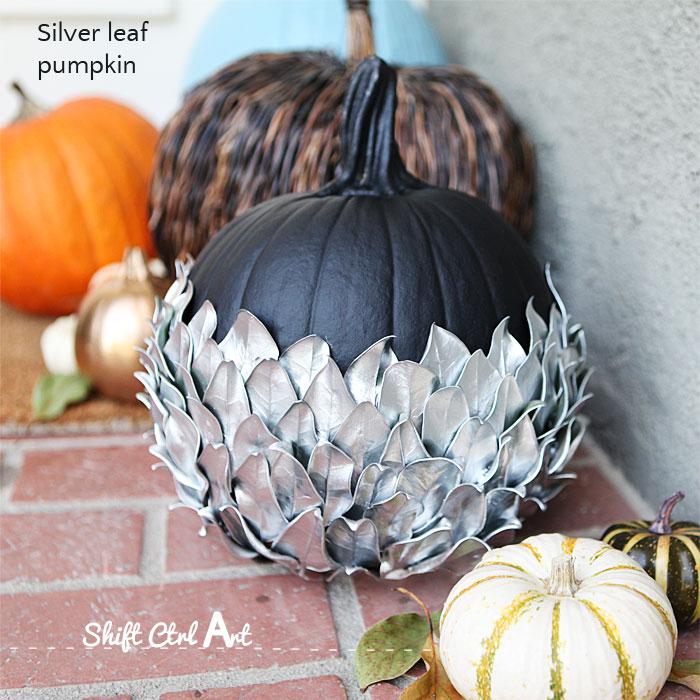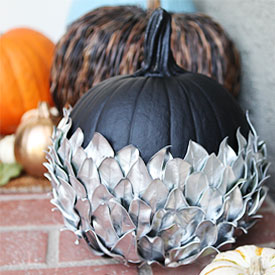 Welcome to the first day of our week long Pumpkin Parade. Today I am posting along with Primitive & Proper and Decor and the Dog.

And the parade continues on tomorrow and the next couple of days with all of these fabulous ladies:





And then on Friday, we want to see your pumpkins at our co-hosted link party. Your link will go up on 12 blogs and we will come back a feature a couple of them too. Anything pumpkin related goes!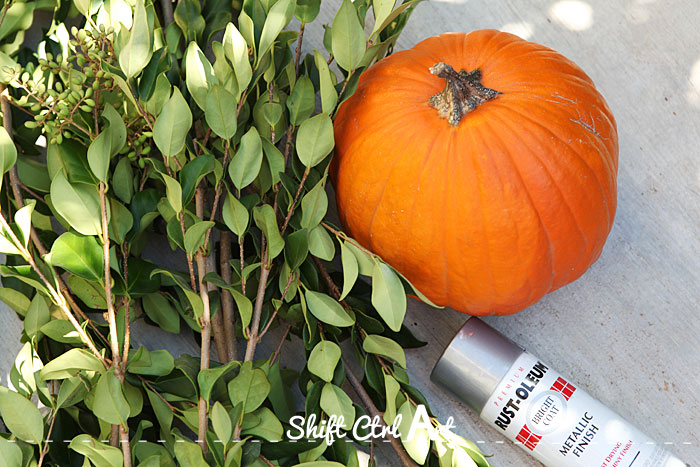 Here is how I made my silver leaf pumpkin.

First I got myself a pumpkin (!), a bottle of silver spray paint, and a couple of branches of wax leaves from my back yard - aka Ligustrum leaves.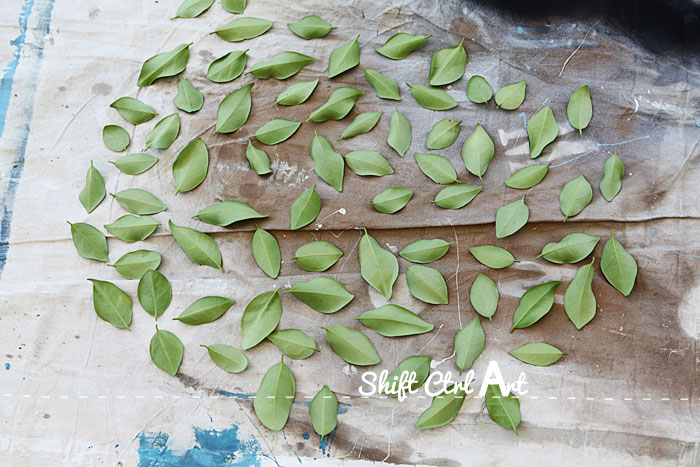 I pulled the leaves off and put them on my tarp with the light green side up so that they will kind of hug the pumpkin once I glue them on. This was the first batch I made. I made another two batches almost as big as this size to have enough leaves for my medium sized pumpkin.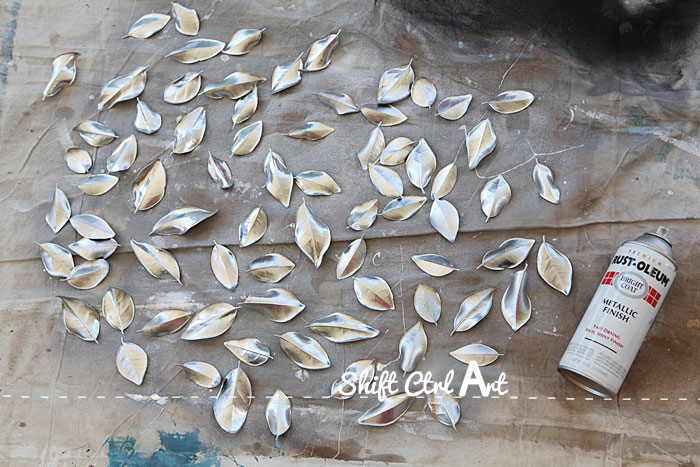 Then I gave them a coat of shiny silver. If you only press down half way on the spray nozzle, not as much air will come out and the leaves will not move as much when you spray them. Makes it a bit easier.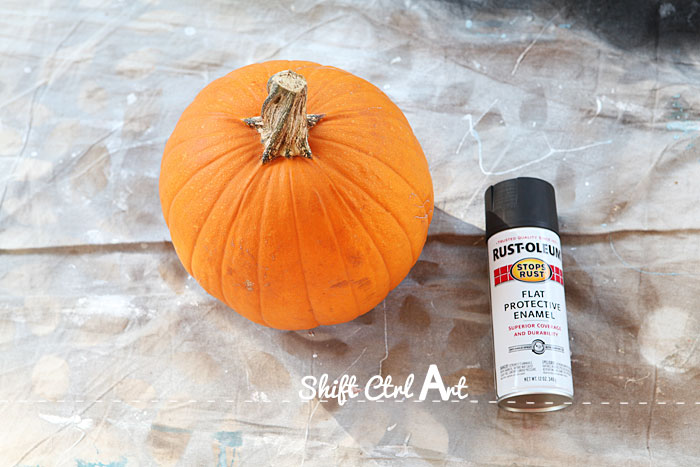 Pumpkin - say hello to my black matte spray paint.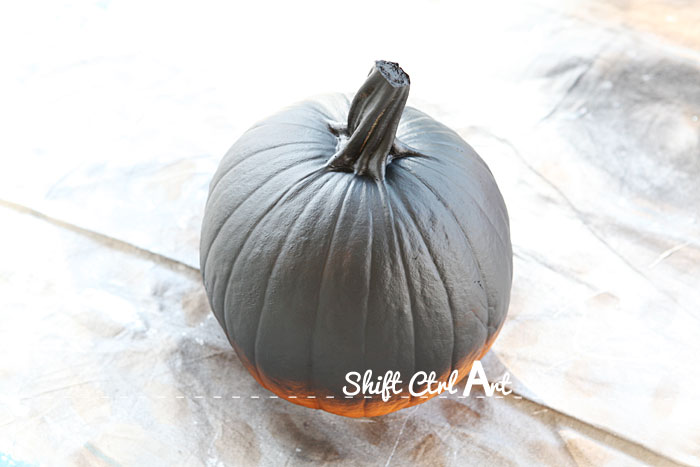 Pfffssstttt. You only need to coat the upper half.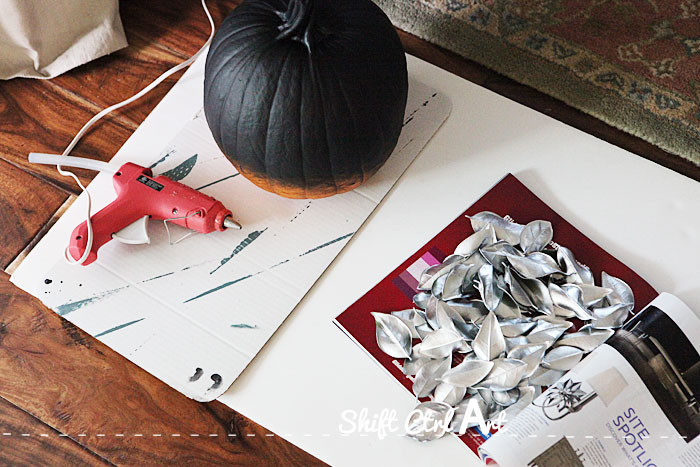 Next, I fired up my (cool) hot glue gun and went to work.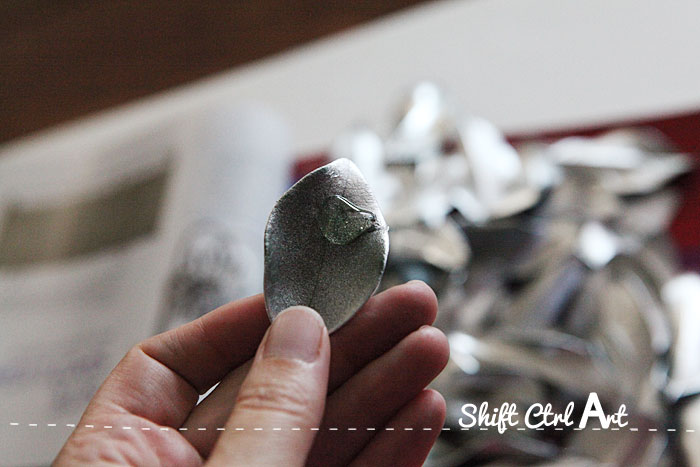 A little dab will do ya.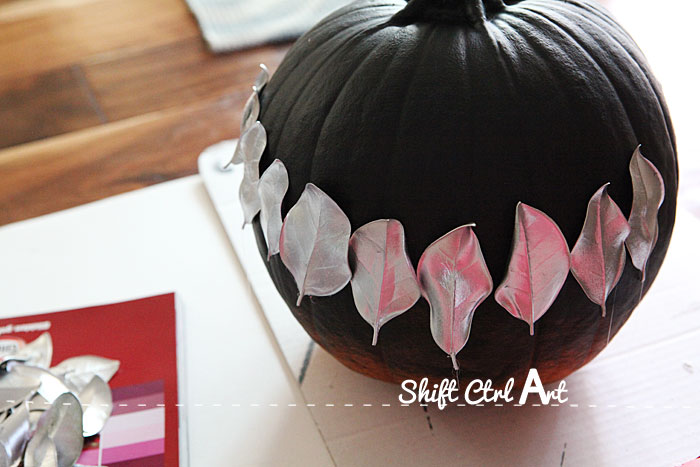 I started with the first row about half way up my pumpkin.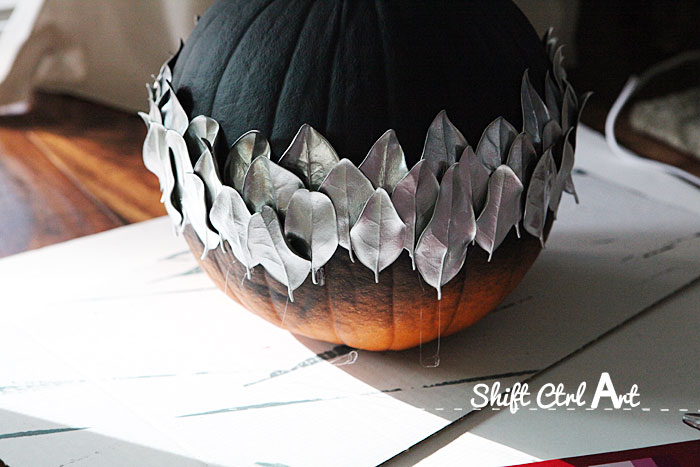 Then I added the next row by putting a leaf in between each of the letters in the first row, only about half an inch to an inch lower.
Repeat, repeat, repeat.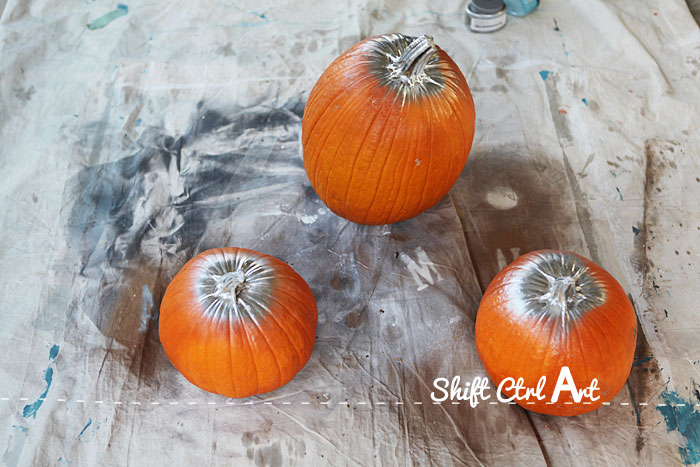 Jumping to another project here. I spray painted the stems for three pumpkins silver.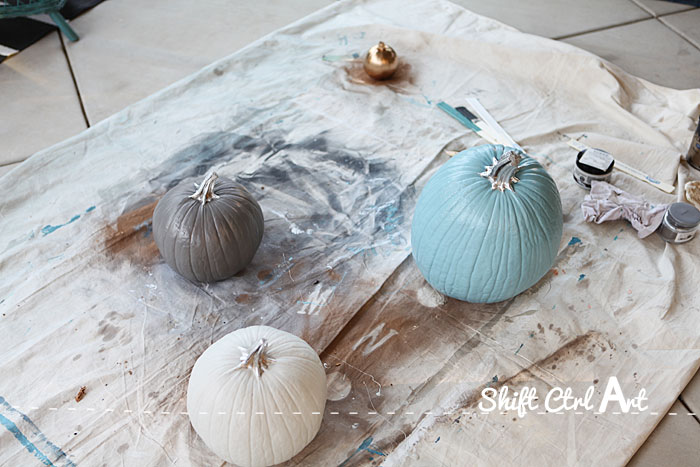 Then painted the pumpkin with tree different paint colors. The three colors I used are Rugged Suede (Valspar). That is the darker of the two grays. The lighter gray is a Dunn Edwards color close to my hall way wall color, which is close to Valspar's Montpelier Madison White. The last color, the blue, is called Lucy Blue - also by Valspar.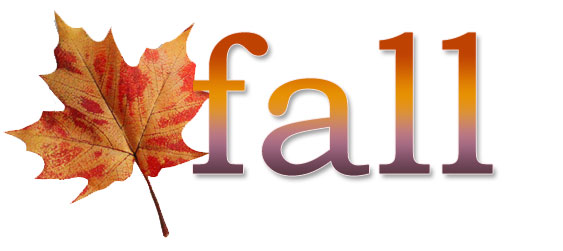 Oh and before I forget, this is one of my Fall - word of the month - projects - of course.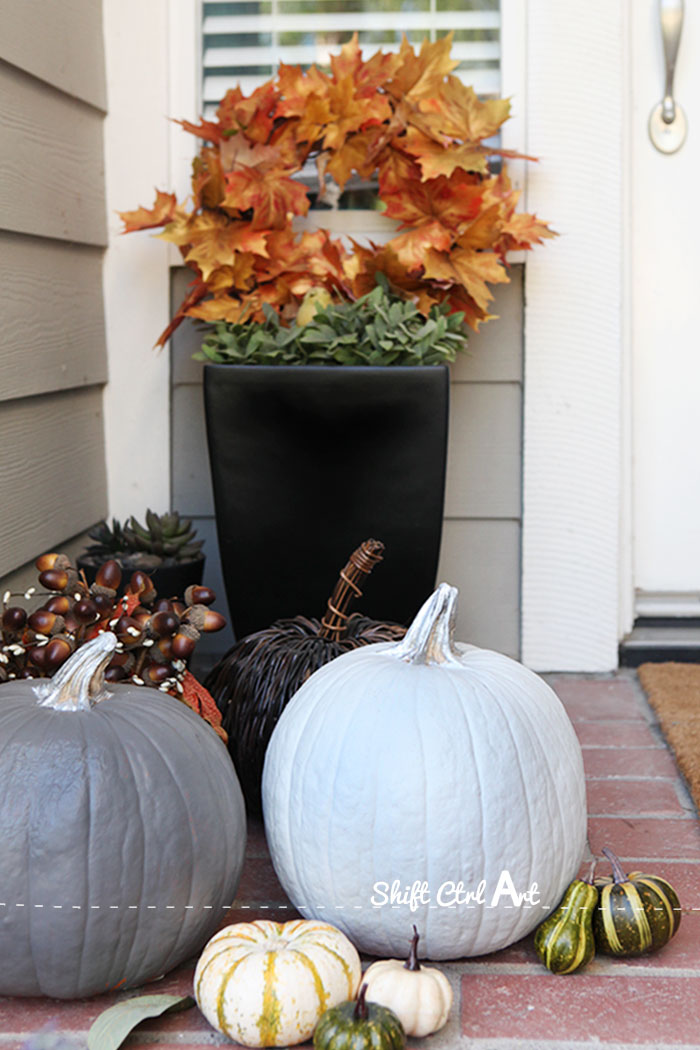 Here are two of the pumpkins I painted to the left of my front door. The acorn tin in the background is this one.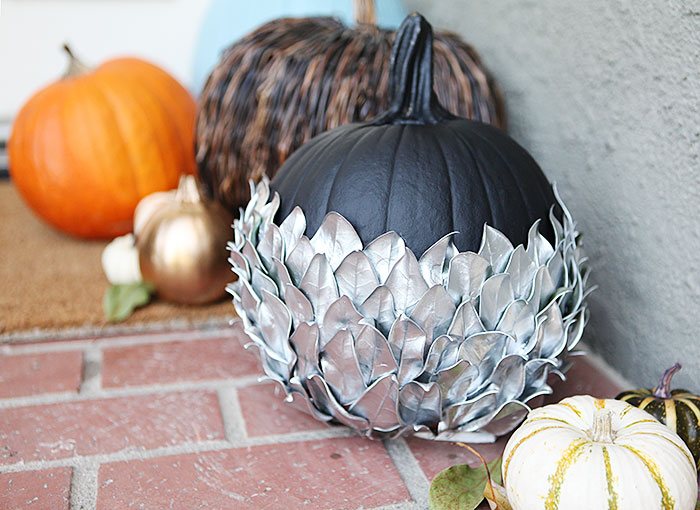 Here is the blue pumpkin along with the silver leaf pumpkin on the right side of my front door.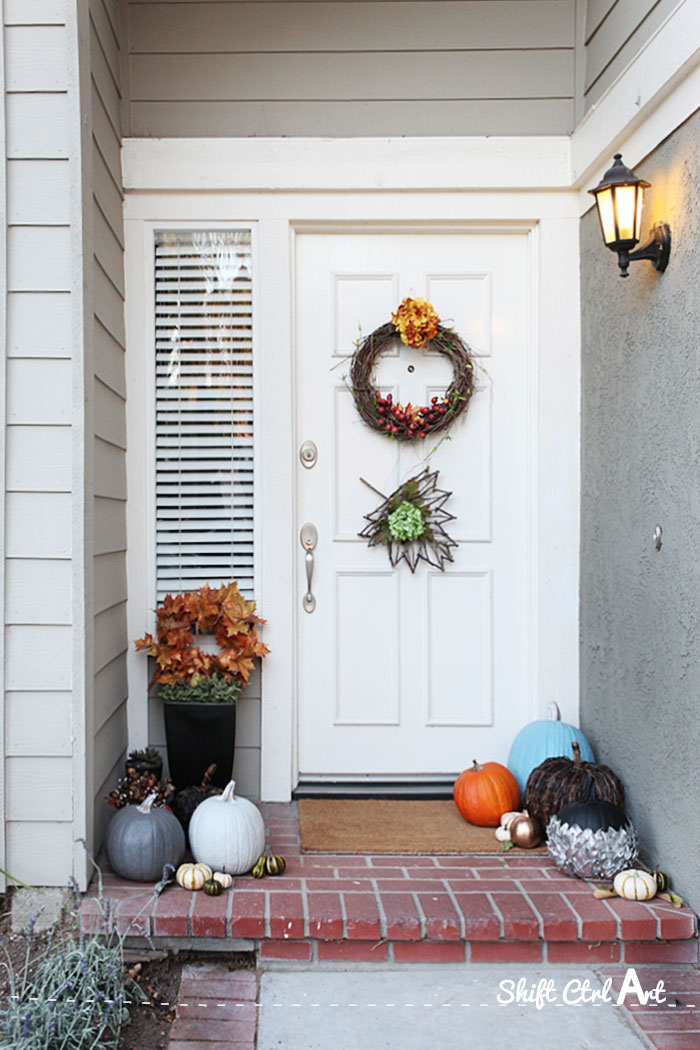 I propped up a leaf wreath on my forever planter. It's simply one of those vine wreaths. I weaved a bunch of forever branches of leaves into it - took about 5 minutes.

Here is my main project again - the silver leaf pumpkin. Nature at its best: with spray paint on it



Be sure to follow along with the pumpkin parade here:

Tuesday:
A Little Bit of Everything
A Swell Place to Dwell
Newly Woodwards

Wednesday:
Boxy Colonial
Cuckoo4Design
Wills Casa

Thursday:
Bliss at Home
Go Haus Go
Interiors By Kenz

Next: 5 Halloween ideas for your front door
Share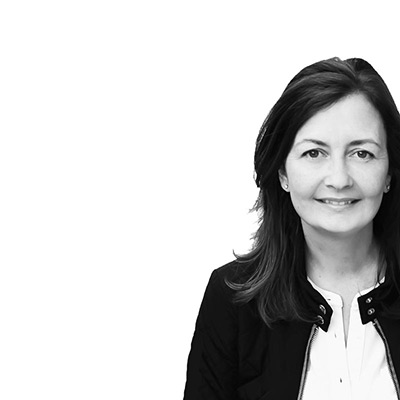 About Katja Kromann
I am a Danish American decorating life in Seattle. I love all things design and DIY.
I can't think of anything more fun than coming up with project, making it, photographing it and sharing it with you on my websites.
I am a
Graphic Artist
and home maker by day.
AHomeForDesign.com
AHomeForFood.com
AHomeForCrafts.com
Categories
Pumpkin Parade: Silver leaf pumpkin - decorating outside for Halloween is posted in the category
Seasons
Instagram
Search
We have been featured here
Full list
here
Search
We have been featured here
Full list
here