Green guest room reveal - with 11 DIY projects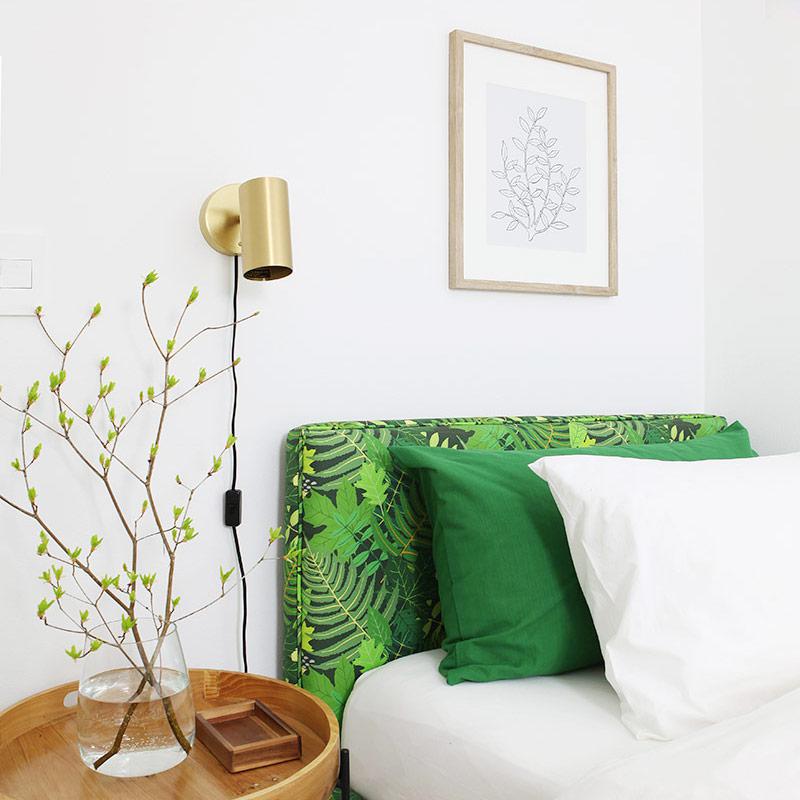 It is an unbelievably great feeling to have finished the first room makeover in our new home: Our green guest room.
We are taking it very slowly and putting lots of thought and effort into every room and makeover and squeezing it for every little bit of joy as we go. I am already a fan.

We began making over this room during Thanksgiving break and just finished it along with 11 Do-It-Yourself projects.
I have almost live streamed all the DIYs on my Instastories, so if you want to follow along more in real time, you can find me here: @ahomefordesignfoodcrafts.
But now it is time for all the before and after pictures - one of my favorite parts. Let's dive in.
---
The previous owners had gone through and spray painted most of the house yellow, so that is what you will see in many of the before pictures.
And pardon the sink under the built in desk - we have been simultaneously working on the adjacent green guest bath which I thought would be long done by now, but we hit a snag. A story for another time.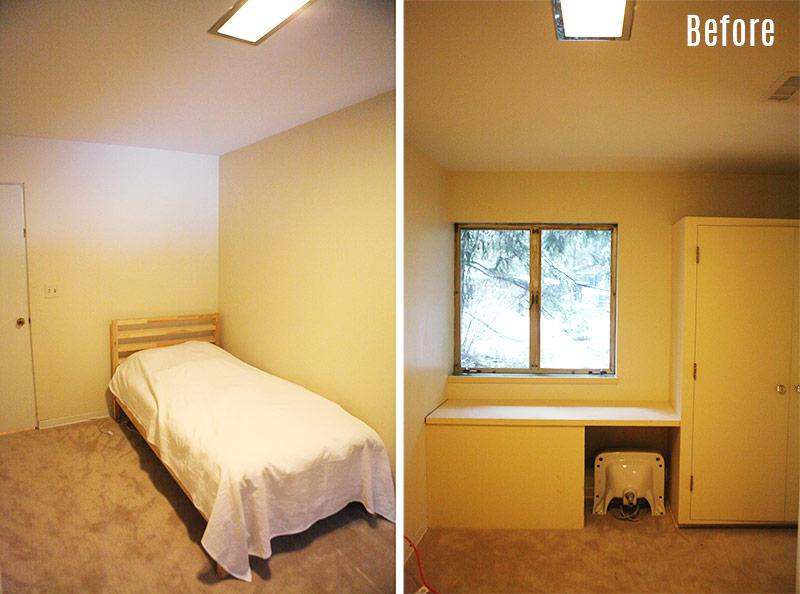 This room already had a fabulous original 1953 closet with a built-in desk and we kept both. If you want to avoid scrolling back up in a little bit, take note of the left side of the desk top and see how there is quite a gap.

As you know, we had the whole house re-piped with new water lines which means that drywall is missing here and there throughout the house. As is the case behind the shower of the green guest bath - which is located opposite the closet in this room as seen below.
Here you can see the exposed pipes. I had the brilliant idea to get a handyman come in to do the drywall here and in the green guest bath just before Thanksgiving. You know, to get things rolling. I hired someone who told me they had 30 years experience in drywalling. Well.... I don't want to bore you with a long story, but it was a pretty painful experience. I was left with a wall with pine needles in the mud and a pretty rough texture. Let's not even talk about the guest bath. Ugh. To be fair he was only hired to do the first 2 coats, but still, I am pretty sure pine needles aren't a requirement for the 2nd coat. Or a really rough texture. So I spent quite a bit of my TG break to sand and sand and sand some more and then mud and sand and mud and sand. It sounds like a snap or the fingers, but trust me it was not.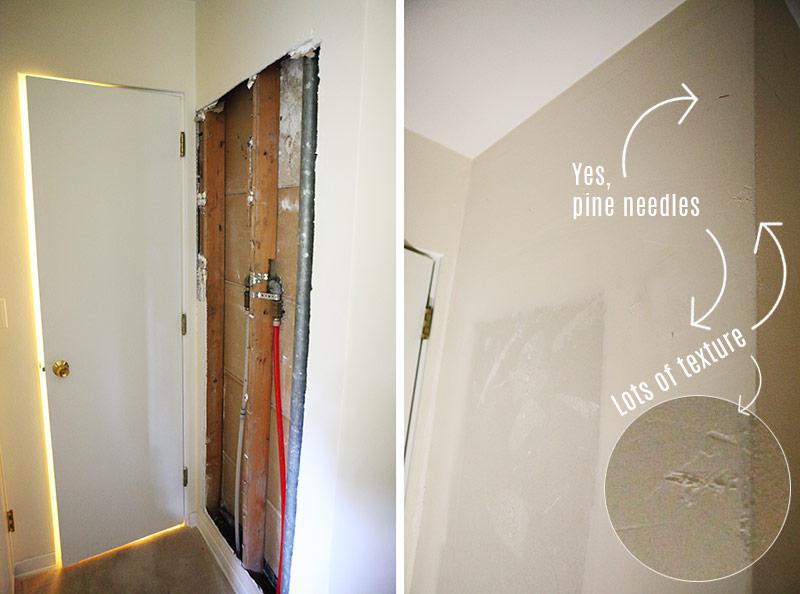 Then I painted the whole room white. Benjamin More Chantilly lace - matte. The closet got the same white but semi gloss. I primed the desk in preparation for some green paint.
Below you can see the wall after I fixed it to the right of the door. So much better.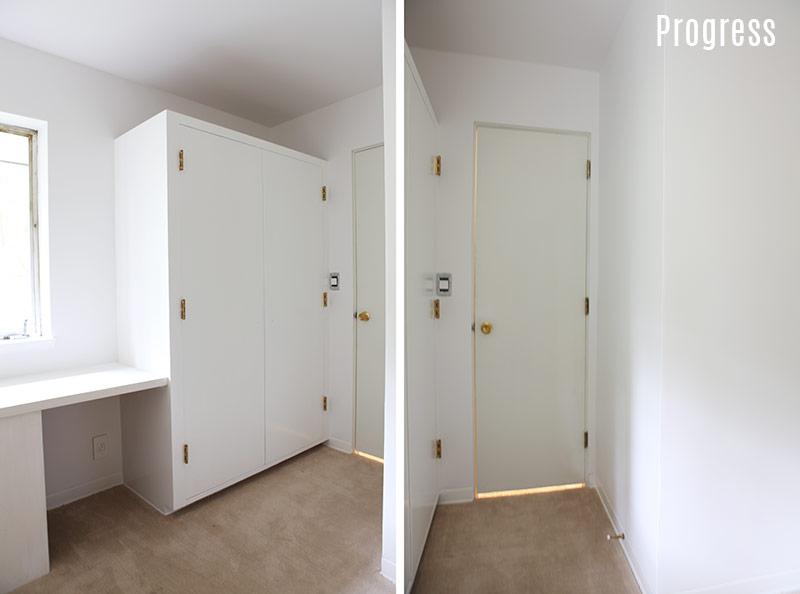 I had an idea to upholster the guest bed in a green nature inspired fabric and I wanted the desk to go with this fabric, so I had to wait until I could find a fabric that worked before picking my color.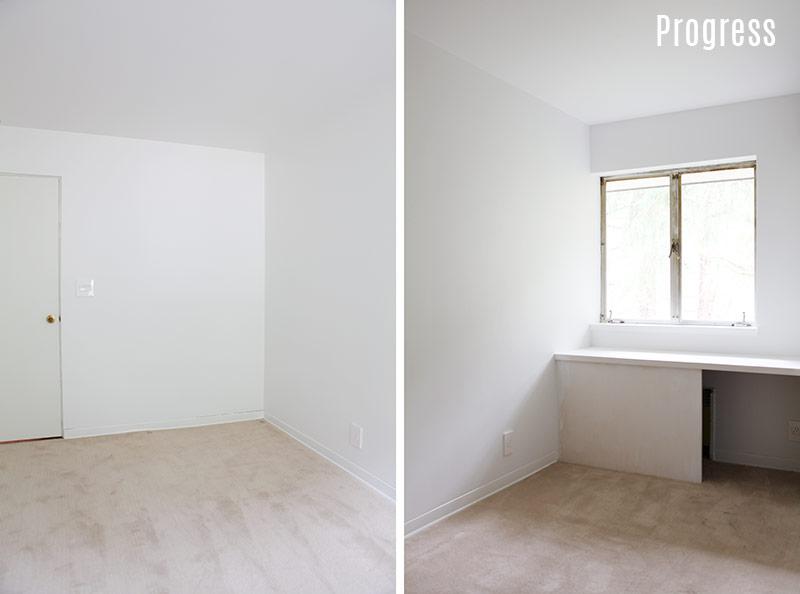 After searching high and low, online and going to two local fabric stores and a design center I could only find either fabric that was tropical in nature, had other colors besides green tones or cost over 170 dollars per yard. So I started thinking about maybe designing the fabric myself. While making over this house we are pretty determined to make a lot of the decor and furniture for it ourselves where it makes sense and where our skill level can accommodate us. Of course with a lot of these projects we will have to use the Pippi Longstocking approach. She famously said: "I have never tried that before, so I bet I am great at it".
So I sketched some leaves from the front yard and watched a bunch of tutorials on making repeating tiles and half drop patterns and a couple of weeks later I uploaded this pattern to a fabric printing place. I will do a full post about this process.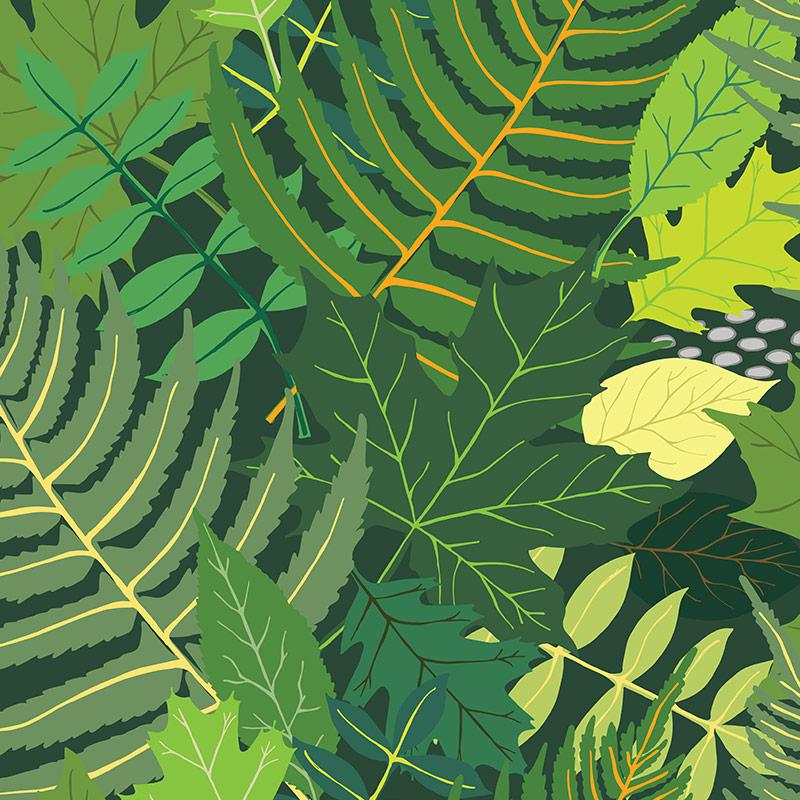 When the fabric sample came back I picked Benjamin More Grassy Fields in a semigloss and painted the desk (green!). Then while I waited for the 4 yards of fabric for the bed to come in, Frank and I built and I wrapped the pelmet board/valance you see below using this fabric. We also hung some white fabric blinds.
I then made the two little minimalist paper houses you see on the window sill. You can download the pattern for them here.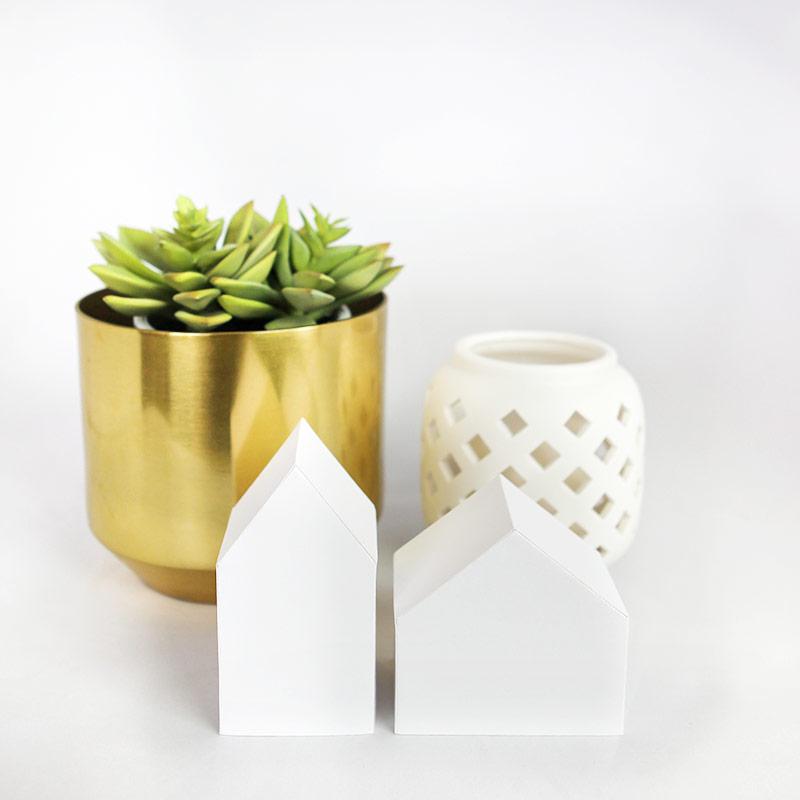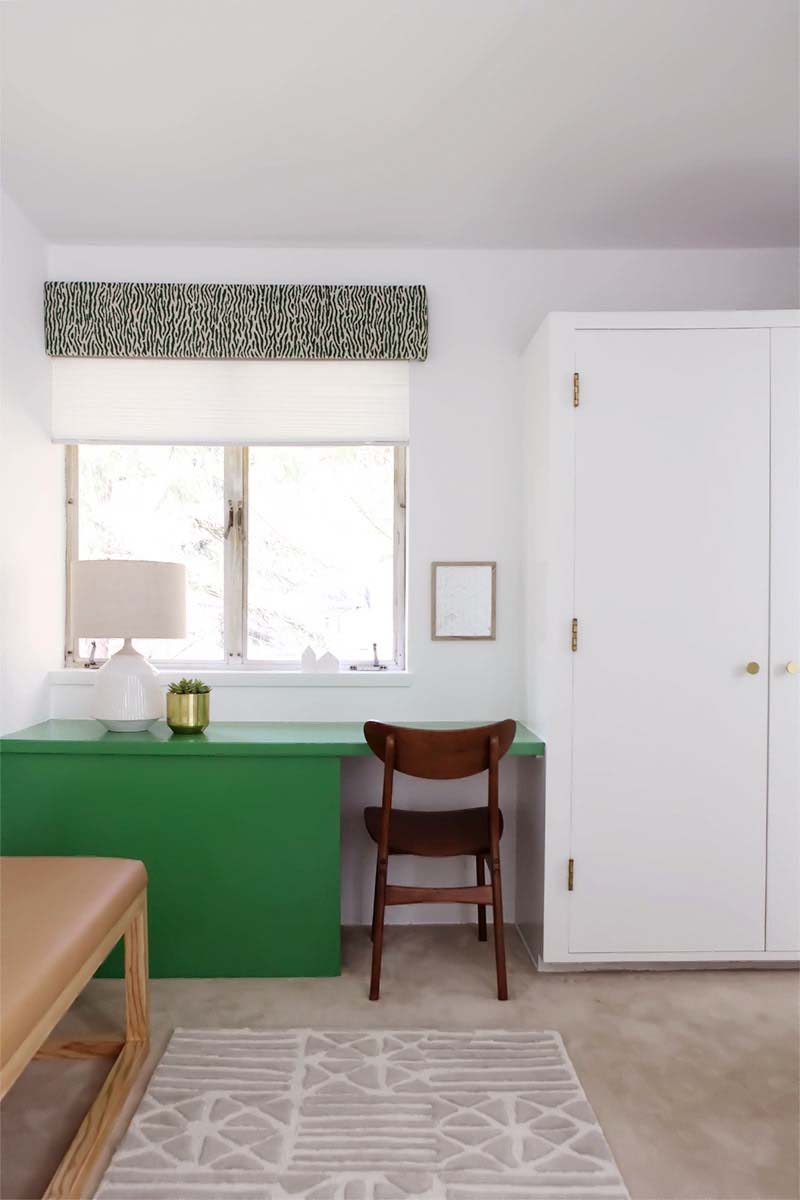 Then I made a paper collage with some cutouts. I gilded the edges and glued them to a piece of cardstock, then framed the whole thing.
I also fixed the left side of the desk. The table top had been cut short leaving quite a gap between it and the wall. You can sort of see it in the before picture if you scroll back up. Or just take my word for it. I bondo'ed and sanded, then painted. I got this lamp and this chair.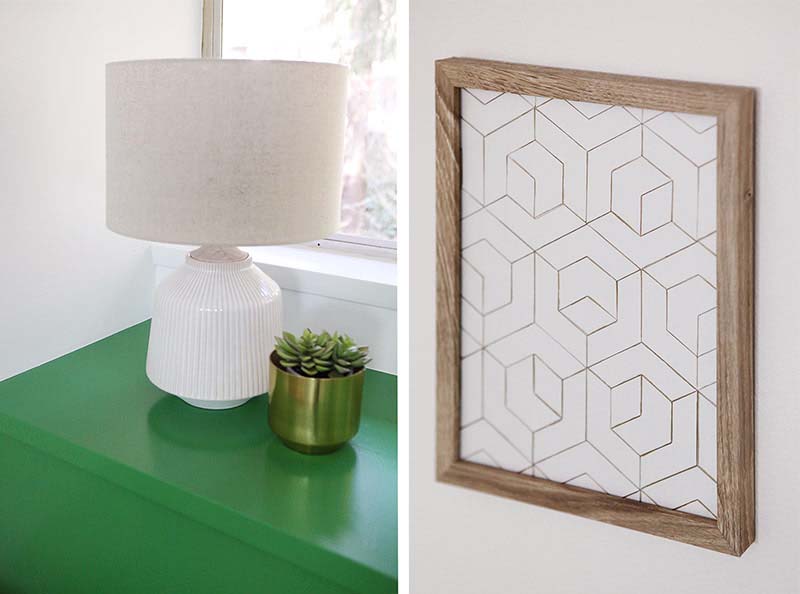 On the wall to the right of the desk wall, we hung this mirror.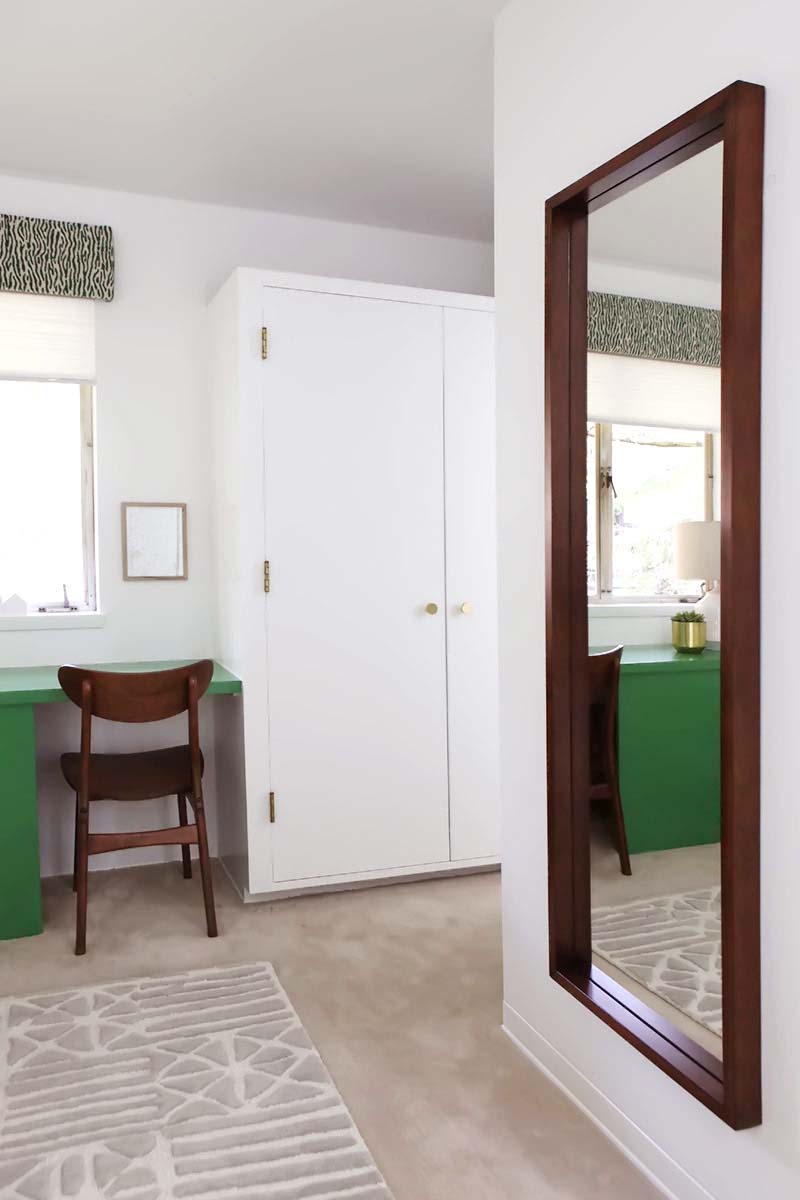 We updated the knobs on the closet to these knobs.
Then we built a hook rack. I painted a hanger green - same paint as the desk and made a tassel for it with my new tassel maker. I think this will be a great thing for guests to use.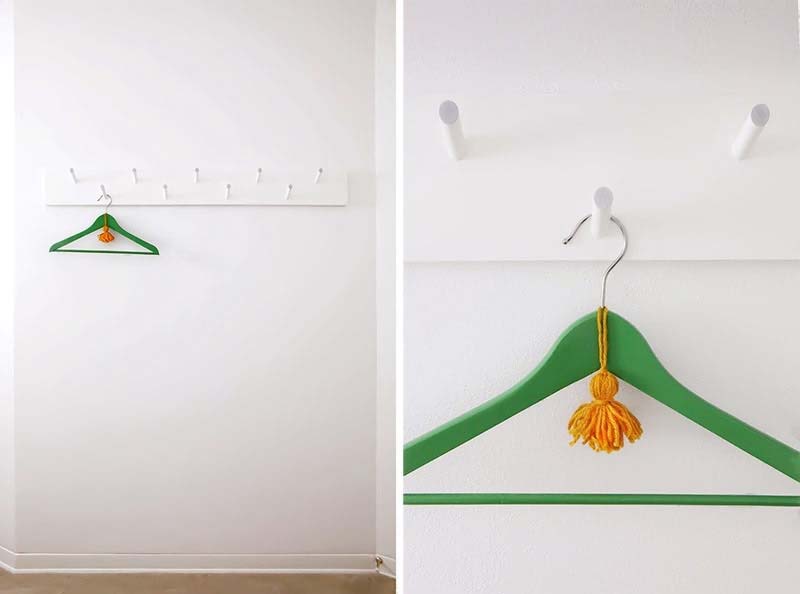 Next, Frank and I built this bench using some Ash wood, which I then recovered using this fabric. It's a nice big sturdy bench where guest can sit while getting dressed or use for their suitcase if they don't want to unpack.

Then I built a canvas and did a liquid pour art piece using the same greens as in the fabric and lots of white. You basically dump a lot of paint on a canvas and then swirl it around. It's a lot of fun. On my Instastories I showed all the small trial pieces I did before attempting this big one. The rug is from Homegoods. I got this waste basket. And this brass flower pot. This faux succulent which I stuck inside the brass flower pot.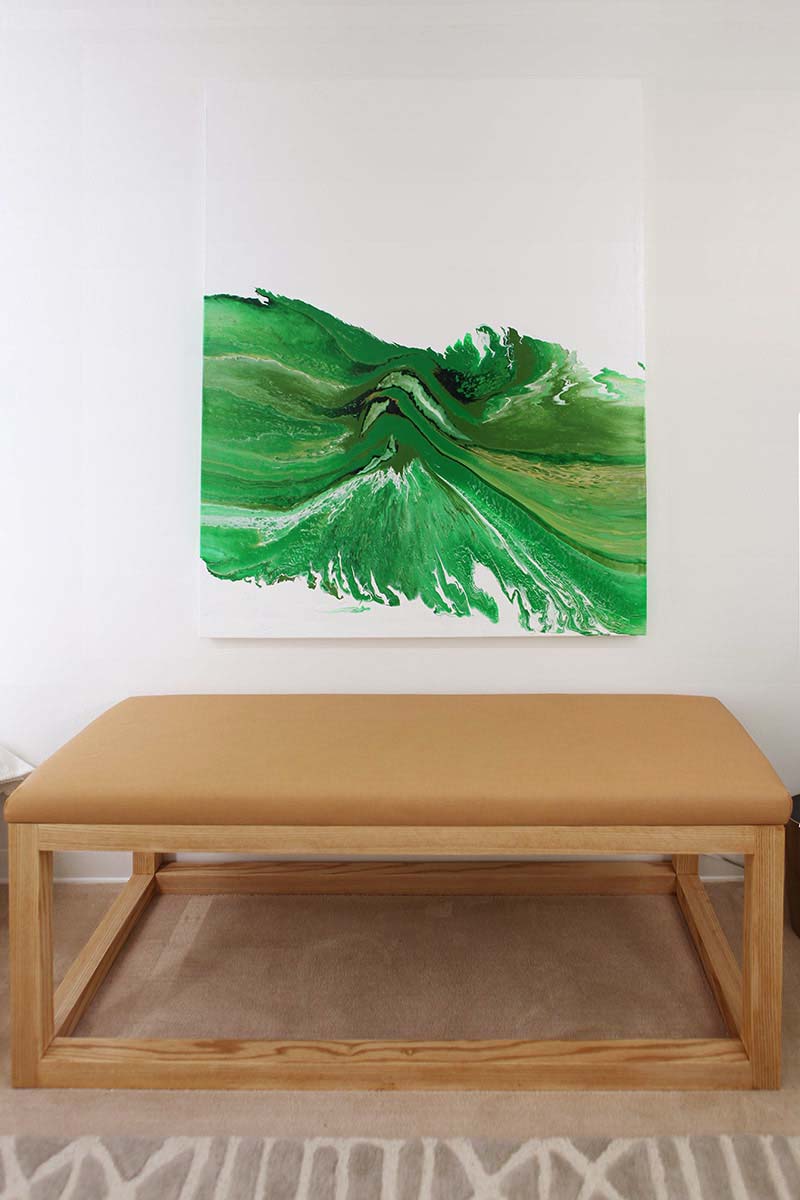 Now to the bed. My favorite part of the room. The side table is from Homegoods. I got this bedside lamp. The sheep skin is from IKEA from before they cut two out of one (my unverified suspicion or there are some real miniature sheep running around somewhere)
When the fabric finally arrived from the printer I upholstered the bed with it. I just love how that turned out. I will do a full post on that.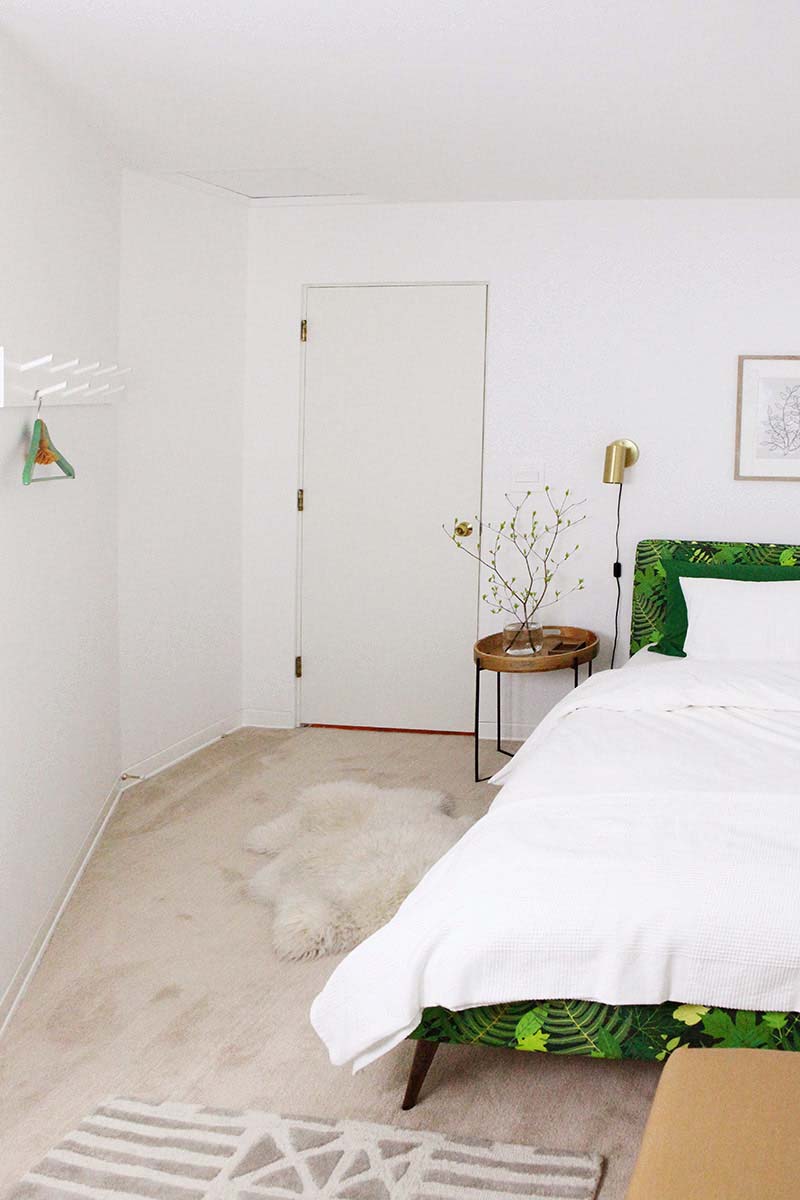 We added new walnut legs to the bed. This is the bed we modified.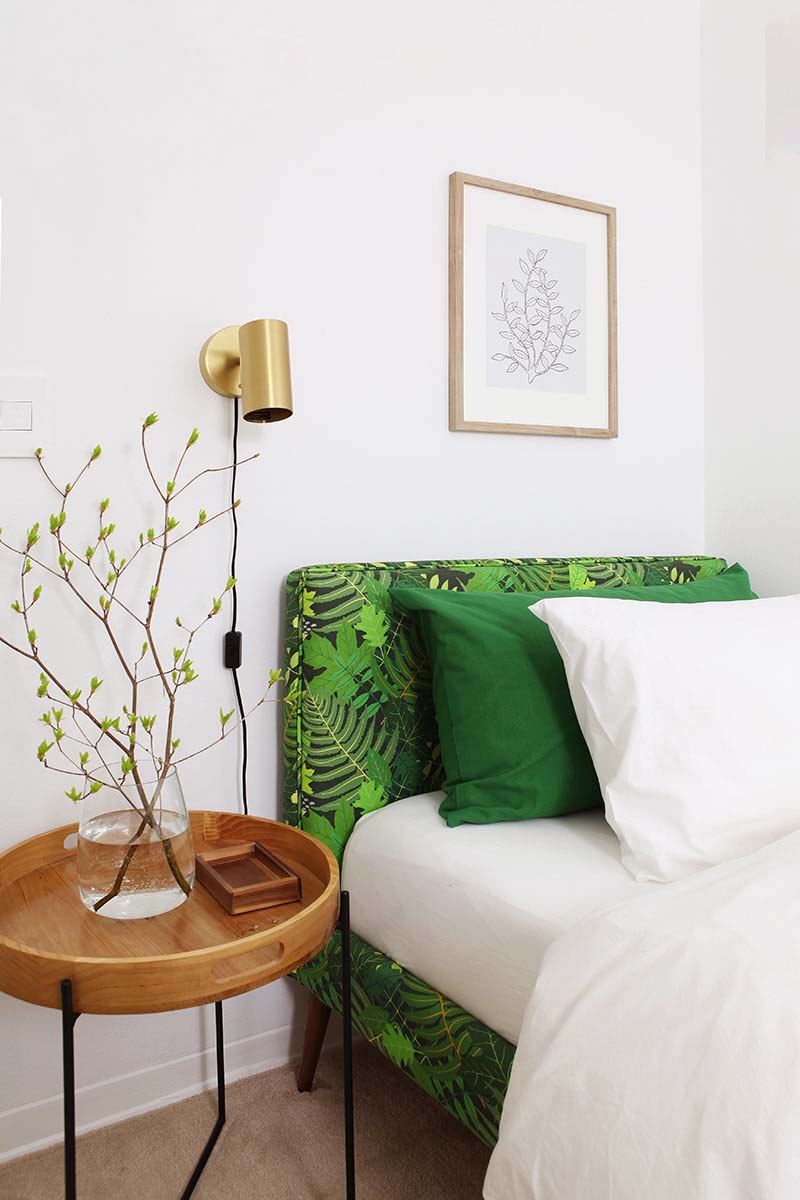 I tried my hand at piping for the first time and I just loved how that turned out.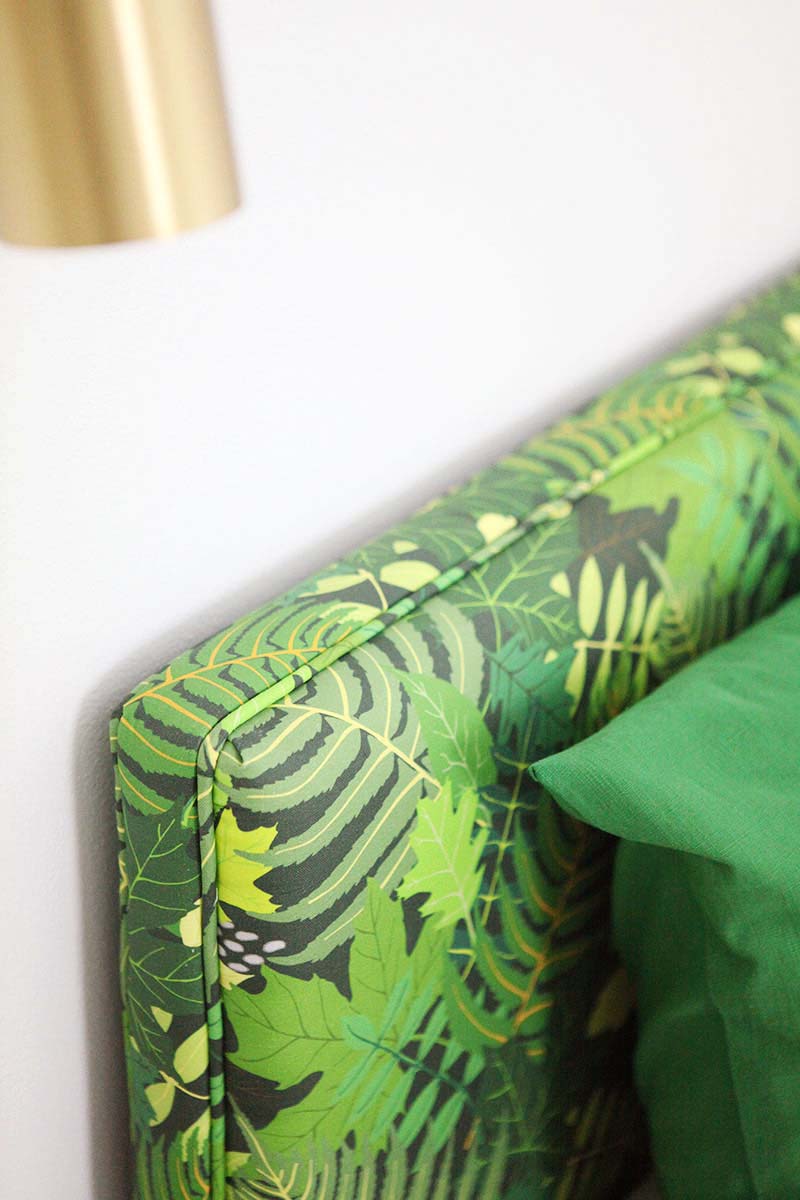 For art above the bed I wanted something very simple that would not compete with the fabric on the bed. I made a drawing of some branches with some leaves. I used these frames for both this print and for the hexagon cardstock art (just a smaller size) mentioned earlier.
I love to mix woods. As you can see we have three walnut elements: The chair, the mirror and the bed legs. Then we have the stained ash from the bench which coordinates with the beside table and finally a weathered wood in the two frames that hang on opposite walls. I think it ads great interest to the room instead of say, making all the wood elements walnut.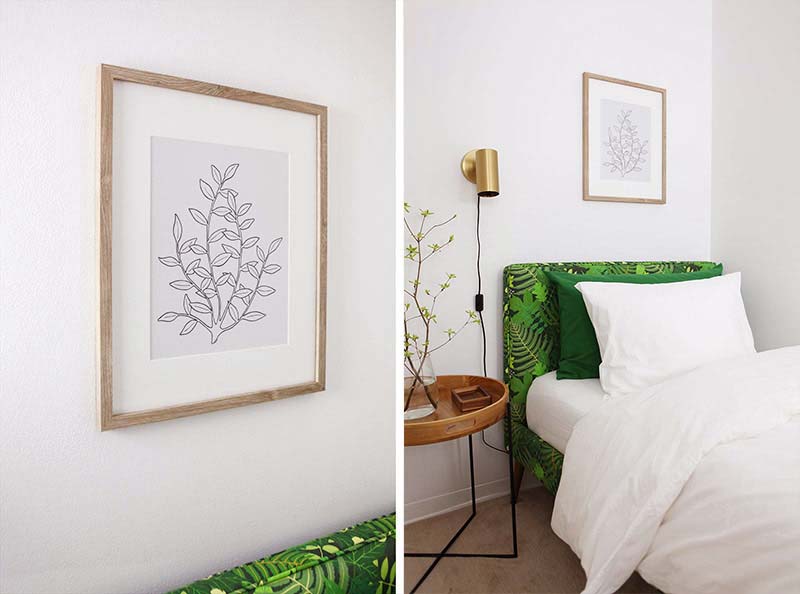 I also sewed a green linen cover for the king sham for the bed.

If you are keeping score, these are the DIYs we did for the green guest room:
Green leaf fabric design
Minimalist cardstock houses
fabric covered pelmet board
Hexagon cardstock art with gilded edges
Hook rack

Painted hanger with tassel
Pleather ash bench
Canvas with Liquid pour artwork

Leaf branches drawing
Green bed pillow.

Fabric upholstered bed.

Follow me on Instagram for our next project - the green guest bath: @ahomefordesignfoodcrafts.
Future projects: Finishing the office and making over a teen hang out area.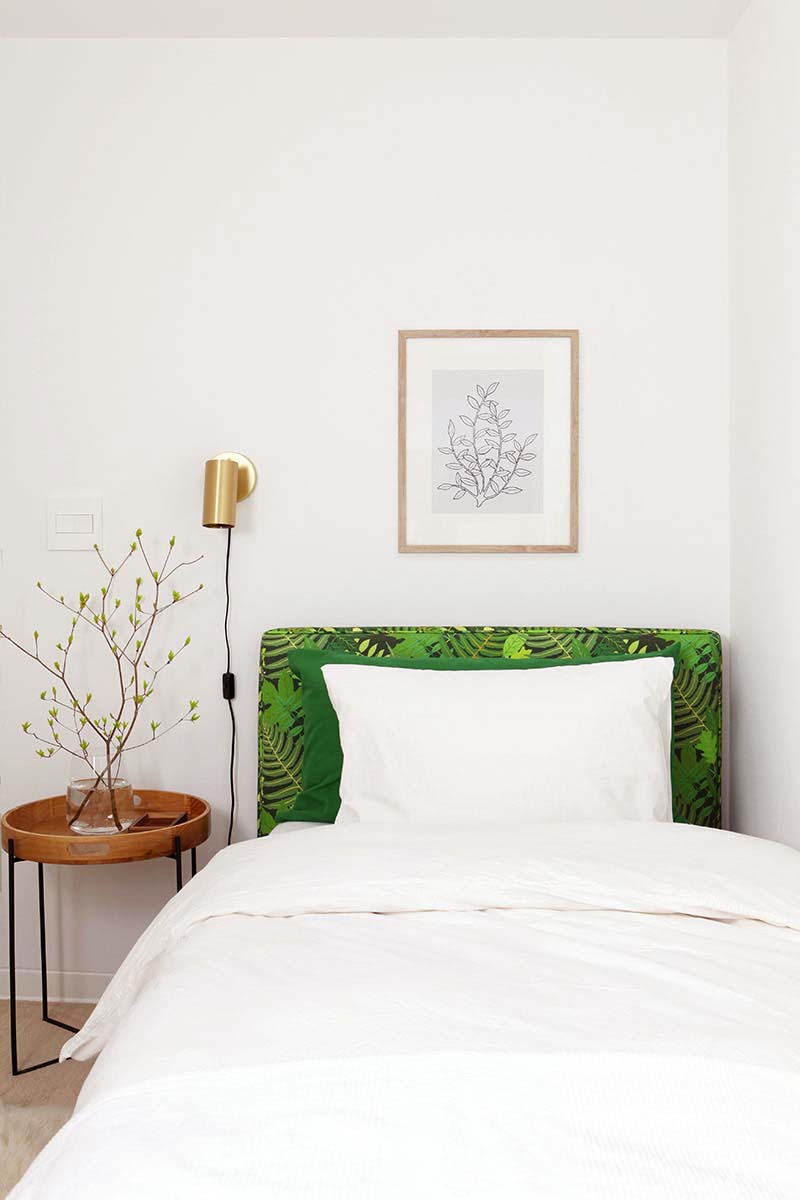 Share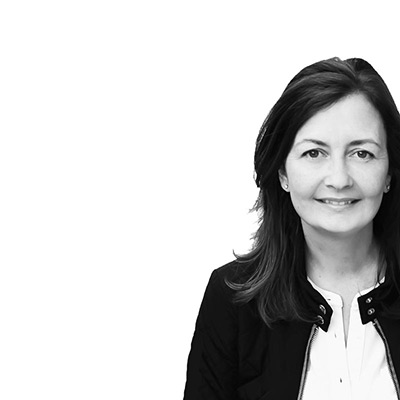 Categories
Green guest room reveal - with 11 DIY projects is posted in the category
Guest room
|
Reveals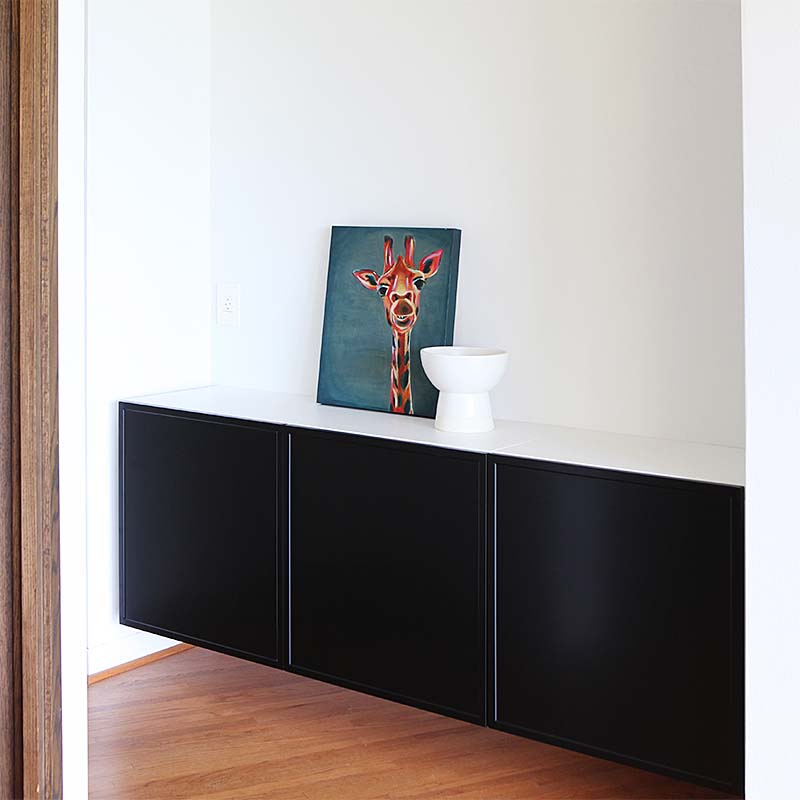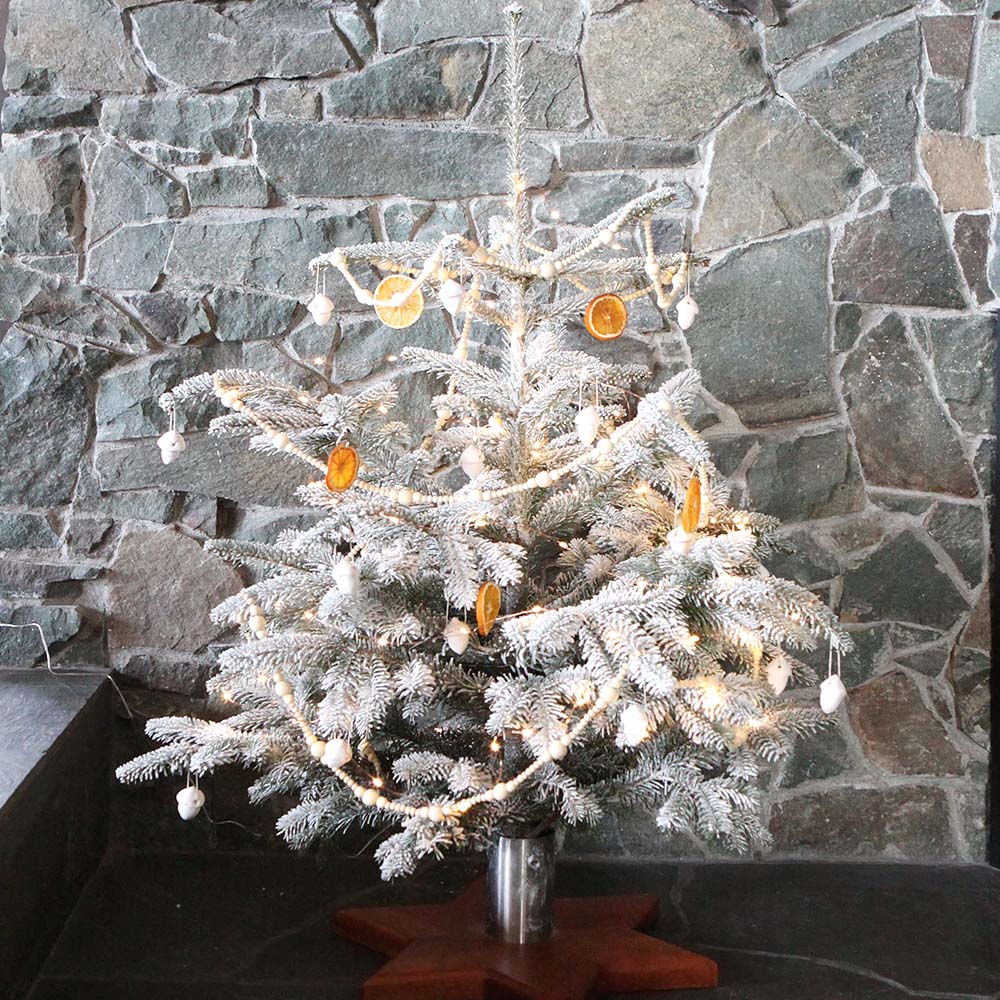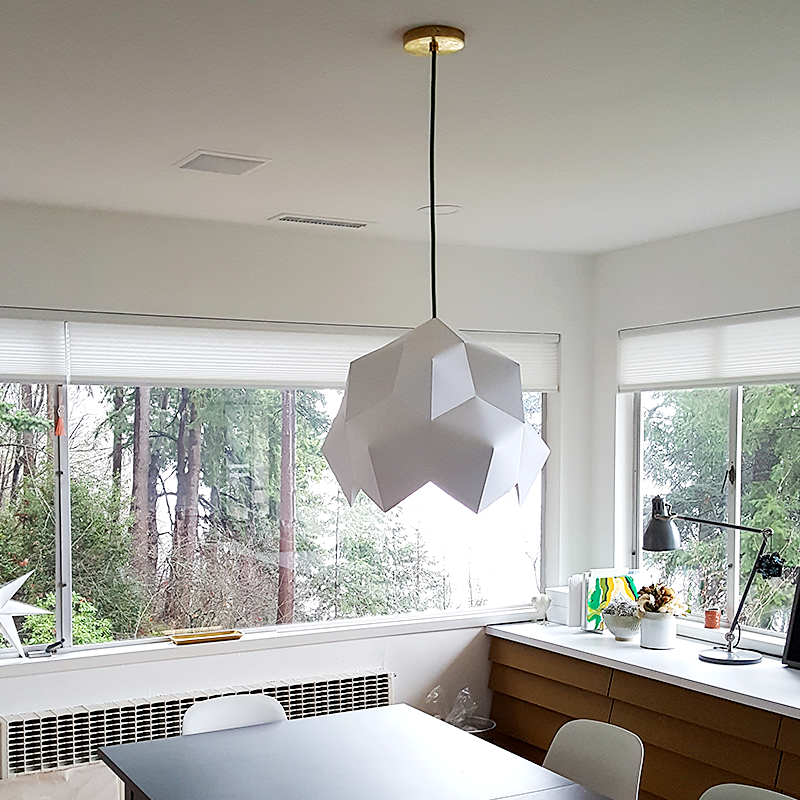 Search
We have been featured here
Full list
here
Search
We have been featured here
Full list
here