Progress in the toilet room - a Bondo experiment and new paint and cabinet
That is a
terrific
title. If you think about it. Don't think about it.
Toilet room. Probably not my most favorite phrase. But I do appreciate that the toilet is in a separate room from the rest of the bathroom.
Ok moving on...
Here is what it looked like before we started. Also imagine a fun
boob light with fan
in the ceiling.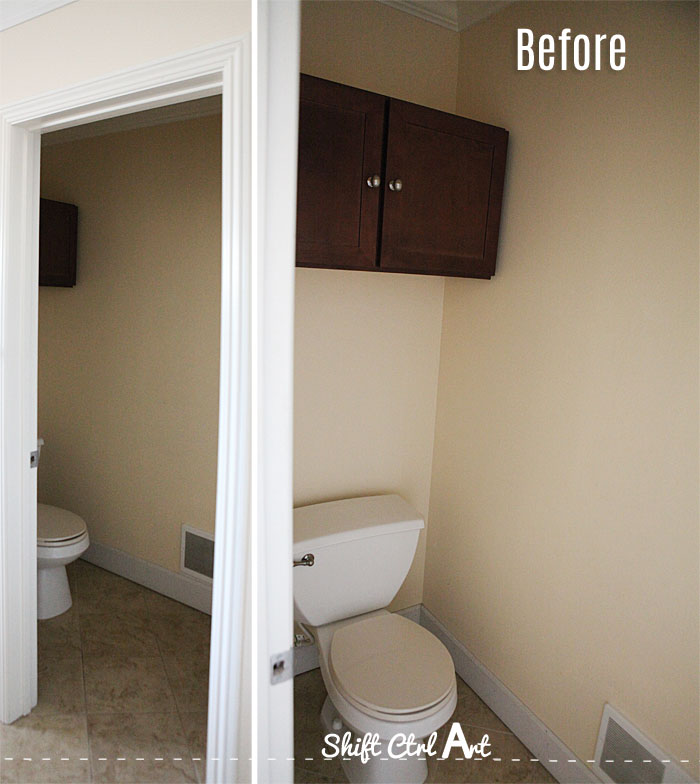 Which we took out and then our handyman put in a new fan,. A Delta Breez. 0.3 sones = pretty quiet. It's the same one as we got for our
guest bath.
This is a fan only - no light, so we also had him fashion some wires and holes for a couple of pot lights.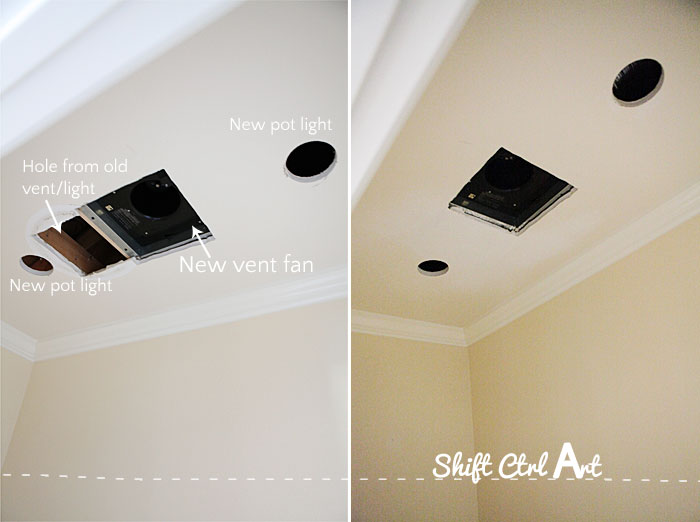 Then Dh and I attached some drywall to the old vent/lamp hole and I mudded and sanded and mudded and sanded and mudded and sanded and textured and primed and painted. Yup... Just like that time when I
repaired a textured drywall like it never happened
. "It" being two holes in the wall.
Ok. Next.
Remember this little spout that I had the Plumber move for us? If not, you can read all about it
here.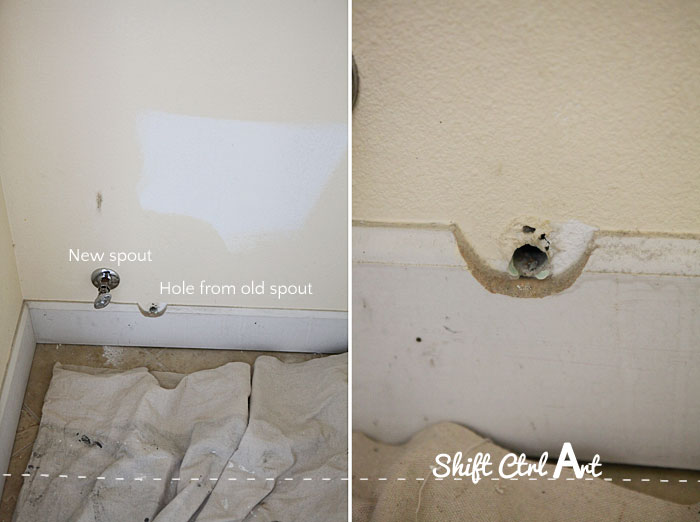 Option number 1: remove the damaged baseboard and the baseboard to the left. Cut a new piece, attach, fill nail holes and paint. Done.
But hey, you say

... where is the fun in that?
This is where I bring you option number 2 - a Bondo experiment.
Since that worked so well
when I prepped our garage door before turning it into a turquoise chalk board door in our new laundry nook,
I thought, what else can that Bondo do?
We took a piece of scrap baseboard and
scribed it but that didn't work
marked the edges of the half circle and the bottom of it.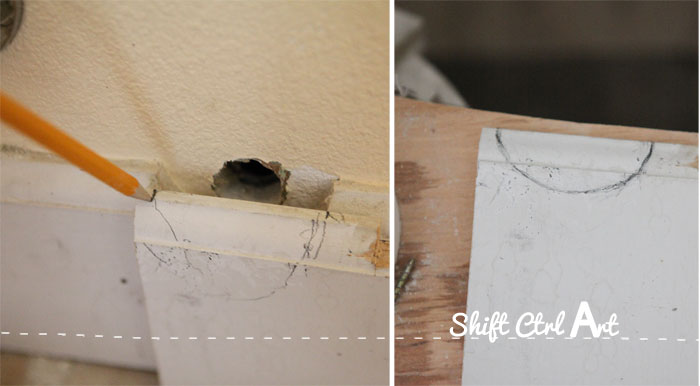 Then Dh gauged his way to the size of a hole saw that might cut such a fancy half moon shape.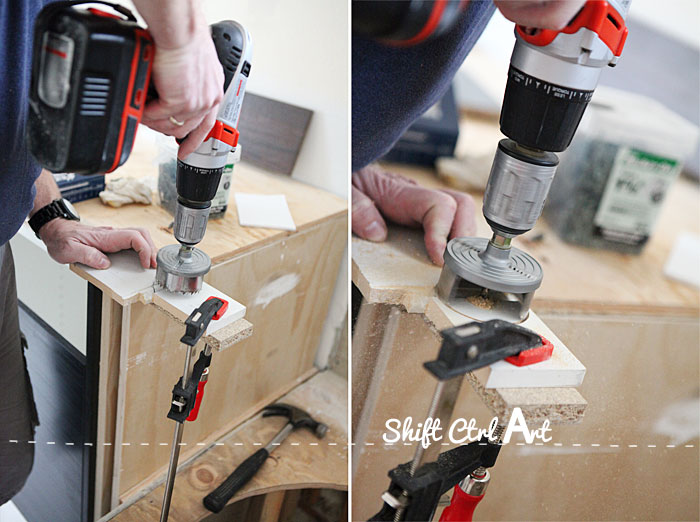 Then he whittled away at it with a knife until it fit into the cavity. Like that: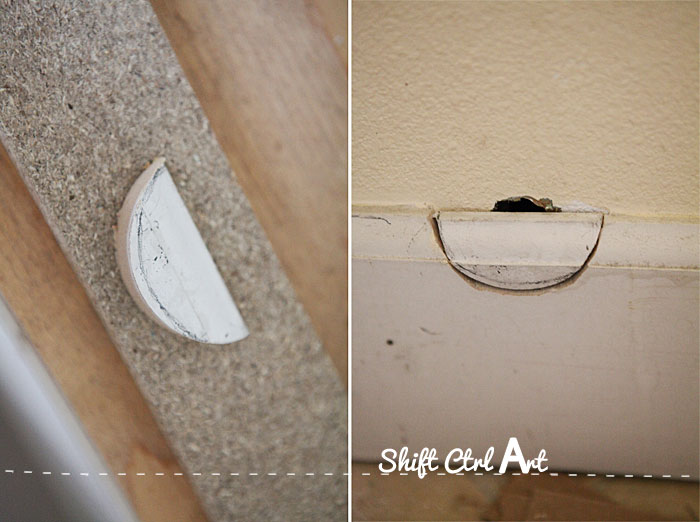 Next, I mixed some Bondo. Some gray putty with some red hardener. Mix mix.
I added a big glob to the hole in the drywall and then some more for behind the little new half moon and set it in place. I tried the best I could to line up the horizontal line of the piece with the base board as well as tilting it so it would line up front to back as well.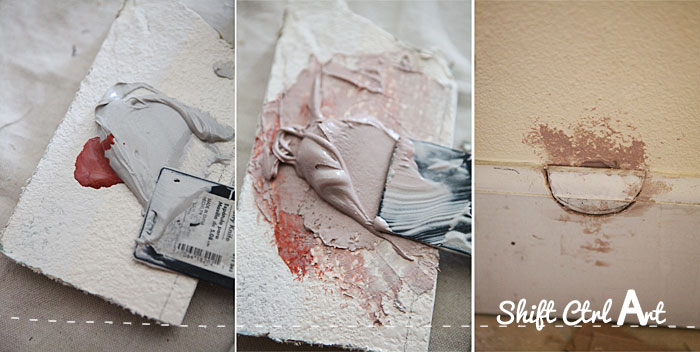 After that was dry, I mixed up a bit more and filled all the remaining crevices. Are we having fun yet, or what? (Definitely not what)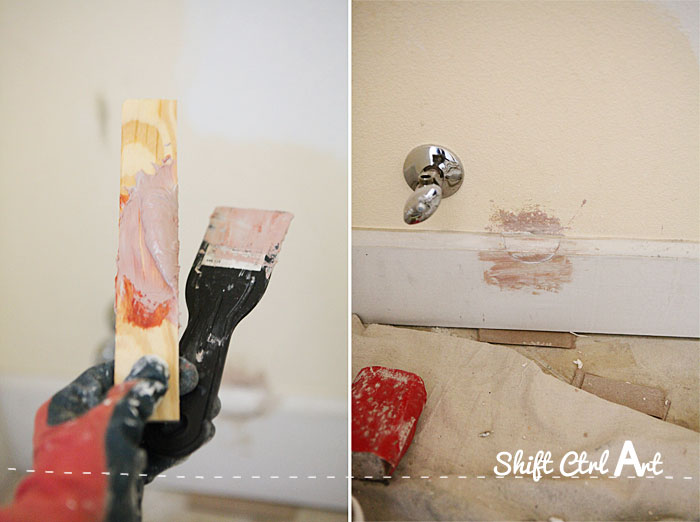 The thing to watch out for is that you don't fill up the lines and curves of the baseboard. This is where a little finessing is needed
Then some more sanding, fine tuning with some regular lightweight spackle. Sanding... etc. etc.
Then I hit the drywall with some texture and then I painted the whole thing. If you are unsure how well the spackling is going you can always put some primer over the whole thing. That will clear things up in a minute. Or at least after it is dried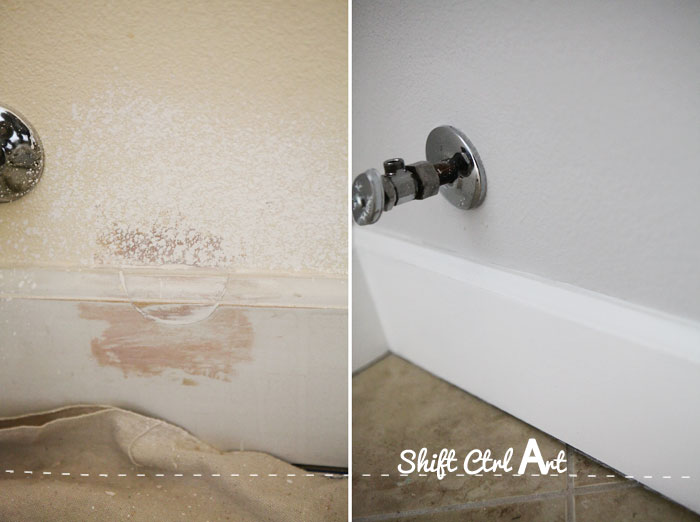 Here it is side by side from the same angle. It turned out pretty great, I think

The gray wall color is Filtered Shade by Valspar lightened by 50% white.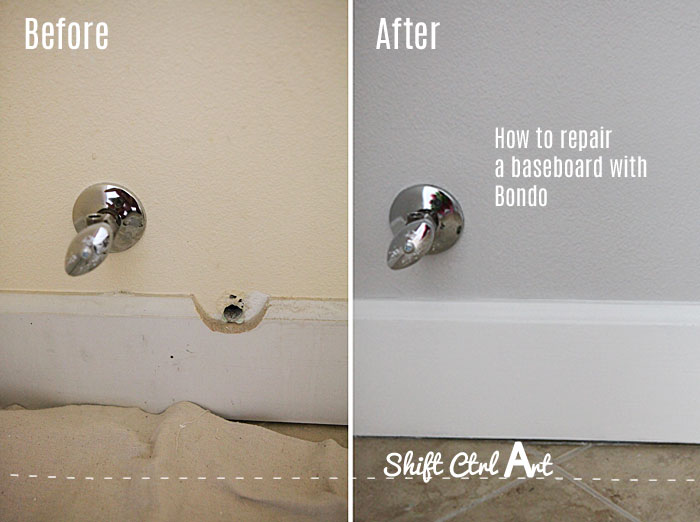 Now, ask me: Can you tell that it was repaired? In this room, no. For a repair with no light hitting it and that is going to sit almost behind a toilet, it is totally invisible. Even before the toilet is installed.
I would also easily suggest using this method for behind or under furniture or behind curtains or in corners.
The only place where I would not use it, perhaps, would be if the baseboard is in your direct line of sight in a room you hang out in a lot with the afternoon sun hitting it from an angle. Then you would be able to notice it. Maybe. It's pretty slight. But you know I am a perfectionist. So can you tell? Yeah, but not really.
I didn't Photoshop the baseboard in these pictures, but pictures are of course forgiving... I think that concludes the full disclosure.
Next, we moved on to hanging a new cabinet that will match the vanity and
seating bench with tower
that we just finished the weekend before.
We added a piece of toe-kick board in black-brown along each side of the cabinet, just as we did with the vanity and the seating bench. Then added some scrap wood to that. Then we hung the cabinet.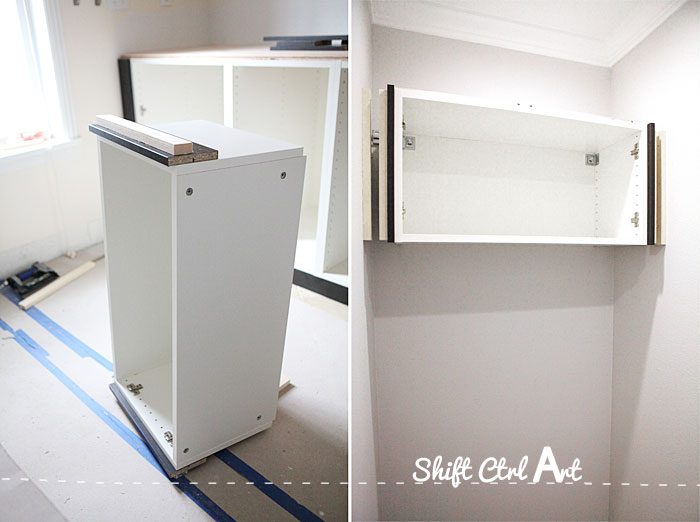 Then we scribed two other pieces of toe-kick and attached to the scrap wood on the wall and cabinets. We cut two filler pieces for the top and bottom of the cabinet to make it look nice and built in. We used
the same method as here again.
Dh installed the pot lights and the grid for the new silent fan.
Then it looked like this: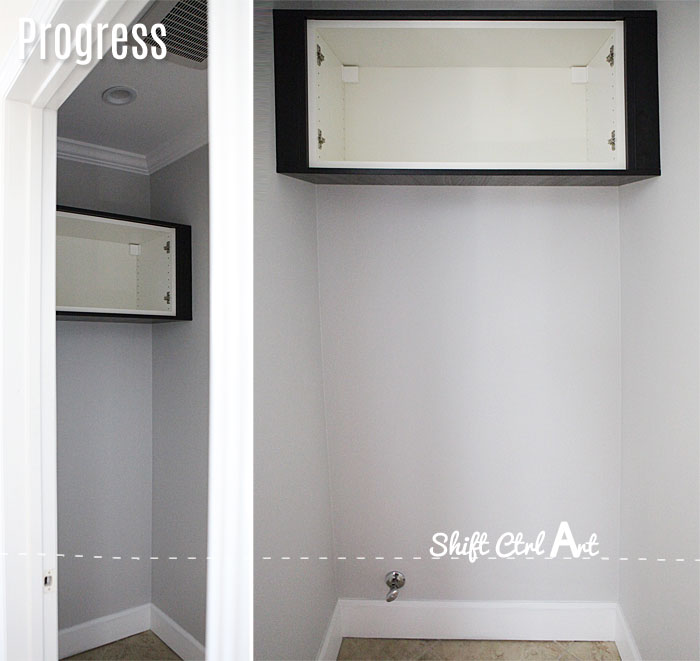 Still to do in this little room is to snap on the doors and add the hardware (
which arrived yesterday
), then install the new toilet, toilet roll holder and maybe some artwork. I need to figure out the artwork first. I haven't quite decided yet...
This little room is so close to being done, you can smell it. No wait, that's the Bondo .... At least it is only the Bondo. Right?
Next:
Master walk-in closet make-over and how to fix a too small round hole in drywall
Share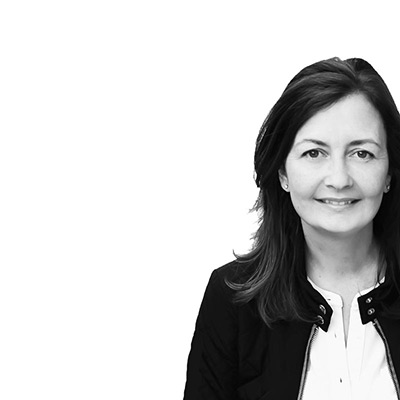 Categories
Progress in the toilet room - a Bondo experiment and new paint and cabinet is posted in the category
Master Suite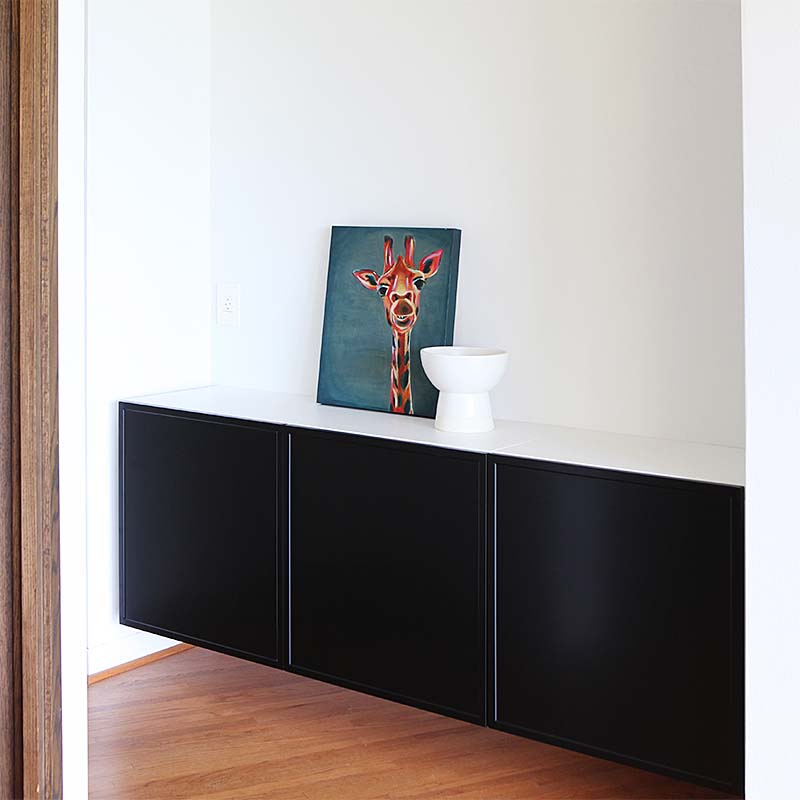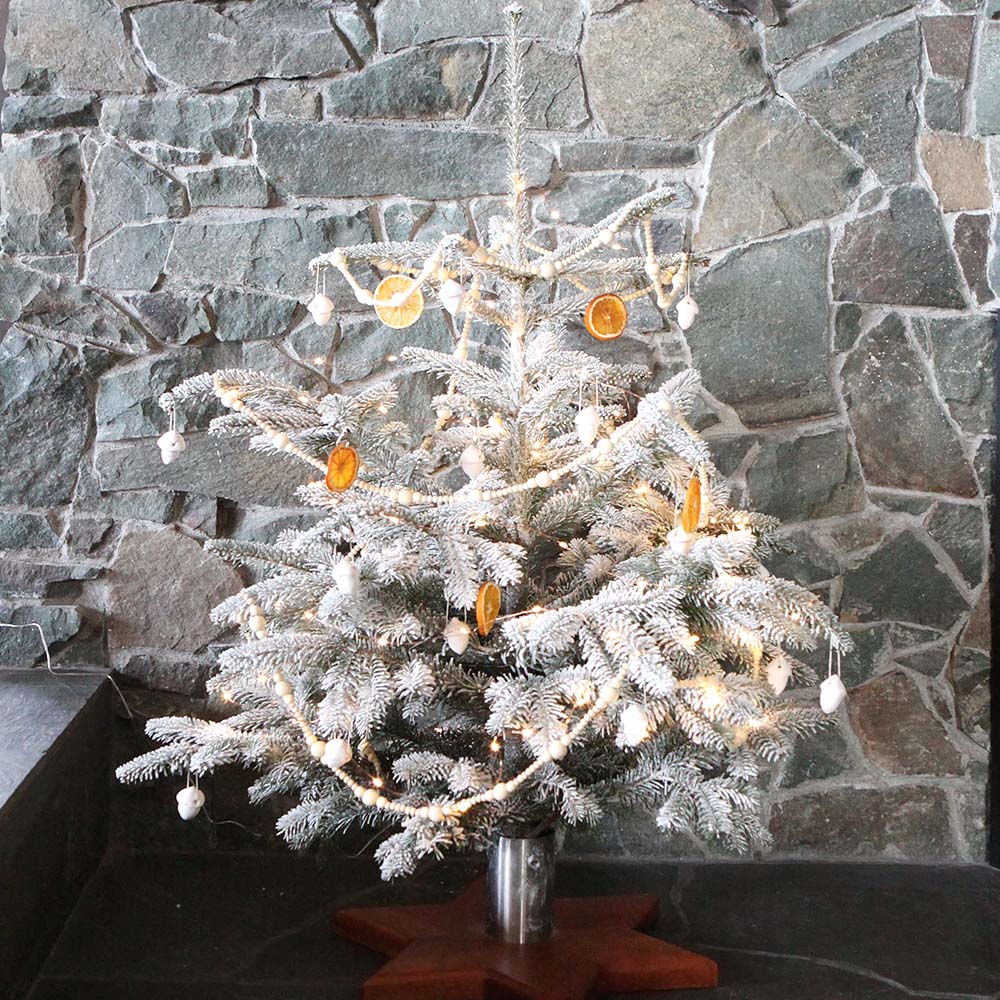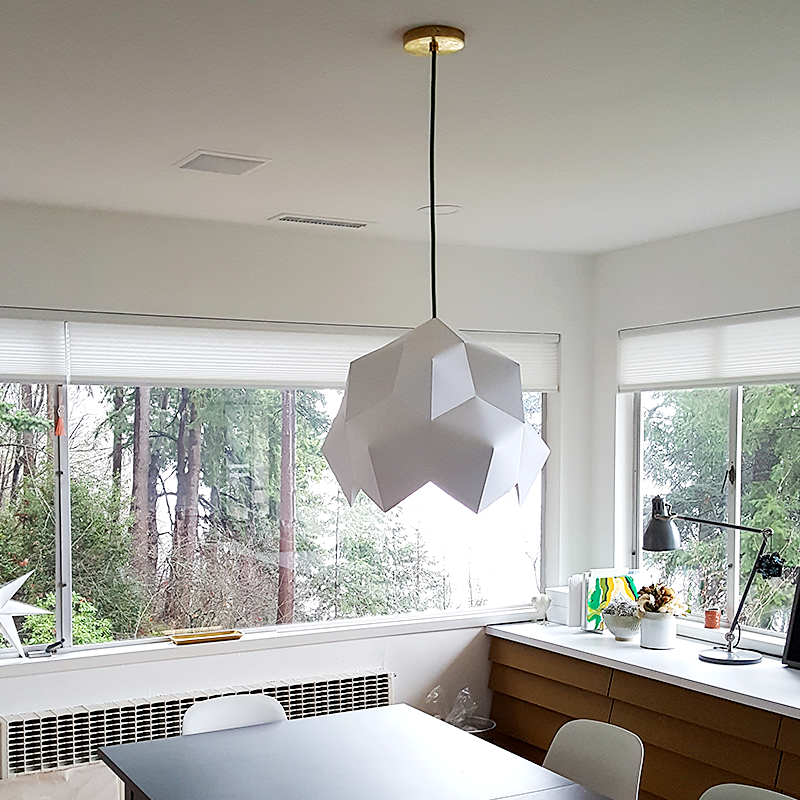 Search
We have been featured here
Full list
here
Search
We have been featured here
Full list
here