Planning a master bathroom remodel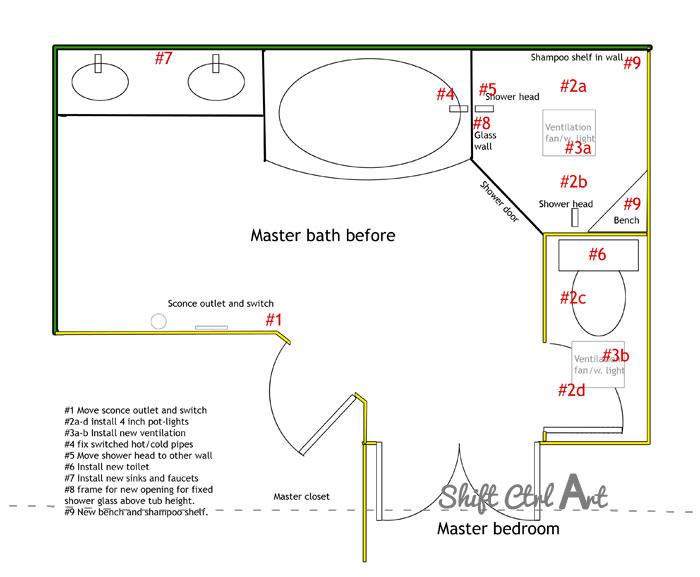 On Tuesday I got a permit to begin our master bath remodel. Woot! Spoiler alert, If you follow on Instagram you know that
we already started demo.
More on that later.
Today, I want to talk about the planning part. Which comes after the pre-planning. The pre-planning happened in
this post
where I shared my initial design plan with a mood board and style direction for the room.
The actual planning is much more detailed. I start looking at all the nitty gritty stuff and make drawings for the permit. I write lists and more lists and plan and plot. I love this part.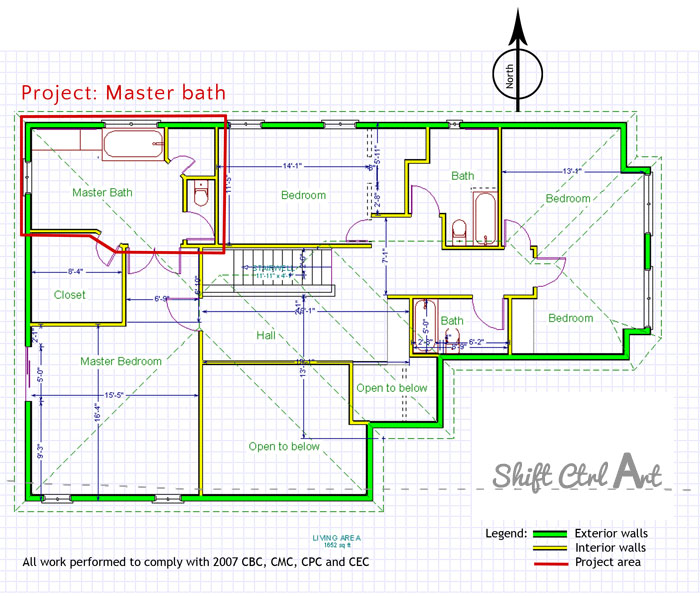 My city is pretty relaxed when it comes to getting a permit as long as you are not taking down any major walls or adding windows and exterior doors. So unlike
our huge remodel in 2010-11
where the permit application process took weeks, this bathroom permit was approved in minutes.
Here is what they like to see, but your city may be very different.
A site plan showing the house placement on the lot (not shown)
A plan showing where in the home the room is located - above.
A before and after plan with address and contact information (I whited that out for privacy reasons).
A note that you will comply with building codes.
A list of projects and a legend if applicable.
Here is the master as it looks right now.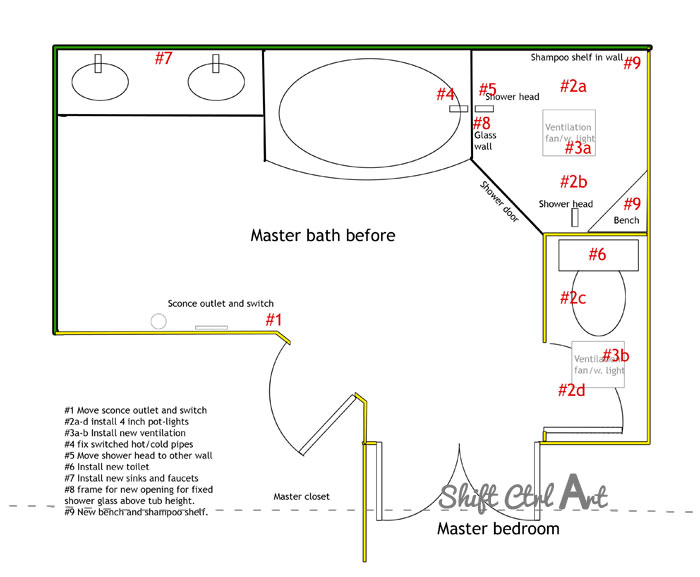 And what we want it to look like after.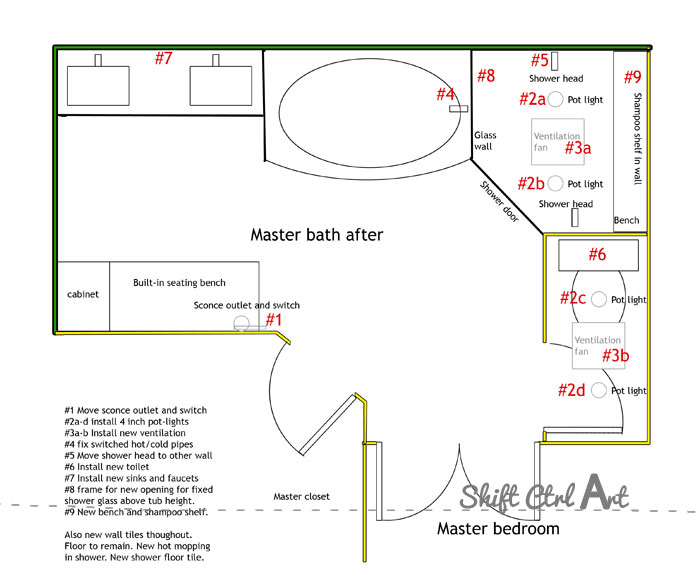 #1 We are going to make a built-in seating bench along this currently empty wall. I want to put a swing arm lamp in this area and move the switch for it out of the way.
#2 We have two very noisy fans. One in the shower and one over the toilet. I want to switch them out to silent ones. The new ones do not have light in them so we will need new light sources in the shower and in the toilet which will come from some new 4" pot lights.
#3 The new fans.
#4 The hot and cold water is switched for the tub, so we will fix that issue when that wall is open anyway.
#5 This is the main reason we are re-doing the shower: the shower is so dark right now, so we want to open up the left wall and add glass. To do that we need to move the shower head to the back wall.
#6 A new toilet. Elongated bowl, comfort height thankyouverymuch.
#7 New vanity with new sinks and faucets.
#8 Install new glass window and door in shower.
#9 Make a new shower bench. Out with the triangle, in with a rectangle and move the shampoo niche over the bench and make it bigger. There will be a tower cabinet on top of part of the bench. It will have an outlet so we can charge toothbrushes etc out of sight. Yeah!!!
In addition to this short bullet list, I also made a point by point list of phases of the remodel. This will hopefully keep the project manageable and moving along.
The phases are:
1 - Demo
2 - Construction
3 - Plumbing and Electrical
Inspection - rough plumbing and rough electrical
4 - Shower prep and drywall
Inspection - shower pan
5 - Cabinets
6 - Table top and mill work
7 - Tiling
8 - Paint
9 - Installation and finish
Inspection - finish
Each phase has sub bullets and I will go into that as we hit them.
Next, I made a logistics plan for the purchases. I want the materials to be here when we need them but not too long before.
For demo, I needed some Ram paper - a very heavy duty cardstock to protect the floors, some tape, a new crow bar, a grab bit for damaged screw heads. For constructions I will need some 2 x 4s and 2 x 6 for the window and door frame, the shampoo niche and the shower seat. Some nails for our pneumatic framing gun if we are out.
For phase three, we are re-using almost all of the existing plumbing fixtures with the exception of a new shower head etc. and some new vanity faucets
Here are the ones I had been looking at.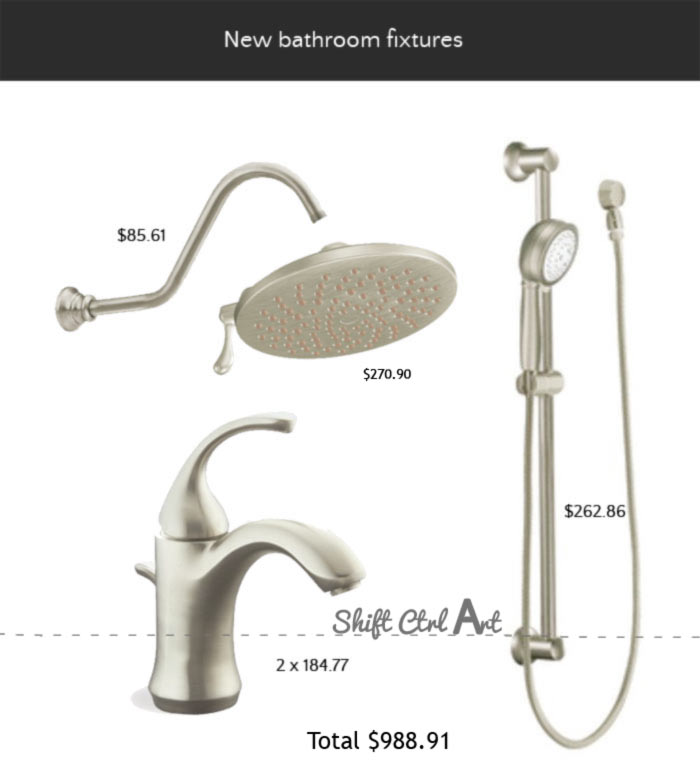 Shower arm
Shower head
Shower slide bar
Faucets
I wasn't loving the shower head I had found.
Then, I saw that my good friend
Amber over at Wills Casa
had found
the exact one
I had been looking for and at a great price.
I also decided that I would re-use our current shower head and save some cost by just getting the wall elbow and slide bar.
Here is my new fixture selection: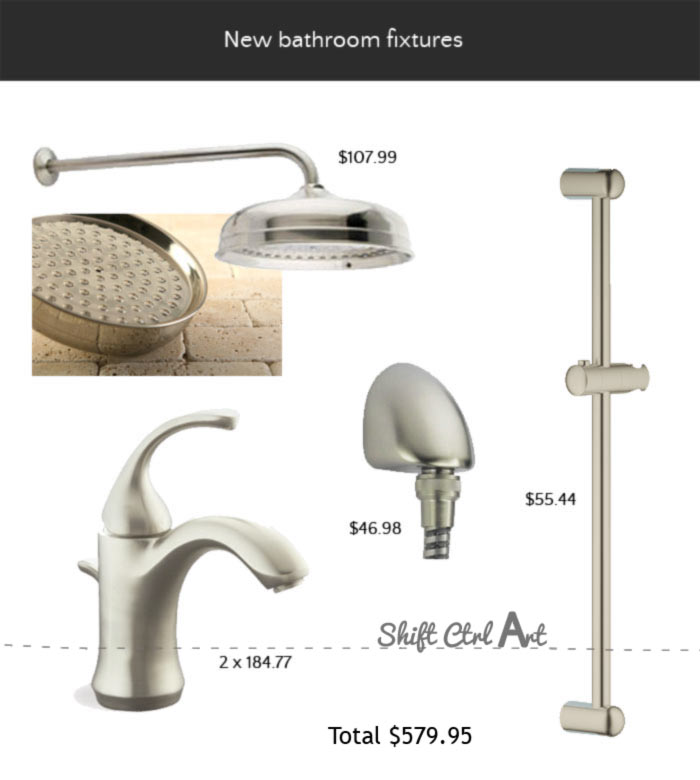 Shower head and arm
Elbow
Slide bar
Faucets
This took the cost down from $988.91 to $579.95. A savings of 408.96. That's what I am talking about.
The reason I want to have the plumping fixtures for the plumbing phase even though they are not actually going to be attached until the finish phase is that it is just so much easier when you can hold up the actual thing for height,
know
that it is available and what it actually looks like and take care of any unforeseen issues.
I ordered all but the two vanity faucets, but I will order those shortly.
Next up vanity lighting.
This is the style I was going for, but when I started researching further, I found that the one I picked for my mood board was way too small for what I had in mind. Scale is so important to me and the vanity lights are really statement pieces. I need them to be a good size.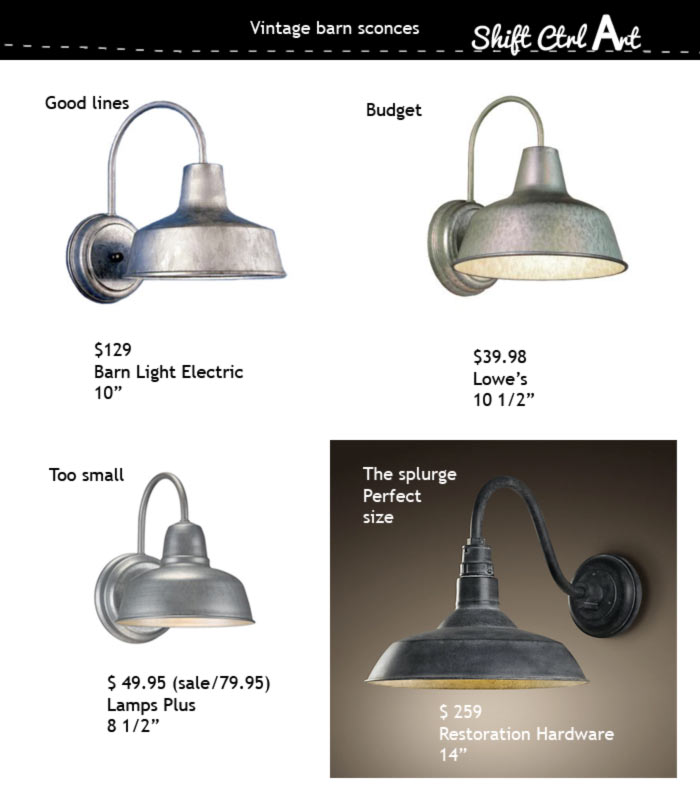 Barn light electric
Lowe's
Lamp's plus
Restoration hardware
I had been looking at the one above from Lowe's. Yesterday, I went and looked at it in the store and it just looks so small. It has a 10 inch shade. I really need that number to come up to 14". Restoration Hardware has a gorgeous one. Here you can also see why I need to know which shade I will be using before we get to phase 3 - rough electrical. Some of these designs have shades that dip below the mounting plate. Others line up at the bottom or almost so. This will be important in terms of where the lamp is mounted on the wall in relationship to the mirror.
I cast a wider net to find more lamp options.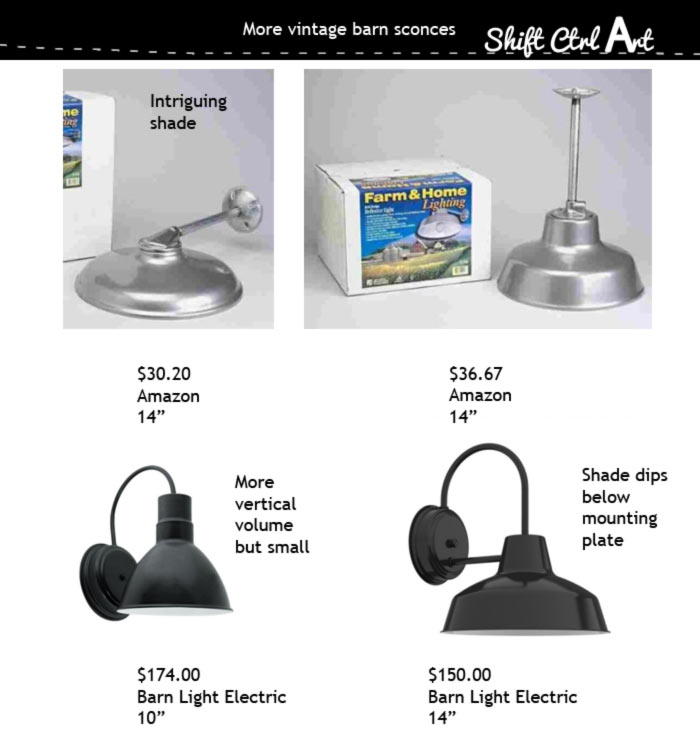 Amazon
Amazon
Barn light electric
Barn light electric
I am totally loving the lines of the shade in the first one here. But I am wondering if the bulb will be too exposed. This one could work and the price is certainly right. The next one looks more like the other ones from before and it looks like the arm can be mounted two ways. Here I will lose the arch on top of the shade. She shade does not have great lines.
The last two: One has more vertical volume, but is only 10". I considered it for a hot minute. The last one is one that Barn light electric suggested when I emailed them and asked if they had plans to come out with the one in the first lamp mood board, but with a 14" shade. Many of their shades have size options, so it couldn't hurt to ask, right? I don't really love this option and it's quite some money there, too. The design feels a bit weak to me here because of the extra cross bar.
Dh thinks we should splurge and get the one from Restoration Hardware. Maybe if I got a coupon. Or it went on sale... That light does make me totally excited. If you are to splurge anywhere, I do think statement pieces are a great area to splurge.
At this point I am going to gel a little more on the vanity light options. I still have at least a week or two or more before we get to rough electrical...
Here is what I am picturing in terms of scale.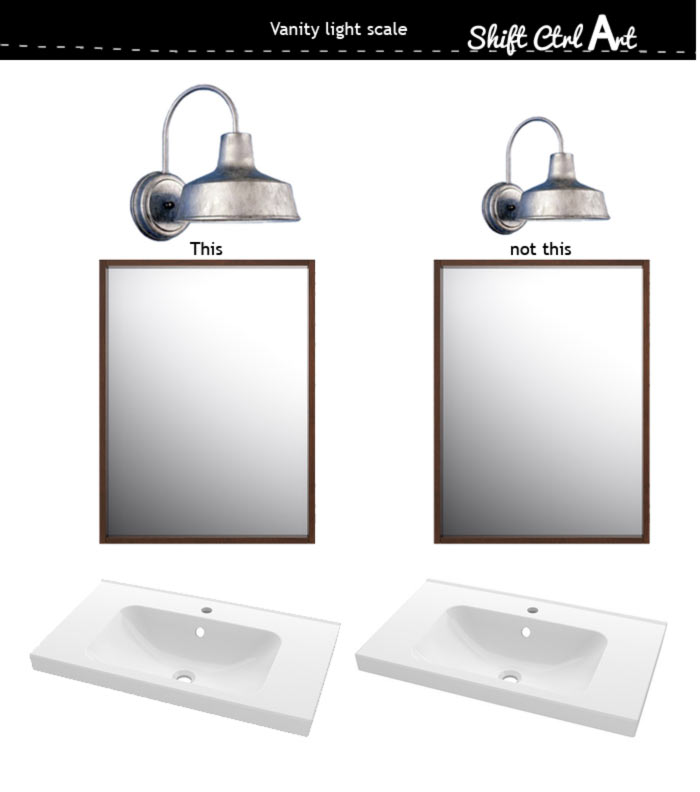 Molger mirror
Odensvik sink
Decisions, decisions... care to weigh in on the lamp debate?
Next:
Demoing the master bathroom
Share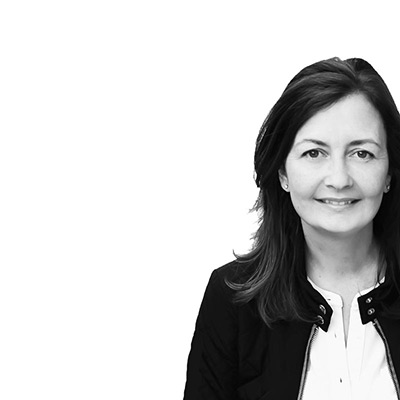 Categories
Planning a master bathroom remodel is posted in the category
Master Suite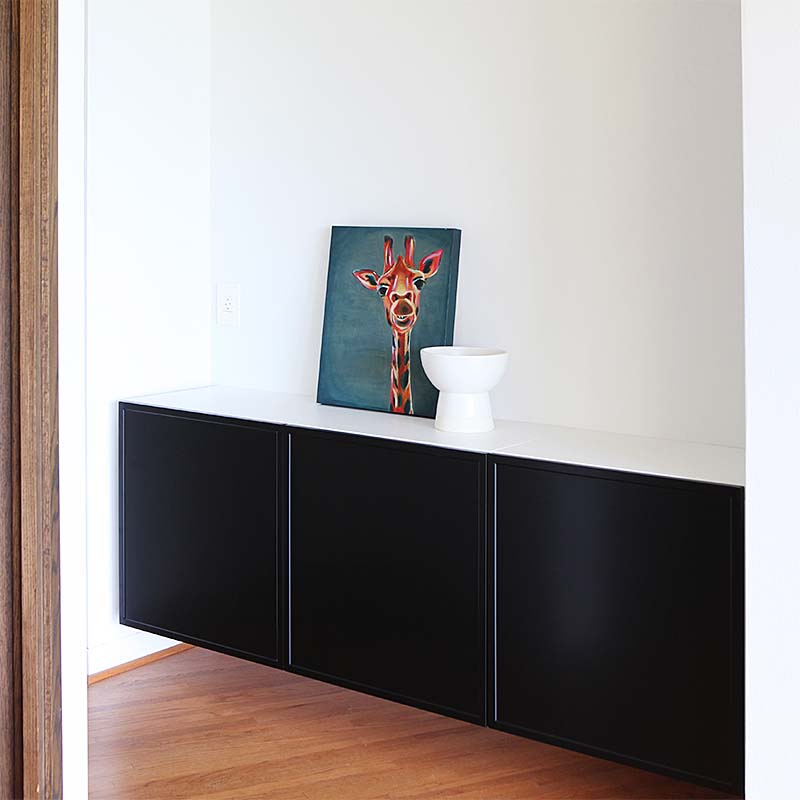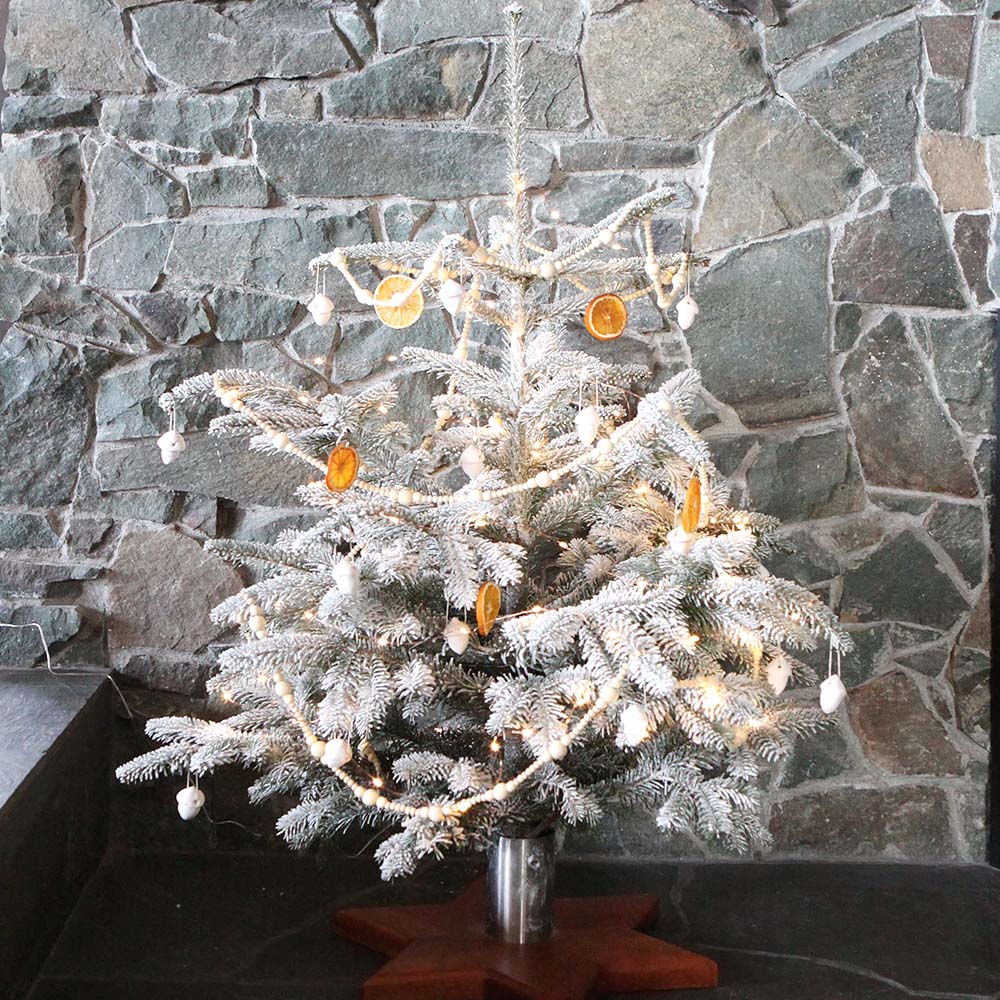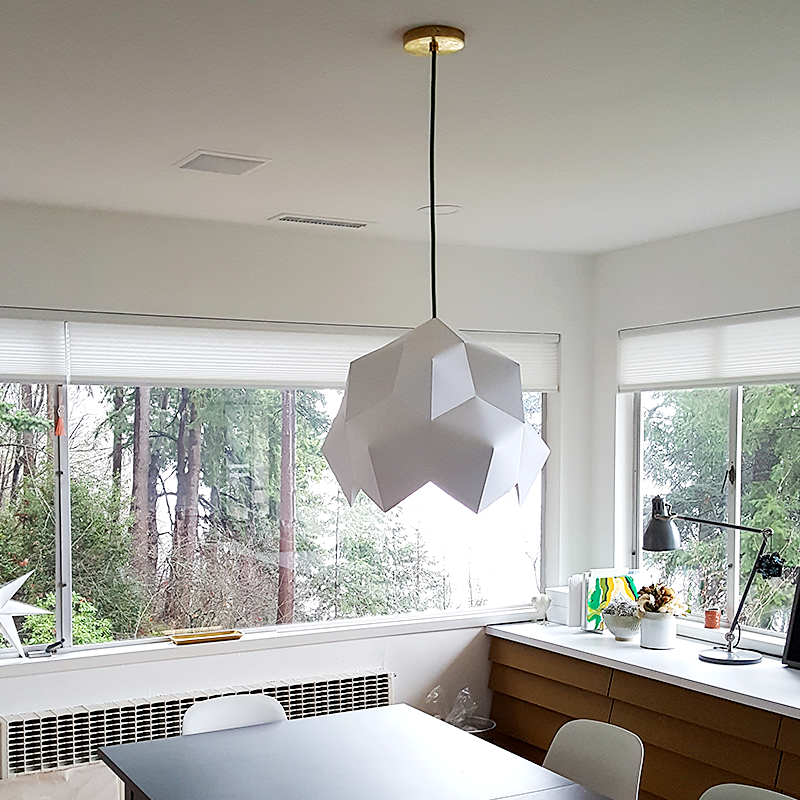 Search
We have been featured here
Full list
here
Search
We have been featured here
Full list
here