Laundry room reveal - clothes pin art and chalk board door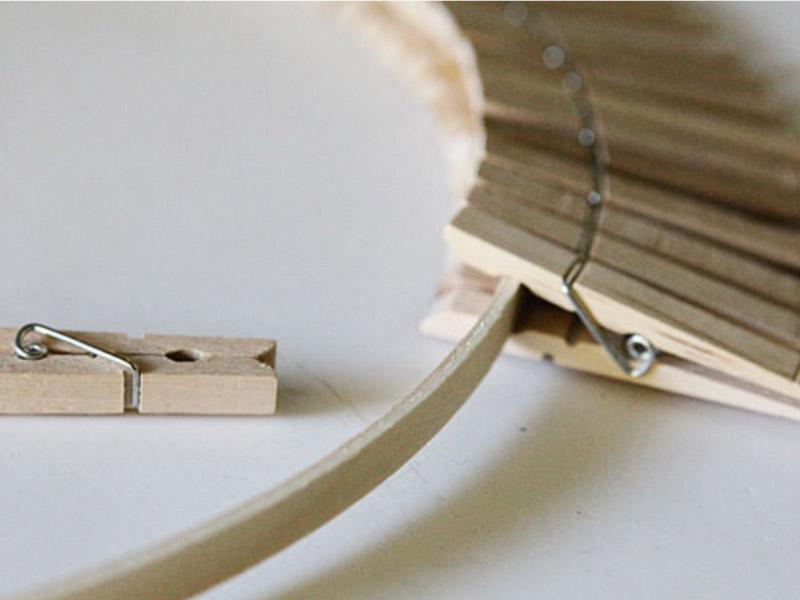 Here is our finished laundry room nook in the garage.
Let's take a minute to see how it started out.
Not much to look at, right? Then
we built some walls.
And
added some chevron to the walls.
The yellow is Dylan Velvet by Valspar. It's a little on the sunny side, but I think my nook can handle it. It's also funny that we moved into a yellow box almost 5 years ago and have repainted almost all of it some sort of gray or white. The only thing that was not yellow was the garage... now it has yellow in it. Of course.
We had
a shelf installed over the washer and dryer.
Then
I did a bunch of painting
. I painted the table top and the door frame and the wall board. I re-textured the gray wall and painted it again.
Then I made some laundry room art.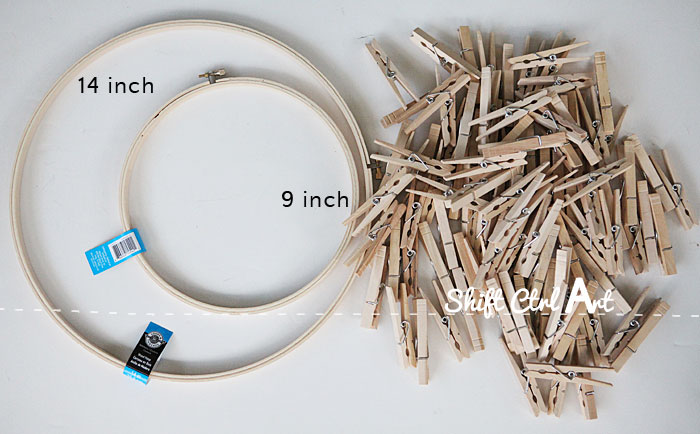 I used some inexpensive embroidery hoops from the craft store and 5 packs of clothes pins from Target bringing this entire project in at well below 20 dollars. And what is more fitting than clothes pin art in a laundry room? Nothing, right?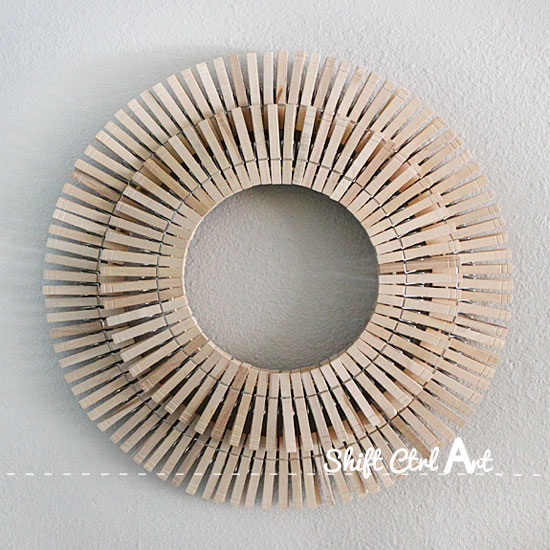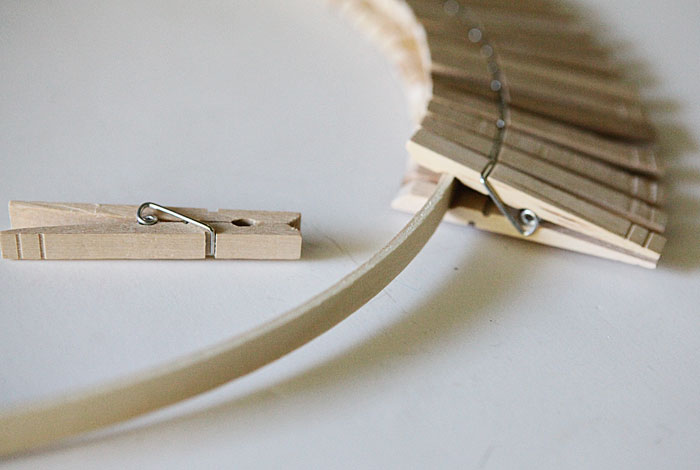 Simply attach pins all the way around the hoops.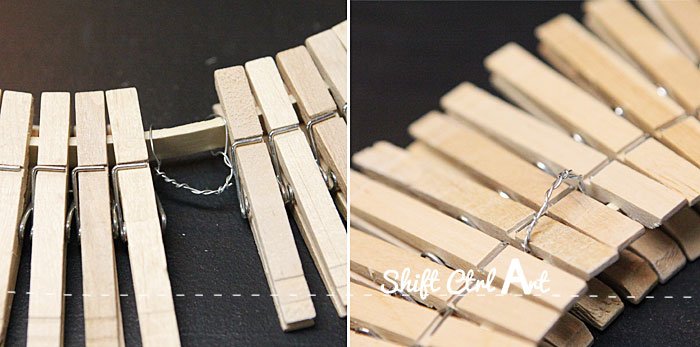 Some wires attached to the hoops are used to hang it up.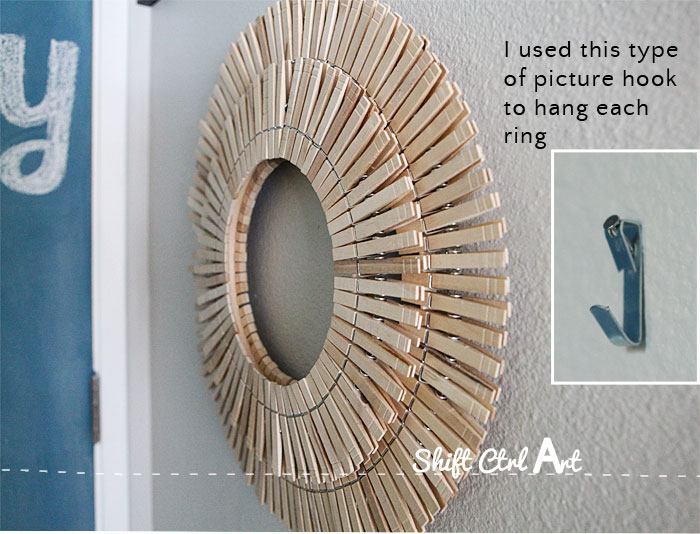 Then I hung both the hoops up layered. I made the wire on the smaller ring a bit longer so it would reach.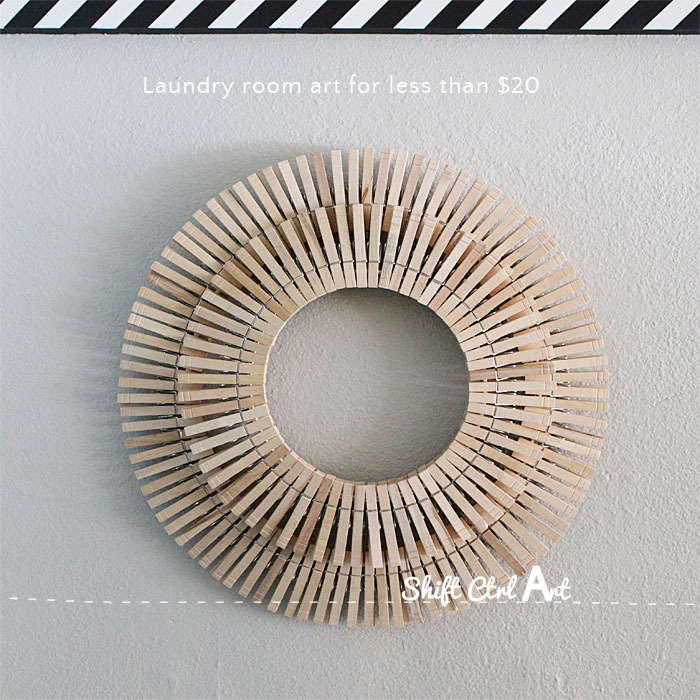 I love the blond wood element that it brings to that wall.
Next I turned the door into a chalk board door. First I had to repair the dinged up corner of the door.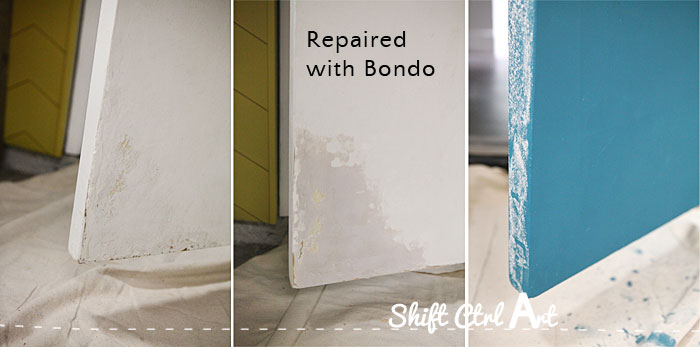 On the left you see how damaged the door was. Then I repaired it in the middle picture and then on the right you see the door just before I conditioned it with chalk.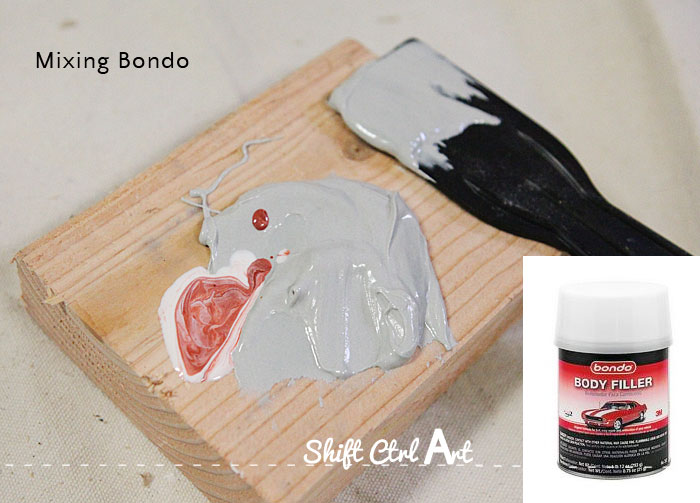 I used
Bondo
to repair the door. It is a two part component filler. It is usually used for body repair on cars, but it works really well on repairing wood that is going to be painted. Under the lid of the container is a little tube of hardener. That is the reddish, whitish stuff up there and the gray putty is in the big can ifself. Mix it up and you have some very nice putty to work with and it hardens up and becomes extremely tough and solid.
After the door was repaired I mixed up some chalk paint. I used 1 part non sanded grout to 8 parts paint. It's Valspar's Night shade. This is my first ever chalkboard paint job, so I don't have any comparison. Maybe that was a bit much on the grout, but it worked pretty well. The only thing is that it globs on in the beginning and then you have to keep rolling over the same spot until the grout granules have been dispersed completely evenly over the entire area.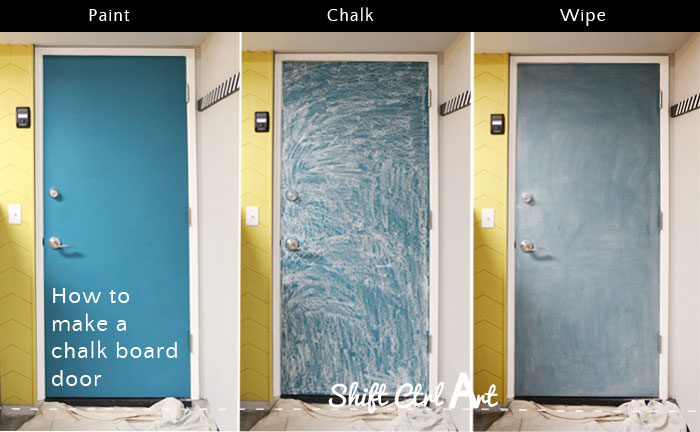 To make a chalk board door you paint 3-4 coats of chalkboard paint (I primed before that), then after it has dried completely you condition the surface by drawing all over with chalk using the length wise side of the chalk. Then you wipe it off and it leaves you with a chalk board ready for some writing or drawing.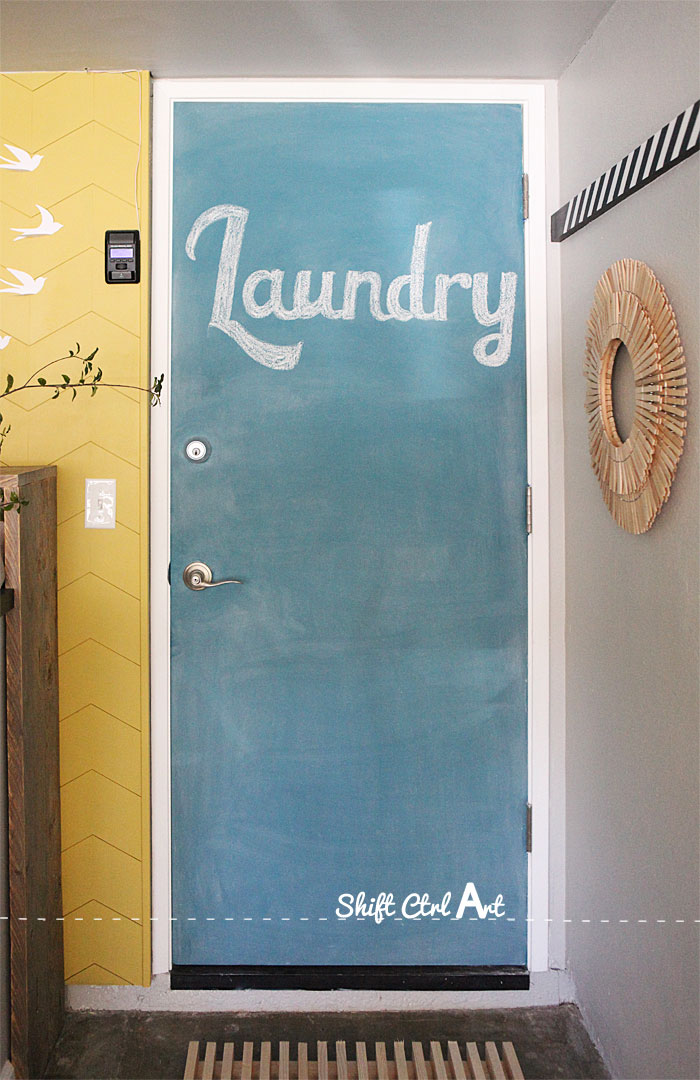 I typed out Laundry using the
Lobster font
on a piece of paper and looked at it while writing on my door. Dh thought it should say "Kitchen" since it is the door to the kitchen. I quickly shot that idea down by saying that by that logic we should write "garage" on the inside of the soap dispenser...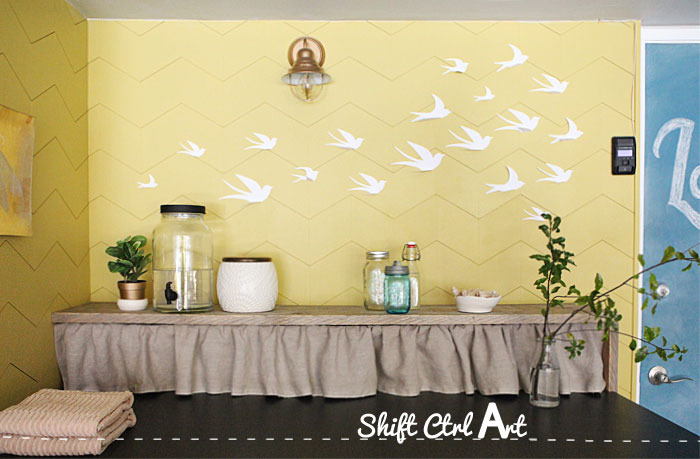 The soap dispenser is a lemonade dispenser that I got with a discount at World Market. I spray painted the lid and spout black. The little plastic pot from IKEA got a hit of gold spray paint on the pot. Remember this i
mage from Instagram
? The white jar next to it is a Threshold jar from Target. I have some Oxy clean powder in there. Then there are some bottles and mason jars, some of which I picked up at the thrift store for a couple of dollars.
The ceramic bowl B made at our ceramics class
. I put some vintage clothes pins in it.
I added some
paper birds
to the wall and a bottle with a couple of branches from my yard. I also sewed a ruffled table skirt. Or shelf skirt as it were.
Let's do the before and after one more time.
Laundry is not a fun task, but I feel like it's been made a nicer experience.
Next:
How to make a ruffled table skirt
Share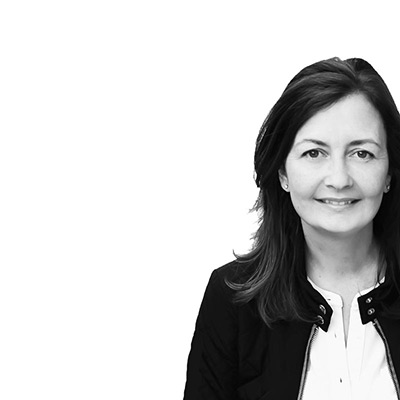 Search
We have been featured here
Full list
here