Easter display with bunting, eggs, chickens and more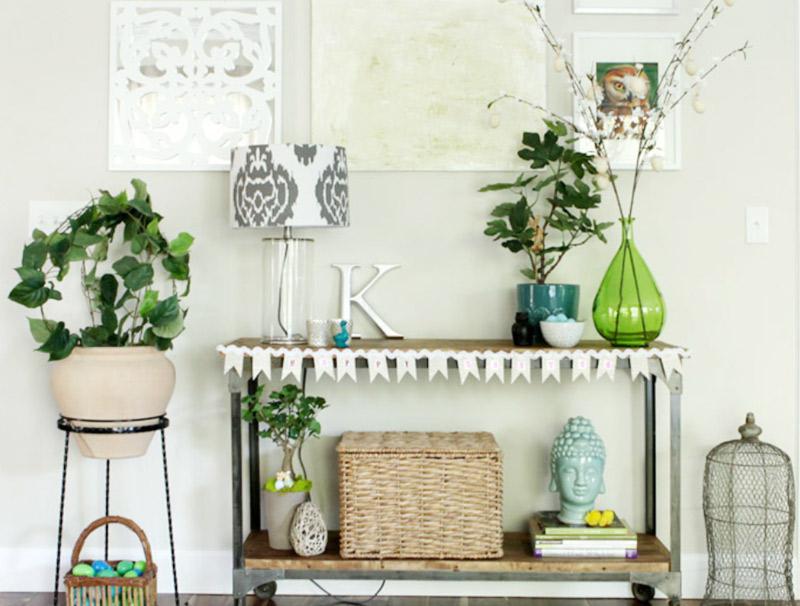 Aaaaand did you see where
this
and
this
post were going?
I am getting ready to wishing you all a happy Easter. But first a vignette and a few more Easter crafts.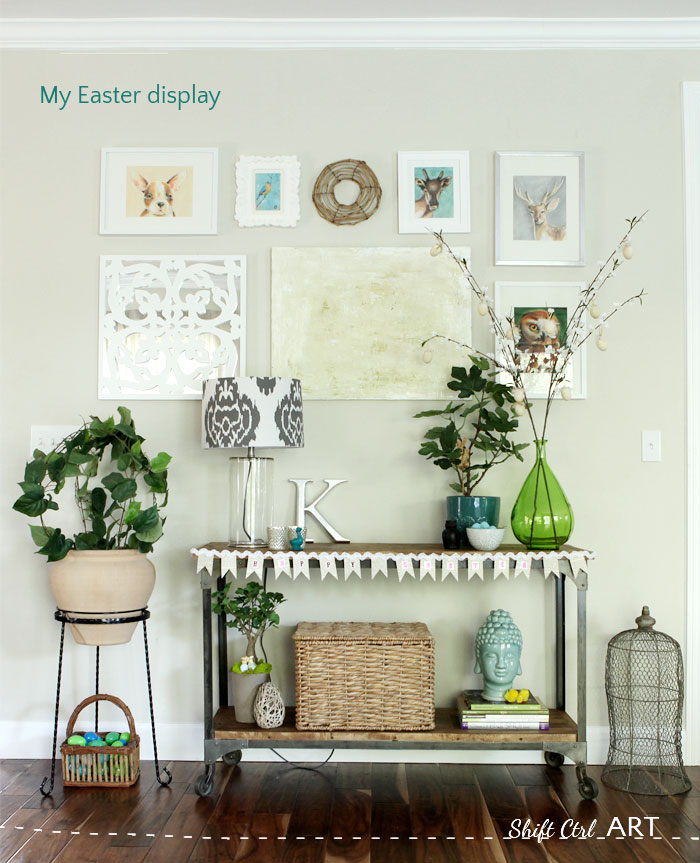 And of course if you also guessed that word of the month was involved you are correct.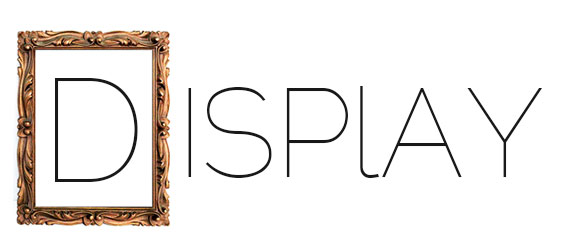 Did you make a display this month? Want it featured here? Then hurry and
send
me a link or tell me in the comments by tomorrow and you will be featured here Monday.
Edited:
closed for entries.
Here is what that wall used to look like:
We re-built the stair case
here
,
here
and
here
so that this area is now a display wall between the living and dining room, next to the kitchen. You can check out out
full home tour here
.
We got this cart/console at World market last fall when they had a sale. I styled it for
Christmas here
.
Here it is again for Easter: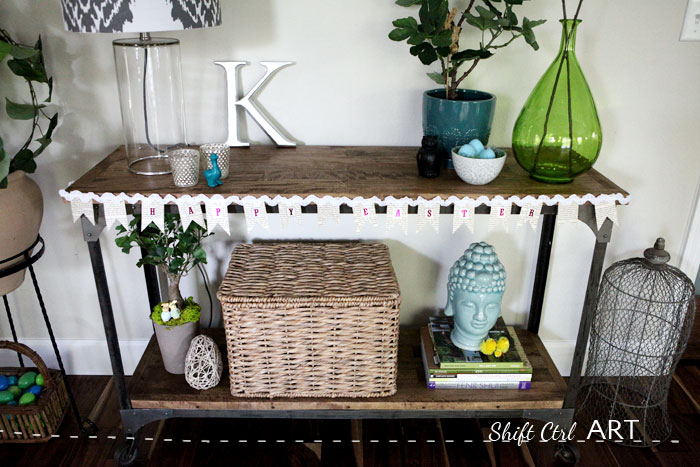 See the little blue duck in front of the K? Here is how he happened. I had a duck in my Easter stash.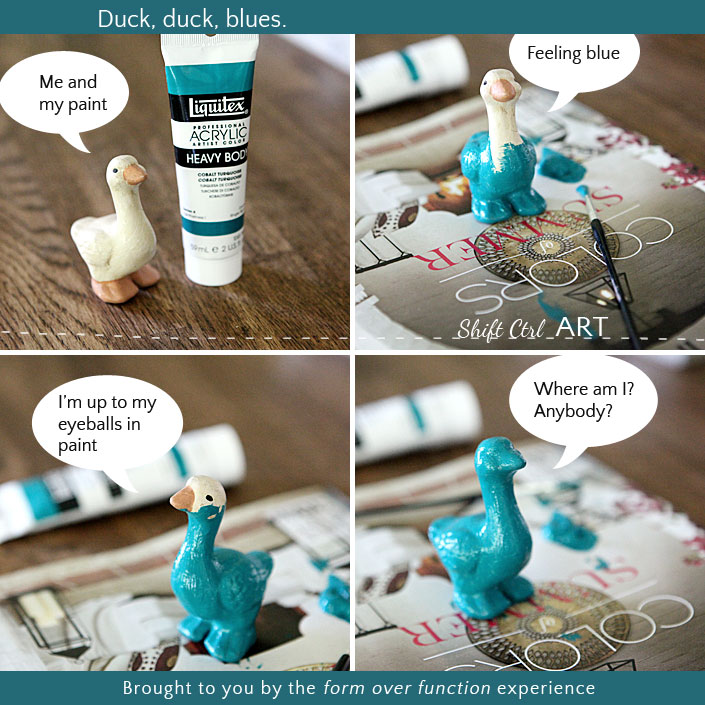 Do these eggs look familiar?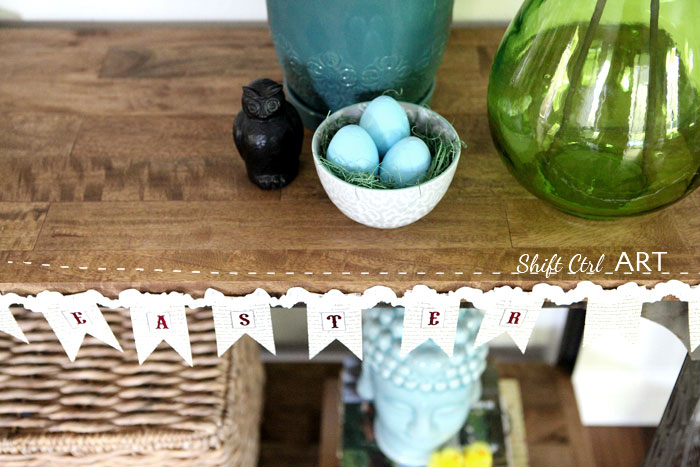 Remember when I made my jewel toned Easter egg decoration and I had 6 eggs, but I only used three on the wreath. I used the other three here.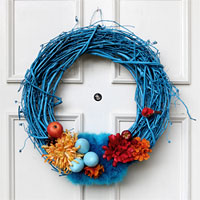 Egg and feather goes together - jewel toned Easter door wreath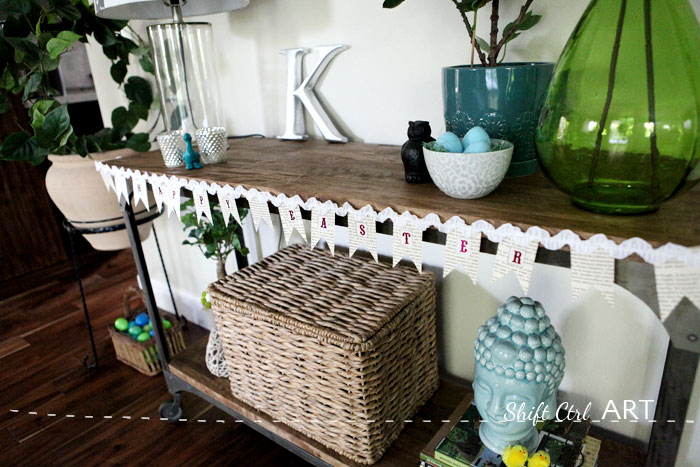 I made a bunting for the front of the table top.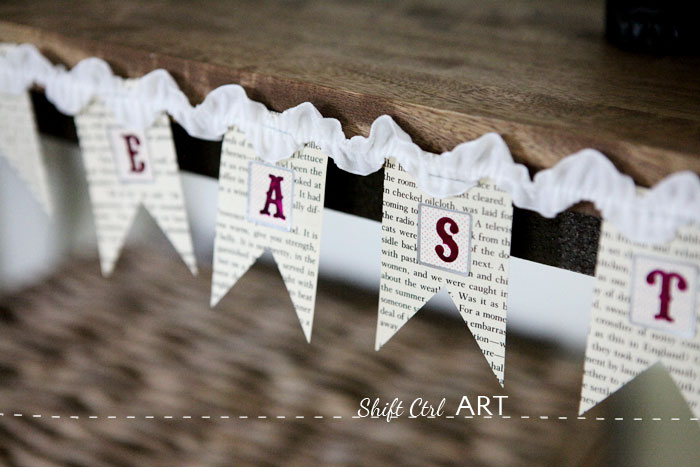 A ruffled piece of rick rack ribbon, Some cut out "flags" of an old book. I got mine at the thrift store for a dollar. I fastened them to the ribbon with staples. Then I added stickers from Target's 1 dollar section. I spelled out Happy Easter. A really quick and inexpensive project. I attached the bunting with glue dots.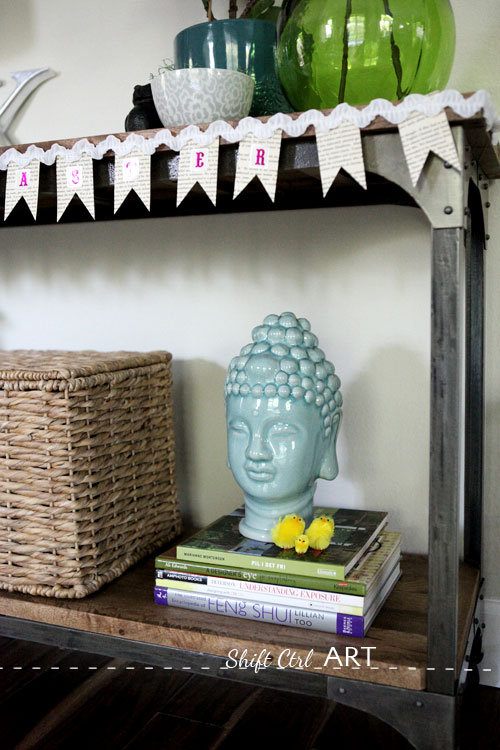 On the lower shelf of the table I placed a stack of books and some pipe cleaner chickens - again from my Easter stash - and I borrowed the big Buddha head from our game room. I got it at Home Goods.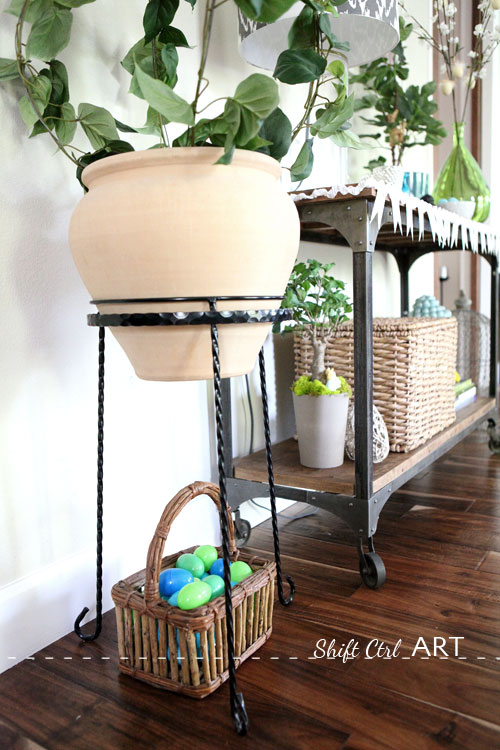 The other day I was at my local thrift store and not only did I get an AWESOME chair that I will practice some upholstering on for only 20 bucks, I also got this cute basket for $1.59. I filled it with green and blue plastic eggs. Last year I bought a bunch of eggs when they were on sale. I got a ton so they must have been cheap. I separated all the warm from the cool colors and used the cool colors in this basket.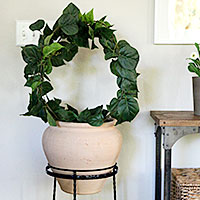 Want to make that forever vine plant stand? Here are all the steps
from when I made it last year.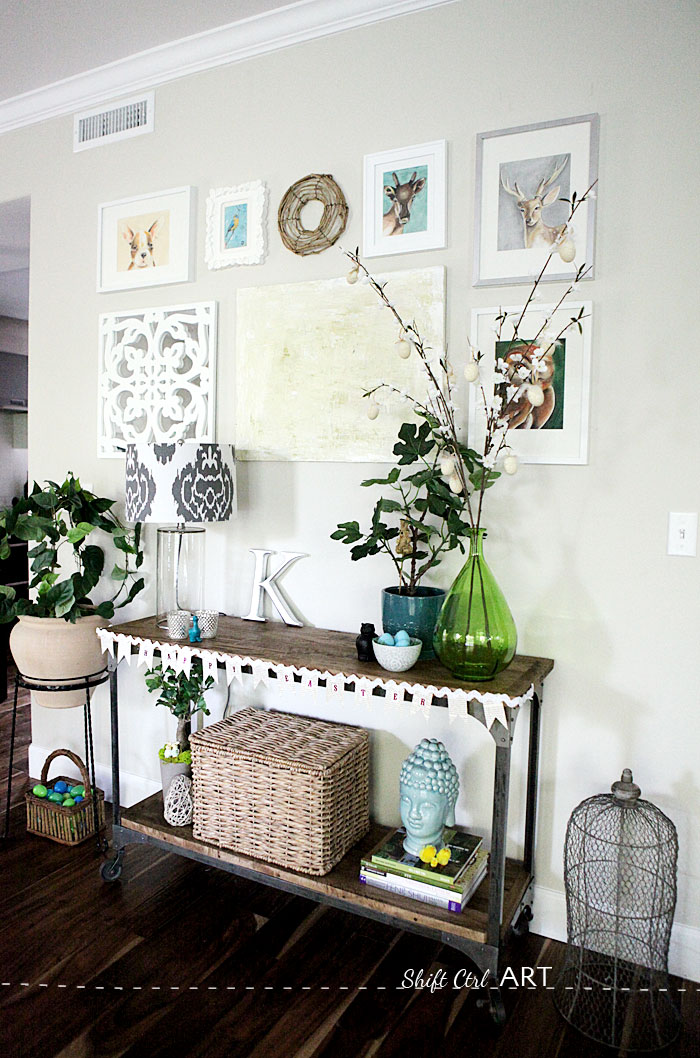 I used my green vase and added some of the spring sprigs I just got at IKEA the other day. I stuck one of my new forever IKEA figs in a turquoise pot I already had.
See all the great finds I made at IKEA last weekend
.
In my stash, I had those crackled cream colored eggs. I hung them from the branches.
The big chicken wire plant cover thingy is a find from Home Goods last year.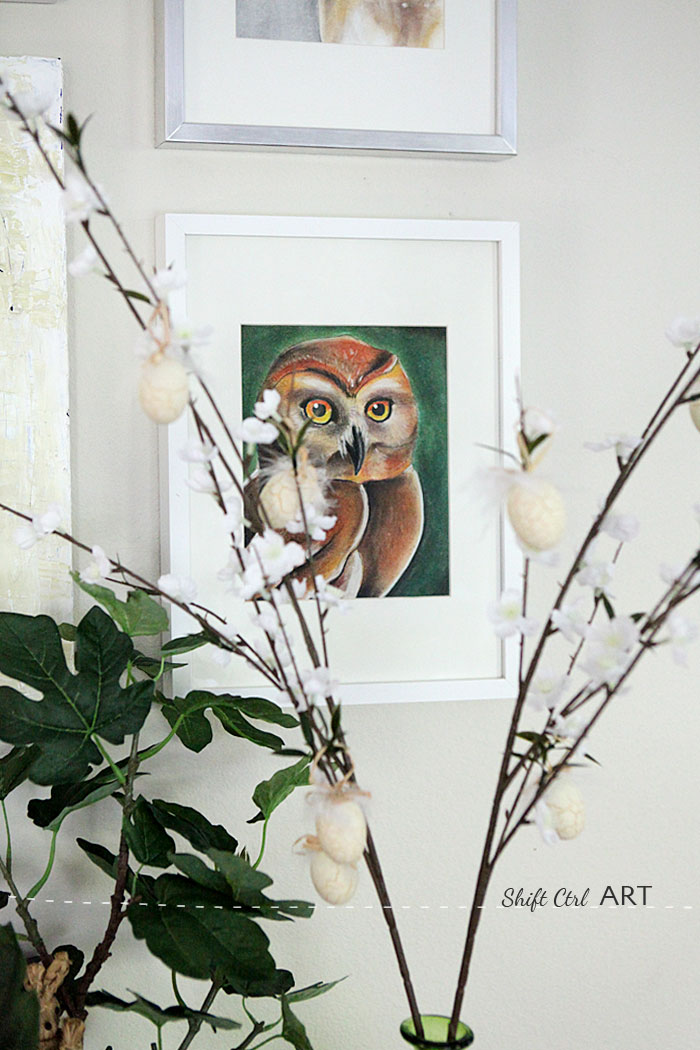 And here is the pastel owl I made.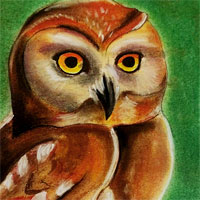 I posted about him here
.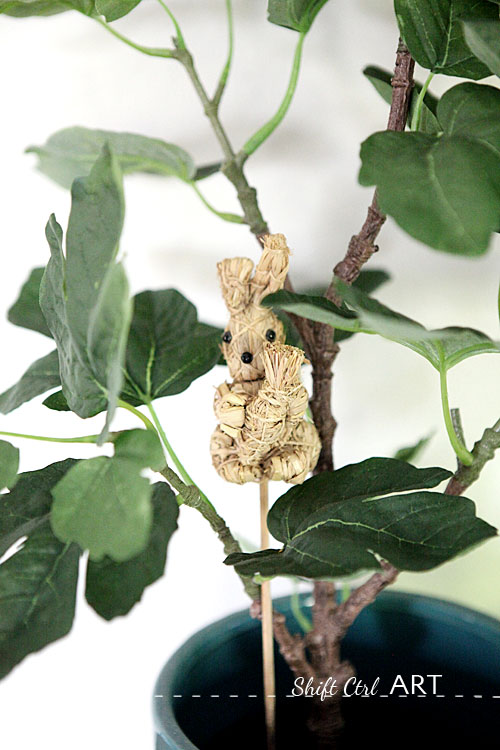 I stuck another Easter stash item into the pot. I actually just leaned it. The "soil" in my forever IKEA fig is plastic...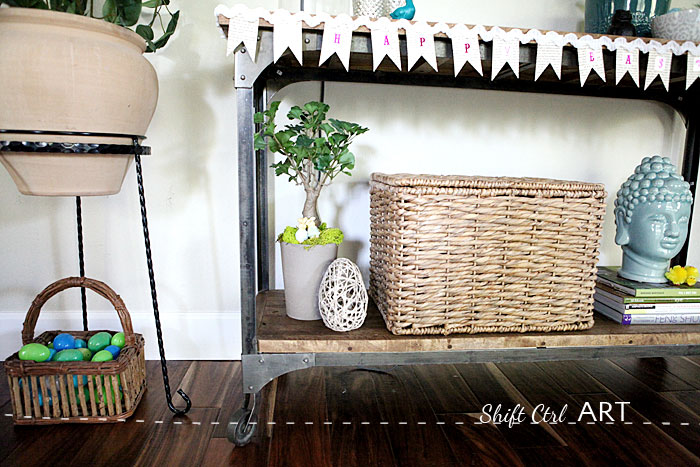 And here is the lower shelf with another IKEA mini forever tree in an IKEA pot.
I added some green rein-deer moss that I got a while back. Oh and two bunny rabbits. Awwww. And infront is that
twine Easter egg I just showed you.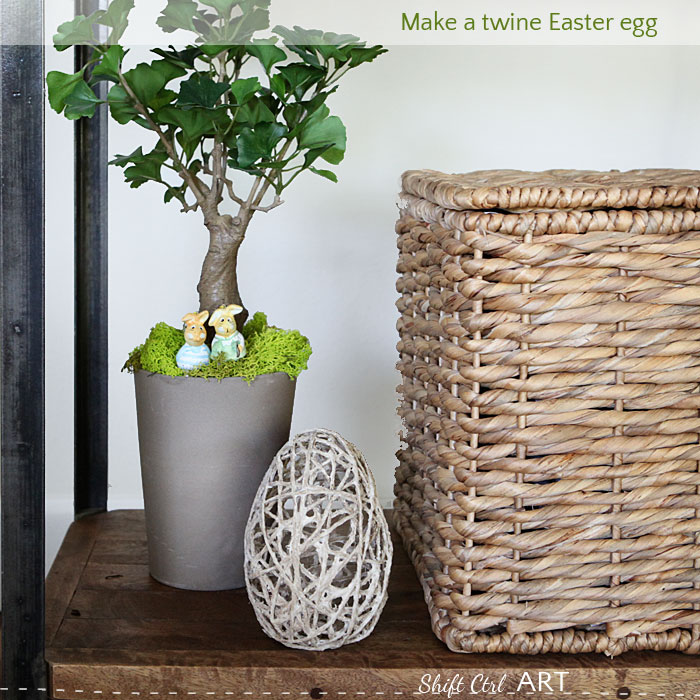 Read
all the steps for the twine egg here
.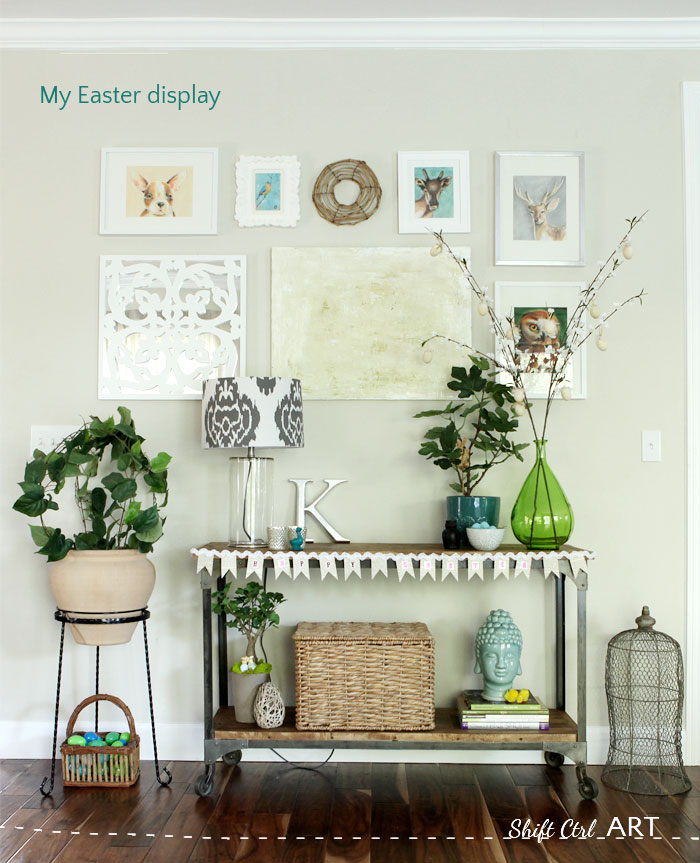 Happy Easter!
Linking up to
House of Smiths
.
Every year around Easter time we go to a local firefighter fundraiser in the canyons. The firefighters come out and make pancakes and sausages for everyone. My favorite is the oranges that are supplied by one of the local orange growers. The BEST oranges I have ever had. Do you have any Easter tradition?
Linking up to
Thrifty Decor Chick
Share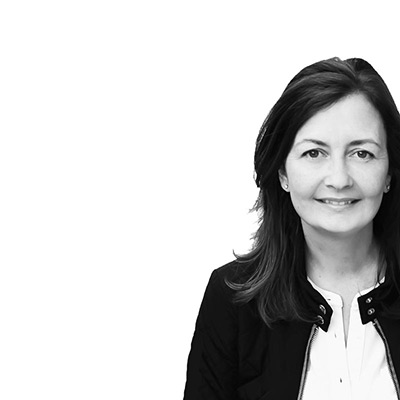 Categories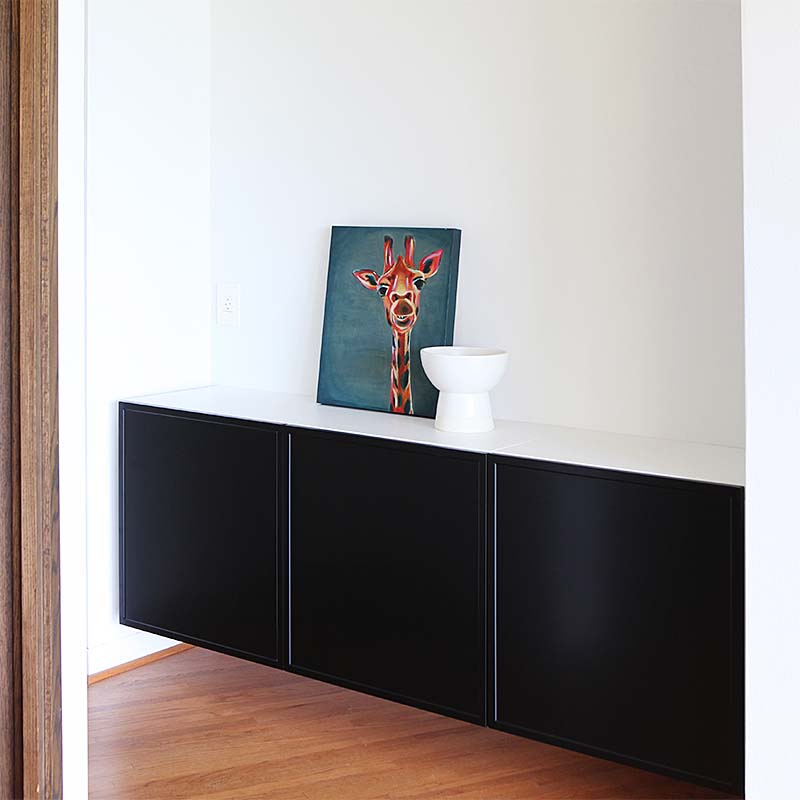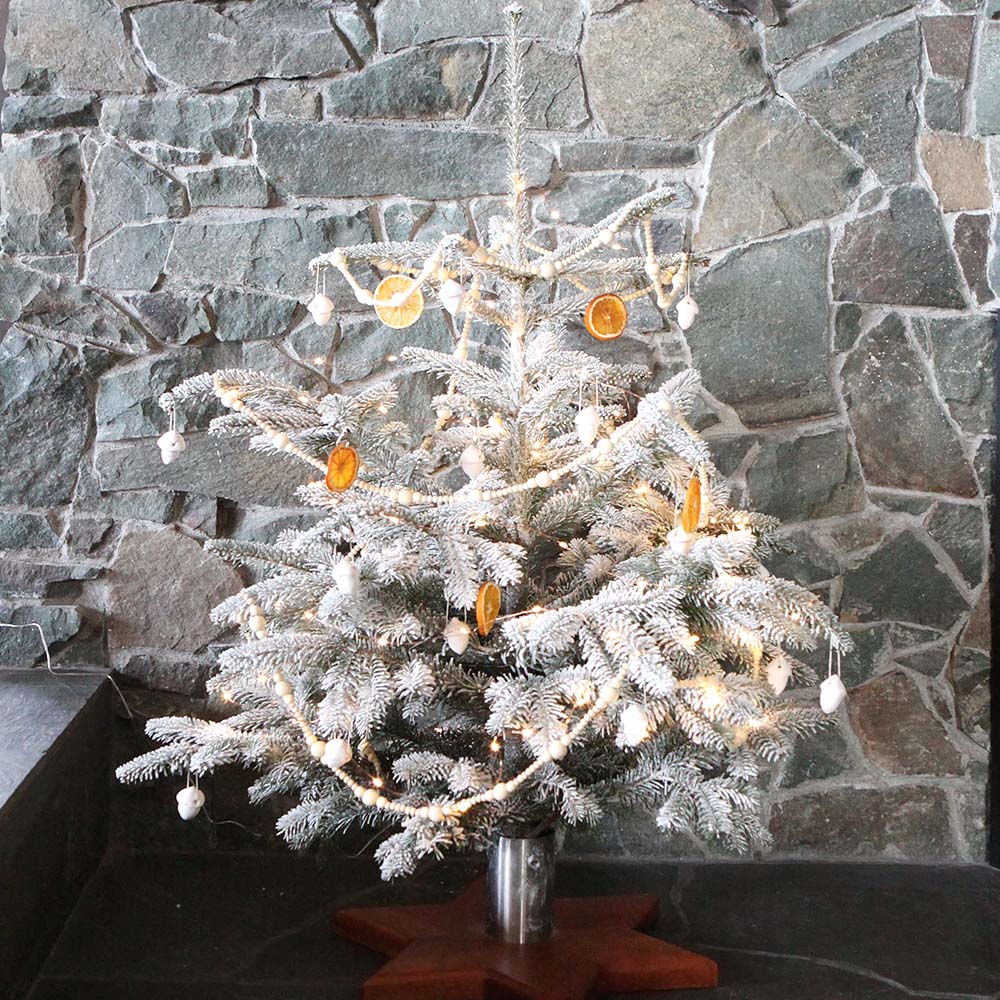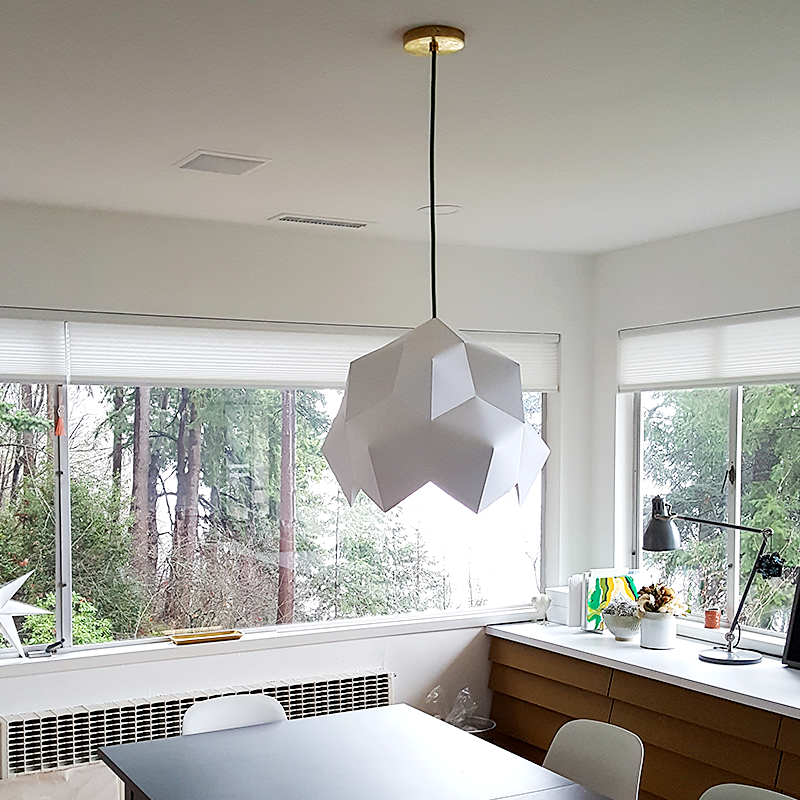 Search
We have been featured here
Full list
here
Search
We have been featured here
Full list
here