Medium sized bathroom make-over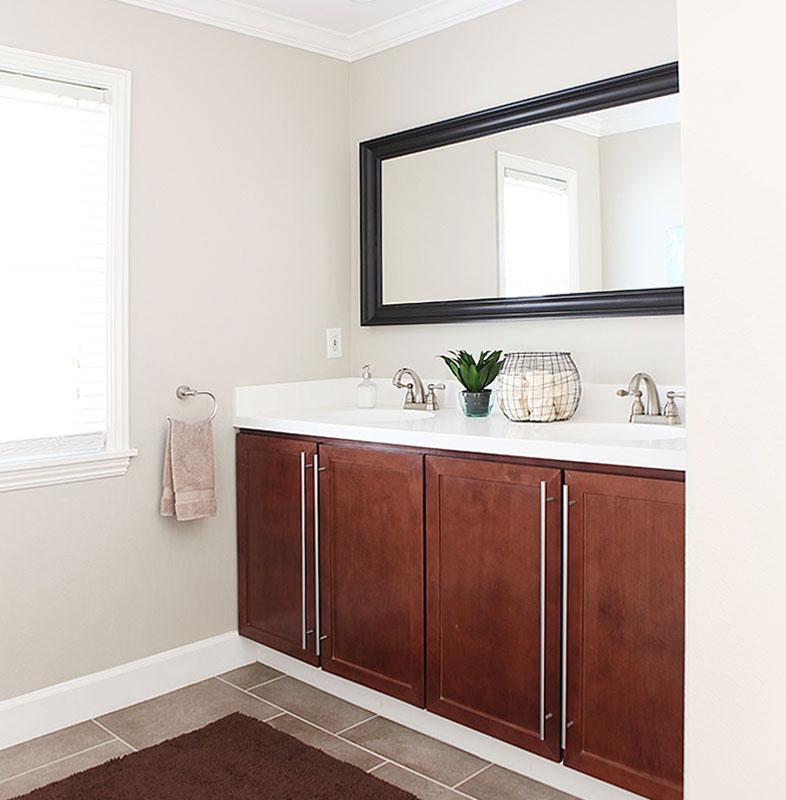 Today, I am sharing our fourth and final bathroom make-over from our house. Also one of the reasons we are down-sizing. Because 4 bathrooms. Our small family does not need that many bathrooms.
Here is how we freshened up the bathroom with new tile and a vanity-top.
When I am referring to this bathroom as the medium sized bathroom, that is in relationship to the other bathrooms in this house. Not a commentary on the size of the room compared to other bathrooms around the world. Just to clarify.
The other bathrooms in our house are the powder room with shower, the upstairs small bathroom and the master bathroom.

When we moved in 7 years ago, the medium sized bathroom looked like this. The keen observer will notice that there was no mirror at the time. Also, everything was painted yellow and clad in yellow tile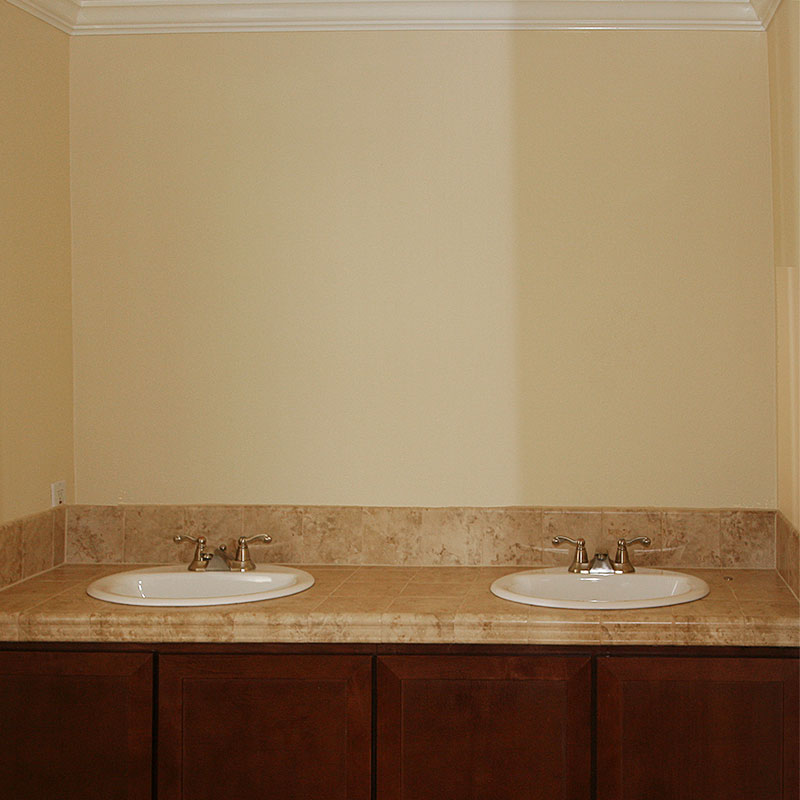 ---
This is the other side of the bathroom - a shower / tub combo and toilet.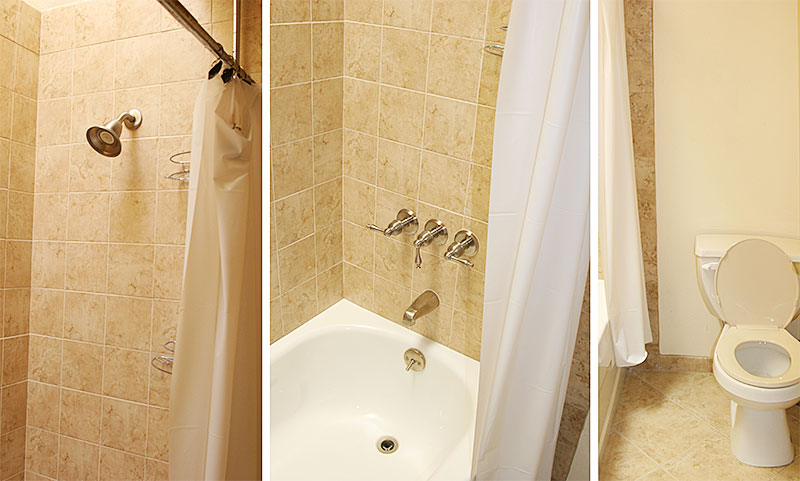 We had a tiler come in and lay new floor tile, put up new tile around the tub and paint the walls a color that would go with that. The paint color is Valspar's Filtered Shade. We put a mirror up and added some long handles to the vanity. Check out how much less yellow the counters looked after we painted and put in new floor tile.
Even though this stage was just meant to be temporary, it just helped so much and therefore we decided not to finish in here right away and instead we moved on to something else. Probably the kitchen.
Also, fun fact: nobody uses this bathroom.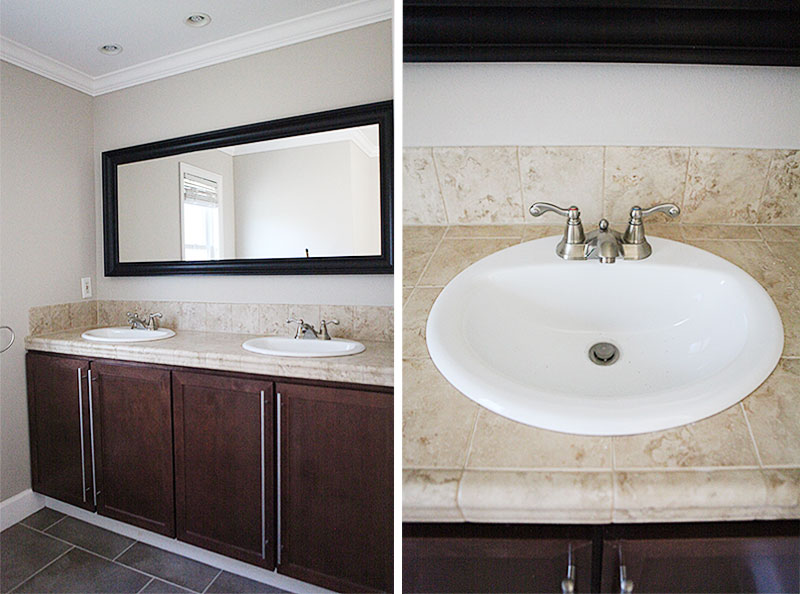 That is how the bathroom ended up staying like this for the next 5 years until last year when we ripped out the tiled vanity top last year. Yes I am catching you up.

The fact that it took so long is probably the reason why I never shared this room with you. In retrospect, maybe I should have. Now we are looking at 6 year old design. Anyway...

Here is a look at the demo'd countertop.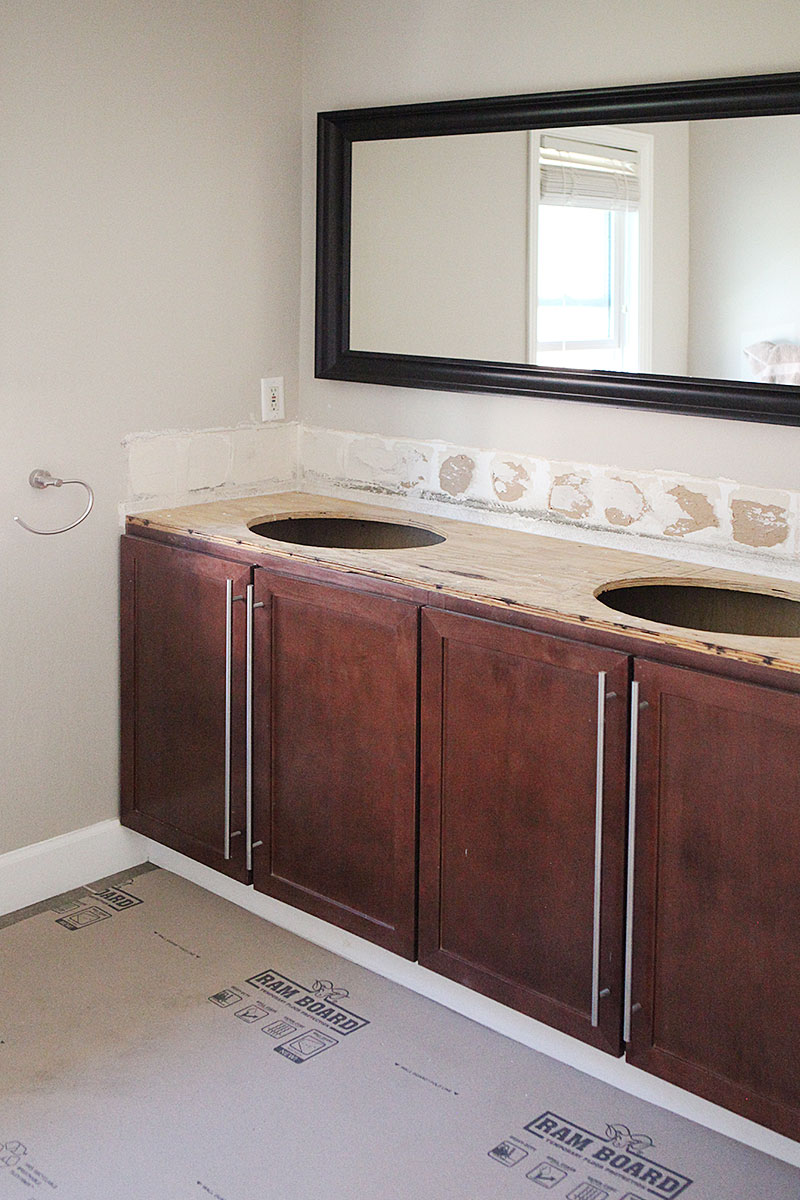 While that is setting up, let's move on to the tub / shower combo side of things.

Here is the tub surround we had put in five years ago. I picked some inexpensive white 6x8 tile and had the tiler put them up in a brick pattern in rows of two with a line of 1x1 glass tile in between each row. We re-used all the fixtures in here, but we did get a new water saving dual flush toilet. Which nobody uses, so definitely saving water in here.

Above the toilet, We re-used a vanity cabinet that we took down when we renovated the downstairs powder room. I painted it a glossy turquoise and added some handles. The plan was to build a matching bench for the wall across the vanity - also painted in turquoise. But that never happened, so that turquoise is looking a little lonely there. I would probably just paint it black now. You know, if we weren't moving soon.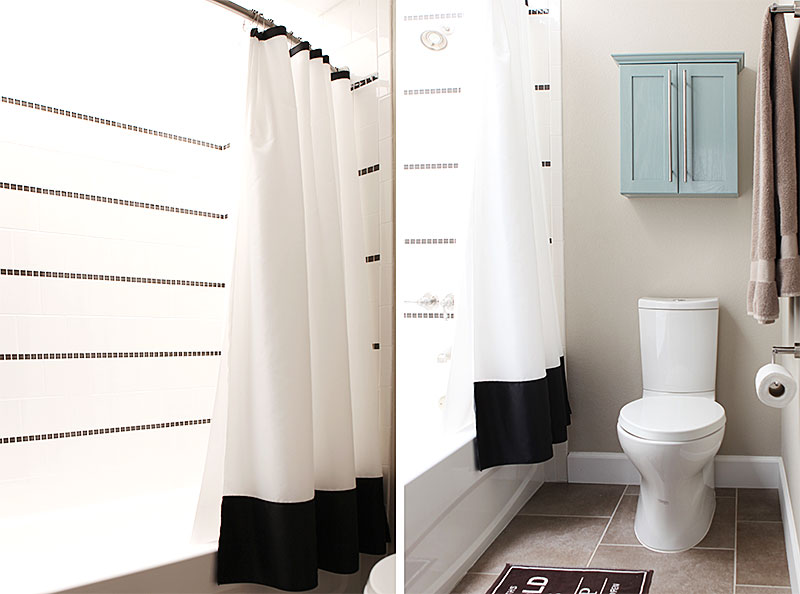 We had the tiler add a little shampoo niche.
I just love shampoo niches. I think the world should have more of them. That would bring us one step closer to world peace. That and whale shaped nail brushes. On top of goat milk soap from the Farmer's market.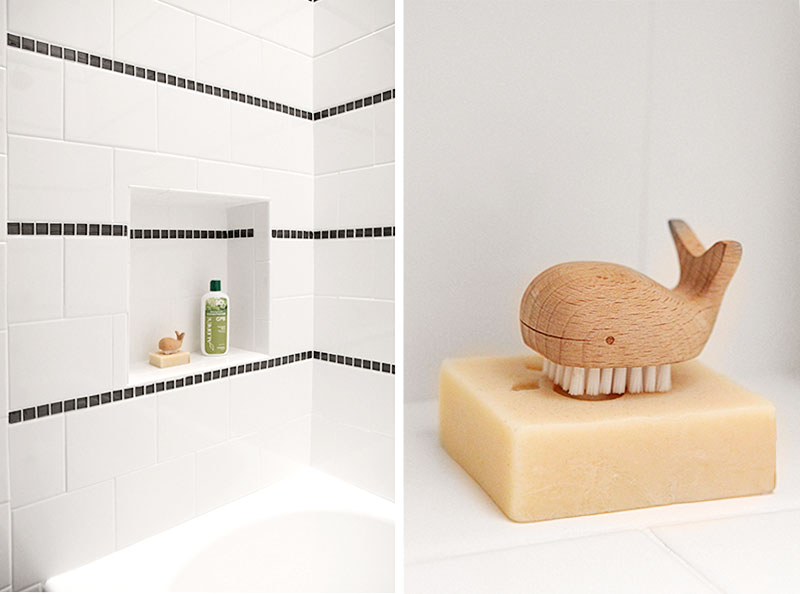 Last year, we finally circled back in here and put the final touches on this bathroom, when we had new vanity top installed. Below is the vanity with the new honed cultured marble top. I wrote more about these counter tops in this post.
We reused the faucets from our master bath remodel in here and one of the faucets that was previously in here was re-used in the other small bathroom make-over upstairs. As I mentioned in the last bathroom post: faucet tricklenomics.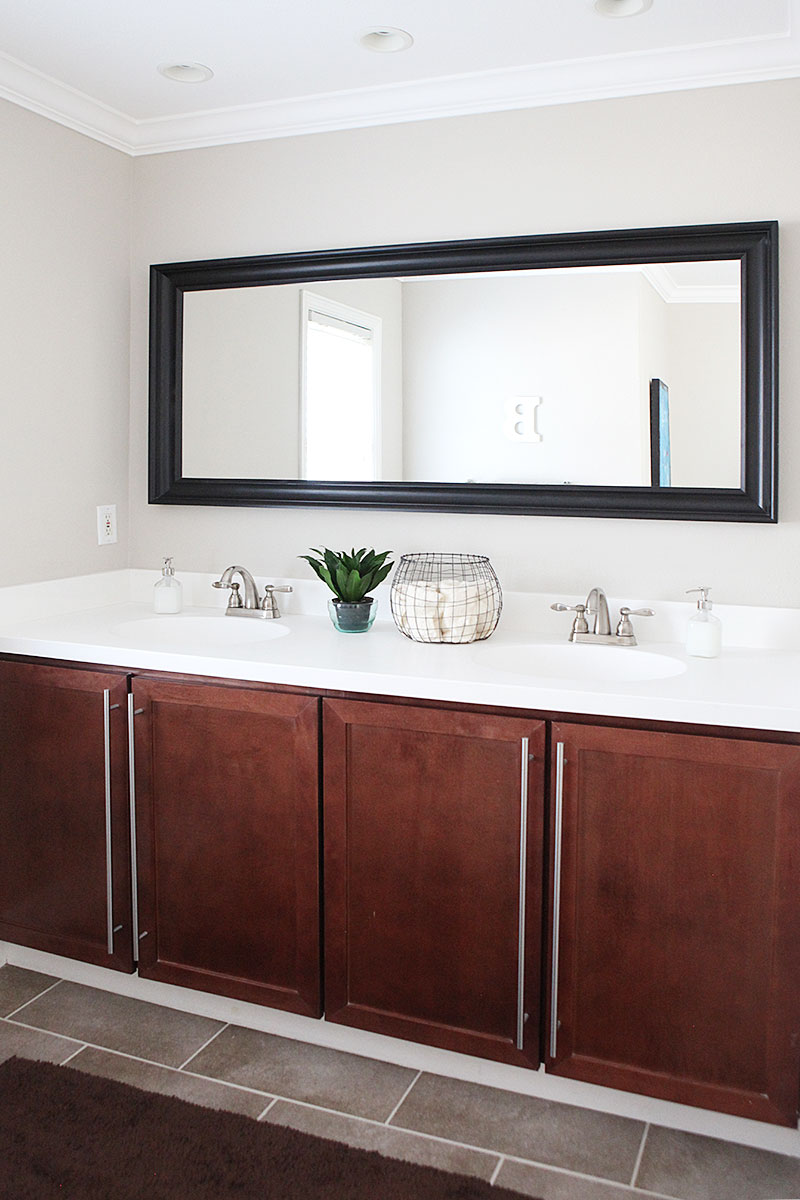 A little green plant in a glass dessert cup (IKEA - not available anymore) and some rolled up wash cloths in a wire basket (HomeGoods). What more do you really need?
Maybe a couple of soap dispensers (HM -not available anymore), but then that's it, right?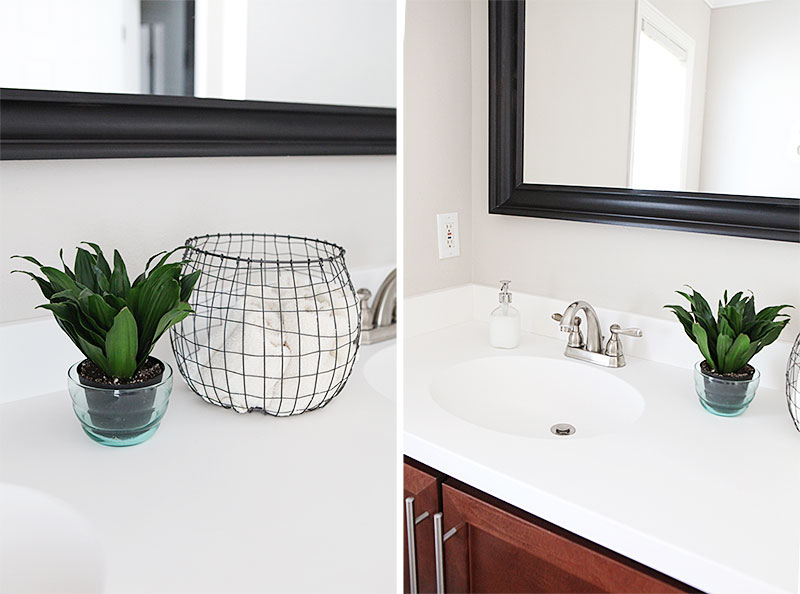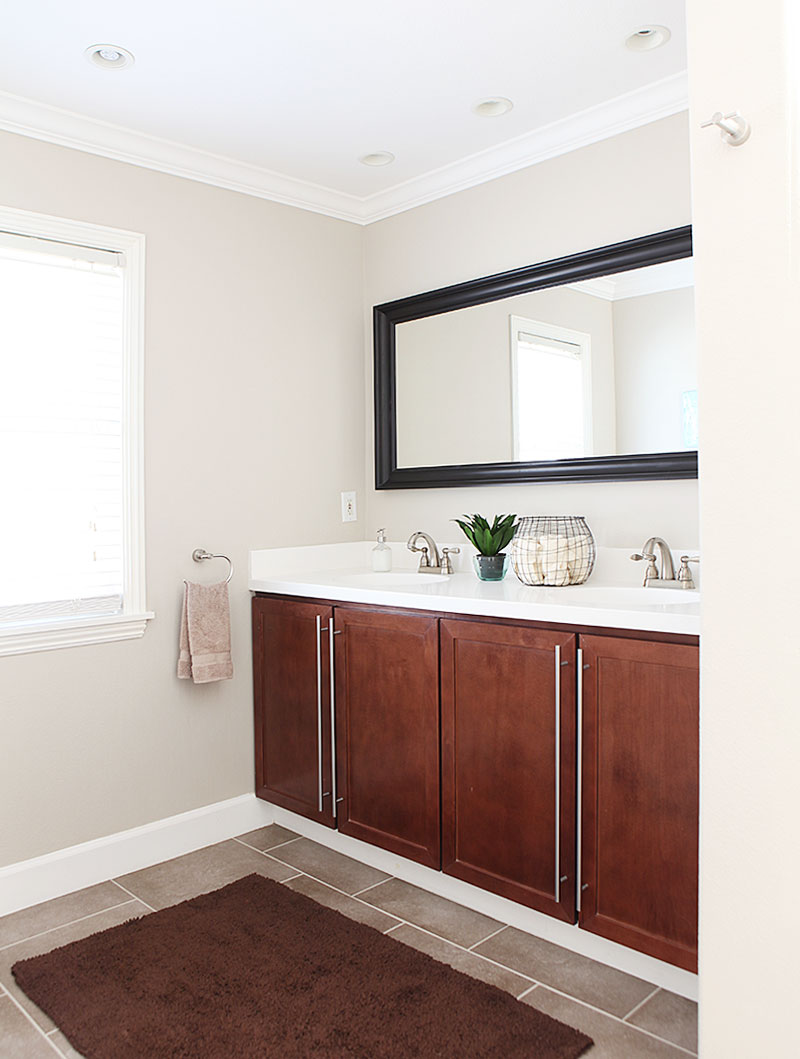 Share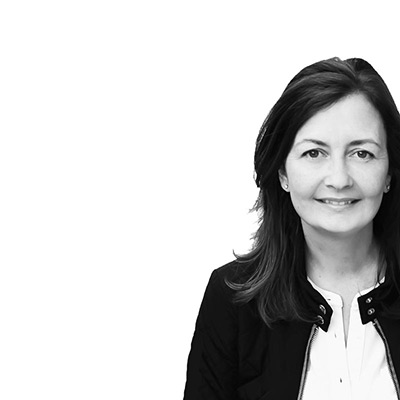 Categories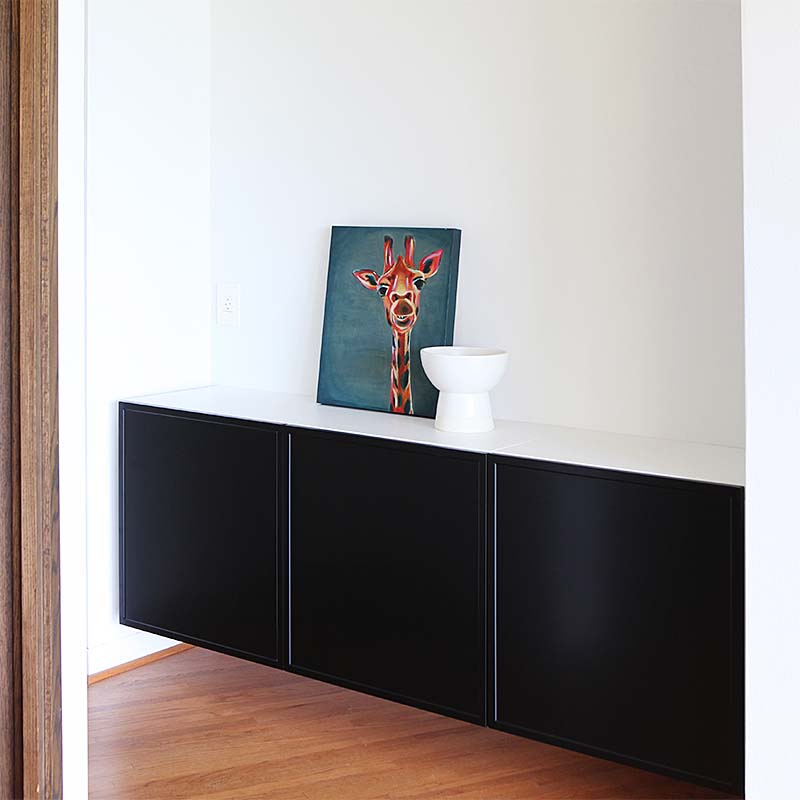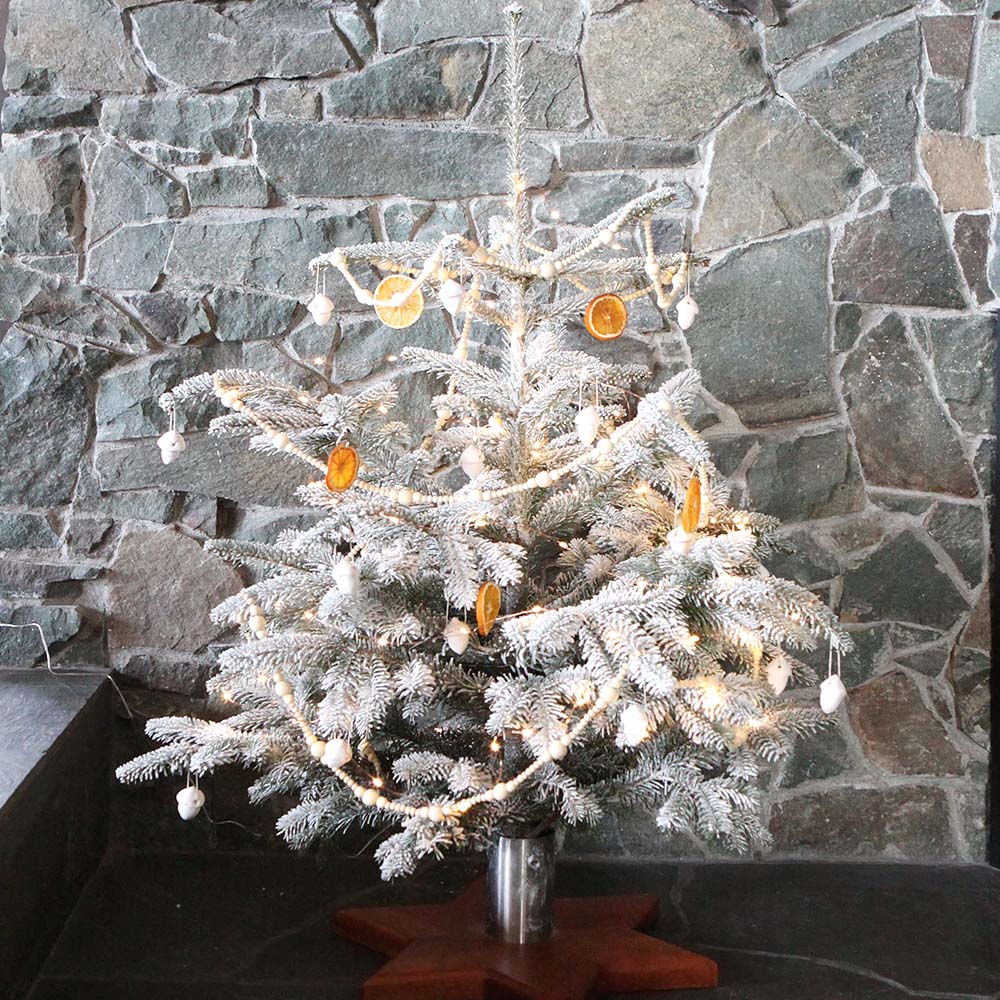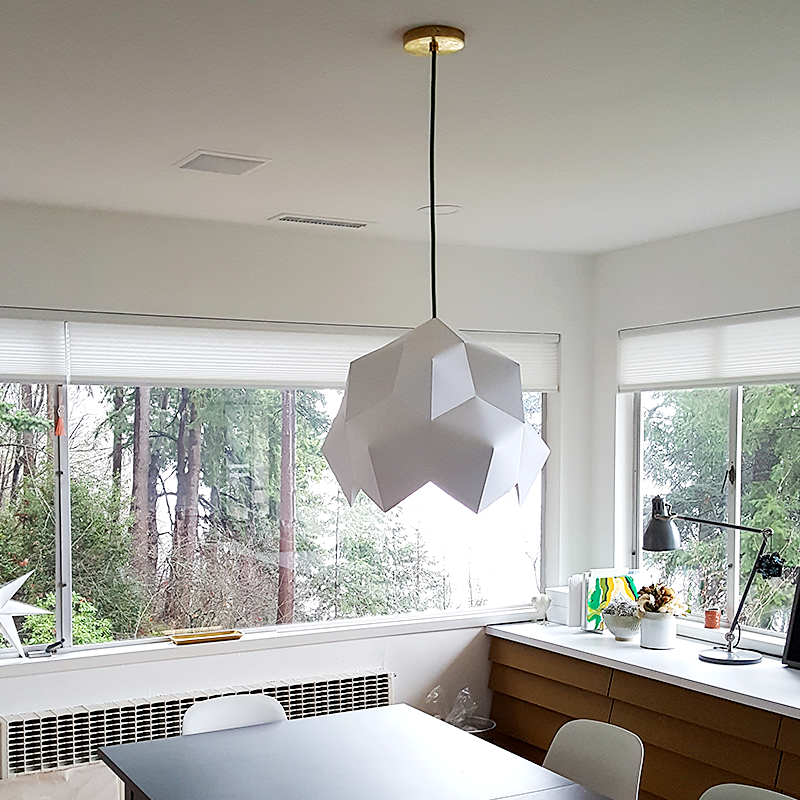 Search
We have been featured here
Full list
here
Search
We have been featured here
Full list
here