The guest & game room - before, demo and reveal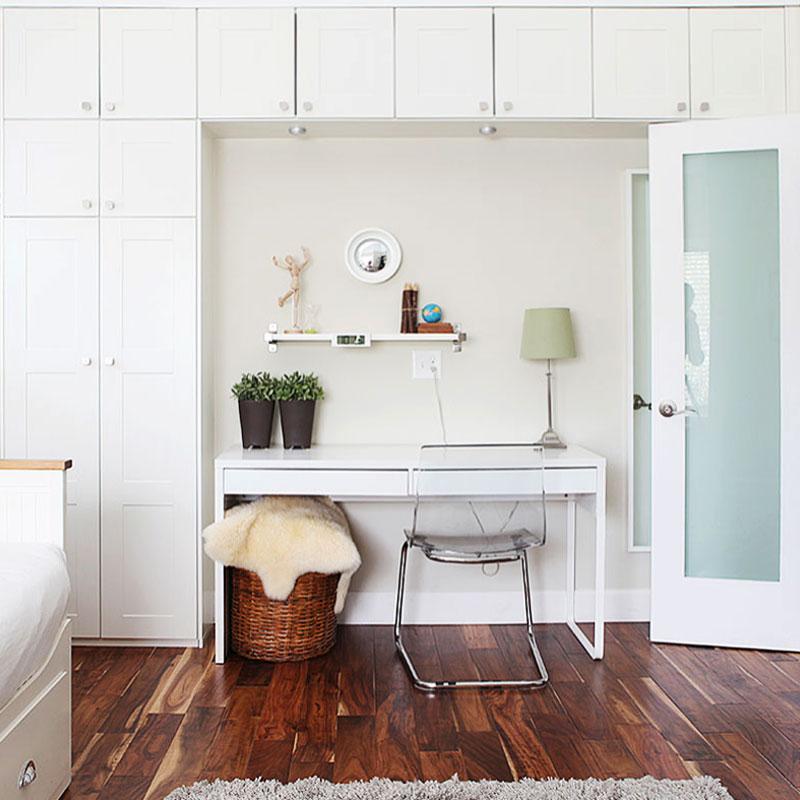 Let's talk about our guest / game room.

The previous home owners had built an addition to this house adding on a living / dining area below and a master suite above, thereby about doubling the size of the house.

When we toured the home before buying it, I already noticed that they had a tough time utilizing the original living room. It was occupied by a doll stroller and some toys and was otherwise empty.
After we moved in ourselves, it quickly became clear that a couple of things were not working for us.
After the jump you can see the 'before'.
The living dining area is what you are seeing closest to the camera below. In the far corner is the original living room.
---
As you can see, the staircase was getting a lot of attention in the dining room. Second, I was not loving that lowered ceiling box ending in half an octagon in the living room and third, the wall on the right was so short that when placing a sofa there, half the sofa was not backed by any wall. Not a good Feng Shui power position. Fourth, from the side window by the entry door (on the left behind the stairs in the photo below), you had a free view into the living room, which I found especially bothersome at night. Even with the blinds closed.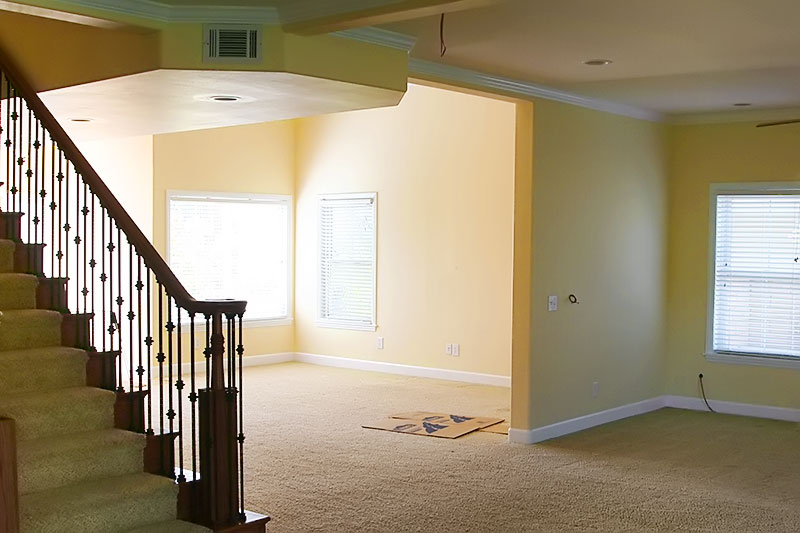 Here we are looking back into the original living room and the lowered ceiling. Above it is the cat-walk connecting the original house with the new master suite above.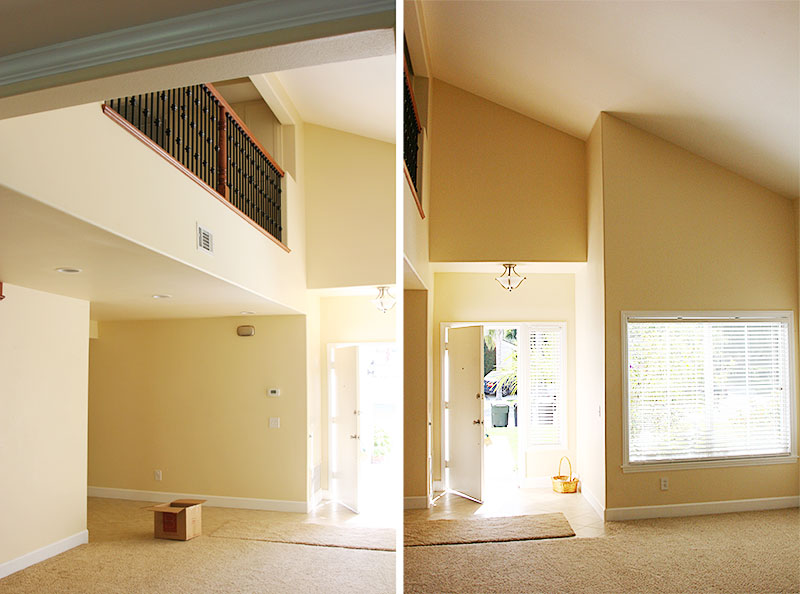 Before we got to work, we made lots of plans and drawings and then went to the city and got a permit. We hired a contractor to come in and do all the hard work.
Below you can see that we took out the staircase. You can read here about the new staircase.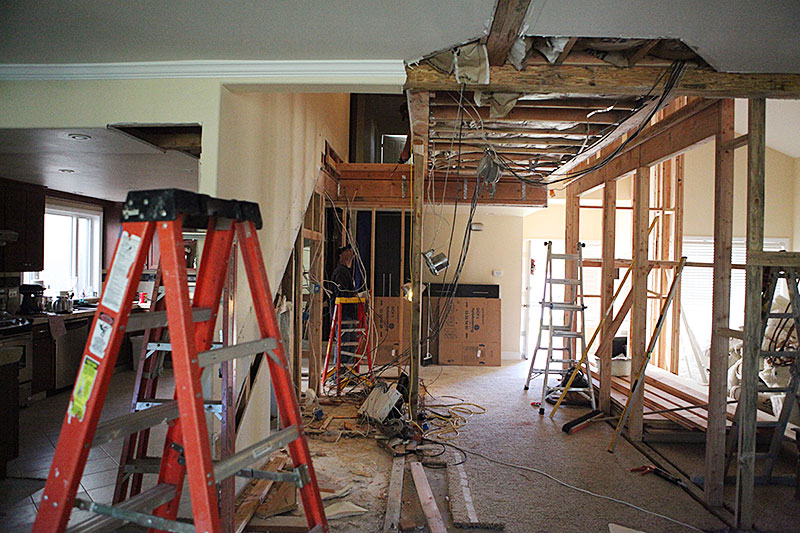 I know that everyone else have been tearing walls down after moving into a new home and I did have many skeptics warning me against putting walls up.
But I thought, hey, let's live a little. And we went ahead with the plans.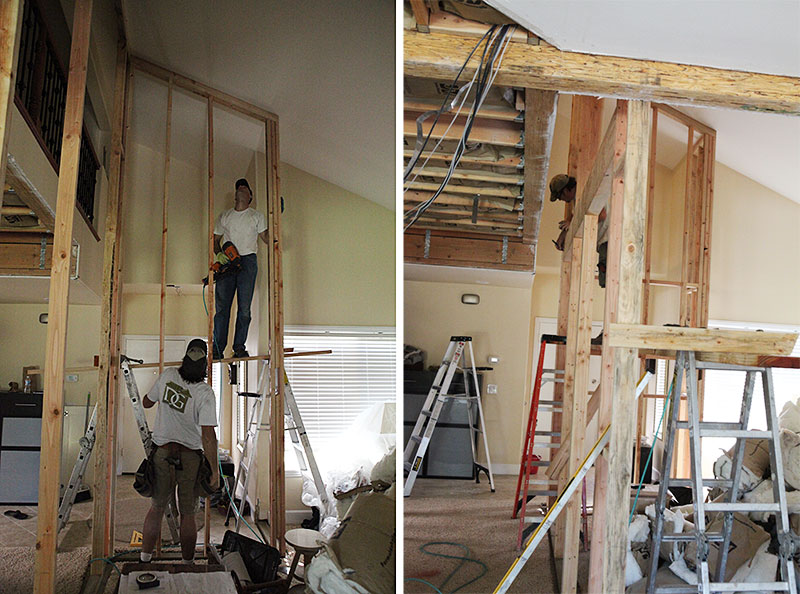 We put an enormous amount of thought into this. For instance, when we put up the wall where the cat walk railing was previously, we set the wall back 18 inches to create a pocket for storage. That later became those 12 feet of glorious storage that I showed you in the upstairs hall reveal.
I think that when you put up walls, the least you can do is create more storage, add some architectural interest and improve functionality and preferably all three.

When I tell people now that the wall is set back 18 inches, their eyes usually glaze over. I don't think they can picture it. But this image below should make it easier to visualize what happened.
By setting the wall back a bit we also achieved a larger hallway downstairs big enough for a bench and it actually feels like a room almost. It's great for larger parties where this hallways is often used to congregate to talk or even juggle some mandarins.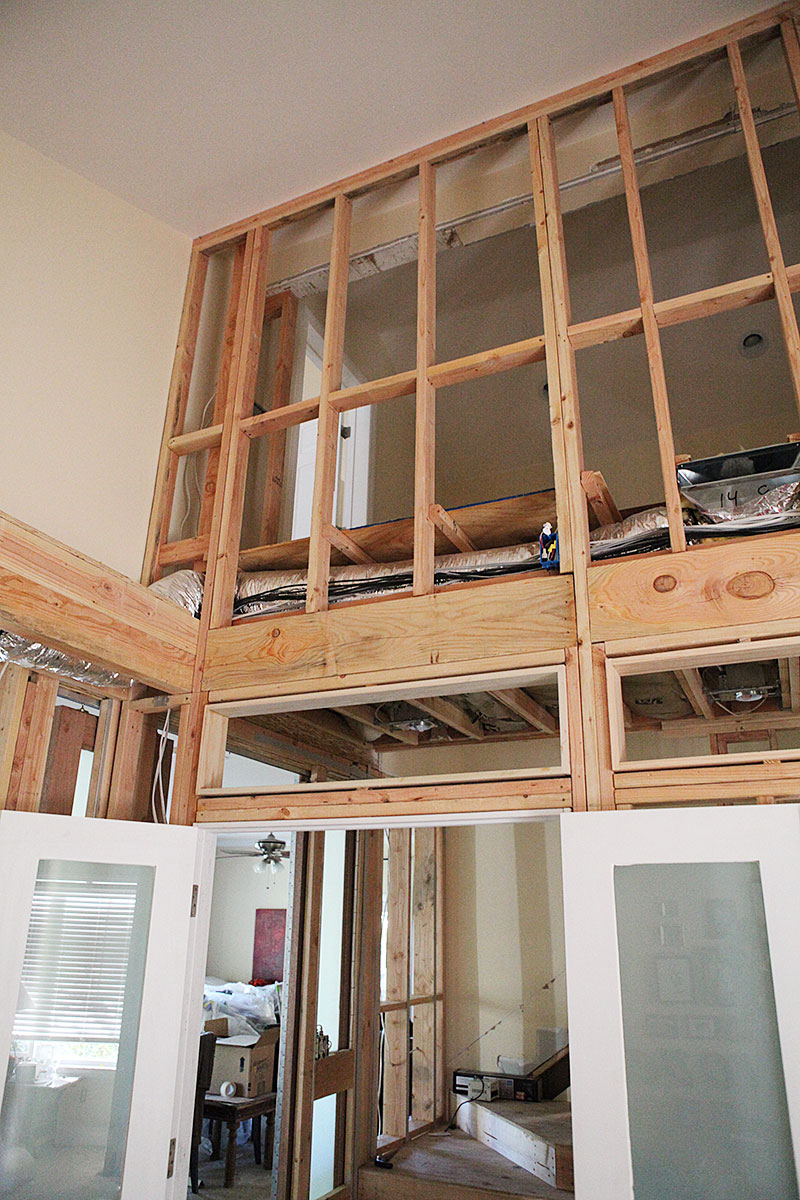 You can see that we added some transoms to the wall to let some light into the hallway. We also put in some recessed LED pot lights. We raised the ceiling in the hallway by a whole foot, which helped immensely to get a better feel in there. You can see below in the back on the right, where the square duct vent opening is. That is how far back we were able to push back that previously dropped octagonal ceiling. Around the corner to the left, we were also able to raise a 7 foot ceiling to meet with that 8 foot ceiling. I thought that was a big improvement. I wrote more about all the different ceiling heights in this kitchen post.

We added a large 4 foot doorway and put in french double doors with frosted glass to make the room feel a little more grand. That way it could be a dining room or a formal living room or an office space or so many other things down the line. I love options!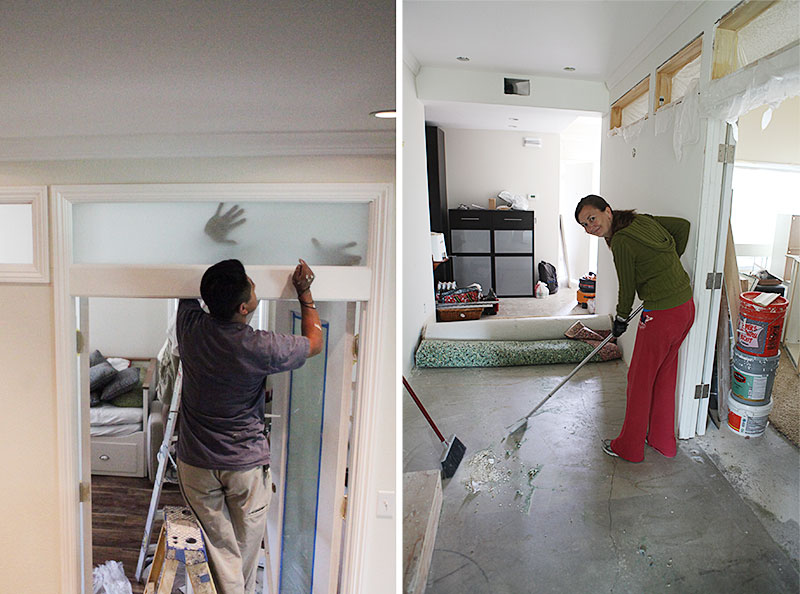 After the new room was done with the construction phase and the new floors were put in, we installed some built-ins along one wall. Here are all the boxes from IKEA. We also got an entertainment unit for one of the other walls. So many boxes.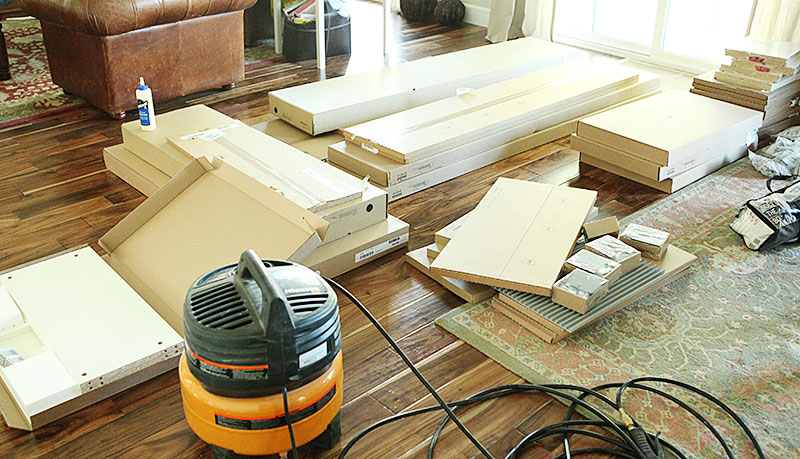 Here is the finished wall that you see when coming down the hallway. I added sconces to both walls and hung the obligatory gallery wall. The buffalo photograph is by Nick Wills.
I love that photograph so much that I had a bigger print made of it and it will be making an appearance in an upcoming office reveal post.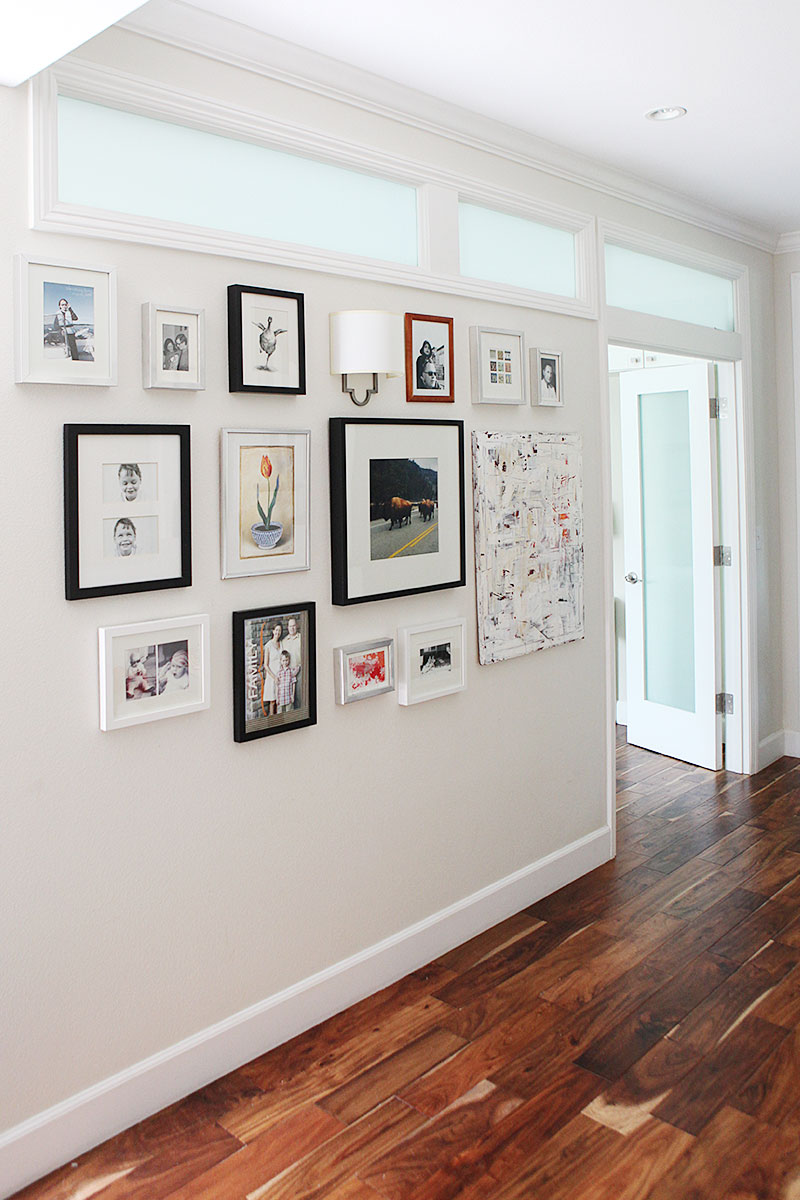 Below you can see the before view from the living room and the after view. We added double sliding mahogany french doors between the living room and the hallway. They are 8 ft tall, so the upper edge of that doorway is at the same spot as the underside of the half octagonal on the left. Which I don't miss even one little bit.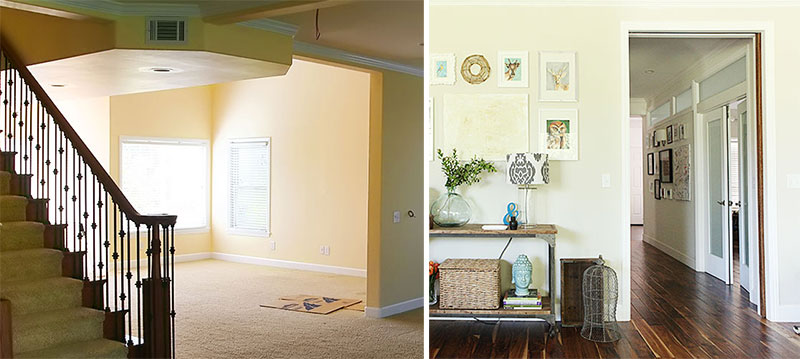 Let's get to the inside of the game room. We used B's daybed in here. It extends out to become a queen size bed, which is comfortable enough that you can sleep on it for more than just a few days. This has come in handy for when we have had guests stay longer.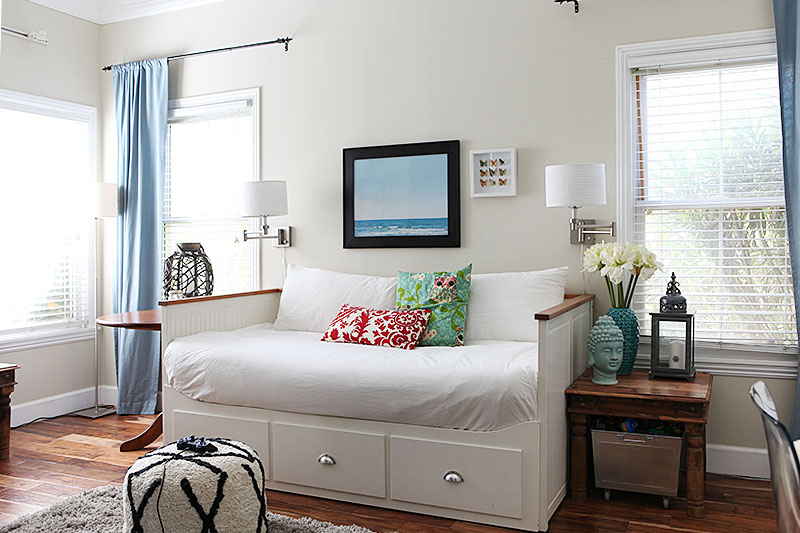 When we don't have guests staying with us, B uses this room to play video games and hang out with friends. While the entertainment unit in here is very functional, I am not super loving how it ended up looking. It was something that we just set up quickly one day, probably minutes before having company over. We included it with the house and won't be taking it along with us.
I had big pieces of wood added to the inside of the wall (behind the drywall) so that the TV could be wall hung, but we never finished this space. I had many plans for this nook, but not the time or willingness to spend more money on it...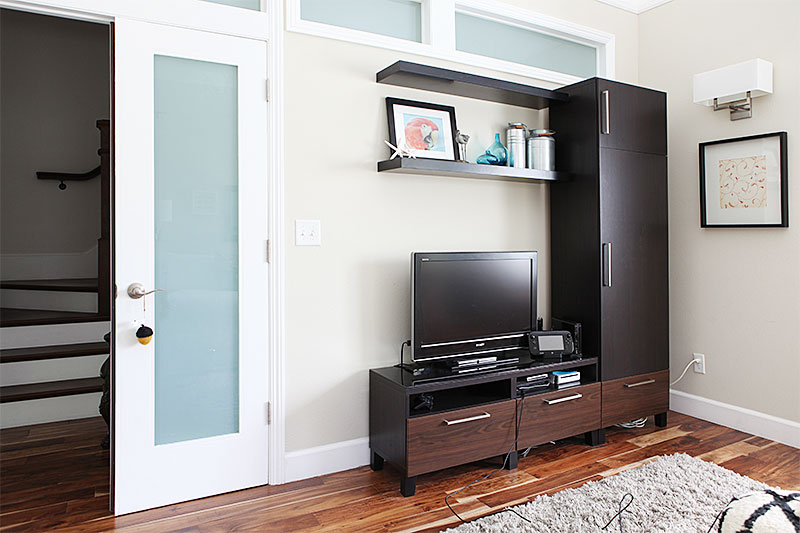 Ok, let's get to my favorite wall in this room: The built-in wall. This is the wall that was one of our features in the new book by Young House Love: Lovable, livable home.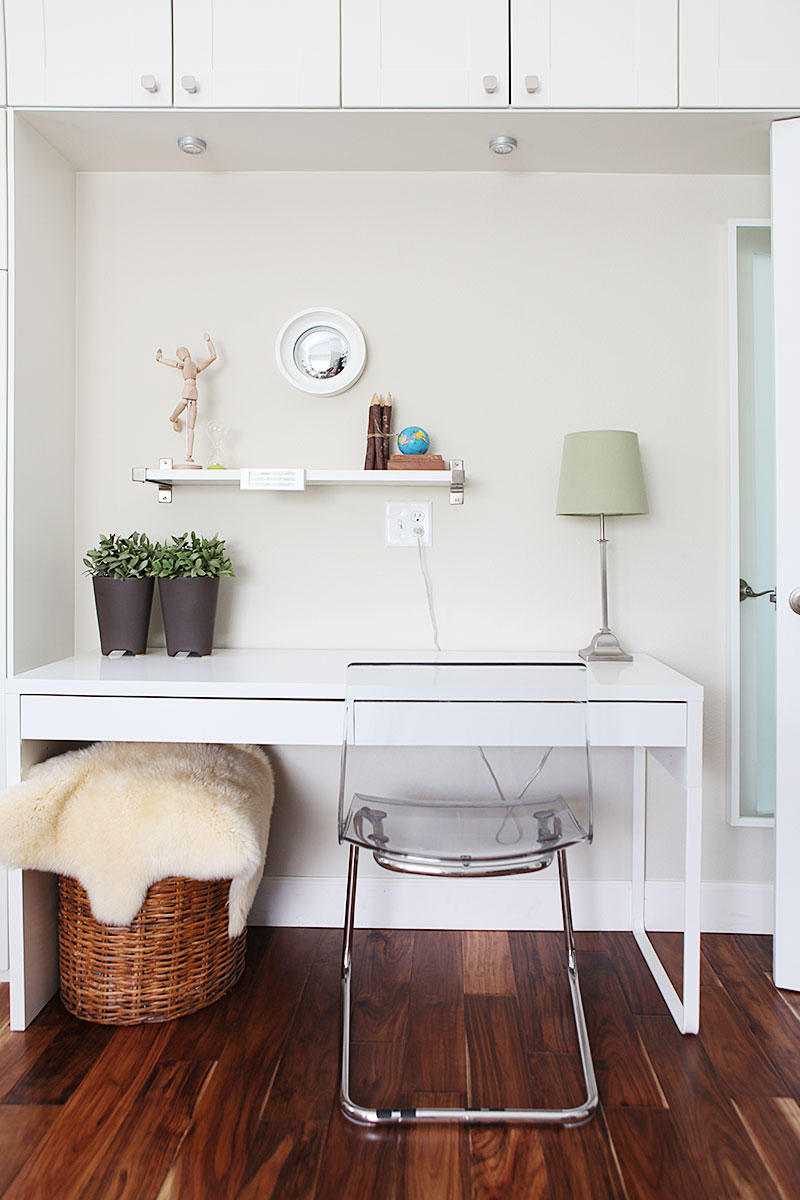 The wall box above the cabinets was one of those compromises you have to make when you build and you want A/C and heat in all your rooms. Such a drag. It was either this box or leaving the 8 ft ceiling in the entire hallway instead of the new 9 feet, which meant no transoms and no 8 ft mahogany doors. So we chose the box. To make it look as good as possible (if not intentional) we added that L-shaped built-in. The new home owners loved this set-up so much, they bought the furniture under it. I think that is awesome.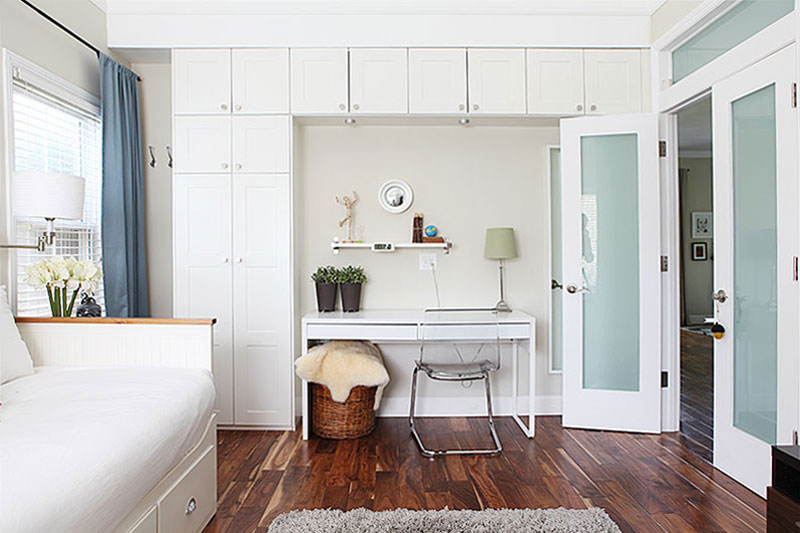 We won't have room for most of what is in here, so I am happy to see that it gets new owners that can use it. We are also selling the daybed. And I sold the side tables. We will only be taking the basked under the table - my 7 dollar thrift store find - and a hand-me down round table at the other side of the day bed. That's it. Time for down sizing. It feels really good!

Share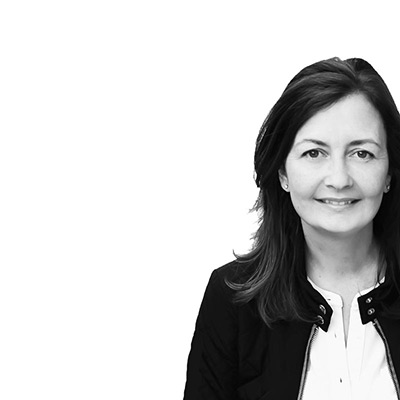 About Katja Kromann
I am a Danish American decorating life in Seattle. I love all things design and DIY.
I can't think of anything more fun than coming up with project, making it, photographing it and sharing it with you on my websites.
I am a
Graphic Artist
and home maker by day.
AHomeForDesign.com
AHomeForFood.com
AHomeForCrafts.com
Categories
The guest & game room - before, demo and reveal is posted in the category
Living room
|
Reveals
Instagram
Search
We have been featured here
Full list
here
Search
We have been featured here
Full list
here