Small bathroom make-over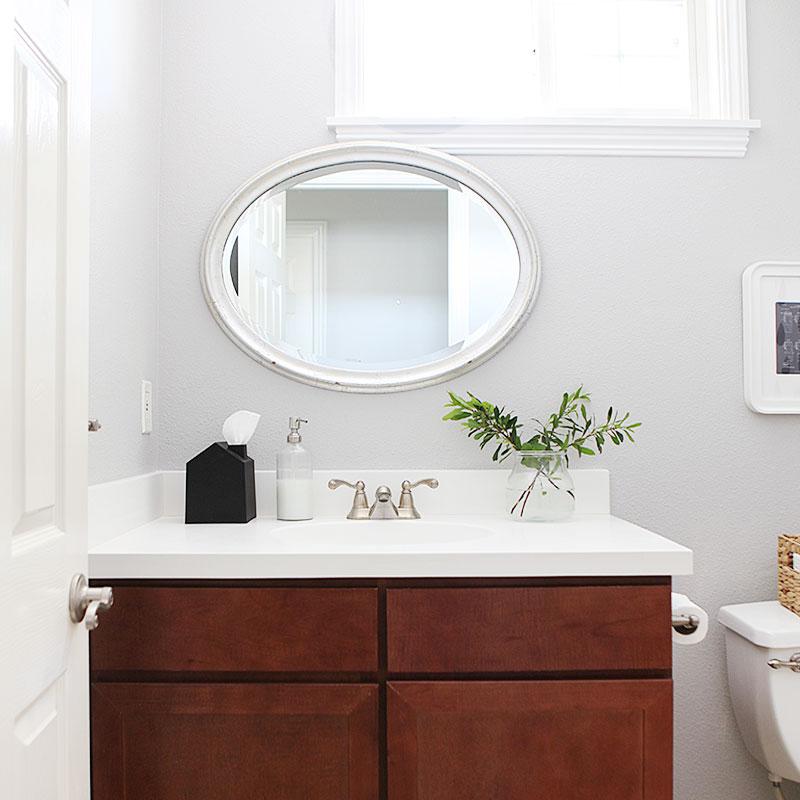 Upstairs we have three bathrooms. The master bathroom, which we recently renovated, and two other bathrooms for the other three bedrooms upstairs.
For this bathroom, we just wanted a quick makeover. Let me show you the before.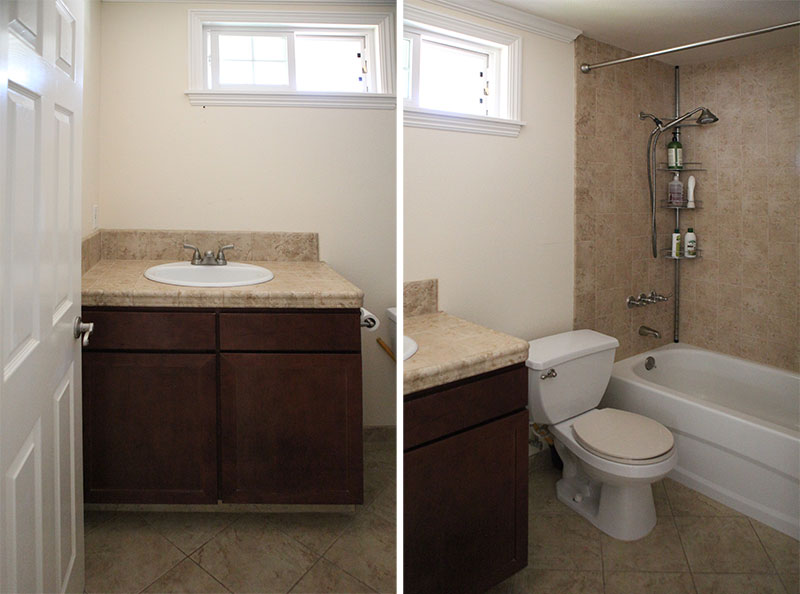 As you can see we are at a pretty good starting point. All fixtures are relatively new. The vanity and tile are in good condition. We just needed to add a little style and maybe do something about that tiled counter to make the bathroom easier to clean. Some color updates were in order as well.
We set out to demo the counter top and give the bathroom a new fresh look.
---
For the vanity top, we wanted to use the same cultured marble as in the master bathroom.
Cultured marble is a similar product to quartz, but instead of granite pieces, the cultured marble is made with pulverized marble. You can get it in many finishes, some very taste specific even. Think clam shell sink bowl, or heavy green veining. There is something for everybody. But it also comes in this beautiful bright white, and you can choose between a gloss or honed (matte) finish. I highly recommend the honed finish for a higher end look.
It is a softer material than quarts and therefore is not suitable for a kitchen application. I don't think it would stand up to a splash of curry either. But it works very well for a bathroom. We have had ours for over a year now and they still look great. If we do get a resilient scuff mark, it wipes right off with acetone. Other than that, it cleans very nicely with regular soap and water. It is very easy to maintain.
Here you can see the demo taking place, which we did ourselves. The plywood under the tiles and cement counter top was in very good condition so it could be re-used. So far so good.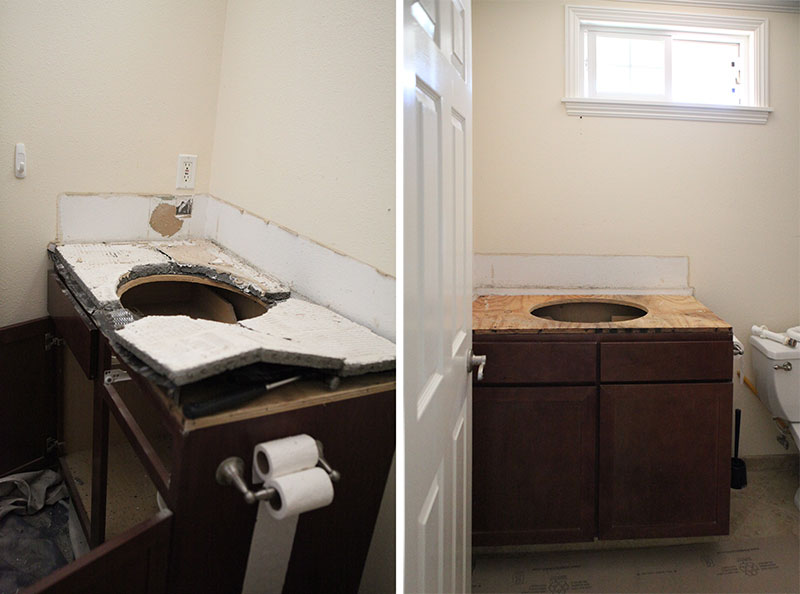 I selected a minimalist, clean line integrated bowl with the counter top. Although I did debate that clam shell sink for a hot minute. (Not really)
In addition to the new counter top we also played tricklenomics with the faucets. We got new faucets for the master bath and then re-used the old ones, which were very nice, in the second upstairs bathroom (to come), and then we used one of the faucets from that bathroom in here, which was a nicer one than the one that was already here. Got all that? That way we kept cost down and saved the landfill a little.
While it is super fun to pick out everything new, there is also a certain satisfaction that comes from a successful integration of something pre-existing. And of course your wallet thanks you.

Here is the new counter installed with the new-to-this-bathroom-faucet. So pretty, so white, so smooth.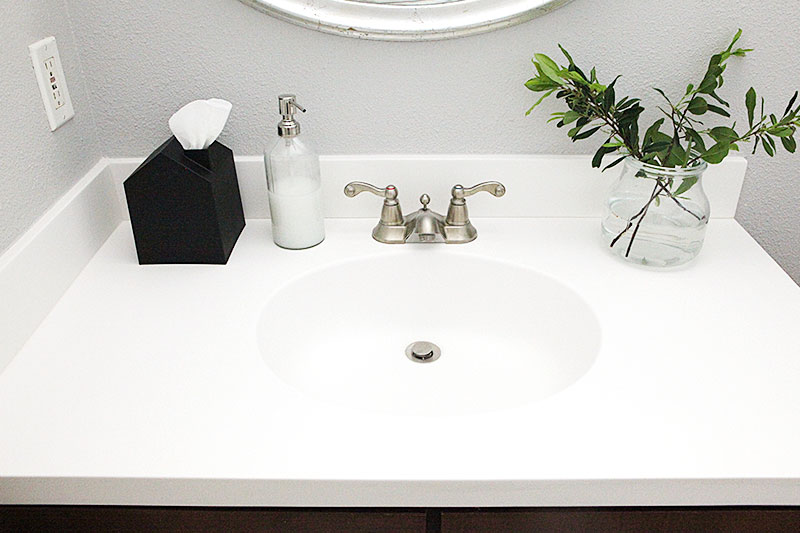 As you can see I had painted the bathroom before installation of the new sink. I used Valspar's Filtered shade - matte. It is the same paint I used in the Master bedroom, so that cost me nothing because I had paint leftover. I painted the ceiling white (oil based white paint - matte) and the trim too (Valspar's Ultra white - eggshell finish).
Here is the design plan I made for the space with all sources listed.

The mirror is a vintage IKEA mirror. It used to be gold colored. Then around 2002, I painted it gray and gave it a silver leaf treatment and we used it over our fire places in various homes until I got the quatrefoil mirror we use there now. This silver leaf project went so much better than my Liberace project of yesteryear. Remember? I am still trying to forget.
Here is the after.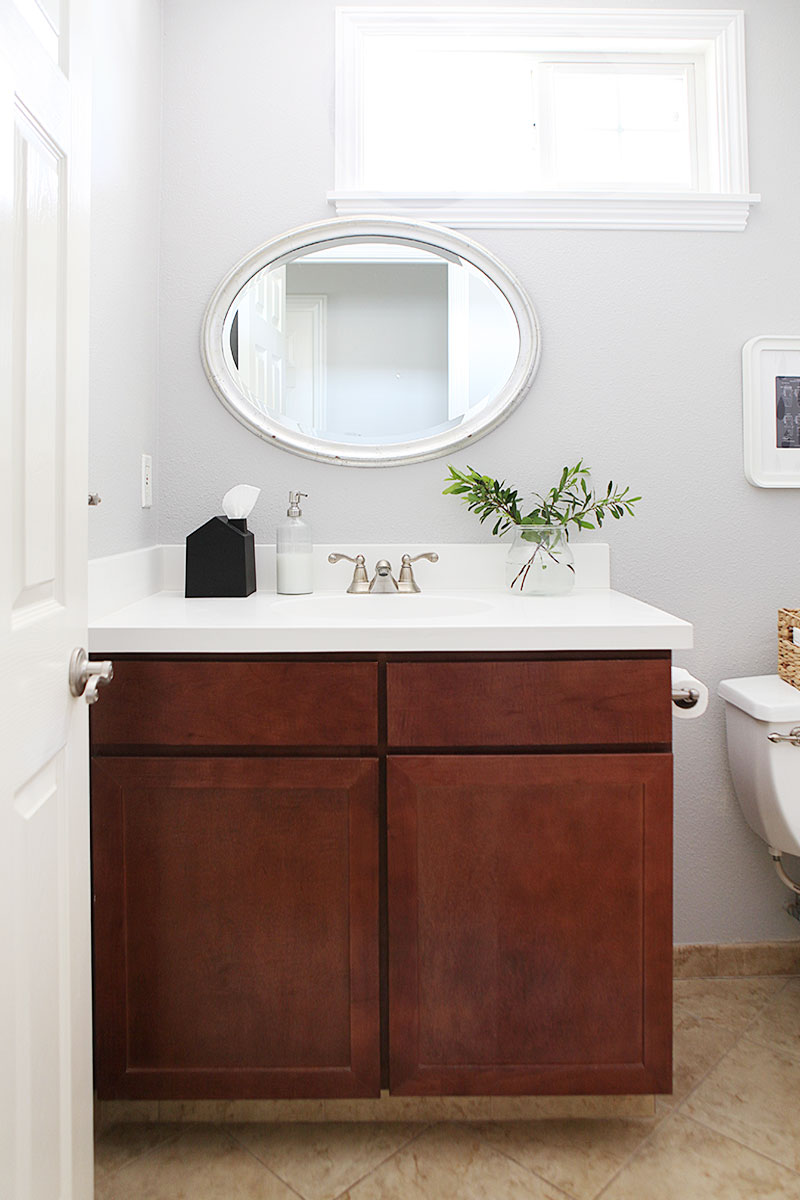 Let me address that window / mirror situation. As you can see, the builder or who ever, decided to put a window right where the mirror would normally go. Expert move, builder, expert move. So therefore I had to hang the mirror a bit lower than I normally would. This is also the reason I used an oval mirror. More mirror where you need it, and not so much fighting with the window casing. Also, the vanity is quite tall - 36 inches, which makes the mirror look even lower, but I can actually see my whole face in the mirror. Not the top of my hair, but my whole face and I am 5'11. Still, the builder should have thought about that window placement a couple minutes longer, I find. While being poked. Oh well.

Something more fun to talk about: I love this little tissue house. So darling.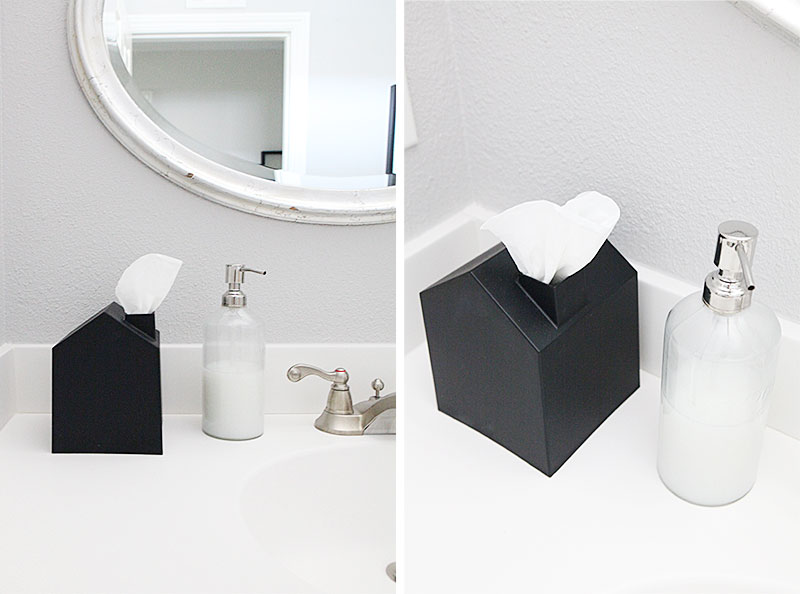 This vase is one of my favorites. I have used it a couple of times. I have two of them, but I feel like I need more. Why is that? The shape just makes even three small branches from the yard look great. And it's only 4 bucks. Can't beat that with a stick.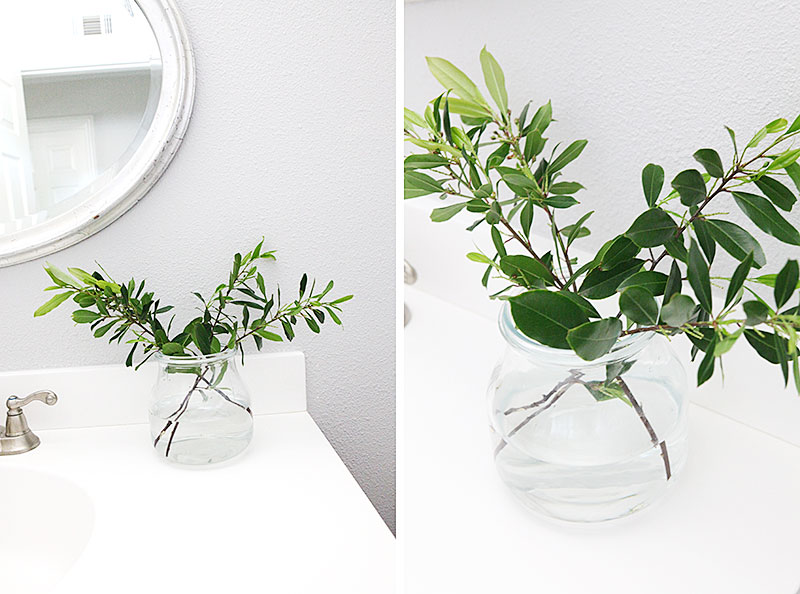 In the shower/tub 'before', the shampoo holder business was a rod in the corner with shelves. You can scroll back up to see or wait to see it again below. At the spot where the rod met the tub, it got a little, shall we say, gunked up. So I switched it for a caddy that hangs from the shower head. I know I am beginning to sound like a clean freak. I am really not. It's more of a time issue for me. Time spent removing gunk is time I am not coming up with a new craft. Something I would much rather be working on.

Over the toilet I hung this vintage (free) blueprint.
It depicts the first perforated toilet paper ca. 1891. Some people have speculated that this print should end the debate as to whether toilet paper should have the paper come out over or under the roll. I am sort of meh about that whole debate. I feel like if that gets your knickers in a twist, why not take up some worthwhile hobby instead or at the very least, find a clever way to elevate the argument. Ok, I guess referencing a vintage blue print is elevating the debate. A little.

But let's frame(!) the blue print with an art installation in mind instead. It is originally in black on white. I inverted it in Photoshop before printing it by clicking Ctrl + I.
I looked into the copyright of this image and the bike print that we will talk about in a minute to see if I could offer this print to you already inverted. Unfortunately, there does seem to be copyright on the images even though the patents themselves have run out, so while they are fine for your personal use, I can not legally repackage it for you with the inverse colors. Bummer.
Ok, Isn't this the funnest shower curtain? I lined it with a curtain liner for a heavier weight/feel. It only cost 15 bucks plus the cost of a liner. I think 7 bucks. Such a great deal. It's sort of a happy marriage between a shower curtain and an IKEA assembly guide. In the bottom right corner of the shower curtain is a depiction of the little IKEA guy lathering up. Ok, I made that up. But shouldn't he totally be?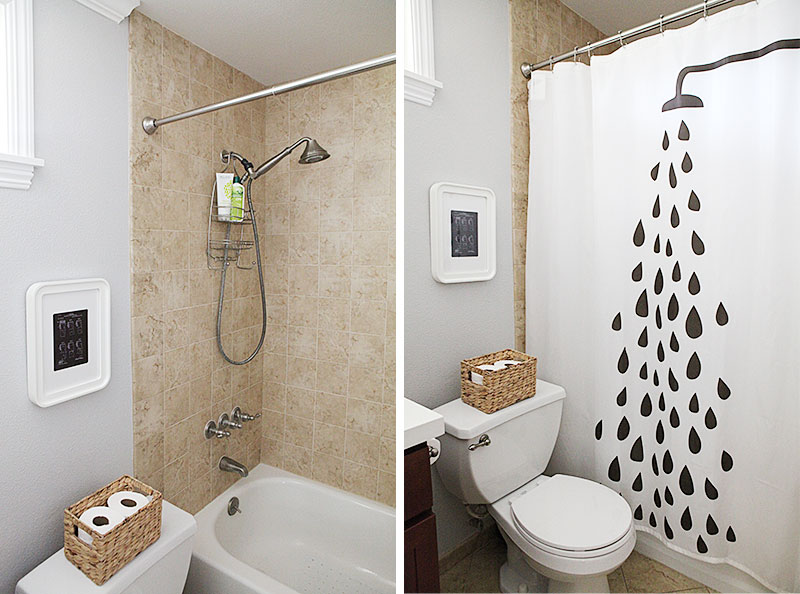 We also switched out the biscuit colored toilet seat for a white one. Looks fresher, right?

Here is the bike print. I inverted this one too. You can find it for free here.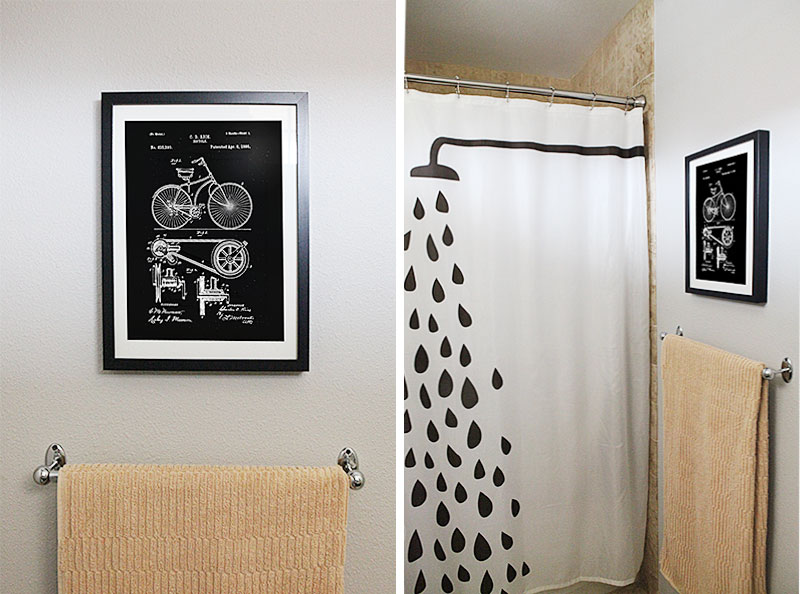 I used a sea grass basket and wheat colored towels to tie into the tile and make it look intentional. It also adds some warmth along with the wood of the vanity cabinets.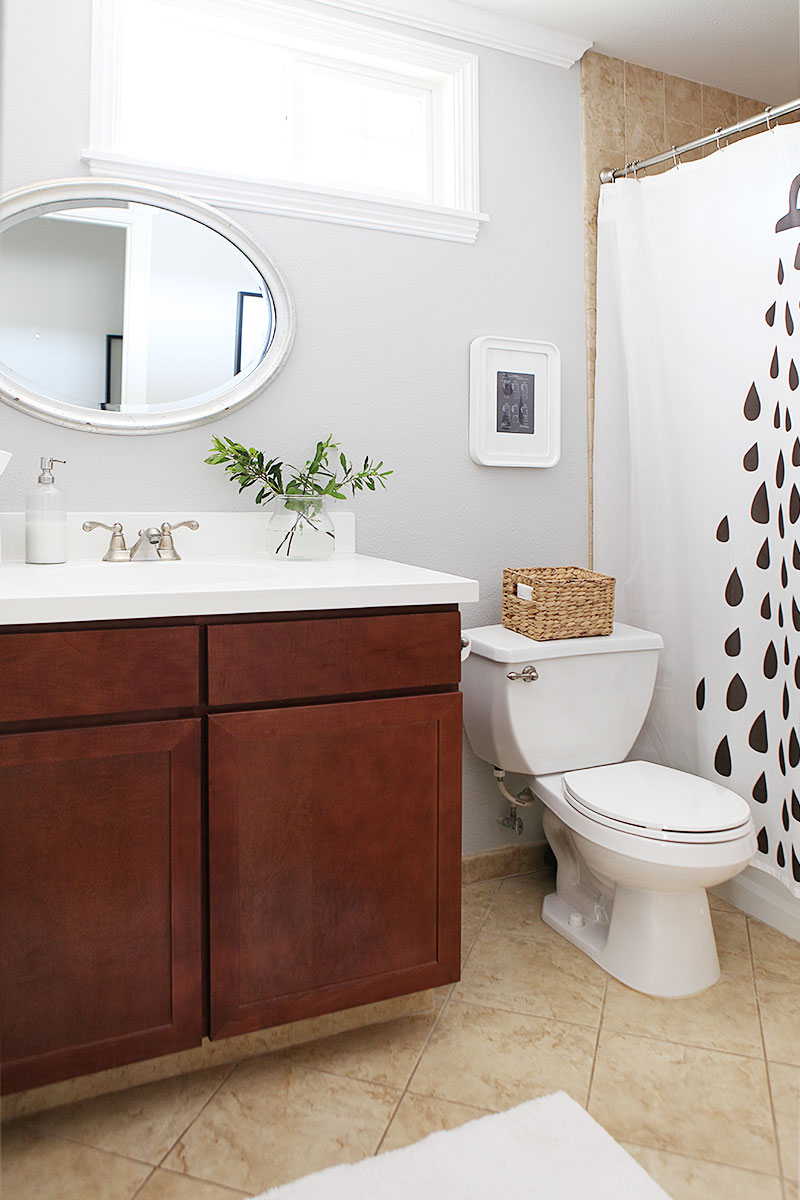 Who is ready for the before again? Here it is.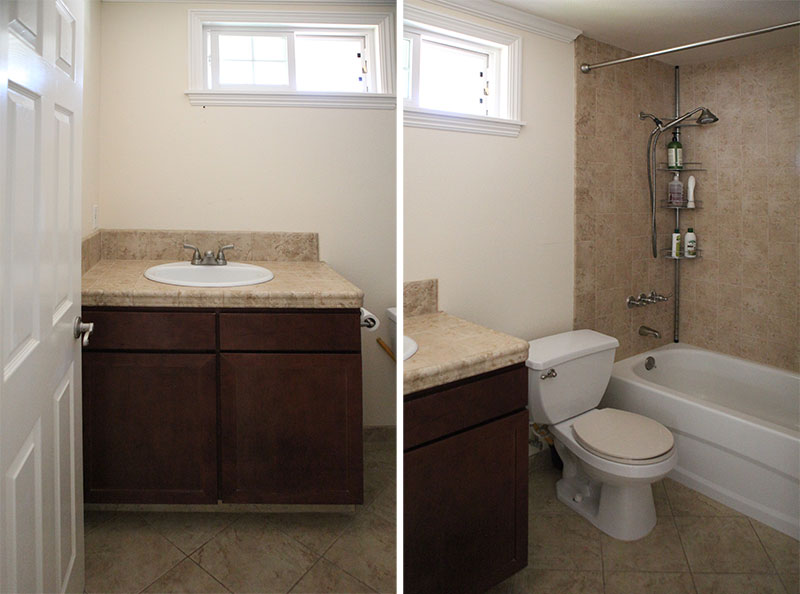 And here is the after. Lights, camera, action.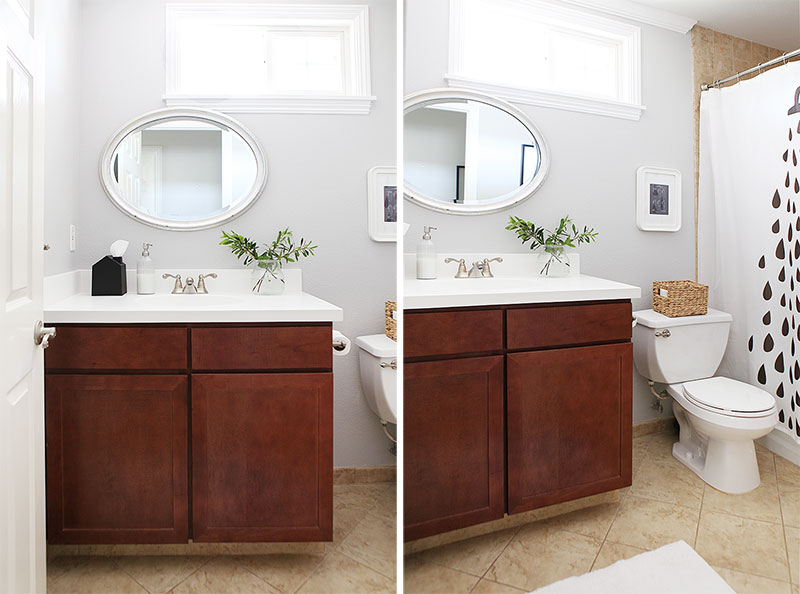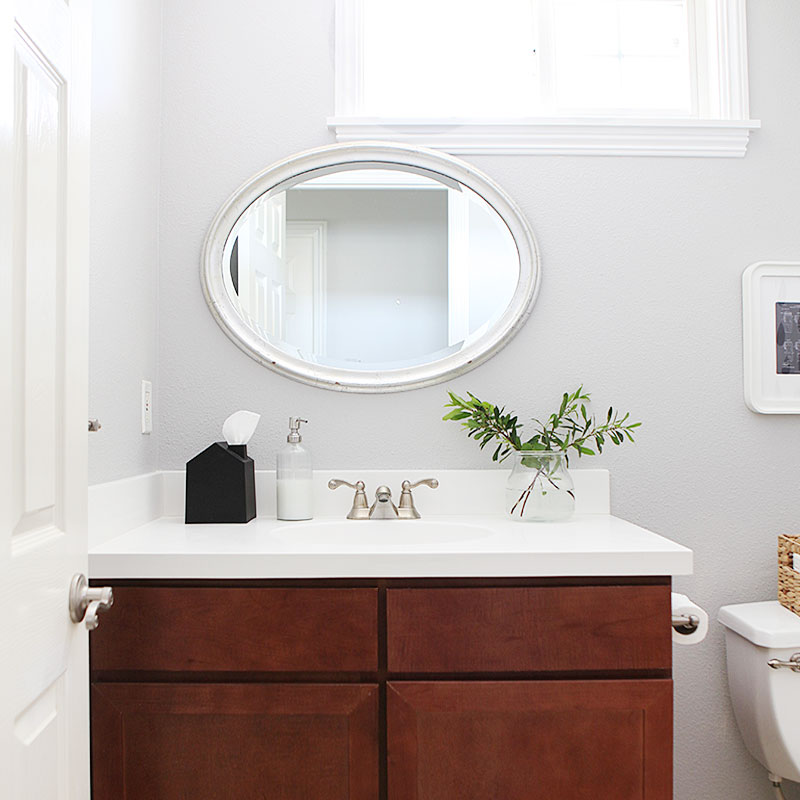 This week I also posted on A Home for Crafts, A Home for Food and on B's Corner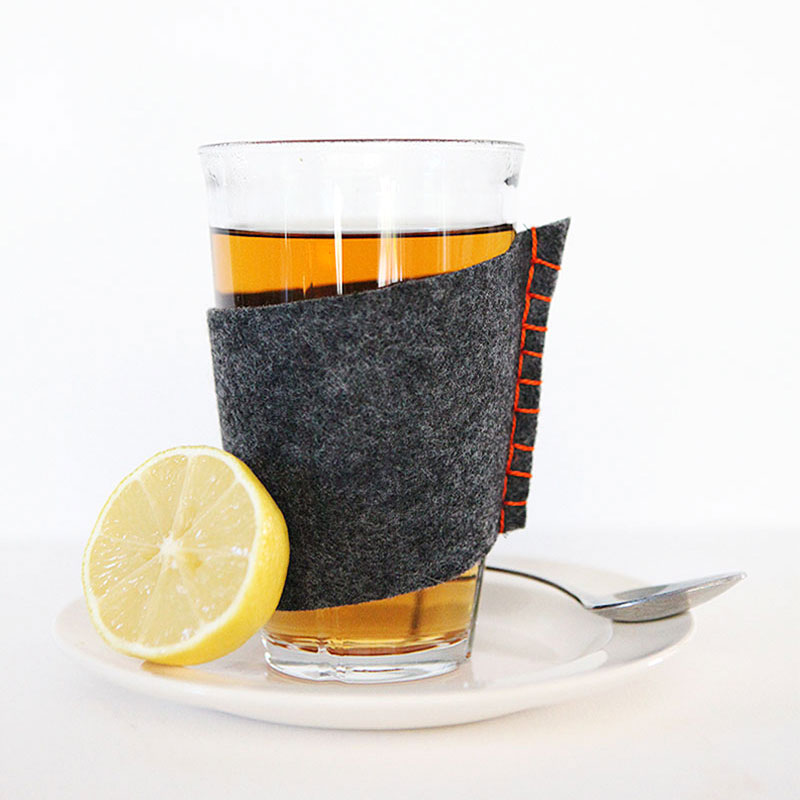 Felt sleeves for hot beverage glasses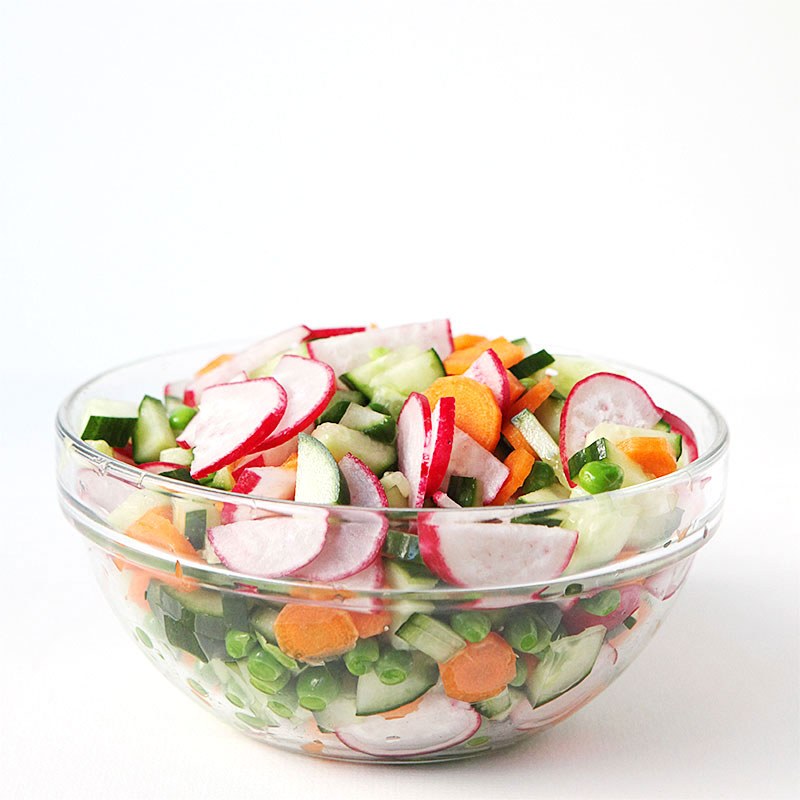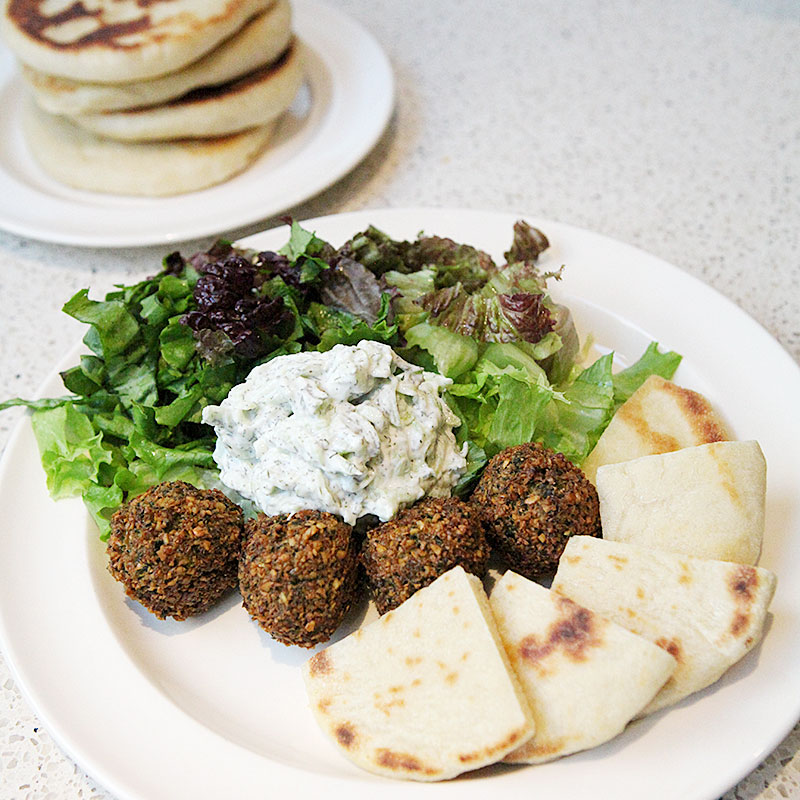 Chick pea experiment - with falafel, tzatziki and pita bread from scratch

Share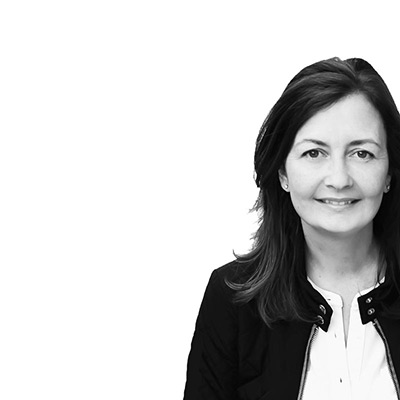 Categories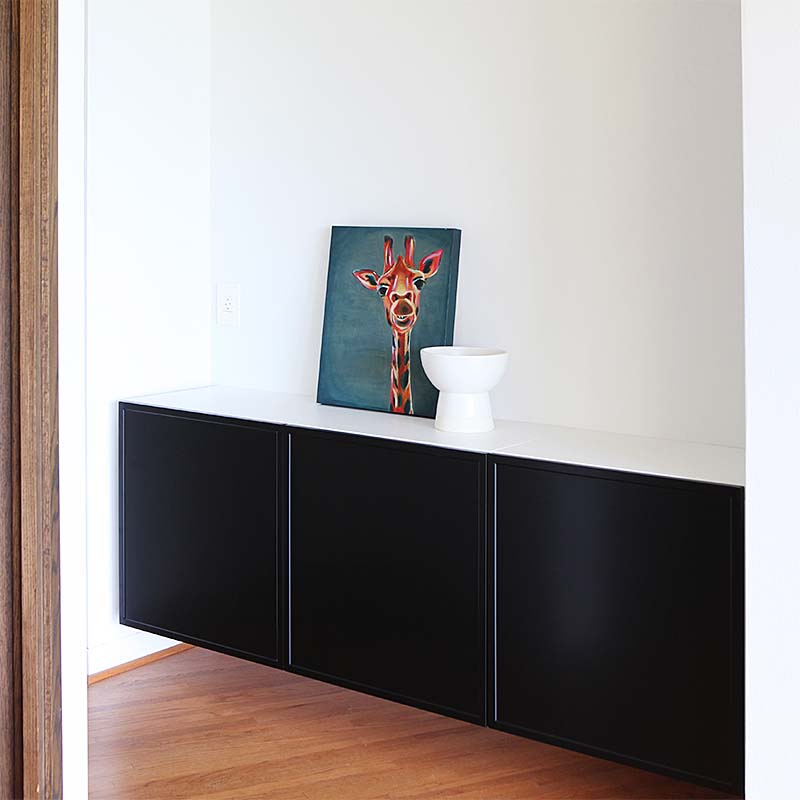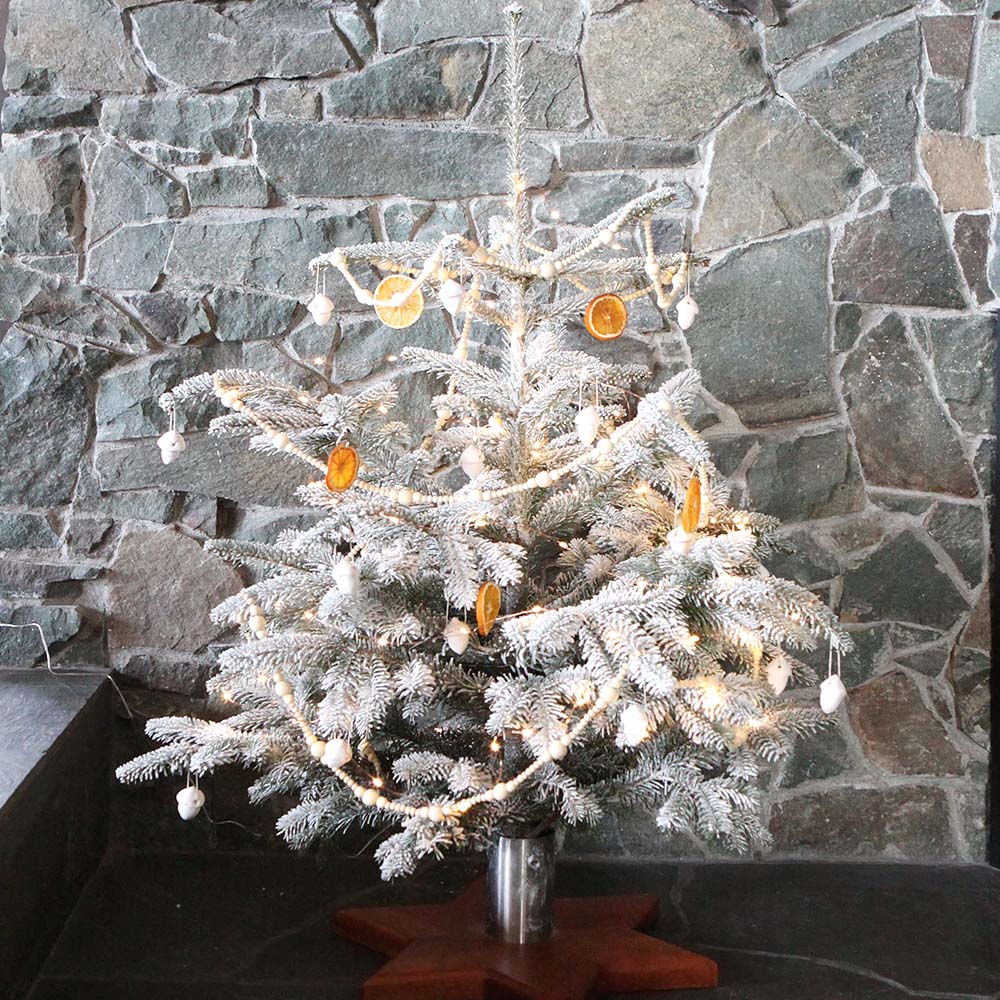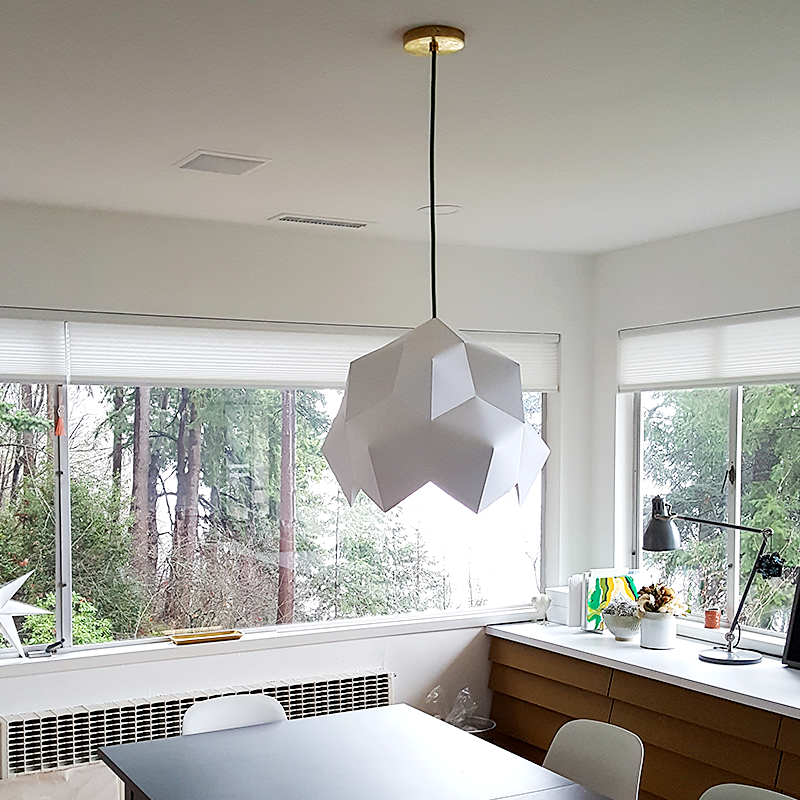 Search
We have been featured here
Full list
here
Search
We have been featured here
Full list
here