How to furnish a 3 bedroom apartment for under $10K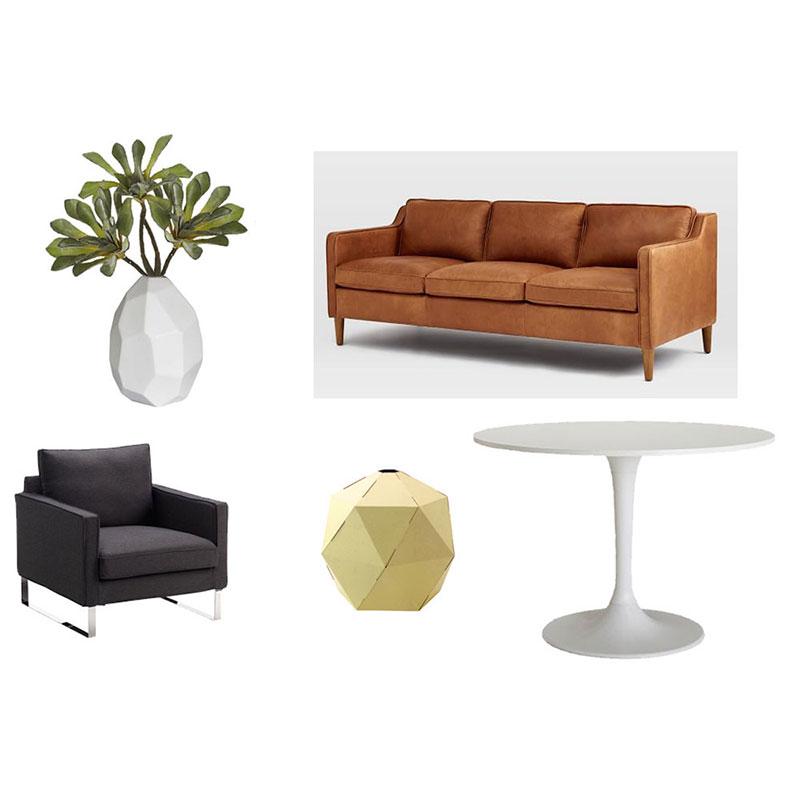 For the price of the left side of this sofa (!) you could furnish a three bedroom apartment. Let's try that.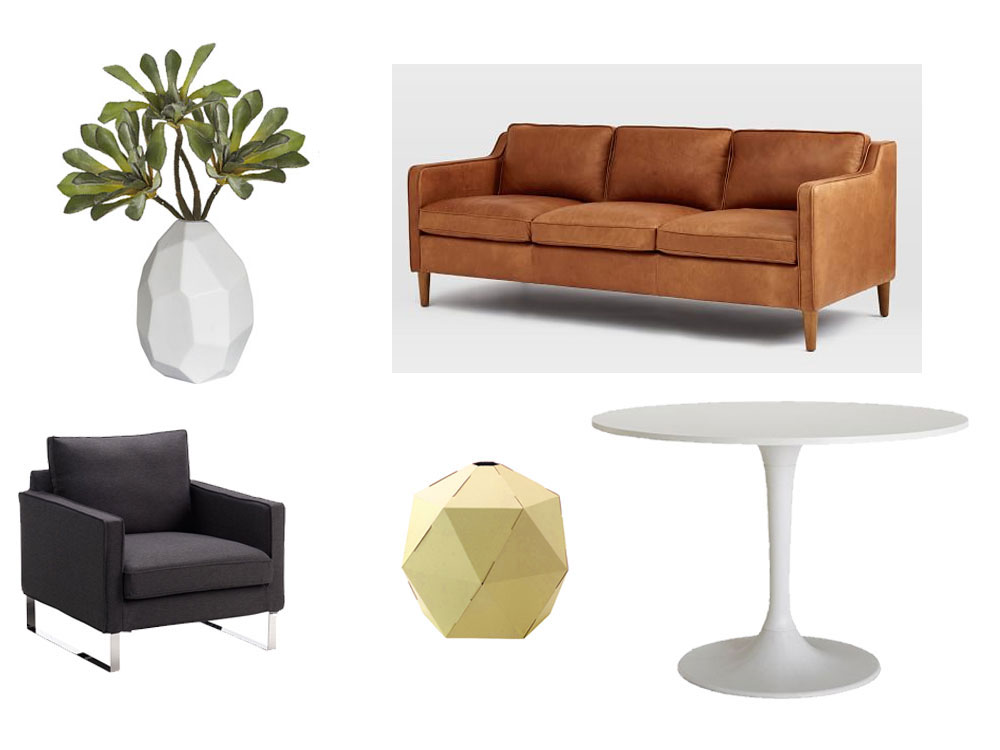 This post was inspired by three things: two years ago I made an (unofficial) IKEA dream home + blogger style house with 5 other bloggers. We each drew a room, I got the bedroom. It was so much fun. Read more about it here. Now I want to do a whole house. But it won't be all IKEA.

I was curious about if I were ever in a situation, where if I had a wad of cash, say ten thousand dollars to furnish a home, what would I actually choose? How would I actually spend those dollars. Where would I splurge, where would I save? What would my style be? I was also interested in finding out how long putting a plan together like this might take if I were ever going to offer this as a service to anyone. Would I spend 5 hours? 2 days? 10 days?
Lately several people have either approached me about or suggested that I do more interior design for other people. That is of course immensely flattering. I love the design process itself, but there is so much more that comes with a job like that such as customer service, working with people's existing furniture, pricing and accounting, returns, things being out of stock or arriving damaged and did I mention customer service?
One person in particular contacted me to furnish a two bedroom apartment for a family of four using all IKEA and spend 3000 dollars.
---
I imagine they had some existing furniture to work with but I can't say for sure. I was so flattered to be asked and I considered it for a good long while, but in the end I unfortunately had to turn it down due to the factors mentioned above and my current work load (Business Management Solutions, Graphic design and homeschooling)
I was so excited about the design part of it, but I would not have had time for all the administrative hours that would also come with a job like this.
And would I even be able to charge a reasonable amount for a service like this? I have seen people offer e-designs for as low as 150 dollars and upwards to thousands of dollars. Let's think this one through: If you only charge 150 dollars, I imagine you just sell a one room mood board as-is and that's it. Let's say the client does not like the sofa you picked, then is that just too bad?. There would be no time left to spend on the project. This also made me ask myself: would I buy a mood board on those terms? Probably not. And I would not want to offer it to someone else if I don't even want to buy it myself.

So let's say I charged more of a full service price. A mood board, floor plan, considered existing furniture, and calculated back-end customer service. The mood boards above took around 10-15 hours to make. Add to that a floor plan. And customer service on top of that. I would have to charge somewhere between 1500-2000 dollars for a one room or two room makeover. Where does that leave a client who wants to spend 3000 on a whole apartment? Is it realistic that someone would spend 3000+ dollars on a design plan for a whole apartment and then 3000 on the furniture itself? I don't really see that scenario as being realistic. I have to say that I am finding it hard to come up with a realistic and desirable design product where the client with a budget would be happy and I would have my hours covered.
So with that said... I skipped along to what I could do. Design it for free, but use our family as an example, so no requirements other than setting a budget. Get a nice blog post out of it and only spend time on what I love the most: the design.

The imaginary apartment I am using for this exercise is a three bedroom apartment and I am thinking the smallest of the three bedrooms is only 10x10. This has been true for the types of apartments, town homes or rental houses we have lived in over the years. The master bedrooms have usually been a bit bigger. The first apartment we lived in, when we first moved to California in 2001, was about 1400 sq ft. I know they come even smaller than that, but that is about the size I was planning for here. We would use one bedroom for the master, one for B's room (teen boy) and one for an office.
Some of the things I considered were picking furniture that could be configured in a variety of ways since with apartment living and frequent moves, you never know what the floor plan of the next place looks like, so flexibility is key.
Let's go room by room - I am giving you the price of each room as we go along:

I would spend most of the budget in the living room and get this furniture.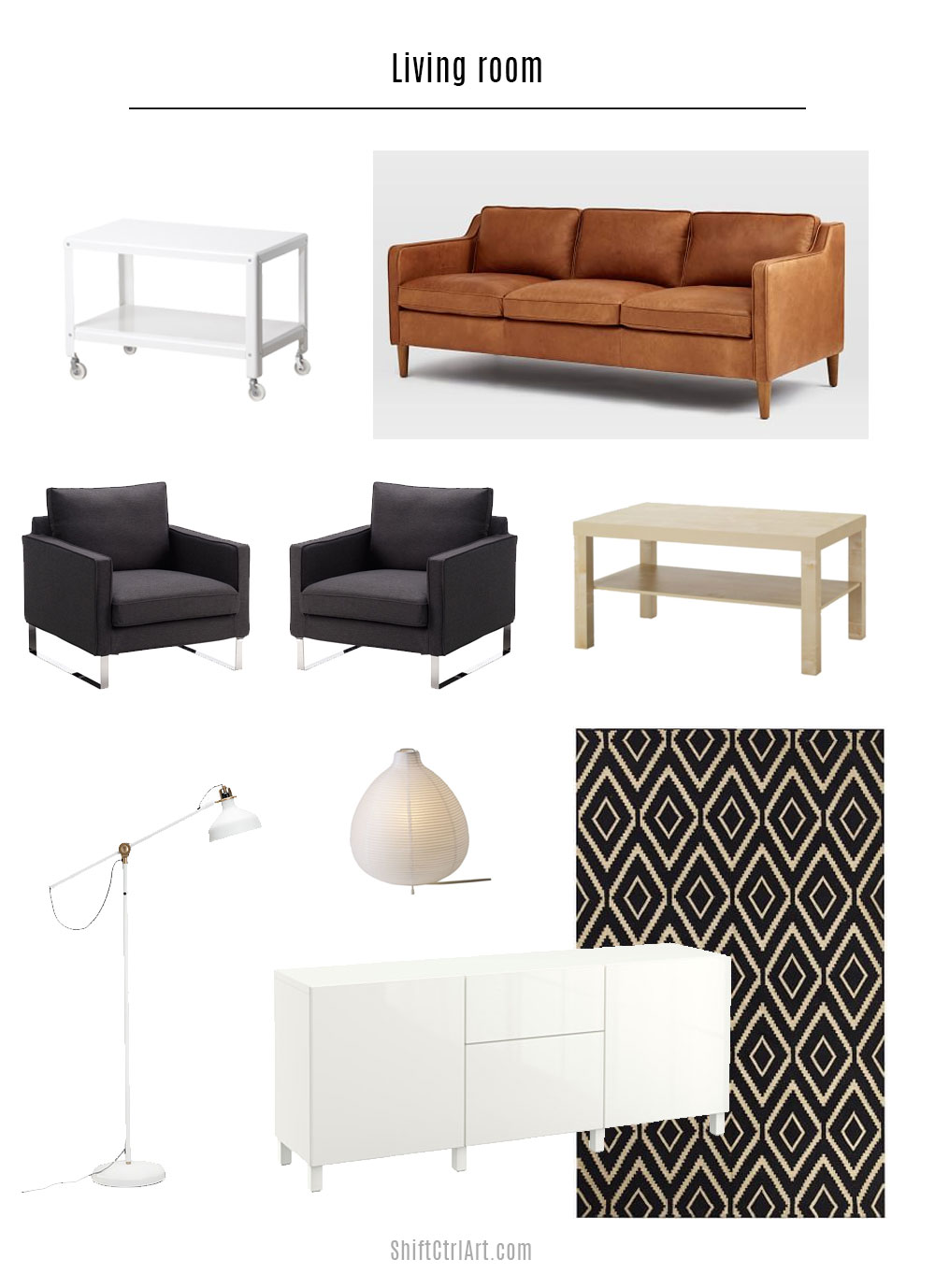 sofa chairs table side table floor lamp rug TV cabinet table lamp
Living room total
$4068
Almost a quarter of the budget, I would sink right into getting a quality leather sofa. In our house that is one of the most used piece of furniture except for the beds, and I want it to be quality and somewhat wipeable. I know that slip covers can 'just be thrown in the washer', but that is just not something I personally have the patience for. Chairs I could do. Not a whole sofa.
I picked dark gray fabric chairs. You can get away with a lot on dark gray and it would not be insufferable to get those covers washed if needed. The two chairs could either sit as a pair across from the sofa or in a more rectangular room, you could place a chair on each short side of the sofa table with the sofa along the long side.

I picked a light toned wood colored coffee table to lighten things up a bit. In reality, we would probably build our own coffee table to get something more unique.
By the way, in the pricing I am giving you, I did not factor in any coupons, nor shipping. Using a 15% coupon on the rug and sofa alone would score you over 450 dollars in savings. You can get this coupon either when you move or if you sign up for their emails or wait for one of their frequent sales, or buy a coupon on Ebay. Many options. These savings can go towards shipping, the DIY projects I am suggesting, the legs that are missing from the two white storage cabinets in the kid's room and the office (oops), pillow forms and a happy night on the town.

If you wanted to reduce the price of the living room you could instead get this sofa in black velvet and this rug. Then I would get the chairs in this color instead. This would shave off almost 2K of the price above. Probably not as much longevity in that sofa, but it might be worth the savings to you and you would still be stylin'. Spend a little more on the rug and get this one. Still a big savings.
If you go with the rug I suggested in the mood board, I would get a rug pad even if the living room has carpet, just in case any dye would rub off. You don't want a charge for replacing the carpet when you move.

All the accessories have been accumulated onto one board and the art onto another further down.
Dining room.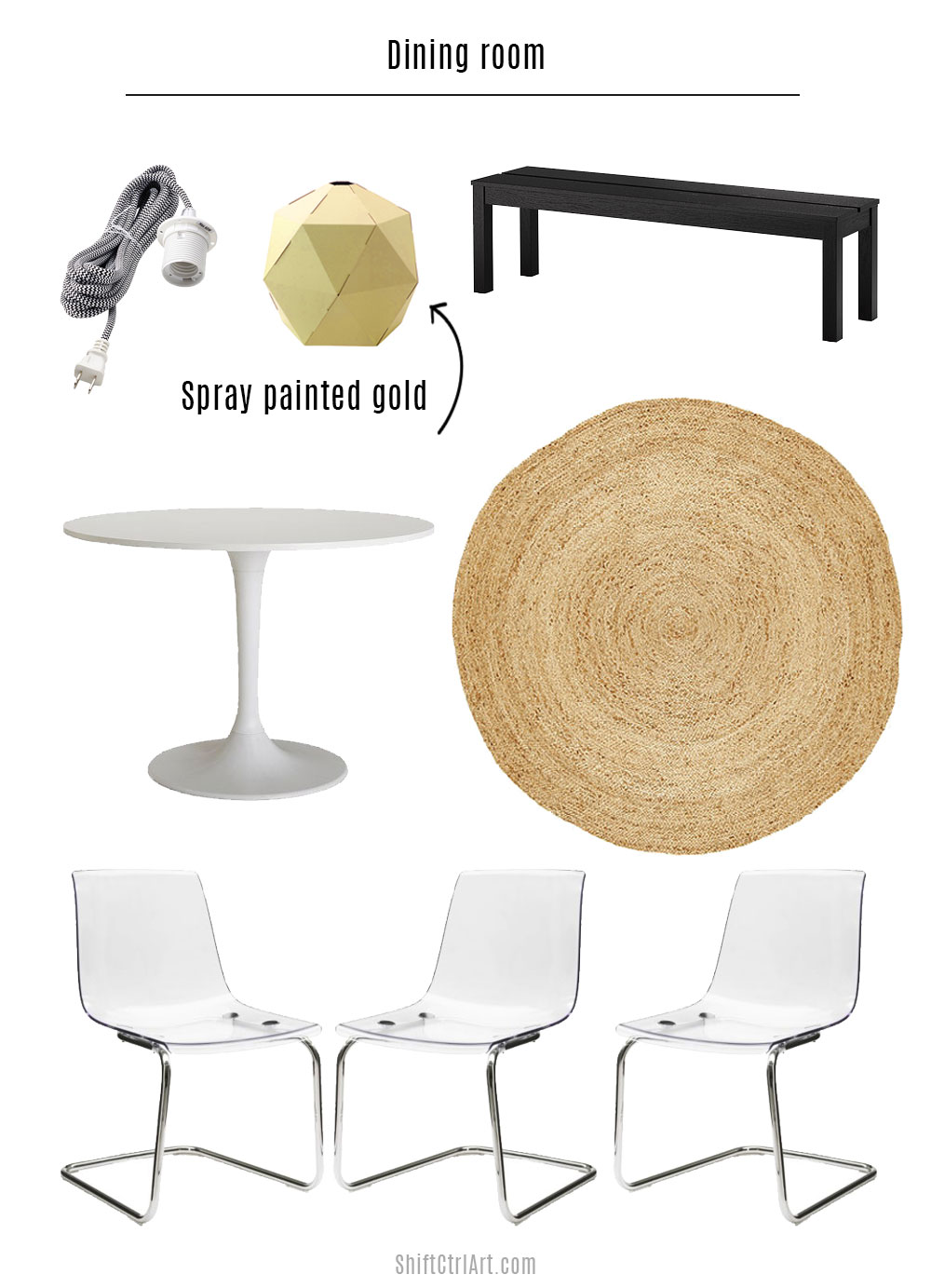 table chairs bench rug lamp lamp chord
Dining room total:

$697
I would upholster the bench by cutting a board to the size of the top, then upholster it similarly to how you would upholster a head board. I would forgo the tufting. Then screw the board onto the top of the bench. I might even consider making a headboard of sorts to hang on the wall for back support. Might.
This light is a new one from IKEA. It comes in a light green which I think is the perfect color to spray paint over with a champagne gold.

There is a fourth acrylic chair hanging out in the kids room. I chose a matching one so that it could be carried into the dining room for extra seating when needed. Or if you ever grew tired of the bench, or placed it along a wall somewhere else, you would have four matching chairs to go around the table.
The round rug is the same one we have in our master bathroom seen below. As you can see, it is prettier in real life, more of a wheat color, than in the product photo: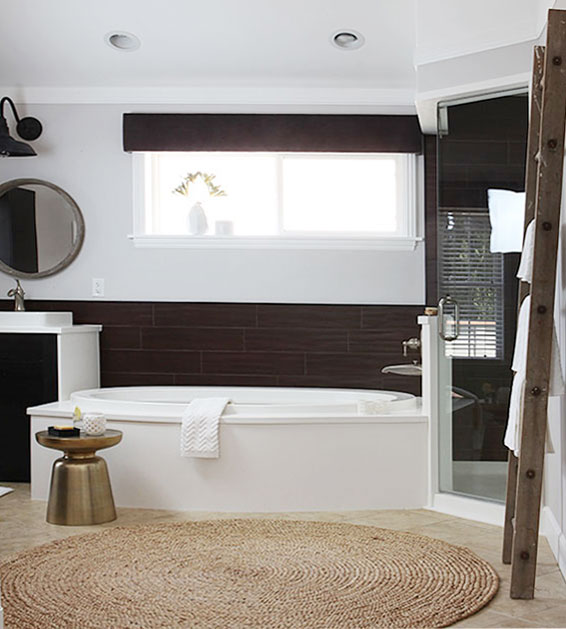 Some of the ends where the strands of fiber have been knotted together do fray up when vacuumed. I stop them back down. Something to consider with a rug like this.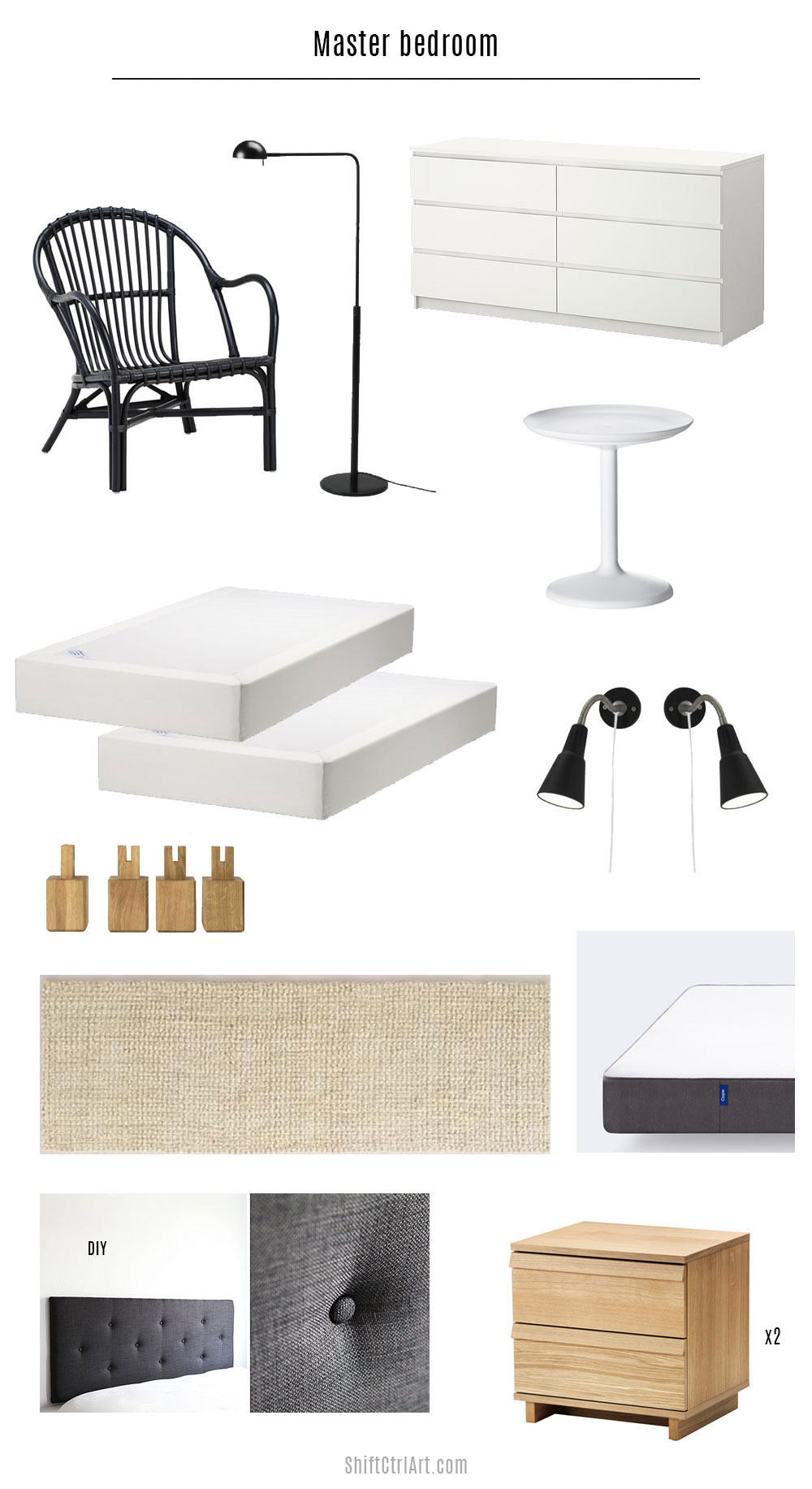 mattress king foundation legs night stands rug bed amps floor lamp dresser chair
Master bedroom total:

$1791
In my design I got a king size bed. I would rather have a large bed than floor space. 8 hours of the time I spend in the bedroom, my eyes are closed anyway.
Are you surprised that I am picking wall hung items such as these night lights? In all of the 5 apartments we lived in, the first 10 years in California, we never shied away from hanging things on the walls. Not even shelves. When we moved out, I had this little move-out kit with a hammer, some pliers, a screwdriver and a tube of caulking. I would rather spend that half hour caulking than living for a couple of years in a place with nothing on the walls. Removing all the nails and screws and caulking (nicely) ourselves, we never got a 'wall damage' charge at move-out.
I would make a headboard myself and pick an upholstery grade fabric and put the headboard on some legs to stand on the floor with the bed pushed up against it. Something that gave me a similar look of the headboard insert we made for our current bedroom. You could also hang it on the wall like we did in B's room

I would put the TV on top of the dresser. If you worry that there will not be room for such a long dresser, it comes in a single version too. You could buy two of those and then split them in apartments where there is no room for them to be together. One could even go into a closet.

This is the bedding I would go with. Or all white. You can never go wrong with all white.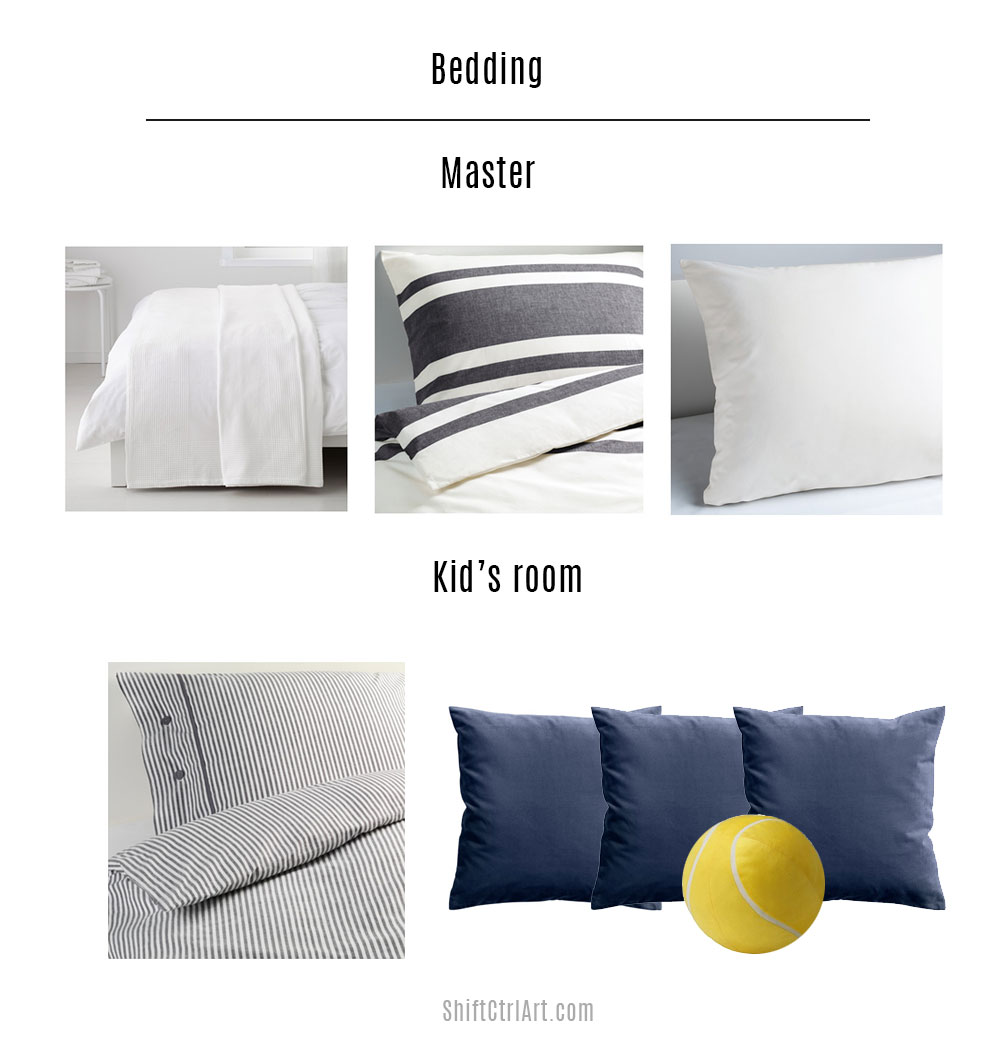 bed spread duvet cover pillow cases - duvet cover pillow cases tennis ball pillow

Bedding total:

$138
This is the bedding I would choose for the master bedroom and for the kid's room. If you have someone begging for pink, I would pick a simple white duvet and these pillow cases and sub the tennis ball for a teddy bear or something. I think it would look really good with the alternate headboard I am suggesting below.

Here is the rest of the kid's room.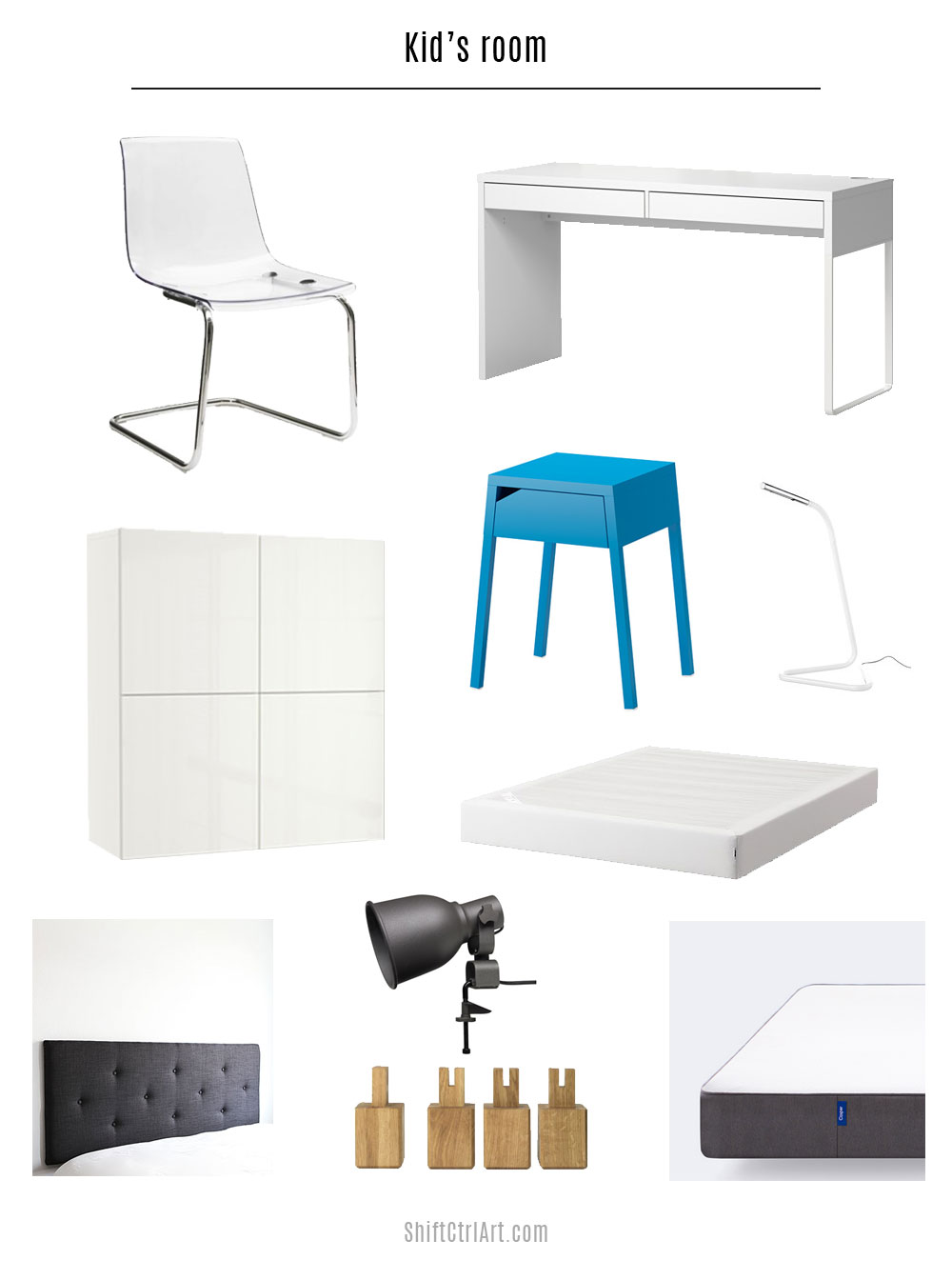 mattress queen foundation legs night stand wall lamp desk chair desk light cabinets
Kid's room total:

$1399
For B's room, we would probably build the same desk again as we did here. We would also make him a DIY'ed headboard. Maybe in a dark navy this time?
I chose the cabinets with doors instead of a dresser. My son does not have a lot of clothes and he could use one of the four cabinets for clothes if there wasn't room enough in the closet.

I chose a queen bed because B is getting so tall now, he sleeps diagonally in his bed. With a queen bed we could also use his room for guests in a pinch.

If you wanted a more girly theme, I would probably pick something like this fabric for the upholstered headboard. Then I would just pick the white version of the nightstand instead of the blue one. It could also be fun to pick a white linen and dye it for the headboard. Maybe like when I dyed these bags.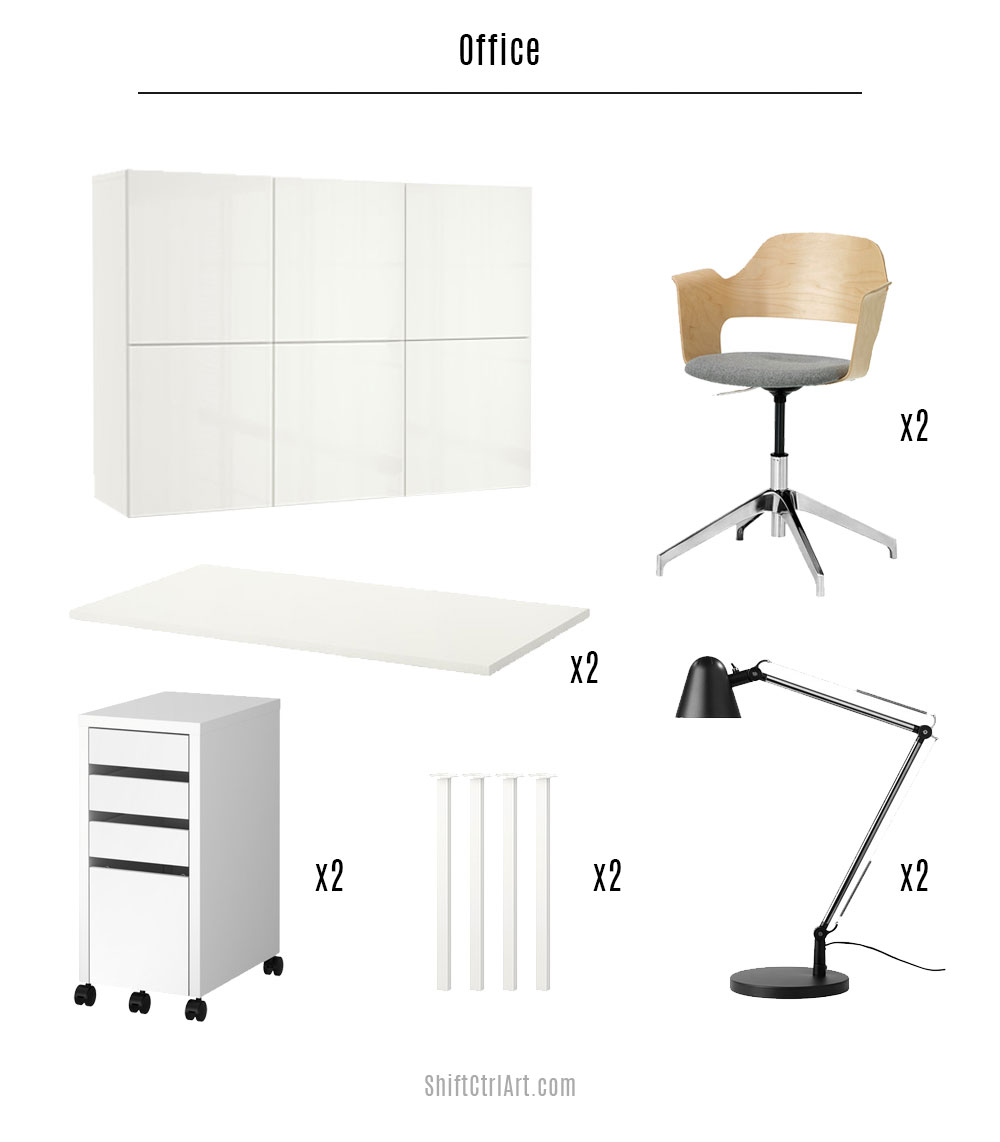 table tops legs chairs file storage storage cabinets desk lamps
Office total:

$1170
For the office I would just get two of everything. I really like that new chair from IKEA. It's practical that it does not have casters because most if not all apartment bedrooms have carpet. The two file storage cabinets, I would put together in the closet and place the printer on top.
I would place the two desks in the middle of the room with the short ends butting up against one of the walls. On the opposite side I would put the storage cabinets. We have had a similar set up in our apartments.

I picked the same type of storage for the office as for the kid's room. That way you would have some flexibility in reconfiguring as needed.

Staples print - 10 dollars, 20x30 print is about 30 dollars and a 16x20 print is 13.50 at Mpix
Here is where you can download the artwork for free: Ferris wheel camera and guitar prints duck


Wall art total - includes the frames and the cost of prints without coupons:

$180
This is the minimum art I would get. The beach picture is one I snapped with my phone. Then I put it through Instagram to use one of their filters. You could also use filters like I did when I made that flamingo print. More on that here. Or the filters I talk about in the duck print post.

I would put the beach picture over the sofa or in the living room. The Ferris wheel print in the dining room, the camera and guitar prints in the office and the duck print in the master bedroom.
Later, I would sign up for an art class or go out and take some photos and produce some more art as well as use drawings and art from B to hang on the walls. Or hunt down more free online art. And I would make some abstract paintings too.



cushion bowl basket tree vase flower paper basket throw boxes mirror votives vase branches cushions sheepskin basket vase felt boxes pillows vase succulent soap dispenser
Accessories total:
$436
These are all accessories I already have or I have a version of them but you can't get them anymore. These are the pieces I would RUN out and buy if I did not have any accessories.
I would also sign up for a ceramics class again and make some bowls that were unique and personal like I once did with B. Read about our ceramics class here.
That is how I would furnish a three bedroom apartment today for under 10.000 dollars.
Here is the breakdown:

Living room $4068
Dining room $697
Master bedroom $1791
Bedding $138
Kid's bedroom $1399
Office $1170
Artwork $180
Accessories $469

Grand total $9912
With change to spare!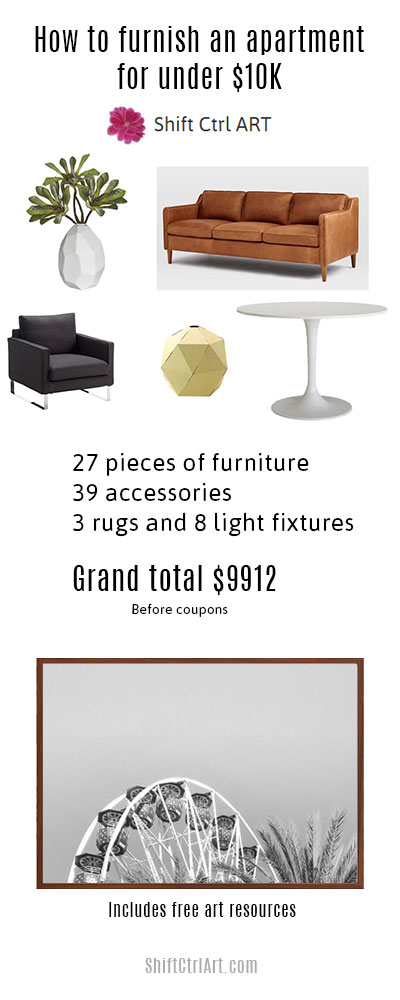 Share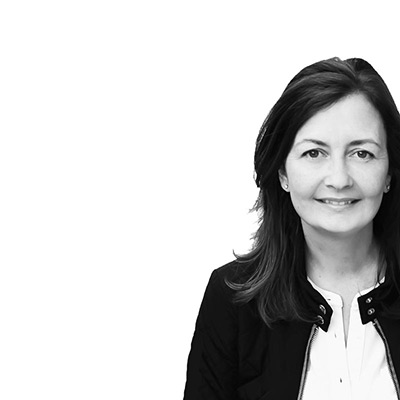 Search
We have been featured here
Full list
here