Two favorite vignettes in the dining room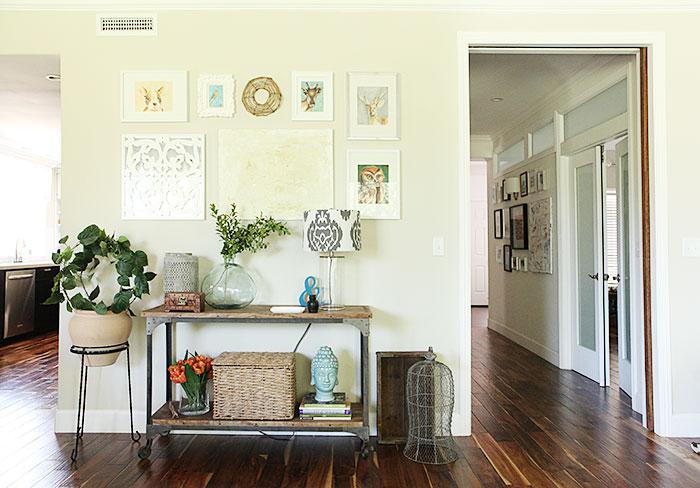 I have put an update on the master bath renovation and entryway overhaul at the bottom of this post. And maybe a nugget of other news. For the
reading
inclined.
Let's first talk about the dining room. It is one of two spaces downstairs that are the least finished, but it isn't exactly unfinished either. Just that in between stage where it needs that last bit of loving to be
all
it can be.
Two areas in the dining room are done, however, and as I started updating my home tour, I noticed that I didn't have landscape oriented photos of these spaces. I know. What?
The first space, you have seen at different angles, as I have shown you
the living and dining room pictures
. However, the last straight-on shot, I showed over a year ago and back then it was an
Easter vignette
.
Here is a fresh shot of that set-up.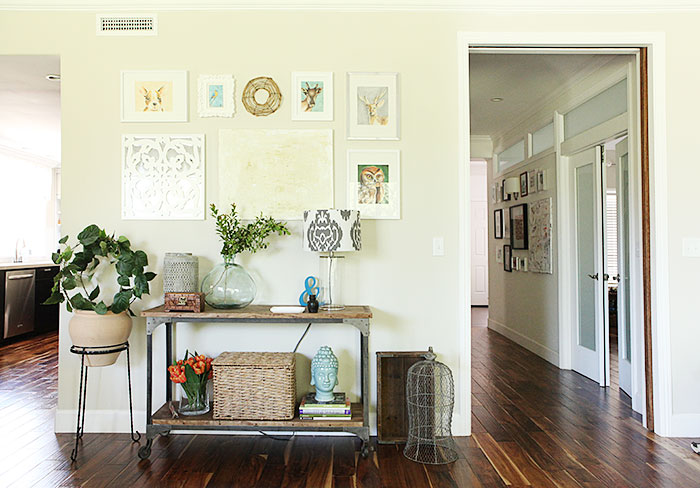 Most of the items here are from HomeGoods: The lamp, the round glass vase, the Budda, the basket, the gray lantern, the wire bell jar.
The
plant stand has a forever decoration
in it that I made. The
console table
is from World Market. The wooden crate is an 8 dollar flea market find.
Down the hall, on the right, you can see the double doors and transoms we had installed when we had walls put up around the original living room, turning it into a fifth bedroom/guest room/game room. This is one of the two spaces that are not completely finished yet. I have big plans in there too.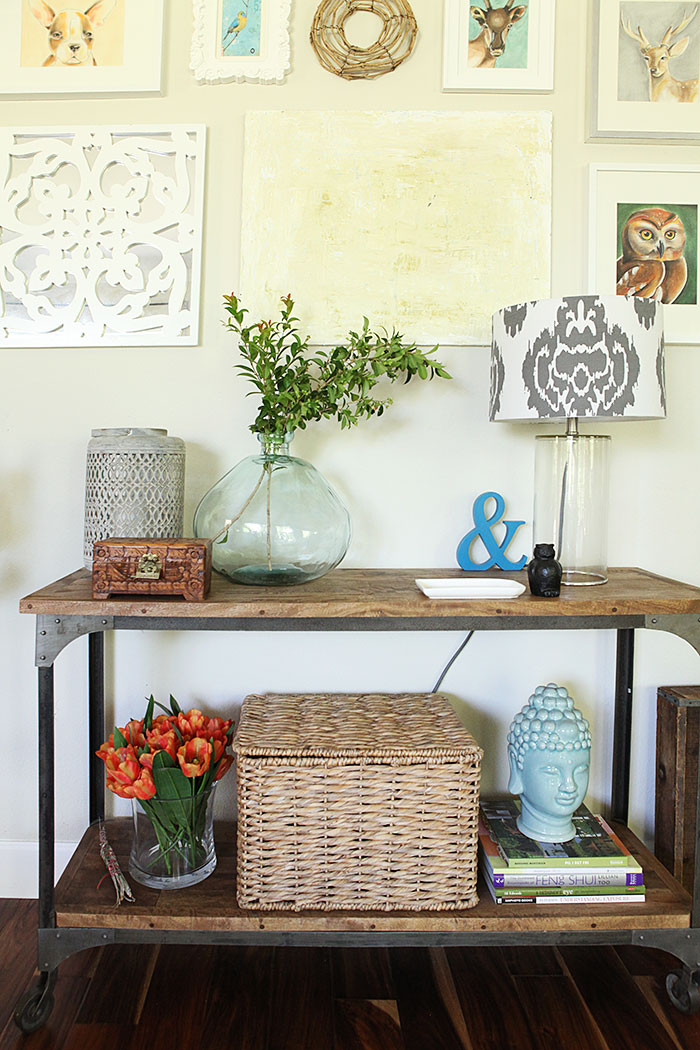 The wooden carved box is one I had since forever. I forget what the story is about it. Maybe my dad knows? - who is an AVID reader of my blog!
Edited: My Dad writes: "Yes I know; I got it as a present from my eldest brother when I was only a teenager. That is: back in the 1950's or early 60's.I used it for several years to hide love letters and other secret stuff from my mother. As years passed by I got fewer and fewer love letters, and the box ended up unused. I do not remember giving it to you, so you probably stole it from me! It is from Thailand or some other eastern country, and it smells good when you open it, - some exotic sort of tropical wood. Love Dad"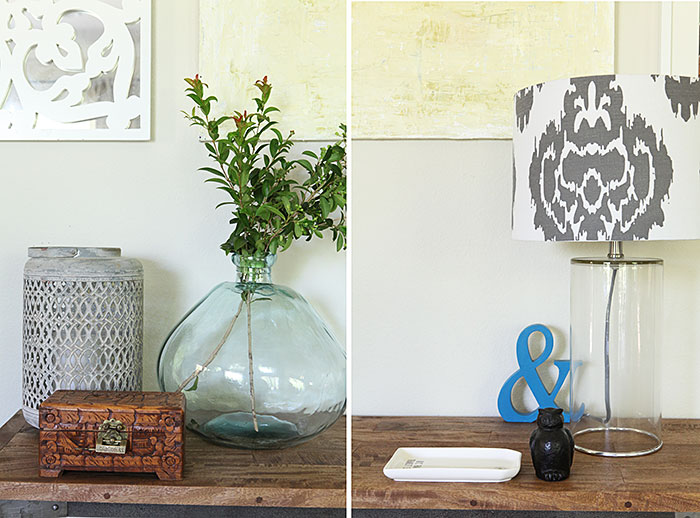 The owl on the right is from West Elm, I think. The white platter is from H&M Home (
similar here
). The ampersand was found in a Danish dollar type store. I painted it blue. It was red when I bought it. Important information like that.
The second area with a favorite vignette, is the wall right behind the dining table.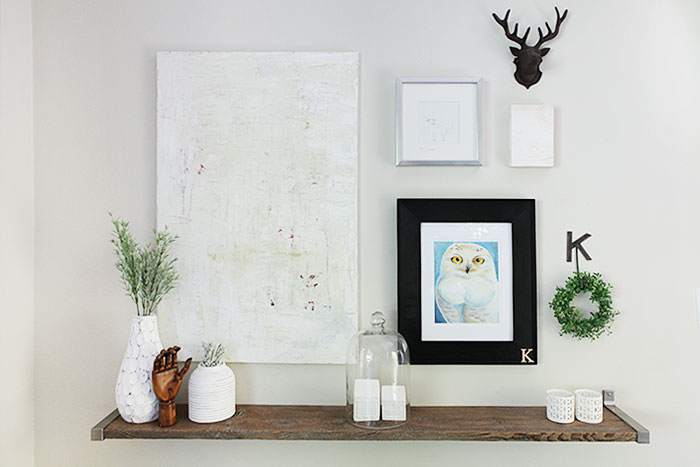 We built a barn wood shelf
and hung some artwork.
I drew the owl with pastel
in art class a while back. I made that
green 10 minute forever wreath
.
The deer is from Urban Outfitters
and is really a key wall hook. The large abstract on the left is a painting I made several years ago, when B was little and still napping, 2003 maybe?. That's when I first took up making abstract paintings. Or really: Smearing acrylic paint onto a canvas. It's fun. Try it!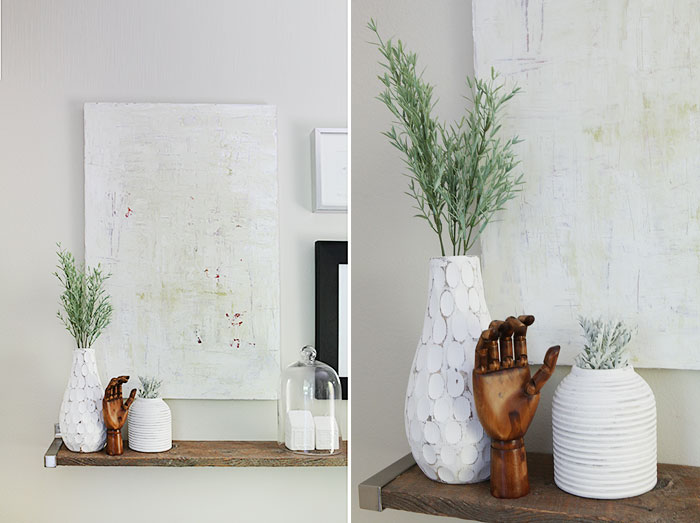 I got that mannequin hand form at Decor Steals last year. They change what they are selling frequently, so I can't link to it anymore. The
white wooden vases are from Threshold
at Target. Look for them in an upcoming project elsewhere.... They will re-appear.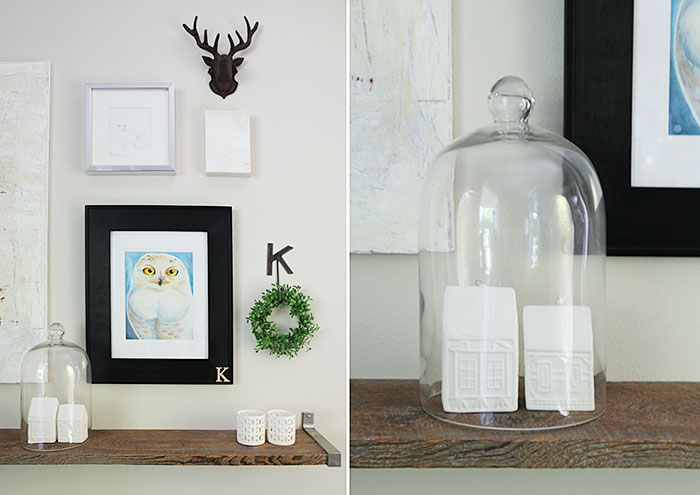 I have two little
votives from West Elm
and a HomeGoods bell jar with
two white houses
inside. They are really Christmas ornaments that I got last year at Crate & Barrel, but they get to hang out here all year.
The
dining room
itself has not seen a lot of action except I sold my chandelier on Craigslist and since then I have nothing up there. Like in the guest/game room, I have a couple of plans to finish this space.
I have pinky sworn to Frank, however, that I won't start any new project until the entry hall and master bedroom / bathroom are done.
So... what has been going on there
.
The walk-in closet is still waiting for me to get a-paintin'. I keep planning for it, but I keep
getting work sent from clients
. Which is so great, but hello
24 hours a day
...And going to things such as the two day
Bat Mitzvah,
we went to two weeks ago. And last weekend, B and I went to a four day homeschooling conference. Which was totally fun. But incompatible with painting the closet. We did go and get the rest of the drawer cabinets for it. So here is looking at you, weekend!
In the bathroom, not much has happened since we finished the
Hardie installation
. We have been in a holding pattern waiting for all the marble to be poured and installed. The next round will happen next week, so that is the hold-up there.
Some slightly better news about the entry hall: Yesterday, I picked up the mattress for the seating bench from the upholsterer. And last week I ordered artwork, which I am expecting any day now. Still need to sew some pillows. Something I a very good at procrastinating on.
Still reading? Then I have a nugget for you: yesterday I went and shot "after" photos of a space I have been working on with a friend of mine since April. We just finished it and I have a great reveal coming there. Can't wait to show you.
In the mean time... if you want to catch up on the master bath reno and all that we have done so far, start here:
Master bath planning, demo and all.
Share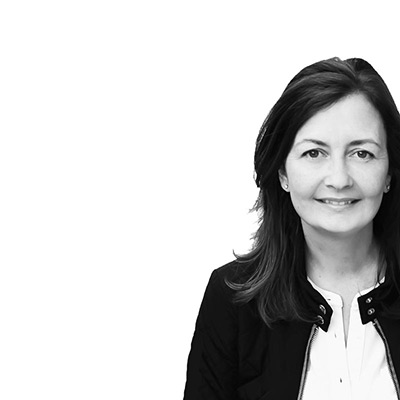 Categories
Two favorite vignettes in the dining room is posted in the category
Dining room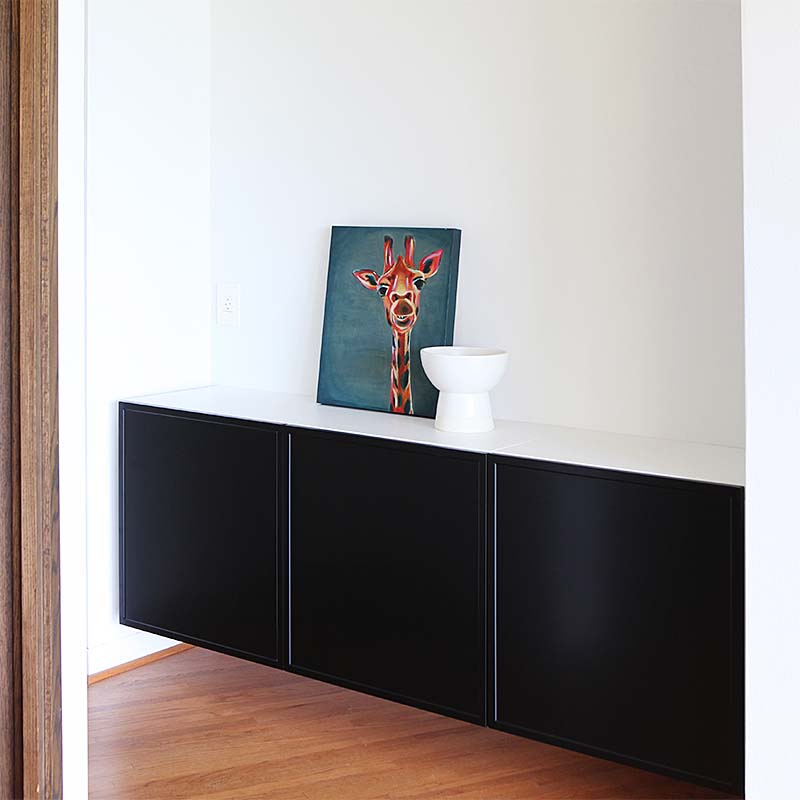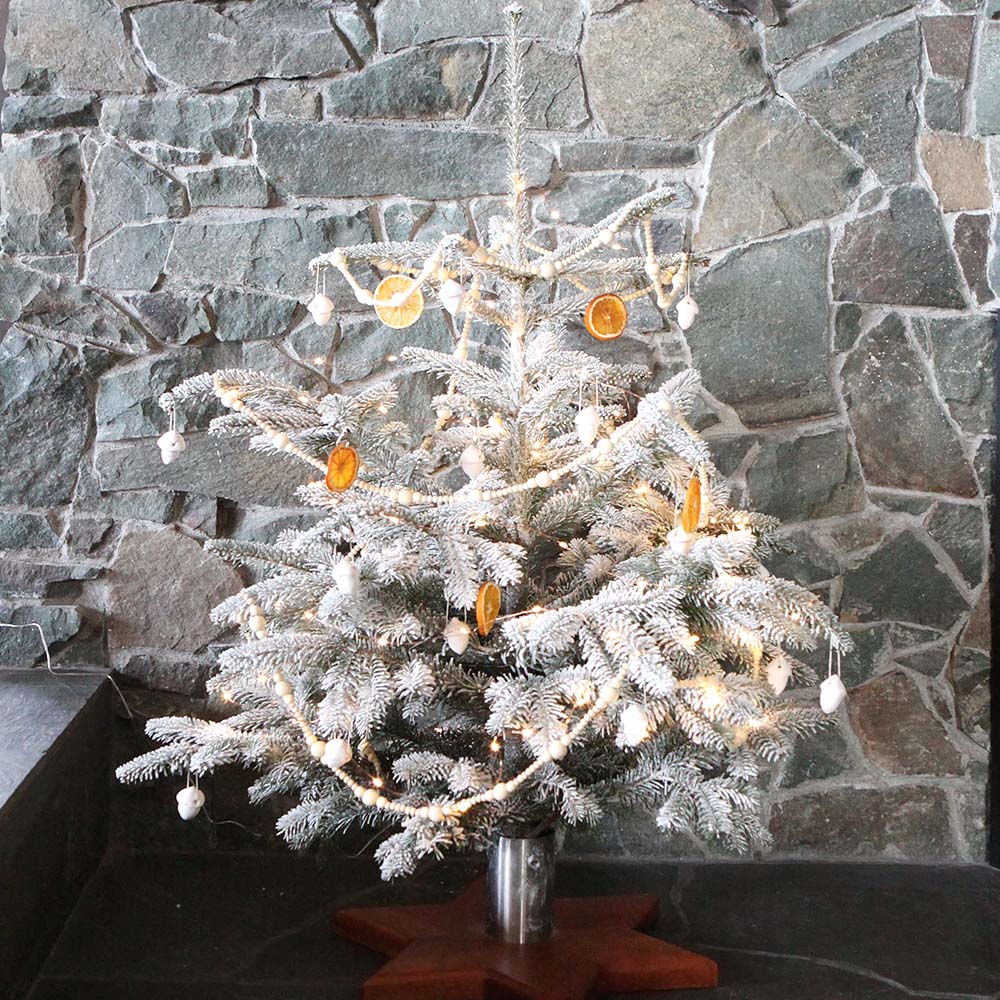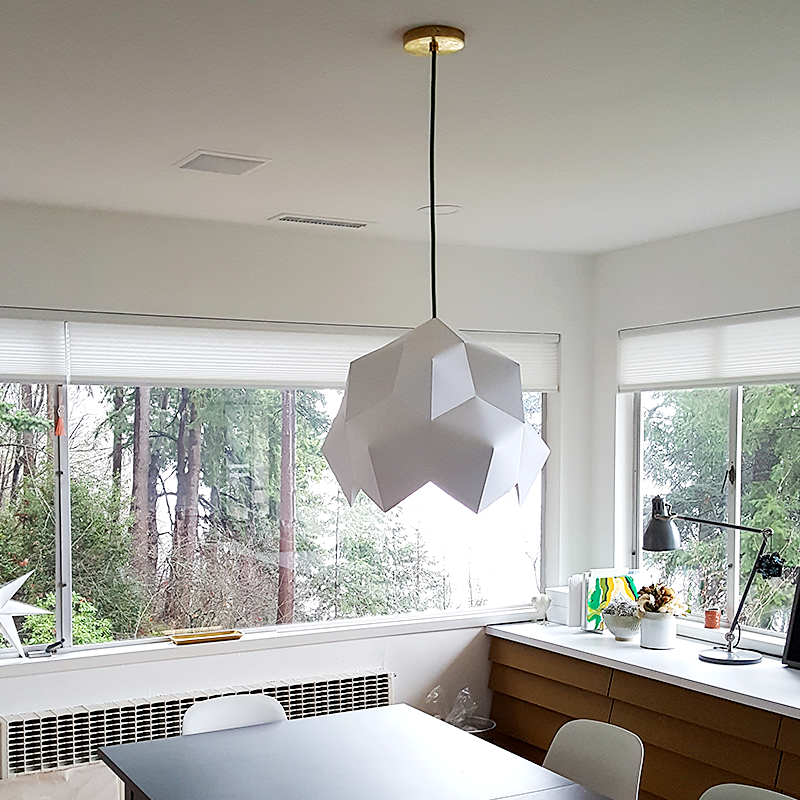 Search
We have been featured here
Full list
here
Search
We have been featured here
Full list
here