Great finds: Memorial day sale shopping for a patio spruce-up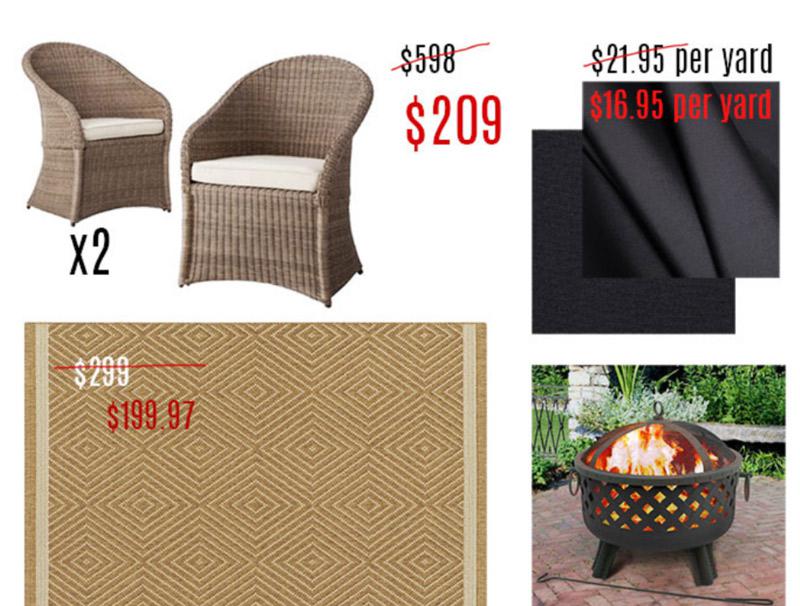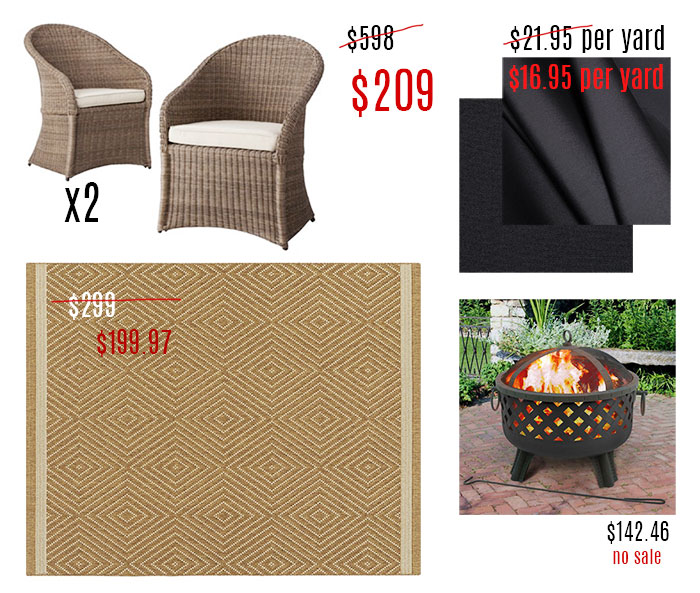 Threshold Holden wicker chars
,
Sunbrella marine fabric
,
Trellis Rug
,
Fire pit
Have you seen all the great sales this Memorial day weekend? I took advantage of quite a few of them. I got 4 chairs (the best bargain ever - see bottom of post), some black outdoor fabric, a new rug and a fire pit. The fire pit was the only thing that wasn't on sale, but check out the rest of the deals I scored.
First up: the chevron rug I bought at World Market Cost Plus last year is already disintegrating. I don't understand it. The other rug from Home Decorators under the dining table on the other side of the patio is holding up just fine. I emailed World Market about it and I will let you know what comes of it. Edited: WOW, I already got an email back that they will refund the rug.
Awesome customer service!
Edited again: Oh they are only going to credit $3.40 on a 68 dollar purchase. The saga continues...
So for a while, I have been looking for a replacement rug for the damaged one. Then this weekend, one of my front runners went on sale so I jumped on it. At a hundred dollars savings.

Next up, I got some marine grade black fabric that is also UV resistant in addition to being water-repellent. I got a little colored out by the covers I made last spring, so I am toning it down this year. Way down.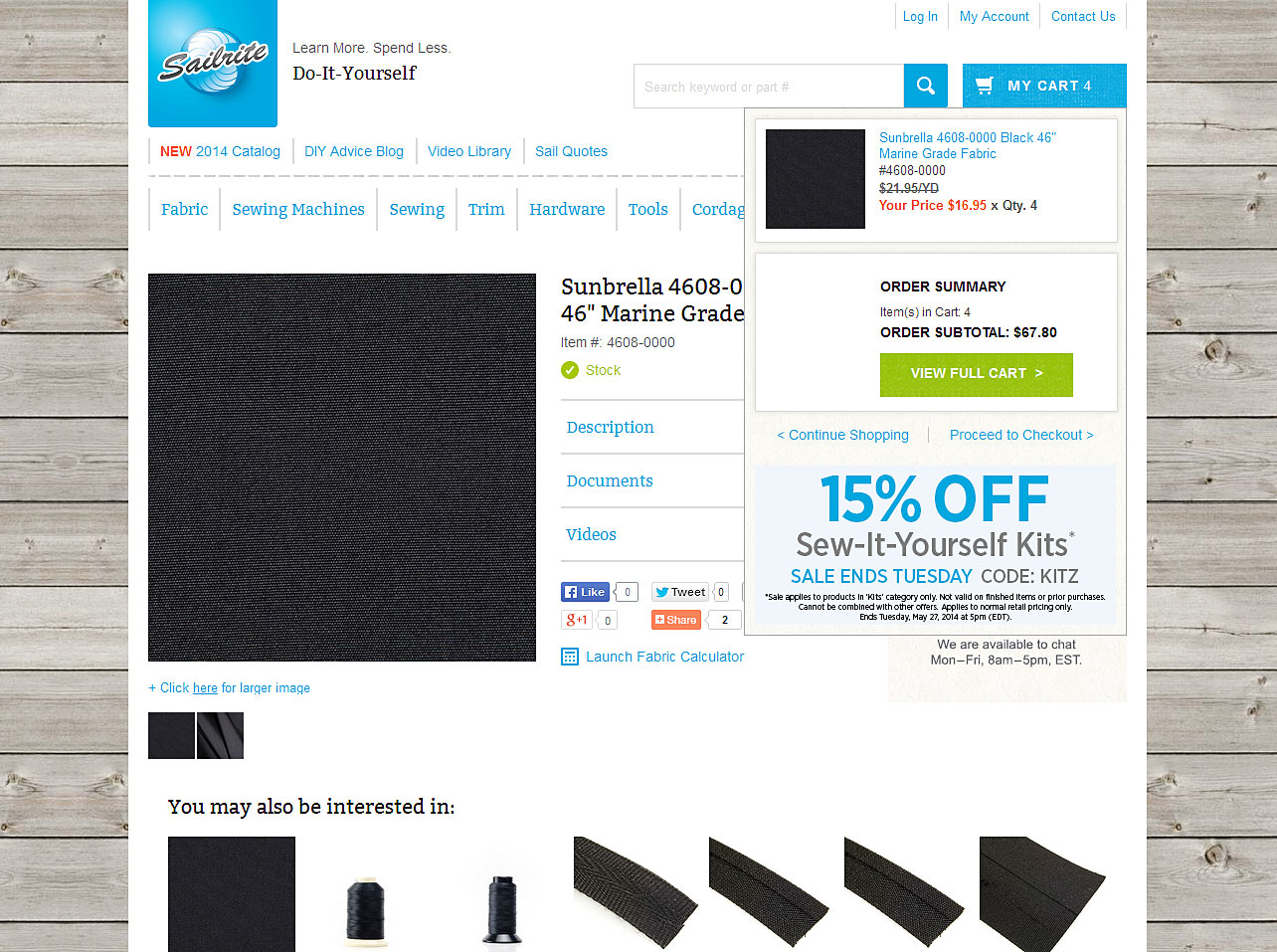 Remember the wicker chairs, that I spray painted last summer? They are coming up on 17 years now and they have seen better days. The paint job got another season out them, but they are ready to be replaced.
I have been looking for a couple of weeks for a replacement and then this morning I got a Target ad in my inbox with this sale:
I really liked the shape of these chairs and they were reduced from $299 to $209 for a pair of chairs, so I sprinted down to Target this morning and you won't believe what happened next.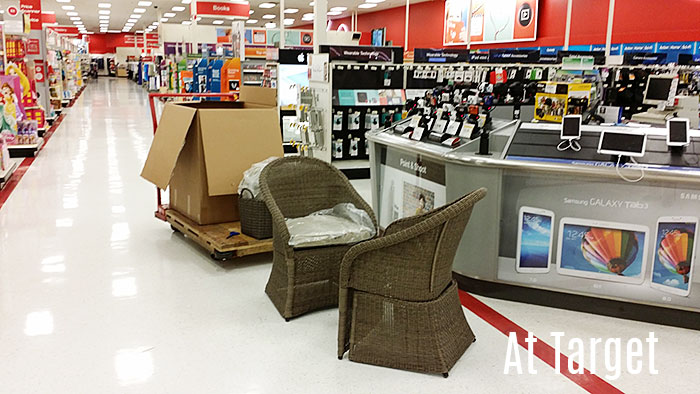 As you can see it was right as they opened. I think I was almost the first one there. The associate got out a box of two for me and wanted to just ring me up and send me on my way. Experience has taught me, however, to check products very well. While you are still in the store. Especially when there is a sale. So I asked that we opened the box and we then discovered that light assembly was required. The bases of the chairs needed to be attached to the tops with 5 screws each. 5 screws that were
not
in the box.
He got another box of chairs. Their last one. This one was also mysteriously missing the screws. I then suggested that I could get some screws myself if I could get a further discount. A manager was summoned. She took a look and said: well we can't really sell them if there are no screws. How about a 40% discount?... Um, yes please

Then she said to the associate: But how are we going to sell the other pair of chairs. That's when I suggested: How about I take all four for the price of one pair? She thought about it and said: That would be 50% off. I said: yes that is right. Because it was.
Then she said
yes
!
Wohooo!
Four outdoor wicker chairs for $209
. You can't beat that with a stick!
Then, I drove over to Lowe's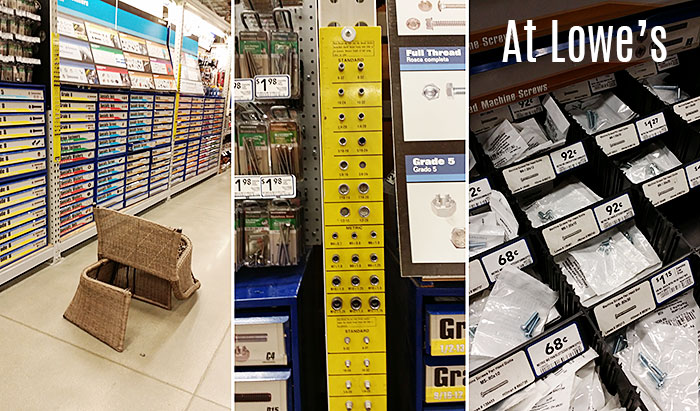 And brought one chair into the store over to the area where they have all the machine screws. A nice associate helped me pick out the right ones: M-8: 1.00x25. They are in the metric system, probably because the chairs are made in China?
I thought I would have to saw some to length, but they happened to have them in just the right length. So lucky!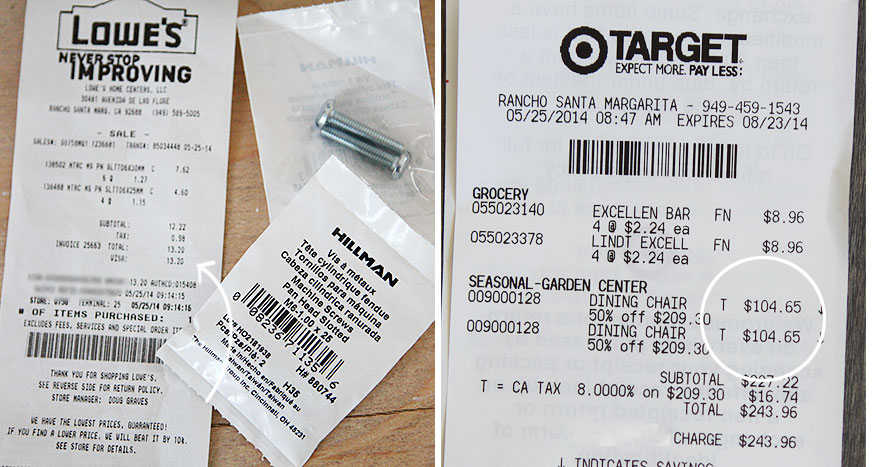 10 minutes later, I left with 20 screws for $13.20.
When I came home, I said to Frank: "Remember when I left this morning to get two chairs... Well, here is what happened..."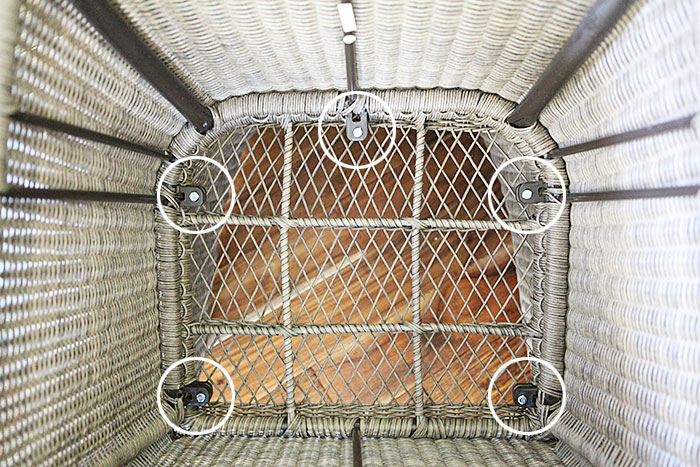 Here are the five screws attached to one of our four new chairs. You were waiting for that shot, right?
I can't wait to sit in them around our new fire pit when it arrives in a week's time and make some S'mores. Or something.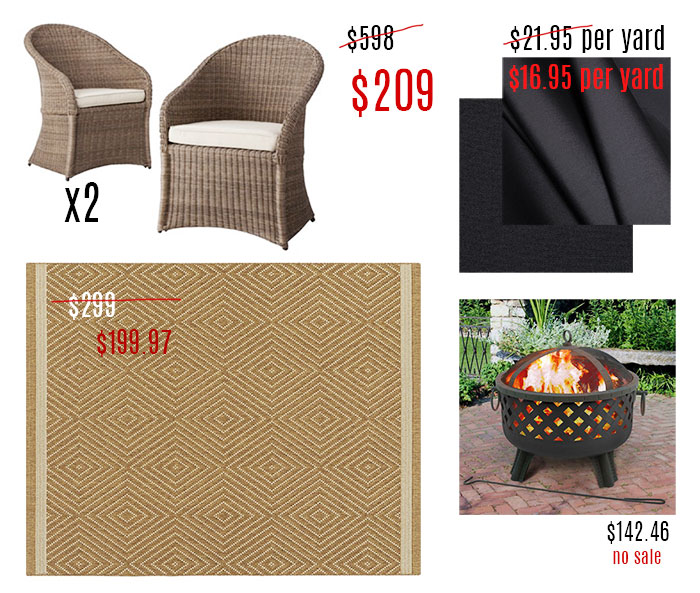 Next:
Getting ready for the summer with a new firepit
Share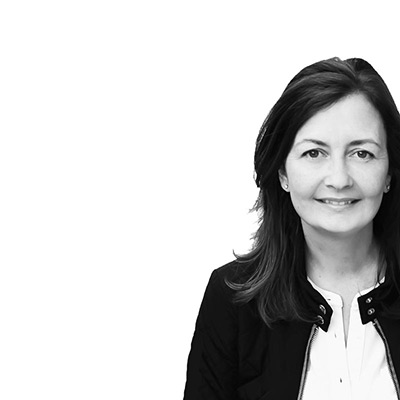 Categories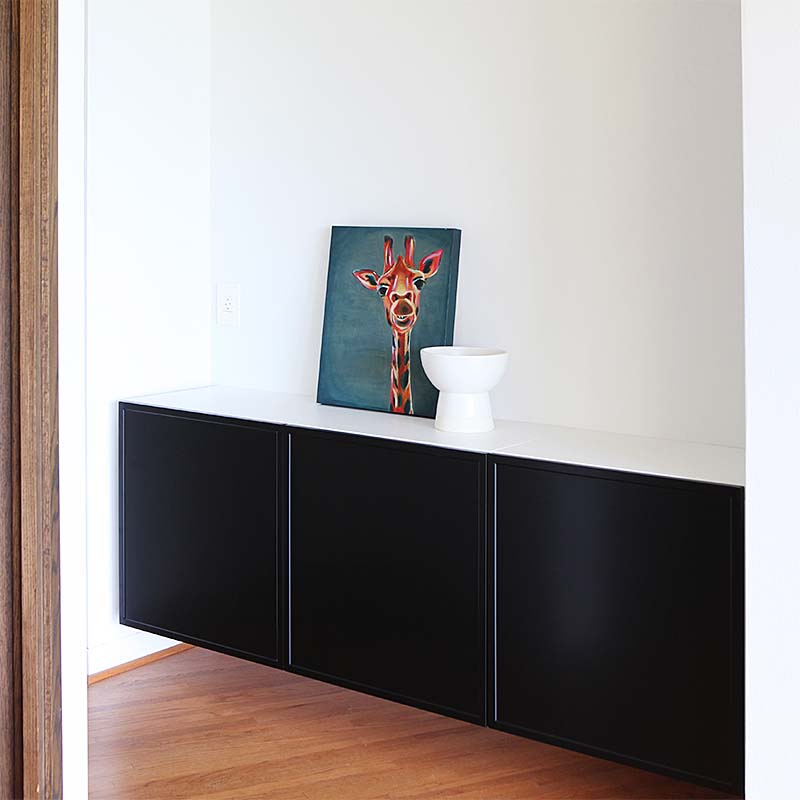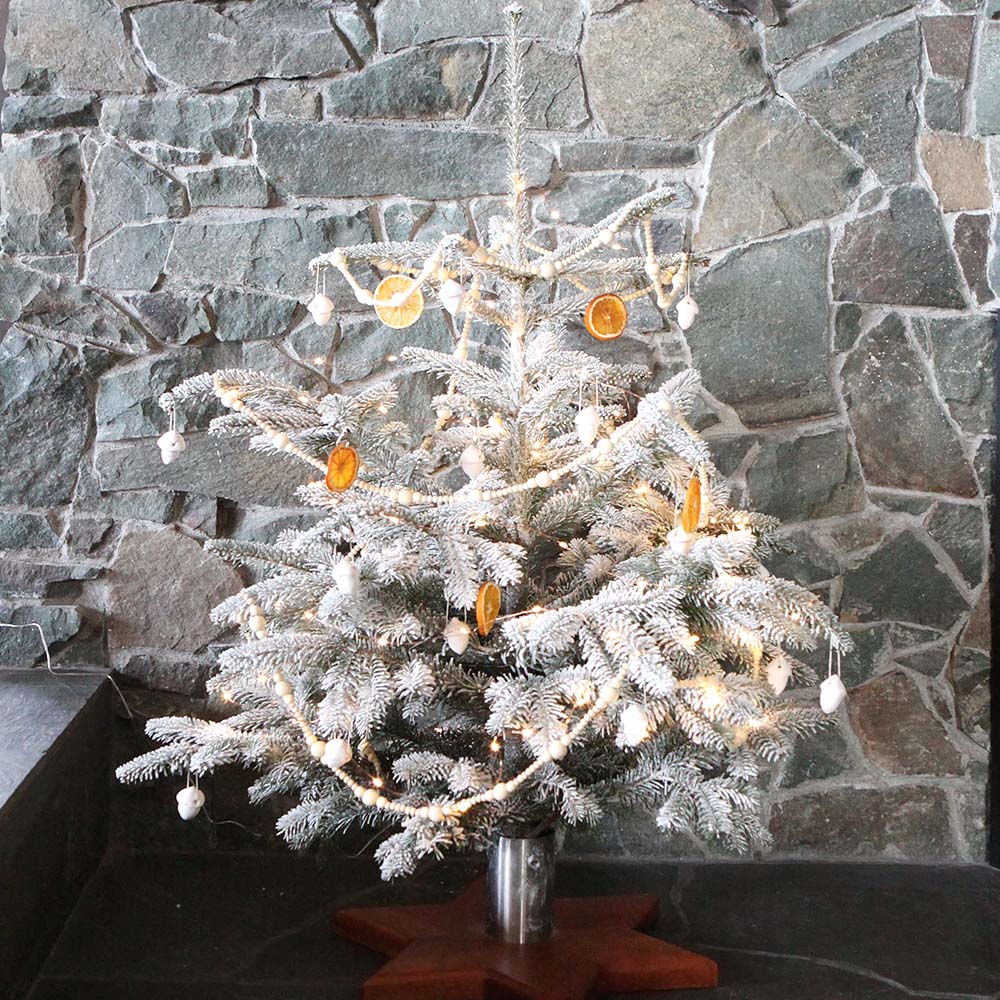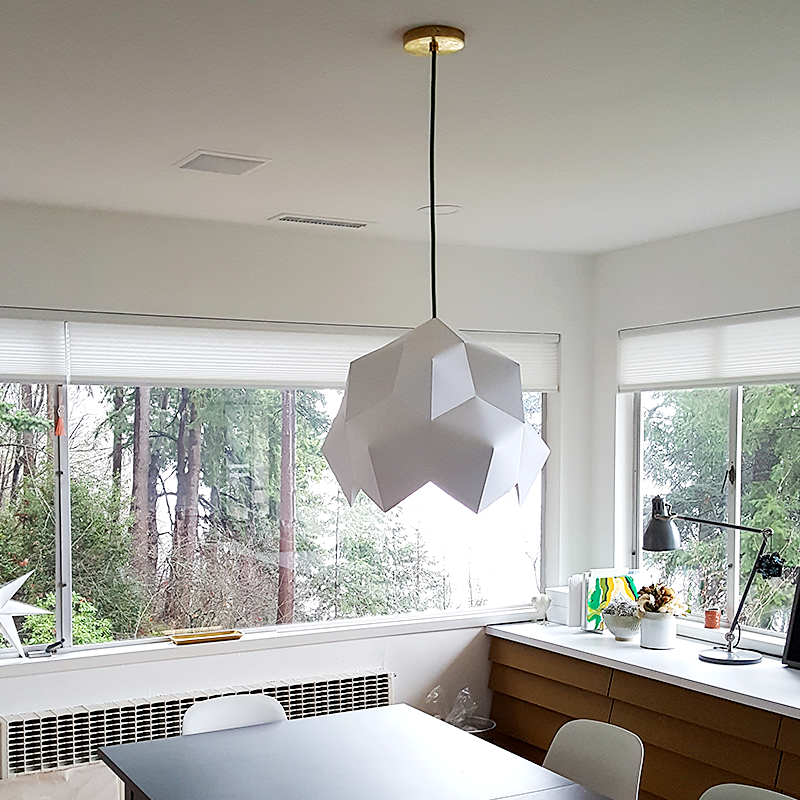 Search
We have been featured here
Full list
here
Search
We have been featured here
Full list
here