Outdoor Halloween decor: The black widow - wire and tulle lady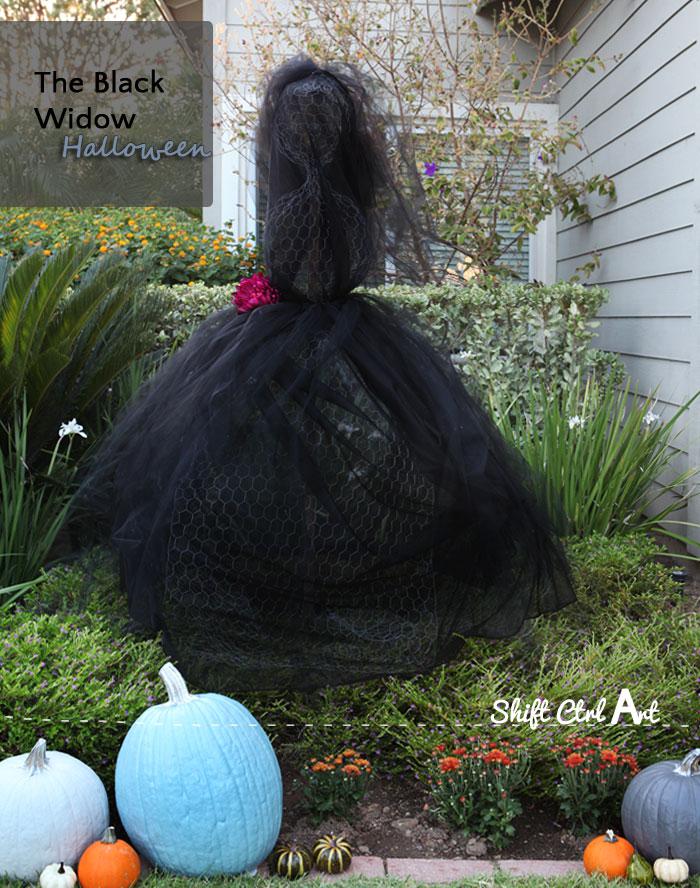 Last week I guest posted over at
Delightfully Noted
for Wicked Week. Thanks for having me Jennifer!
This is another project I made for Halloween.
So there is a black haunted lady in our front yard. A black widow. She just showed up yesterday. Muha hahahaha. Uh uh uh Mufasa...
Ok, ok, I totally made that up. As I made her up. Of chicken wire and tulle and stuff. Here is how I made her.
Oh and before I forget: wear leather garden gloves for this type of project. That chicken wire is out to get you.
I unrolled my 2 ft by 25 ft of chicken wire. I used some rocks to make it lay flat. It really wants to roll back into a roll. Chicken wire is introverted, I think.
I made sure that whenever I cut pieces of the chicken wire off, that I would bend back the pokey ends like you see in the above photo.
The shaping itself is kind of free form. First I curled the end around to make a tube, then I narrowed her neck, then started pulling on the top of the tube to form a head like you see here. I used the rocks to keep the chicken wire in place.
Next, I formed the torso and fetched myself a garden stick. I tied her neck with wire so it was too narrow for the stick to go through. I then tied her waste with wire, but a bit looser so the stick could pass through. Then I propped her up on the stick and cut off the chicken wire at the bottom to form the first part of her skirt.
I cut two more lengths for the skirt, narrowed them at the waste and tied them below the torso of my fair lady. She didn't mind.
Next, I transferred my project to the front yard, used a hammer to secure my stick into the ground, then put her on top of the stick. Then I folded the bottom of her chicken wire dress in toward the stick to make her as stable as possible. We have had Santa Ana winds here today and
she is still standing
. She might even be auditioning for an Elton John video. Who knows...
I used three rolls of black tulle. Two of the rolls I used to make into her skirt and one I used for her hair. The hair is made of long pieces with a piece of wire in the middle of it attached to the top of her head. Fancy.
Each of the tulle pieces for her overlay dress is knotted to a piece of string like you see here.
Next, I draped my 5 yards of thin fabric starting at the skirt then going around, then over her torso and her head. I secured the fabric in about 6-8 places with small pieces of wire. Over that, I tied the overlay dress made out of tulle strips. It looks spooky and kind of awesome when the wind catches the tulle.
Finally, I added a purple
forever
mum to her waste line. Because she deserved it.
Here she is again.
I always thought I would own a pair of moving reindeer in my front yard before I would ever own a chicken wire tulle lady. Guess not...
I would love it if you would pin her for later. I even made a pin - gif. Don't get too scared ...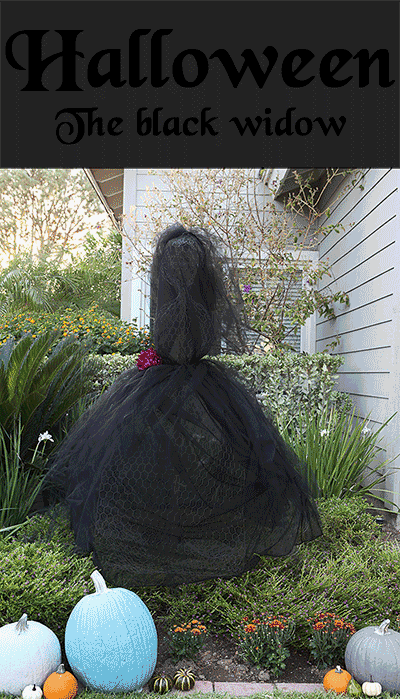 Happy Halloween!
; top: 7378px; left: 18px;">
Share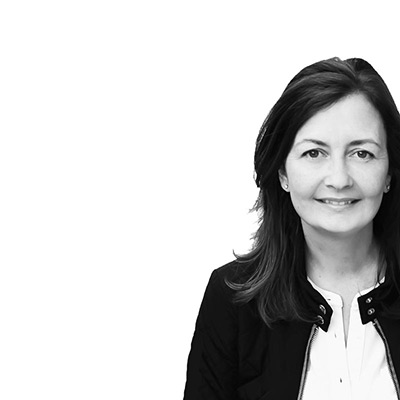 Search
We have been featured here
Full list
here