Home made Christmas stockings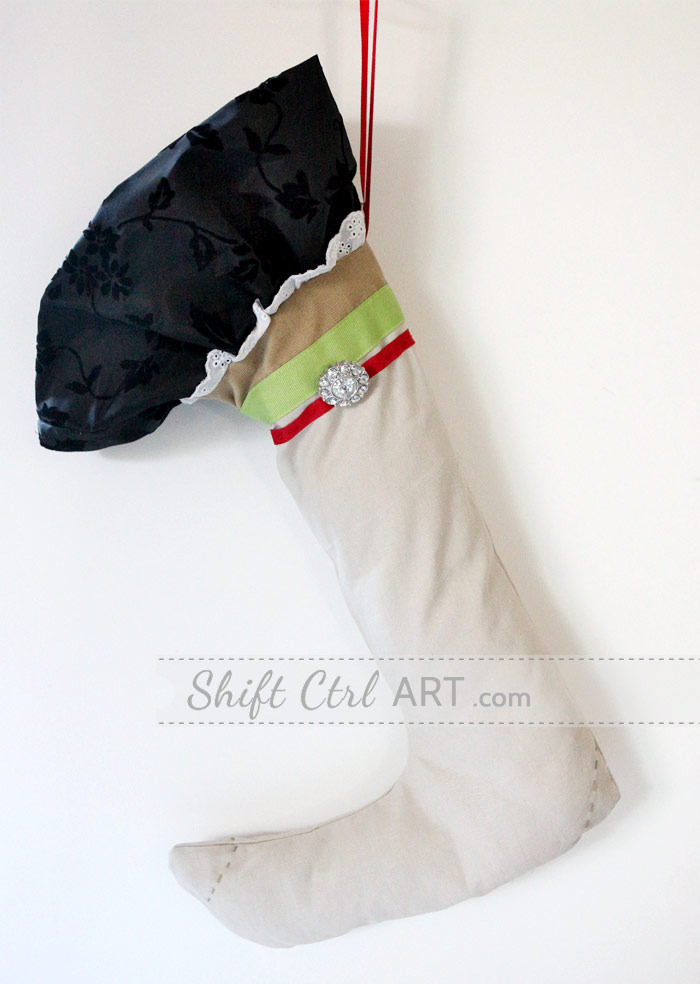 I have seen these new Stockings various places. They are more slim-lined and more boot-like than traditional stockings. I have seen them at
Ballard Designs
.
Instructions:
I made a paper pattern with these measurements: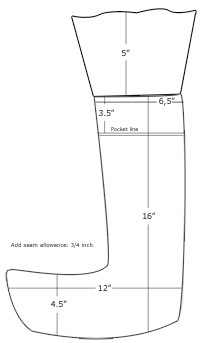 View image larger
I used these materials: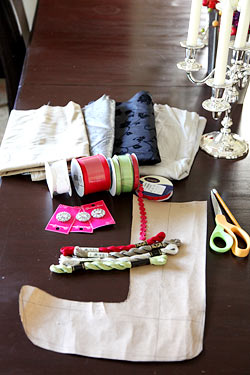 I made three stockings:
4 different fabrics: oatmeal linnen, black damask taft, silver/black paisley, light brown corduroy. I got 2 ft of each.
1 roll of Broderie Anglaise - white cotton "lace" with stitched holes.
4 rolls of grosgrain ribbon, green and red - two widths each color.
1 roll of flower ribbon, red
4 things of craft tread - red, oatmeal, green and silver
3 "diamond" buttons.
I also used sewing thread, needles, my sewing machine and pillow stuffing.
Steps:

View image larger
1. Cut out two stocking shapes per stocking - remember to cut seam allowance.
2. Cut one 13" x 3.5" PLUS seam allowance for the inner pocket.
3. Cut one long piece of 10" x 24" PLUS seam allowance for the gathered cuff piece.
4. Stitch ribbon and/or fabric to the top of the two stocking shapes.
5. Stich the back of the two boots together to get this: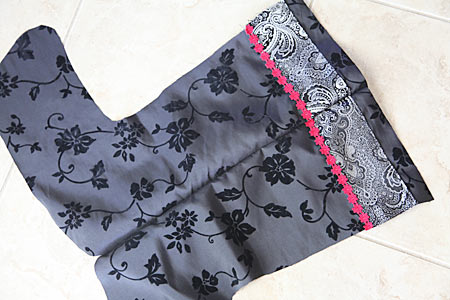 6. On the long cuff piece sew two lines with a long stitch length, then pull on the two treads that come from the bobbin to gather the cuff fabric:

7. Then layer the stocking right side up, one length of Broderie Anglaise right side down, one long piece of ribbon folded to make the strap at the back seam, the gathered cuff piece (Let the cuff piece overhang the other seam allowances on the two sides by 3/4") and the pocket piece right side down.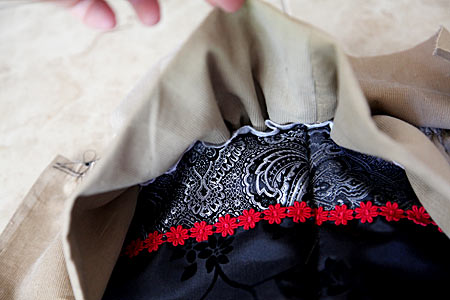 When you have stitched this, the front will look like this - except your will have the strap which I forgot and had to go back and fix

: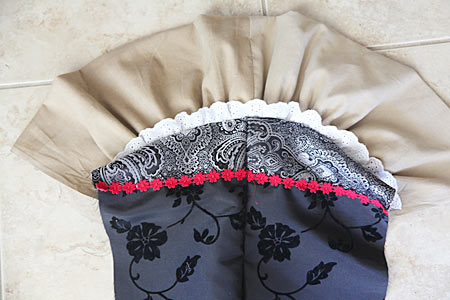 And the back will look like this: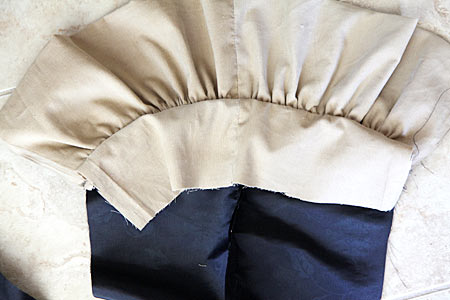 8. Stitch the rest of the stocking part and then the cuff part. Cut back seam and make triangle cuts to allow for excess fabric. Turn inside out, then stuff loosely with pillow batting.
9. Pull out the pocket and turn seams in, then topstitch closed like this: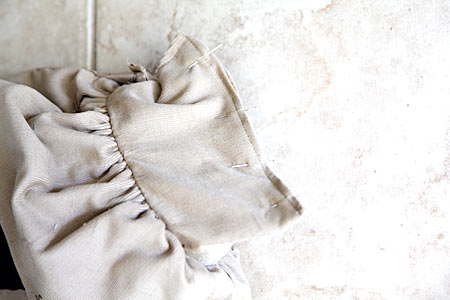 10. Push pocket into the stocking.
11. Fold over seam and tug in on the cuff and topstitch down to make the stocking look nice when looking into it. Cut excess fabric to take out bulk if necessary.
12. Add embellishment diamond button.
And there you have it...
I made mine out of different but coordinating fabrics. The common denominator for mine are the red strap, all have red, brown, black, white and green, all have hand stitching, all have a diamond button.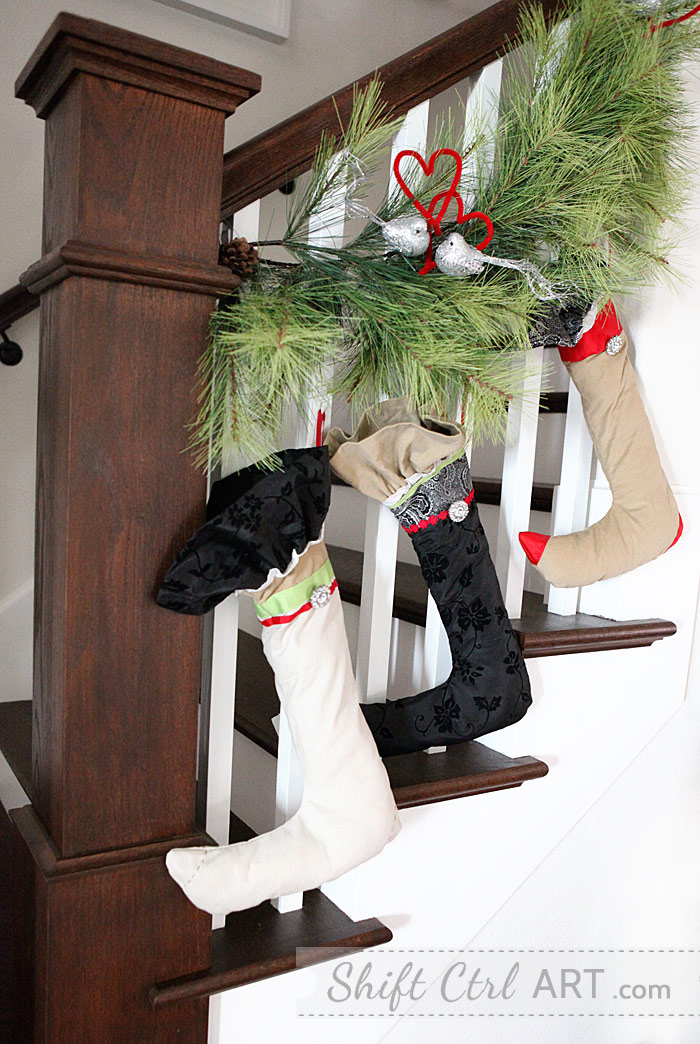 Idea:
Hang a monogram letter from the diamond button. Restoration Hardware has some lightweight ones at Christmas. At the store you can buy
these
individually.
Share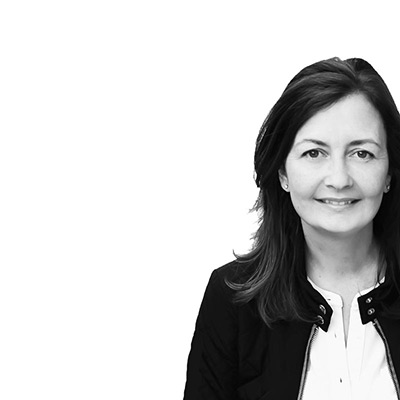 Search
We have been featured here
Full list
here