DIY shelves using IKEA Ekby Bjärnum brackets - and a gallery wall put up.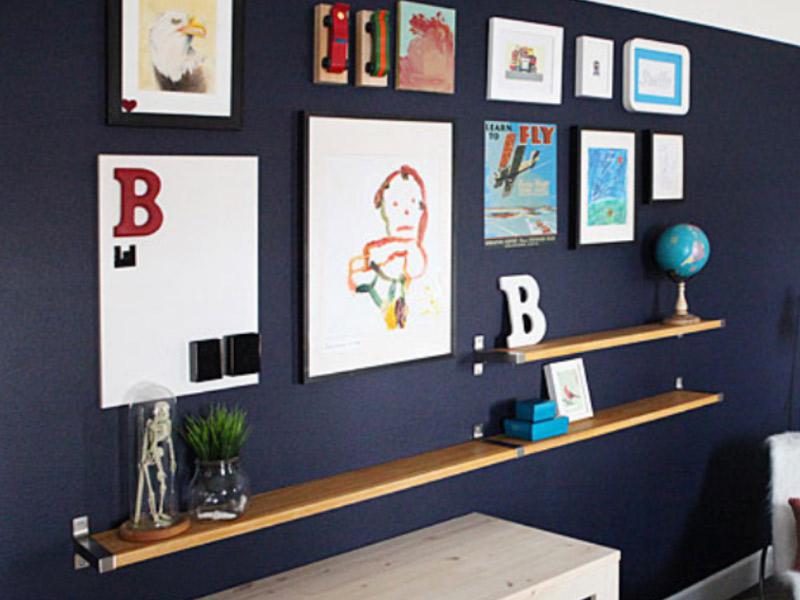 I am so excited to tell you that our white desk just got featured over at IKEAhackers.net this morning.

Just as I am about to share how I made the shelves for that wall.

We had some Ekby Bjärnum shelves from when I designed a toddler bedroom for B when he was 2. We used all the same components as we moved from rental to rental during the 00s.

Memory lane alert - this is B's room around 2005. He was 4 at the time. IKEA catalog watch out! This is the fourth rental he lived in and the third that had this room set-up or a variation of it.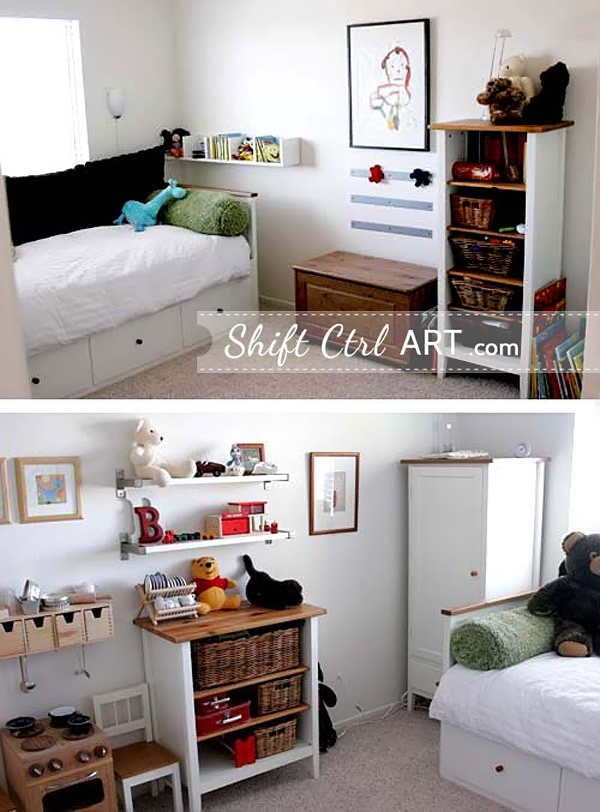 You see the two white shelves and brackets on the bottom picture. You might recognize a few items in these photos from our recent garage sale.

Back to the new shelves...

What really happened was this. Fasten your seat belts. I used one set of these brackets in our Guest/game room, then wanted to use the other set for B's room, and bought an extra set of brackets. Realized that our brackets from way back when, were of a very different quality than the new brackets IKEA is making now. Then we found that nice barn board and after not being able to find enough of that to use for all of B's shelving, we then decided to use the really nice older brackets for the barn board in the dining room, and then we got some (also) really nice true 1 inch ash wood - are you still with me?

for B's wall, which was probably a good idea as the barn wood was a little too rough for his room, I think. Phew... How's that for musical brackets. The one white shelf is still in the guest/game room. Did you take notes?

There will be a quiz later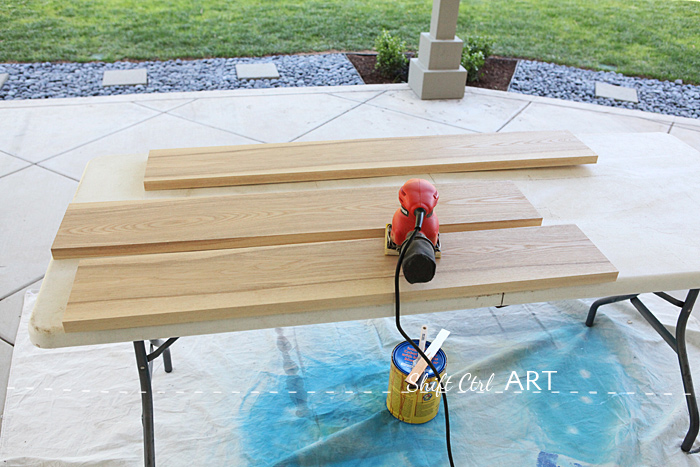 Here are the white ash boards. Our handy, dandy-man ran them through his table saw and cut them to length for me. I then sanded them using 220 grit sand paper. They were already planed and really nice when we got them, so not much work was needed.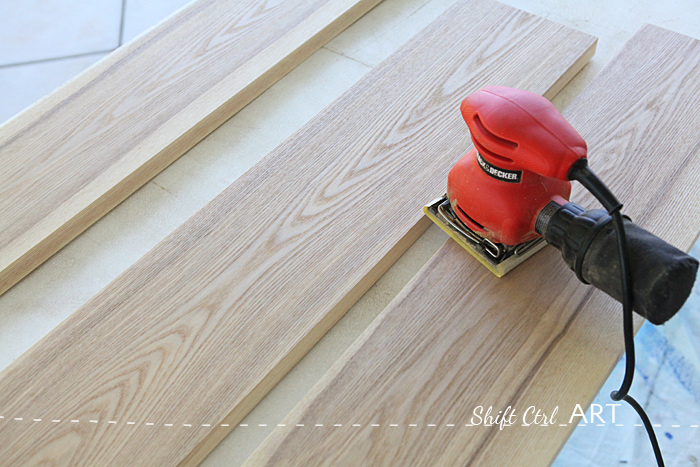 The edges were razor sharp, so I sanded them at an angle ever so slightly until you didn't cut yourself on them anymore, but without really bull-nosing them.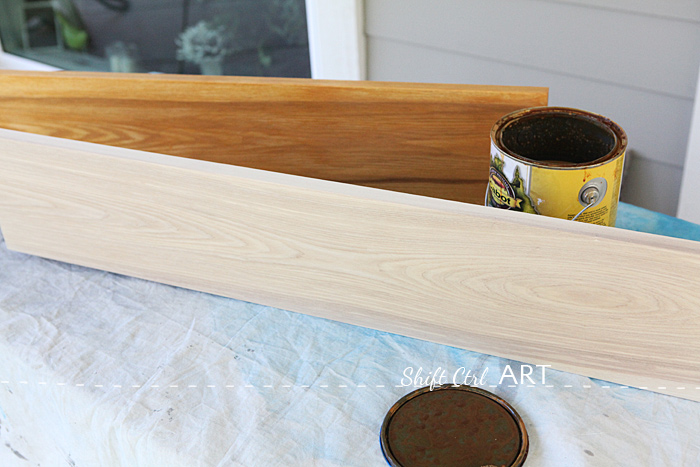 Then I gave them a coat of my Stain - still the same can left over from our deck hand rail staining project. It is also the same as I used on the bed side cubby I built for B's room with some of the left over cedar from above deck project. It's a Cabot stain by Valspar and it's called Cabot Timber Oil stain - wood finish - Honey Teak color.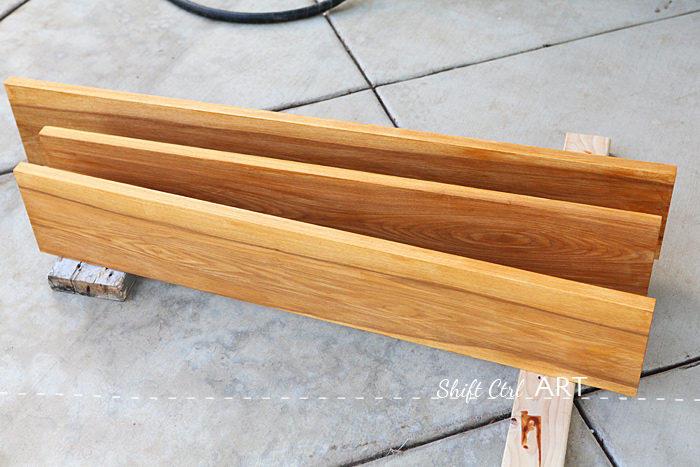 I put one coat on the ash.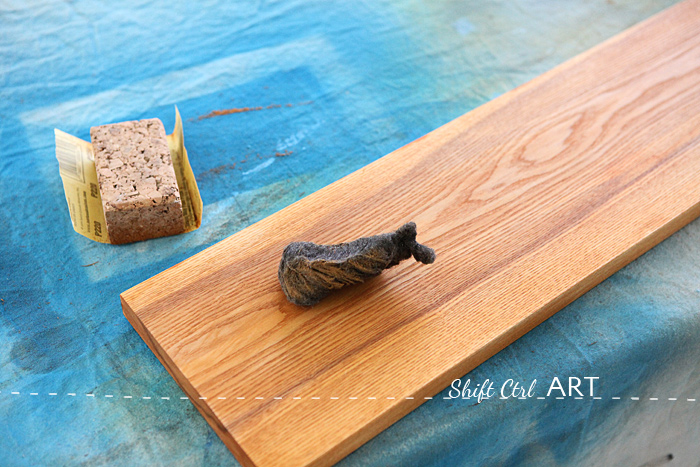 After a couple of days of drying I came back and did a light sanding and then polished the wood with steel wool. This makes the shelves incredibly smooth and that's all I have done. No sealer. I just love the sheen of the steel wool polish.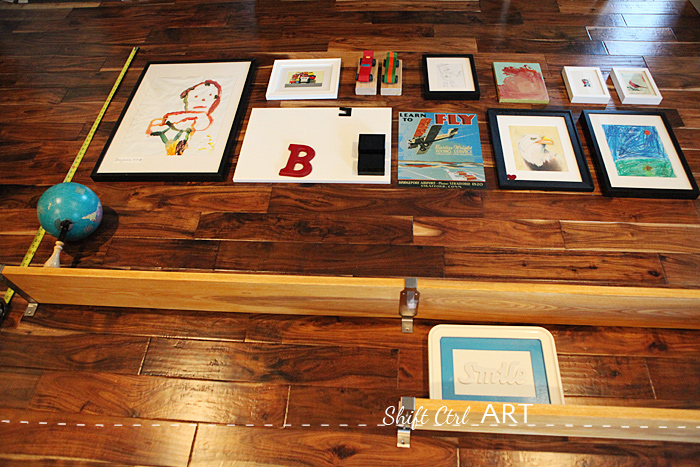 Then I "dry fitted" the gallery wall. I have a slew of these kinds of pictures. (I'll save you

) Here you can see that I at one point contemplated putting the smaller shelf under the long shelf. The tape measure shows how far up the blue square goes in the room.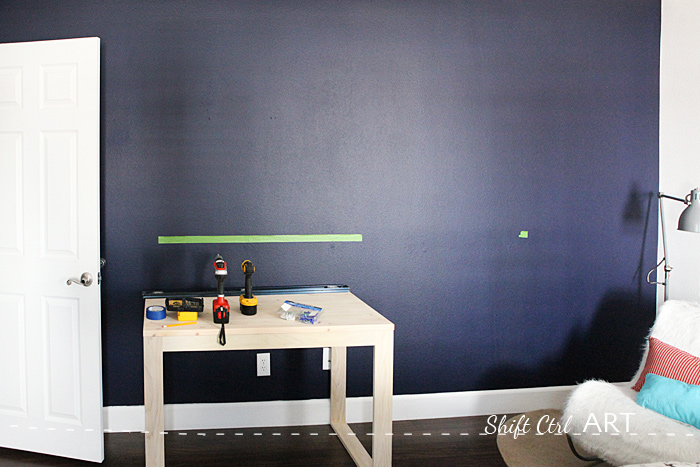 Up in the room I had put some tape to help visualize where the shelves would go. There is the desk... (wave)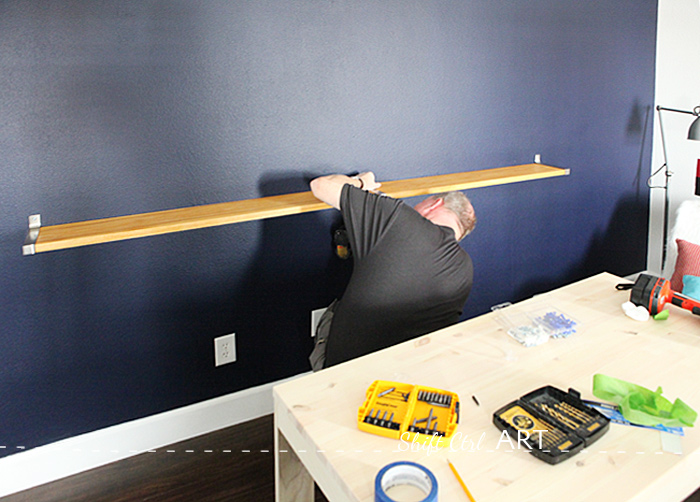 When we hung the shelves, I had not attached the two long ones together. We hung one first, with a level. Then the next with a level, then screwed in the screws to secure the shelf to the center bracket.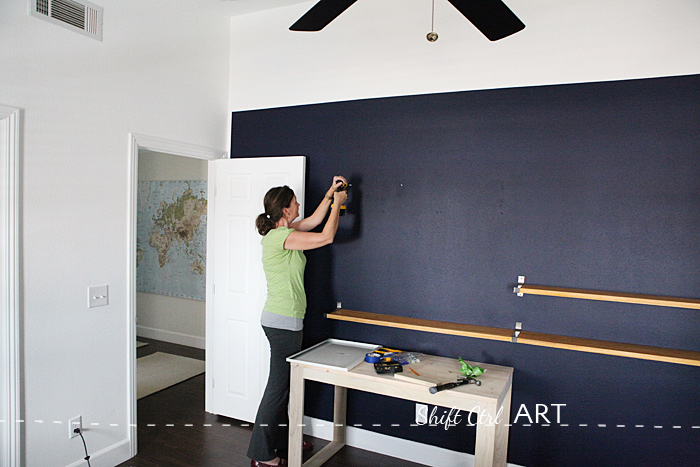 Her I am putting in screws for the magnet board. (It's very exciting, I know) This was the starting point. I don't use templates or measuring or anything like that when I put up my gallery walls. I kind of just wing it. Then adjust. (and spackle if necessary).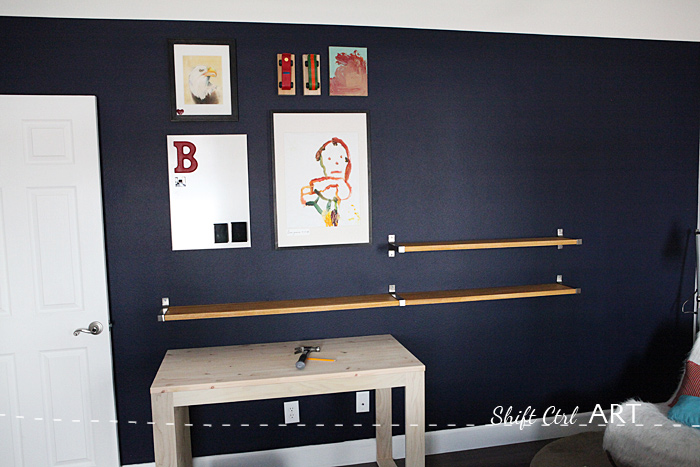 Next I hung B's big portrait. Then centered his pastel eagle over the magnet board and then his abstract acrylic with his two derby cars over the portrait. So far so good. You can read more about all the artwork on this wall here.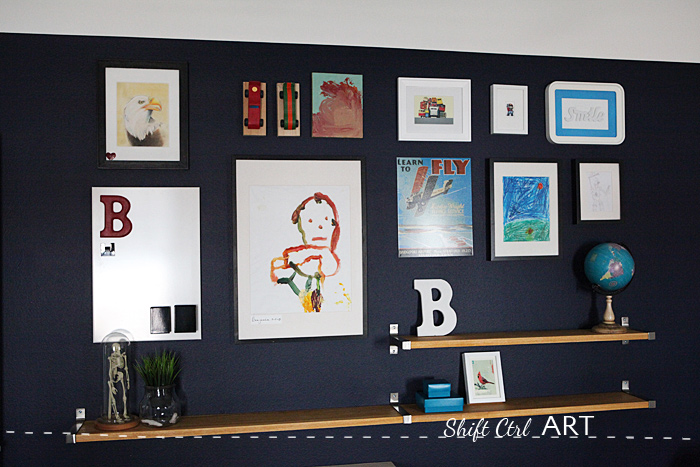 Then, I knew that I wanted the globe to not sit right in front of a picture, so I put that and a few other items on the shelves. Then hung the rest of the art going left to right.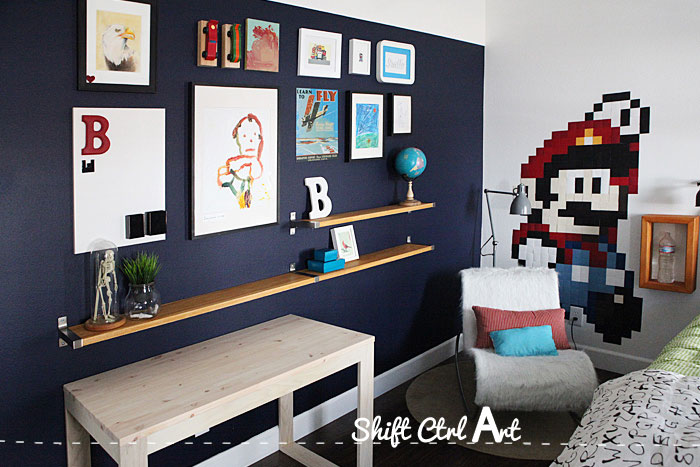 Then after that, I fiddled with the shelves, painted the desk and fiddled some more until I had this: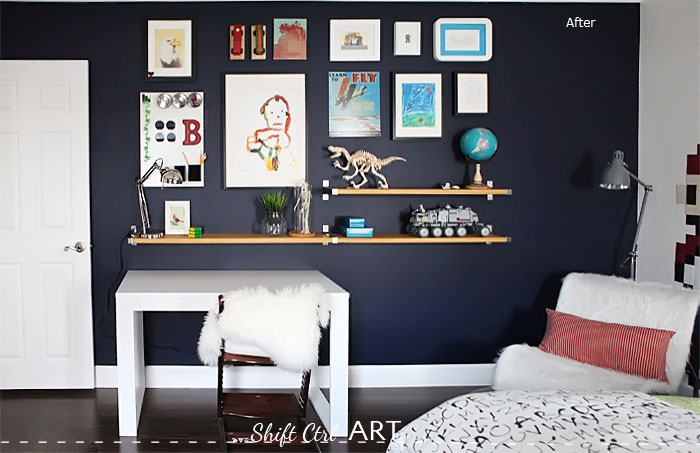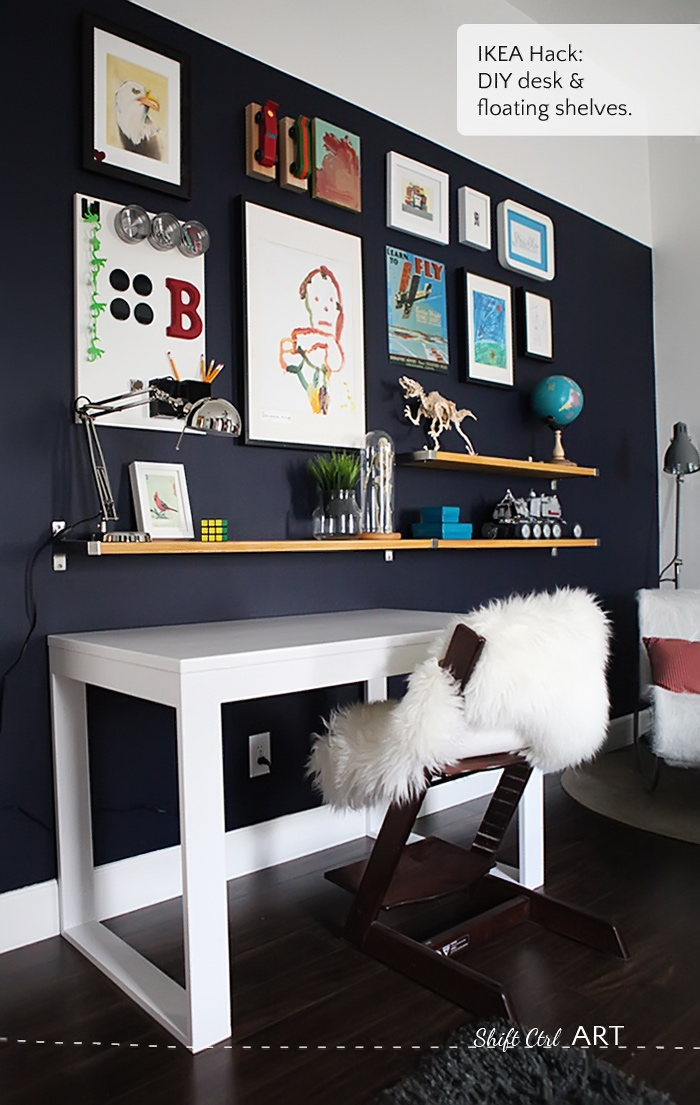 Do you fiddle with your rooms at the end? Want to know more about the desk. Here are pictures, here is the tutorial.

Let's take a look at the to-do list for B's room since it has been a while:

Paint the walls white.
Dye curtains - How to dye curtains.
Hemming the curtains - How to hem curtains.
Paint three coats of navy on a wall. How to get a crisp line on textured walls.
Fix some wiggly outlets - How to fix a wiggly outlet
Fix bed - IKEA Hack - queen bed with twin trundle,
Re-upolster headboard - How to make a tufted head board
Paint the bed - Oil based primer and latex paint - a match made in heaven?
Track lights, bedding, Zzz - Lights, curtains, action - bedding and a rug
Sew decorative pillow.Reversible long pillow - green with red stripe/gray with blue stripe.
Re-upolster chair - recover a chair in white faux fur
Art project. Or two. - B and I made a huge 5 ft Mario Wall art feature.
Got a reading lamp, Make night stand cubby, Install bed lamp - build a bed side cubby and 7 other DIY projects for a tween room
Improve on a rug - decided not to do that.
Frame Mario art.- B's Artwork
Make desk - here and here
Install shelves - this post
Install magnetic boards - this post
Install wooden cubbies.
Improve on trunk
Get a new dresser or shelving unit - haven't decided yet.

I have just one little corner left where his book case is and then his closet.

Do you have any nearly finished projects going on? Relieved to see them be done or sad to see them gone from your project's list? or a bit of both? I have a bit of both. Good thing I have more rooms in the house screaming for a bit of DIYing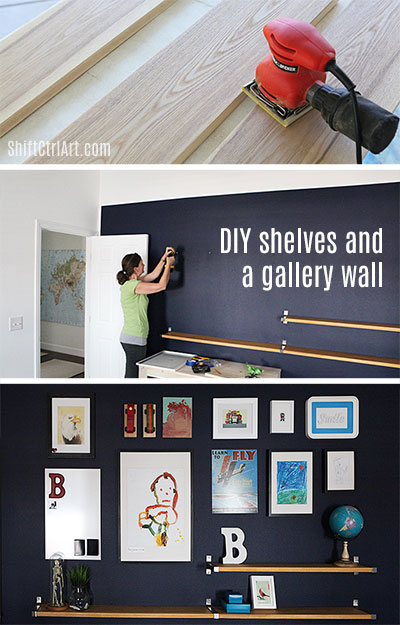 Linking up to Cassie's Be Bold Challenge
Share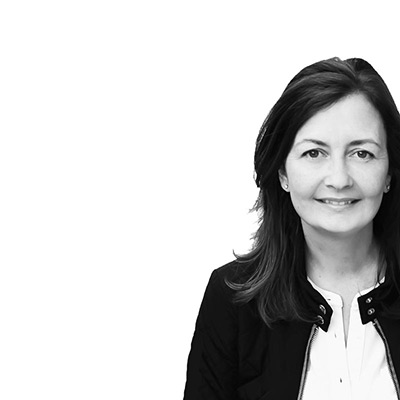 Categories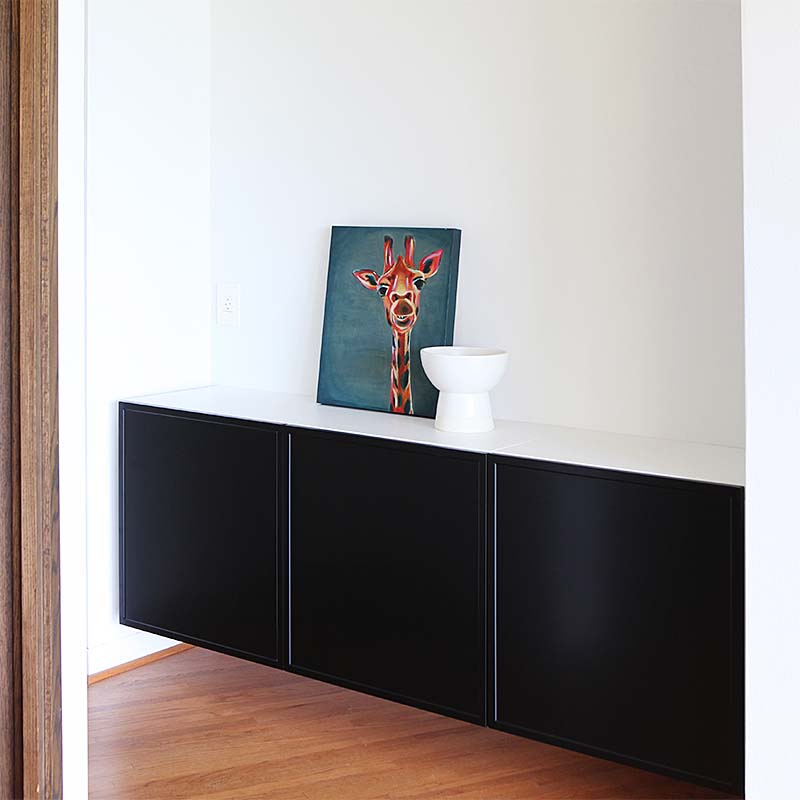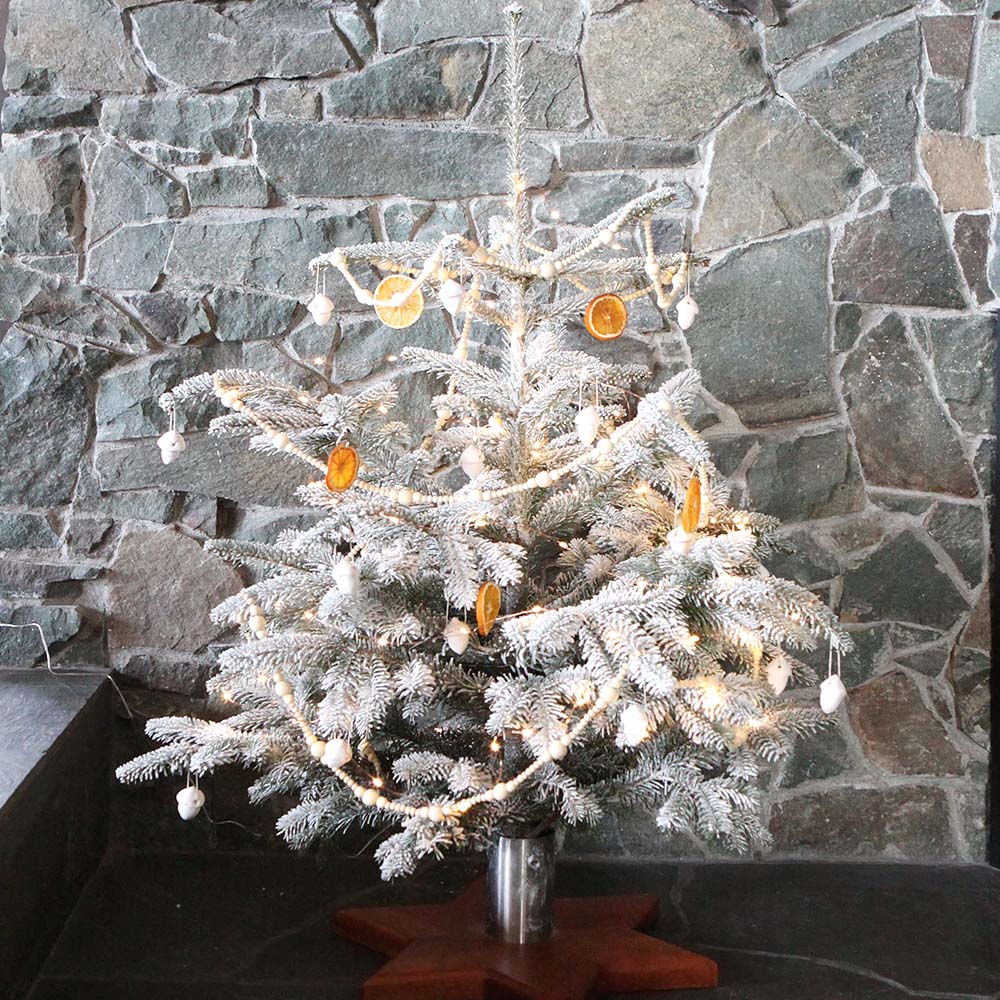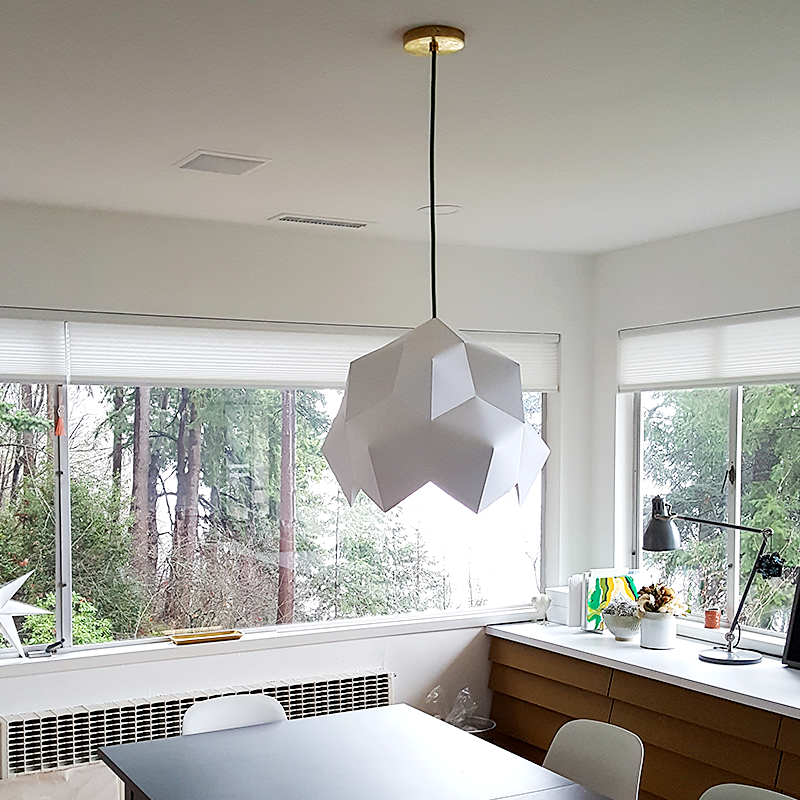 Search
We have been featured here
Full list
here
Search
We have been featured here
Full list
here