DIY upholstered headboard insert and pillows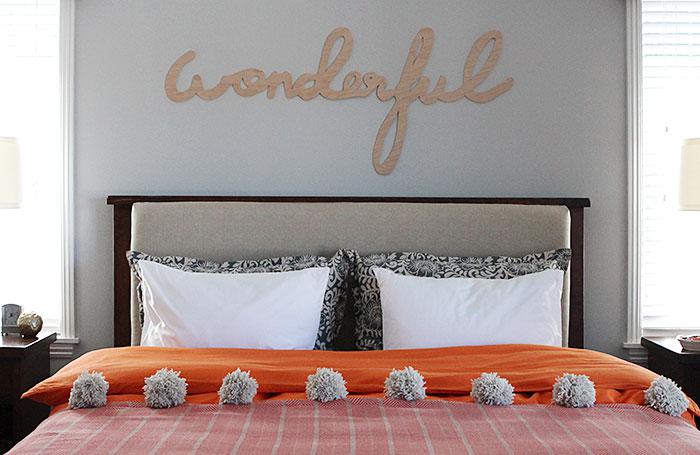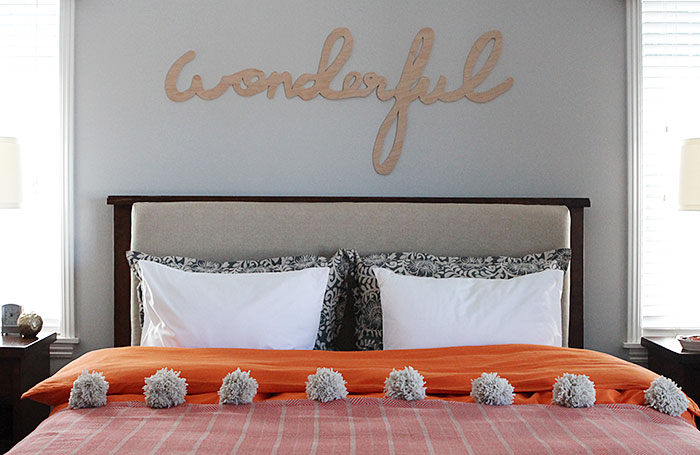 Yes, I am showing you this picture again of our newly made-over master bedroom. No, it's not a double post. We have already talked about the reveal, we have talked about the wooden word art over the bed.

Now, I want to talk about the headboard insert and the pillows. I know. Exciting stuff. Let's dive in.

We have the Sumatra bed from Pottery barn and even though both the bed and mattress are both California King sized, there was a 5-6 inch gap between the mattress and the headboard. Our solution until how had been to stuff two king sized pillows into that gap to prevent our other pillows to fall down into that abyss. Not that attractive.

Another problem we had was that the horizontal beam at the top of the headboard juts out and hits you right in the neck when trying to sit up and read.

To solve both of these issues, we made an inset upholstered headboard.

We got some OSB (Oriented Strand Board) and cut it half an inch smaller than the inset square.

I went to my foam place up in Anaheim and had a piece of foam cut the exact size of the headboard inset square. I got a piece that was 5 inches thick. I don't remember the price exactly, but I think it was around $80 dollars including a piece of batting. Foam is much cheaper to get at a place like this compared to online or at the craft store.

I couple of years ago, when I first planned this - I am such a quick starter - I bought a piece of fabric for it in Denmark similar to this fabric.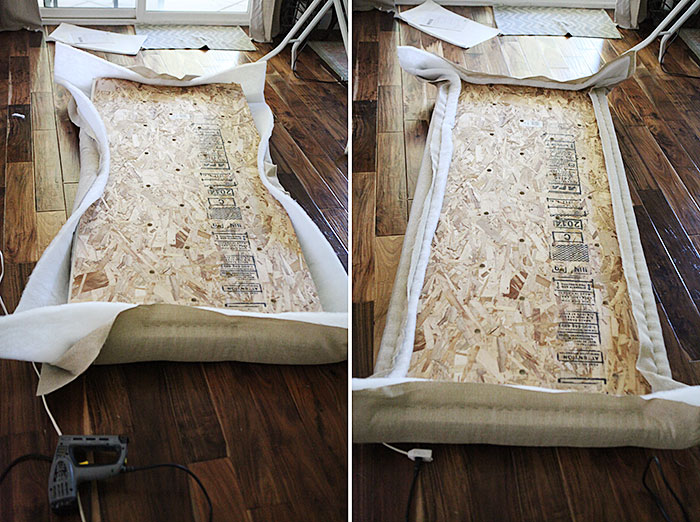 We drilled holes in the back of the OSB for tufting, but as the project advanced, I dropped the tufting idea again. 3 reasons: The fabric was not as nice as I remembered when I unfolded it. It had a bit of a stamped repeat pattern - barely noticeable, but I didn't like it. Secondly, the pillows would almost cover all of it. And third, I was in a time crunch, so reason one and two seemed like great reasons to drop that part.

Frank helped me stretch the fabric along the middle of all four sides first. Then we worked our way out to the corners after that.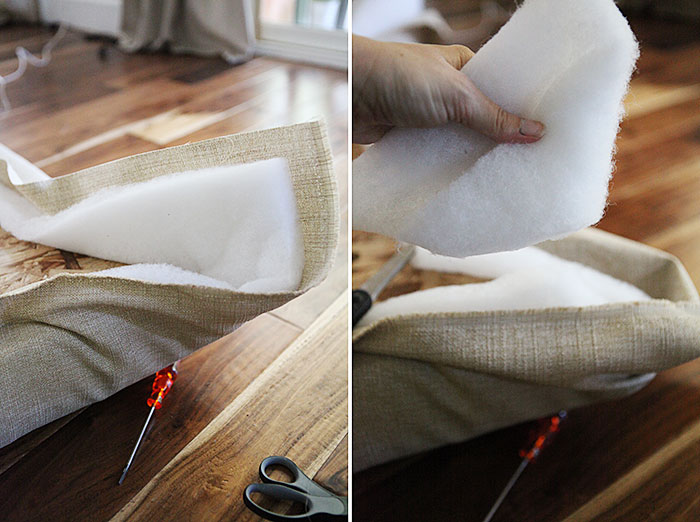 I cut the bulk of the batting away from the corners to make them nicer and more crisp.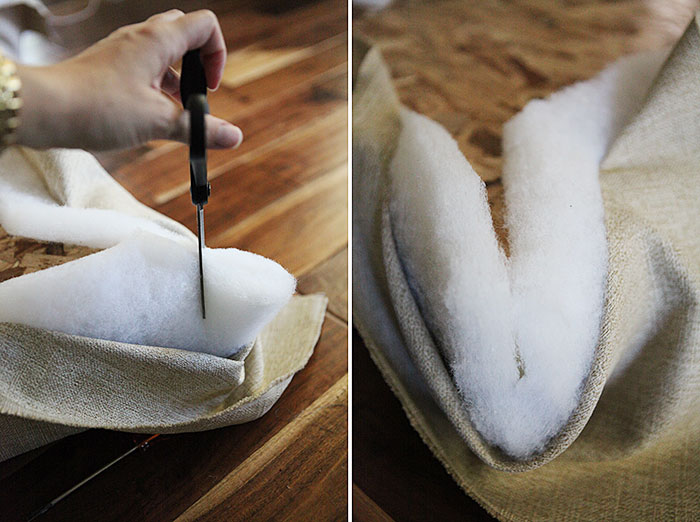 I don't normally hold scissors like that except when I have a camera in the other hand. You can see that I cut the batting off at two angles.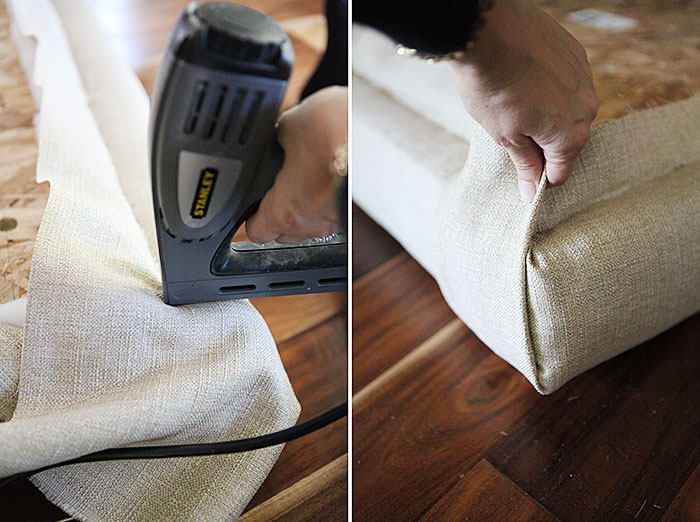 Then we stapled all the way to the corner on the fabric that was under the corner. Then folded the other side over and worked on it until it was the best we could make it. Then stapled it in place.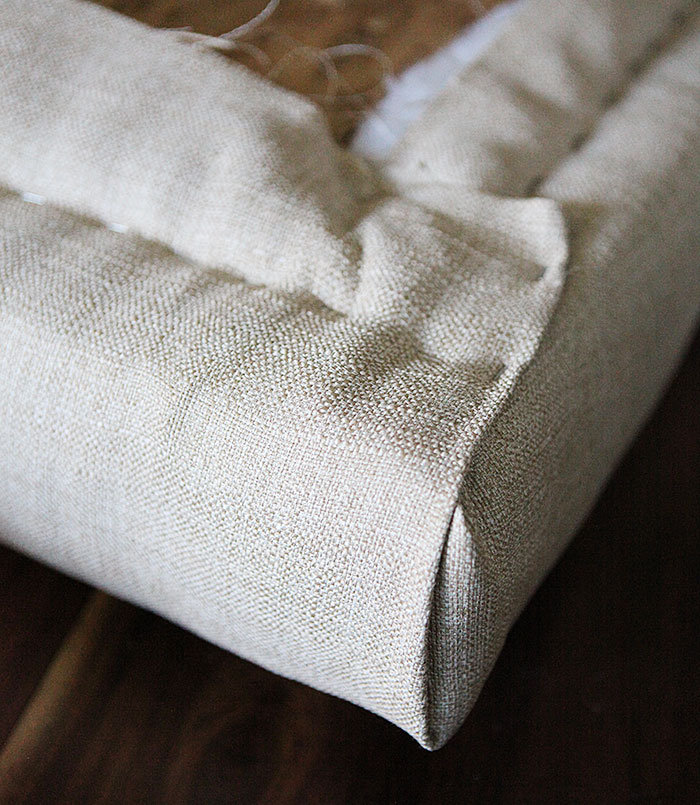 We plopped the headboard in place while holding our breath that it would fit. And it did. So well in fact, that my plan to put Velcro on the back was not needed. There is a little ledge in the headboard that the insert is resting on.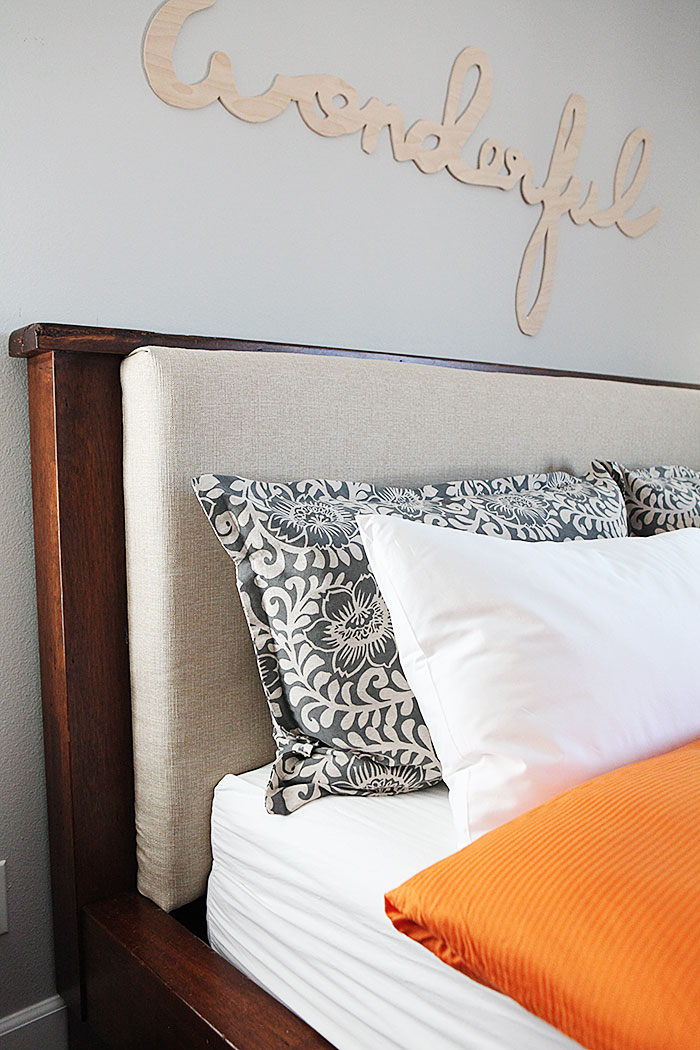 Next, I sewed some large king size pillows to go in front of the headboard. Last year when I started planning the bedroom makeover I bought a Gray Wild Hibiscus Jaipur grommet curtain at World Market on sale with the intention of using it to upholster the thrift store chair, but then when that idea fell through, I switched the fabric to these pillows instead.

I used my own tutorial on how to make a pillow with a zipper, but I made the pillow cover an inch bigger on the three zipper-less sides to make a flange. This was to make the pillow visually bigger.

Here is a graphic showing all the measurements and how I cut the grommet curtain. I used almost all the fabric from one curtain to make these two pillows and I was very happy that there was almost no waste.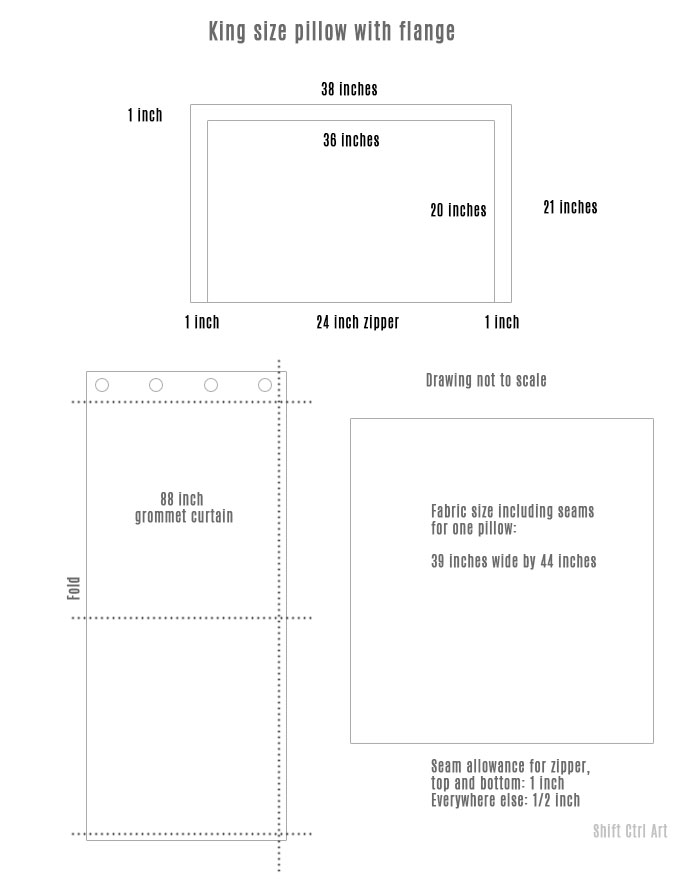 I stuffed the king sized pillows with each a twin duvet folded in half lengthwise, then folded in thirds. This makes the pillows look very full, plus it is a great way to store extra duvets.

We had euroshams (They have more of a square size as opposed to a rectangle) before for our pillows, but I wanted to get new ones that were standard/queen size to better go with the scale of the new king sized pillows. IKEA just got some new ones. Frank and I went on a date night to IKEA (!) - who doesn't do that - and checked them all out and while you can get them in all price ranges ranging from a couple of dollars all the way up to about $60 we fell in love with the Jordrök - soft ones. They were only around 15 dollars, but seemed like the best ones. We were going for some that were not too bulky.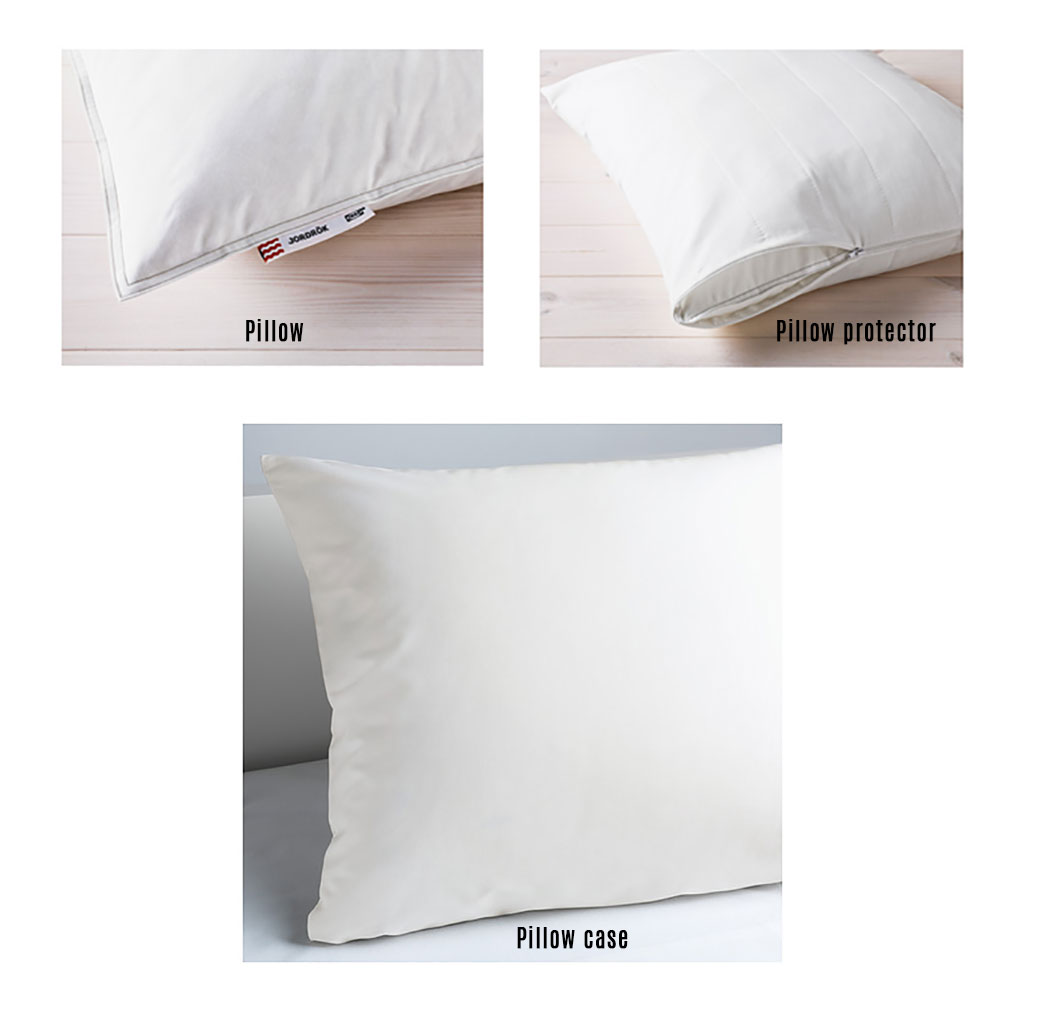 Jordrök - queen, soft, Ängsvide pillow protector, Gäspa pillow case

I added some pillow protectors to them to make them more full looking and some fresh white pillow cases.

It would have been too much with orange there as well. Maybe the duvet covers are already too much. I got them a couple of years ago, but have been saving them for this make-over. I was looking for white ones, but could not find any by Sjödahl. We have Danish sized duvets, so I have to buy Danish duvets for them because they are a different size. Sjödahl has some that I don't need to iron (although I did iron these for pictures) because the fabric is so nice and thick, and they have a zipper along the bottoms which I really love. Unfortunately they don't make a ton of solid colored duvets. Really a shame. I would be first in line to buy all white ones or other solid colors.

But there you have it. The headboard and the pillows. Oh and now that we have slept with the new pillows for a couple of weeks, I asked Frank the other day how he would rate the new IKEA pillows on a scale of 1-10. He gave them an 8-9. I am at a 9 1/2 myself. Maybe we are rating them this high because our expectations on a 15 dollar pillow were ultra low, but we are really happy with these pillows.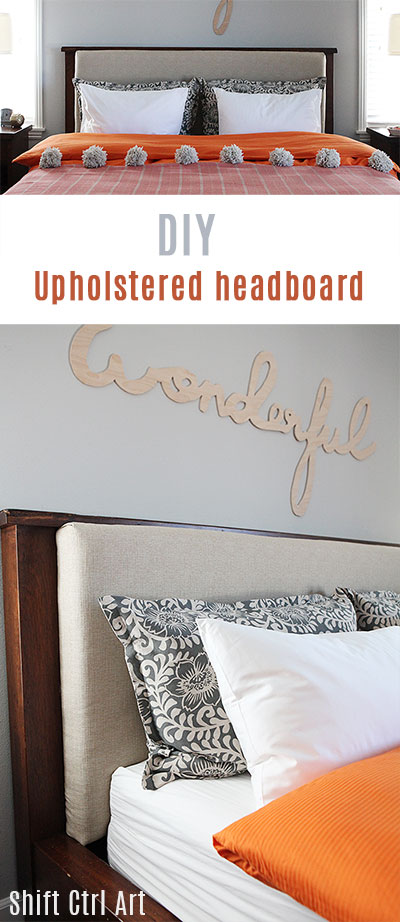 Share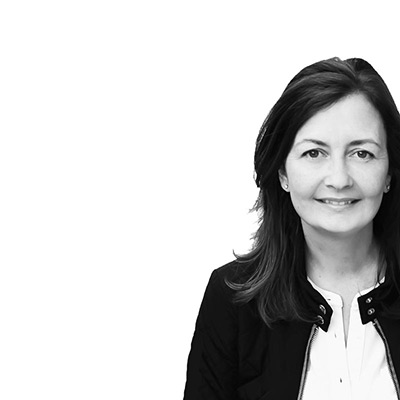 Categories
DIY upholstered headboard insert and pillows is posted in the category
Master Suite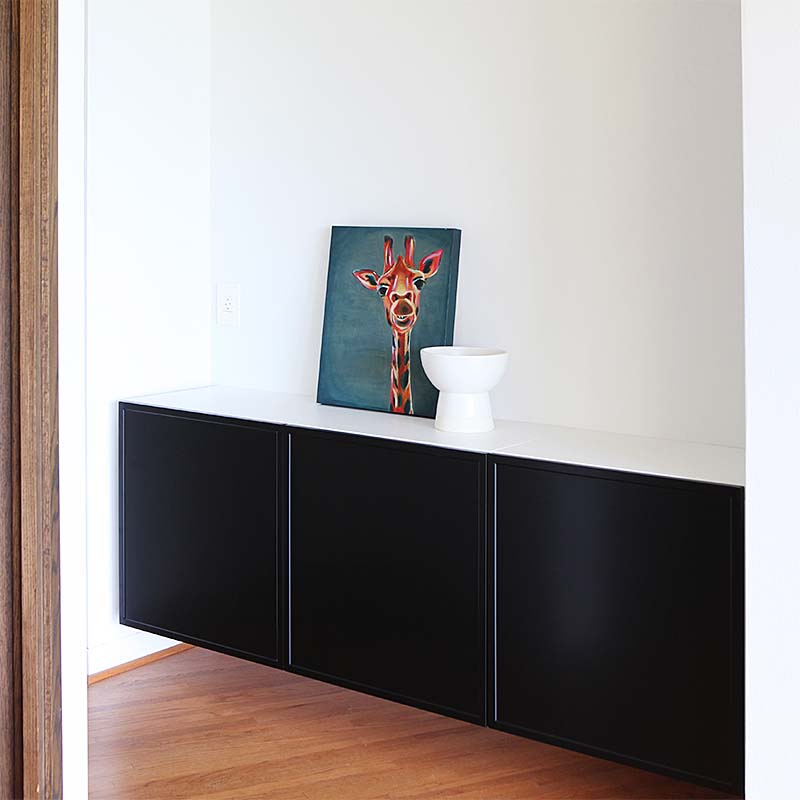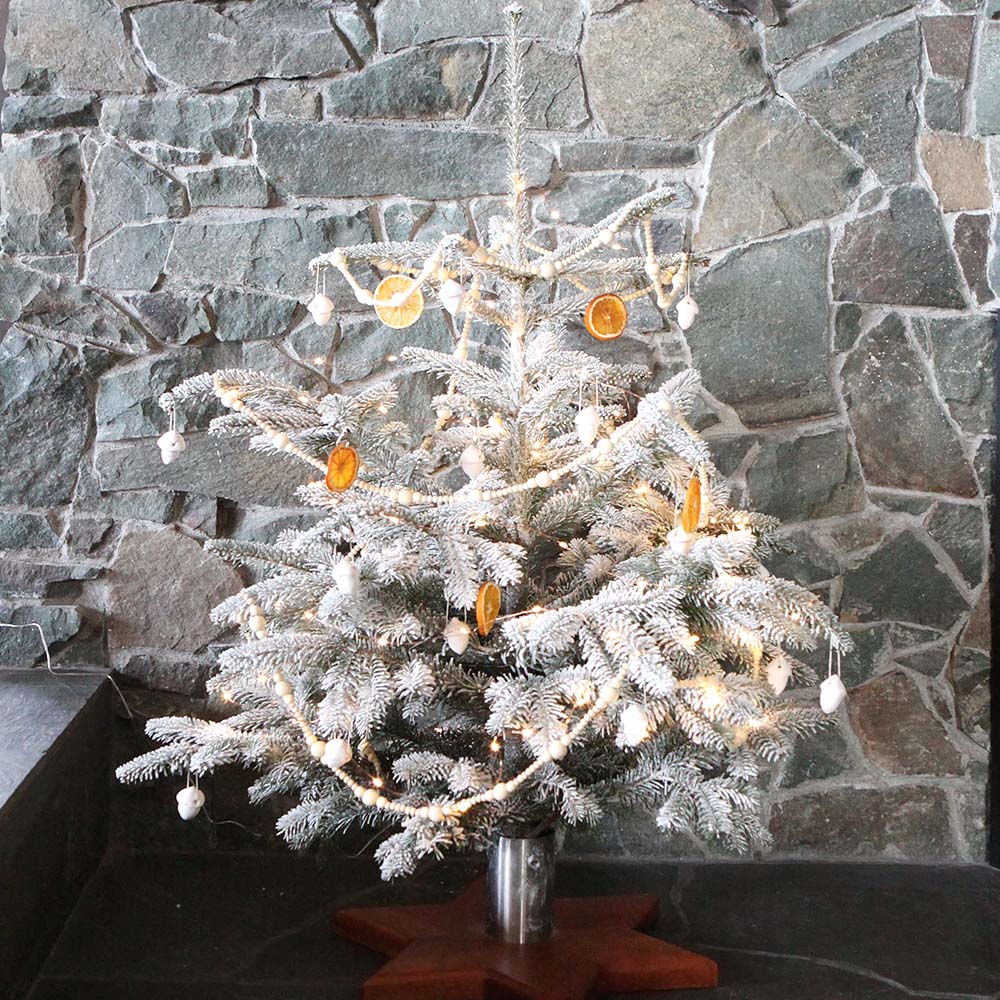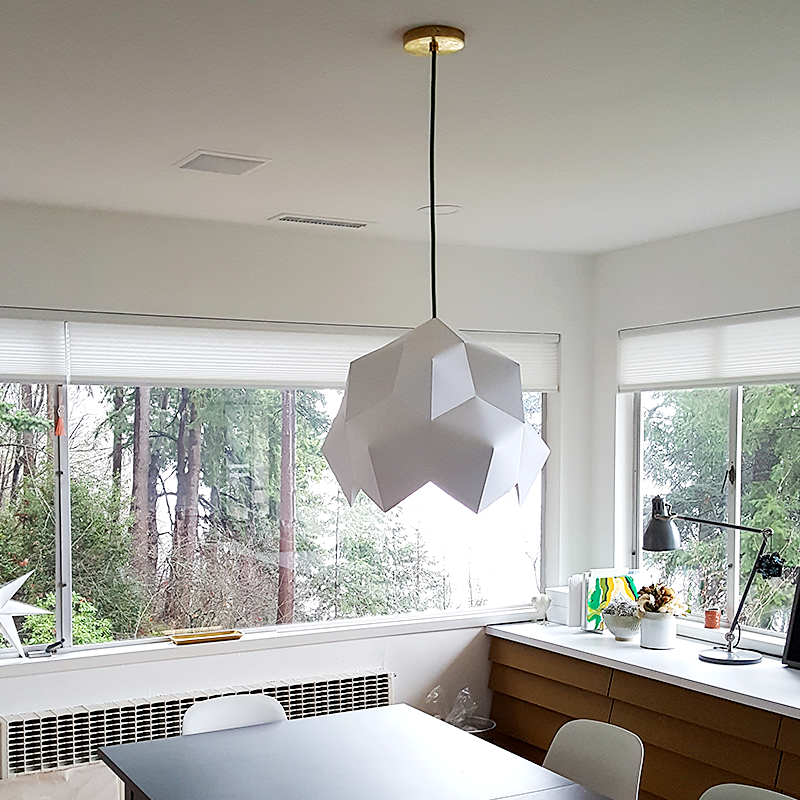 Search
We have been featured here
Full list
here
Search
We have been featured here
Full list
here