Apple pouffe - 1 of 3 easy desserts to make with my vanilla egg base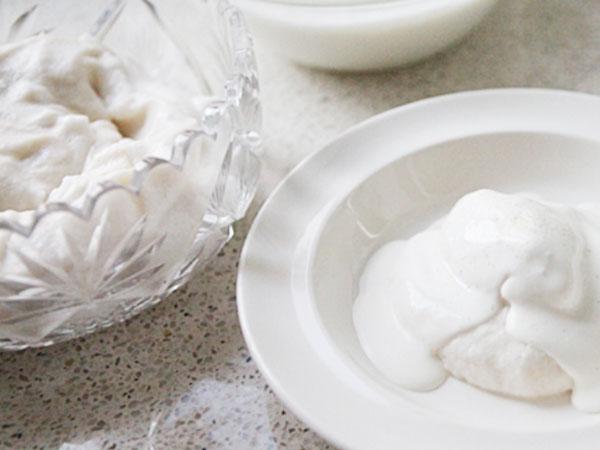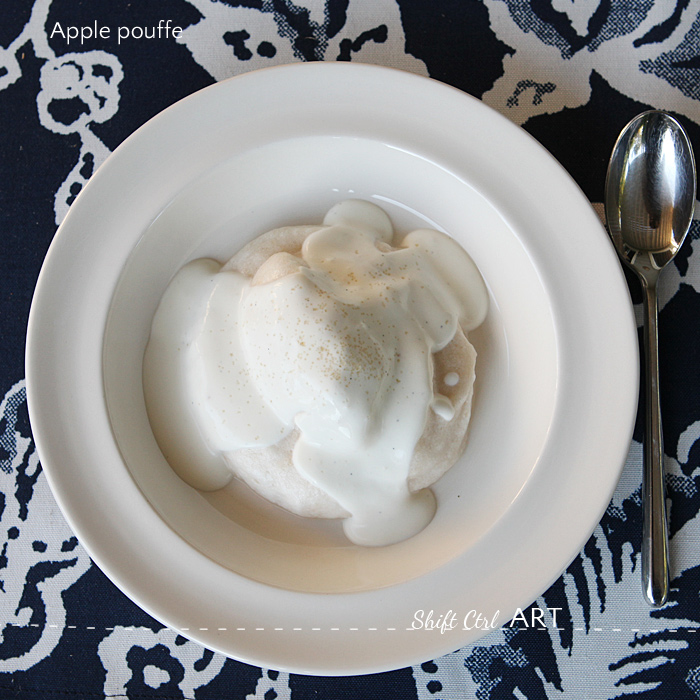 I love this dessert so much. My mom brought home this recipe from her time as an Au Pair in England. It's great in the summer and in the fall after the apples are harvested.
This dessert is basically apple sauce with fluffy egg whites carefully folded in to put the "pouffe" in Apple pouffe. On top is a Chantilly cream (råcreme) Then, I like to sprinkle a tiny bit of sugar on top right before eating it for a bit of crunch. If you can find some larger sugar crystals, it's even better.
Start out by making the egg base.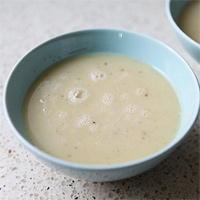 Make 3 crowd pleasing desserts
from this vanilla egg base
Next up you make the apple sauce, or skip this step and use a ready made organic apple sauce without sugar - I recommend the one from Trader Joe's - make sure on the back of the label that it only contains organic apples and a bit of ascorbic acid (to avoid oxygenation).
For my Danish readers: I have yet to find a sugar free organic applesauce in Denmark. If you know of one, please let me know and I will update here.
To make your apple sauce from scratch: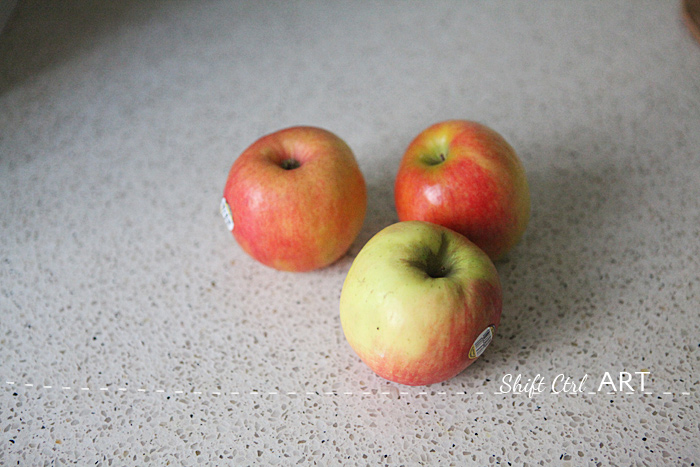 Use three large apples. Here I used Pink Lady apples. My favorite apples to use for this dessert is Cox Orange, but I have not seen any yet, it's probably too early in the season. You could also use Gala or Fuji. I would avoid Golden delicious because they have nearly no taste to them once you cook them.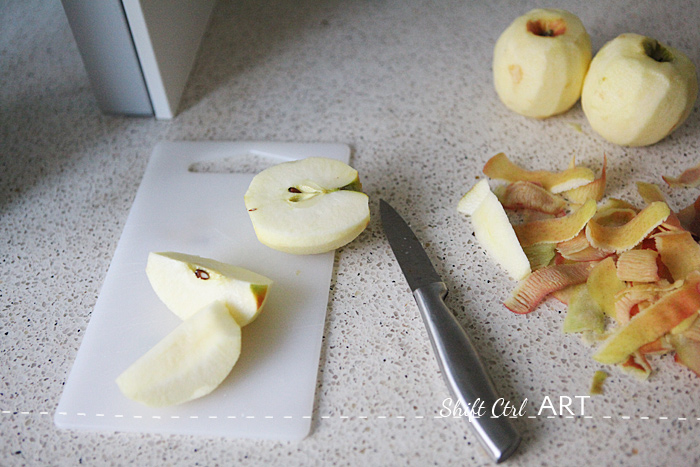 Peel, core, quarter.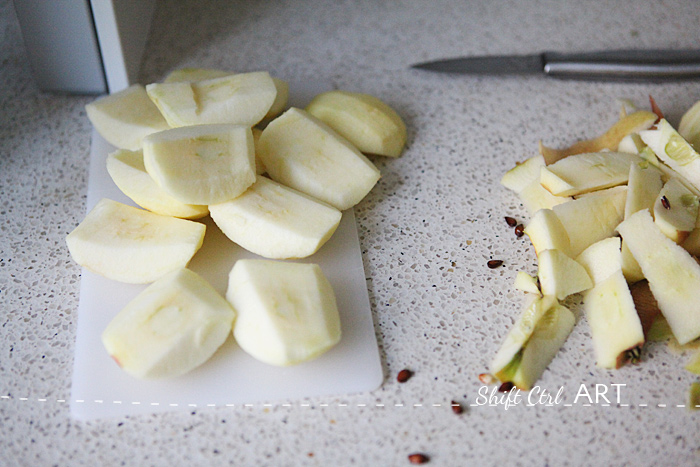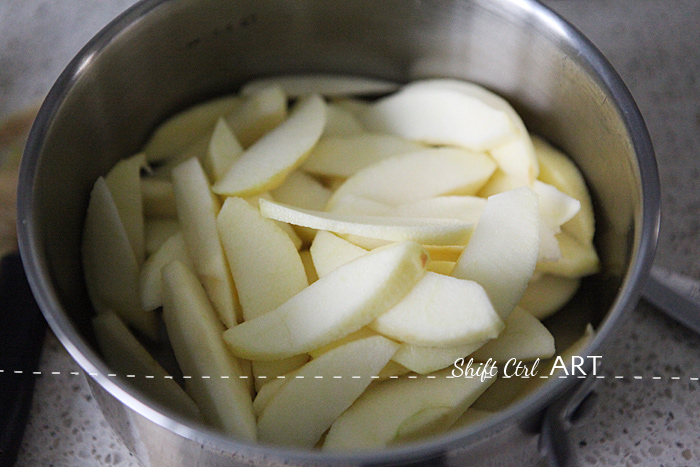 Slice thinly, place in pot with lid. Add a table spoon of water. Heat over LOW heat for 30-50 minutes.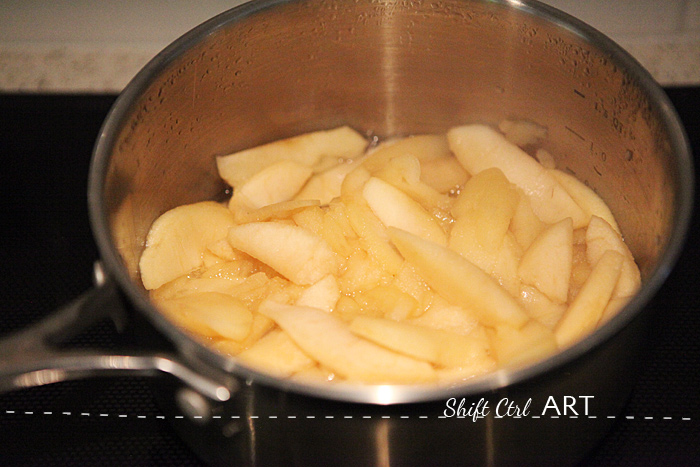 The apples are done when they start falling apart and there isn't much "crunch" left in them.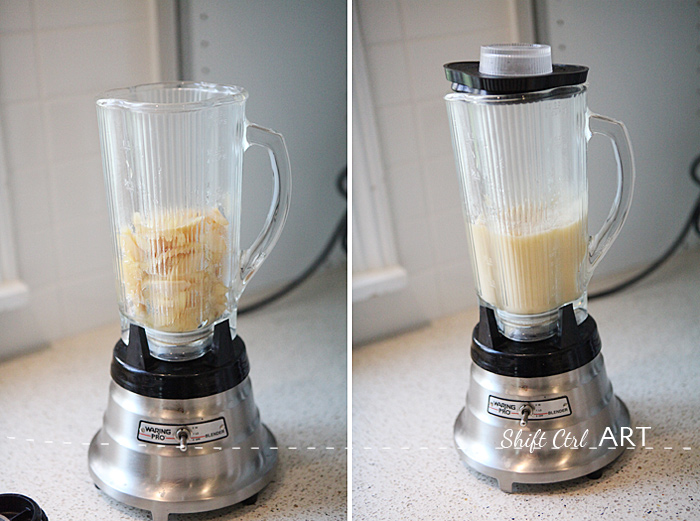 Flrrrrrrrrrr and chill.
The apple sauce and the egg base can both be made ahead of time.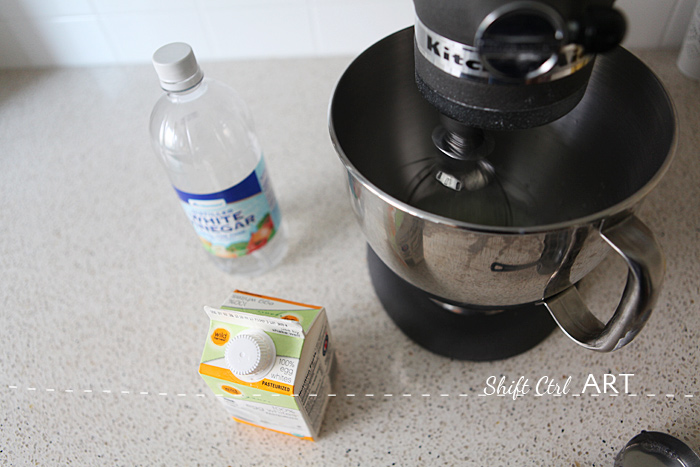 Right before serving, whisk up some egg whites until white peaks form.
Since the egg whites will be eaten raw, I like to use organic pasteurized egg whites. Make sure you get the kind with only egg whites and no spices - look on the back on the ingredients list.
Apple Pouffe recipe:
Apple pouffe
3 Apples made into apple sauce, chilled
1/2 cup of egg whites with 1/2 tsp vinegar beaten into white peaks.
Fold together at the last minute.
Chantilly cream:
1 egg base
1 1/2 cups of whipped heavy whipping cream.
Fold together at the last minute.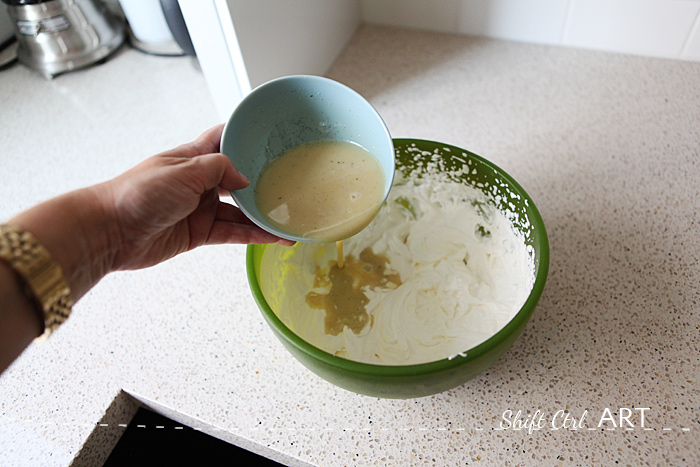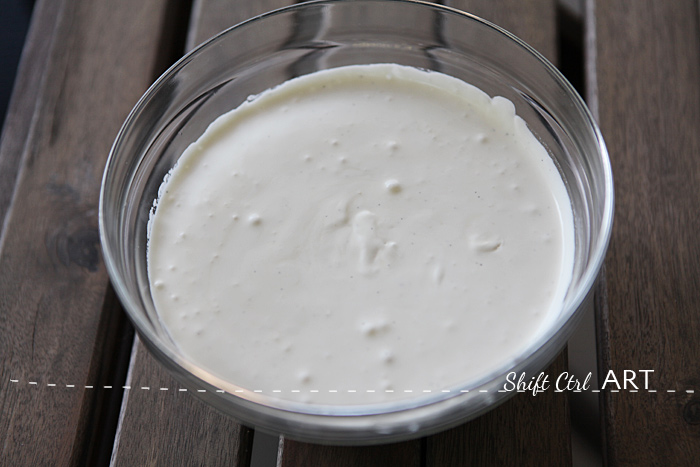 Chantilly cream. Mine is a bit liquid-y here because my whisk attachments acted up. I need to start using my stand mixer for this instead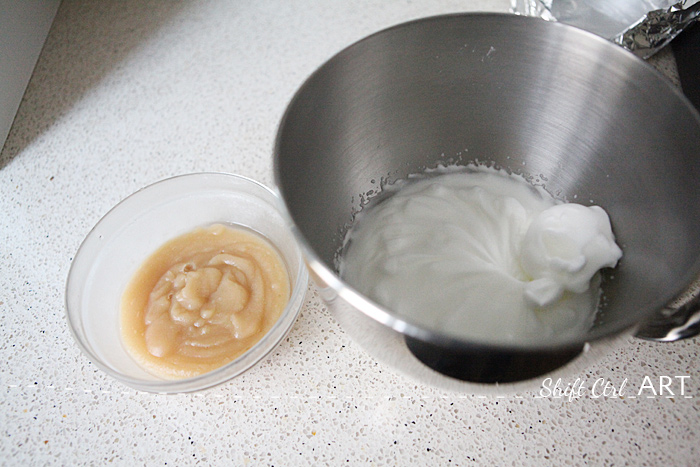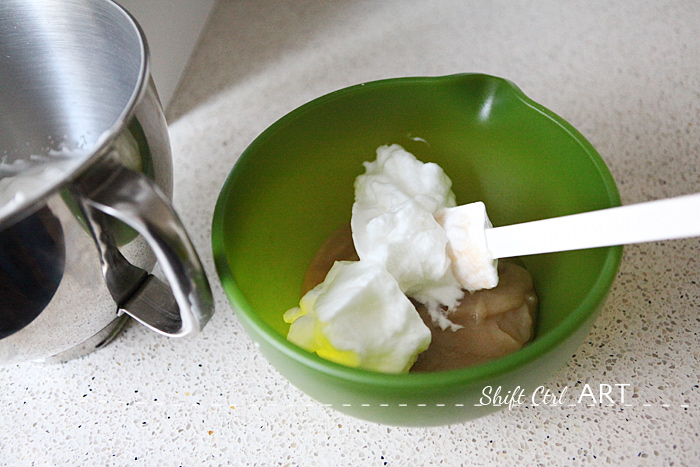 Fold the egg whites into the apple sauce.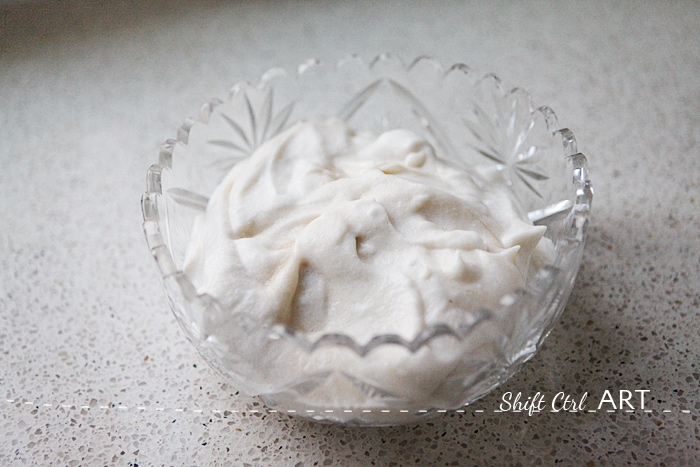 Apple pouffe in the crystal bowl that my Grandma gave me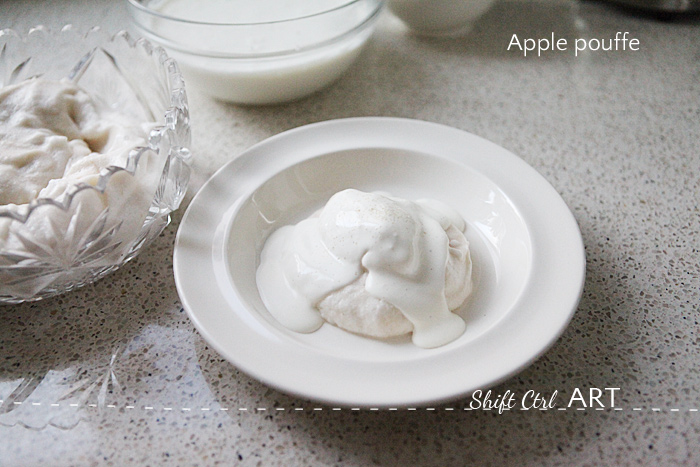 Pour some Apple pouffe onto a plate, then cover with Chantilly cream. Drizzle a bit of sugar on top immediately before eating.
The tartness of the apples in the pouffe are perfectly complemented by the sweet creaminess of the Chantilly creme. The sugar adds that bit of crunch that makes this dessert a definite crowd-pleaser!
Here are the other two desserts using the same
egg base.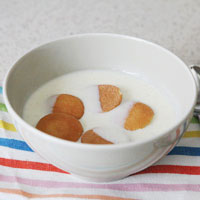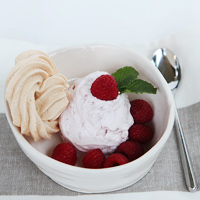 Buttermilk "cold bowl"
Raspberry ice cream
For more desserts using eggs, why not try one of these that B, my son, made in June:
French Macaroons
Chocolate Eclairs
Crème Brûlée
More
recipes here
.
Share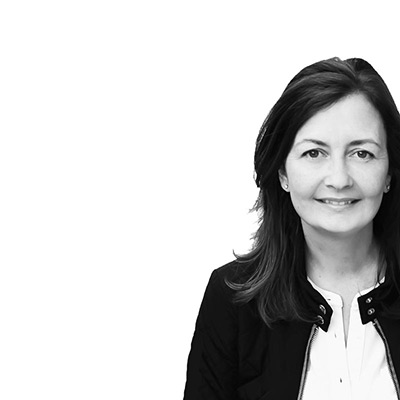 Search
We have been featured here
Full list
here