Pinterest Challenge - IKEA hack - Emmabo chair with new cover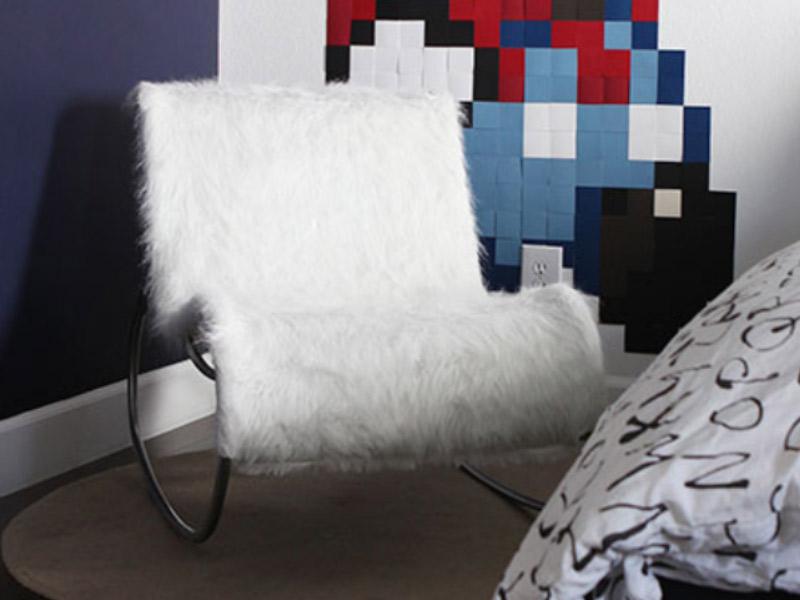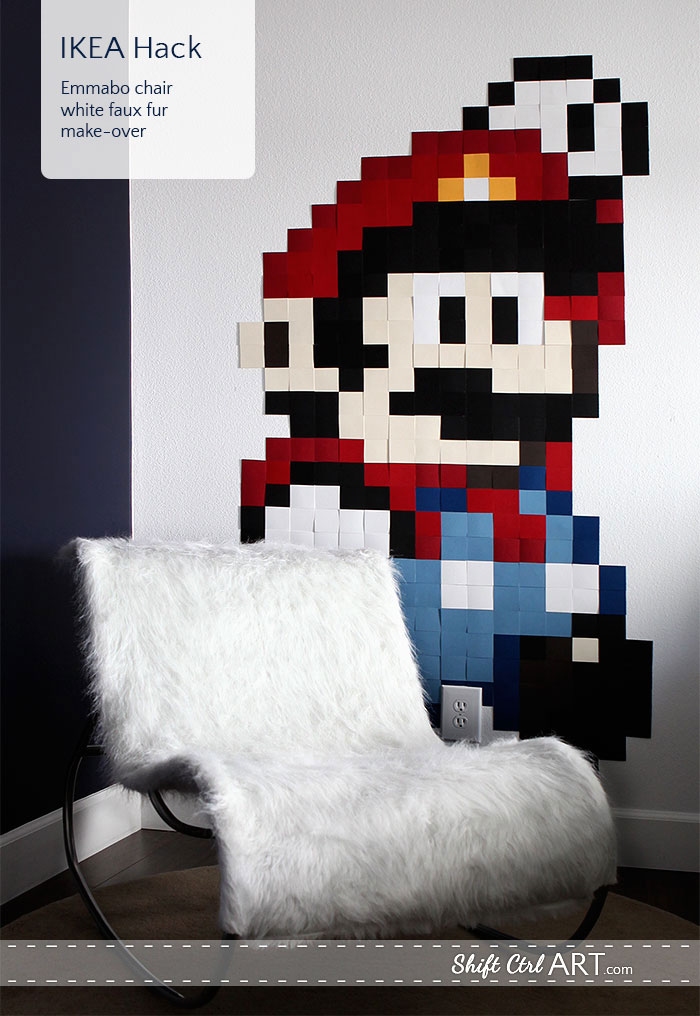 We made the Mario art yesterday (instructions).

I am participating in this Pinterest challenge with my new faux fur chair.


I mentioned these two inspiration pieces in my original mood board post back in October. I later re-did the mood board. And here we are in almost March and I just finished this project. Can I get a "wahooo" ! ...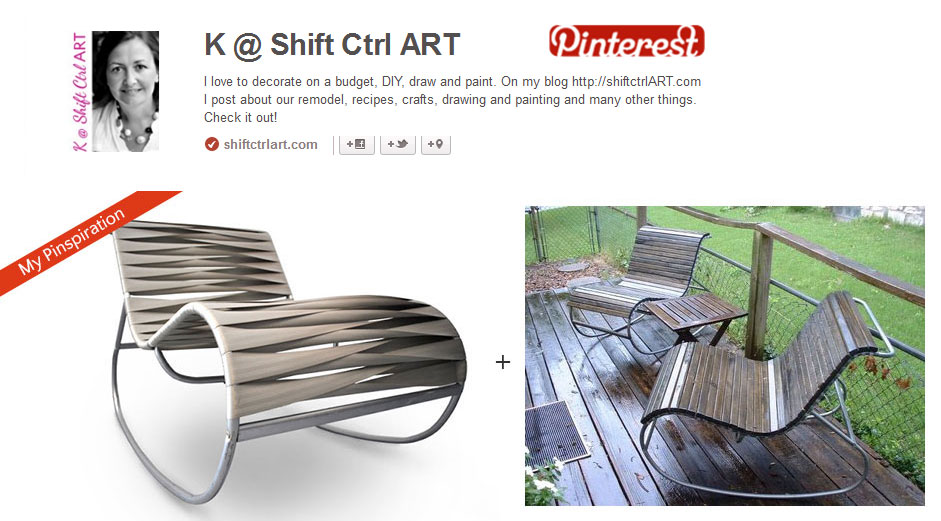 I found on IKEAhackers.net: Seat belt chair (original source) and Garden chair (original source)

You can follow me on Pinterest here. (Pinned on my DIY board)

I got this chair for B's room about 5 years ago. The chair has since been discontinued by IKEA.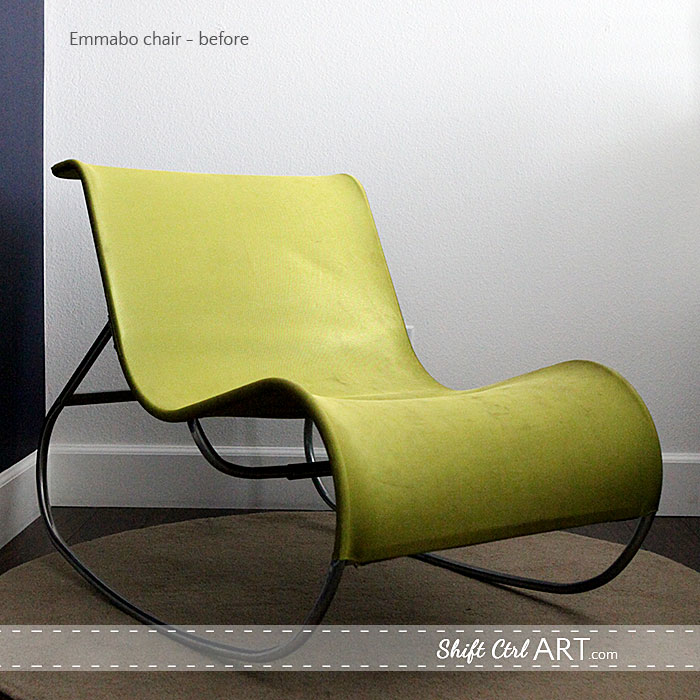 Here is how I made the cover.

After all those years of owning this chair, I did not remember how I assembled it, but did you know that IKEA has a vast library of their instructions ready for download as PDFs? That has come in handy for me on a number of occasions.

After looking at those for a bit and finding some tools, I took the chair apart and removed the cover.

I got this white faux fur fabric on Black Friday at JoAnn's. It is usually around $32 per yard, but I got it for around $8. I used just around 4 ft for this cover, making this a very affordable hack.

I cut the fabric to size leaving some room for the seam allowance.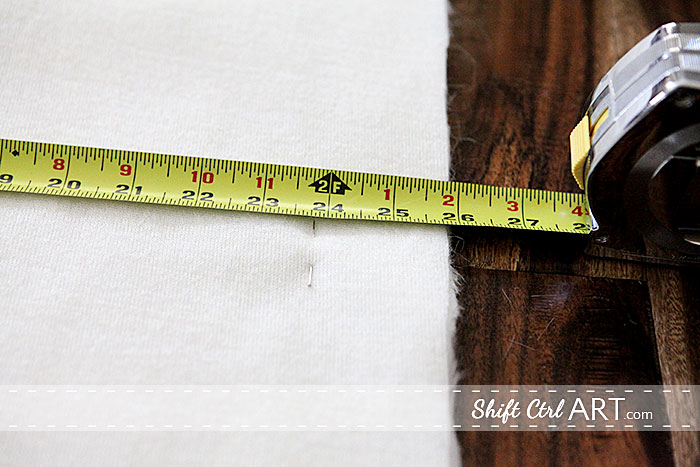 The finished cover is just shy of 24 inches wide, so I measured this distance and put pins at that measurement.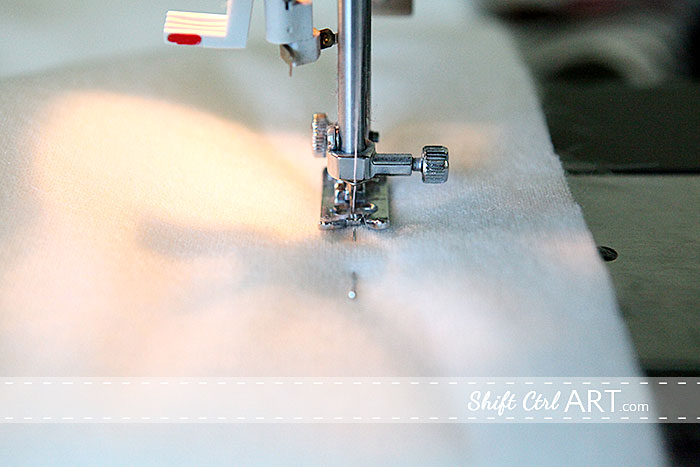 Then I used the pins to guide where I put my stitches. I stitched it twice for added durability.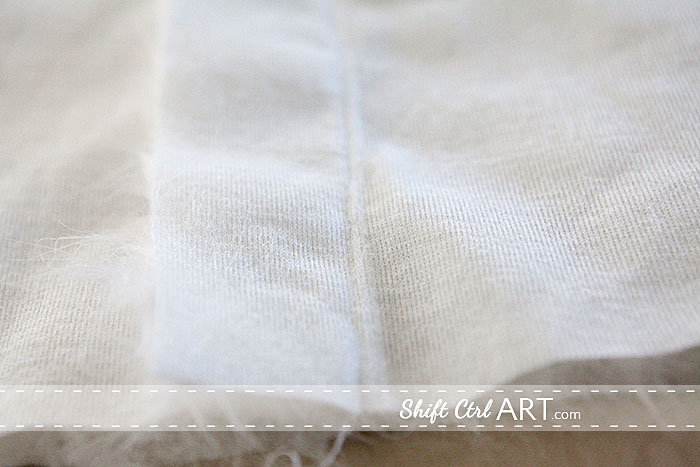 Because there is going to be quite some stress on that seam, I turned the hem to one side and top stitched it. This gives the stitch a backing of fabric, making it pretty durable.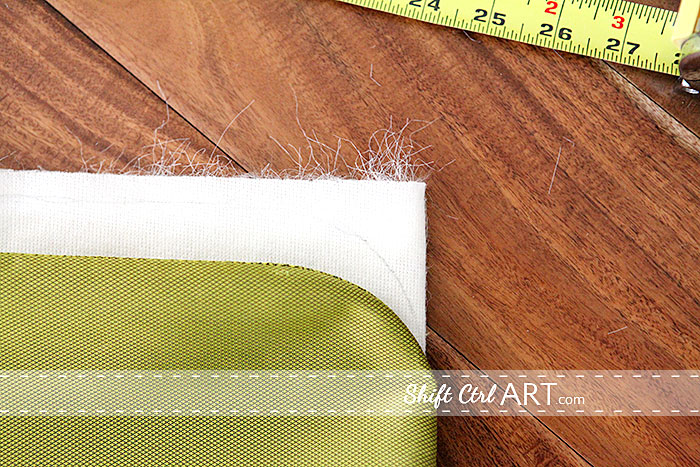 Then I copied the rounding of the upper corners.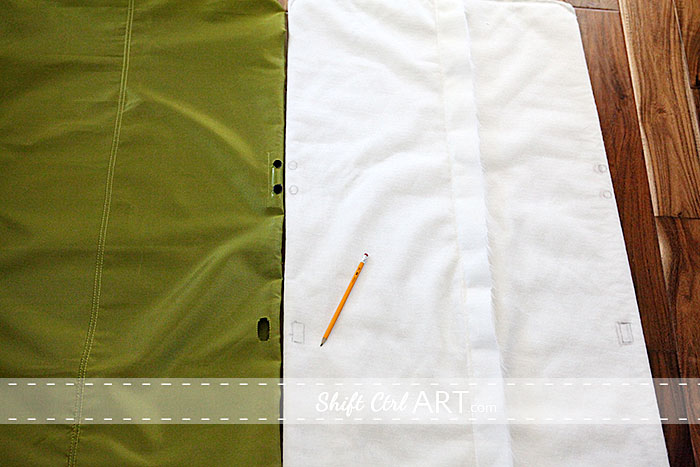 On the back of the cover I copied the holes through which the frame is going to be attached to itself.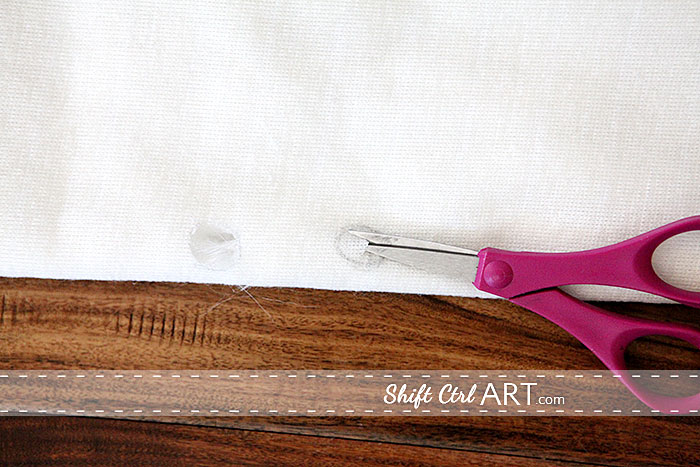 Cut them out.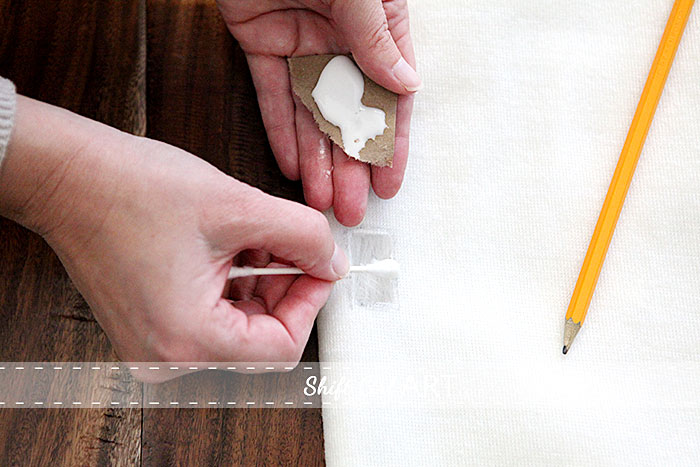 And added some white glue to avoid fraying (Picture by B). Although this type of fabric does not really fray that much, so you could skip this step I guess.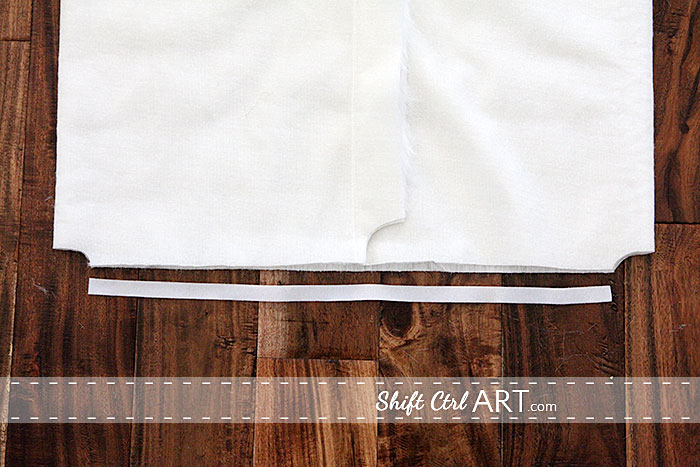 On the bottom, I cut the corners like this and took out some of the bulk of the middle seam.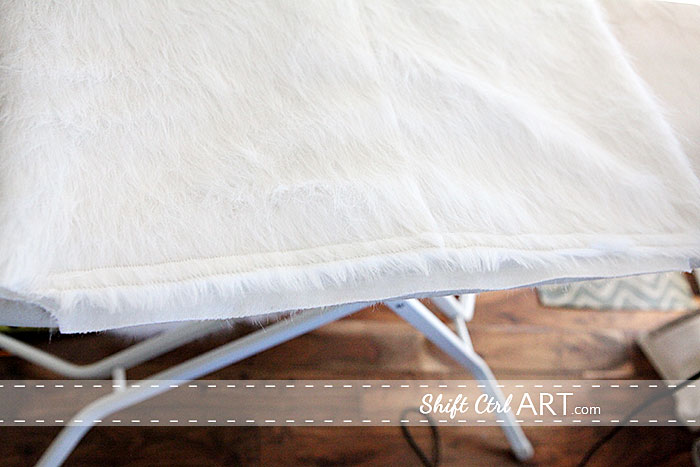 Then, I stitched on Velcro tape. The stitch you see here is the back of the chair and not visible from the front. I put the cover on and realized that there was a bit too much horizontal give in the fabric, so I took it off again, put the green cover on again and then slipped the white fur cover over top. There is no give in the green fabric in either direction, so it makes for an excellent "lining" for the fur cover. And luckily you can not see the green cover through the white cover, as you can see in the below picture.

Here is the latest progress shot of B's new tween room.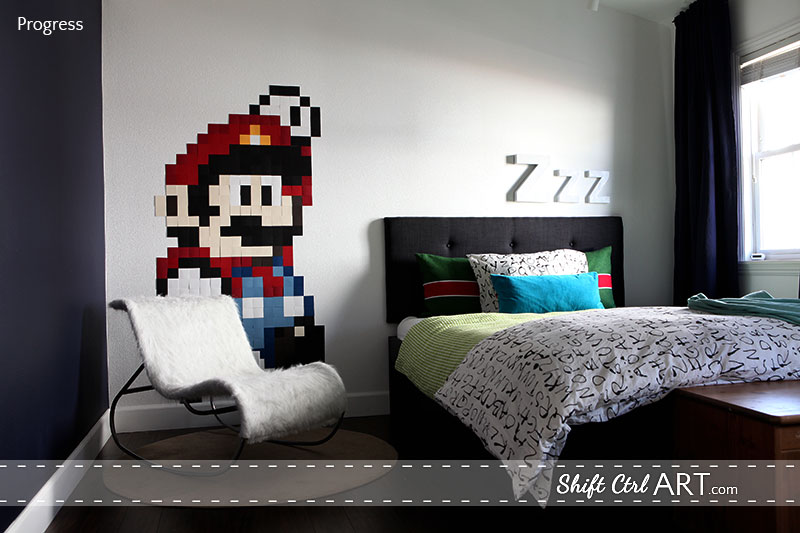 I have quite a few things crossed off the list now. Here are all the things I have accomplished for this room so far.

Paint the walls white.
Dye curtains - How to dye curtains.
Hemming the curtains - How to hem curtains.
Paint three coats of navy on a wall. How to get a crisp line on textured walls.
Fix some wiggly outlets - How to fix a wiggly outlet
Fix bed - IKEA Hack - queen bed with twin trundle,
Re-upolster headboard - How to make a tufted head board
Paint the bed - Oil based primer and latex paint - a match made in heaven?
Track lights, bedding, Zzz - Lights, curtains, action - bedding and a rug
Sew decorative pillow. Or two. Green pillow with red stripe. How to will go up soon.
Re-upolster chair - done - this post.
Art project. Or two. - B and I made a huge 5 ft Mario Wall art feature.
Make night stand shelf - I am currently working on this.
Install bed lamp
Improve on a rug
Install shelves
Install magnetic boards
Install wooden cubbies.
Make desk
Improve on trunk
Frame Mario art.
Get a new dresser or shelving unit - haven't decided yet.

Linking up to Sherry, Katie, Megan and Michelle

Want to see more rooms? I just started showing our kitchen remodel. Our powder room turned full bath just got featured over at IKEA hackers.net and Panyl.com.

Go here for a home tour.

Here is my project again.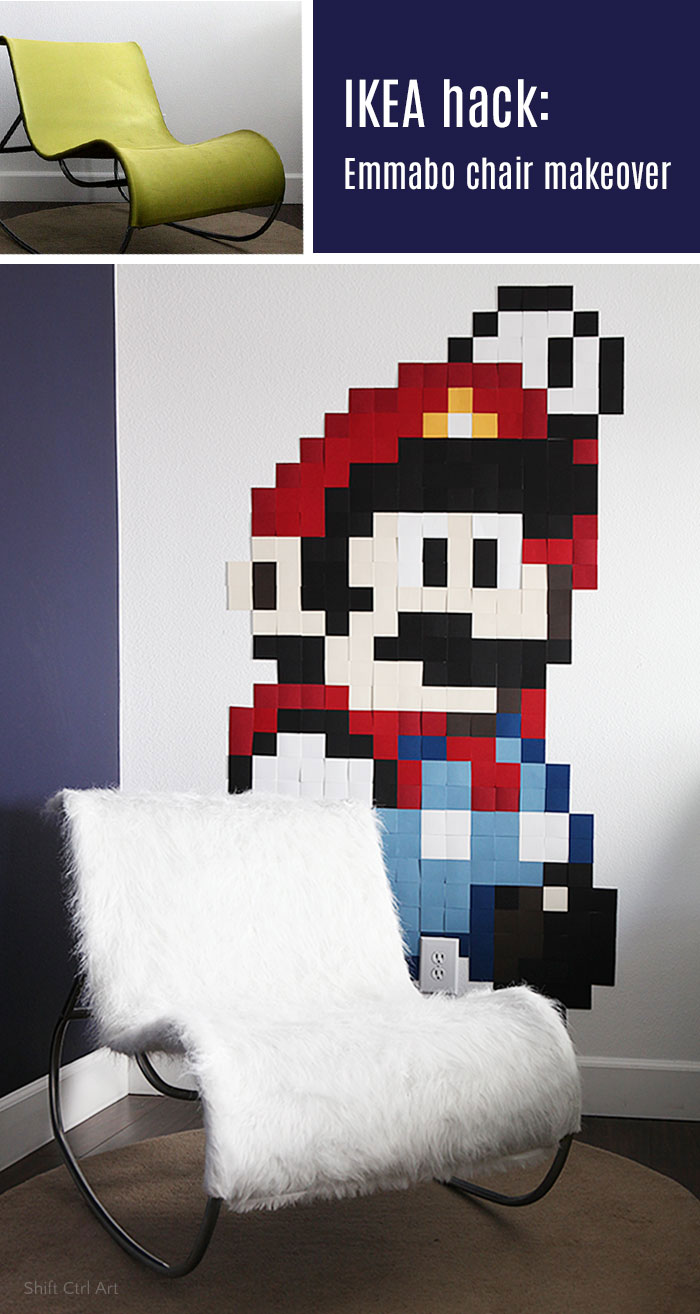 Are you participating in the Pinterest challenge? Let me know in the comments and I will swing by and check out your project! Didn't have time? Leave a comment anyway and I will swing by and see what you have been doing lately - and leave a comment on your blog!

> Check out how the blue wall came together here: We built a desk, hung some shelves and made a gallery wall.

Next: Use what you have: build a bed side cubby and 7 other DIY projects for a tween room
Share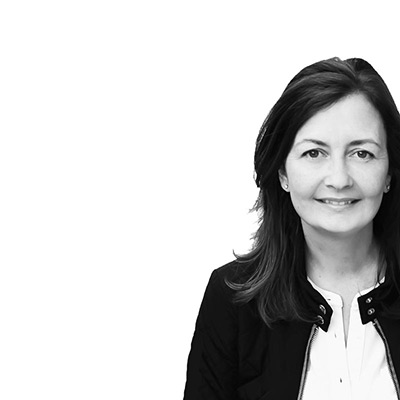 Categories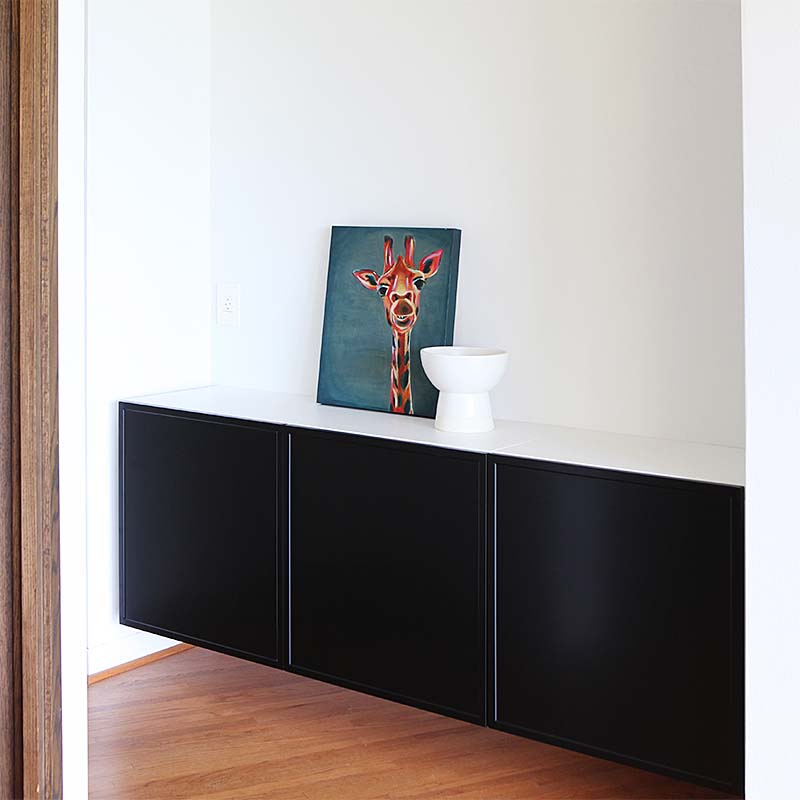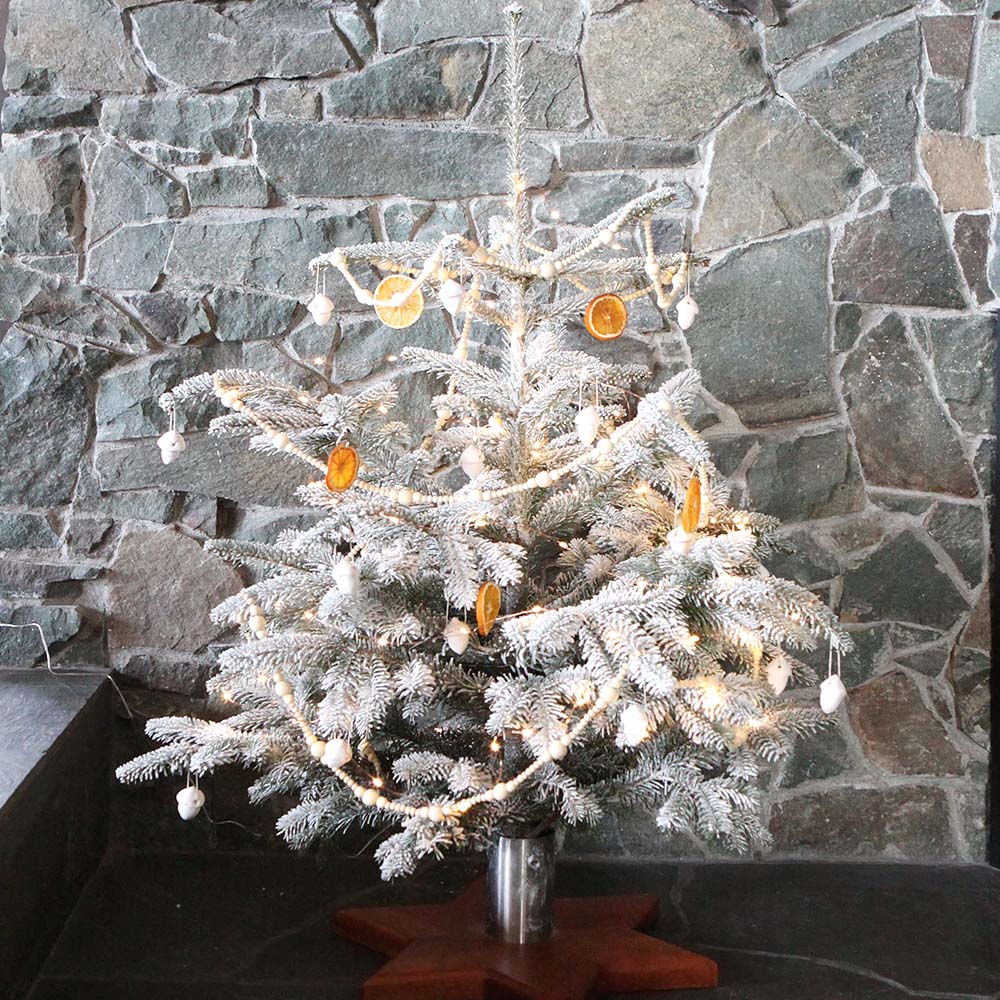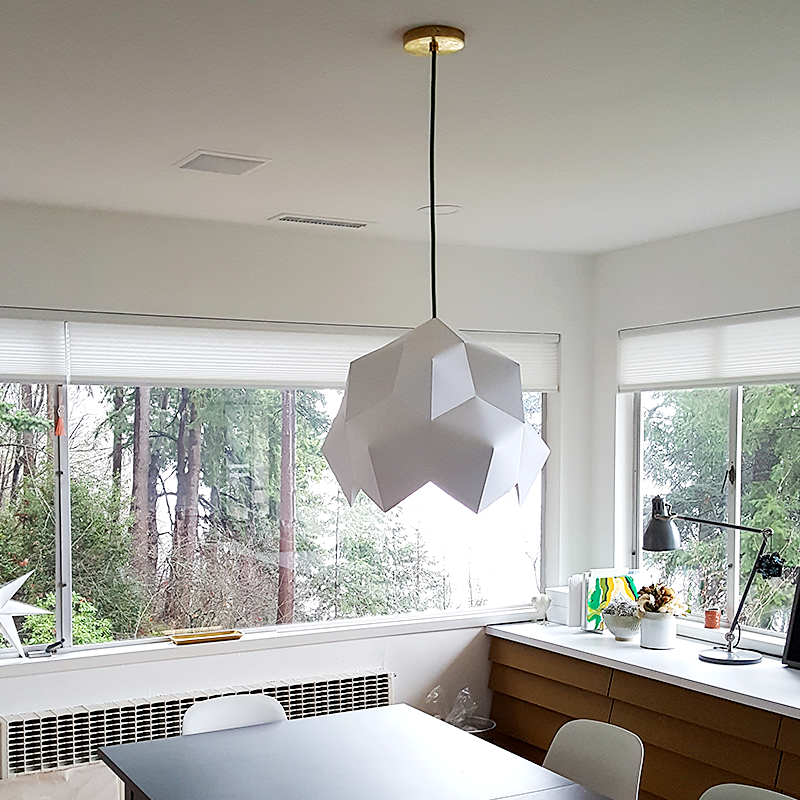 Search
We have been featured here
Full list
here
Search
We have been featured here
Full list
here