Walnut pistachio ornament and our Christmas tree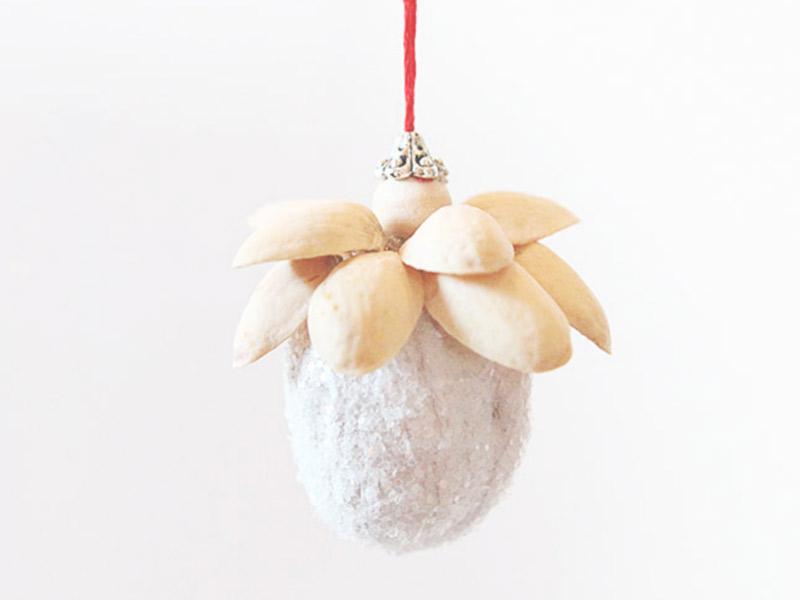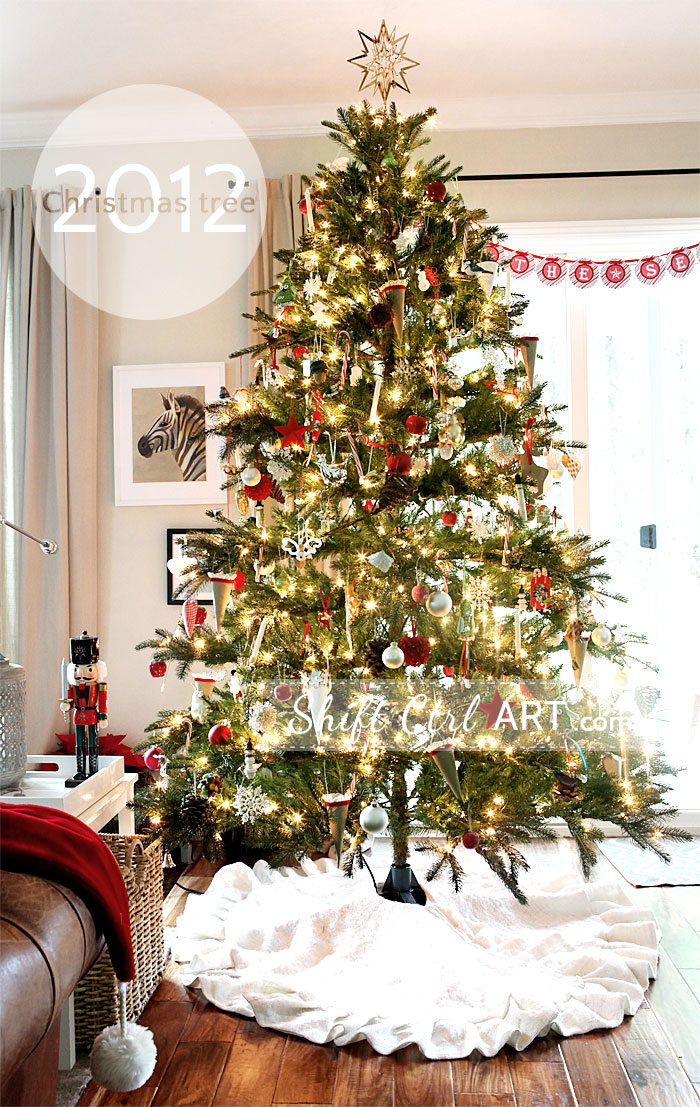 You can read about how to make a tree skirt like this one here.

Here is how I got this shot - behind the scenes - (website only).

I used these settings for the day time shot.
ISO: 1600
Aperture: 10
10 Shutterspped: 0.3 sec.

I also want to show you how to make this walnut pistachio ornament. I think this is my new favorite ornament. Maybe because it's the newest on our tree. I

this ornament. I hope you do too. And it's not difficult to make.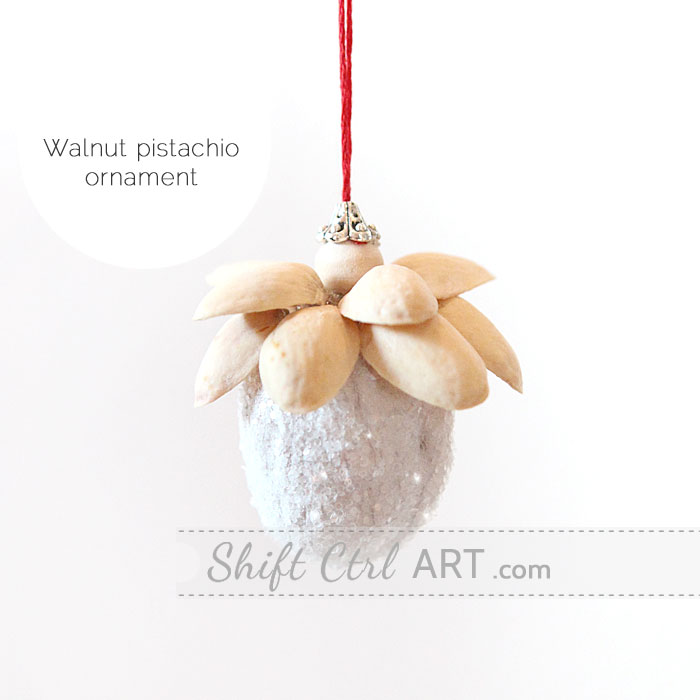 Before we get to that, I want to show you a few highlights from our tree.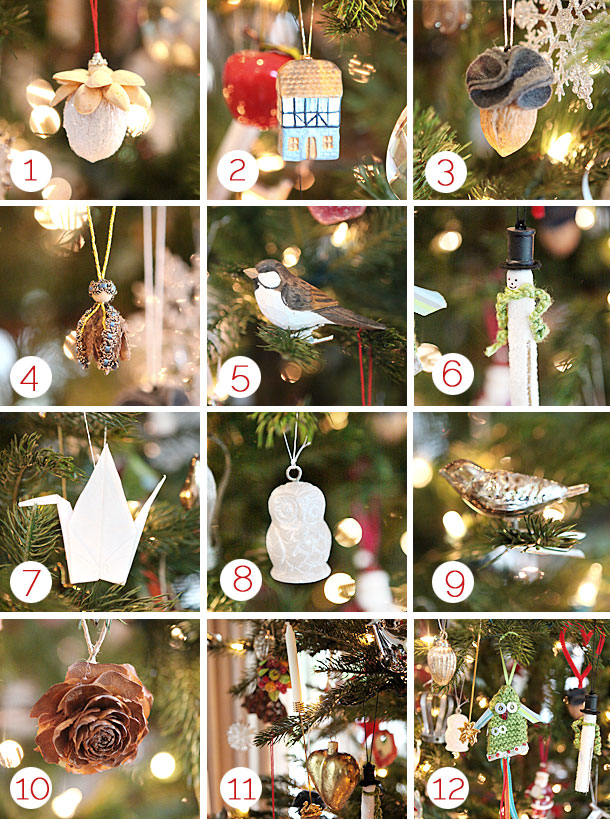 1. Our newest ornament. See instructions below.

2. A little ceramic house that my Dad gave me in the late 80s.

3. Felt flower walnut ornament. Made it this year when I also made some felt napkin rings. Instructions here.

4. I made these with my mom in the mid 80s. They are made with trim, a bead and the fruit shell from a beech tree. The instructions came from "Inger" and that is all I remember...

5. Bought these this year. Talked about them here in my Great Finds column in November. I love ornaments that are perched on the branches. That is my new favorite thing.

6. We made these glitter vintage clothes pin snowmen in 2010. Instructions here.

7. These we made in 2009. Origami cranes. Instructions here.

8. White (soap stone?) owls. I got them last year at Crate & Barrel.

9. Another perched ornament. Got these at IKEA a couple of years ago. They are mercury glass birds, only made with plastic so they are unbreakable. I bought 8. Why did I not buy more of these?

10. Rose pine cones. Aren't these lovely? Someone in the canyon has a tree of them. My son's preschool teacher gave me a small bag of them. I made the prettiest 6 into ornaments by gluing jute cord to the back and covered with a felt circle. I

these!

11. My Georg Jensen Christmas candle holders. I have been collecting these for many years. He comes out with two new ones each year. You can see more here. They are so lovely. I don't actually light the candles, but I love the look of the candles on the tree so much that they go on every year. My tree topper is from there as well. (it certainly went up in price compared to when my parents gave us this one in 1998)
The golden glass heart I got from my cousin several years ago.

12. Ahhh and finally our knitted yule time owls. We made them in 2008, although I did not post about them until 2009 when I started this blog. These rank right up there for me with my new walnut pistachio ornaments. Full instructions here.

Here are the instructions on how to make the Walnut pistachio ornaments.

Supplies you need: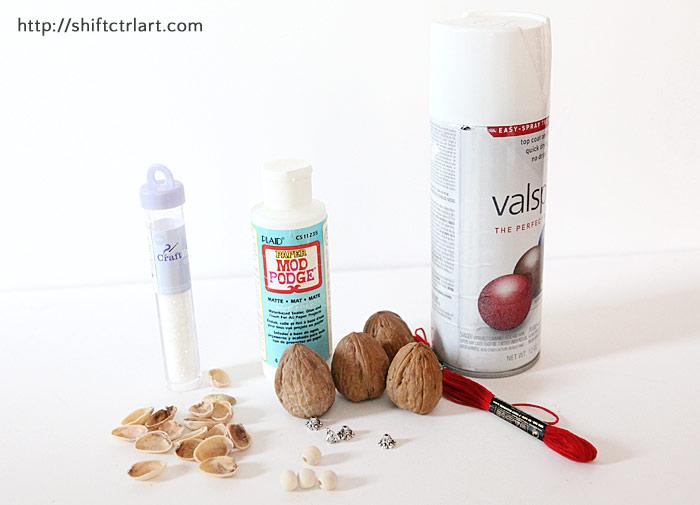 Walnuts, white spray paint, mod-podge, white glitter
Pistachio shells
Wooden beads, jewelry end-cap bead, red embroidery thred.
Hot (cool) glue gun with glue.

How to: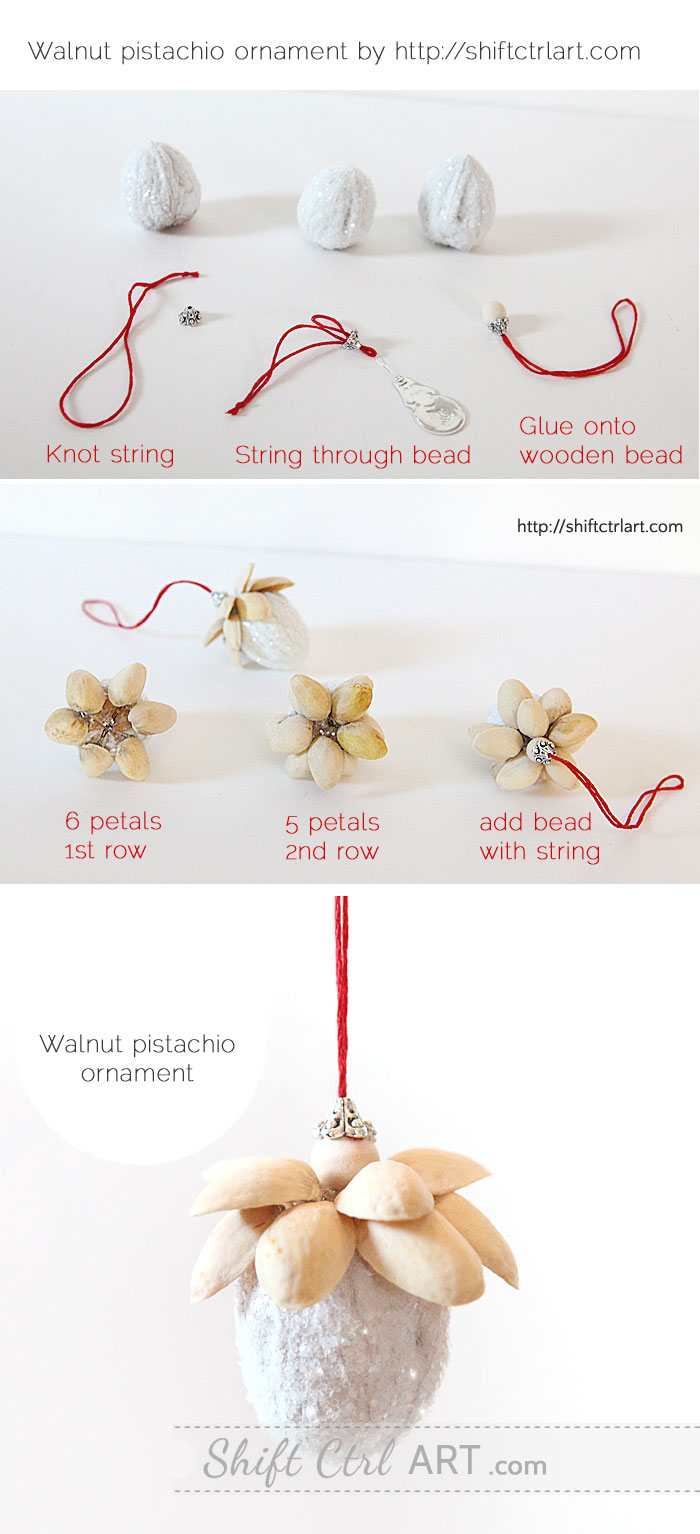 If you pin this, and thank you if you do, please use my pin button at the bottom of the post if you want the pin to go directly to this post. If you use the browser pin method you only get a reference to my general site.

Spray paint walnuts, let dry, brush with glue, add glitter, let dry.

I used a needled threader to get the red embroidery thread through the little silver bead.

I glued on two rows of pistachio shells. On the first row, the bottom row, I glued on 6 shells, on the top row, I glued on 5. I made room for the wooden bead to be glued into the center at the top.

Here is our tree all decked out at night time.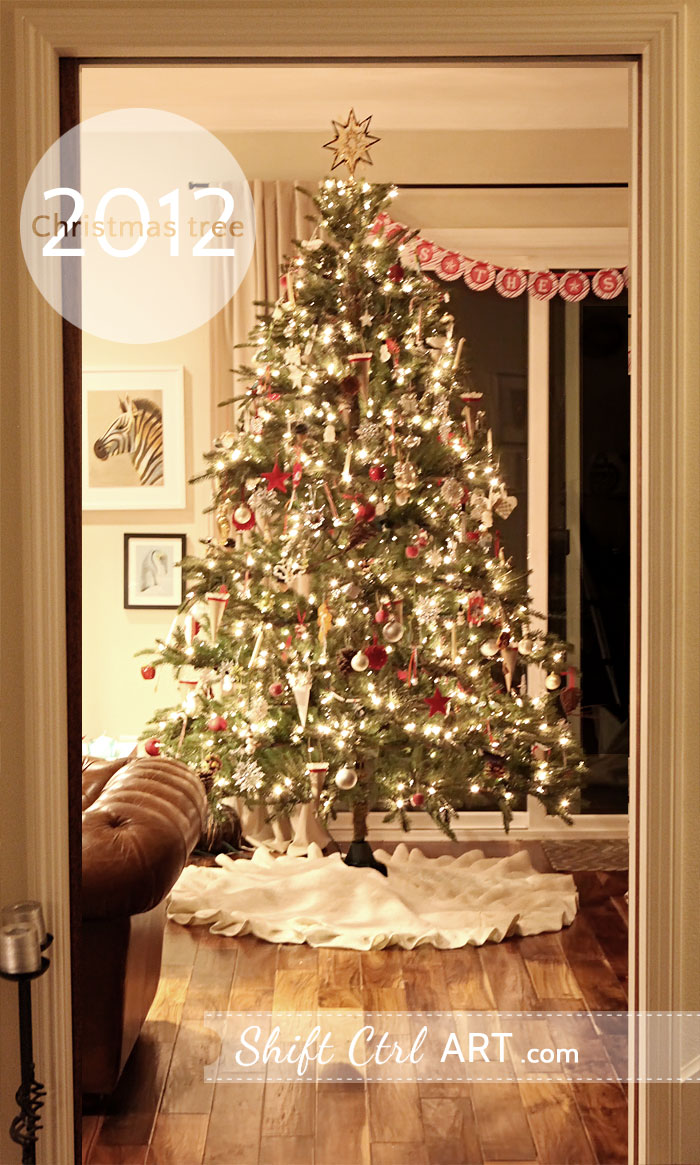 Here are the settings I used to get the night time shot.
ISO: 3200
Aperture: 7.0
Shutter speed: 1/6 sec.

I did not use a tripod for this shot and you can see that the image is a little soft focus wise.

On the daytime shot I used the self timer shutter on my camera. You get to that on a Canon like this - another behind the scenes (website only)

Last thing: Happy st Lucia!
Did you decorate your tree yet? Let me know in the comments and I will swing by and take a look.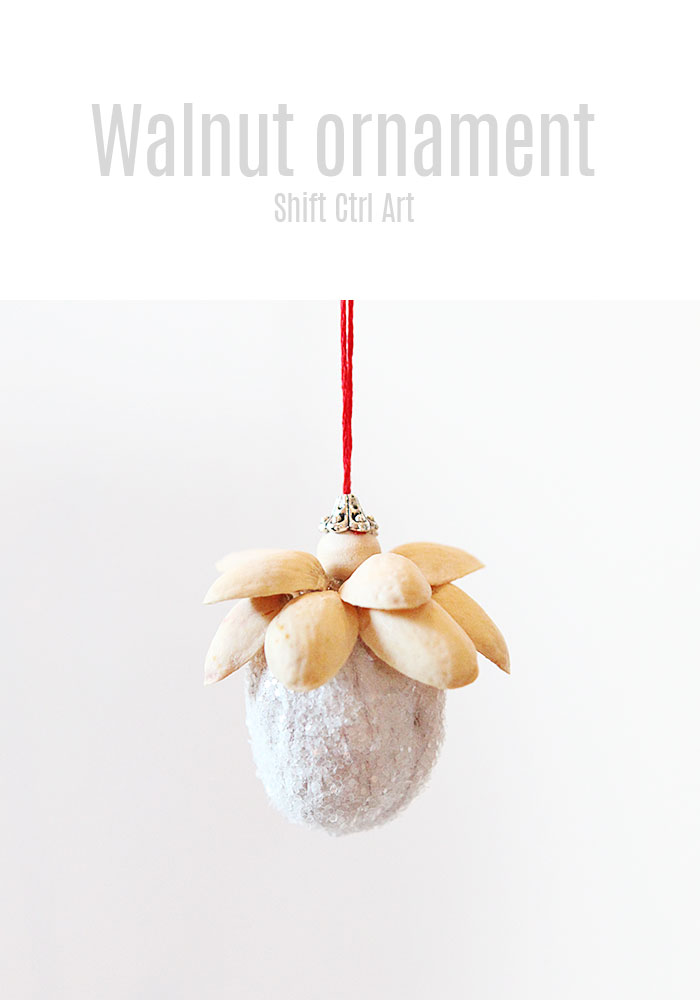 Share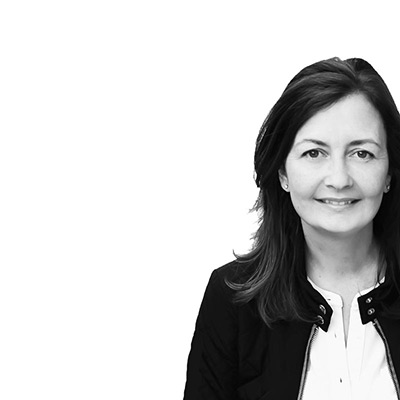 Search
We have been featured here
Full list
here