Haven blog conference in Atlanta 2014 - Haven = Heaven?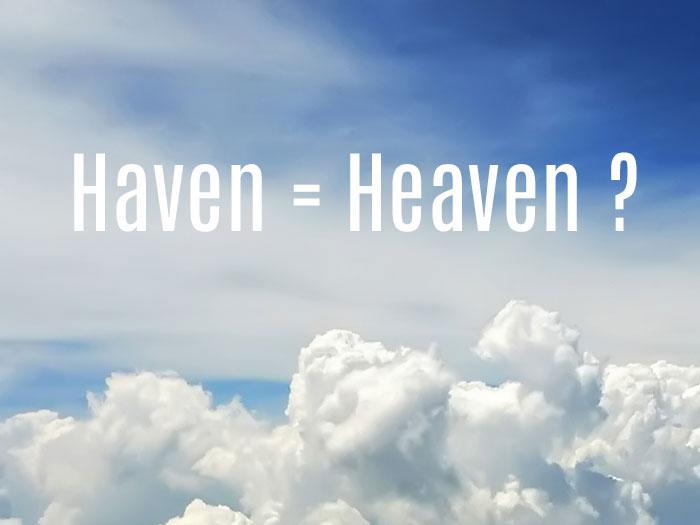 Can a post have 25+ images? Should it? I don't know. Let's find out.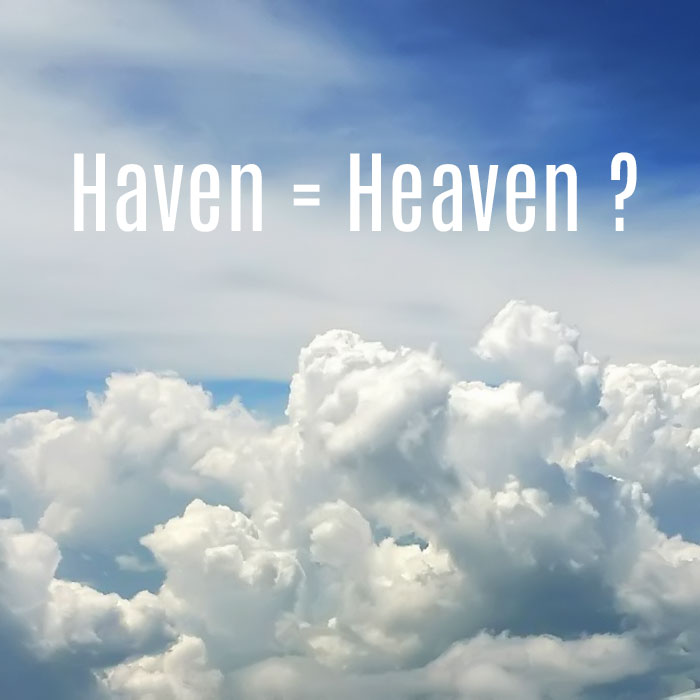 This weekend I went to the
2014 Haven Blogging conference
in Atlanta, Georgia. This was my first time going and I was very curious what it was and I honestly didn't quite know what to expect.
I got picked up at dark o'clock on Thursday morning, flew out of Orange County and landed in Atlanta at 2pm. Because time zones.
I met up with these lovely ladies at the airport so we could ride to the hotel together in the
Boxy Colonial
courtesy shuttle. They are not only lovely ladies. They are also incredibly fab and funny!
Left to right: Caitlin from
Desert Domicile
, Brynne from
A Gathered Home
, Kim from
Newly Woodwards
, Michelle from
Decor and the Dog
, Emily from
Go Haus Go
and Gretchen from
Boxy Colonial
.
We drove to
Crowne Plaza hotel
and checked in to the conference as well as the hotel. At check-in we got a huge canvas swag bag filled with goodies from some of the vendors.
There was more than what you see here, but this is what I had room for in my suitcase: Fabric and thread from
Online Fabric Store
, A Mexican beach pepple with word "happy" engraving by
Modern Masters
,
Minwax
brush and wood finishing cloths, a magic eraser, a USB car converter by
GMC
, a tape measure/level from
Ballard Designs
,
Command
hooks, Weathered wood finish by
DIYDriftwood.com
,
Lacefield
zippered fabric bag, stencils and wall vinyls from
Royal Design Studio
.
Everything was packaged in a huge blue canvas bag by
Ballard Designs
.
We quickly walked up to our rooms. I got room 1251. As we walked up to the room, I noticed it had double doors. Odd... I thought. Did I get the closet? Then I opened the door and you wouldn't believe it! They
upgraded
me to their deluxe suite! Sweet!
They didn't even tell me!


Thank you so much
Crowne Plazal
!!!
The room was HUGE and had a desk, separate living room area, dual a/c, two TVs, double queen beds, two hallways with closets, a mini kitchen with bar area, huge panoramic windows to the city. And three cartwheels across at least.
I felt like a rock star! I am pretty sure I broke out into song.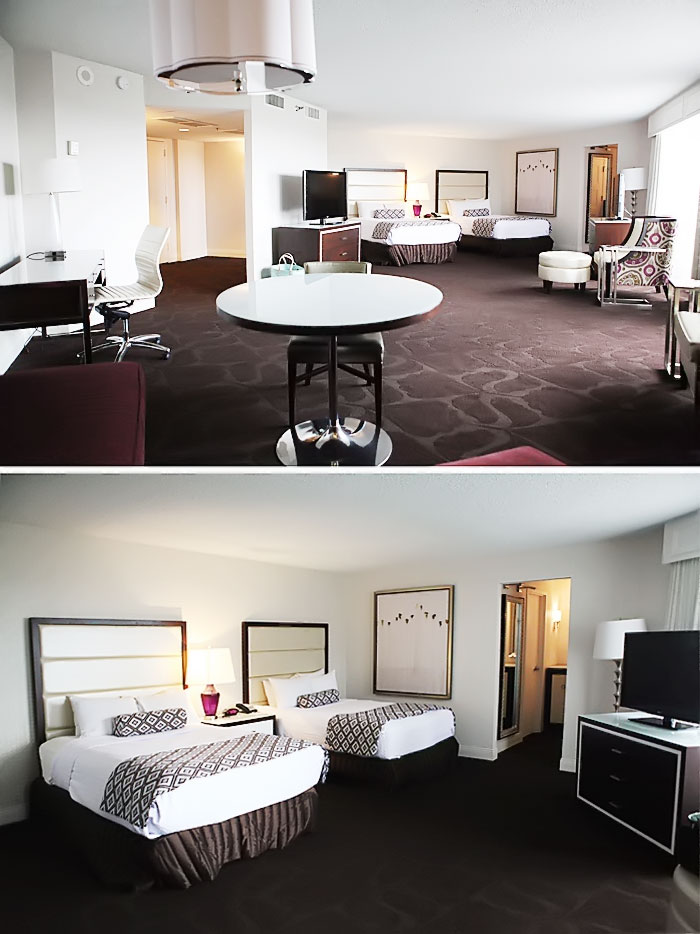 Amber from
WillsCasa.com
and Gretchen from
BoxyColonial.com
hung out with me while I quickly got settled and changed.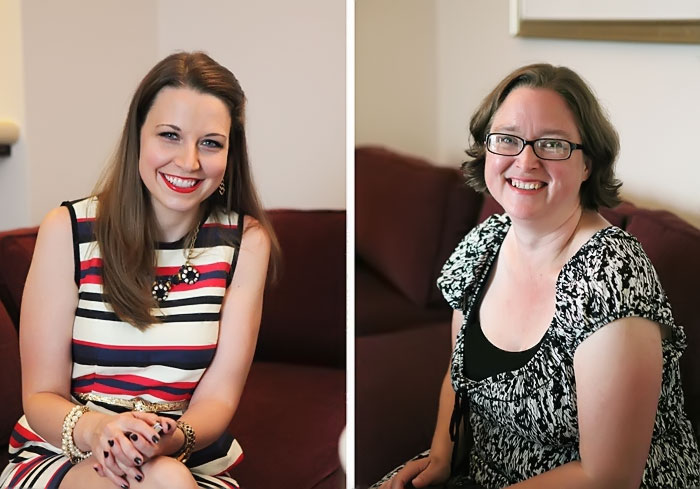 Then we walked down to the first party: a welcome reception by Ballard Designs.
Drinks and an Elvis crooner. Every party should have one. Then mingle, mingle.
Don't adjust your monitor... black and white stripes was the thing to wear. I didn't get that memo. Whoops! I think Kim from
Newly Woodwards
owned those stripes! Right hand photo below, with sunglasses in her hair.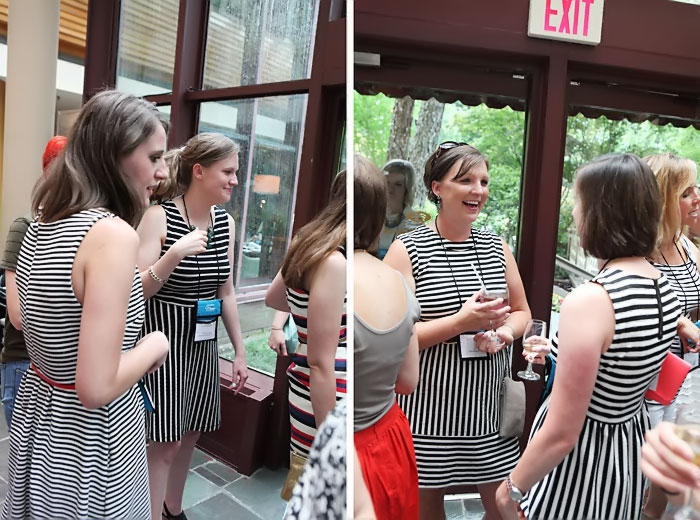 I met Shavonda from
A Home full of Color
. OhEmGee. Talk about a fun and sweet girl with personality for miles. Love this girl! She is in the midst of buying a new house and I can't wait to follow along. She is also a fellow CA blogger and they are few and far between!
After the reception we went to dinner. But not before ...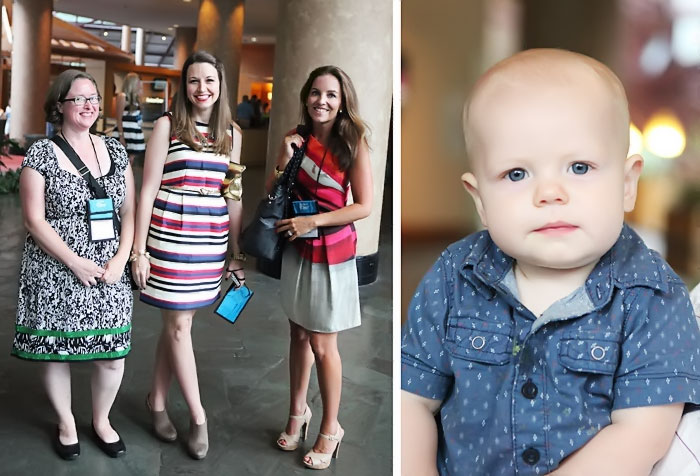 ... meeting one of the greatest bald guys at this conference. Beckett from Wills Casa. Isn't he adorable!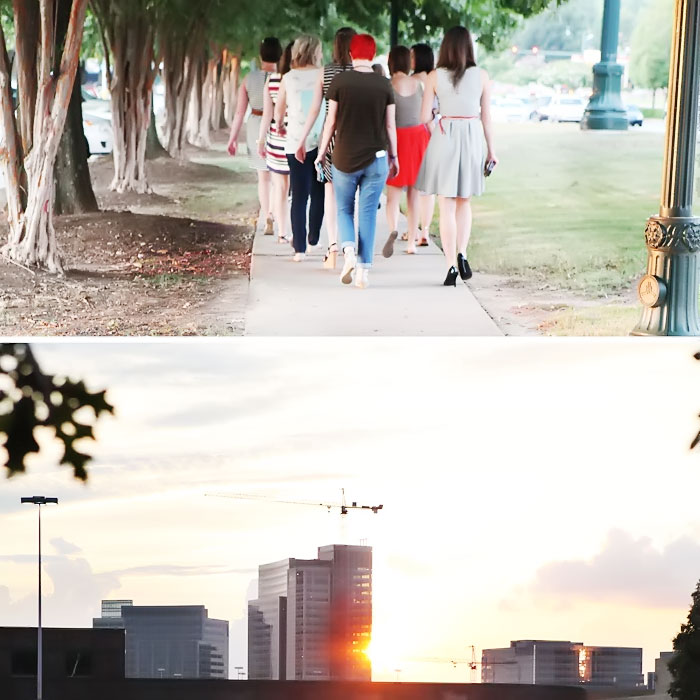 Restaurants were within walking distance of the hotel, so we walked.
This picture is brought to you without sound, but I am sure you can imagine.
The next morning was the first real day of the conference. There was a welcome by
Home Depot.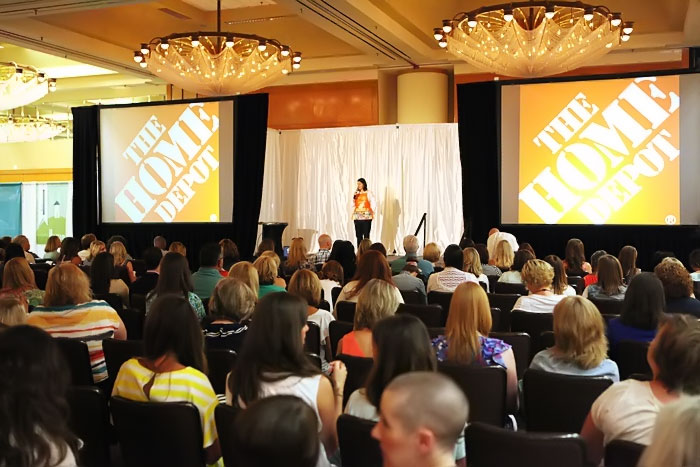 And then a key note speech by
Chip Wade
from
HGTV's Curb Appeal
.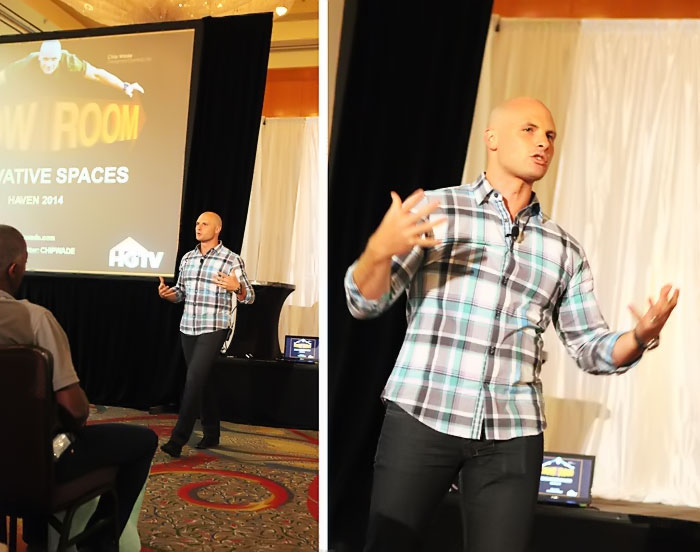 Another bald guy. But Beckett for the win, right?
Here you can see just how many were at the conference.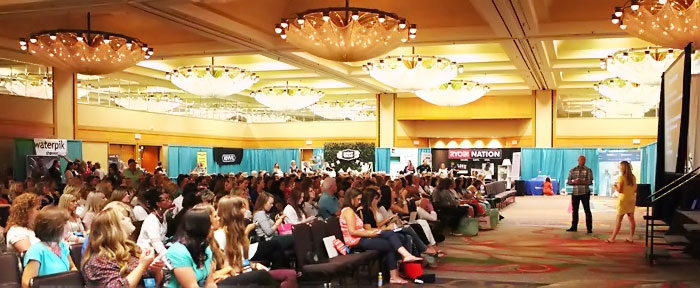 Next there were work shops and meeting all the vendors.
I went up to a couple of vendors.
Online Fabric Store
was one of them. I just love that bird fabric.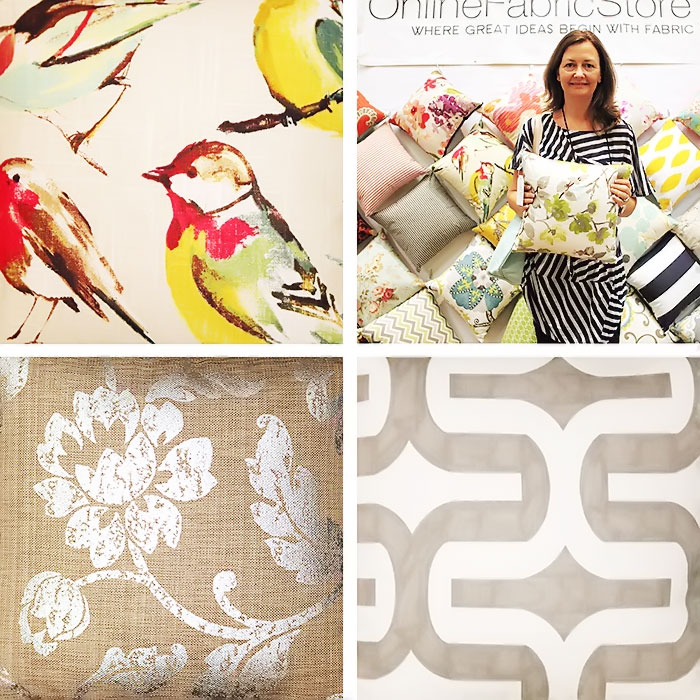 These were my favorites:
Bird fabric
,
silver flowers
,
geometric pattern
.
Then there was the photo opportunity with Mike Holmes of HGTV's
Holmes on Holmes
. He sure smells nice and I got the thumbs up from him! How many people can say they got a thumbs up from Mike Holmes? I
must
be to code. #rationalconclusion.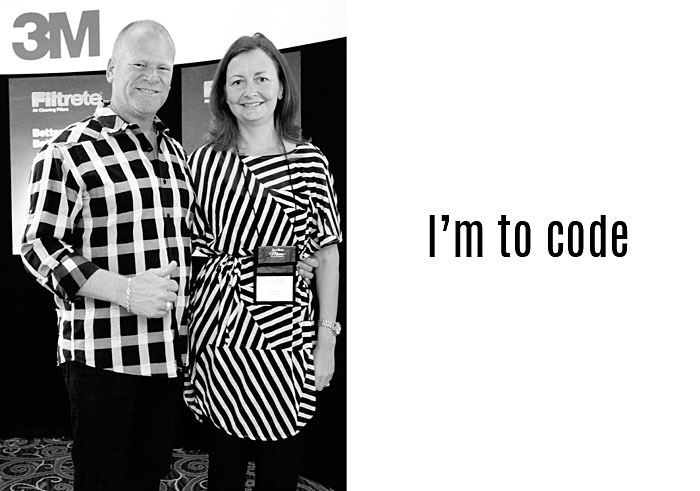 The food at Haven was extremely bread oriented. I ended up eating the garnish for breakfast. LOL! You gotta do what you gotta do. I had to fight the staff a couple of times. I don't think they could quite comprehend that you weren't done eating just because there was no bread on your plate. The most Paleo things I could find were strawberry and grapes and pecans. They also had hard boiled eggs, but uhm. no.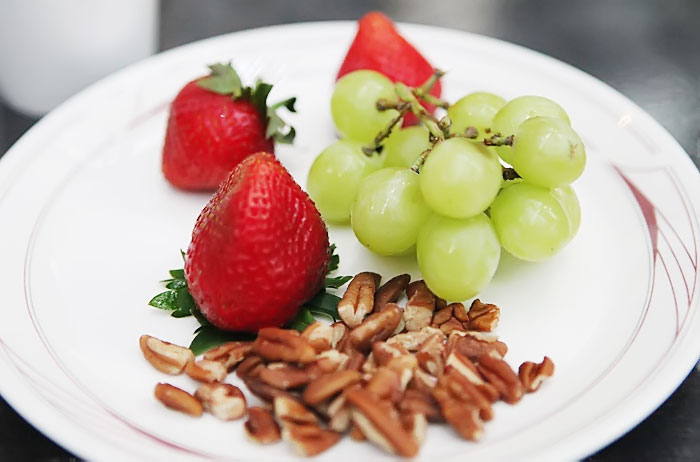 Later, I had lunch with Shavonda and then we ran into Sandra from
Sawdust girl.
Our new bestie! You have to check out her
time lapse video
of paneling a room It is awesome!!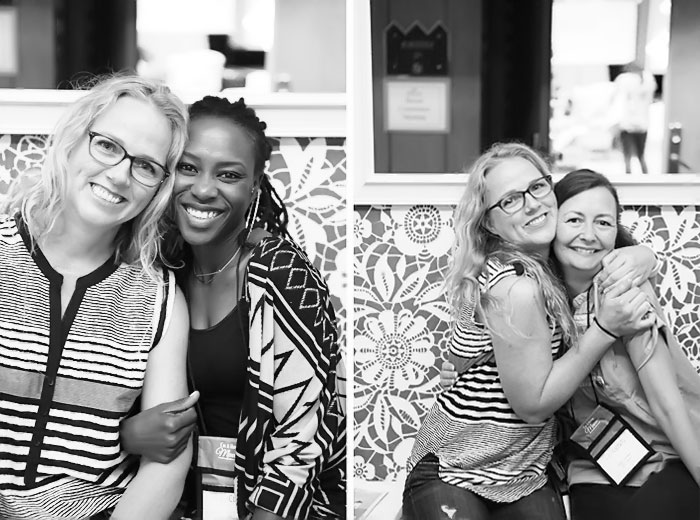 In the evening of the second conference day was a cocktail reception by
Rustoleum
followed by a Haven Maven Mixer with dancing.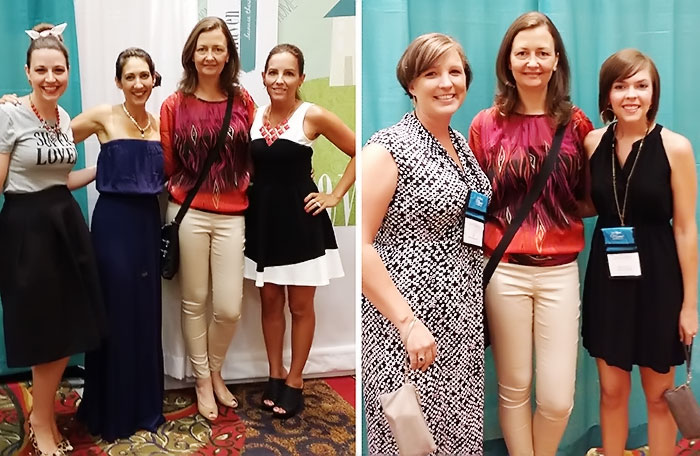 Here are some of the super fine ladies I partied with. Left to right: Amber (notice a theme). Se is super loved!, Cassie from
Primitive & Proper
. I could write a whole blog post, just on Cassie - wait, I did:
here
. Love her to pieces, Julia from Cuckoo 4 Design. Style for miles that Julia has. Love her!, Next picture is Kim and Michelle from
Decor & the Dog
.
Ike
(Michelle's dog) stayed home, but both Kim and Michelle were here to party and party we did. Love them. They are so funny and fabulous and fun to hang out with.
Oh let me also touch on the classes. I went to a ton of classes. These were the ones I took. They were really good.
Day 1
We heart brands - Mandy from
Vintage Revivals
is so awesome and a ball of energy.
Adobe Light room - this was such a great class. I am a light room convert!
Ad optimization for DIY bloggers. - I left feeling pumped!
SEO (Search Engine Optimization) and how to work it! - stellar nuggets, wrapped in fluff, but those nuggets were golden.
Day 2
Blogging trade secrets - a waterfall of information
Learning to love Google + - mission accomplished
Photography styling -
Fibonacci
still rocks it.
On the third day I also took some time to photograph some friends in between sessions.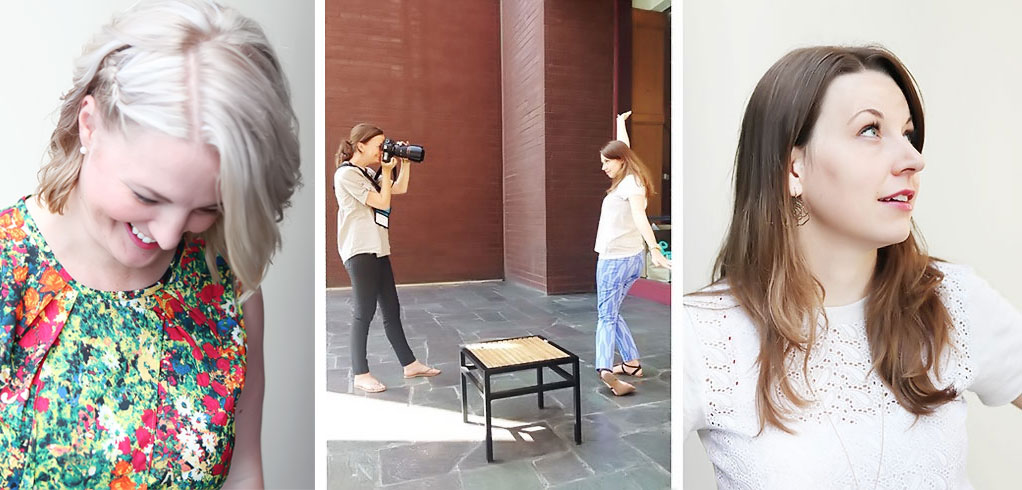 Photo on the left is
of
Emily from
Go Haus Go
, in the middly
by
Emily on the right, Amber from
WillsCasa.com
. Both of these two girls are so awesome. If you are looking for new blogs to follow that are going to blow up at any moment, these are the ones you should check out!
On the last night, Haven signed out with a prize drawing a plenty. Kim won for best
Price is Right
moment when she won Chalk paint by Rustoleum.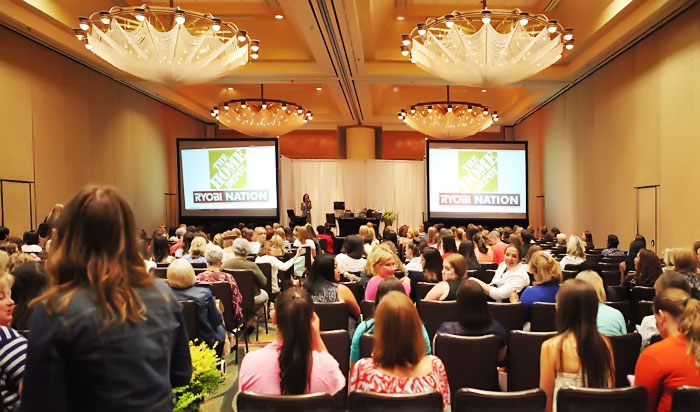 But of course it was not over yet. Not by a long shot.
We headed out for dinner one last time. I love group dinners. They are so much fun! We had tapas. They had dates with bacon - so good - and I also had some pulled pork and an apple salad with Manchego cheese. Yum.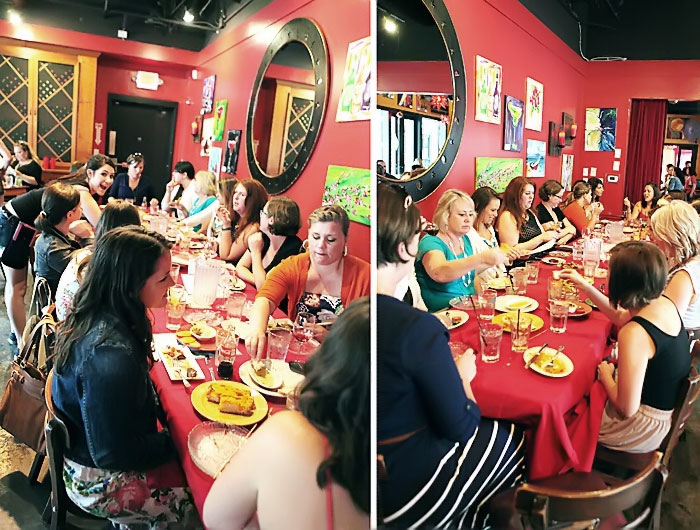 Home Depot
and
Ryobi
threw the most amazing party after that. Tons of food. A chocolate fountain, drinks, dancing. Lots of dancing.
The Ryobi guys gave us a little clothed Chippendale realness.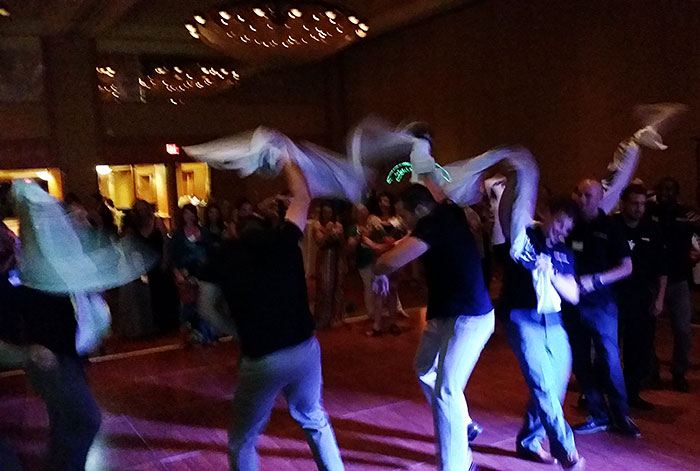 And then we danced into the night. Some more than others.
You know who you are!
The next day, after the conference was over, I had a bit of time in Atlanta before my plane left. I had brunch with Amber and Nick, Ramona and Beckett from Wills Casa at
Octane
- a local pastry breakfast place. I had the best local peaches with some
very
good bacon on the side. I brought my own herbal Hibiscus tea and got some hot water for that. So yummy!

Then we drove around the neighborhood and looked at some fancy houses and checked out
Homes.com
to find out what price range they were in. 800 - 1 mill. So we kept driving, but of course snapped a few pics.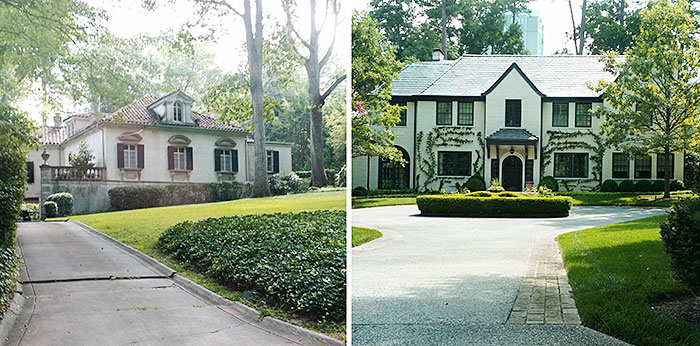 Later in the day, I hung out and caught the
3D house tour
of Gretchen's home who is local. I met her fabulous family and we went out for an early dinner, barbecue - just what I needed at that time - and then they dropped me off at the airport.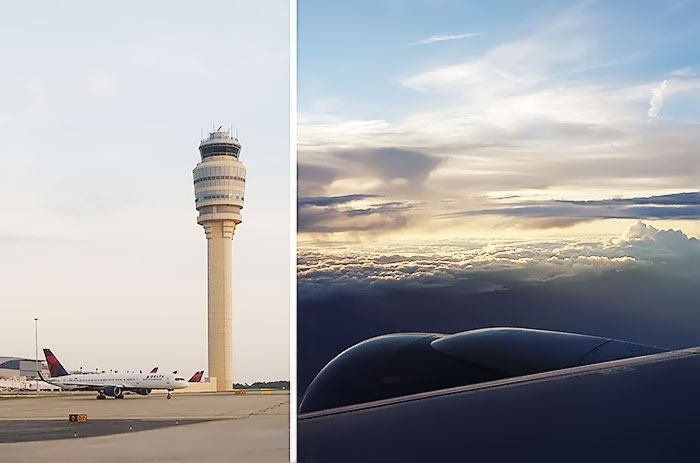 If flew home at 8.15pm and arrived in Orange county at 9.45. So much faster than the other way. Not.
My husband and son met me and there and it was hugs all around.
-----
So was Haven = Heaven? Y.E.S.
I loved it.
I got so much more out of the classes than I expected and the parties were a ton of fun. Best of all, I got to meet so many of my online friends in real life. That was my favorite thing about it all! A big thank you to the
Haven Maven team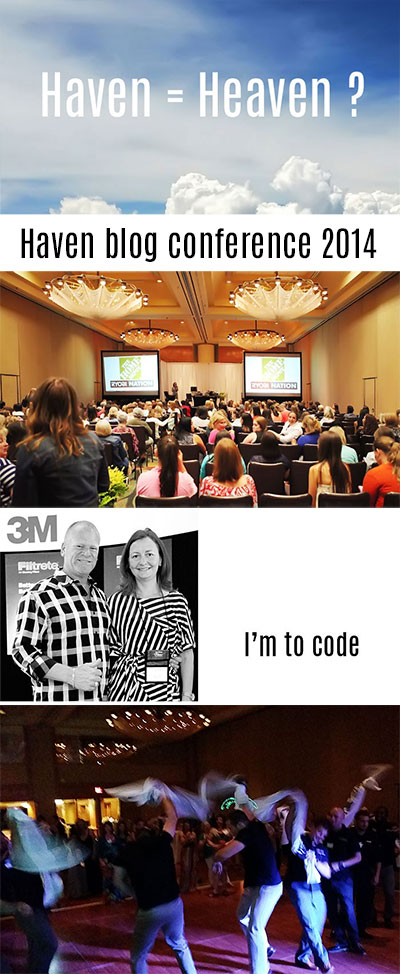 And as always, it's great to get away, but it is also really great to be back
home
.
Share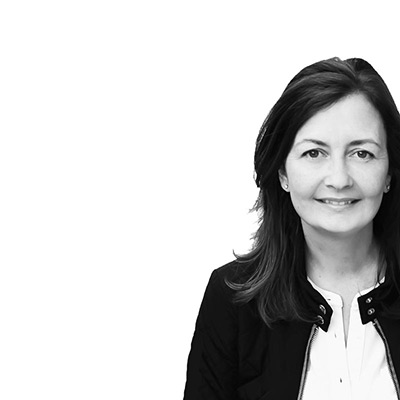 Categories
Haven blog conference in Atlanta 2014 - Haven = Heaven? is posted in the category
Great Finds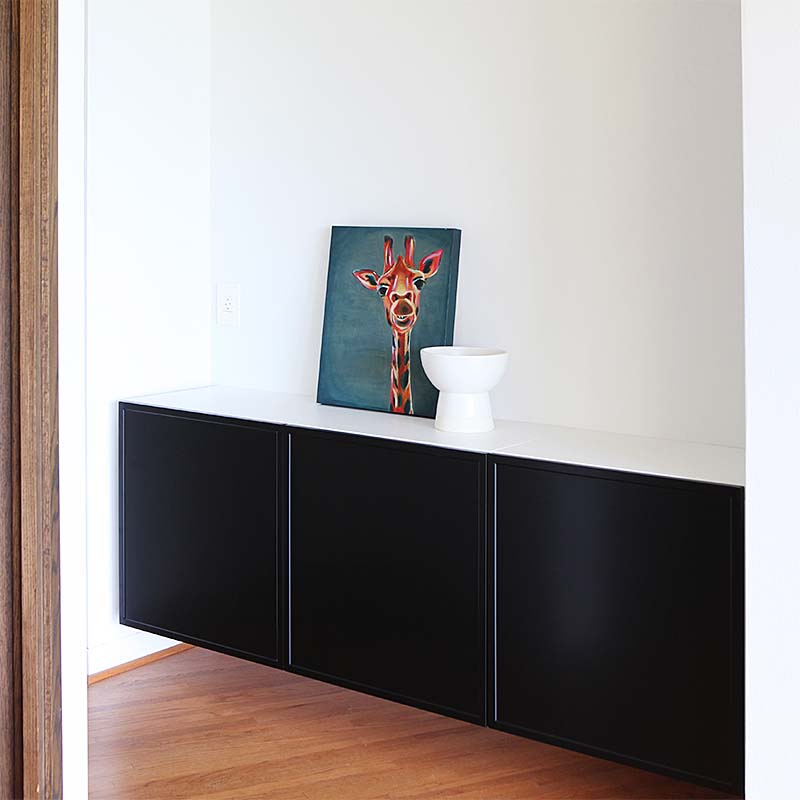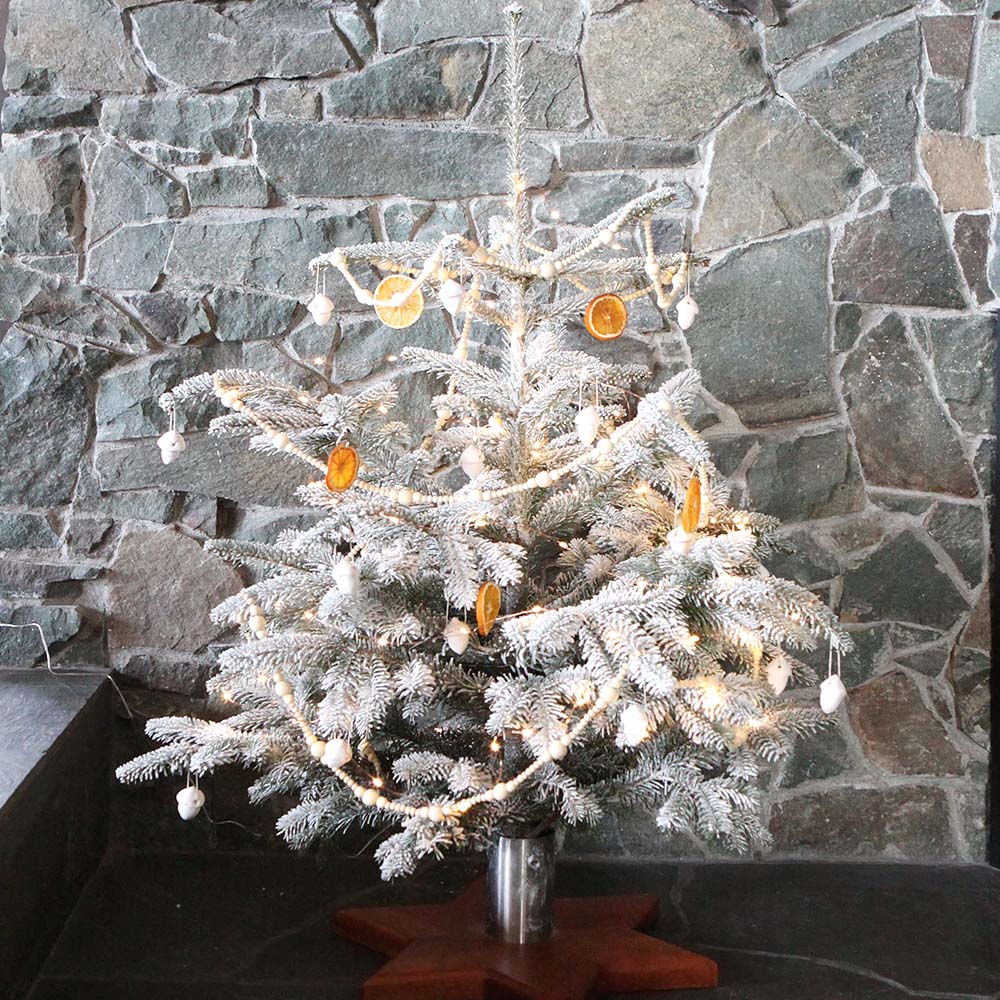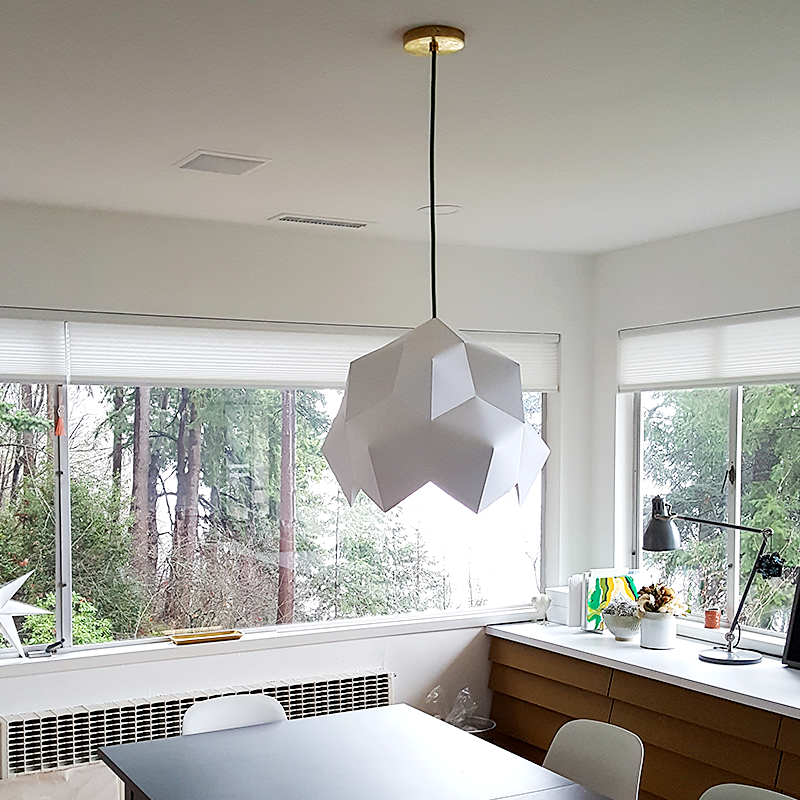 Search
We have been featured here
Full list
here
Search
We have been featured here
Full list
here