B's walk-in closet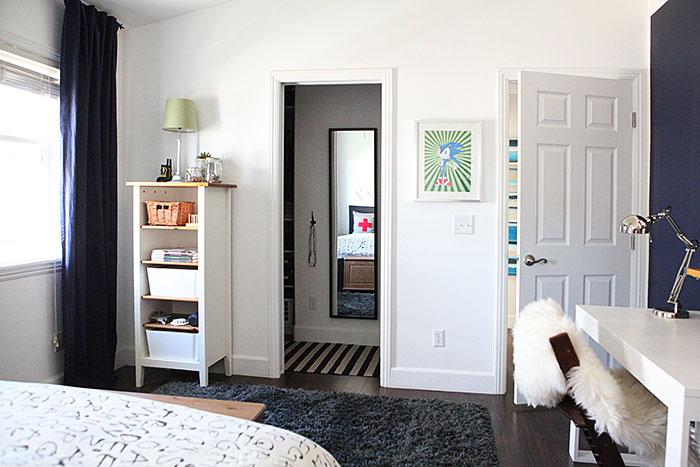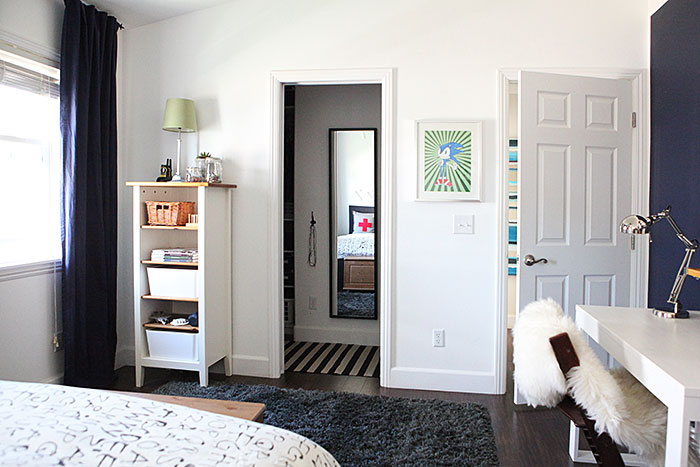 I never showed you the last wall in B's bedroom. I know...pee your pants with excitement. Oooh a wall.
It is, however, the wall that has actually seen the most change in his room.
The previous owners of our house added on the
living and dining room
downstairs and a new master suite upstairs.
Very lucky for B, because that meant that he got the old master suite. While it was reduced a bit from its original size when they added on (I think?), it's still quite large for a kid's room at 11 by 14 feet. Quite unusual around here where most kid's bedrooms are 10x10 to 10x12 feet.
The old master had his and hers mirrored closets with a hallway open to the bathroom. Here is what it looked like just before we had laminate floors put in.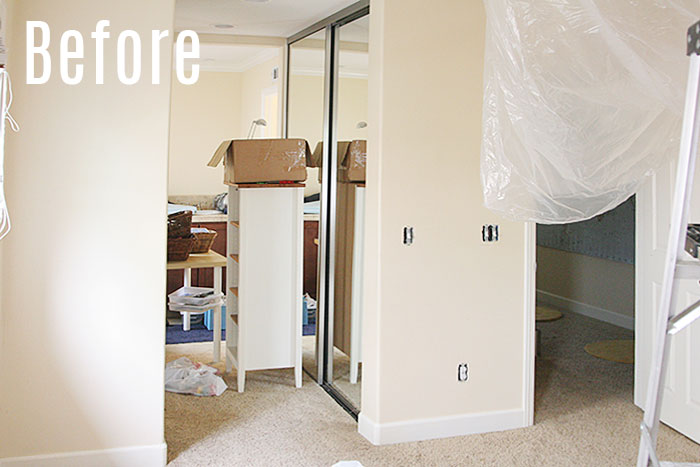 To be honest, that hallway felt a bit to me like a freeway coming straight toward the bed. In a Feng Shui sort of way. We solved it by closing the closet off to become a walk-in instead.
Here is a quick drawing of what it was before and the plans for the closet after: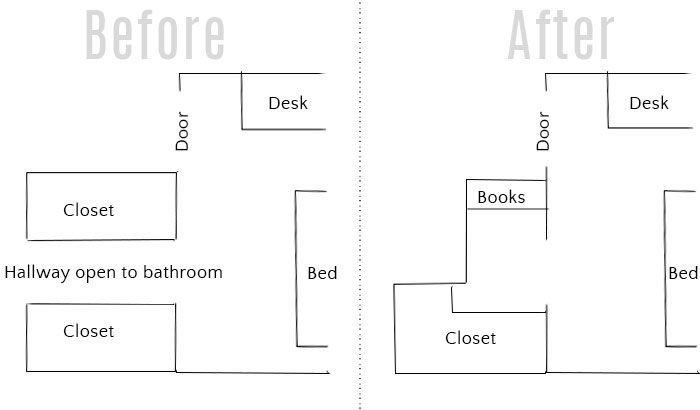 Here you can see the floors have gone in. and the wall is up separating the two rooms. The door to the bathroom is now right outside his bedroom door. That part of the hall is a little nook, so it still feels a bit like a "suite". Sweet.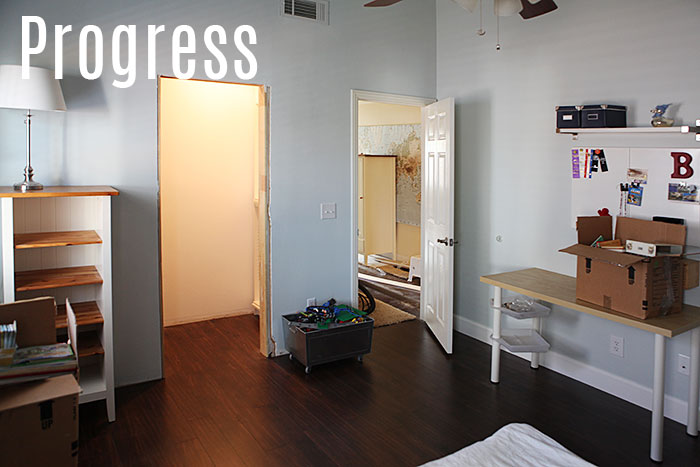 We had a pocked door added so that B can close it and not look into the closet. Options, options.
On the left side, inside the closet, we added two
PAX closets
from IKEA, one corner unit and one unit with drawers. There is an outlet next to the mirror so you can use a hairdryer by the mirror.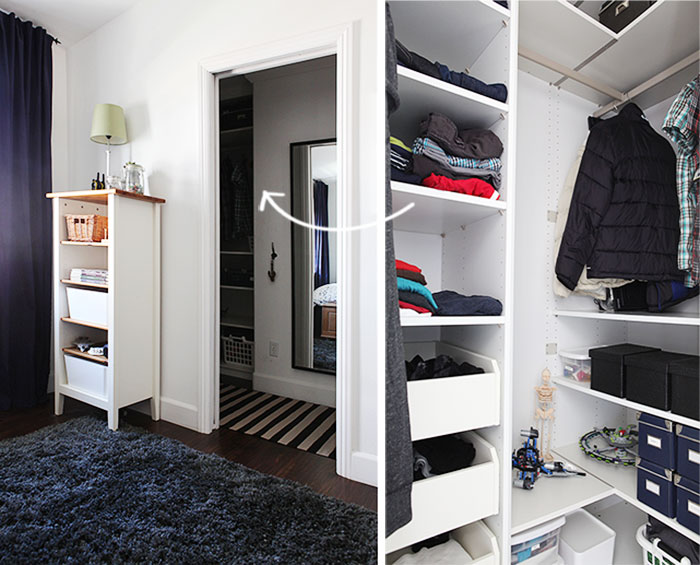 On the right side inside the closet, we added a built-in
Billy
shelving unit for books and toys. I used some
KVISSLE
storage bins for small stuff and magazine holders for B's vast collection of Danish Donald Duck magazines which Grandma is helping him collect. They come out once a week and she usually gets him a couple of those for when we visit. Over the years that has become a 4-magazine-folder large collection. They are on the bottom shelf below.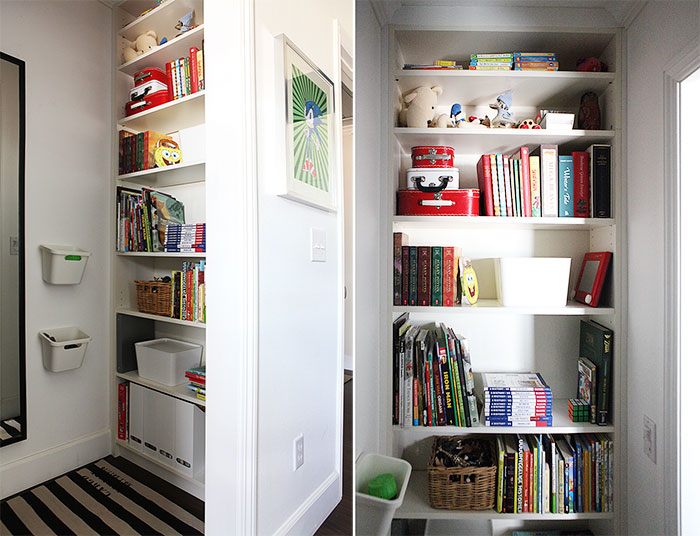 Between the two doors in his room is a picture that he drew a while back of Sonic.He made the drawing for some personalized thank you cards to send to mostly grandparents. I loved the drawing so much, I also had a big print made which I framed in an IKEA Ribba frame.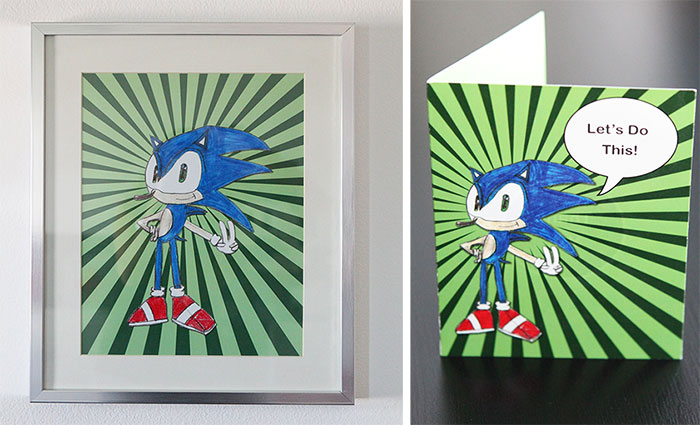 In the corner, next to the closet door, is a small bookshelf which has a few more bins with this and that.
When B was born, we got two pieces of furniture for him. This book shelf and one in the same style, but lower, which we used as a changing table. He didn't have a nursery because we chose to co-sleep for the first several years of his life. Instead of getting him a crib, we go a huge California king size bed.
Memory lane alert. Behind the scenes photos from 2001 of me pregnant at 8 1/2 months and Frank putting together the bookcases.
Website only
.
I sold the short bookcase a while back, but here is the other one, still working out in this room.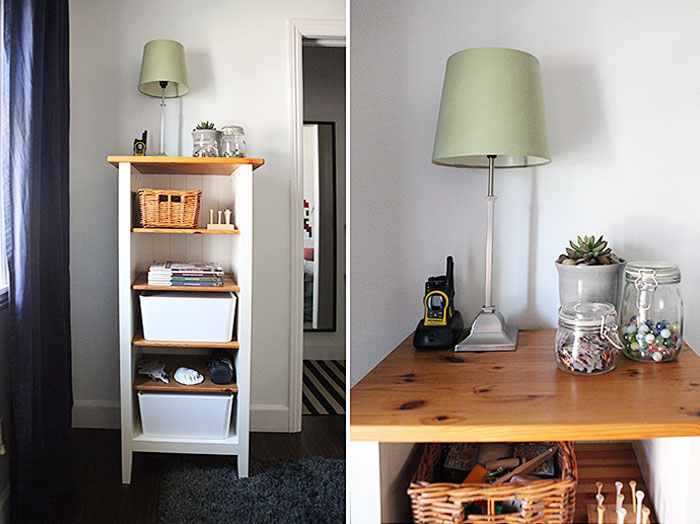 B has some marbles in a jar and a puzzle and on one of the shelves is a tic-tac-toe he made at scout camp. It originally came home with red and green tees, which I promptly switched out to white and wooden ones. Looks so much better that way.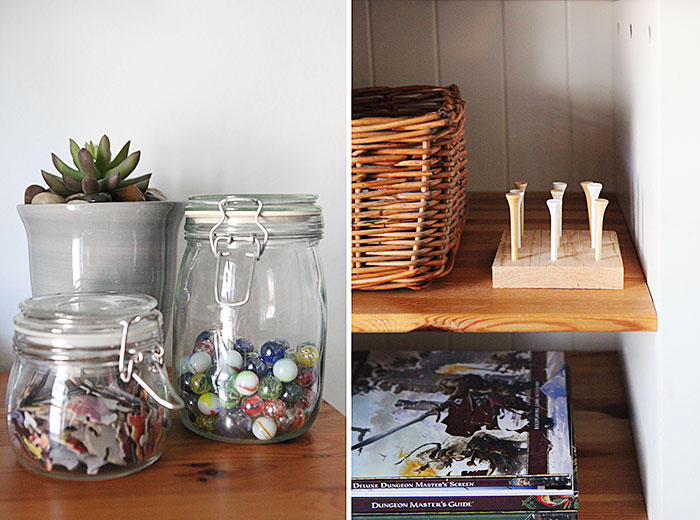 In his closet we installed an occupancy sensor so that the light comes on automatically when he steps inside and automatically turns off a minute or so after no movement has been detected. So there is no: TURN OFF THE LIGHTS shouting needed #childhoodmemories.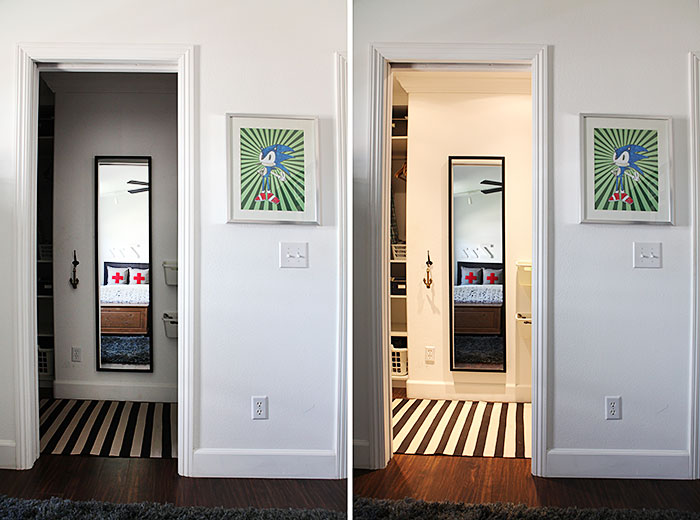 I realized the other day, when putting together that
home tour for Cassie
, that I had never actually done an official reveal of B's room, although you have seen it all now, but brace yourselves for one more post with all the after pictures in one neat spot.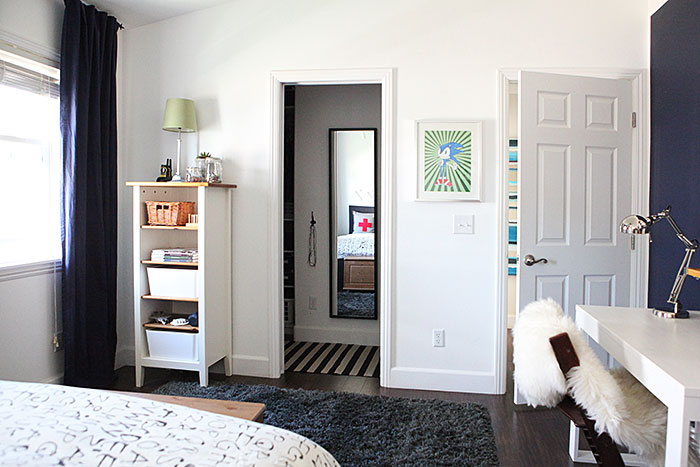 Share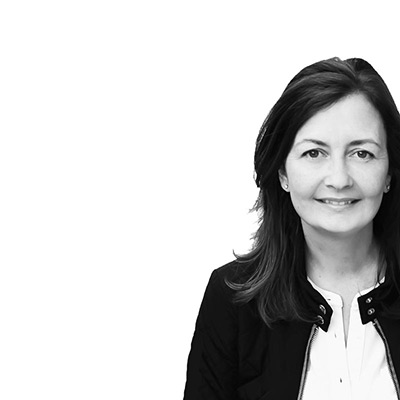 Categories
B's walk-in closet is posted in the category
B's bedroom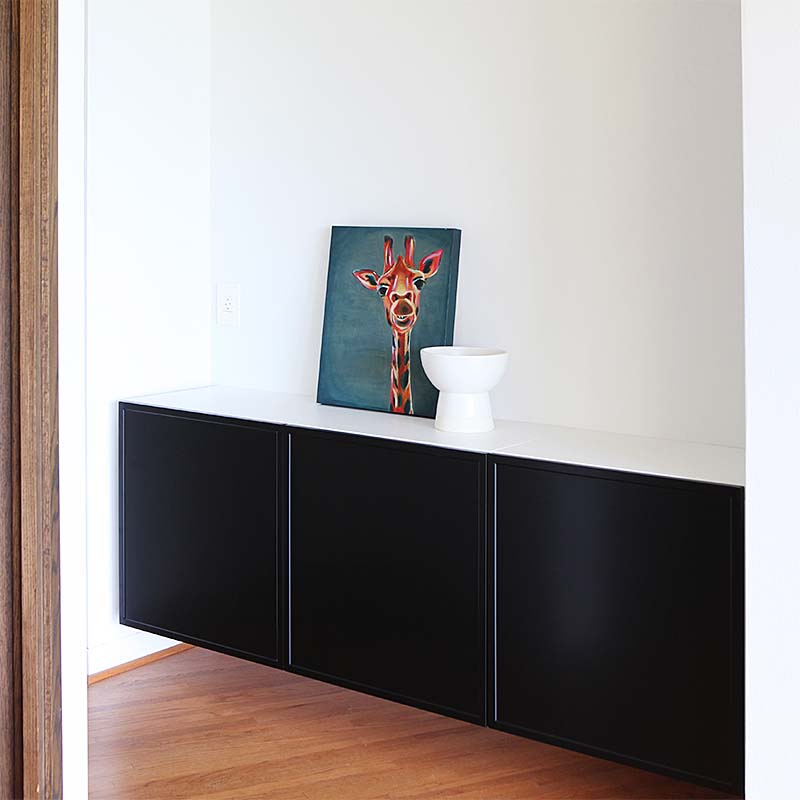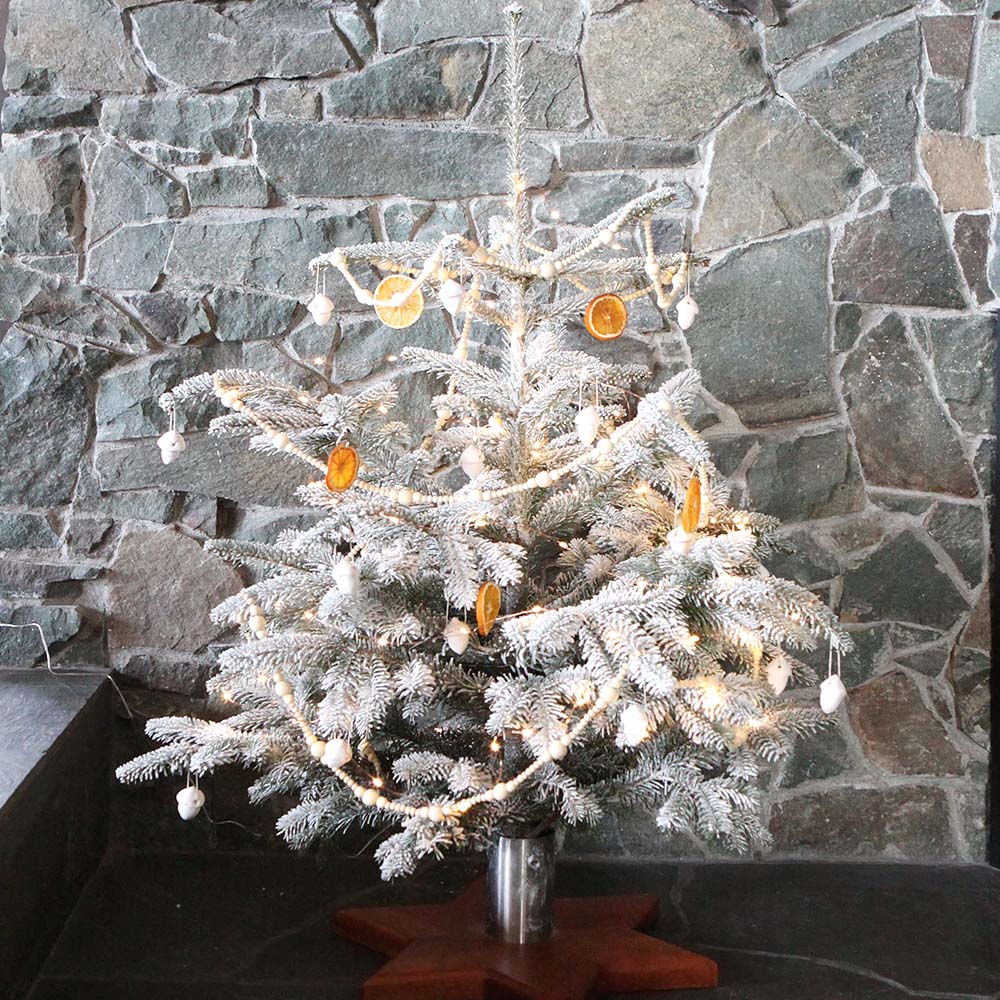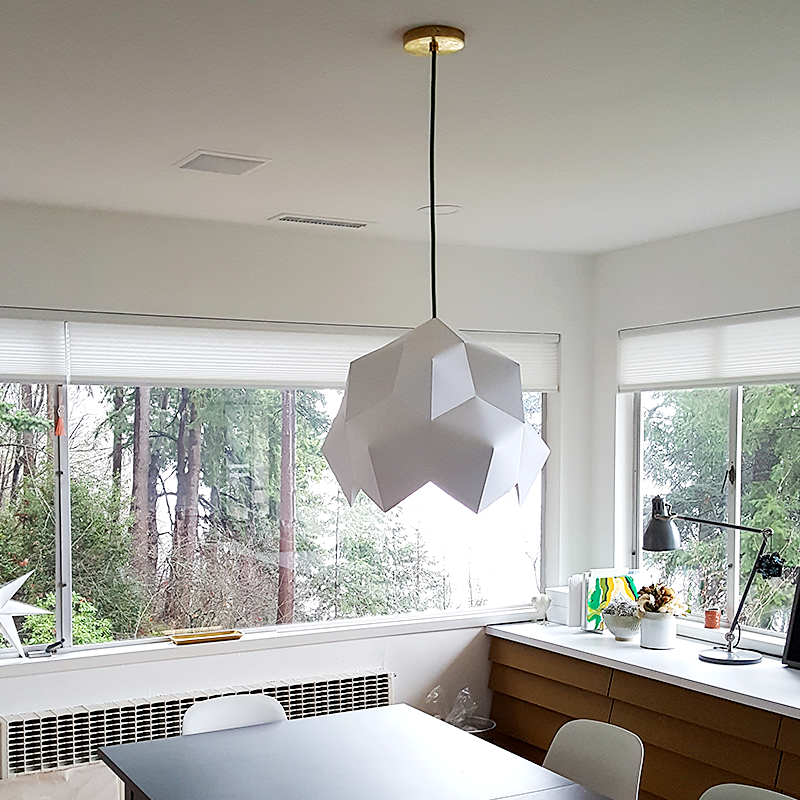 Search
We have been featured here
Full list
here
Search
We have been featured here
Full list
here