IKEA hack: Dipped Bekväm step stool with Tejn faux sheep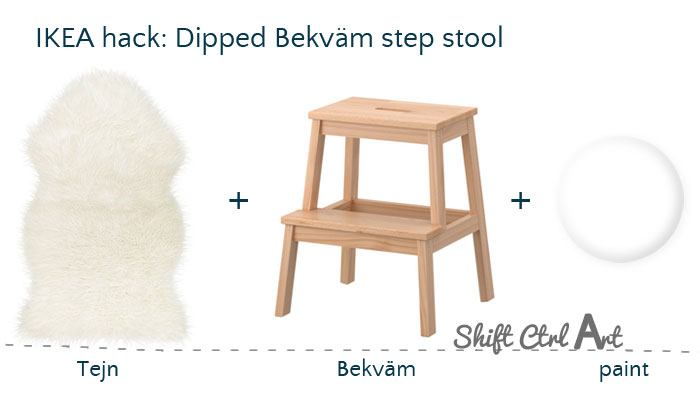 We needed at step stool for our master closet, so I got the Bekväm step stool from IKEA as well as a TEJN faux sheep skin and some white paint.


I had expert help putting the step stool together.


And did you know that IKEA has a humor department? They must have... This little comic strip was in the box.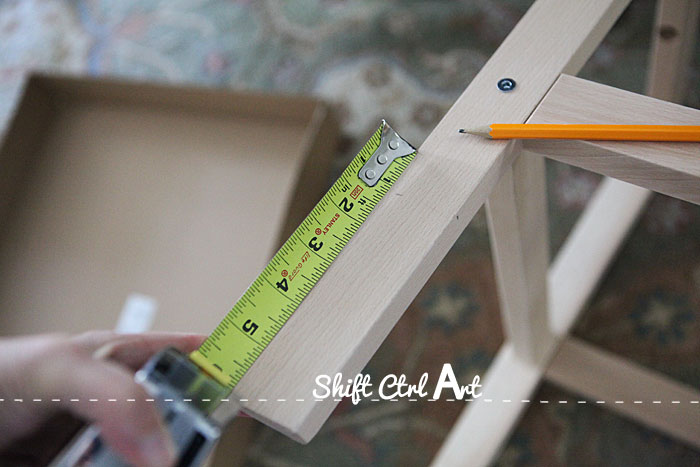 I wanted the step stool to have a reversed dipped look, so I measured up 5 inches on each leg and made pencil marks all the way around.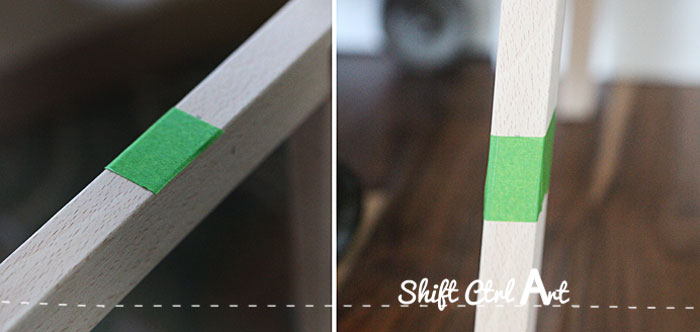 Then I used some Frog tape to tape off just under the pencil mark. I made four pieces of tape for each leg because the legs are at an angle and I wanted the line around them to be horizontal.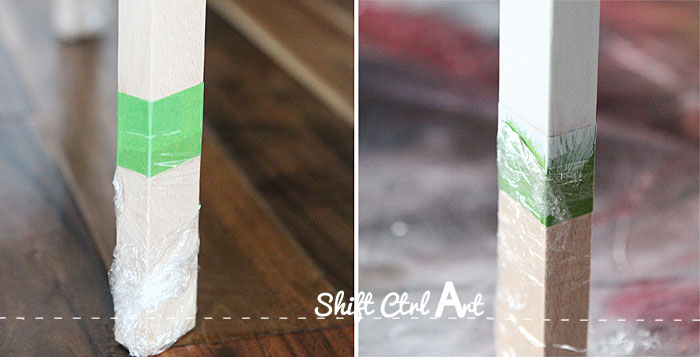 I covered the bottom part with some film to avoid getting drips on them. At each of the passes with paint (1 coat of primer, 2 coats of white egg shell paint) I feathered the paint from the green tape and up. I did that to avoid having too bulky an edge between the painted and unpainted part. Here on the right you can see my next to last pass of paint. On the very last pass, I made sure I covered with white.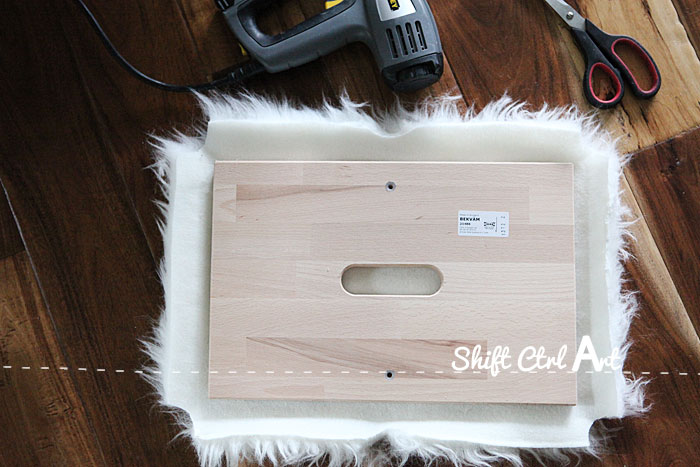 While the paint was drying I cut the sheep skin. I made sure to only cut through the backing so the hairs were not cut in half. I cut half circles by the corners and around the screw holes.

I think this cover will make the step stool comfortable to sit on while putting on my socks, while at the same time still functional enough that I can step on to the seat to get my sweaters from higher up shelves. I typically don't wear shoes while in my closet, so I think that will work well.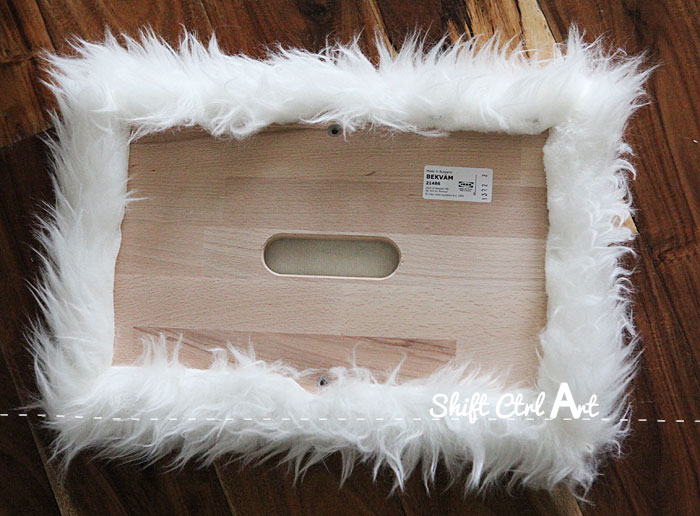 Then I stapled the cover to the seat. I had to get longer screws for the seat because of the bulk of the sheep skin. This stool used machine screws to secure the seat to the base. When I went to Lowe's, I discovered that the screws used are, not surprisingly, sized by the metric system. These screws are not found in the regular machine screws section, but rather over under specialty screws in the metal drawers. Over there is also a little board with a size measurement end-caps so you can find our the right size rather than just gauging it.

Here is the stool in my living room. It will be moved to our master closet shortly.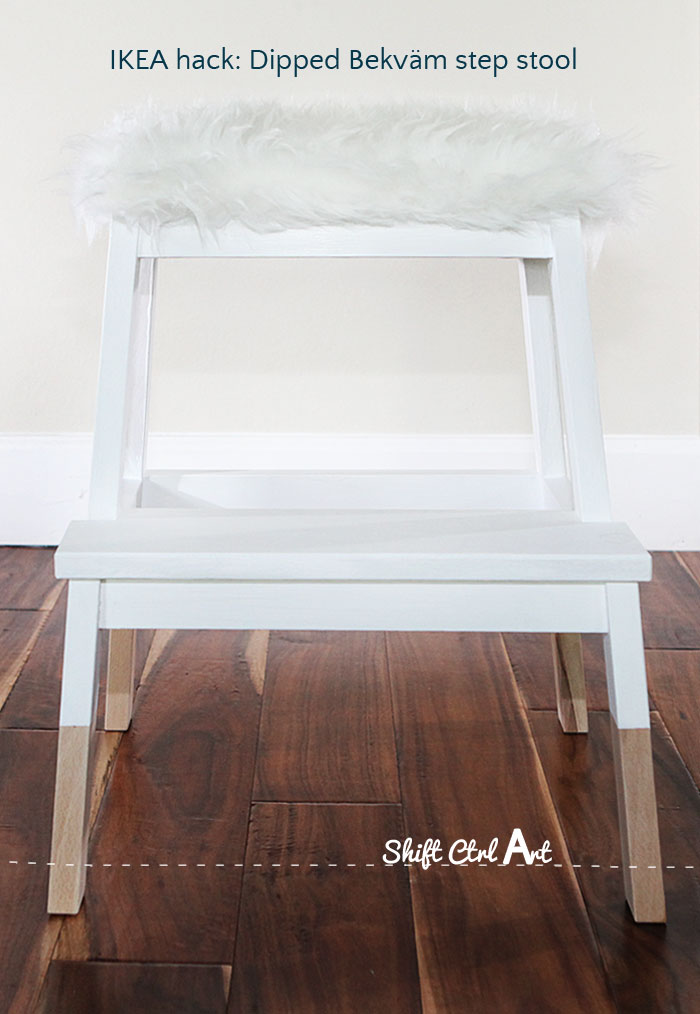 I had to use my flashes to get a good shot. Here is a behind the scenes photo (website only) of how I did that. Hover over the icon with your mouse to see it.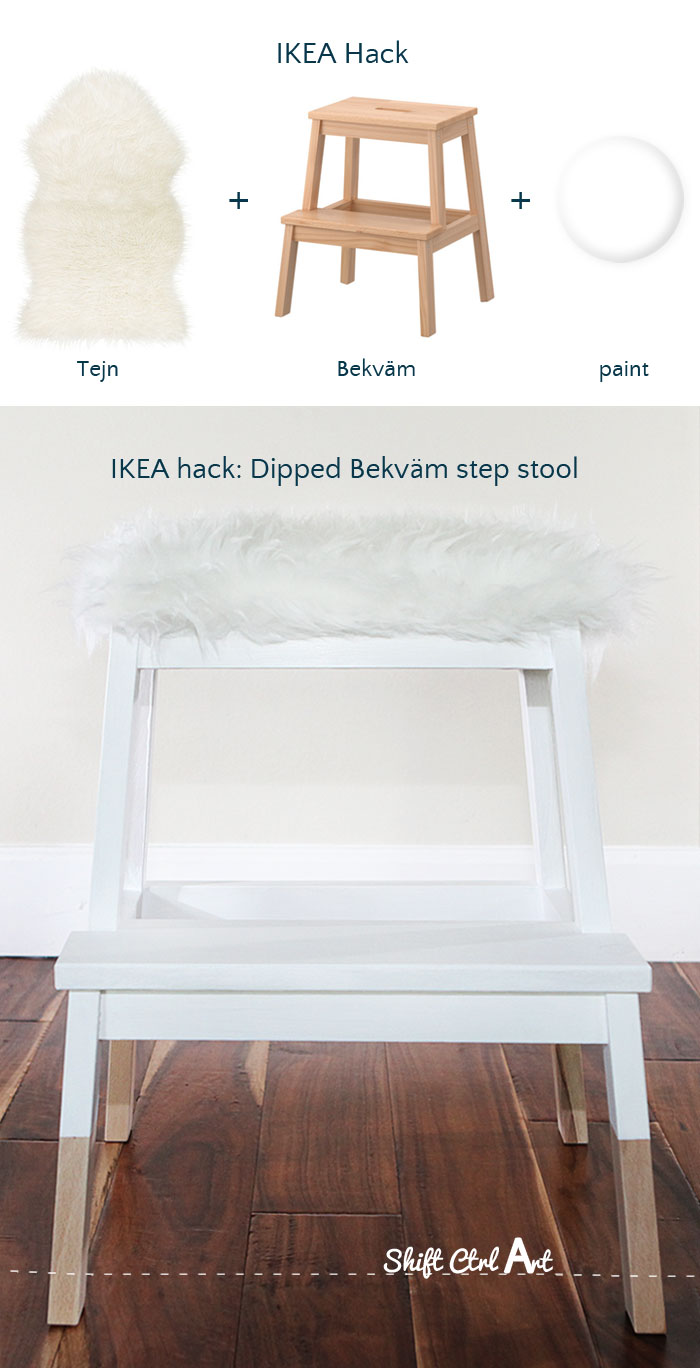 That's my new dipped Bekväm step stool with Tejn faux sheep on the seat IKEA hack.

You can find all my other IKEA hacks on my DIY - Do-It-Yourself Projects page.

Share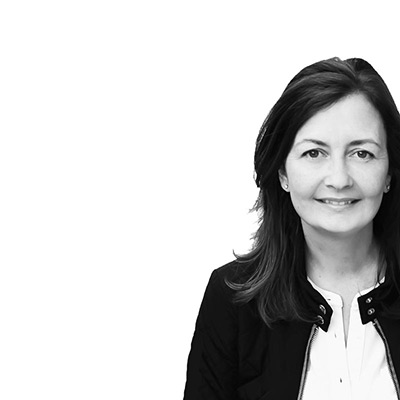 About Katja Kromann
I am a Danish American decorating life in Seattle. I love all things design and DIY.
I can't think of anything more fun than coming up with project, making it, photographing it and sharing it with you on my websites.
I am a
Graphic Artist
and home maker by day.
AHomeForDesign.com
AHomeForFood.com
AHomeForCrafts.com
Categories
Instagram
Search
We have been featured here
Full list
here
Search
We have been featured here
Full list
here