Build a planter box for your outdoor table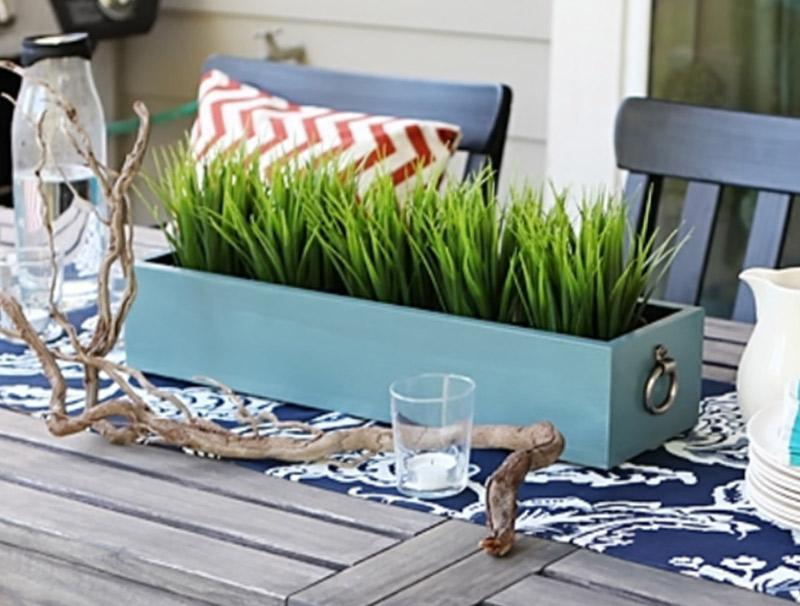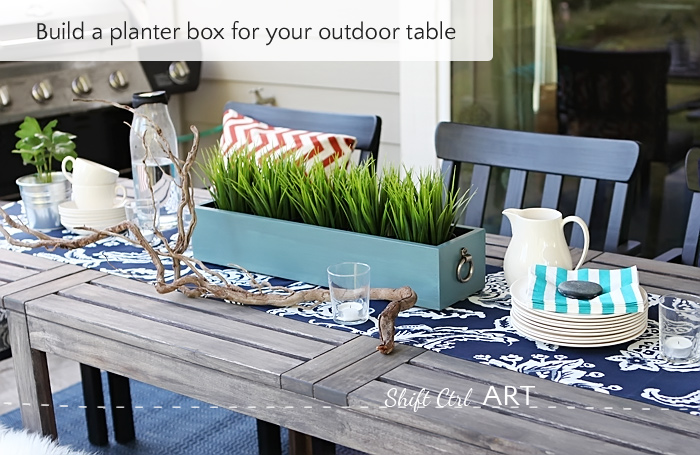 For our outdoor make-over we made this simple and inexpensive planter box for our patio table.
I chose to paint it turquoise to go with our
wicker chairs, which we spray painted turquoise a while back after buying a spray gun.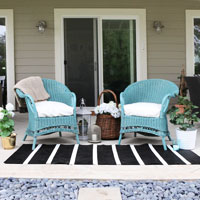 Spray painted wicker chairs
The wicker chairs sit right in between the dining area and the lounge area on our patio, so I thought it would look good to carry a bit of the turquoise through both spaces.
Here is how we built the planter box: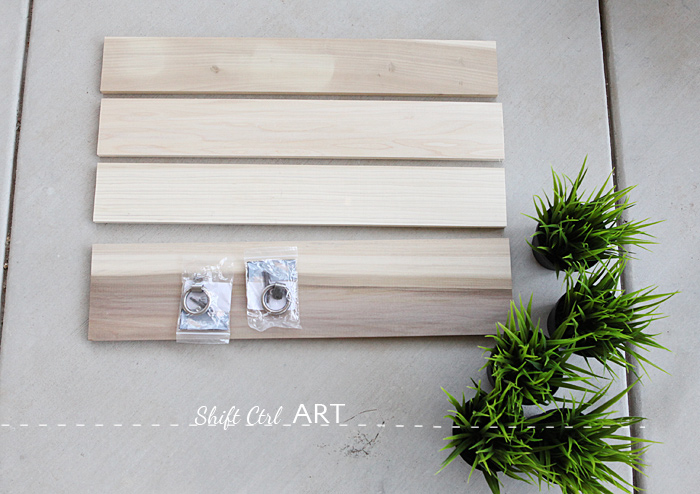 The materials you need are:
3 pieces of 1/2 inch boards that are 3.5 inches tall
1 piece of 1/2 inch board that is 5.5 inches tall.
2
ring pulls
5 flower pots. I used 5 forever
Fejkas from IKEA
If you use real plants (gasp

) you also need to line the box with plastic.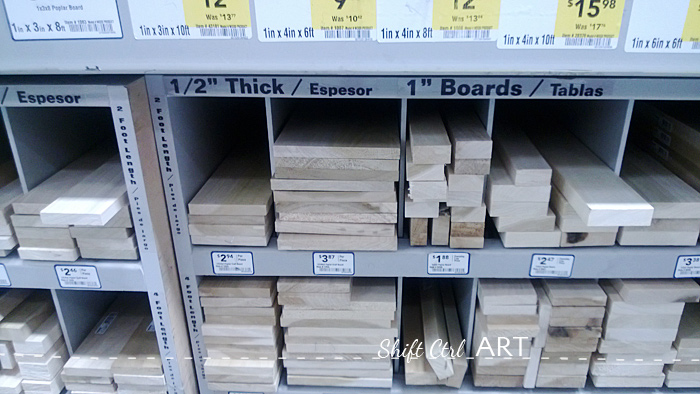 The boards, I found at Lowe's under the regular "1 by" wood. These thinner boards are usually stacked horizontally like what you see here.
Check to see that your boards are straight. I went through a couple in those in the stacks to get the best ones.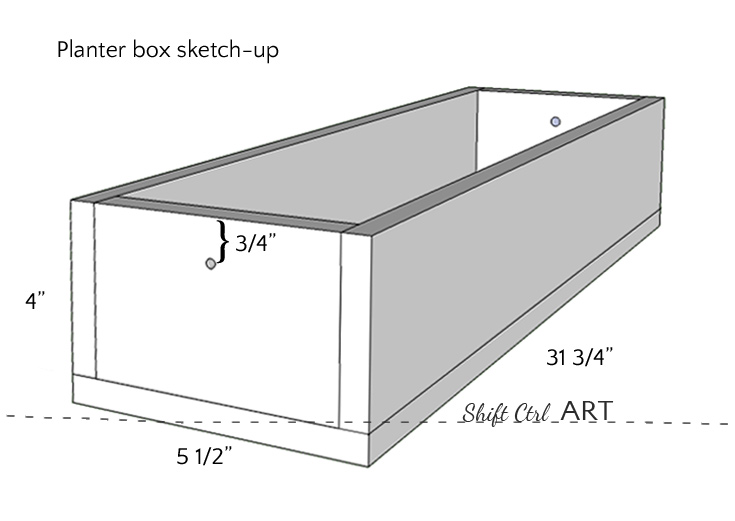 I made this drawing in sketch-up so you can see how we put the box together.
The wide board on the bottom and two sides we cut at the same time to get the exact same length of 31 3/4 inches.
The two end pieces were cut out of the 3.5 inch wide boards just like the side pieces. We cut them at 4 1/2 inches long to fit right in between the two sides.
Dh cut the boards to the right length, but as we learned when
we built our house in the 90s
, we are evening out the score on power tool pictures or maybe I forgot to take a photo, who knows?, but we quickly skip ahead to ME using some power tools and dh holding the camera

. Not to worry, though, we are currently working on a much bigger project with plenty of dh-power-tool-wielding shots

.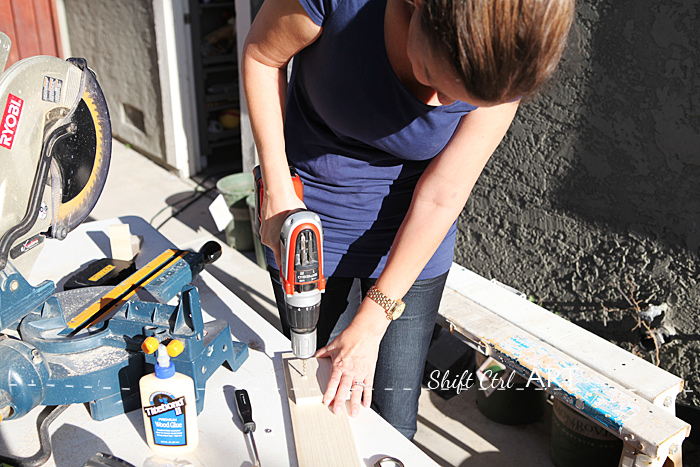 For the hardware I drilled holes 3/4 inches down from the top mid point.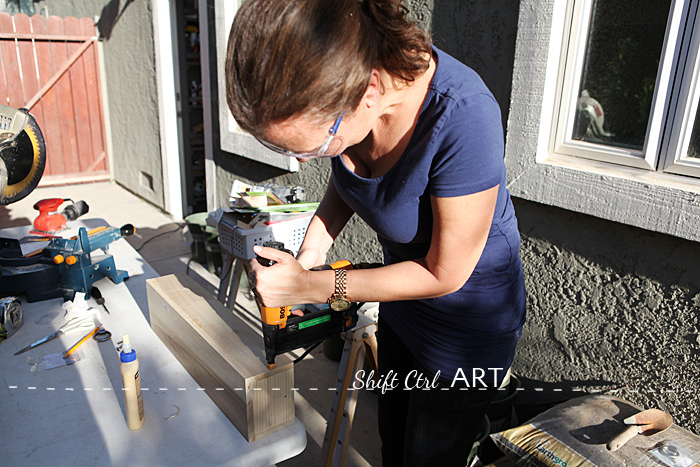 I used wood glue and our nail gun to put it all together.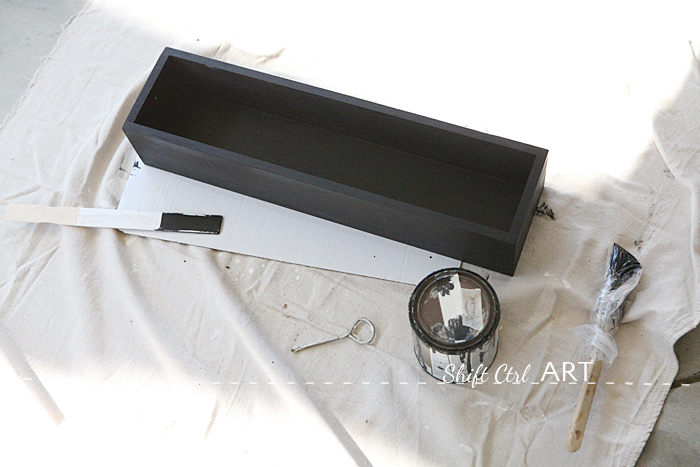 Next I sanded the box and painted it black all over, including on the bottom, with some exterior grade paint I had left over from waaaaay back in 2009 when I
re-painted our bistro set black.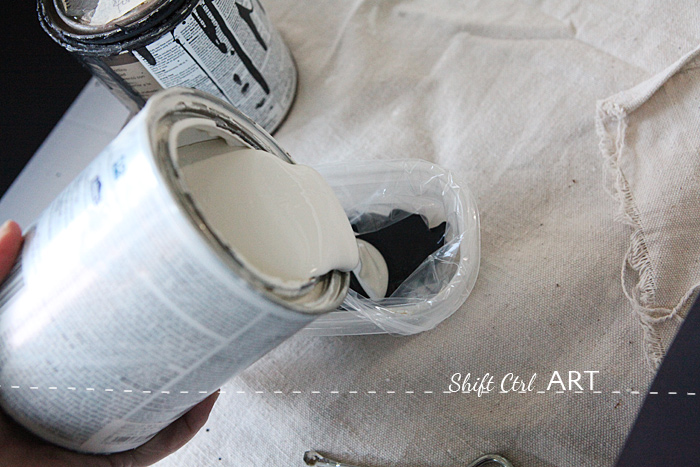 Then, I custom mixed the turquoise color by first adding a bit of the black paint to a small zip lock bag, then I added some white.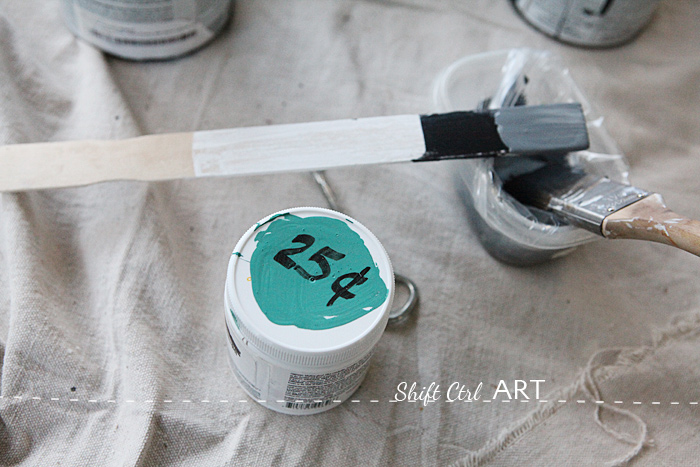 Then I added in a bit of teal green from a paint sample I scored at Lowe's for 25 cents.
When you go to their paint department - Home Depot also, you will find that they put out paint samples that people for one reason or another didn't end up buying. They are usually marked down to 25-50 cents. It's a great way to get a fun color for a small project and you can always alter the color a bit by mixing other paints into them.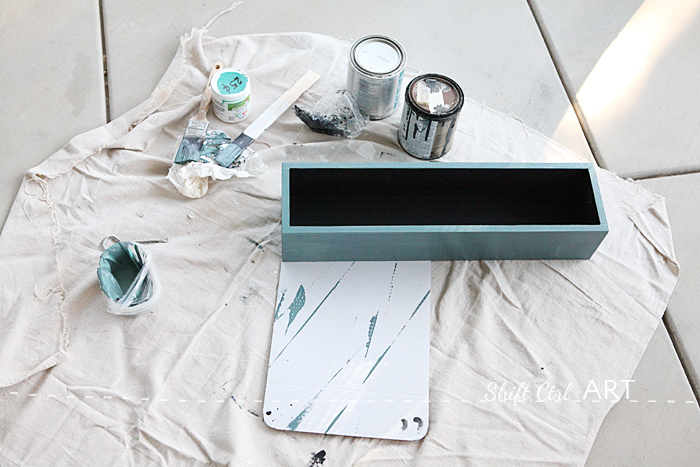 I painted the outside and top rim of the box, leaving the interior black. The pots I put in there are black, so it will make them less visible that way.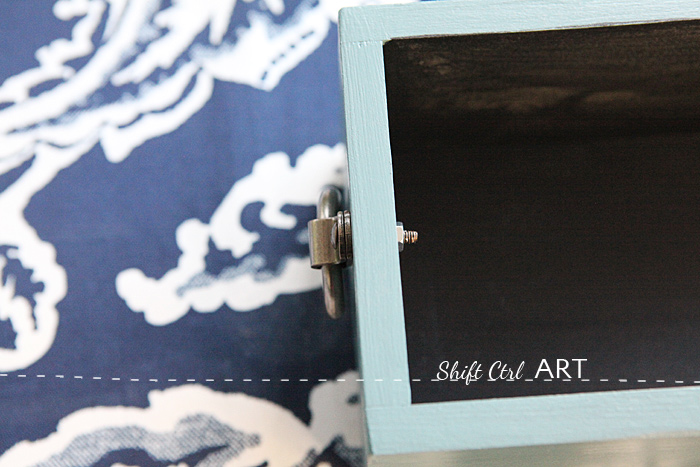 Then I added the hardware. As you can see it is a bit different than usual hardware which would not have worked right out of the bag because it is usually for 3/4 inch thicknesses.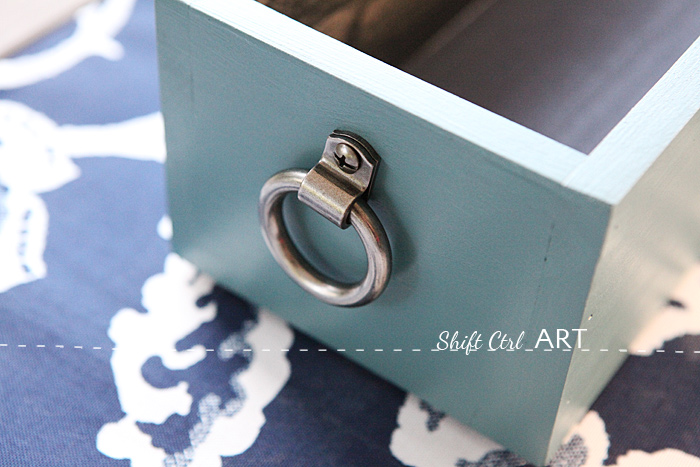 Instead of being screwed in from the back, this particular ring screws in from the front and is secured with a nut on the back, making it perfect for my 1/2 inch boards.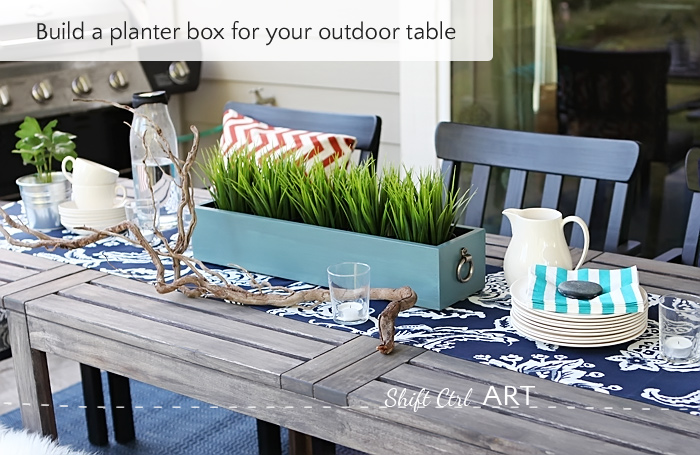 I added felt circles to each corner of the bottom of the box,, dumped in my 5
fejka
plants, then put it on my IKEA Applerö table, which I just recently
painted a barn wood color
before our
patio dining area reveal
.
The whole project cost just around 20 bucks and took less than half an hour to do.
I really like this center piece because it is low maintenance, and versatile because I can change out what I put in it easily.
What do you like to use as a center piece on your dining table?
For more DIY ideas, please go to
DIY projects
Share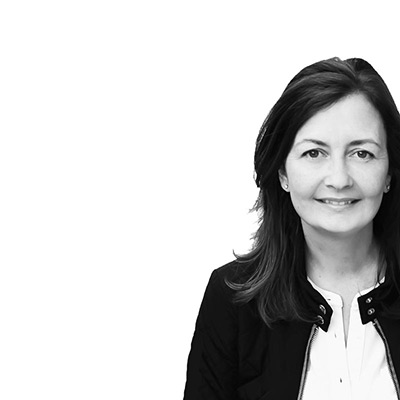 Categories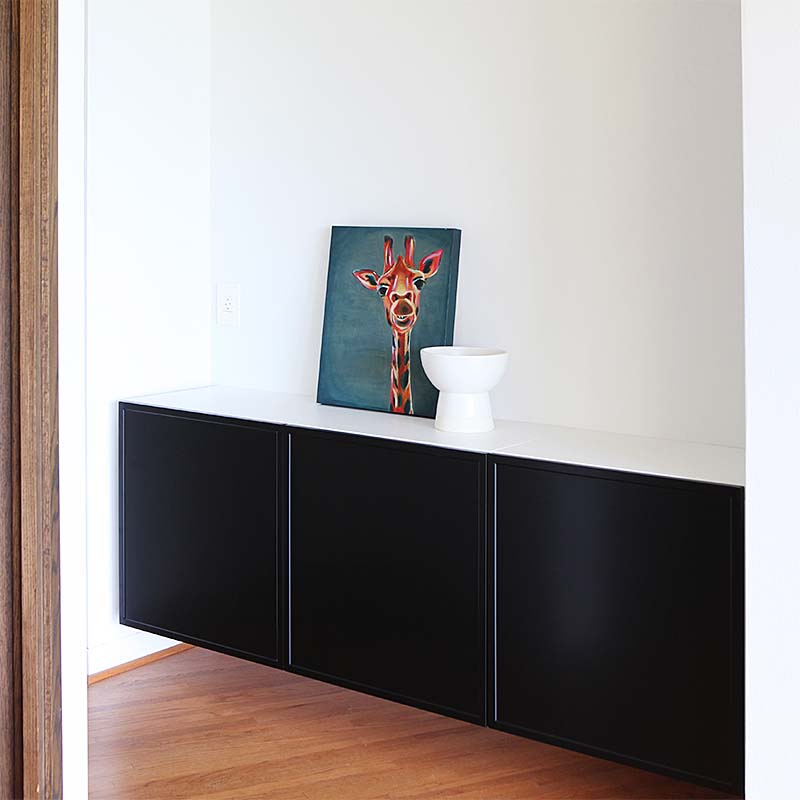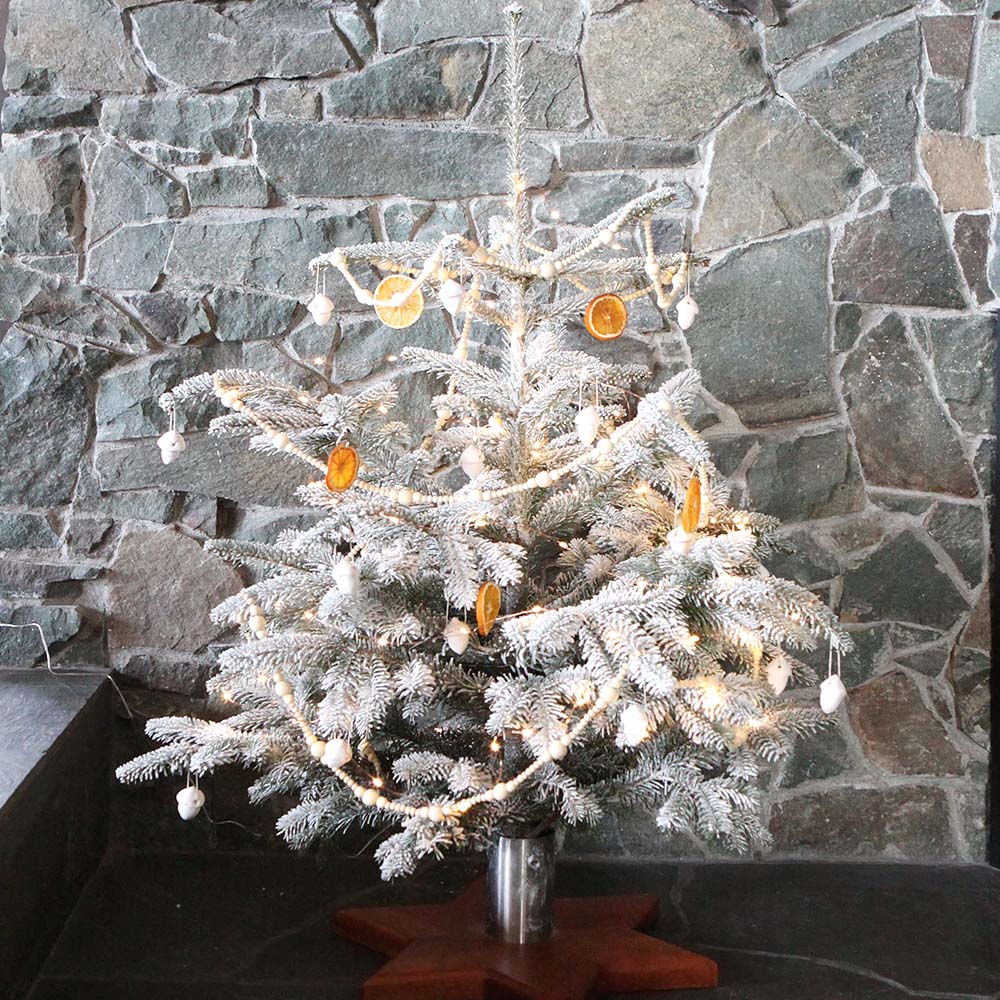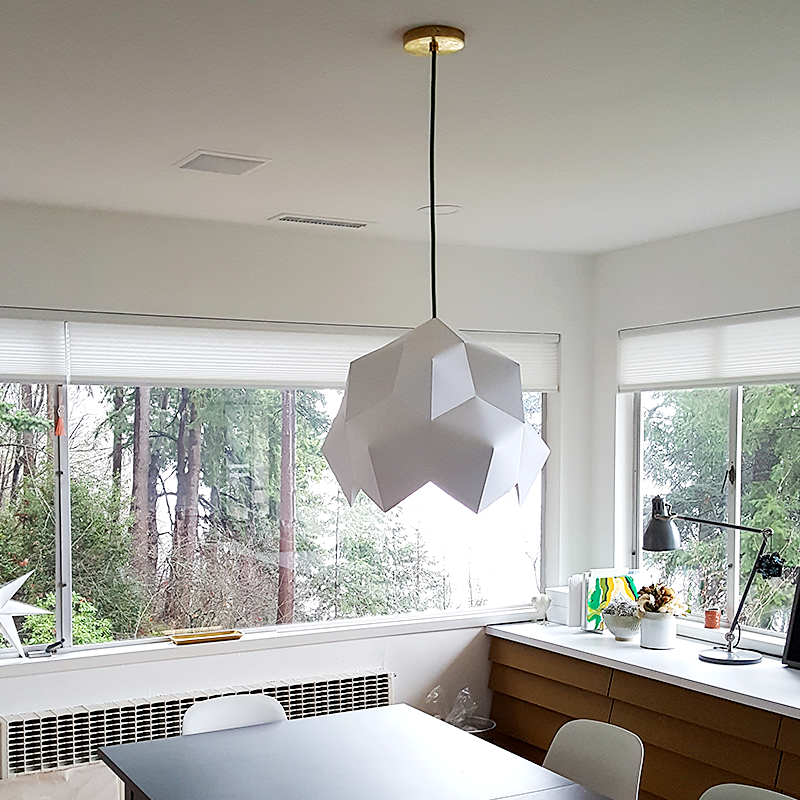 Search
We have been featured here
Full list
here
Search
We have been featured here
Full list
here