Great Finds: Ana's sewing room, aprons and cucumber snack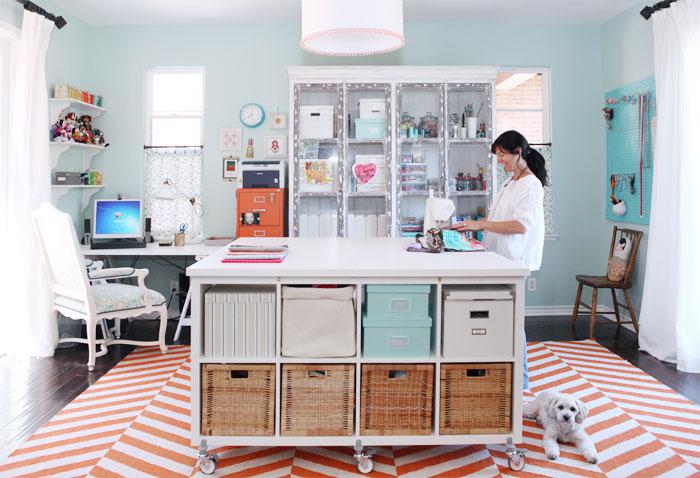 Today we are back at Ana's house. Ana is full of fabulous surprises and today I want to share a couple of them with you.
You might remember that I recently helped
make over their family room
and it was such a fun process. While I was busy over there, Ana pulled together her new sewing room and look how awesome it turned out.
She found inspiration for the
big island on Ikeahackers.net
and created this fantastic sewing table out of a couple of shelving units, table tops and casters. The original idea called for using IKEA's Expedit, but since that was discontinued earlier this year, to the dismay of many - there is even a
Facebook page to save it
, she used their new look-alike:
Kallax
.
The casters
are also called Kallax.
The wall color is Breaktime by Sherwin Williams. The overhead light is
this one
by IKEA. Ana added some pom pom fringe to the edge. I love how that looks. The rug is by Home Decorators collection, but has since been discontinued.
By her side is her newly rescued shelter dog Skipper Darlington (love that name). More pictures of him
here
.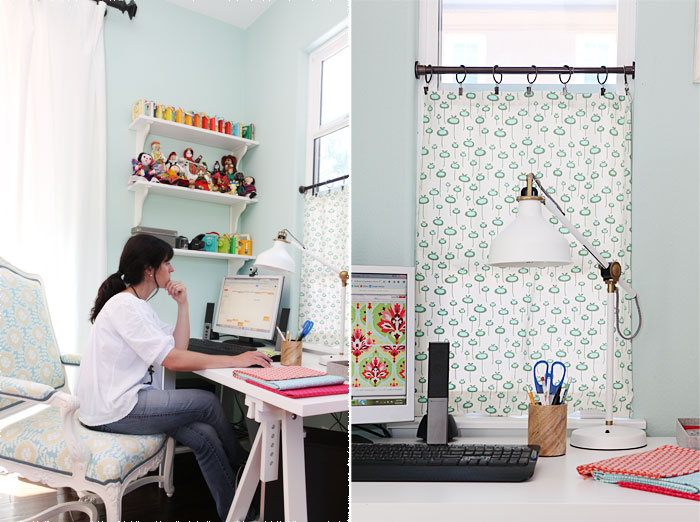 Ana has been sewing for many years and finally got this dreamy room set up for it. She just started selling her wares on
Etsy
. In the corner of her sewing room is her computer desk and on the wall, her collection of dolls and music players that she has been collecting for years since getting her first one as a child. She finds the music players on Ebay.
The chair was a Craig's list find that she painted and had reupholstered using Amy Butler fabric:
Coreopsis in spruce
. The curtain is another Amy Butler fabric: Fresh Start.
Similar
. The desk lamp is the
Ranarp work lamp
from IKEA.
We will get to her wonderful sewing creations in a minute, but first, let me share this recipe for a great afternoon snack she made for me the first time I came to her house. It is so easy to make and has become a favorite for when I am in the mood for a quick healthy bite with a sour kick to it. It's so good!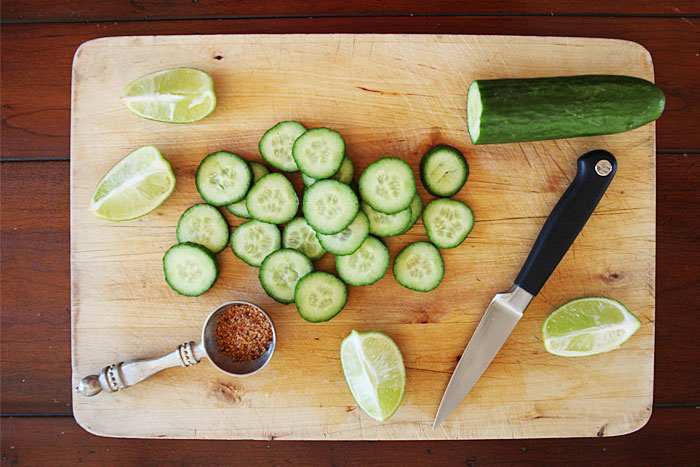 Slice up a couple of Persian cucumbers. Trader Joe's has them. They are smaller than usual cucumbers and more crunchy. Regular cucumbers will do just fine as well.
Put them on a plate and squeeze lime all over, then sprinkle with some chili and salt spice - either mix it yourself or Ana uses a spice mix called Tajin from Trader Joe's.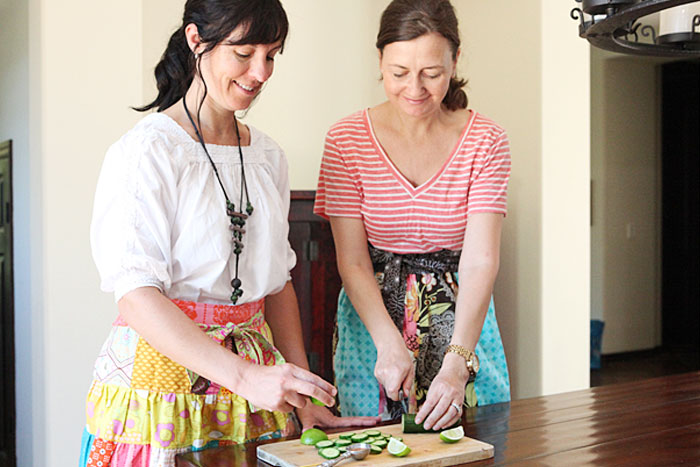 Ana and I are cutting up some cucumbers while wearing a couple of her adorable aprons.
And here is the finished snack. I love how the red plays with the green. The lime gives it such a freshness too and the chili a little bite. Love it! It's such a great little appetizer.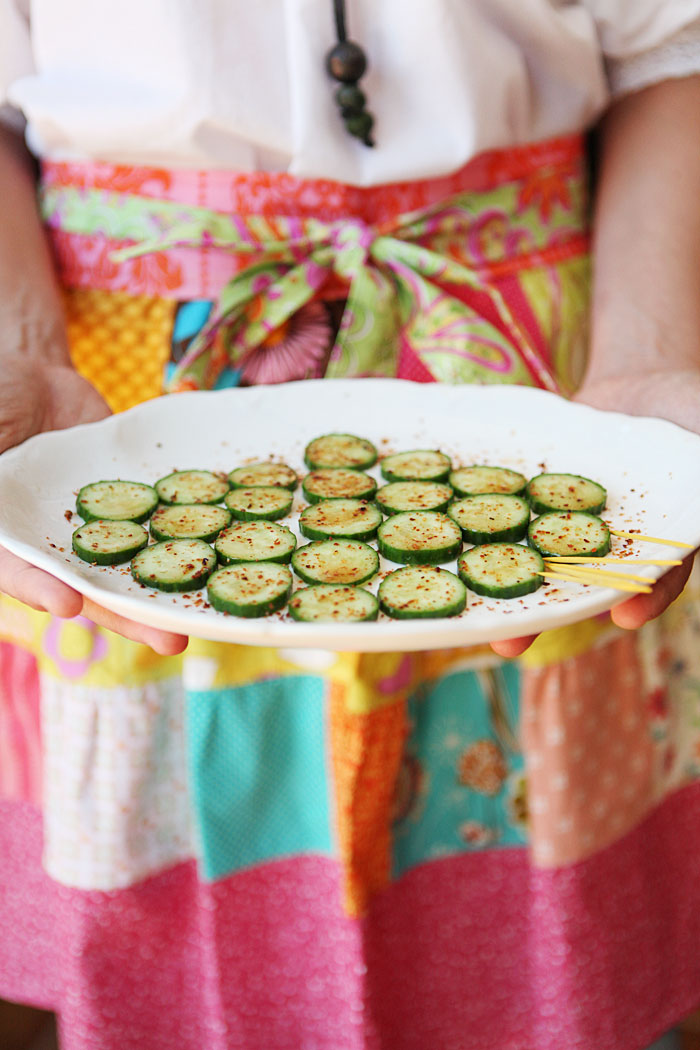 Let me show you some of the aprons she hand makes and sells on
Etsy
.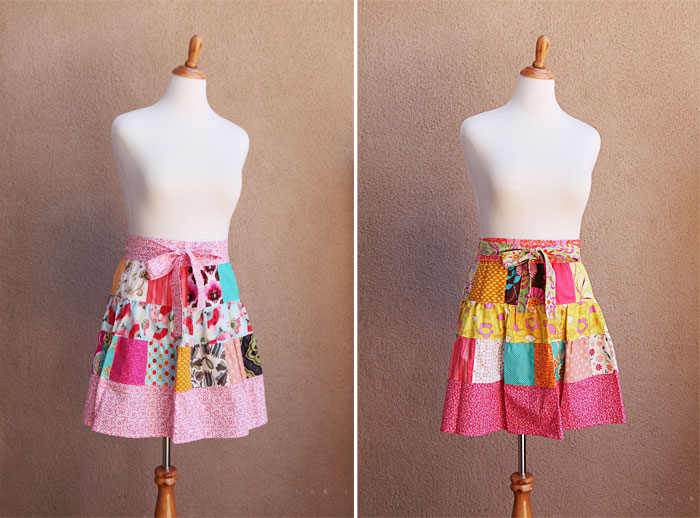 Here are some of the patch work half aprons she has made lately. They have extra long ties so you can cross them on the back and still have enough length to tie a bow on the front. I love that.
Apron on the left
.
Apron on the right
.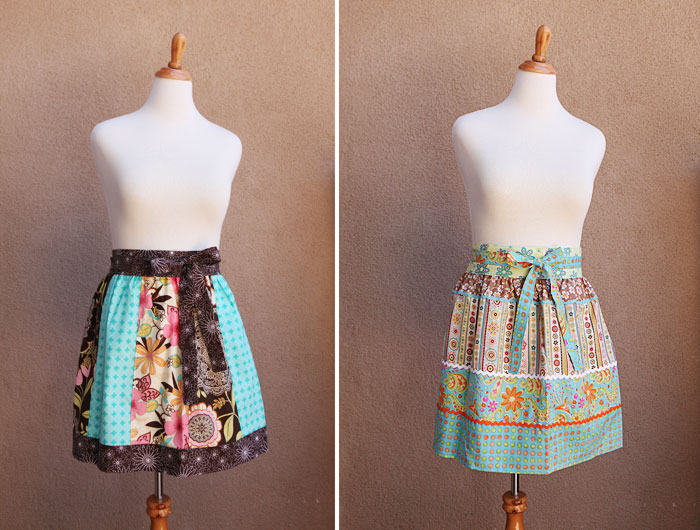 Here are two more. I just love how beautifully Ana pairs the fabrics. So pretty!
Apron on the left
.
Apron on the right.
Ana also makes these adorable little bags. They are just too cute!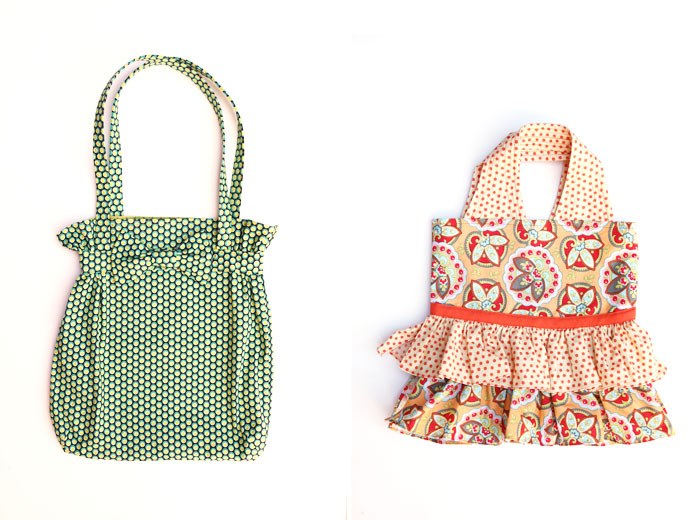 Bag on the left
,
bag on the right
. I could see these hanging from the back corner of a chair or a door knob or used in a bathroom for toiletries maybe?
Ana also make the cutest
fitted crib sheets
,
decorative pillow cases
and
fabric garlands
. She even takes custom orders. I just ordered something for our upcoming master closet reveal.
Ana's favorite fabric sources are
Fabric.com
, Etsy and
JoAnn's
Ana's
Etsy store
Be sure to follow her on
Instagram
. Lots of fabric inspiration to be had.

Share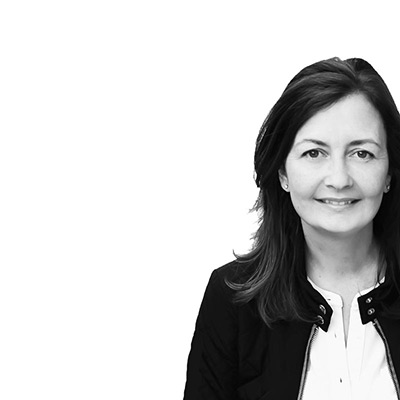 Categories
Great Finds: Ana's sewing room, aprons and cucumber snack is posted in the category
Crafts
|
Great Finds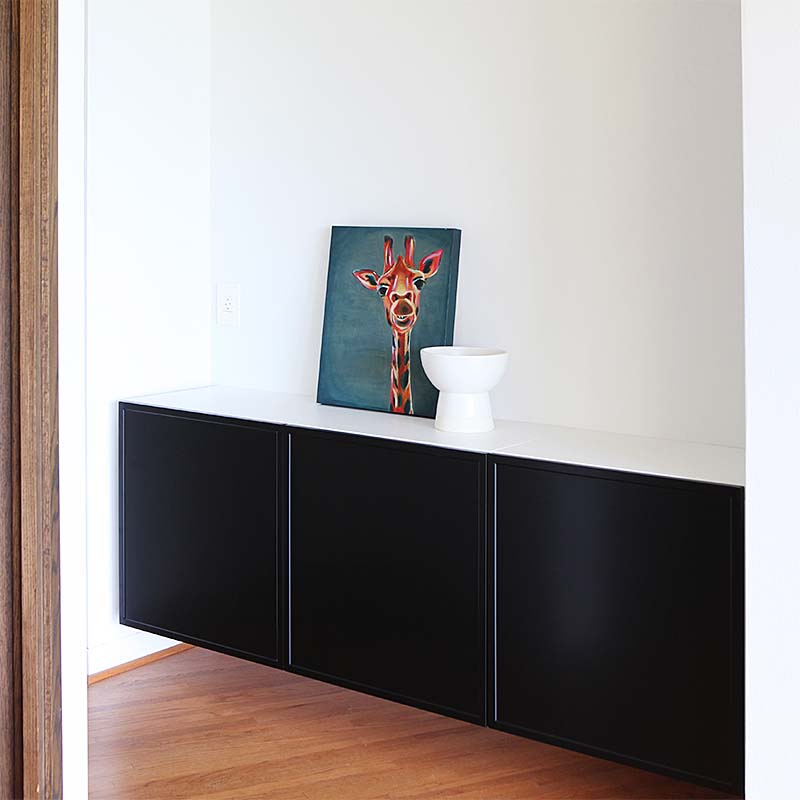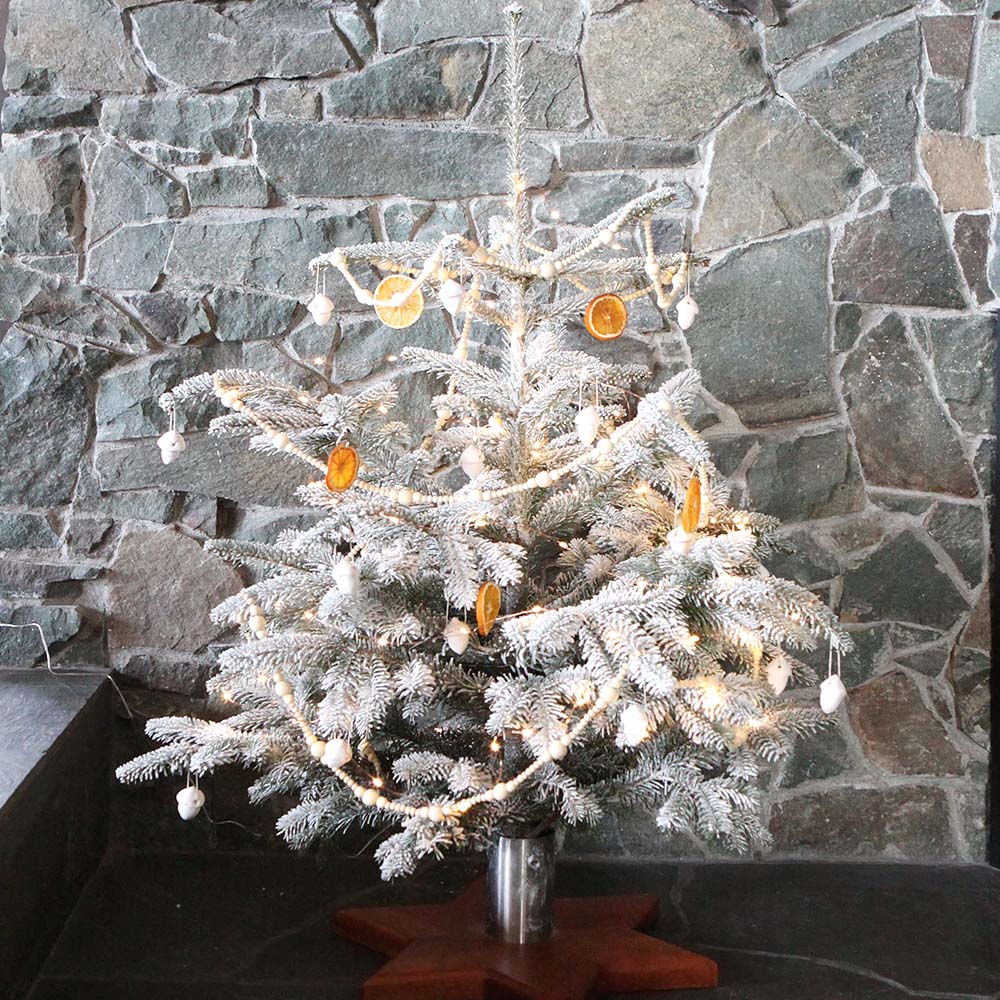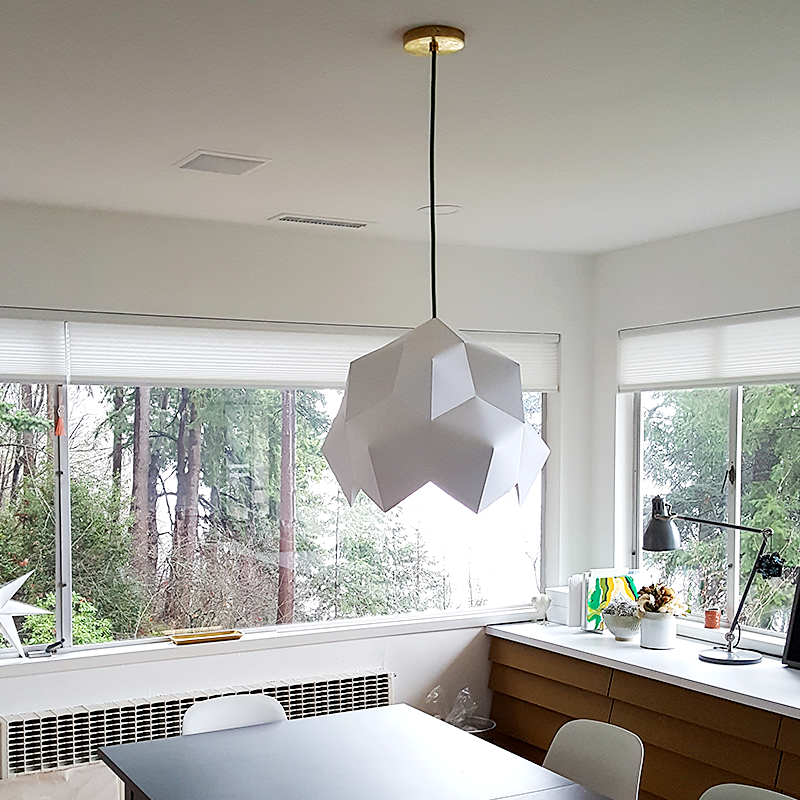 Search
We have been featured here
Full list
here
Search
We have been featured here
Full list
here