IKEA Kitchen plans - to get upper cabinets or not - and a mood board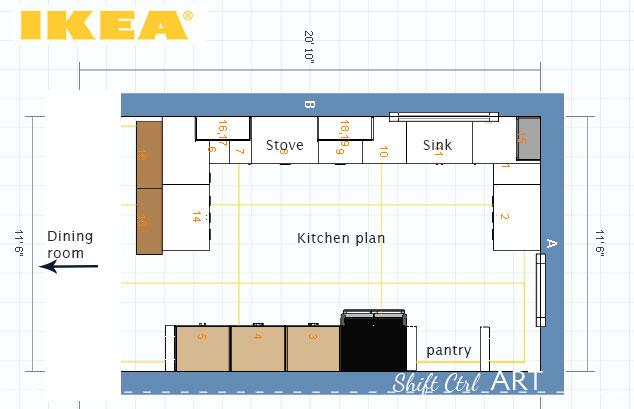 When we set out to plan our kitchen, I first found out that getting cabinetry custom built for our space would be around 15-18K. So moving right along... I then priced it out using IKEA cabinets and Kraftmaid cabinets from Lowes.
First let me show you the plan from above and I think I am not spoiling anything by revealing already that we went with IKEA... You aren't surprised, are you?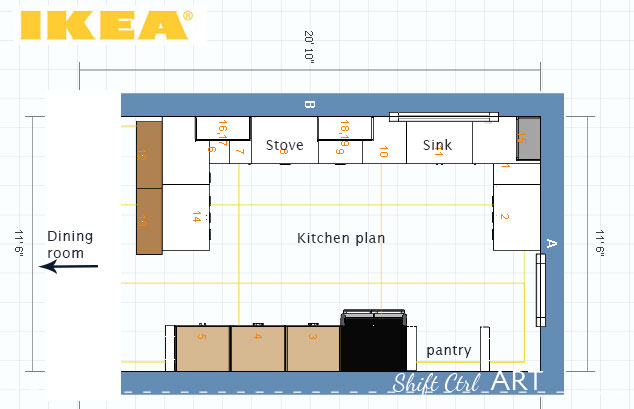 In the compare and contrast portion of the day I give you the Kitchenmaid planning tool, that I was handed at Lowe's. Website only - behind the scenes photo.
It's impressive, no?
Remember that we did some major remodeling before even getting to the kitchen remodel itself. Here you can read more about that
Demo in the Kitchen Part II - let the remodeling begin!
and if you want to see how the kitchen started out you can read about the
The kitchen - and its many challenges - Part I
.
Here are the floor plans of our lower level before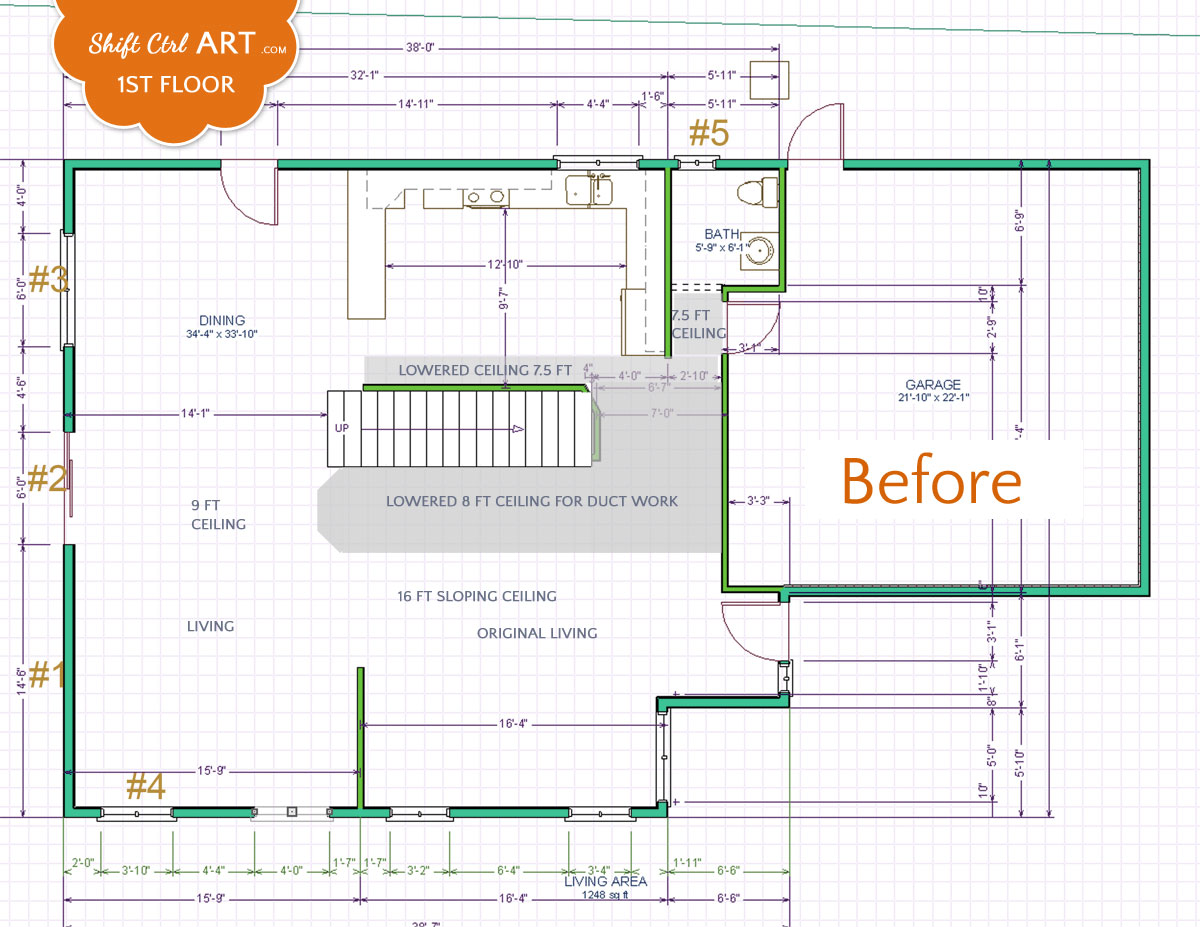 And after so you can see the changed layout for the kitchen.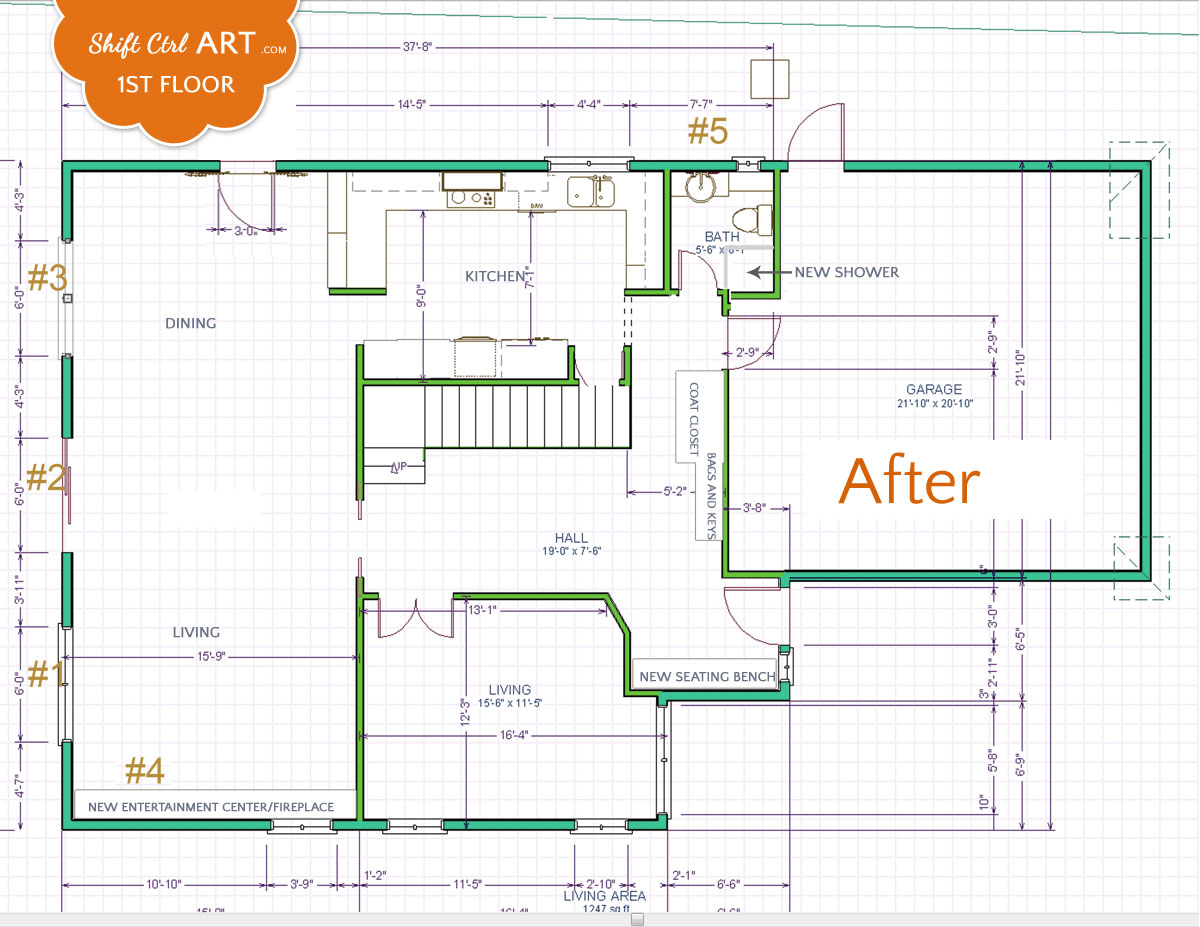 When planning the kitchen, it was suggested to me not to do any upper cabinets as is the current trend in Scandinavia. I gave that a good long consideration. I picked a few pictures so you can see what this trend looks like if you are unfamiliar with it. And really, all I did was to go to the biggest Danish home magazine website
Bo Bedre
and picked the first three kitchens I came across and guess what... none of them had upper cabinets.
As I said: current trend.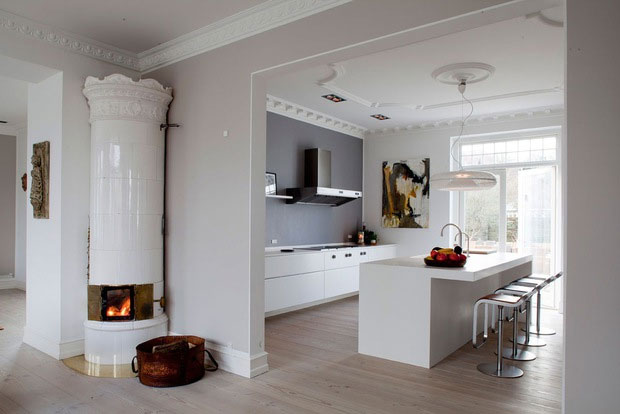 Via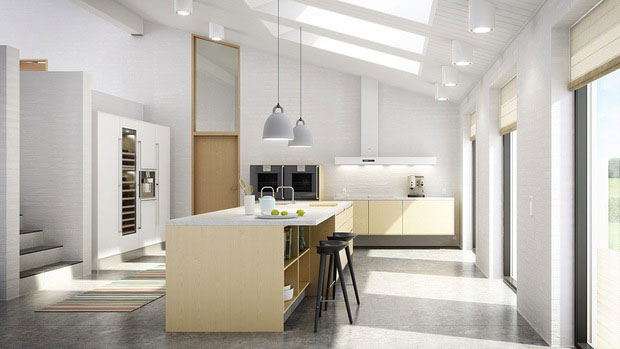 via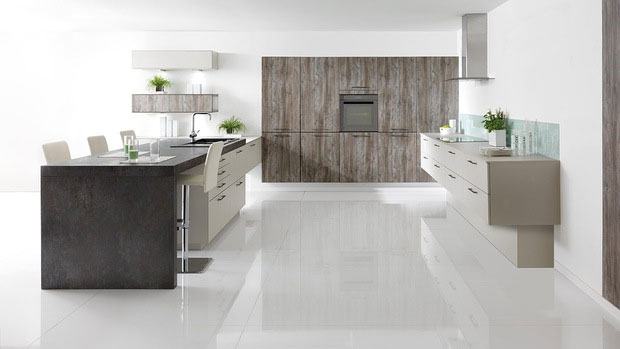 via
After weighing it carefully, we decided that was not for us. The first reason being that we love to entertain and therefore we have quite a bit of glass ware. The second reason is that from a style point of view, I am just not that crazy about the look. I think it has a tendency to look a bit bottom heavy. Third reason was that I was really interested in mixing and matching a few cabinet styles.
I did find it interesting to not just do conventional uppers though. See what we did instead...
This is the selection we made for the kitchen.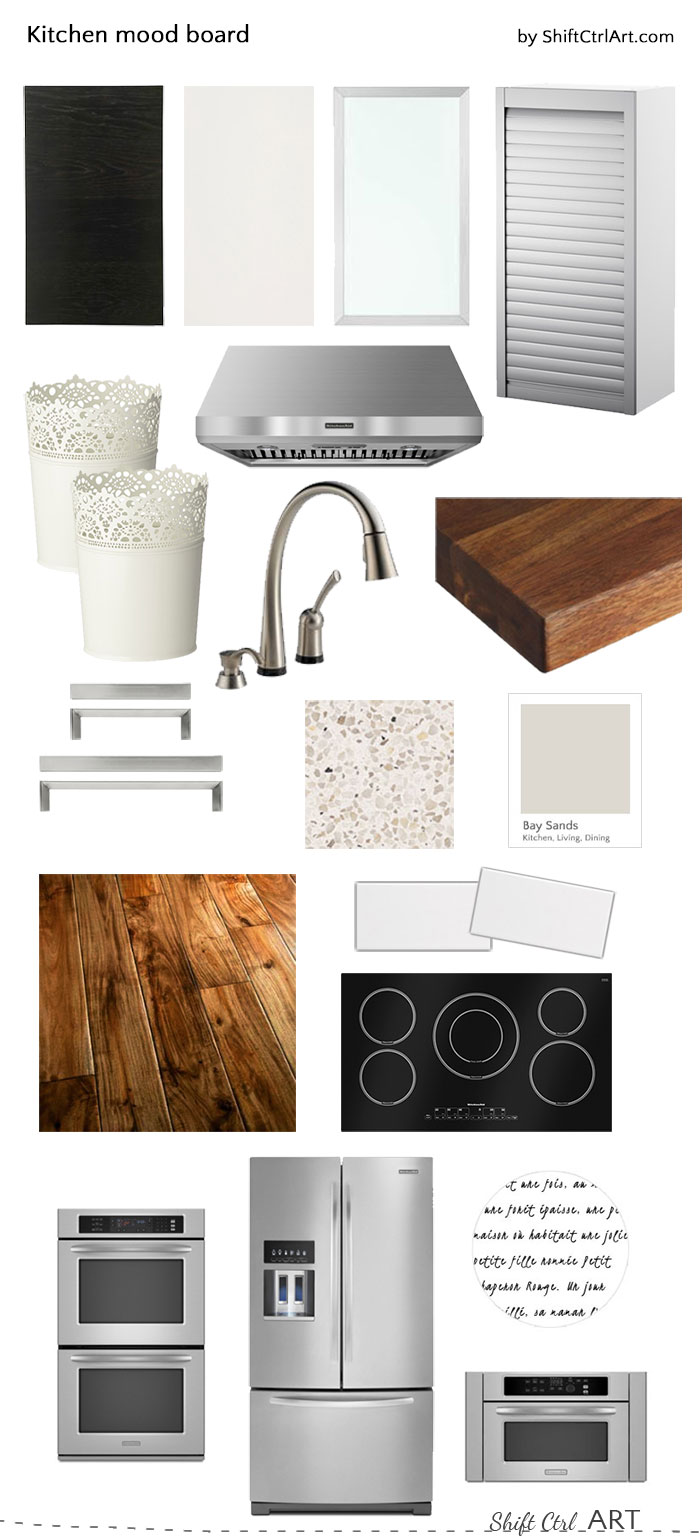 Cabinets, handles, wooden counter are all from
IKEA.com
. Faucet is from
Delta
, All appliances are from
Kitchenaid
, Tiles are from
Home Depot
.Floor is from
Wholesale Woodfloor Warehouse
, Fabric is from
Stof2000
.
I will go over all the products in more detail in later posts.
Here is the 3d renderings of the kitchen.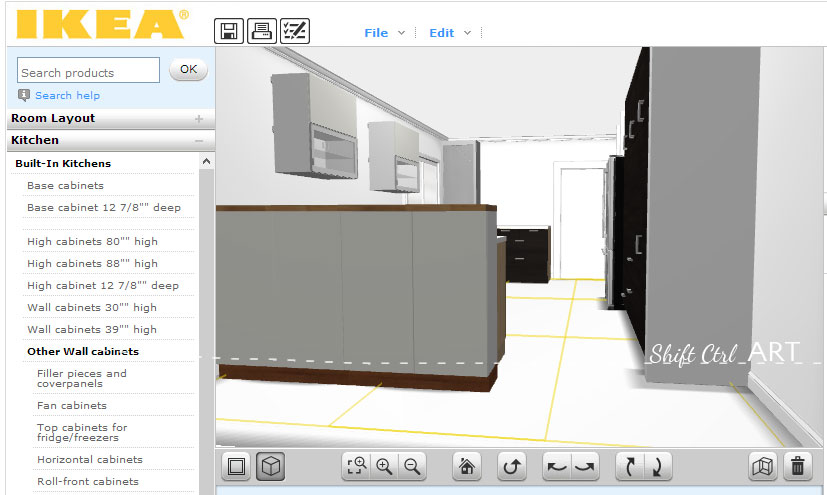 I wanted the kitchen to look quite white in a way when looking at it from the dining room, but then look more dark when you were IN the kitchen.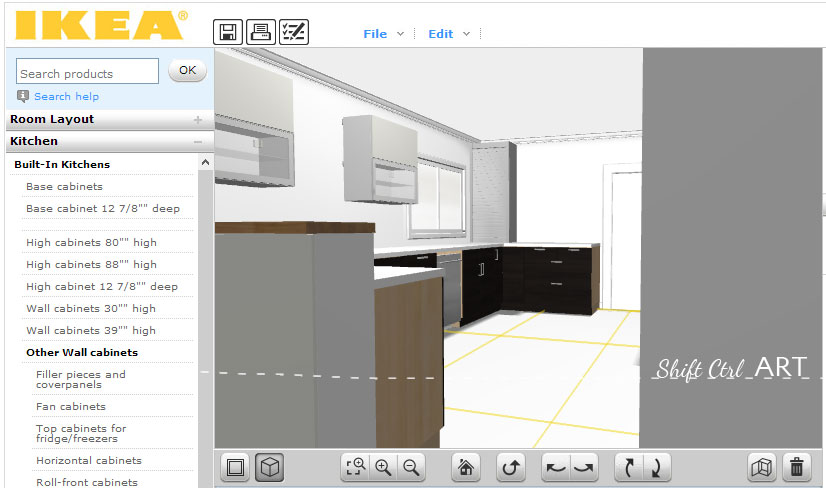 As you can see we chose to do a roll front cabinet in the corner. Always wanted an appliance garage to hide the blender and tea kettle. Next to that we built our own shelves (not pictured). Over the cook top we have a hood - not pictured and then next to that we put up two stacked horizontal cabinets. The upper ones with white doors, the lower ones with frosted glass and aluminum frames.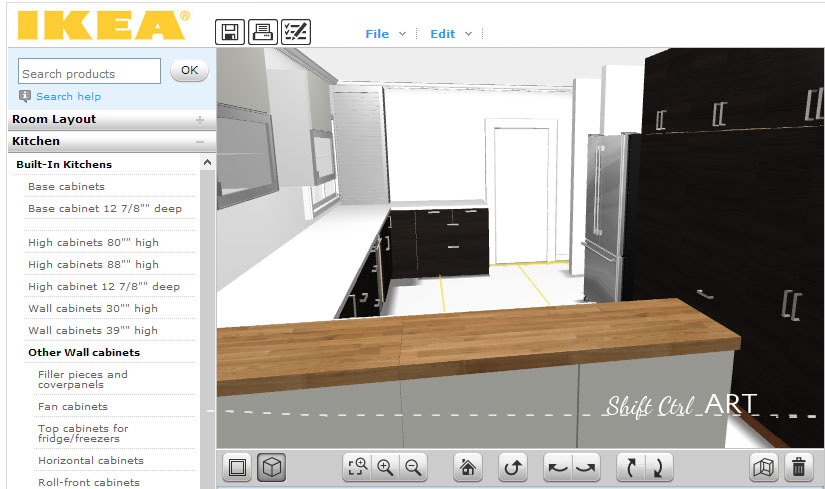 All the tall cabinets and lower cabinets are the black-brown Nexus - they have discontinued that one, but made a similar one called Gnosjö Black.
We used the Caesar stone counters "Oyster" around the perimeter and then used the Numerär oak counter top on the bar with white cabinets underneath.
At the end of the kitchen we built a bar with shallow cabinets underneath.
Oh and price difference between Kitchenmaid and IKEA cabinets (No counters, handles or appliances included). Kitchenmaid was difficult to assess, I have to tell you. I went down to Lowes twice and spent a couple of hours with the lady both time and she was entering things into her computer the whole time, but never was she able to give me a complete price. Also she spent a LOT of time pointing out why my design would not work in a very condescending way (because apparently the way Kitchenmaid is constructed gives you a lot of wasted space so a lot of fillers are needed for corners and next to walls). The approximate price I got out of her on our second "date" was around 11K. Cabinets only. No counter tops.
Then we went to IKEA after seeing this: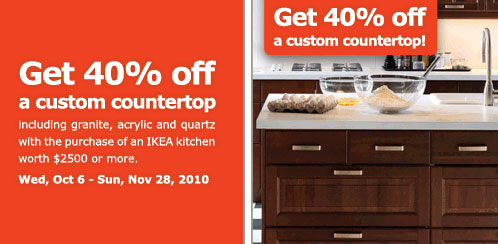 And about a half hour after getting to the kitchen department and getting the best service I have ever gotten in a kitchen department we had a price: $4.534.65 for cabinets.
With the Caesar counter now being 40% off - the most expensive splurge of our kitchen, we got a final price of just over $7K which included the countertop and cabinets and a kitchen sink. Because the kitchen sink was installed on the counter top we also got 40% off on that.
I have not seen this offer at IKEA before or since, so we JUMPED on it even though we were not going to get the new kitchen right then.
Next:
Kitchen remodel: Putting in the new IKEA kitchen
Share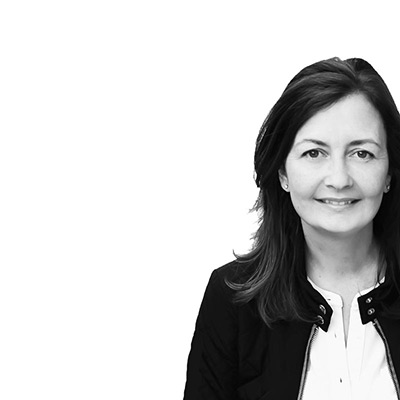 Search
We have been featured here
Full list
here