DIY brick fireplace makeover - It's not a German Schmear - a Danish Schmear?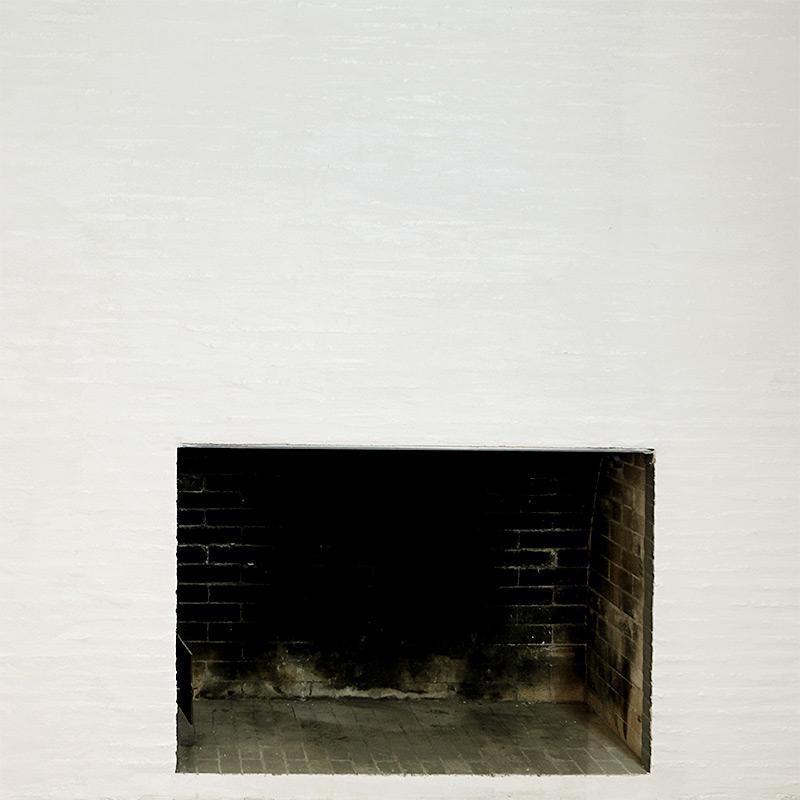 Back when we built a house in the 90s we had a brick island built in our kitchen. The mason who built it gave it a very Danish finish called 'Filtsning'. In Denmark you will typically find this brick treatment on more upscale homes on the exterior because it costs quite a bit in upkeep with Denmark getting frost in the winter and all that. You would also see it on brick widow sills inside or any brick interior.

I haven't been able to find a suitable translation, but directly translated it is something along the lines of Felting - creating a felt-like surface on top of brick maybe?. It is a little like a German Schmear, but that is usually something you see done to whiten the brick in a distressed shabby chic pattern. Not to actually fill up all the grooves in particular. At least the ones I have seen.
And it is not stuccoing because then you can't even tell that there is brick underneath, it's so smooth. It's the Goldie locks in between. Maybe a Danish Schmear? Yes, let's go with that.
---
Here you can see our island from the 90s right after the mason got done building it. The next day he came back and gave it a 'Danish Schmear' - the second picture. And the final picture is after it was painted. Some people leave the treatment unpainted but probably sealed. We painted it because it was going to hold the range so cleanability was a factor.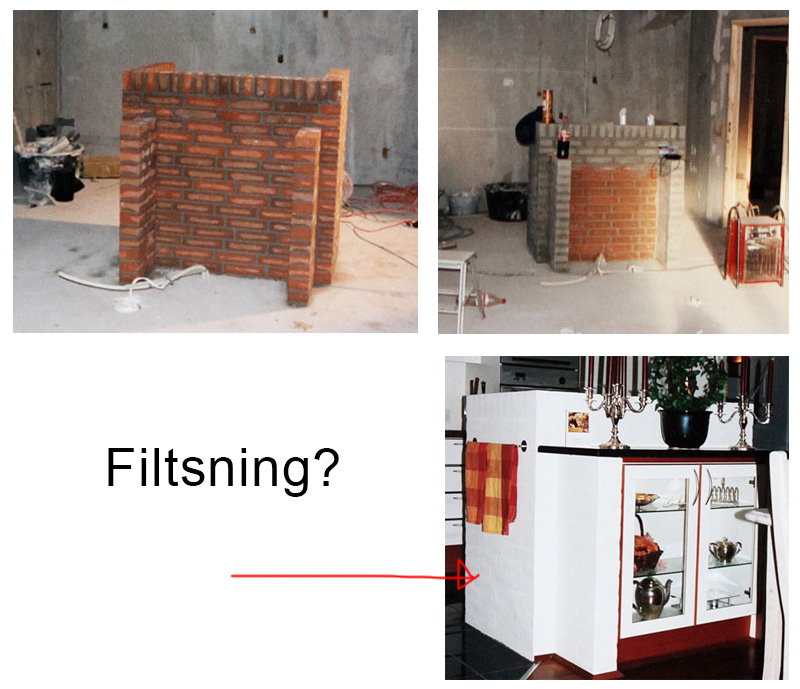 For the longest time I have been itching to try that technique as a DIY. Especially seeing how so many people simply paint over brick to get a more modern look for their fireplace. I think this technique takes it up a nudge from just paint. I just love the resulting texture that it brings to the brick.

So imagine my joy when our new house had a huge fireplace brick wall. And someone had already painted over it, so no guilt. But for a hot minute I considered stripping the paint off, but these are those very nubby 1950s brick - see two photos down a close-up of the texture. Not the regular smooth ones like the ones in our island. It would have been an insurmountable task to get that paint off, I think. Not one I was willing to take on. So I started researching a 'Danish Schmear'. But the products they use in Denmark are so different looking and sounding than what I could match it up to here. I looked at Portland cement, thin-set, mortar, concrete, stucco and that is when a friend of mine who did something similar to her fireplace suggested sanded grout.
So that is what I went with.
Here is the fireplace before. We used an angle grinder to remove old hooks and nails and we also removed a couple of high spots on some of the brick.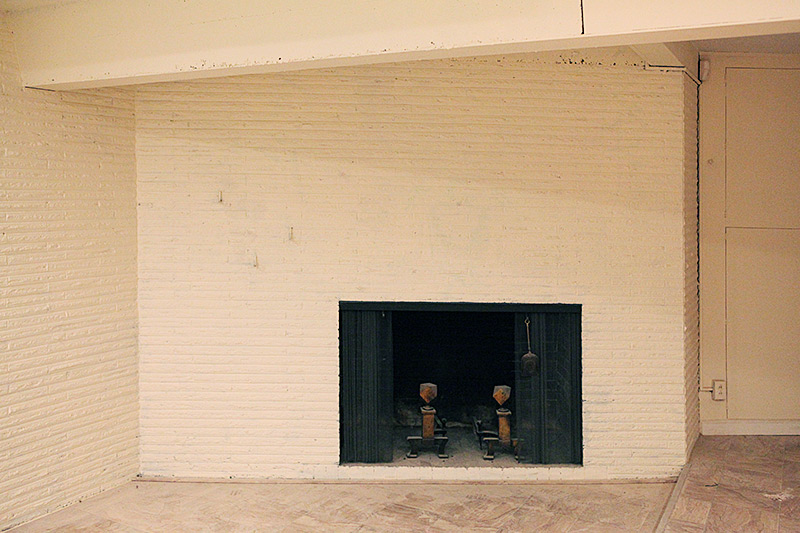 Here you can see that the texture is pretty rough and uneven. And painted yellow.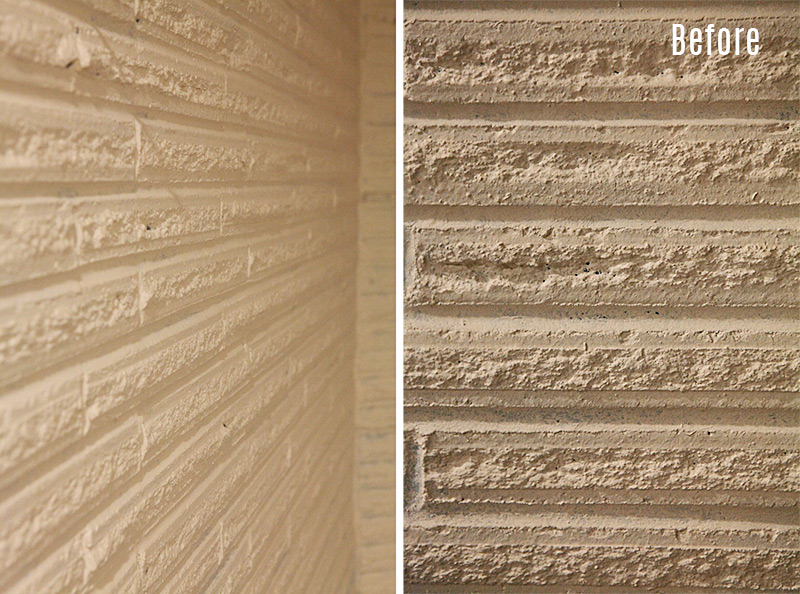 I brushed the brick off with a metal brush to make sure there was no loose brick pieces etc. and then I washed the brick in warm soapy water. After it dried, I primed it.

Oh yeah... did I mention, we got a brand new gas meter installed a couple of weeks ago and we are having a new gas line put into the house, as we speak, before we close up all the drywall after our big whole house re-pipe last year.

Getting gas to the house has been a major want on our list before we get to all the pretty stuff. In the area where we live the electric company has chosen not to spend any money or effort on getting all the power lines underground. While operating in a state that is known for all its trees and occasional storms. (The Pacific North West). So guess what happens a couple of times each winter??? Surprisingly (sarcasm) we lose power in whole neighborhoods. Like we are living in a third world country or something. So weird. By contrast Denmark put all their power lines underground back in oh the 50s or something. Anyway.

The previous owners of our house took out the oil furnace and put in an electrical heat pump system. So guess the temperature in our home when the power goes out in the winter. The temperature drops to brrrrr.
And when the lights flicker at 4 pm, how motivated are you to start dinner? uhm... not very. Nothing like a power outage 10 minutes into boiling potatoes. AmIright?

Also we LOVE the convenience of a gas fire place and I love to cook with gas. So there is that too.
If you follow along on our remodel in the teen den, you now know why we switched from that project to prep for the gas install by doing this brick project in the family room. If you want to follow along in real time with our remodel you can do so when I post stories here: @ahomefordesignfoodcrafts
I demoed the floor in front of the fireplace because we needed to take some accurate measurements of the fireplace insert that is going in here.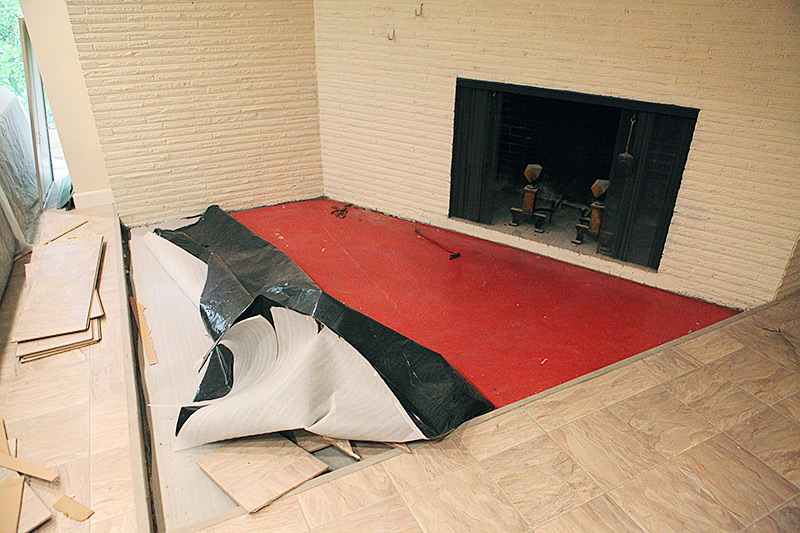 To grout the brick, we used bright white sanded grout and a dense rubber float and a fresh pack of yellow sponges. It is important that the sponge is not too used as the holes in it get bigger with wear and then the texture is not as pretty. So get new sponges for this project.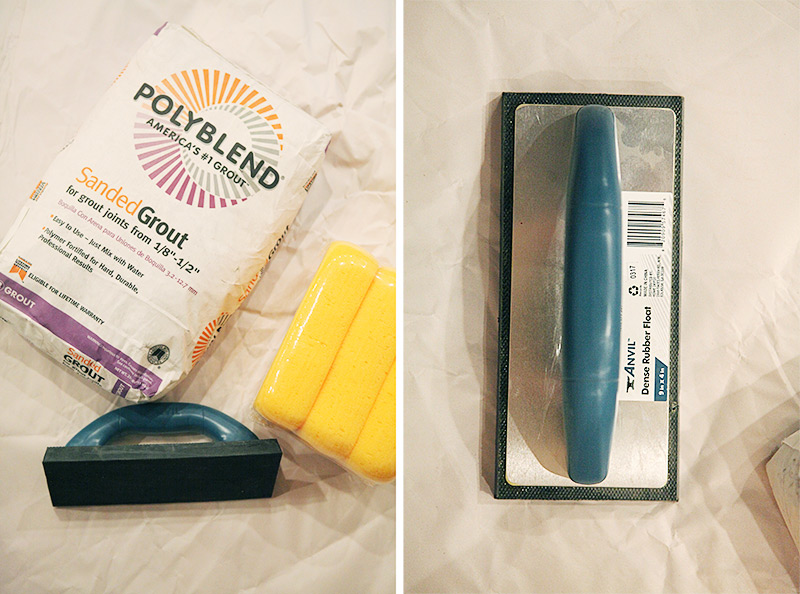 We mixed up the sanded grout with water and a mixer attachment for our drill to a pretty thin consistency. Like sour cream when you first open the bucket.
We used a bucket of water to clean the paddle off right away. Don't want to waste time doing it later when it is all dried up.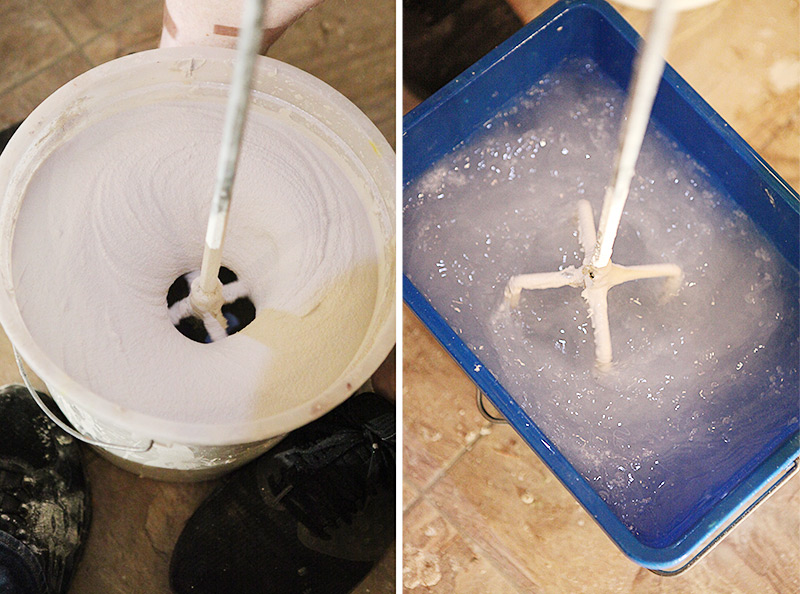 Then I added some mixture to the float and started Schmearing. Like this.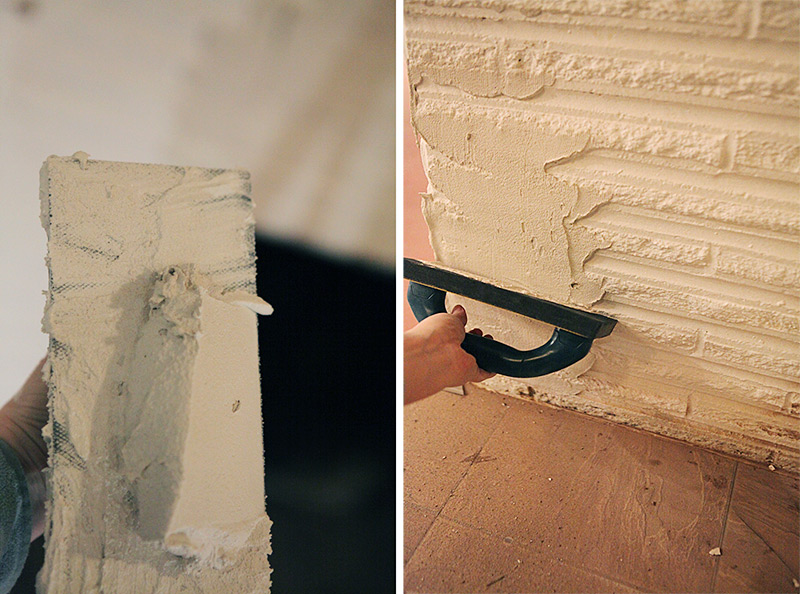 The float being made of rubber makes this process much easier than with a metal float.

I went in an upward motion like this and also a similar downward motion. As well as side to side. Just get it into all the crevices. The surface is not so important right at this time.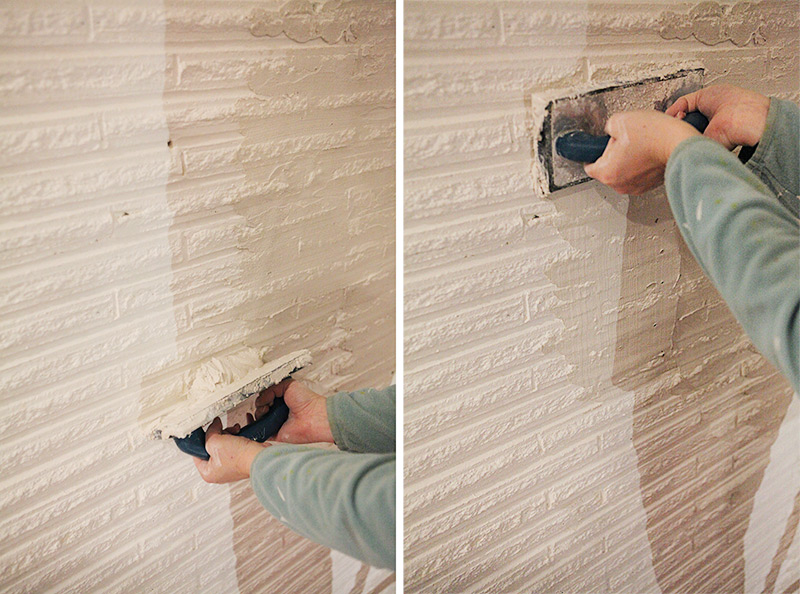 Then let it sit for about 10 minutes, then start sponging over the top.
Important tip: You need to clean the sponge all the time. As soon as you get grout build-up it will start messing up the surface. So rinse and wring, rinse and wring. Use a very light touch to dap-schmear-smoothe (using the technical term here) out the surface while letting some of the brick texture through.
Then go over everything with a clean sponge again. Even lighter. And a few more times. Let out your inner OCD.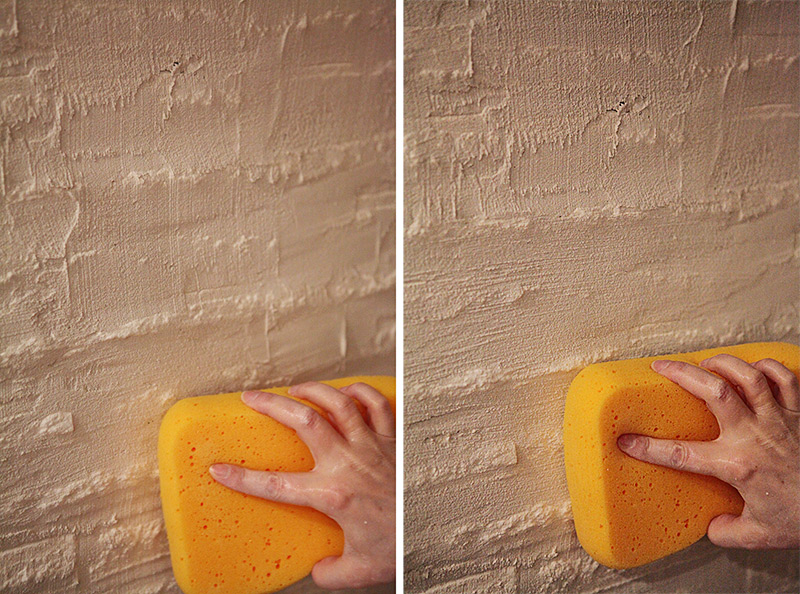 Before and after the sponge.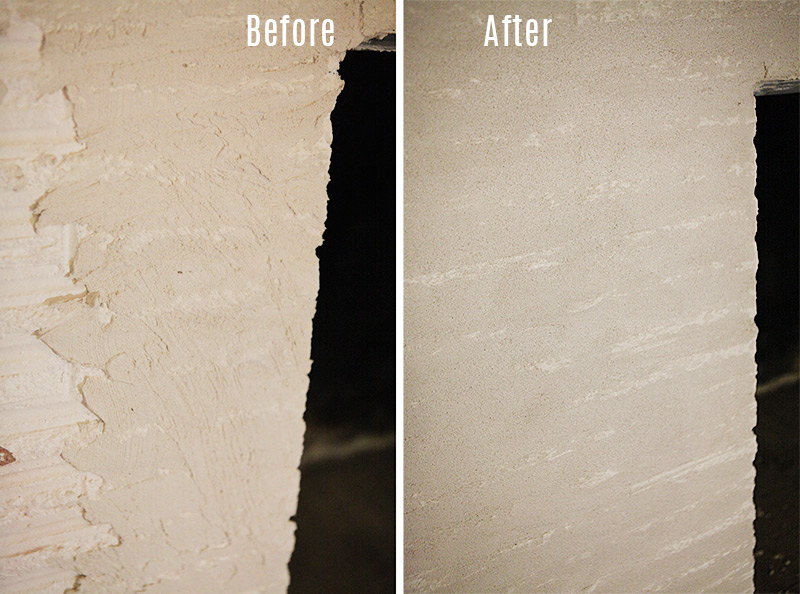 Then you end up with walls like this. Swoon, right?
All in all I used 3 and a half bags of sanded grout at about 17 dollars each. Love it!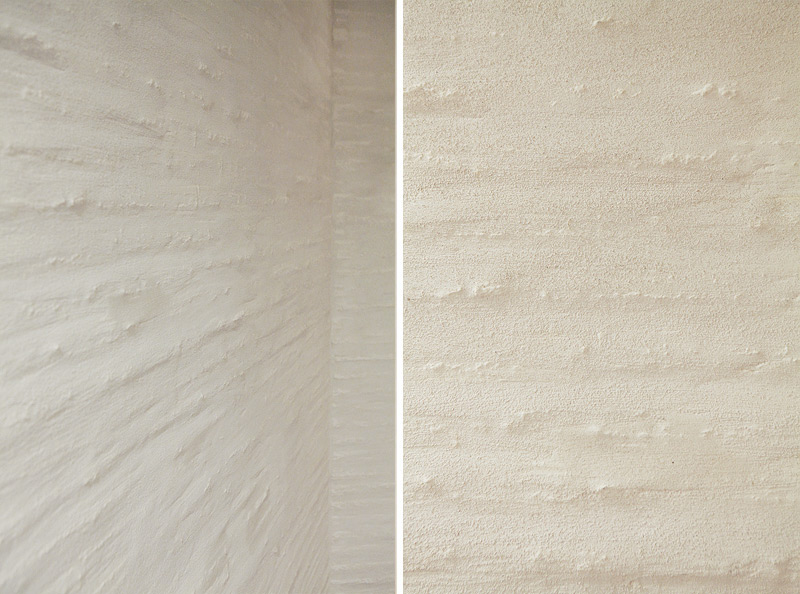 You can paint them, or seal them (grout sealer probably would work, but test it out first) or leave them raw. Each will give a different look. I plan on painting mine a matte white.
The ceiling above the fireplace was pretty rough looking too. Frank took off some of the high spots of cement from when it was poured in the 50s with an angle grinder. Then I skim coated it. I still need to sand and do one more coat and sand again (never ending).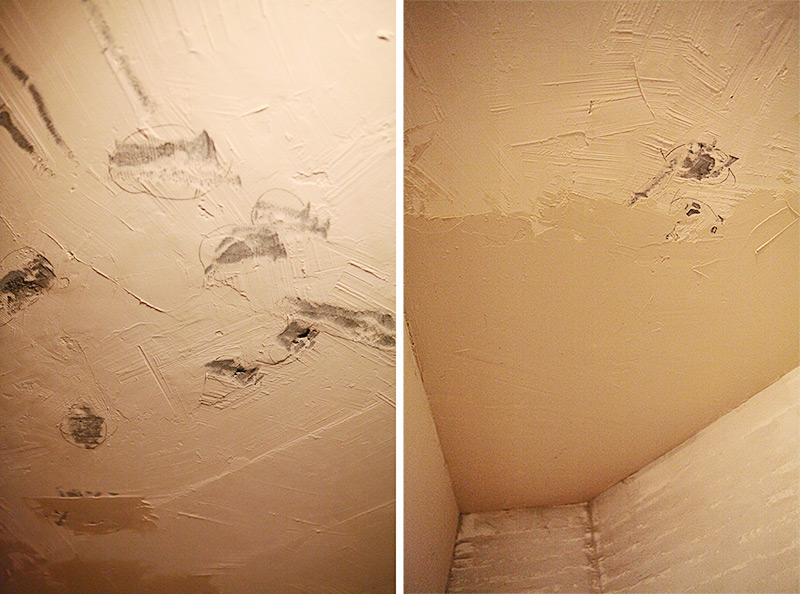 There is a lamp up by that beam. We are going to swap it out for a track light that goes all the way across the fireplace with three spots on it. It will be hidden by the beam. The current light fixture was only operable by a switch on the lamp itself, so to remedy that, Frank put in a switch over on the wall for it.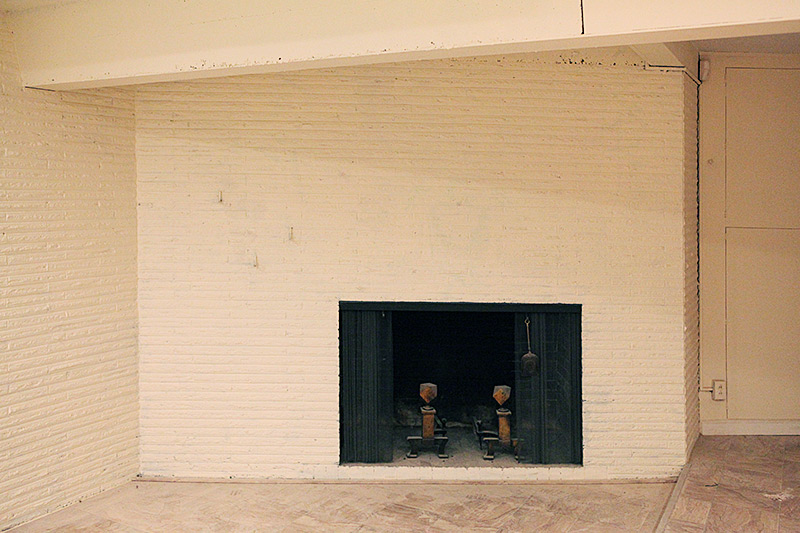 Here you can see that I Bondo'ed in (the pink patches) the holes left from pulling new wires and adding the switch. Once painted you won't be able to see it at all.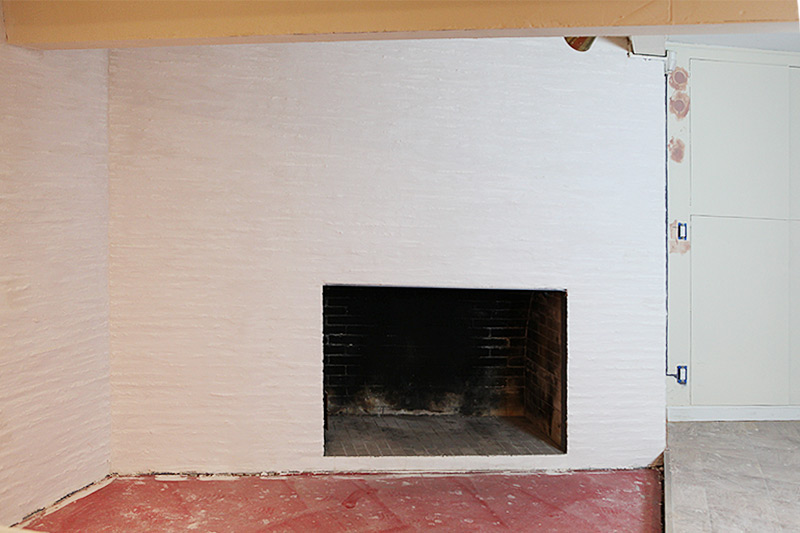 Here you can see the original lamp and where the track light will go instead.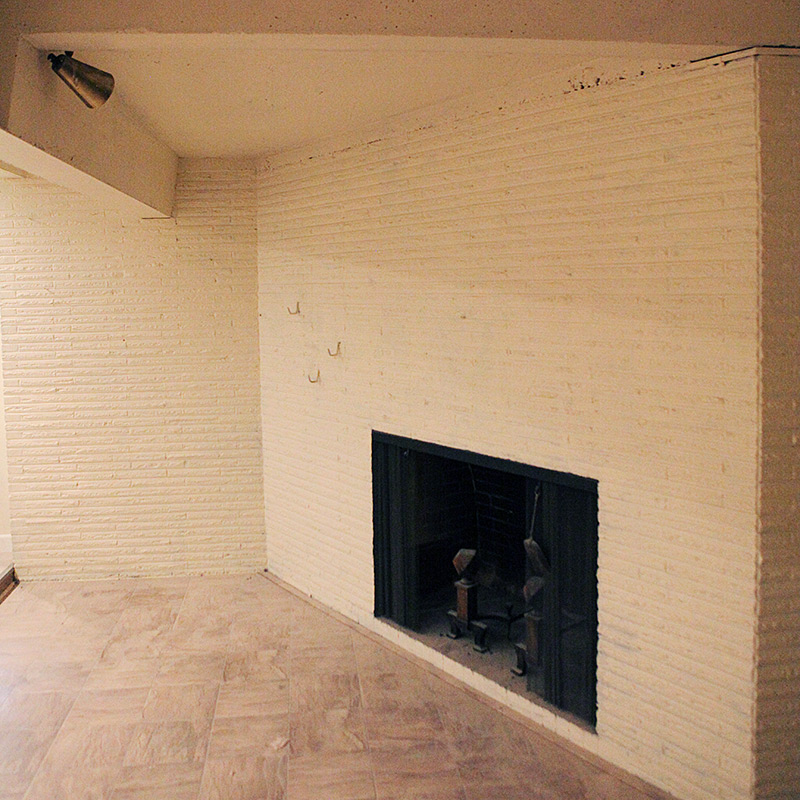 And this is the fire place now. I am thinking about tiling in front of the fireplace. So I ordered samples of the floor for the basement so that I can match up the tiles. They should arrive today. And the fireplace company will fashion a custom black surround for the fireplace and then put a gas insert in there.
And then hand me the remote to it.
I will turn it on and it will be glorious.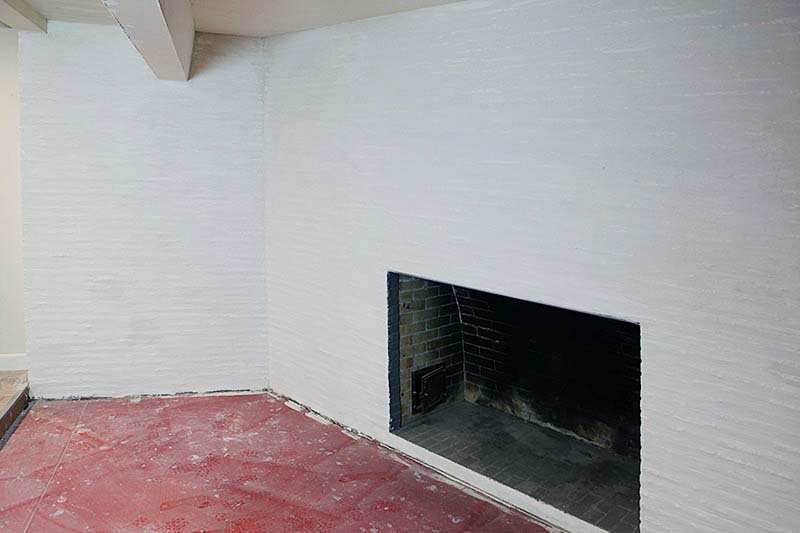 I just love this new texture of our fireplace make-over so much.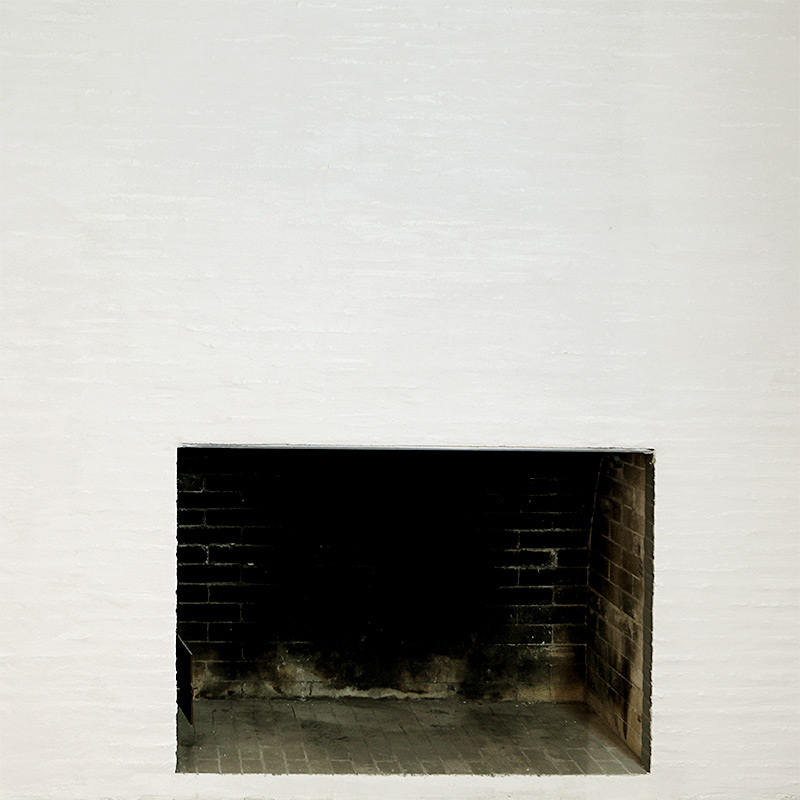 Please pin this: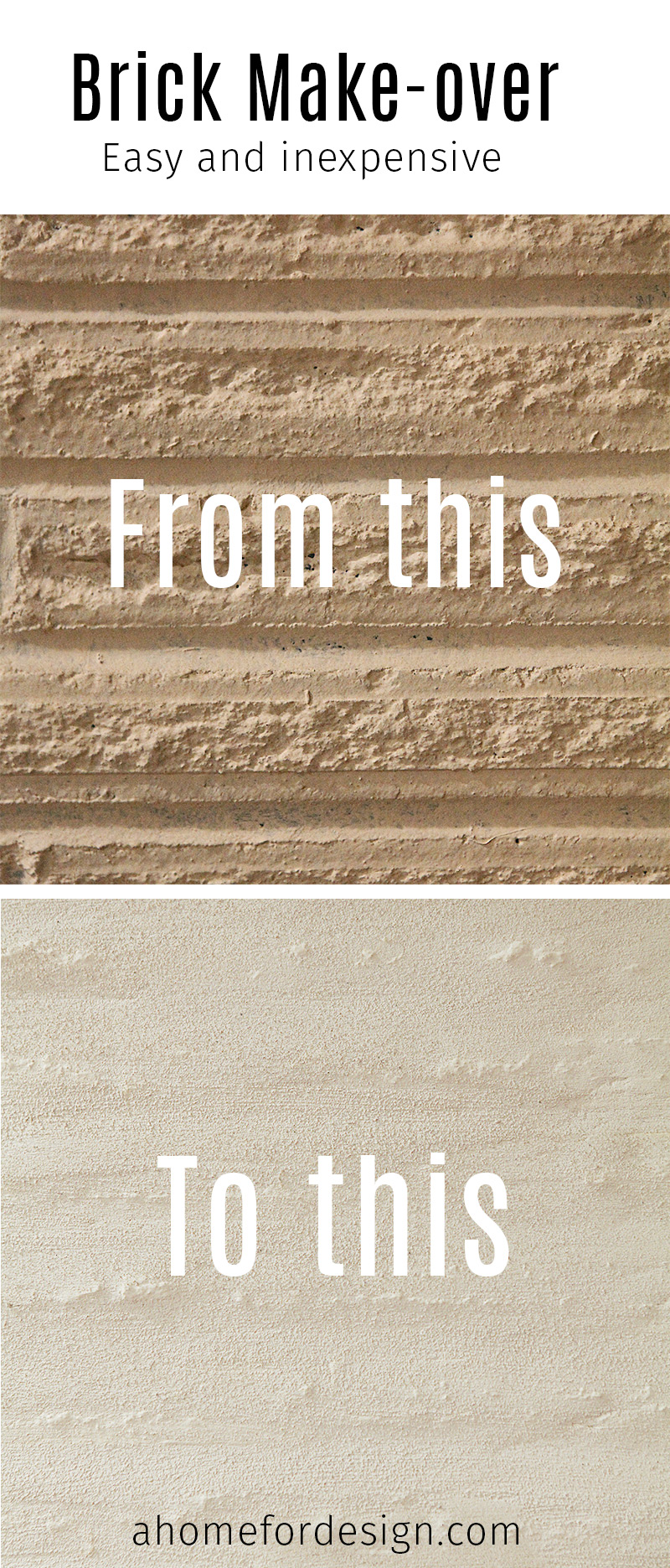 Share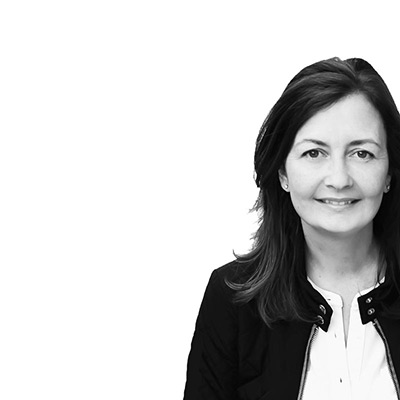 Categories
DIY brick fireplace makeover - It's not a German Schmear - a Danish Schmear? is posted in the category
Before & After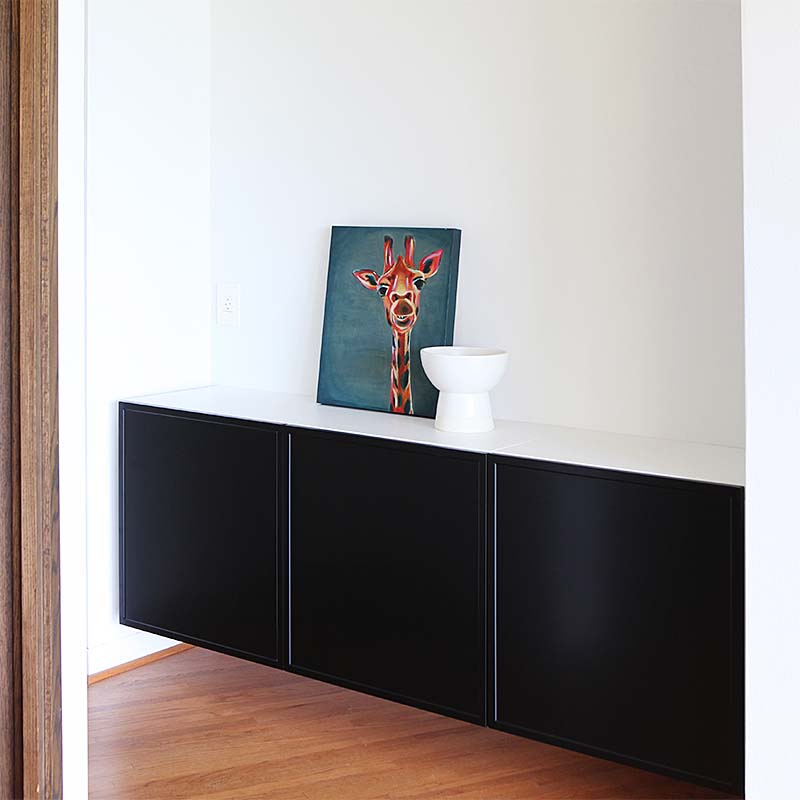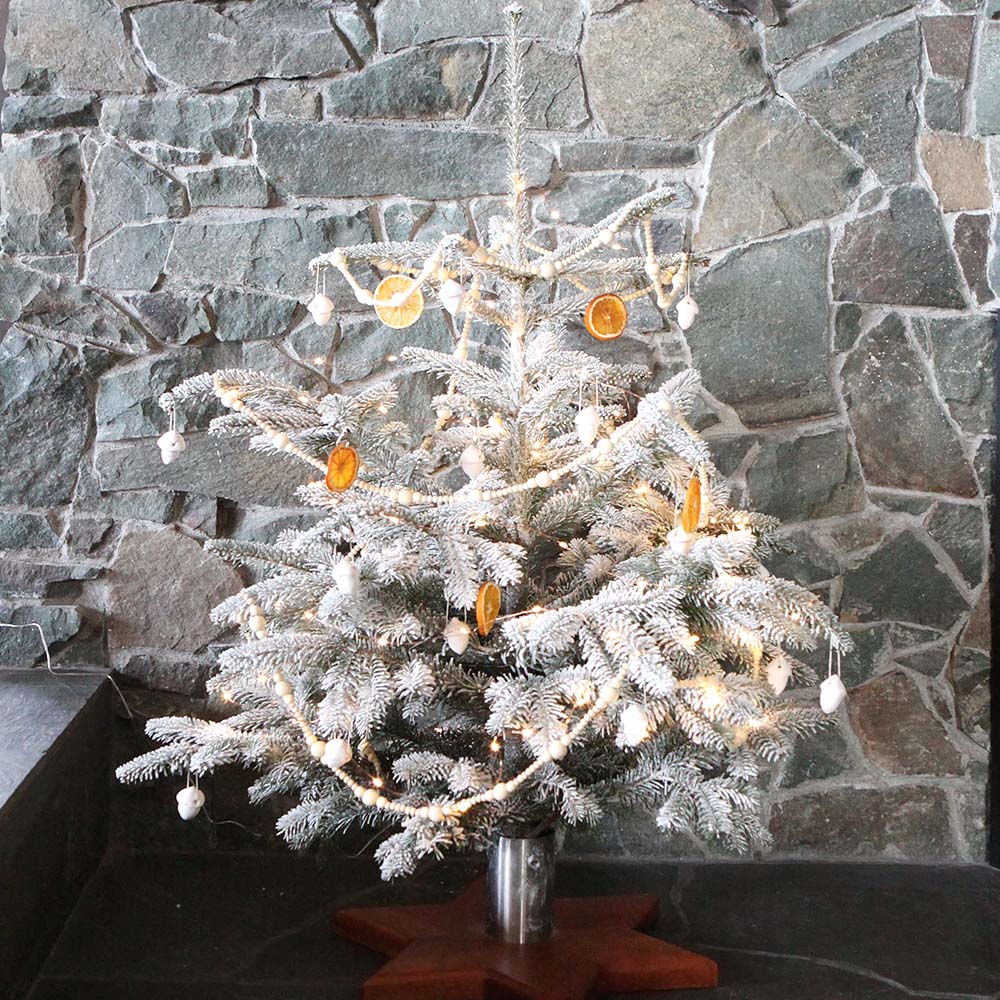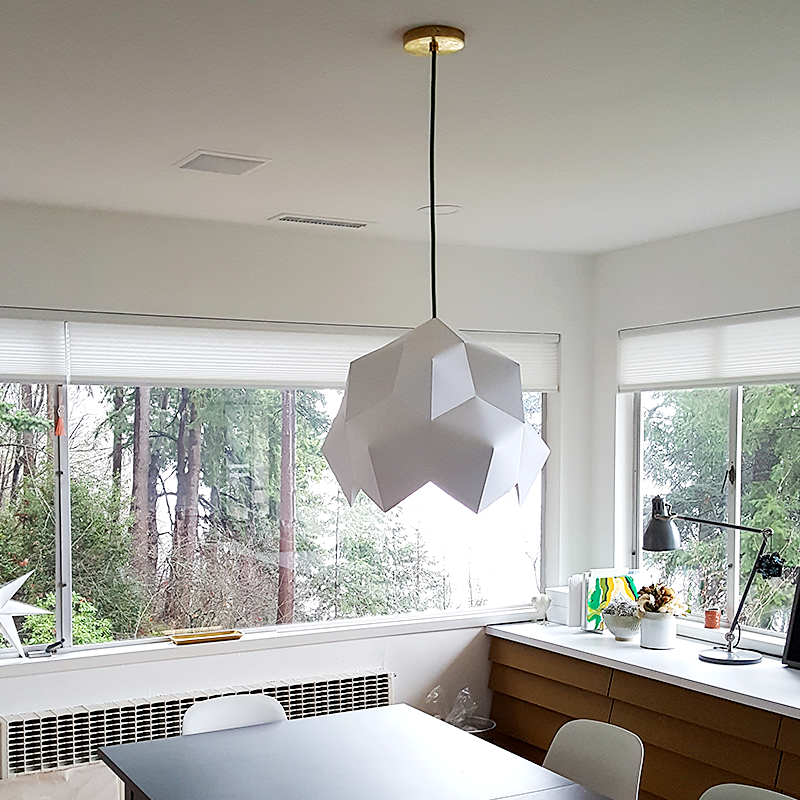 Search
We have been featured here
Full list
here
Search
We have been featured here
Full list
here