Paleo bread - grain and gluten free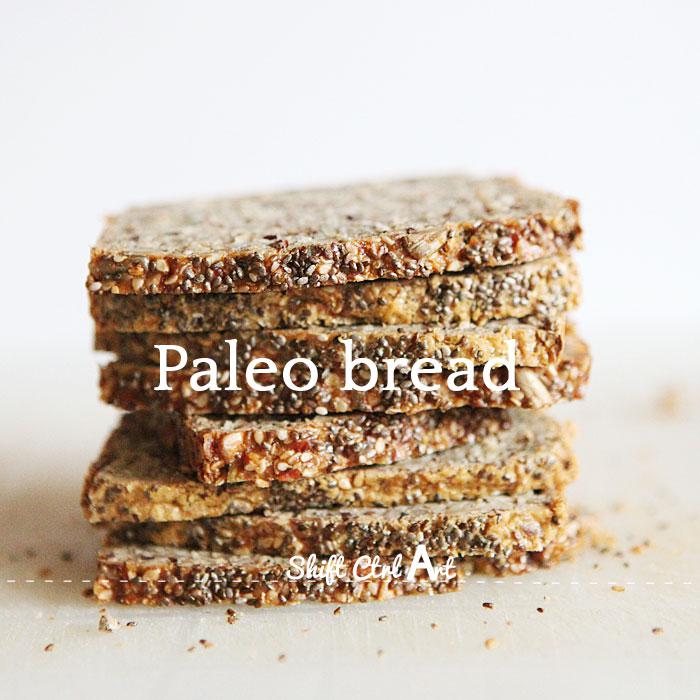 This bread, when you slice it, is better than even before sliced bread.

Would you believe if I tell you that this bread is tasty, holds together well, is not dry (I am trying not to say moist, but that is really what it is) and best of all: It has no flour or grains in it or any mystery products what-so-ever.

I found a recipe for it here, that I quickly amended to my own tastes.

Here is my version

100 grams of almond flour. I use this one.
100 grams sesame seeds
100 grams flax seeds
75 grams pumpkin seeds
150 grams sunflower seeds
2 tbsp Chia seeds
1 dl water
1 1/4 tsp salt
5 eggs.

Some Chia seeds for sprinkling.

Converted to US measurements:

1 cup of almond flour. I use this one.
3/5 cup grams sesame seeds
1/2 cup flax seeds
1/2 cup pumpkin seeds
1 cup sunflower seeds
2 tbsp Chia seeds
2/5 cup water
1 1/4 tsp salt
5 eggs.

Some Chia seeds for sprinkling.

That is, if you are really into measuring and stuff. I bake this bread. A lot. Here is how I get done faster:

I keep all my seeds for the bread in its own basket so I can easily carry it into the kitchen when I want to make a quick loaf.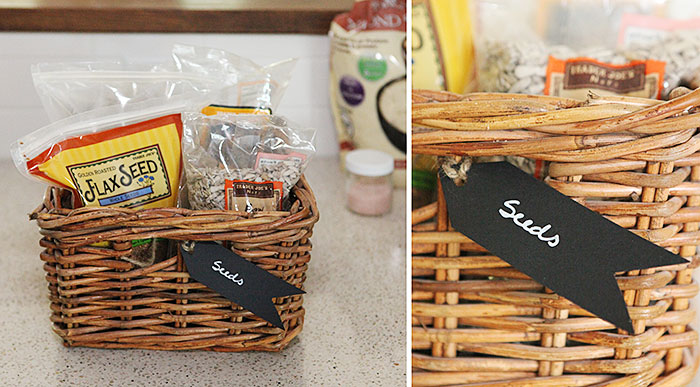 I even made a fancy label. You can read more about how I set up my pantry here.

Then I put a bowl on top of my scale. Set it to 0g with the bowl on it. And then I just pour a little of this, a little of that. I also still add about a fifth to a fourth almond flour.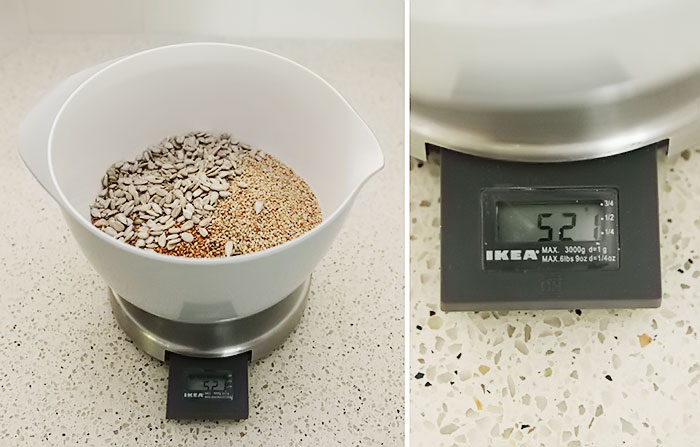 When the scale hits around 525 grams I stop.

That comes out to about 4 cups of seeds and almond flour mix. I guess you could also mix a big bag of it all, then scoop out 4 cups for each loaf.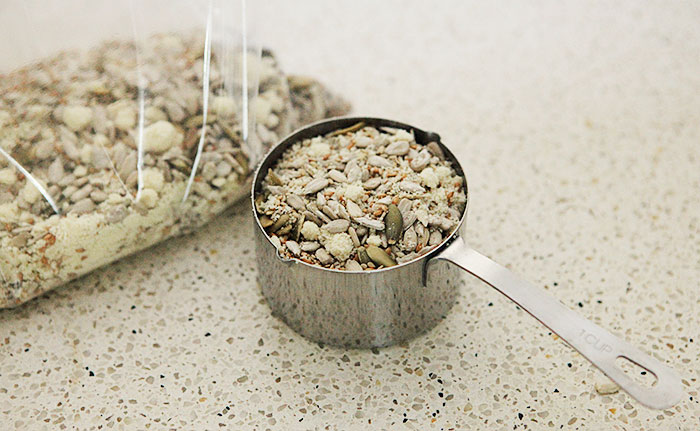 Then I add a little water and 1 1/2 tsp salt and 5 pastured eggs in one go. Then I stir a good bit.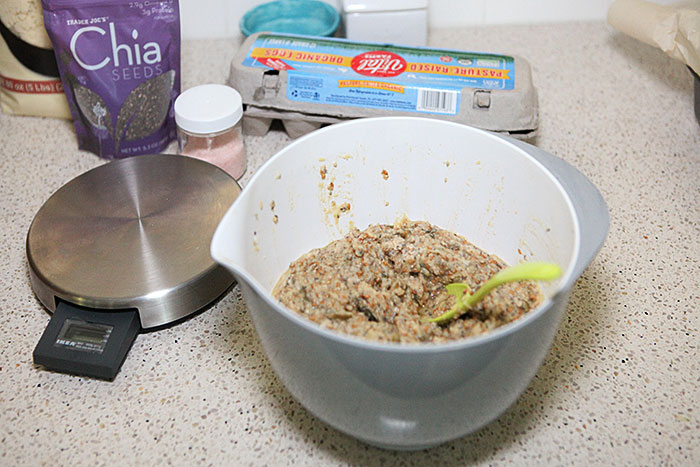 I add the mixture to a loaf pan with parchment paper inside. This makes clean-up a lot easier.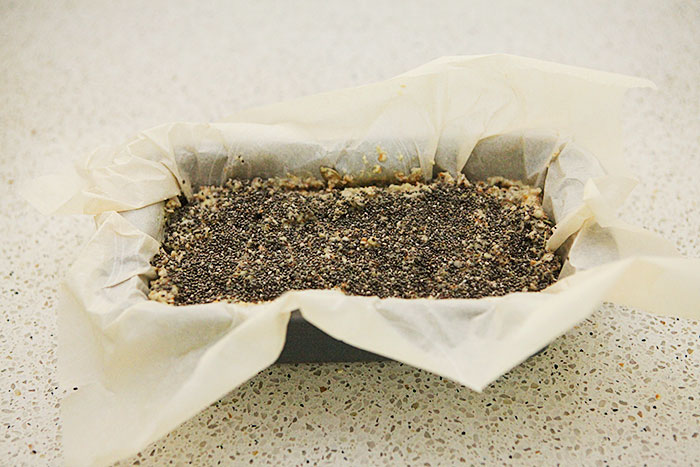 Into the oven it goes for an hour at 380F (which my convection oven automatically calls 355F, but it works)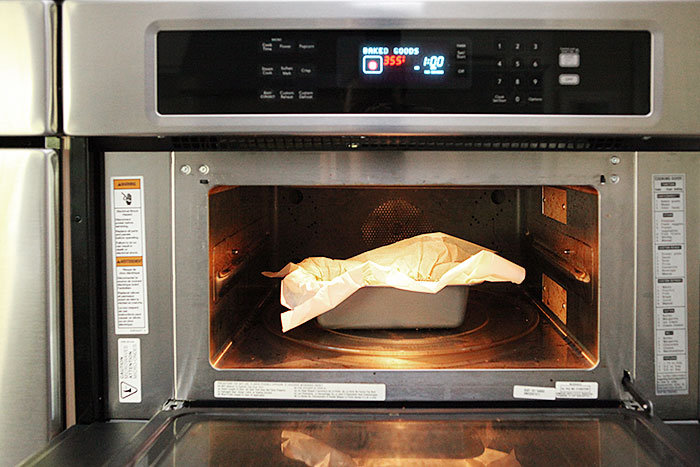 Bake in the oven for an hour at (360F)180C when baking to make sure that the loaf is baked through. Or higher or lower depending if your oven runs cold or hot.

Remove, let cool, remove from loaf pan.

It should be kept in the fridge and will then last 5-7 days.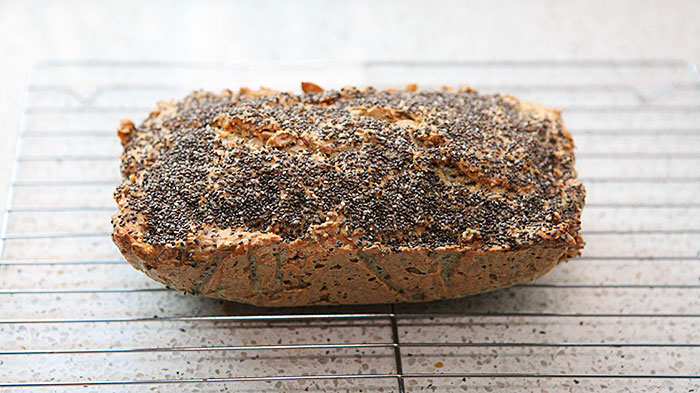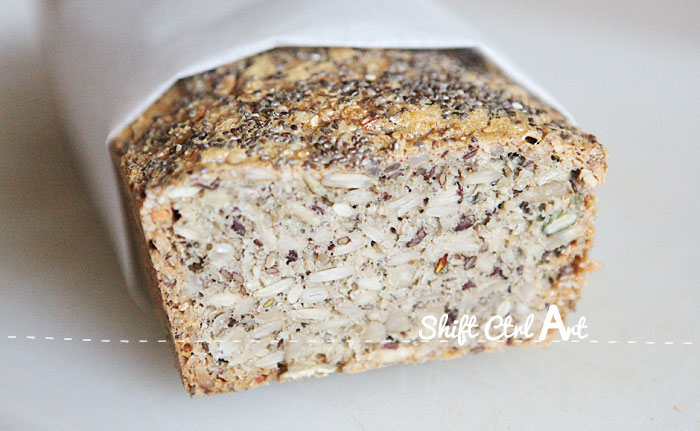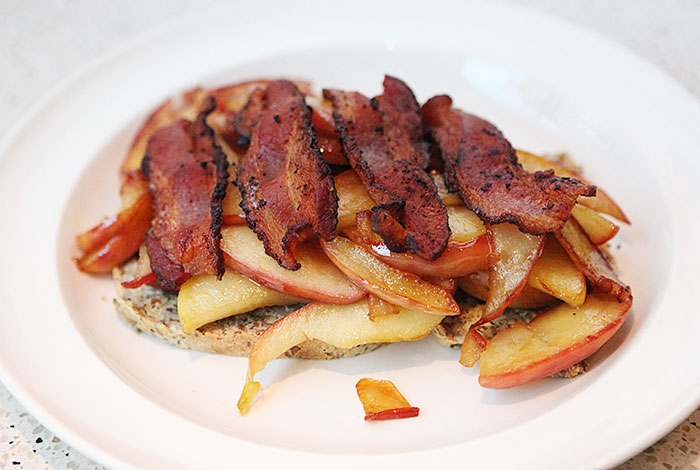 Here is a Danish Christmas dish: Fried apples with bacon on bread. Yes the bread is under there. What are you talking about.

It is also very good with dinner like this. Toasted is also really good.

Here I had Burger patty with fried onions, asparagus and a salad of spinach, kale and chard, cabbage with some organic grapes and a slice of "bread".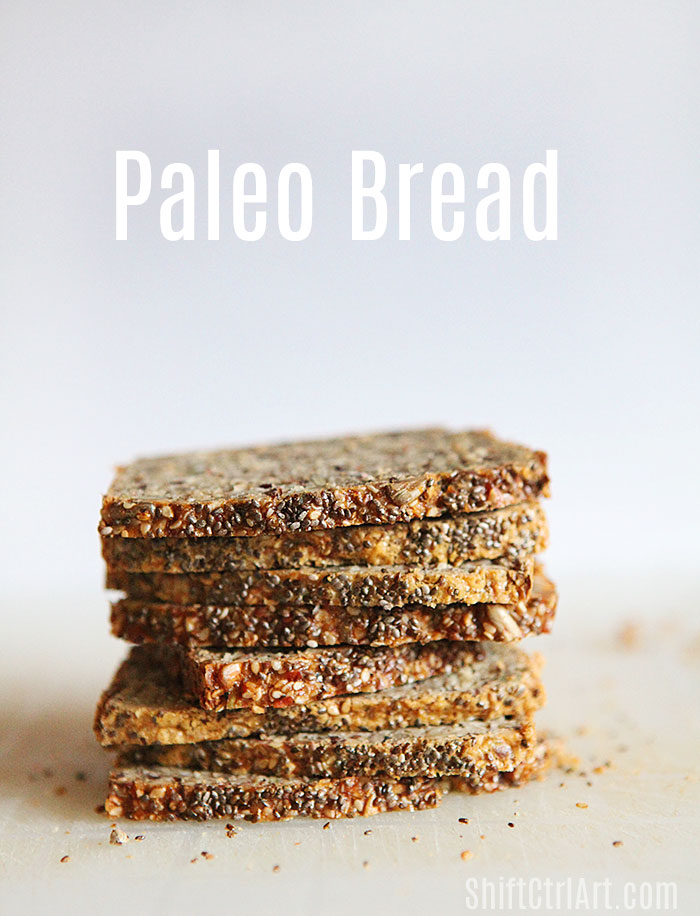 Find out what else I have been eating here while losing 22 pounds.

Here is my favorite cake. I bake this at least twice a month, sometimes more often. It is very good.

Share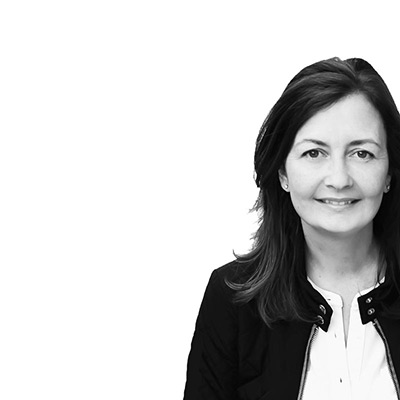 Search
We have been featured here
Full list
here