Trend spotting in new construction - California 2013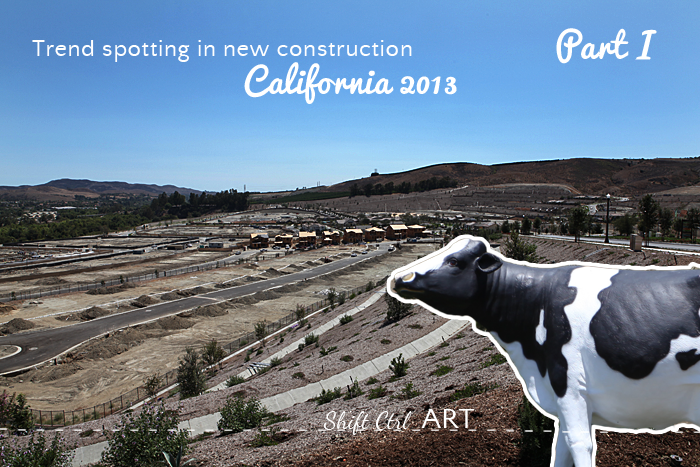 Last week, I was driving B to his Python class (Minecraft modding - nothing to do with snakes) and I drove by this new area that is being built and a big sign: "Model homes!". We'll get to the cow in a minute.
Back when dh and I
built a house
, we toured quite a few model homes, but of course that's a long time ago.
In the last decade we have moved between numerous apartment rentals and house leases - all from the circa 90s era, so I have a good idea of what the building trends used to be here, back then.
Curiosity killed the
cat
cow so I swung by the other day with my camera in tow to see what a model home looks like these days and toured 14 builder's model homes by four builders. I'll show you the highlights from two builders today and two tomorrow.
Let's play 'I spy'. Under each image I will tell you what stood out to me that the builder did (attached to the house) and what the stager/designer did (furniture and accessories), then in the comments feel free to let me know any trends you spotted. It'll be fun!
First builder is
Ryland
.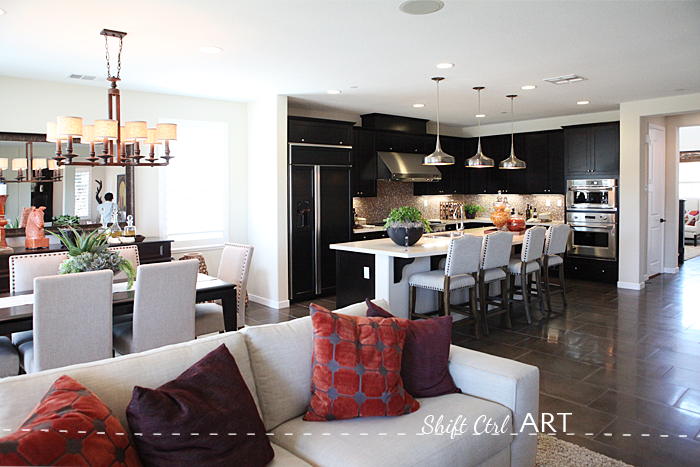 I spy statement pendents over the island, straight up and down vented hood, tile that is more than twice as long as they are wide and they are gray.
Chairs with nail head trim. Pillows with contrasting colors.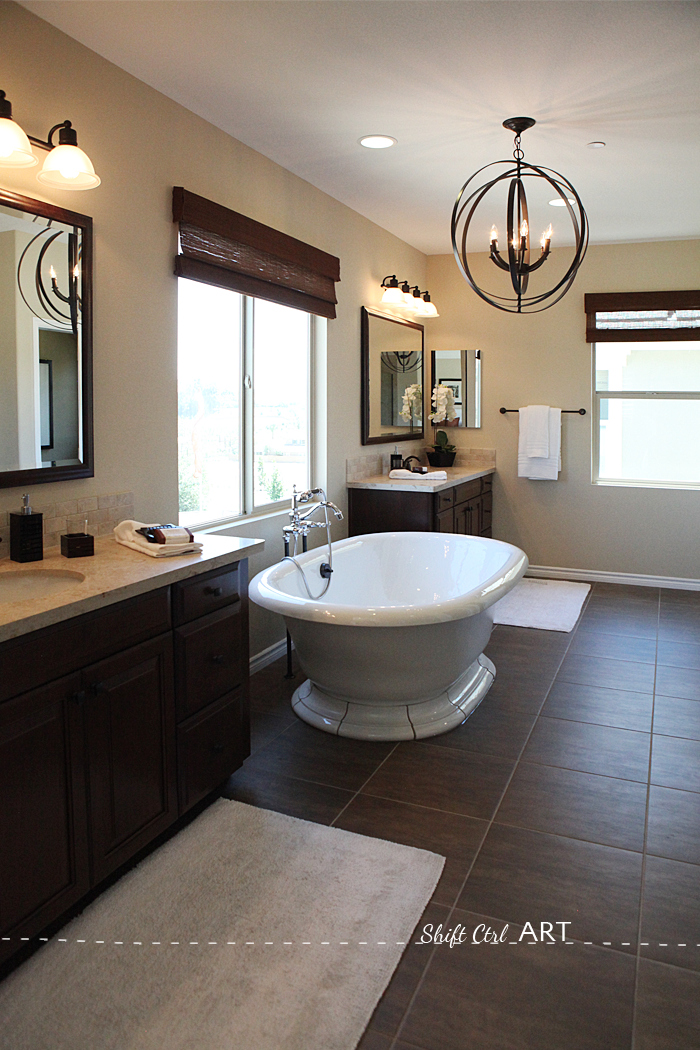 I spy a free standing tub and statement light fixture. Over-sized floor tile not laid on a diagonal.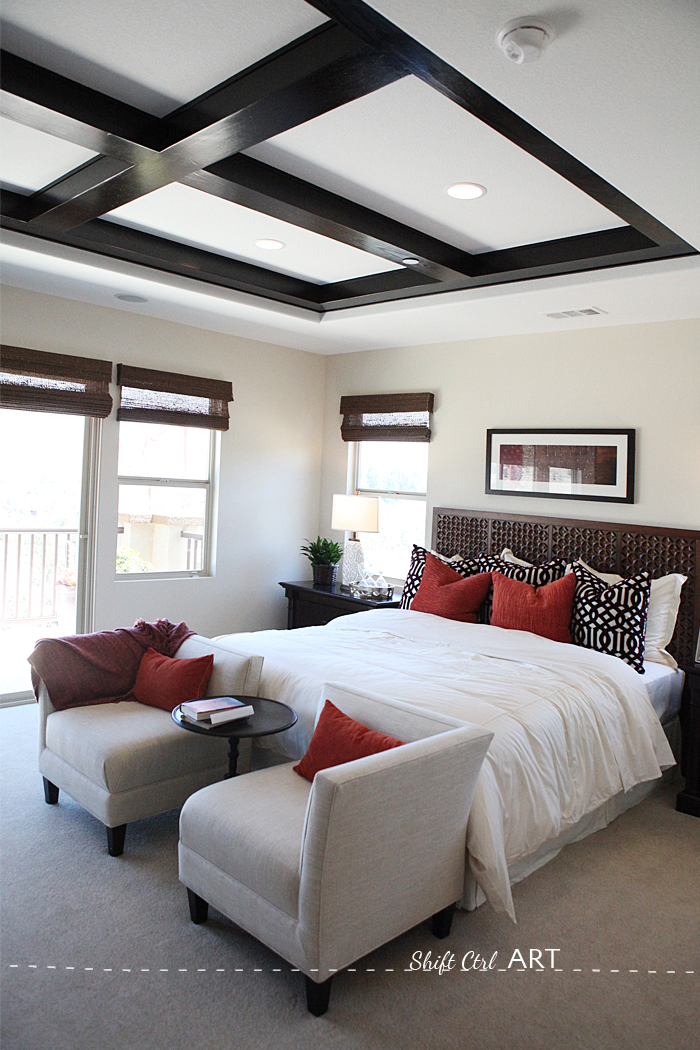 I spy a vaulted ceiling with gorgeous beam detail. Bamboo blinds.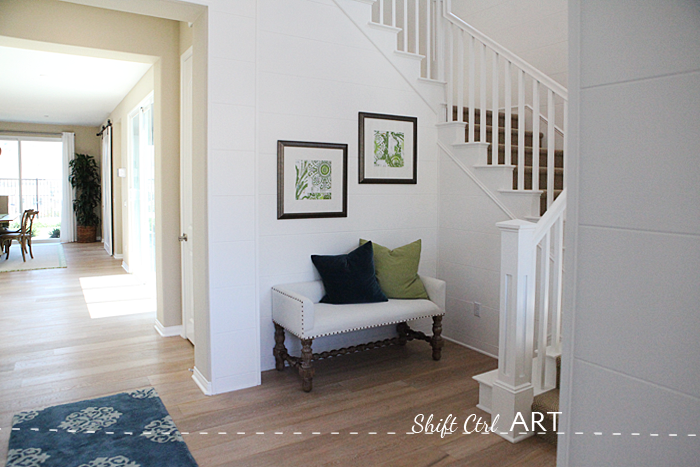 I spy an entry hall with room for a bench. No more walking straight into the living room. Also wood spindles are back to replace the trend of wrought iron spindles. This stair case is so pretty!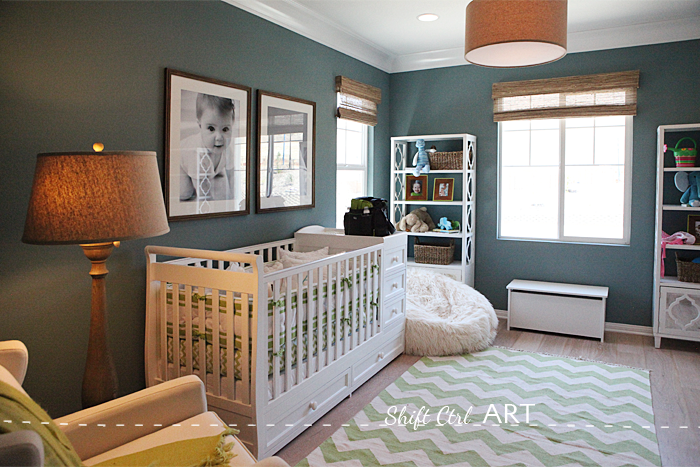 I spy an over sized crown molding, not frilly. Love that. Love that the crib and changing table are one piece = space saver. Moody wall color, chevron rug and over sized black and white photos on the wall.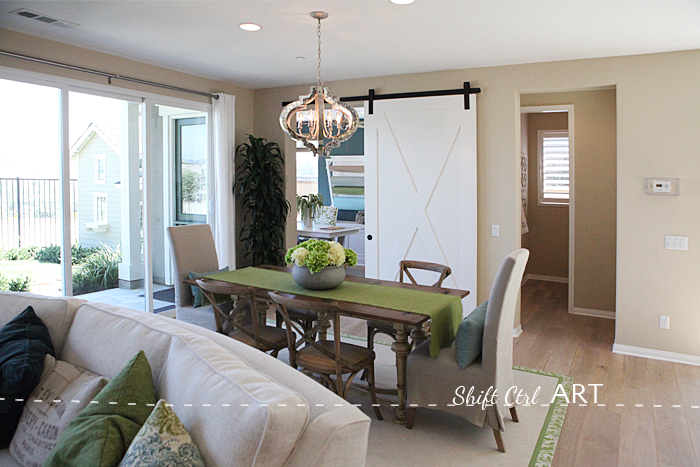 I spy a sliding barn door with black hard ware. Lovely wide plank light gray floors. Fold-away patio door. Mismatched dining chairs. So pretty.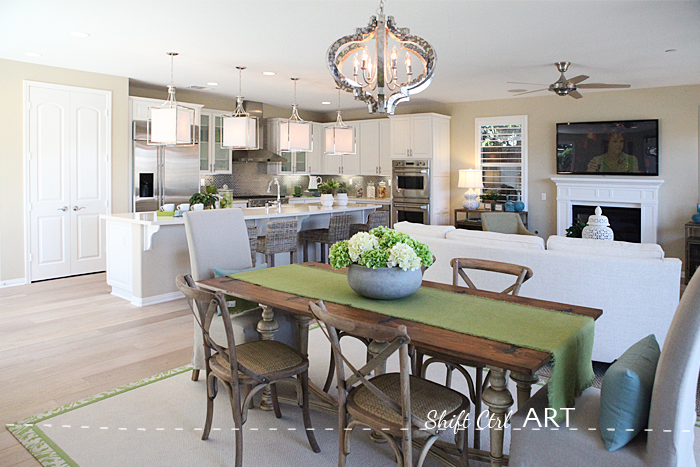 I spy a white kitchen with over sized pendents. Also a white sofa!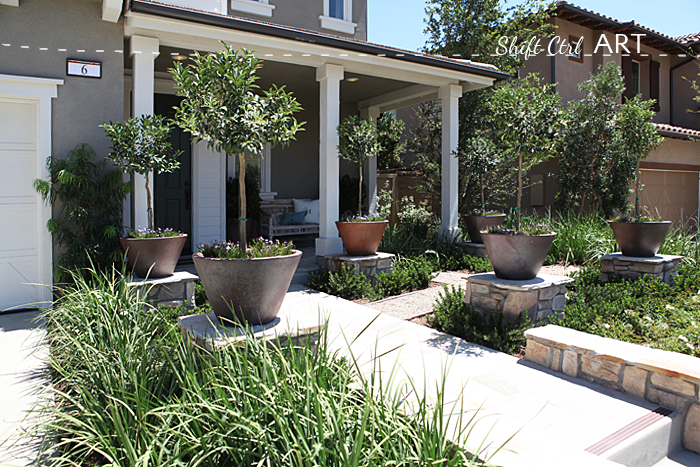 I spy outdoor pots and what you can't see is that they have all been supplied with irrigation. Really smart idea!
Still thinking about the cow?
Next builder that I visited is
SeaCountry
. They like cows. I just know it.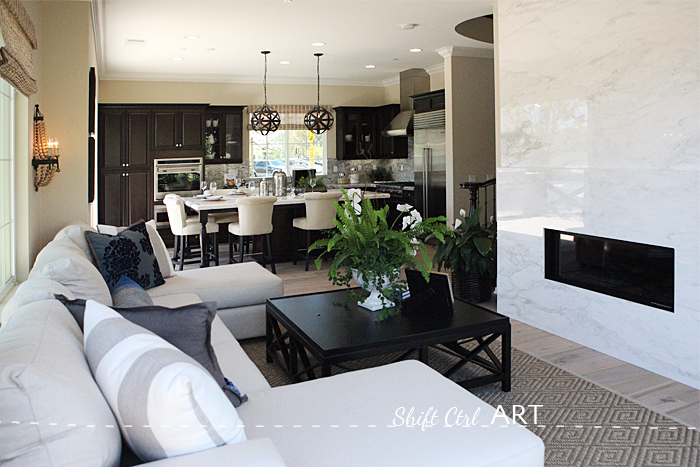 I spy a minimalist fireplace with floor to ceiling marble and gorgeous wide plank light gray-washed floors. Statement pendents over the bar. A light sofa with double chaises.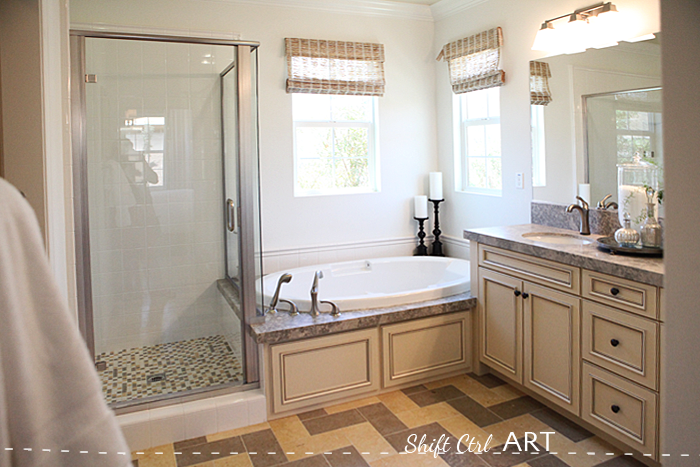 I spy a really cool zig zag patterned tile floor and bamboo blinds.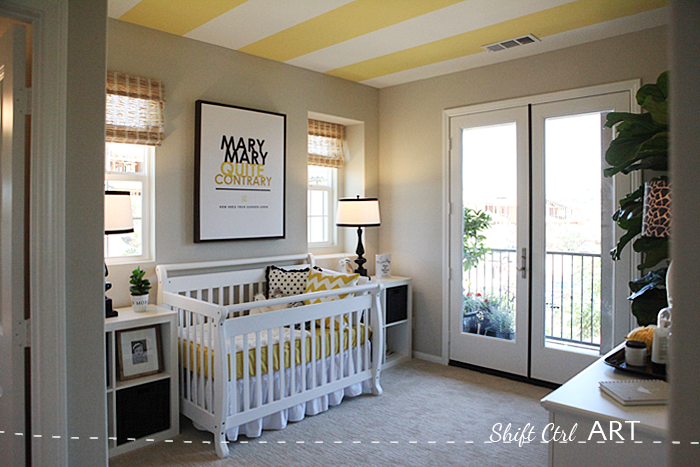 I spy a yellow stribed ceiling and oversized font artwork. I also see some lamps with ribbon edges. And a Fiddle leaf Fig playing hide and seek in the corner.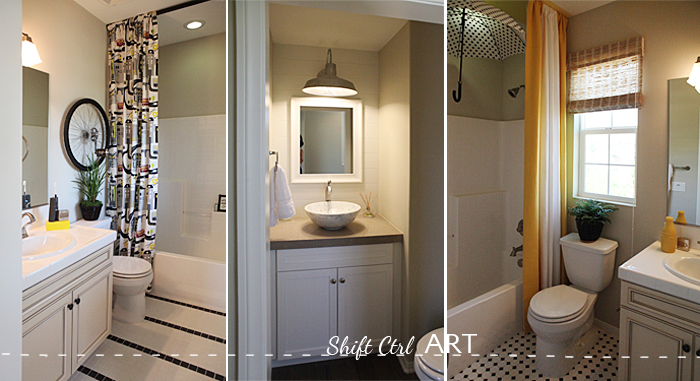 I spy a striped floor made with tile, a bicycle wheel, pedal and all., a barn light fixture over a vessel sink, a vintage looking tile floor and a quirky umbrella in the shower/tub.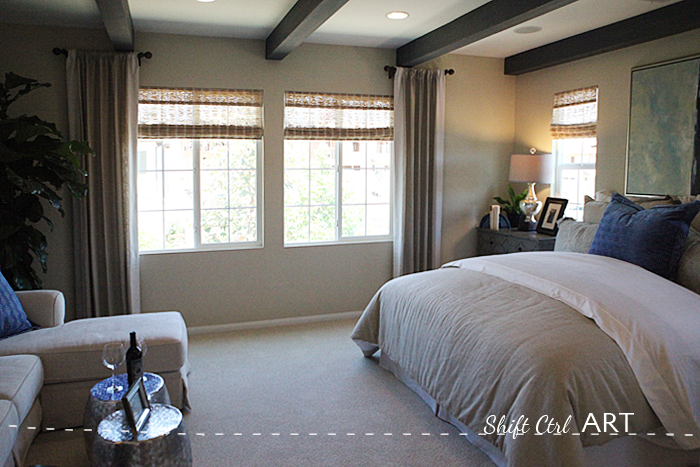 I spy a beautiful ceiling with beams. Peek-a-boo Fiddle leaf Fig.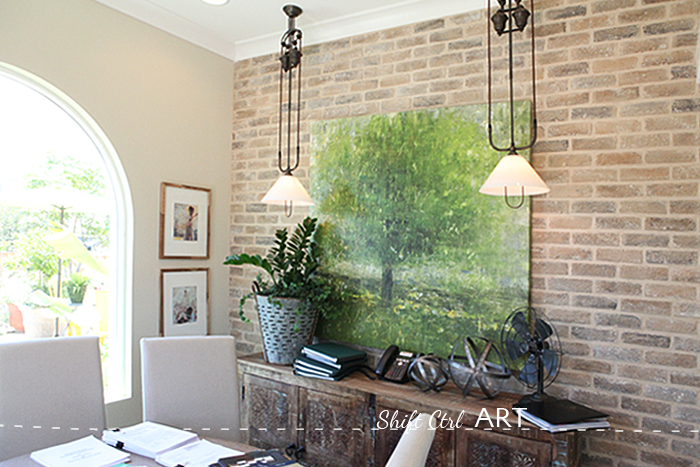 I spy a brick wall and a rustic buffet. Love these industrial lamps. The brick wall is made with real brick.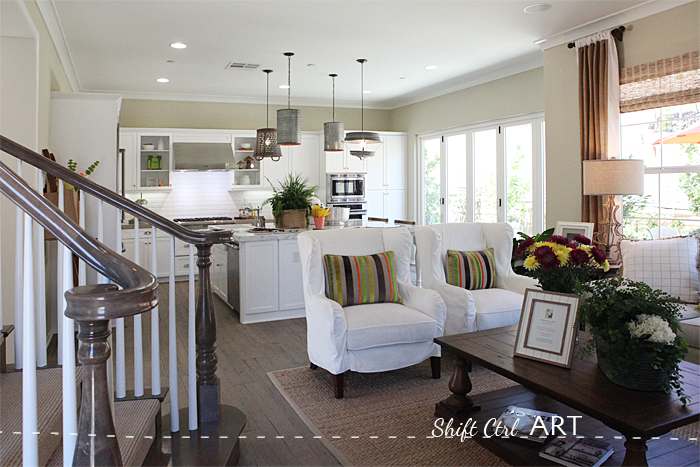 I spy beautiful floors and mis-matched farm house style island pendents. So cool. I also see white slip covered wingback chairs. Wait, do you hear that?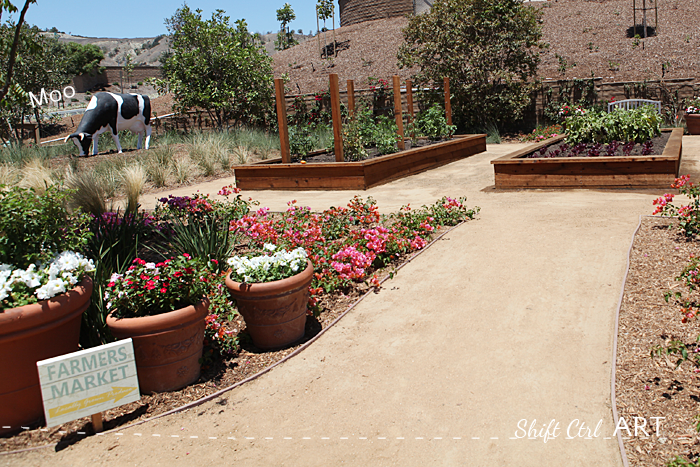 Ohh.... I spy a cow. This second builder had a complete farm style landscape with plastic cows. Also raised garden beds. I saw at least three plastic cows and it completely made my day ha ha.
Are they the new pink garden flamingo?
What did you spy? Are you a fan of cows?
Tomorrow, part II:
More trend spotting in new construction - California 2013
.
---
I am not affiliated with these builders, I just love to share great finds. They all granted permission for me to take these images and show them on my blog.
Share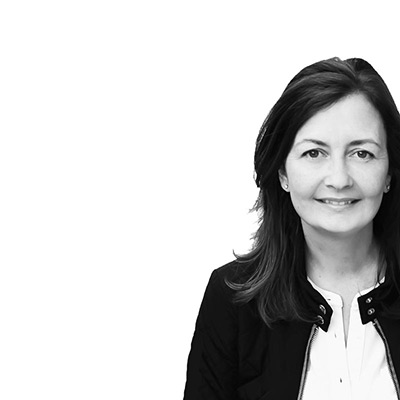 Categories
Trend spotting in new construction - California 2013 is posted in the category
Great Finds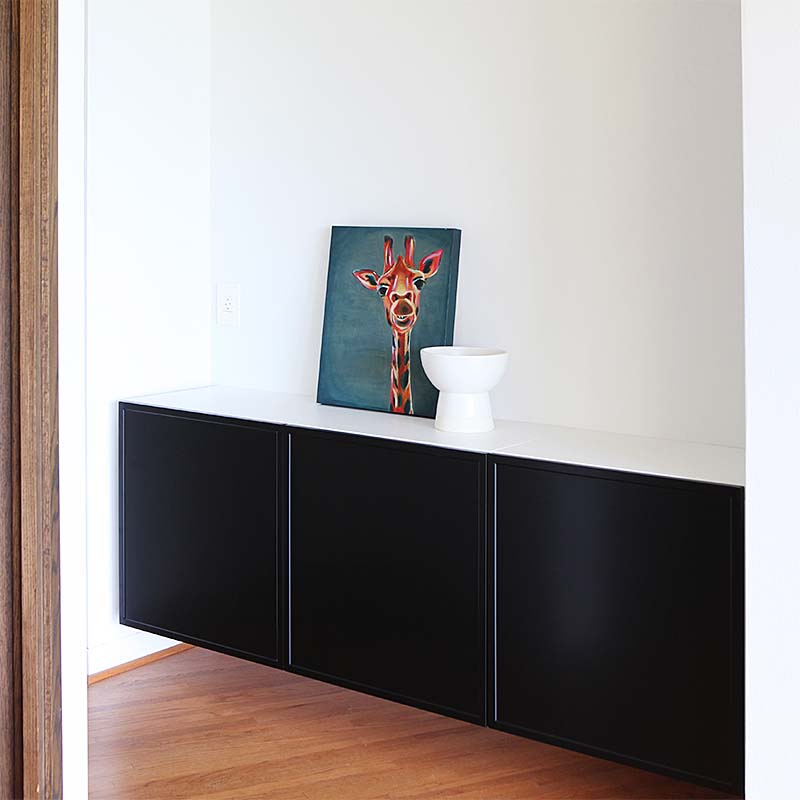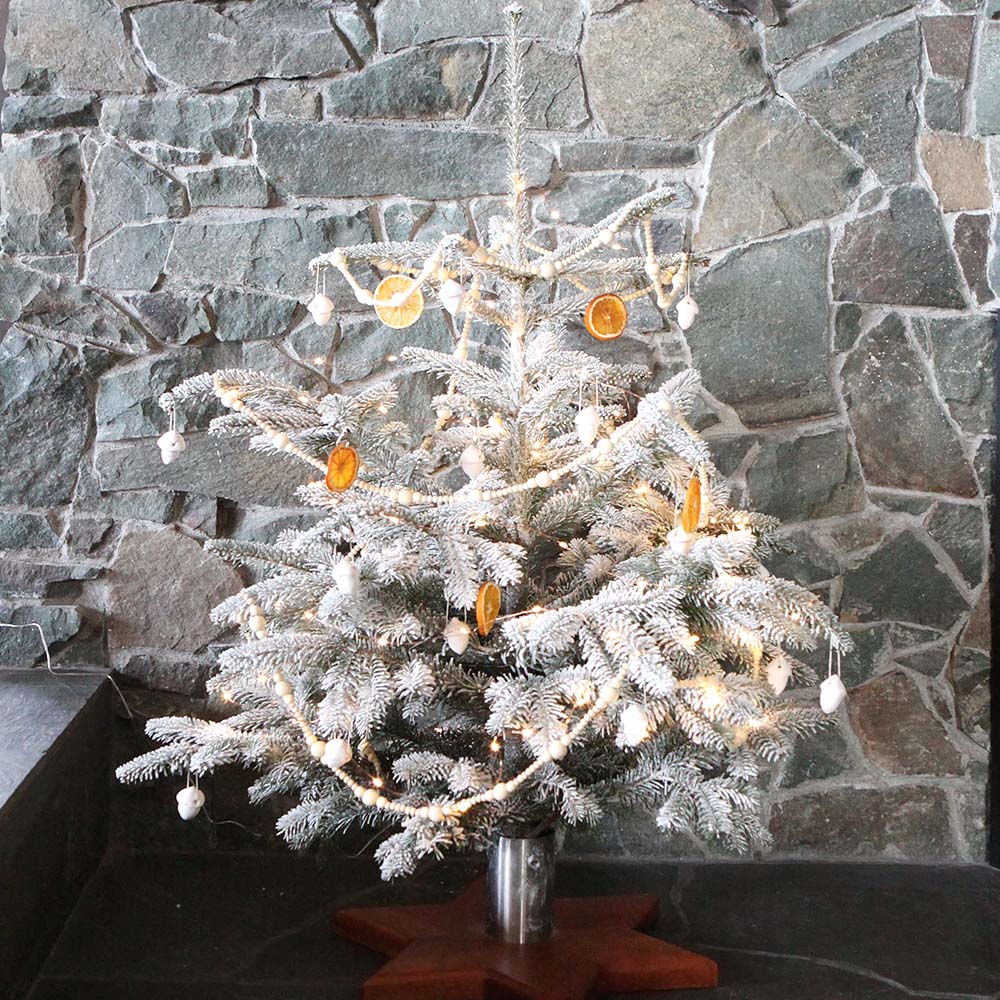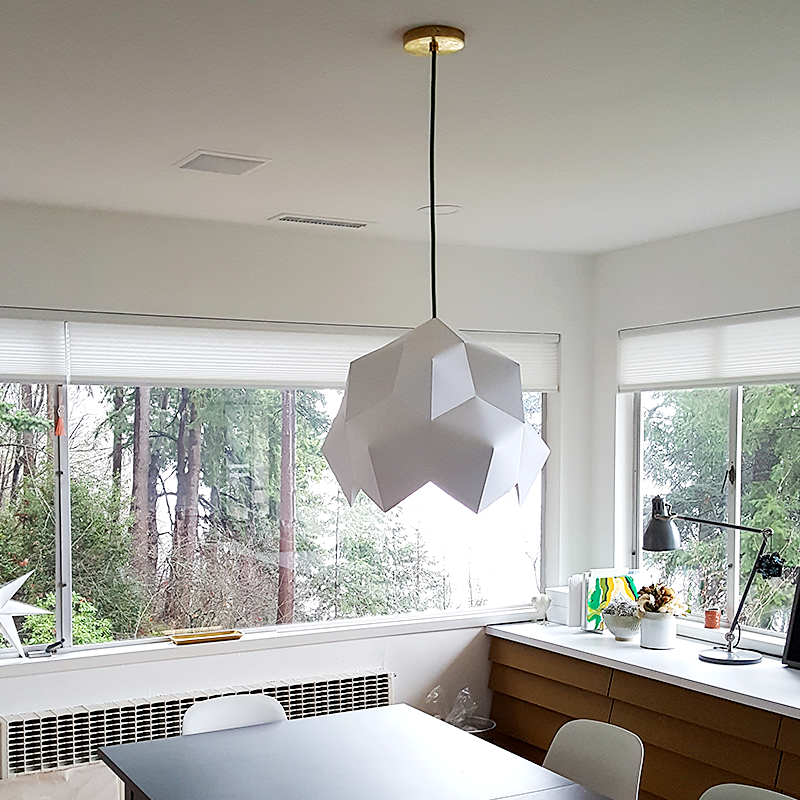 Search
We have been featured here
Full list
here
Search
We have been featured here
Full list
here