Great Find: thousands of plants, animal and seasonal illustrations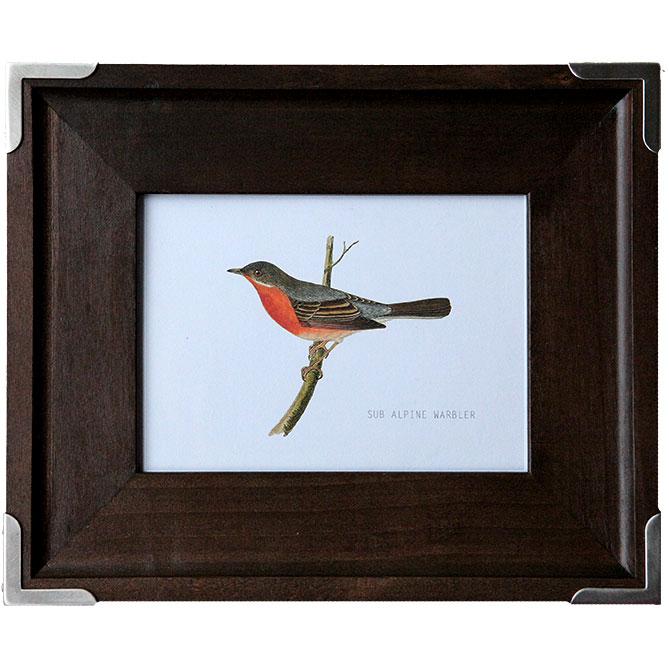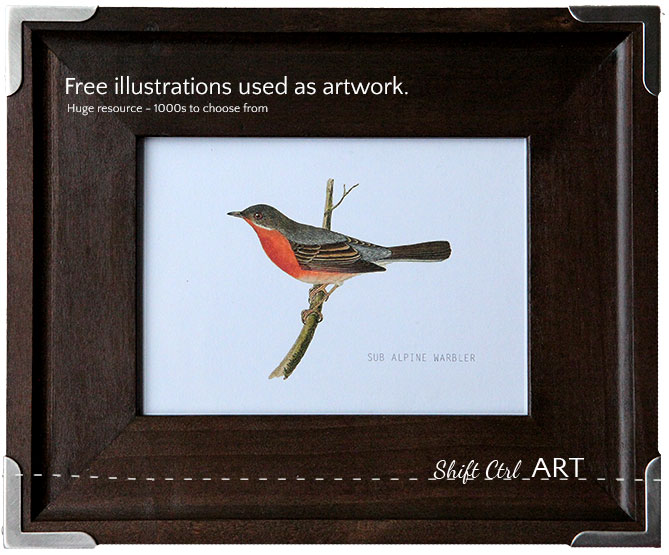 I want to share some incredible resources that I discovered through my blogging friend forever (bff) Gretchen over at
Boxy Colonial
. You have to check out her blog. She has a lot of great ideas and I love her writing style. She is also a fellow homeschooler. High five Gretchen!!
Gretchen has a knack for finding really great illustration resources online. Free too! So of course I want to share them with all of you.
Check out this charming Halloween garland she made back in October. That is when I first found her because it just jumped out at me.

Gretchen posted about it here:
DIY Flash cards
and she used these resources for the cards:
Clipart Etc
. and
The graphics fairy
.
Gretchen has also posted about this charming alphabet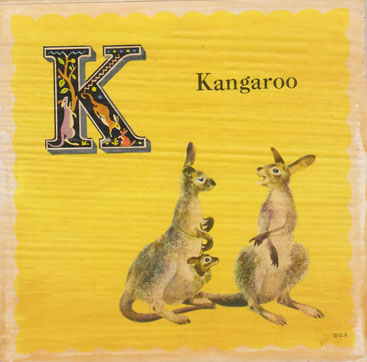 via RookNo17
The most impressive find, however, was the "
The Biodiversity Heritage Library (BHL)
, (which, sic) is a consortium of natural history and botanical libraries that cooperate to digitize and make accessible the legacy literature of biodiversity held in their collections and to make that literature available for open access and responsible use as a part of a global "biodiversity commons."
via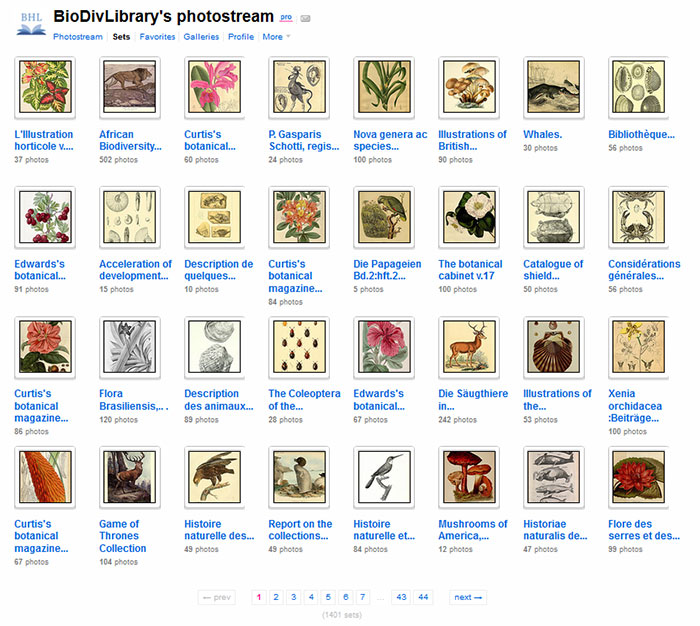 The Biodiversity Heritage Library (BHL)
Each thumb represents a sub library.
You can literally get lost for hours searching through all the illustrations. There are fish, birds, butterflies, mammals, plant life. All done in a very charming old world style. Great for craft projects. They are all free (for non-commercial use - you would have to check for wider licenses per library) and available in a multitude of sizes.
First let me show you this charming wall gallery Gretchen made with images from this resource: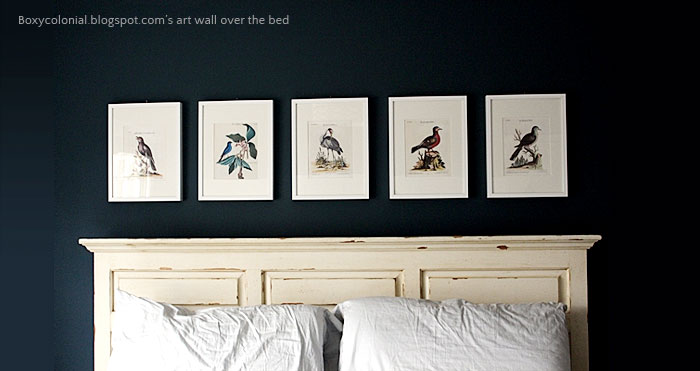 Get the full story here:
Free Art! Plants vs. Birds.
I was so inspired when I saw that.
As you know, we are
finishing up our upstairs hallway cabinets
and I was looking for some art to put in some frames for that area. They all needed to be landscape oriented and look like a set.
BHL library to the rescue!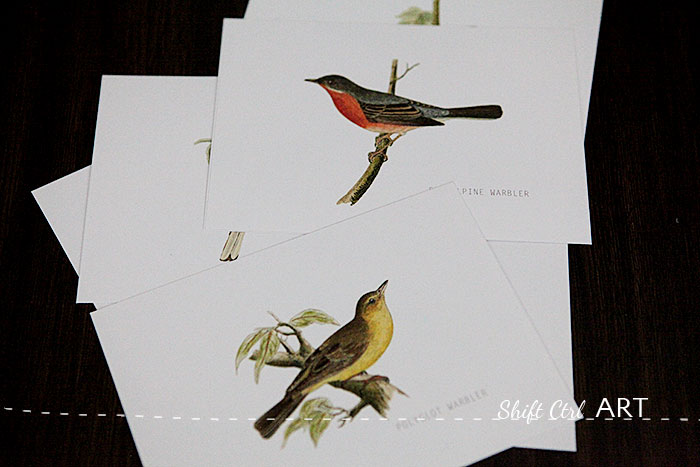 I found these lovely bird prints.
Here is how I found the prints in the largest size available: First
I located the prints I
wanted to use.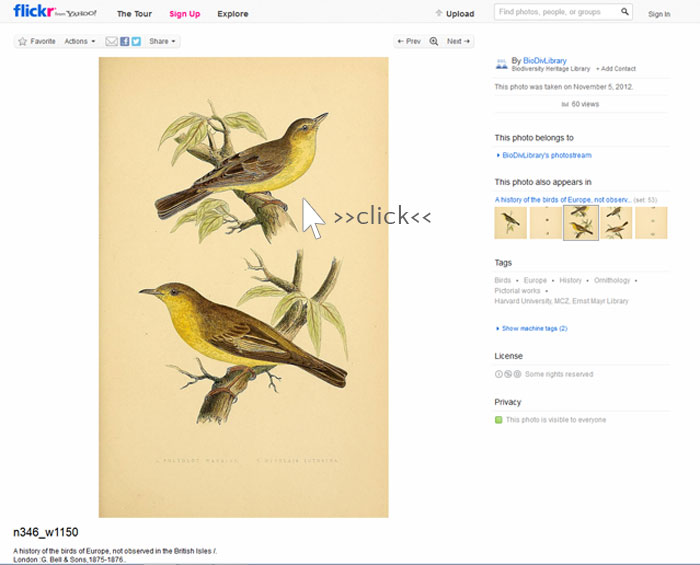 Click on the image to open it up by itself.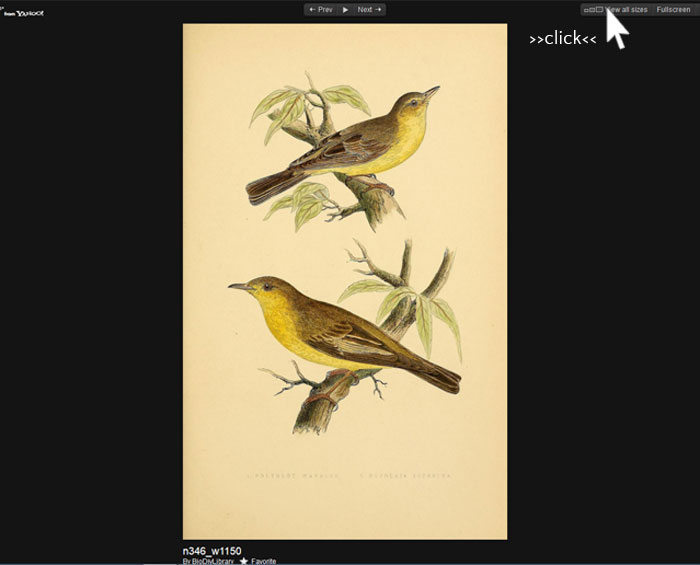 In the upper right hand corner is a link: "View all sizes". Click that.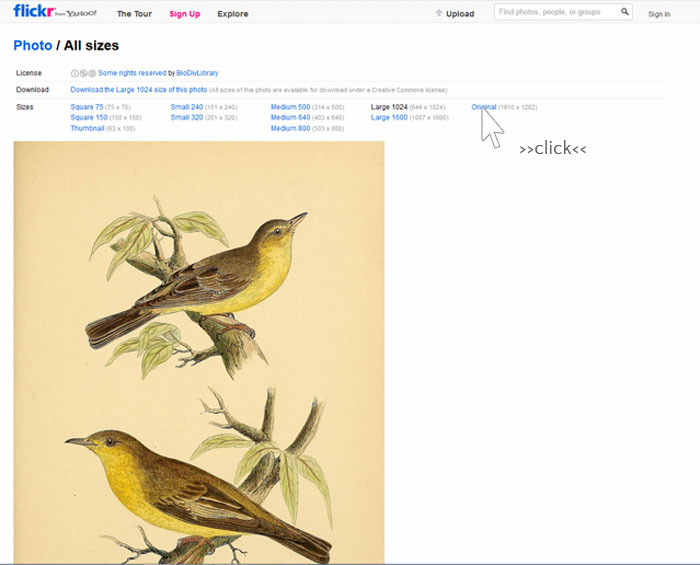 Find the size you want to use. For printing I always use the "Original" which is the largest size. Click that.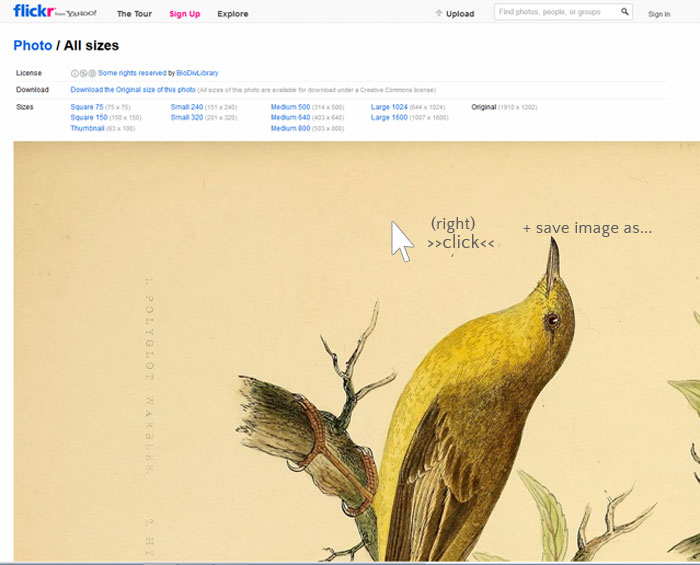 The file opens up in the largest size. Right click and click "save as" (on a PC) and save it to your computer.
Here are the links to the 3 illustrations I used - with two birds on each - all in the Warbler family.
Bird set 1
,
bird set 2
,
bird set 3
I removed the tan background in Photoshop with the color select tool and then separated all the birds onto its own layer on a 5x7 inch, 300 dpi canvas - the opening size of my frames. Then I re-typed each bird's name - you can see it very faint there at the bottom of the illustration. I printed them out on smooth, white card stock and framed them.
Last year, I bought 6
Överaby IKEA frames
that I knew I wanted to use for this project. I love the metal brackets on the corners. They remind me a little bit of the "campaign" style desks and dressers.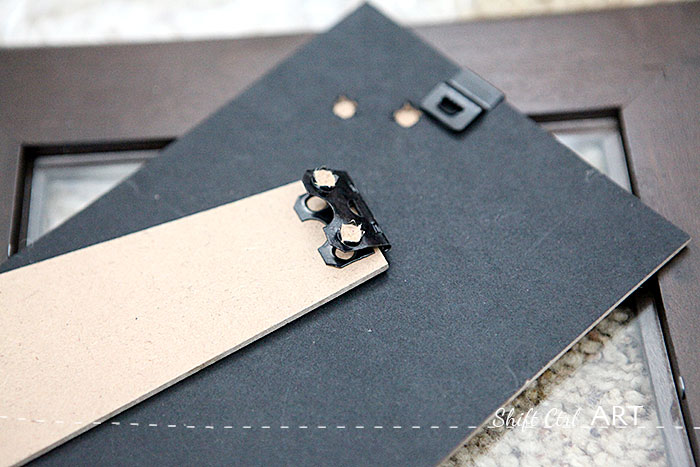 I removed the cardboard frame stand by twisting it off. It came off really easily. This will make the frame hang flatter against the wall.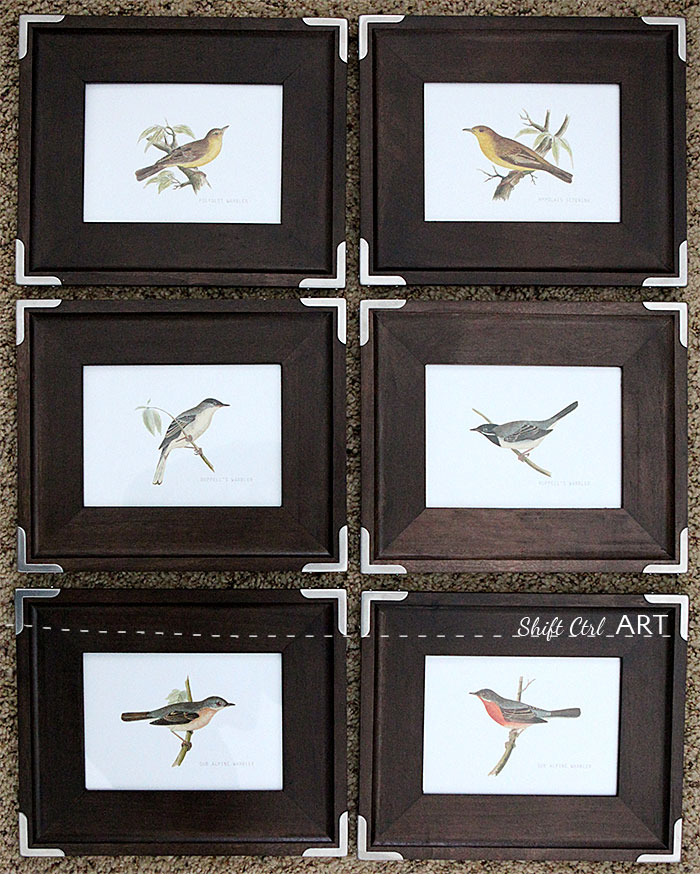 Then I framed all six prints. Here they are ready to hang in our upstairs hallway. I am going to hang them in one long row, but seeing them like this, I really like the two little metal "plusses" that is created with you hang them in a block like this.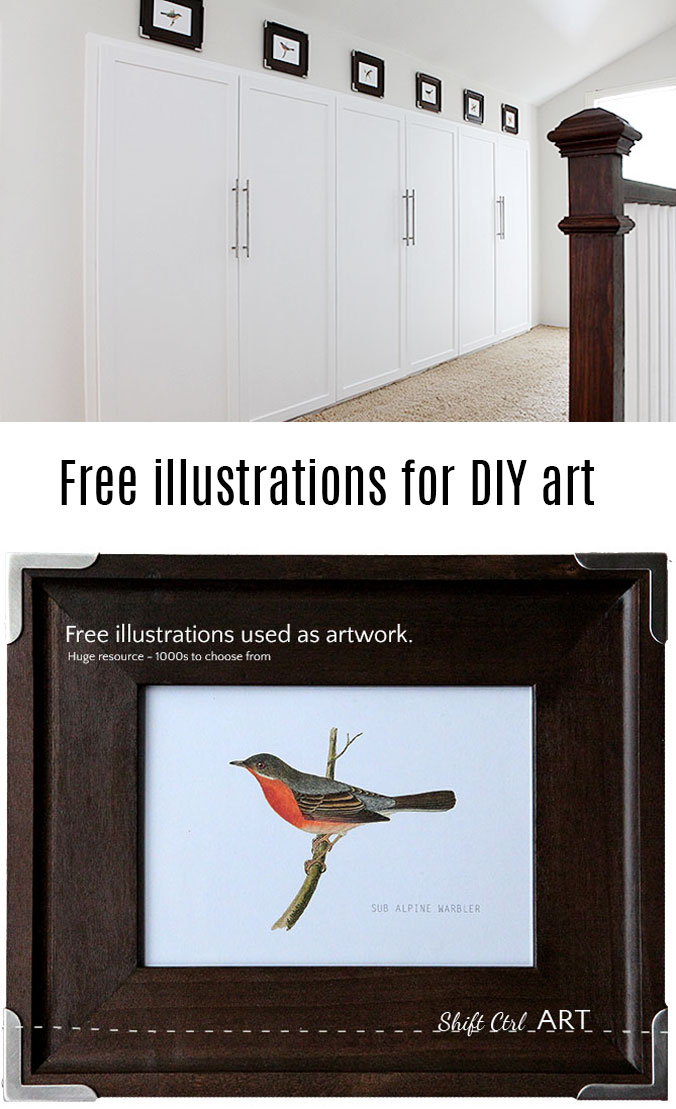 We spent the weekend fixing all the lighting inside the cabinets, painting the last touch-ups and adding hardware to all the cabinets. I can't wait to show you tomorrow.
Last week, we went on a little getaway at the end of the week to Pala to visit the Pala Mines where we dug through piles and piles of rocks to search for gems. Look for a re-cap with a few pictures in my April round-up post at the end of the month.
What did you do this weekend? Any art projects? drawings? How do you feel about wooden frames with metal corners?

?
Next:
Vegan butterfly framed art - Mother's day DIY idea - including printable
Share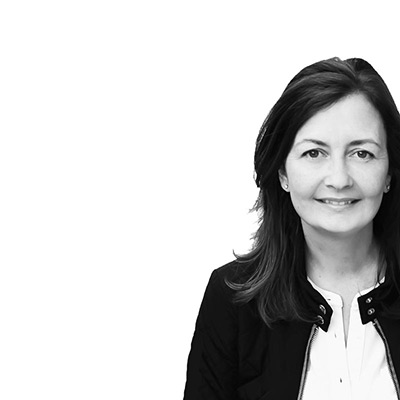 Categories
Great Find: thousands of plants, animal and seasonal illustrations is posted in the category
Decor
|
Great Finds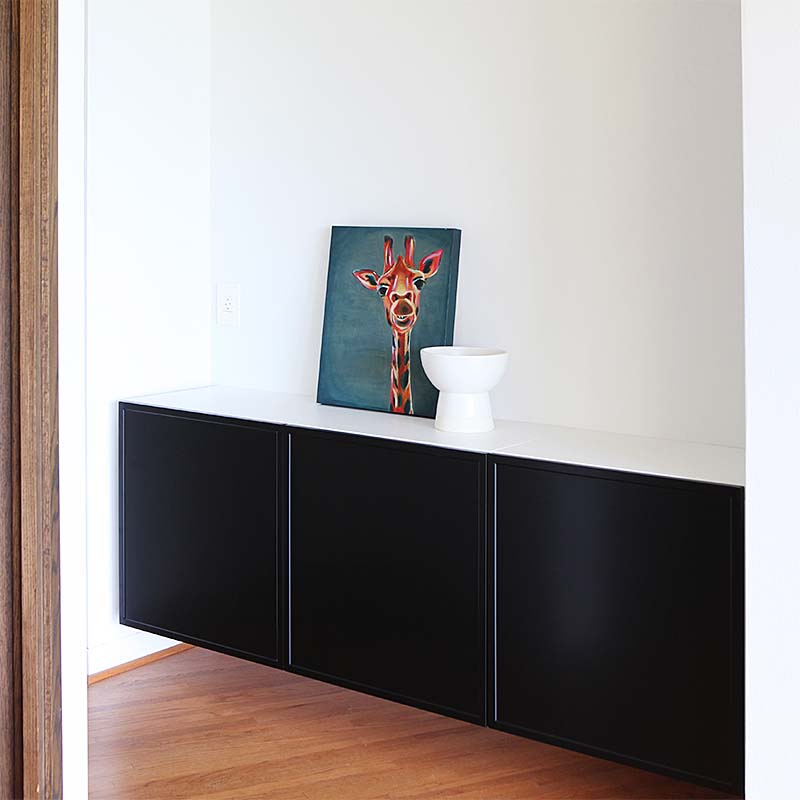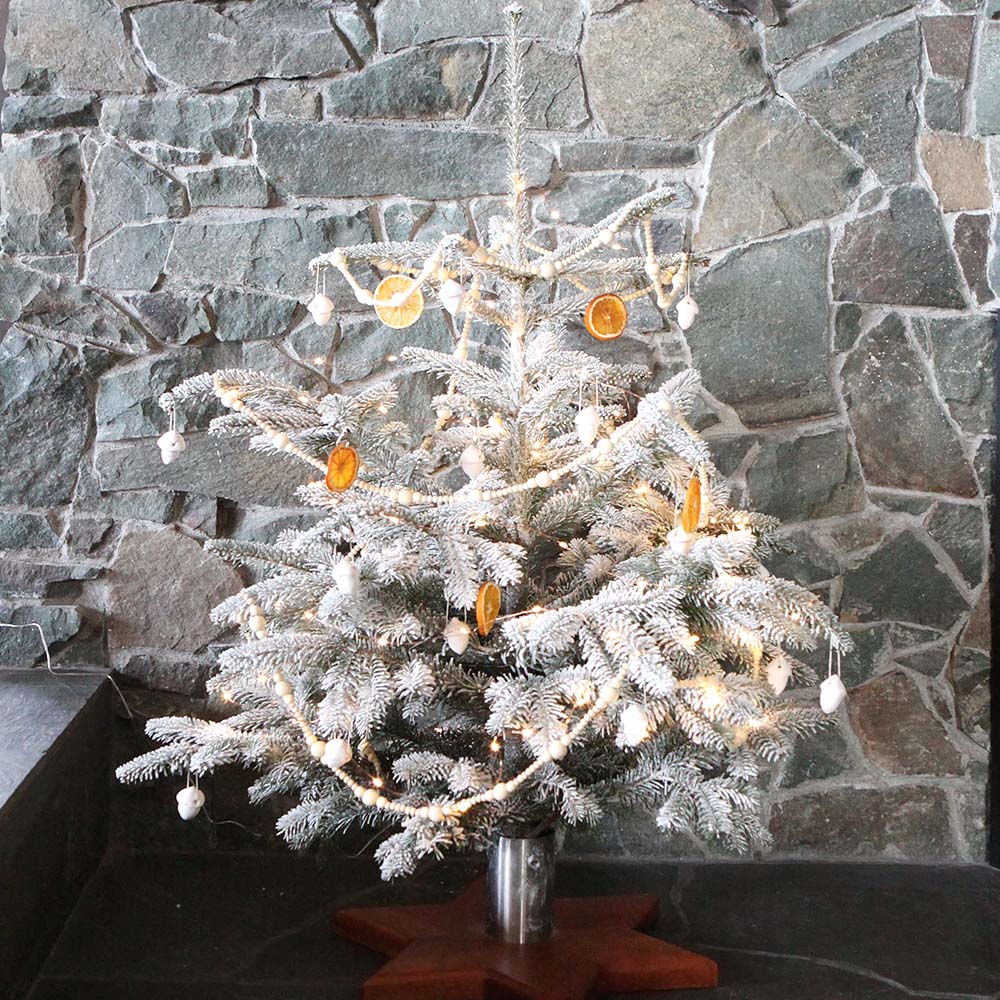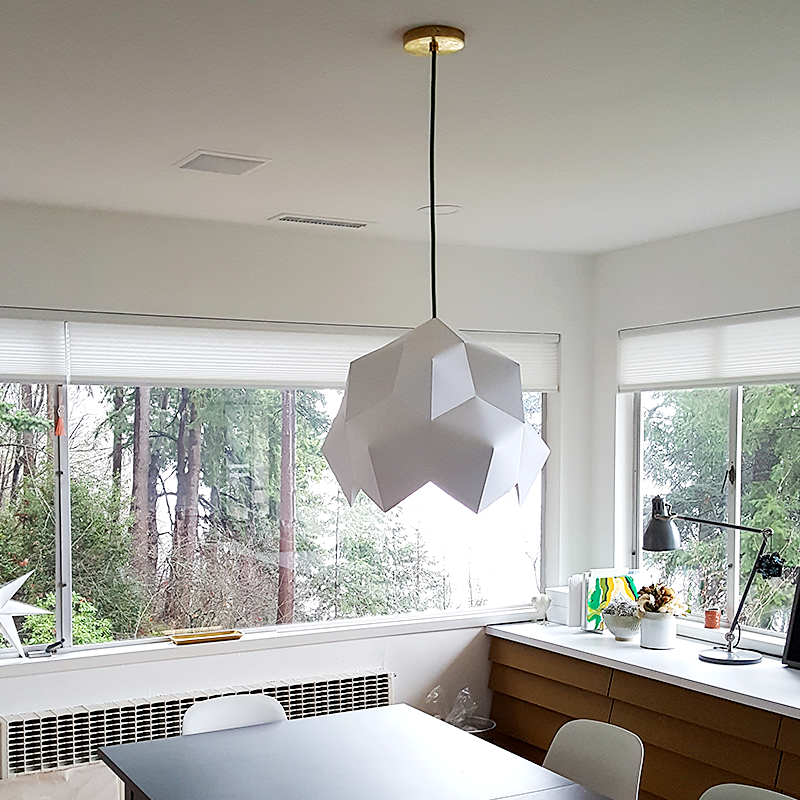 Search
We have been featured here
Full list
here
Search
We have been featured here
Full list
here