Building a seating bench with a slanted slatted front - Midcentury style - Teen den progress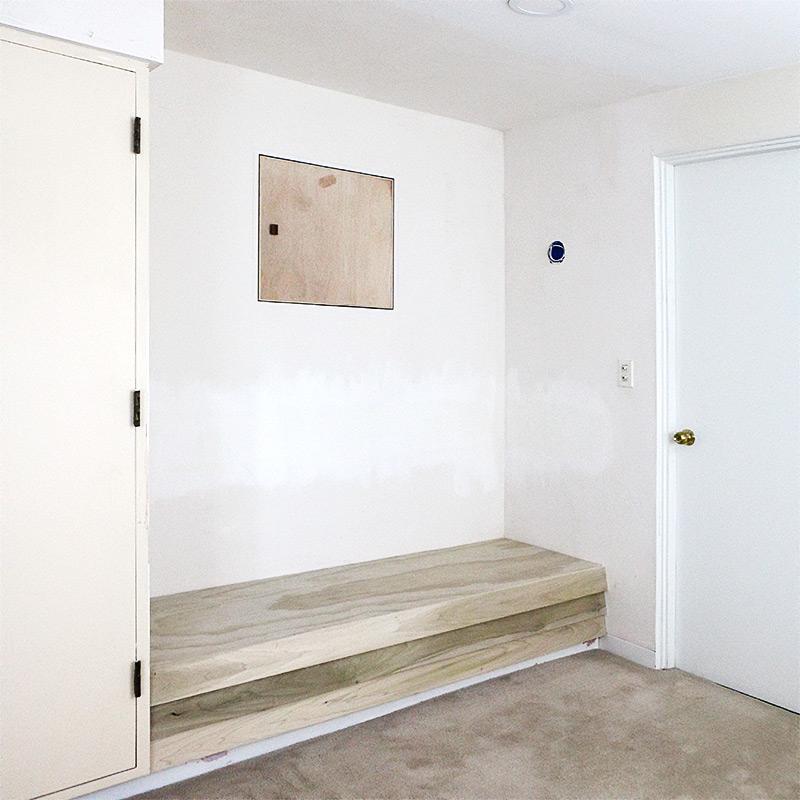 This is what we are calling the Teen den. It is a hang-out space / hall way between the "kids" bedrooms and bathroom. You can see the bathroom in the picture below.
This is what it looked like before with two extra sinks outside the bathroom.
Let me show you what we have been working on so far.
---
In the before photo you can see the original bathroom through the door. Just inside was a tall Japanese type tub and above it an access door to a small crawl space behind the tub and sinks. The bathroom further had another tub with shower combo and one sink. (Not to mention a toilet)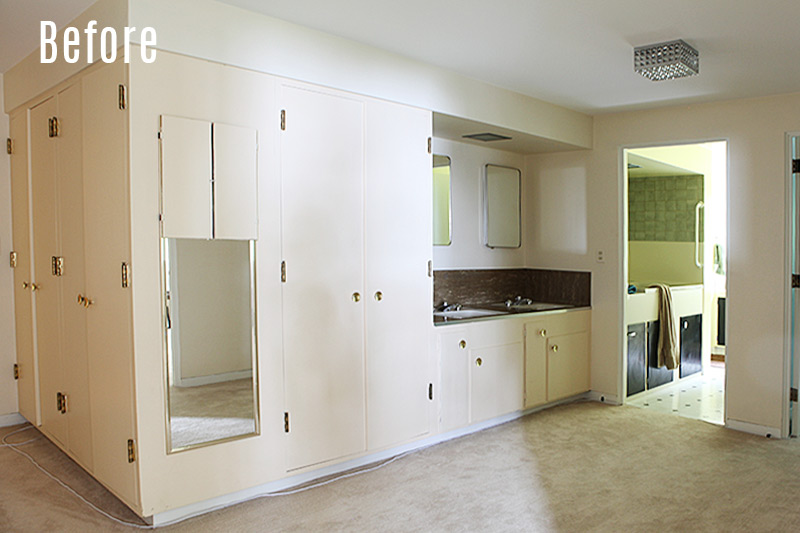 Here are the two sinks in the Teen den for a total of three sinks with the sink next door in the bathroom. I just love the vintage style of these sinks and especially those faucets. All the heart eyes.
When we did the whole house re-pipe, however, we made the difficult decision to take these two sinks out and re-configure the next door bathroom to have two sinks instead of one and one tub instead of two. We demoed the bathroom to do the rough plumbing at the same time as we did the re-pipe because that was much more cost efficient. However, we probably will not be able to finish this bathroom and our master bath which suffered the same faith until sometime next year. But I did fully design them and make the plans and all that fun stuff so the plumbing could go in the right places.
In the new configuration the two sinks will be right inside the door where the Japanese tub was and above will go a mirror. Therefore the access panel to the crawl space had to be moved. All this just to explain why we are putting an access panel above the seating bench. Would have seemed really odd otherwise.
Here is the nook before we turned it into a reading / guitar playing nook.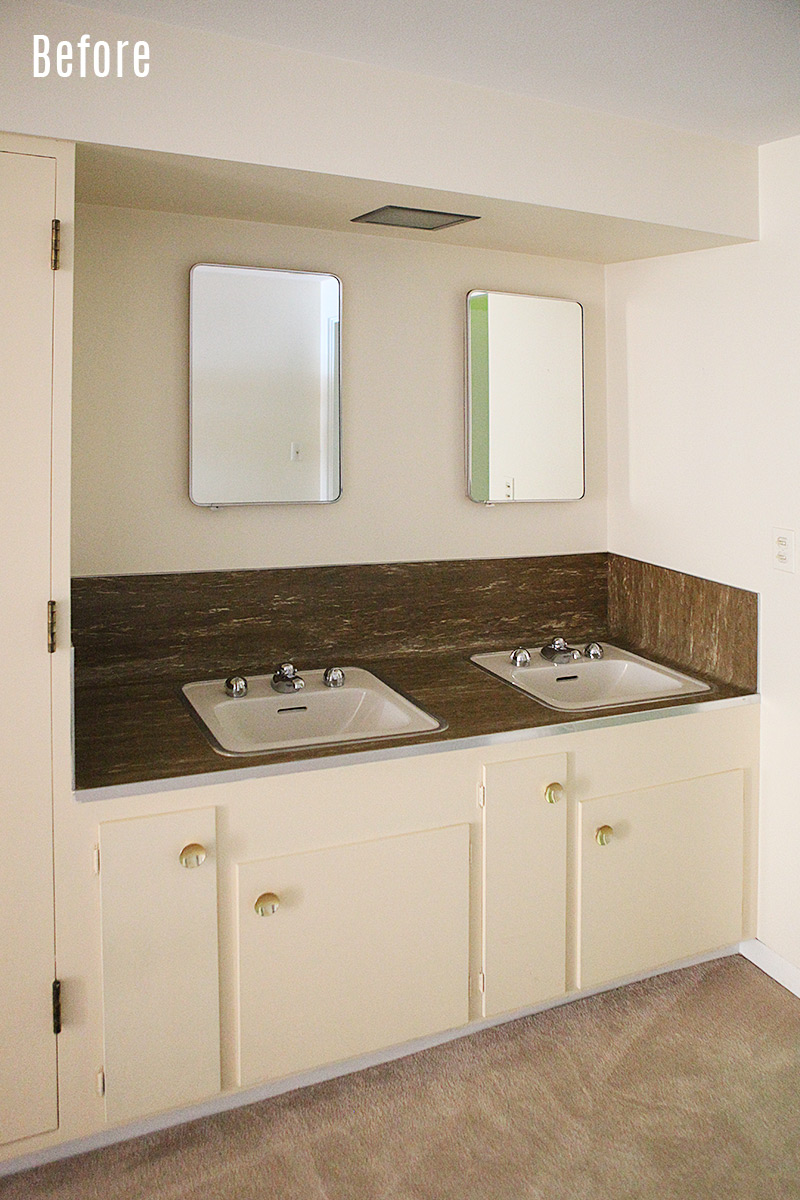 We had someone come in and demo out this space as well as the two bathrooms as we were in a bit of a time crunch and out of muscle power. Here is how it was left after demo and with the plumbing removed. You can see the small crawl space behind the two holes left by the medicine cabinets. We also removed the bulkhead above as we would be moving the light to rewire for two sconces on the sides instead.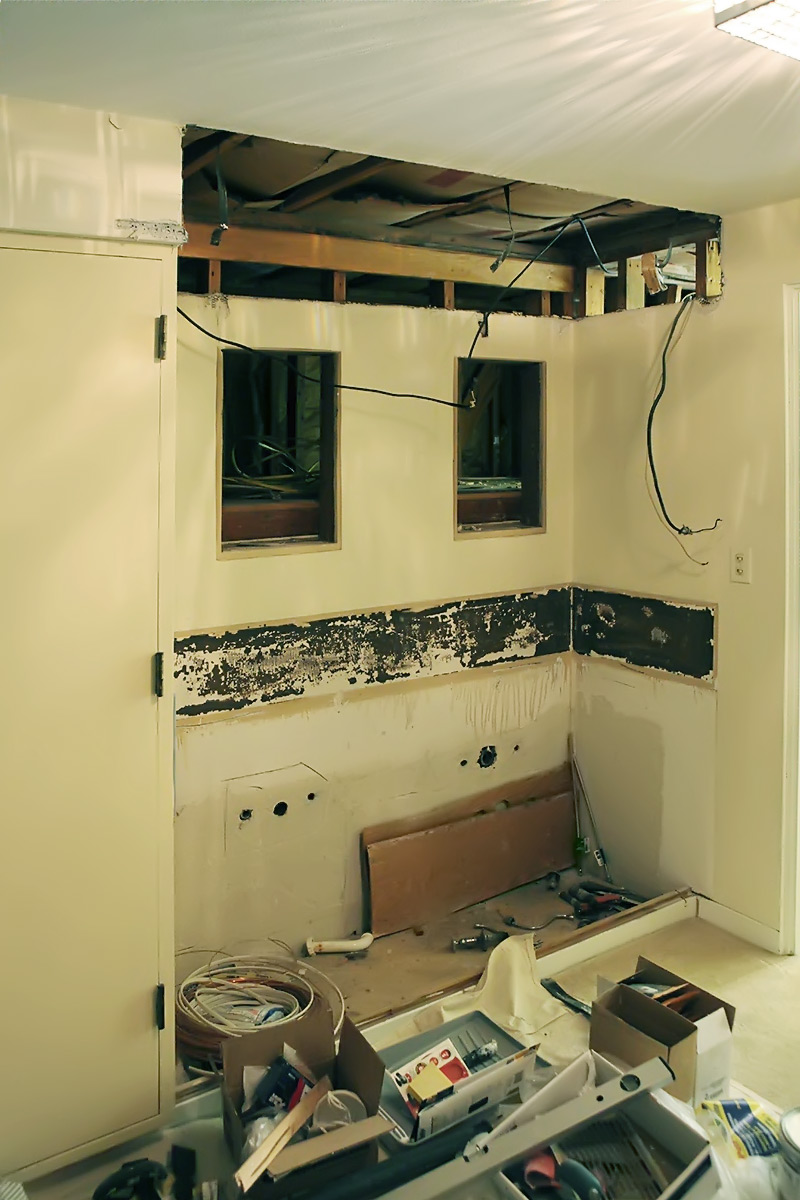 We started out by framing out the new opening. Frank had a couple of redneck solutions he threw out there but I quickly wheeled him in and we framed out the opening the right way with king studs, trimmers (jack studs) and cripple studs like you are supposed to. Even through this wall is not load bearing, I am a huge fan of slightly over engineering everything. And doing it right.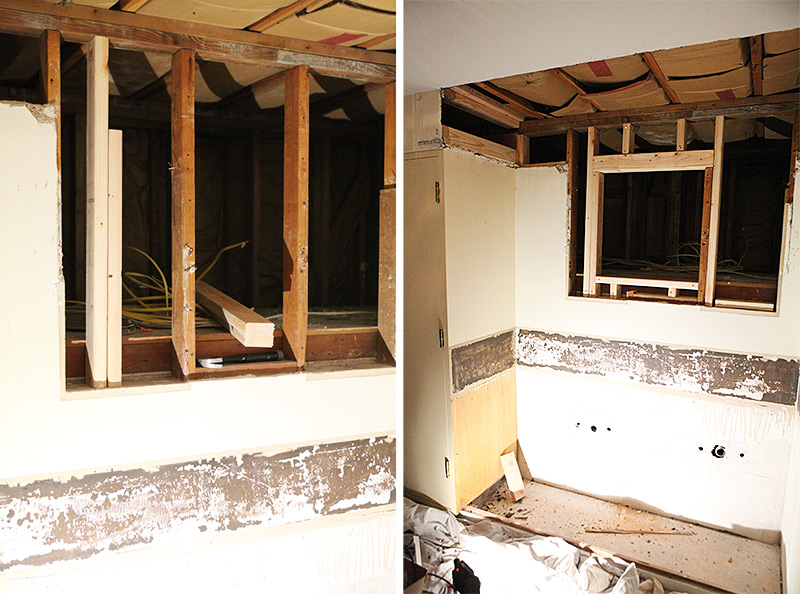 Next we added 2x4s where needed for the drywall and furred everything out as best we could. Then added drywall. It was a very slow process even though it is only two pictures here. We also moved the wire for the recessed light down for a sconce and made a matching sconce outlet on the opposite side. It's those two blue pancake things.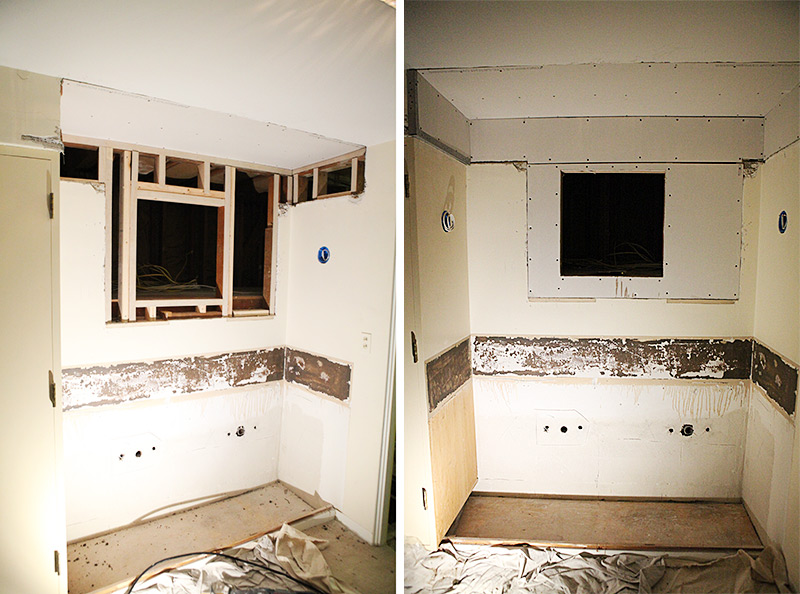 Then we added some 1x6 to make a door frame in the new opening and then we built a door by cutting out a piece of plywood. On our table saw we ripped some strips of one by poplar to finish the edge around the plywood.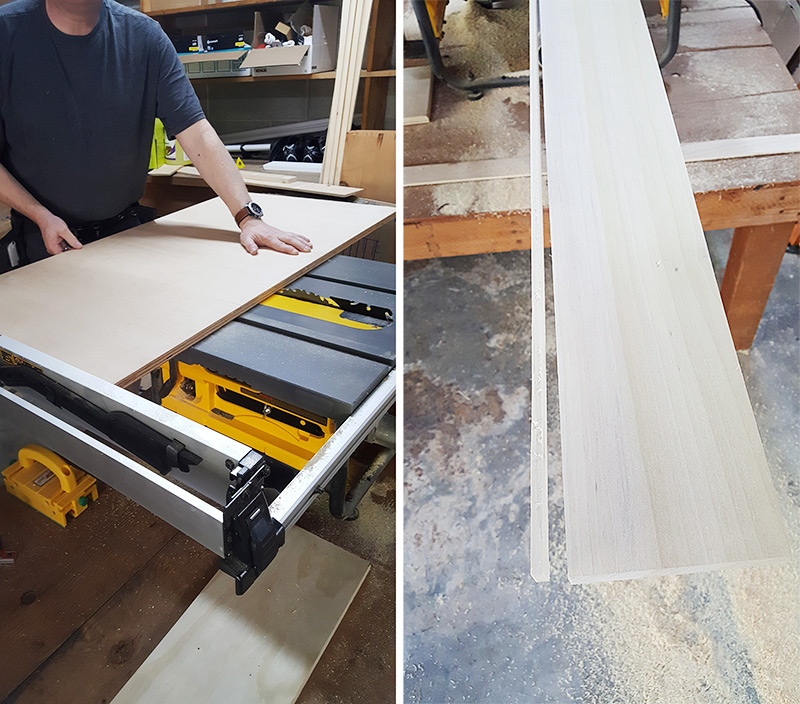 We mitered the corners and reinforced the frame with screws where the hinges were going.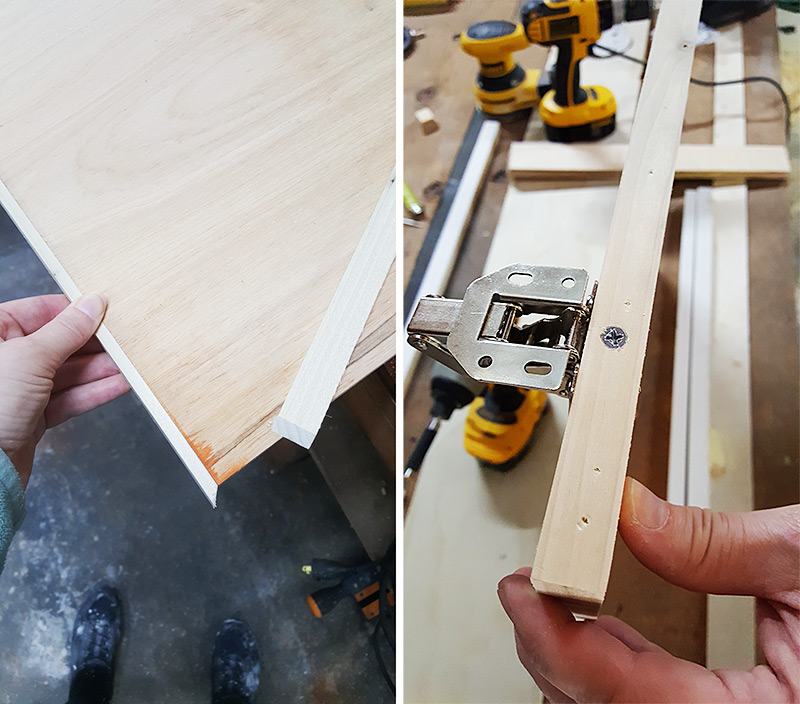 Then Frank made this little low profile wooden knob for the door and we hung it first using some hidden frameless hinges. But the door was sagging a bit, so I ordered some better hinges instead. The door is fully flush with the wall as is the door frame. We want the door to disappear as much as possible once painted. It is going to disappear even more behind some artwork later.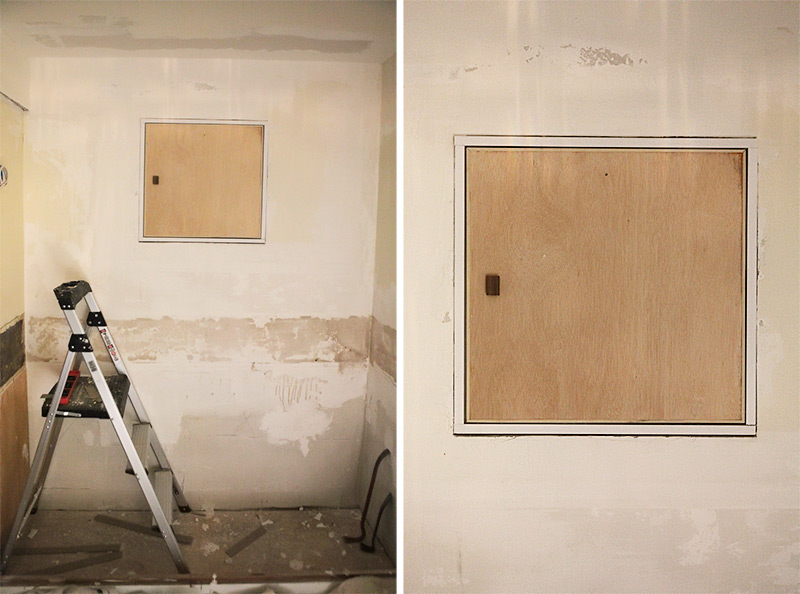 Next we roughed out the seating bench. Since this bench is one you will be standing on to get into the crawlspace, we over engineered this sucker as well as seen below. lots of 2x4 and framing nails, nailed into studs. Solid. Not going anywhere.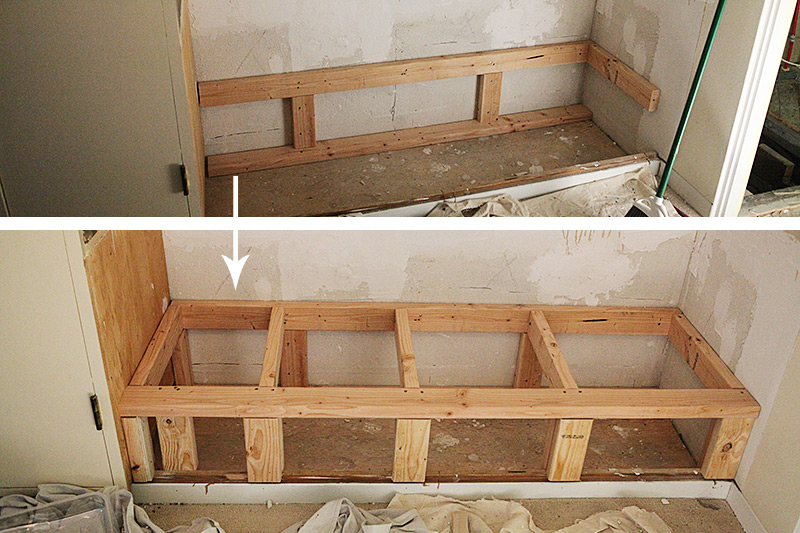 We ran 2x4 down the front as well so we had something to nail the slats into later.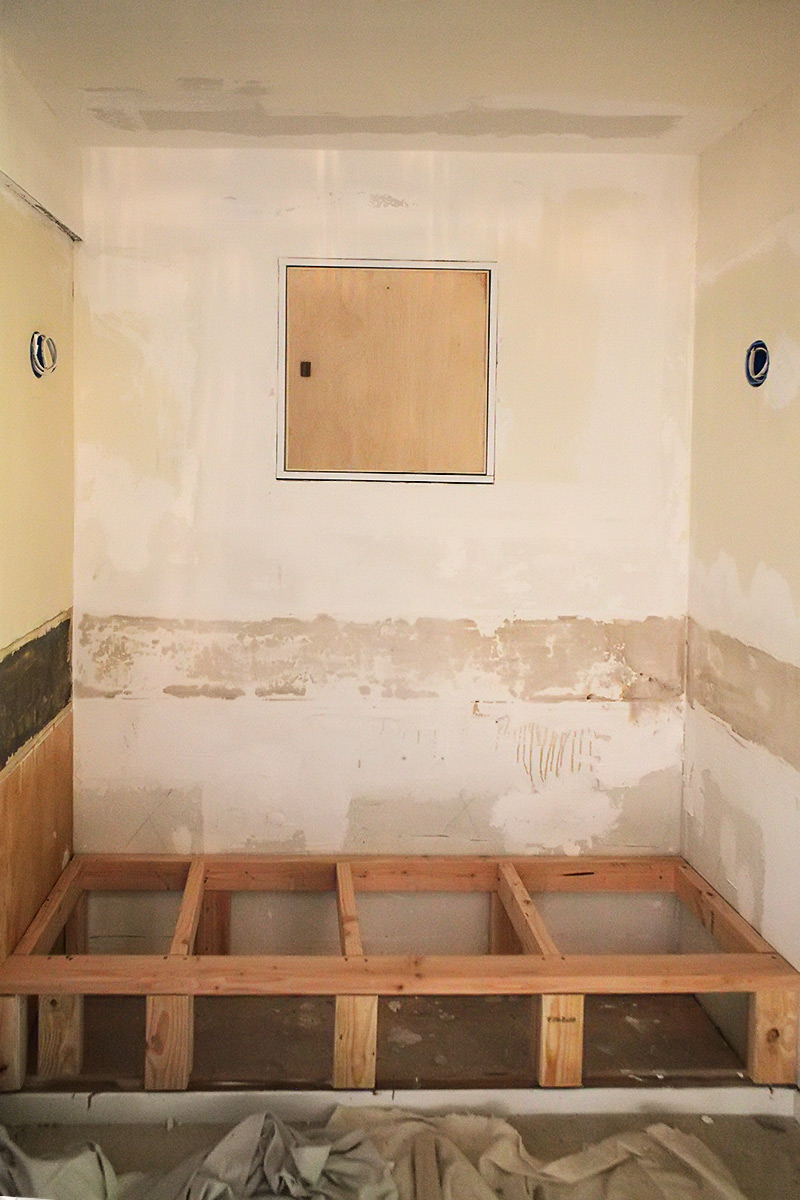 I did a ton of taping and mudding and mudding and sanding and mudding and sanding. I repaired the wood surfaces with Bondo.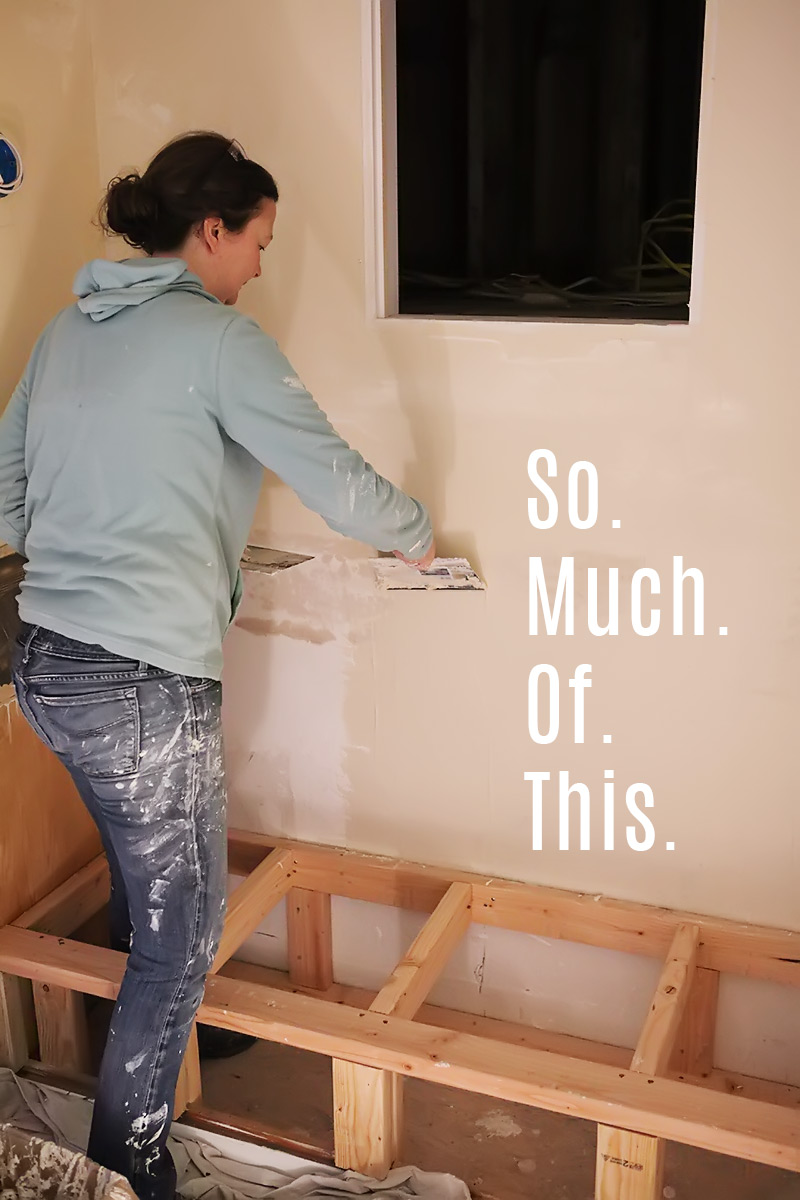 Next we moved onto the ceiling and took out the three lamps that were not able to adequately light up this windowless room. Instead we added 7 6-inch LED can lights. We drilled pilot holes and stuck a piece of wire through each hole to make sure we didn't hit a joist. We didn't. Then we drilled holes with a hole saw for the lights and wired those suckers up.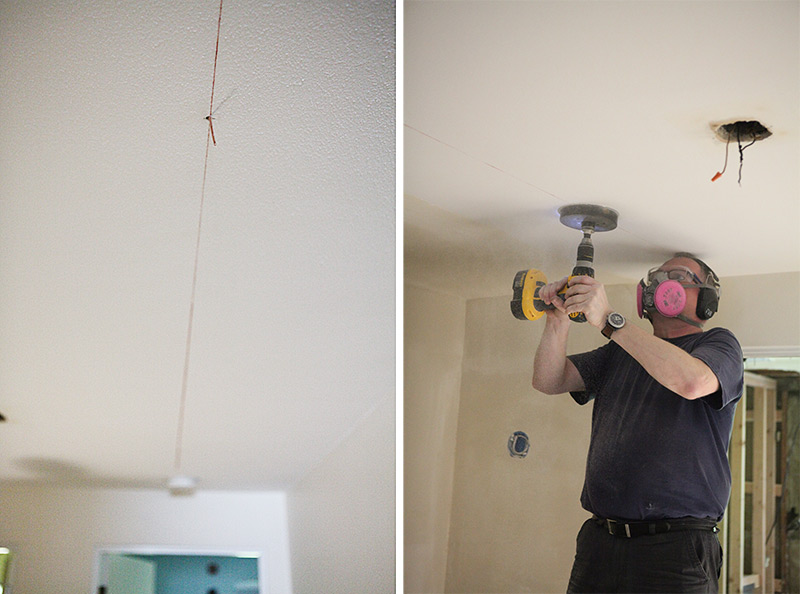 My husband is an Electric Engineer and knows what he is doing. You should definitely consult with an electrician before taking on a project like this if you don't.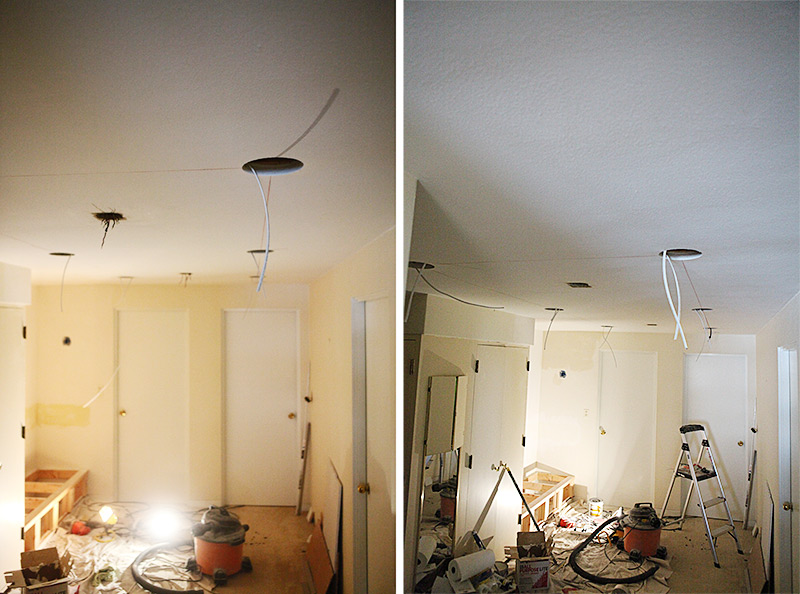 Then the new hinges arrived and we re-mounted the door. Look how much sturdier the new hinges are. No more sagging.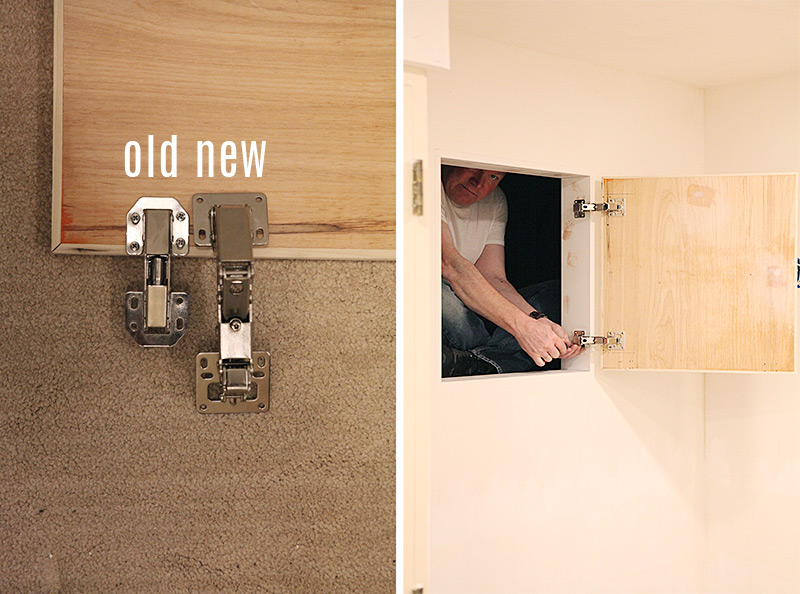 Next we made a plywood template using drywall cardboard strips, tape and staples. Worked like a charm. We will definitely use this method again another time.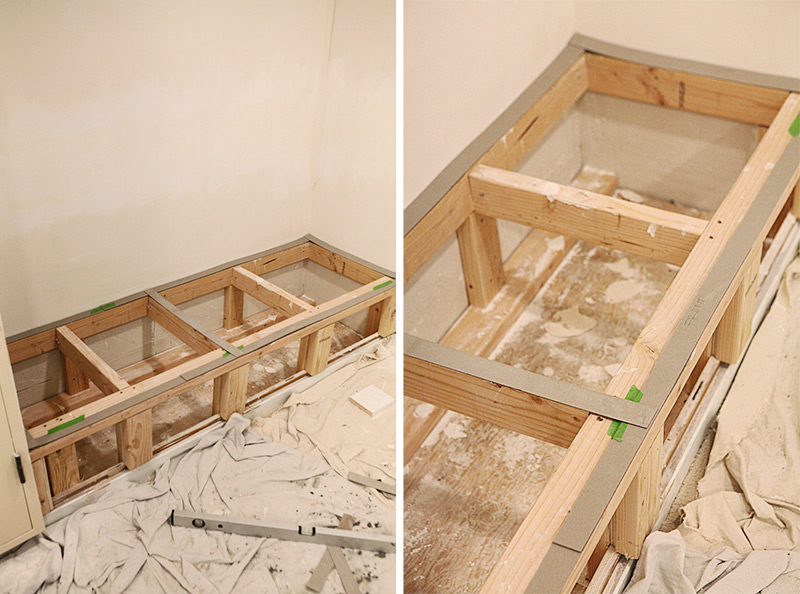 We took the template over to the plywood and traced and cut it.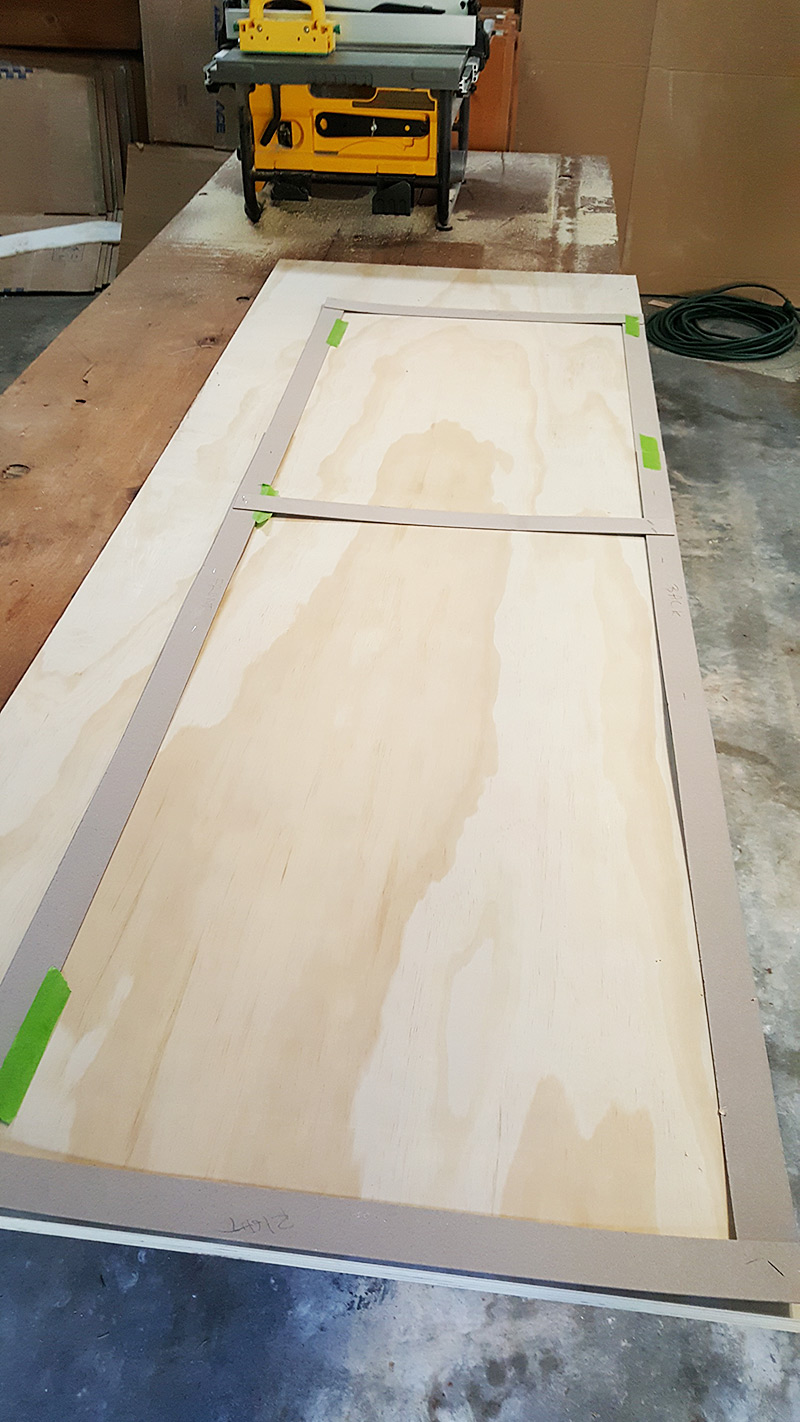 And it fit. We cut it flush with the framing. Glued and nailed.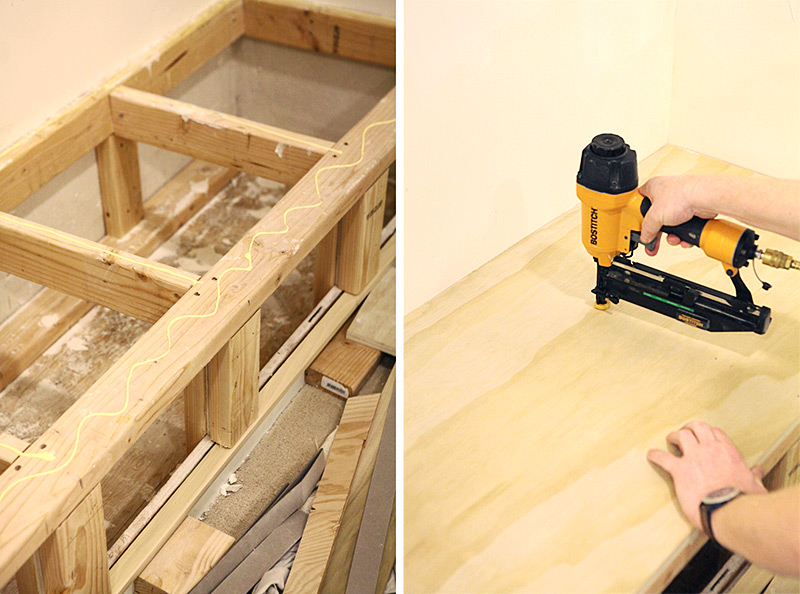 For the slatted front we bought some 1x6. We milled them down to half inch thickness with our thickness planer so they would read more like furniture and less hardware store.
Then we cut the slats at a 10 degree angle like this on our table saw.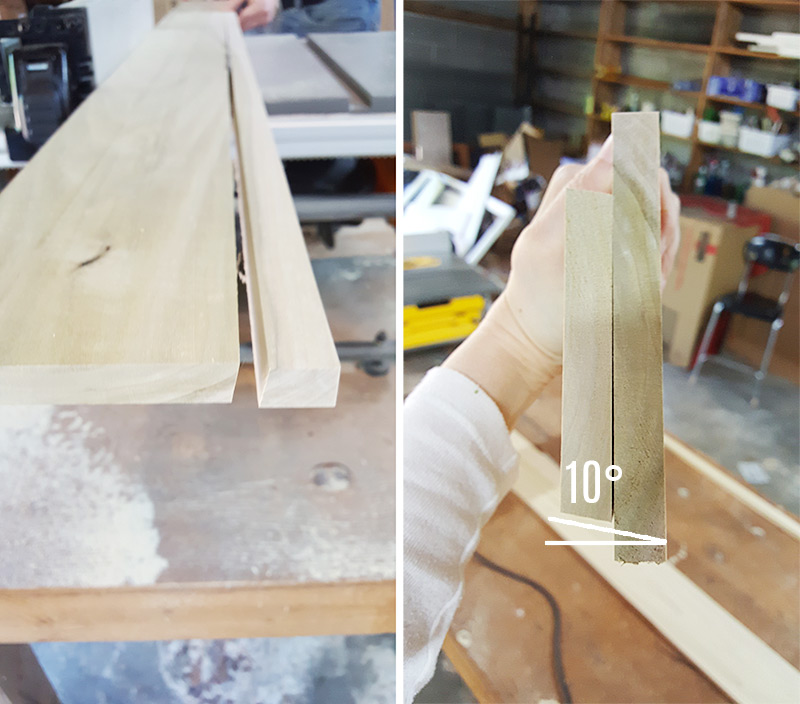 Here is a drawing of what we did. We aimed for the slats to have equal reveal and there was so much geometry it's not even funny. In the end we snuck up on the finished reveals.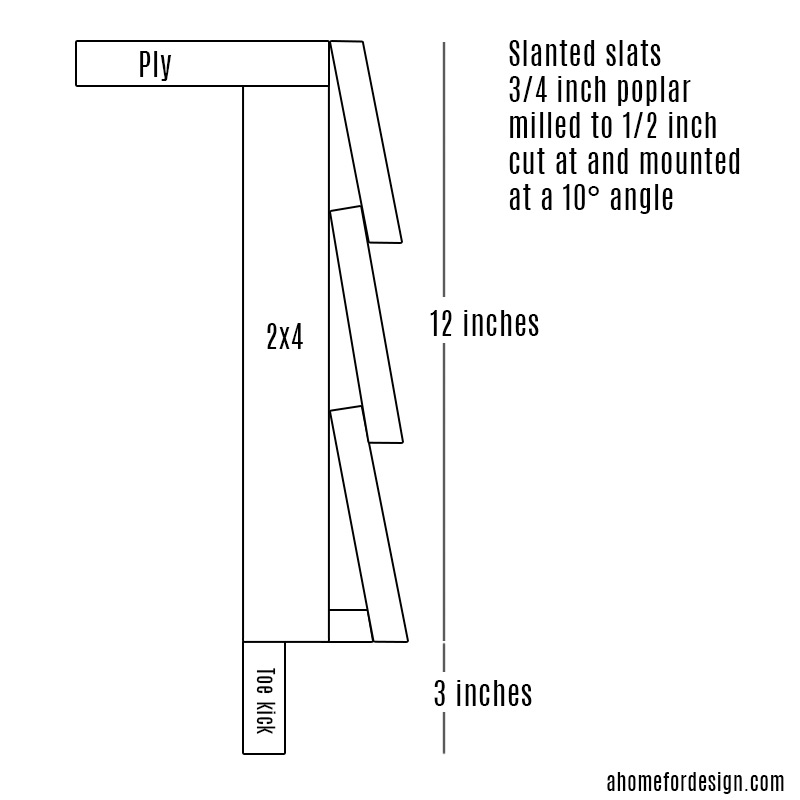 We attached the boards starting at the bottom with that small starter strip. then worked our way up using a level.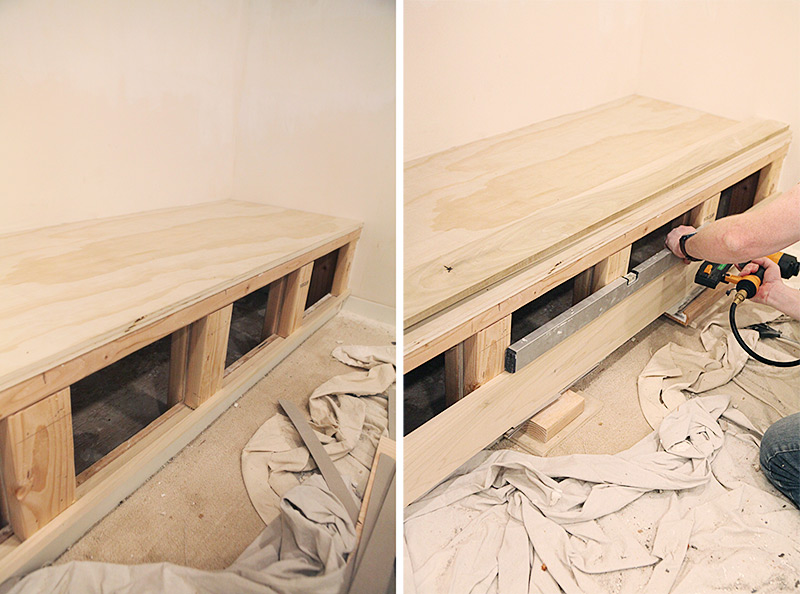 Until the final board was attached. And that was it. Then we cleaned everything up to prep for paint.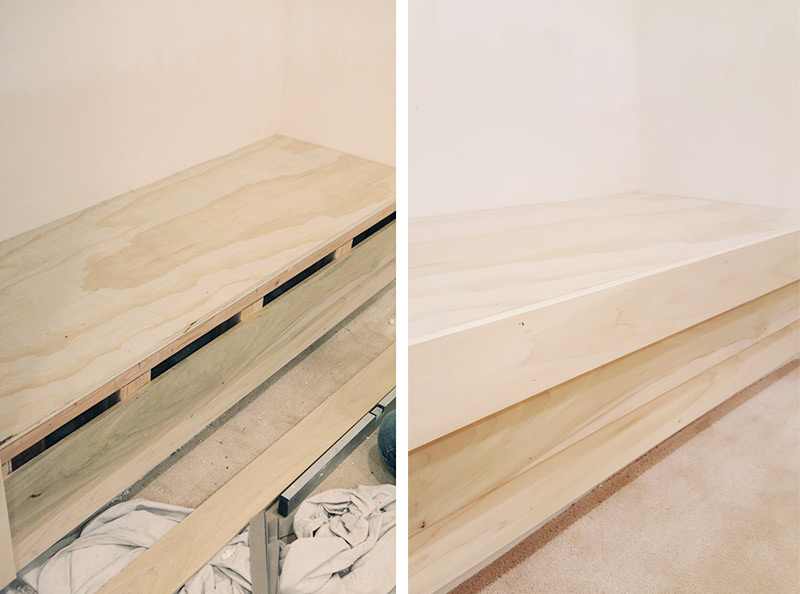 Here is the bench and the door and Sigue SCREAMING WOW. Or yawning. One of the two.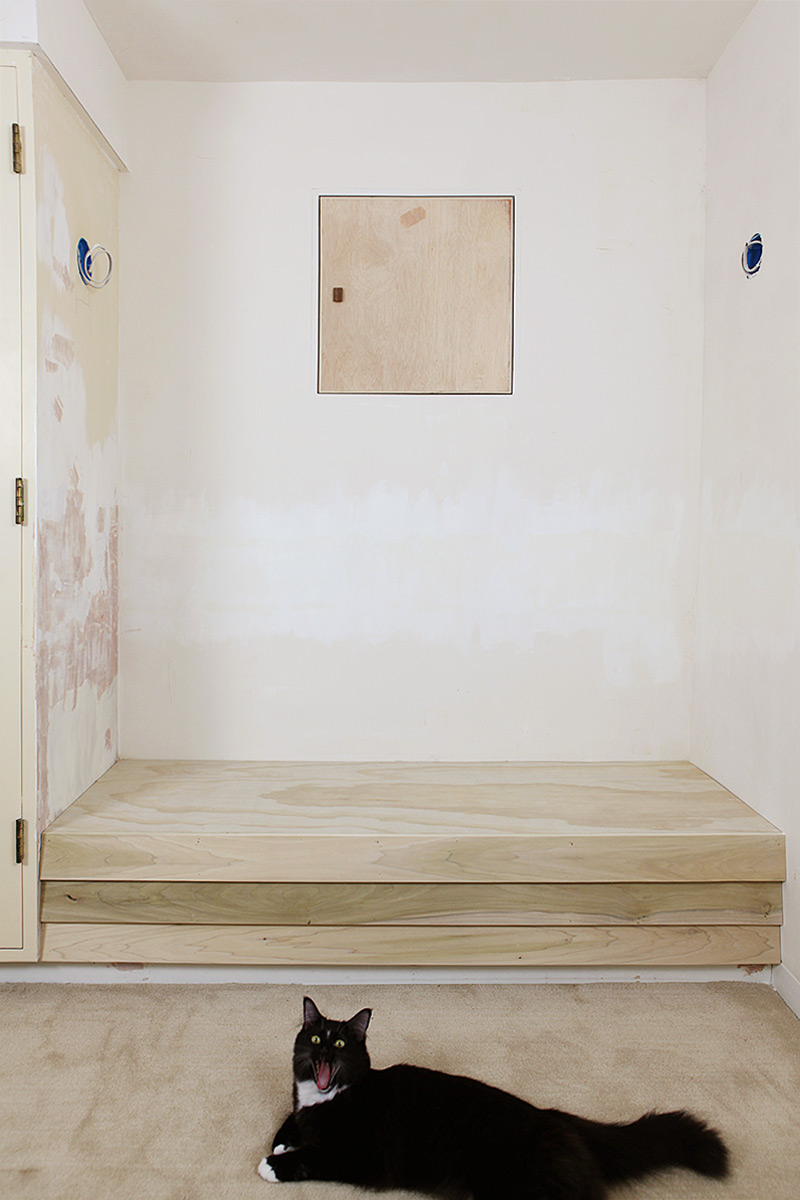 Here is the before again.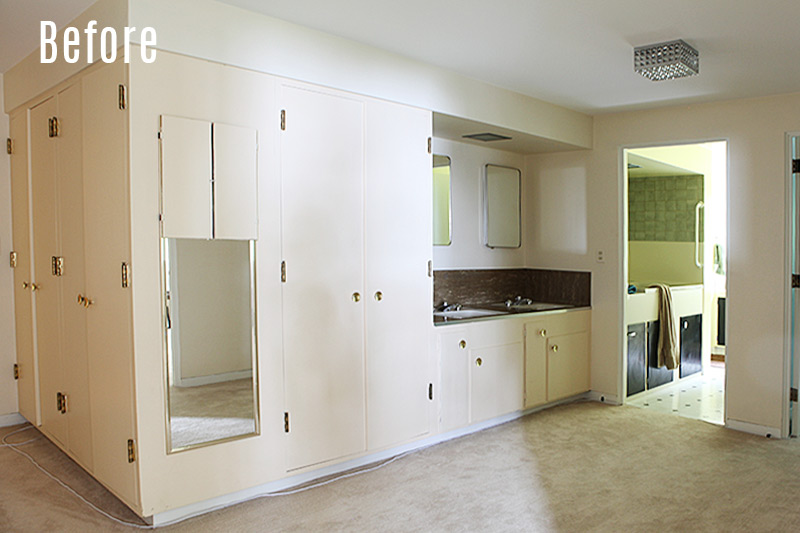 And here is the progress. Ready for paint and finishes. And some day I hope to also have an image like this with the door open to a finished bathroom. Until then...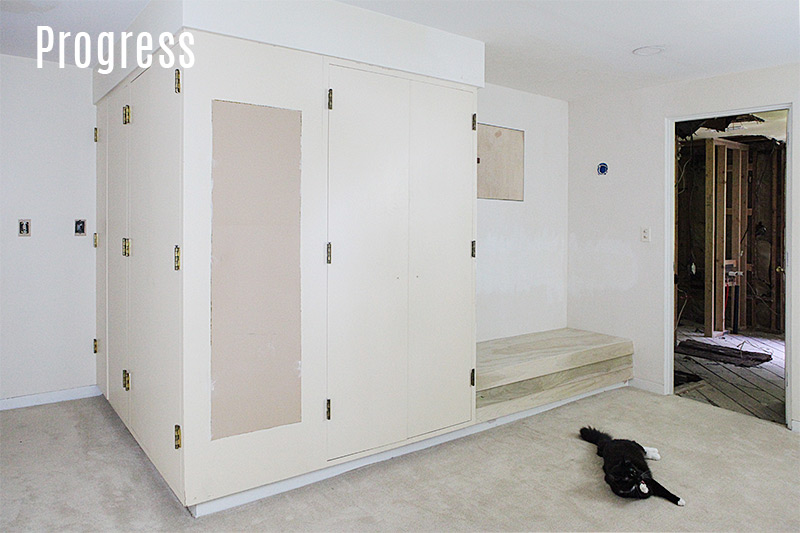 Here is a list of things we want to make for this room:
Paint everything
Sew a cushion with piping for the bench
Make a large bean bag chair
Build a mirror
Make some artwork to cover the access panel
Install sconces (They already arrived)
Make some guitar hooks for the wall across the bench
Follow along in real time on Instagram stories - usually on Saturdays: @ahomefordesignfoodcrafts
Share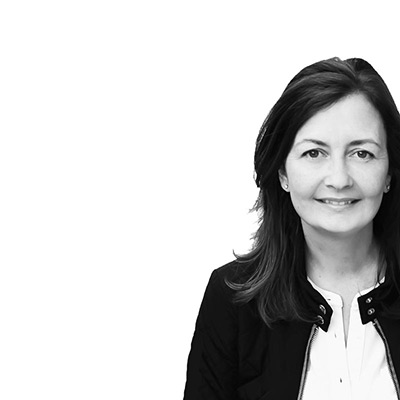 About Katja Kromann
I am a Danish American decorating life in Seattle. I love all things design and DIY.
I can't think of anything more fun than coming up with project, making it, photographing it and sharing it with you on my websites.
I am a
Graphic Artist
and home maker by day.
AHomeForDesign.com
AHomeForFood.com
AHomeForCrafts.com
Categories
Building a seating bench with a slanted slatted front - Midcentury style - Teen den progress is posted in the category
Instagram
Search
We have been featured here
Full list
here
Search
We have been featured here
Full list
here