Outdoor lounge area and patio reveal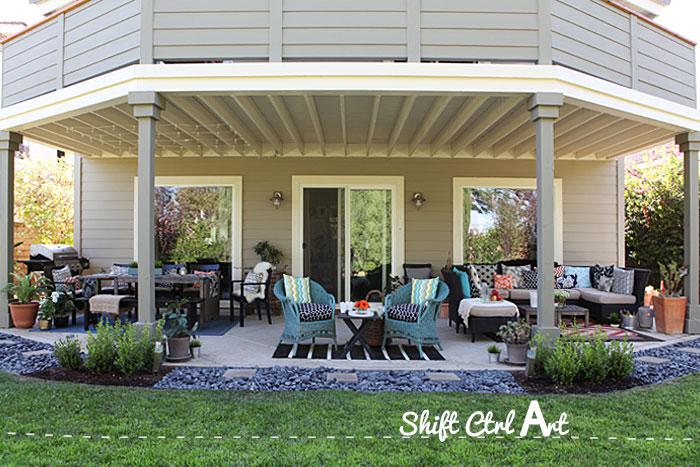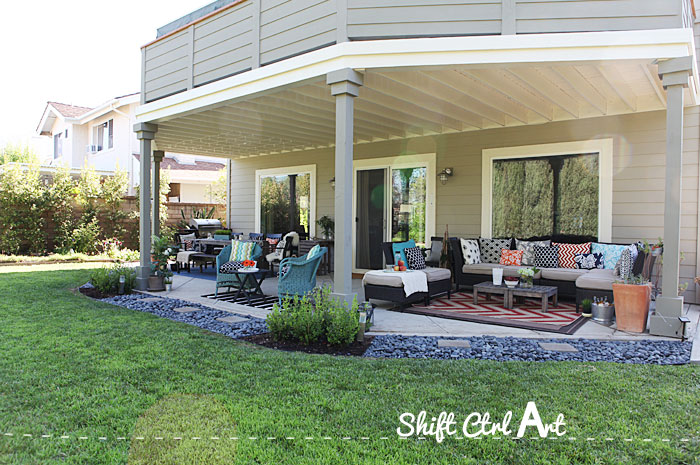 This is our finished patio space.

Let's see some of the before and progress pictures.

2009 - just before moving in:




2013 - January




The windows were added in 2010, the patio painted in 2013. Still missing the new hand rail on the deck railing here.

2013 - April




New dining chairs bought, hand rail installed. Sprinklers moved. Rock bed completed.

2013 - August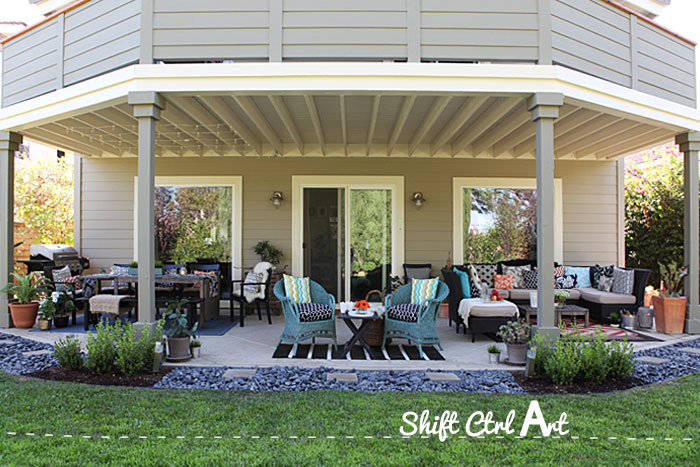 Every last pillow sewn... 20, but who's counting... It's going to be a while before I sew even one more pillow, I can tell you that much...



Look how much the boxwood grew.

Here are some detail shots.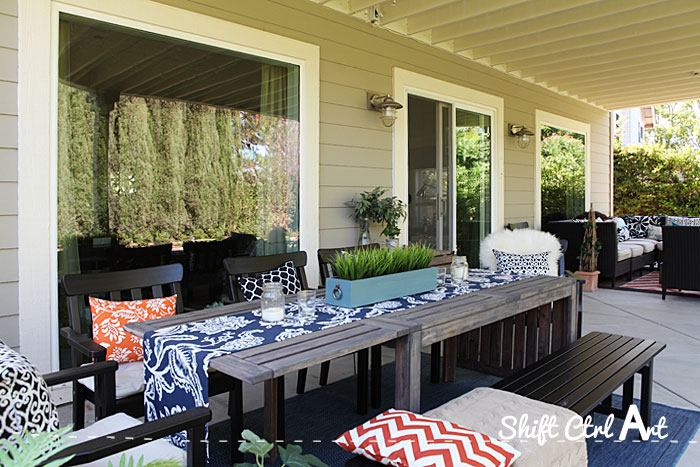 Find out how I painted the tables that barn wood color. We also built that planter box. Full tutorial here.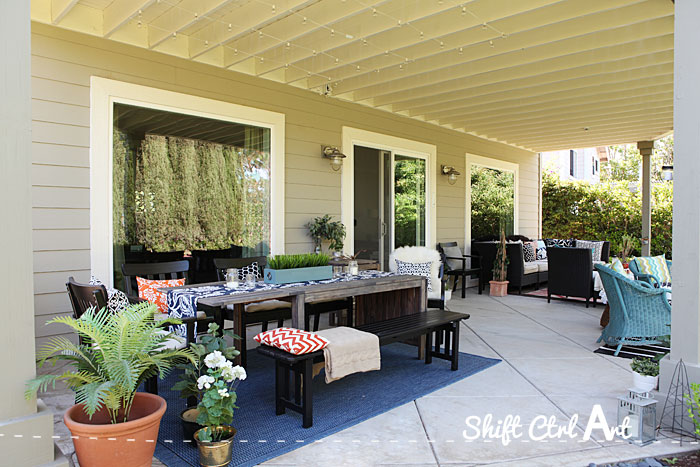 See here how we hung the globe lights over the dining area. And read more about the dining area reveal here.




Read about our solar and LED lights in the garden and all our forever plants.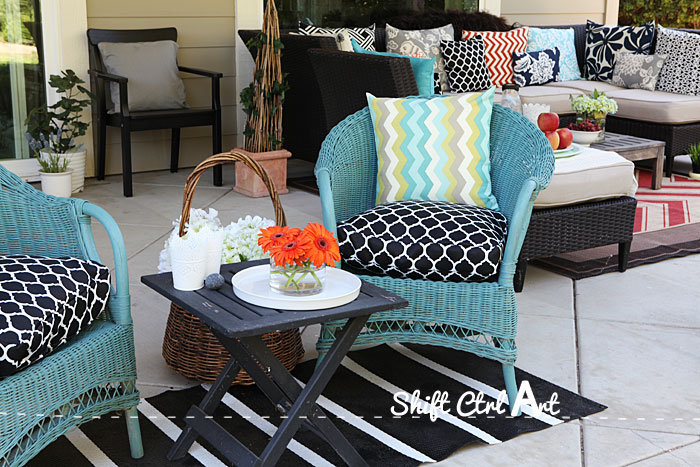 Read about how I made those seat cushion covers and sewed all the zippered pillows. I also spray-painted the chairs (video).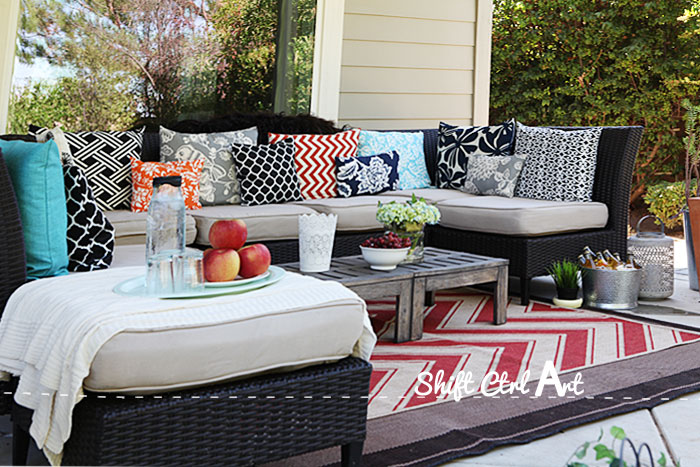 Then I procrastinated for a couple of months on sewing all the pillows. Proof? They were supposed to be for June's challenge: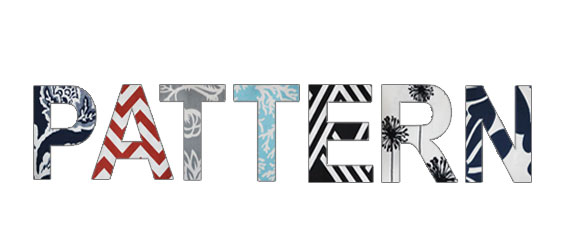 You can see I even used the fabric to spell the word. The best laid plans, right ...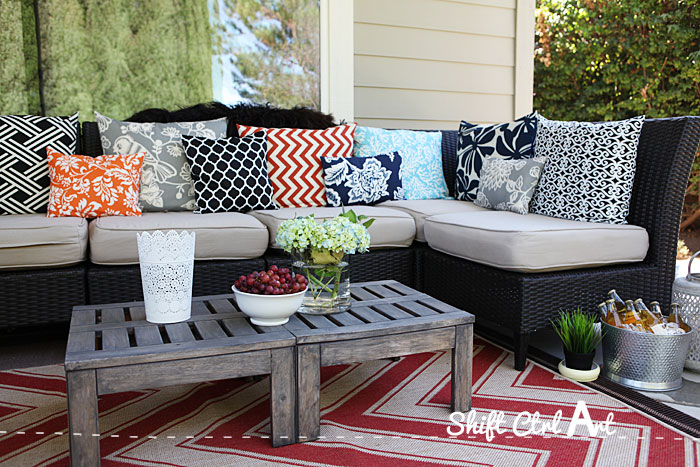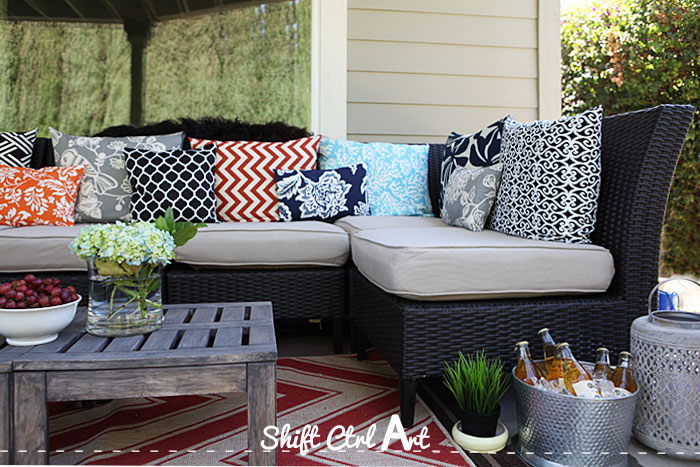 Most of the fabric is from Fabric.com. The rest is from Joann's.

Here is the source list: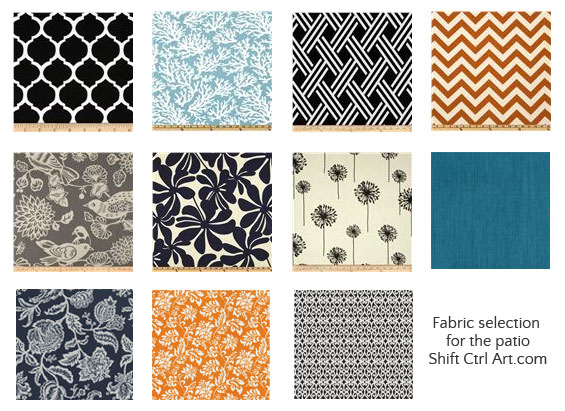 1, 2, 3, 4, 5, 6, 7, 8, 9, 10, 11 - The blue and green chevron fabric used on the back cushions in the wicker chairs was from JoAnn's, but is not on their website.

I wrote about finding the rugs here.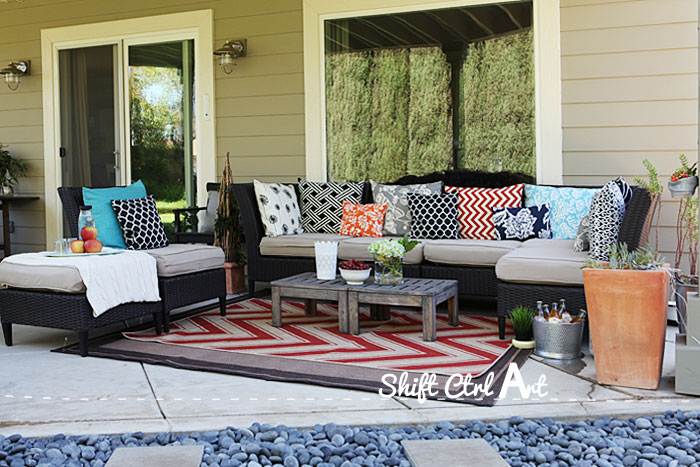 Here is all that we did with the patio and deck.
1. Power wash the deck and patio done
2. Plane and cut new Cedar wood hand rail for the top of the guard rail on the deck. done here
3. Stain the new Cedar wood hand rail and install it. done in above orange link.
4. Paint guard rail and columns. Here and in above orange link.
5. Move the sprinklers away from the columns and extend the concrete patio pathway - done
6. Make a flower bed with rocks and box wood and drip lines - done in above orange link.
7. Replace the trim around the feet of columns. done!
9. Painting the deck floor upstairs - done
10. Hang lights on ceiling of patio - done
11. Decorate: Paint tables barn wood color - done, add solar and LED light - done, Sew pillows and cushions - done and done, add some forever plants - done.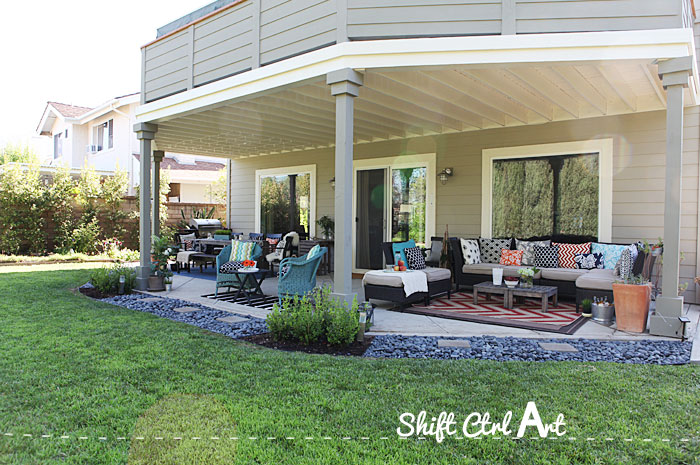 I had to replenish the rocks in the rock beds because I keep using them for projects, so the other day I bought three more bags of rocks and added them.

B loves to jump from paver to paver in the rock bed so they do slide around a bit which gives you that "lived in" feeling



Do you ever procrastinate on projects like I did with my pillow covers?

The Better Homes and Garden's photo shoot and our upcoming annual garden brunch is what finally gave me the kick in the you-know-where to get it done.
Sharing with Thrifty Decor Chick
Next, the following spring:
Memorial day sale for a patio spruce up
.
Share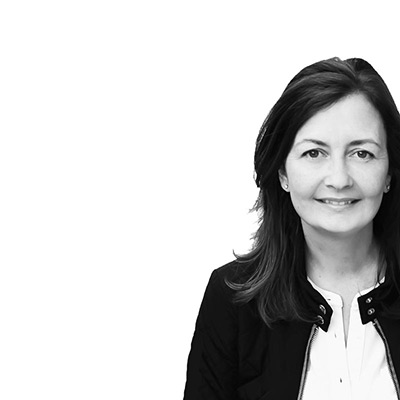 About Katja Kromann
I am a Danish American decorating life in Seattle. I love all things design and DIY.
I can't think of anything more fun than coming up with project, making it, photographing it and sharing it with you on my websites.
I am a
Graphic Artist
and home maker by day.
AHomeForDesign.com
AHomeForFood.com
AHomeForCrafts.com
Categories
Instagram
Search
We have been featured here
Full list
here
Search
We have been featured here
Full list
here