Make a chunky bracelet with beads and chains.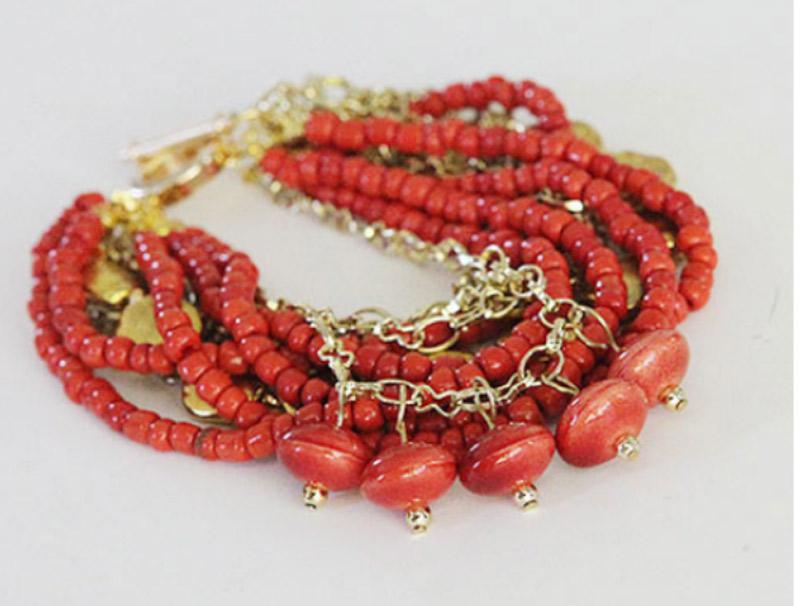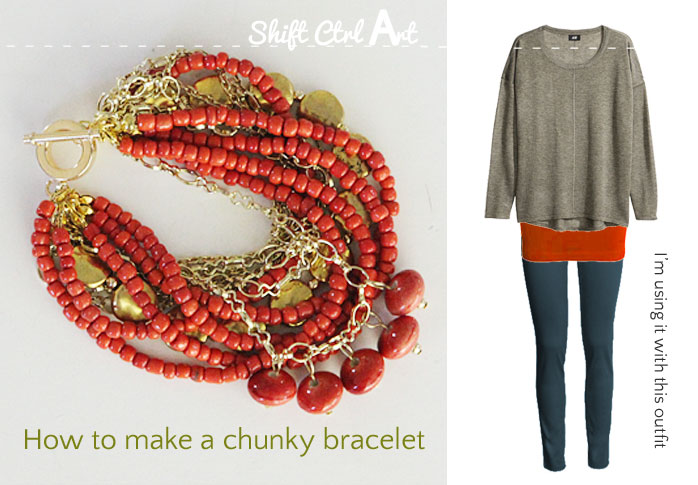 A couple of weeks ago, B took a summer class in dessert making from around the world offered by Sur la Table. Each day, they made four desserts from a different country: the US, England, Mexico, France and Italy. The classes were held at the mall quite a bit away from where we live, so I had two hours of free time on my hands while he was at class each day for a week. So I went shopping...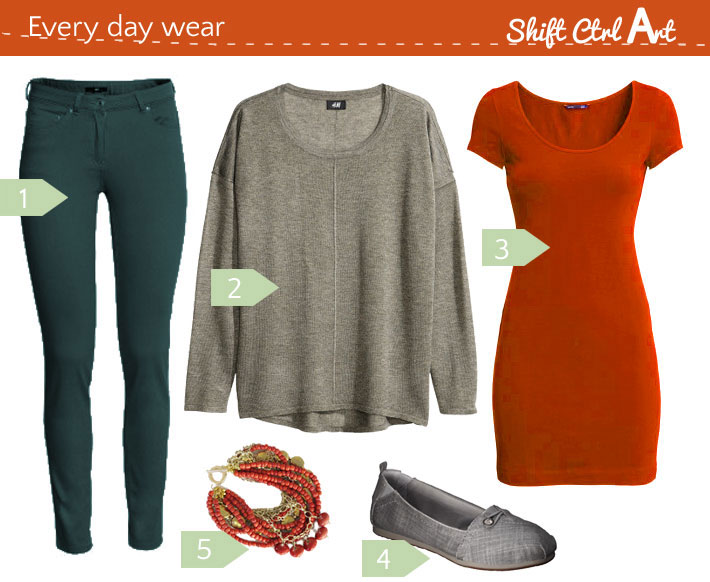 1
Pants
, 2
Sweater
, 3
t-shirt dress
, 4
shoes
. 5 bracelet - this blogpost. They didn't have the exact color of pants and t-shirt dress on the website, but they were in the store.
Ok, I am actually not much of a shopper, but I did manage to find this outfit at H&M. The shoes I bought a couple of weeks earlier from Target.
It's a comfortable, every day outfit and something I would also wear to a brunch or a Mom's Night Out. Only then I would dress it up with a bracelet. At first I considered a necklace, but I am not much of a necklace wearer, which you wouldn't guess by my profile photo. (I'll share how I made that necklace another time.) I much prefer to wear a bracelet for some reason.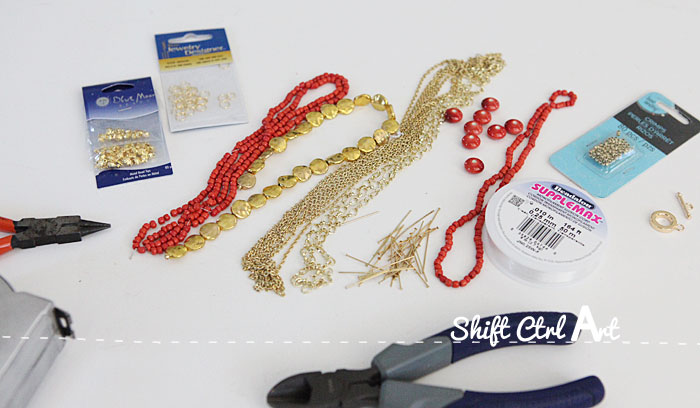 I wanted a bracelet with gold and orange and I was in the mood for something quite chunky. These are the supplies I used.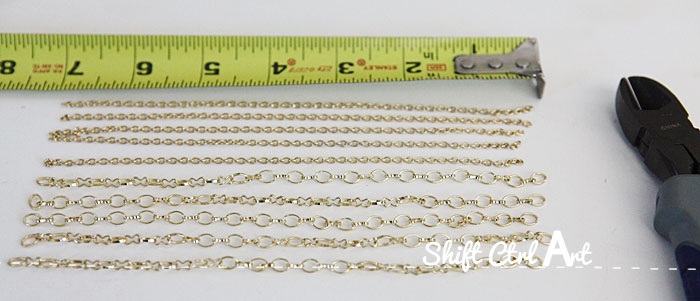 First I cut some of the chains to 7 inch lengths. I measured an existing bracelet that I already have, to determine that length.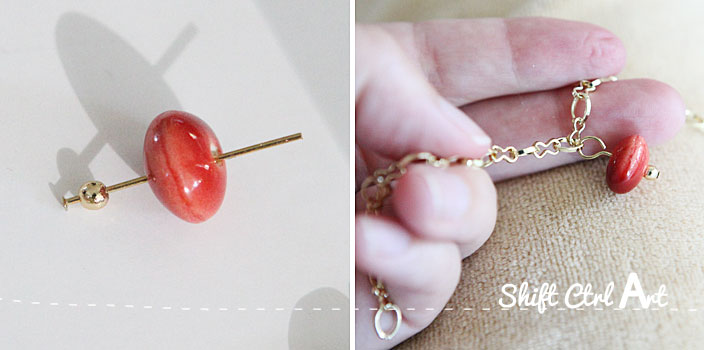 I used a gold (I use the term "gold" lightly here) pin, an orange ceramic bead and a small gold bead to stop the pin from going through the orange bead. I looped the end with my jewelry pliers - they have round tips - see two pictures down - while attaching it to one of the chain links.

Here is that finished strand with five ceramic beads in the middle.

For the beaded strands, I used jewelry fish line. First I added a crimp bead at the end. It's a little circle of metal and it can be crimped onto the fishing line in stead of tying a knot. A knot would just unravel, I think. Then I added this gold
bead tip knot end cover
over the crimp bead. I also used this crimp beads and fish line when I made the
beaded garlands for the miniature Christmas trees for our Christmas table
last year.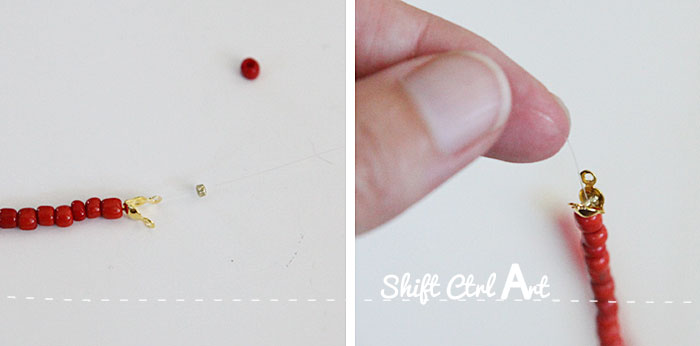 I added some orange beads to the fish line and closed the other end in the same way, just in the reverse order. Thread on the gold
bead tip knot end cover
, then put the crimp bead on the line, crimp it, cut the excess fish line, and close the gold thing over it. Don't make it too tight or the strand of beads will be all stiff feeling.

Here is the finished strand. I made five of these.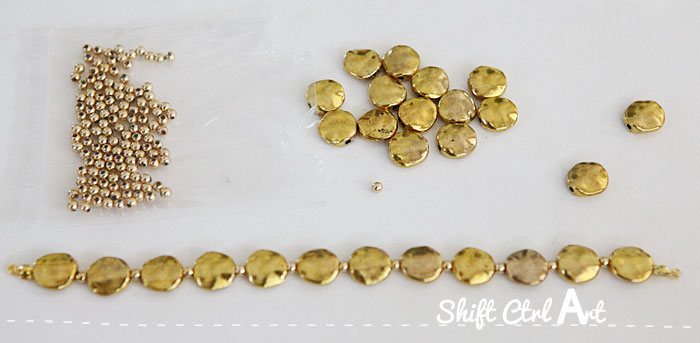 I made another one in the same way, but alternating between two different kinds of "gold" beads.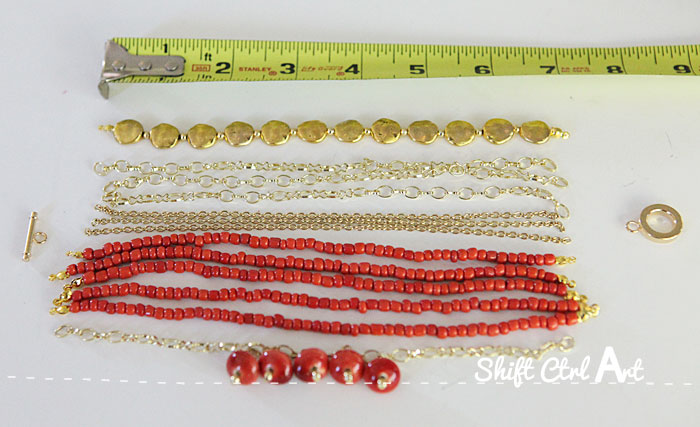 Then I laid out all the strands and my gold closure.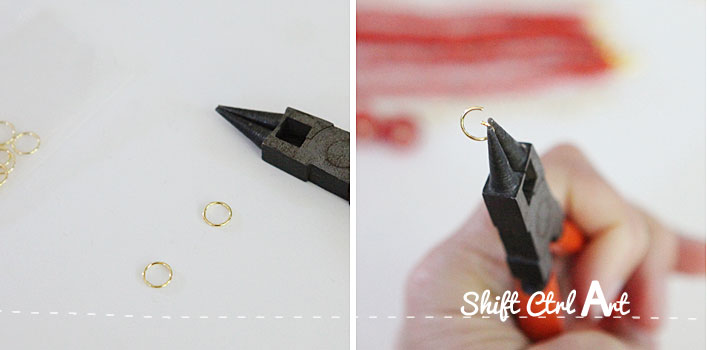 Next, I used some gold loops to put everything together. These turned out to be on the thin side. I will switch them out with some thicker ones for better durability next time I go to JoAnn's which is where I bought all the supplies you saw here.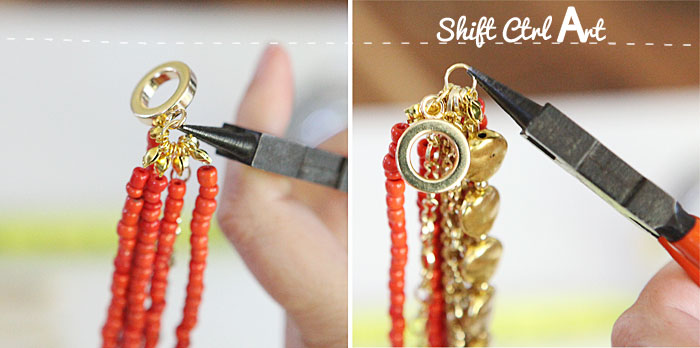 I put half of the strands on one ring, the other half on another ring, then put them on the big closure thing. At the other end I did the same, only I spaced the bracelet with another ring between the two rings with all the strands on them and the ring of the closure pin. That way there was enough room to angle the pin to have go through the closure ring. Phew... that sounds much more complicated than it actually was.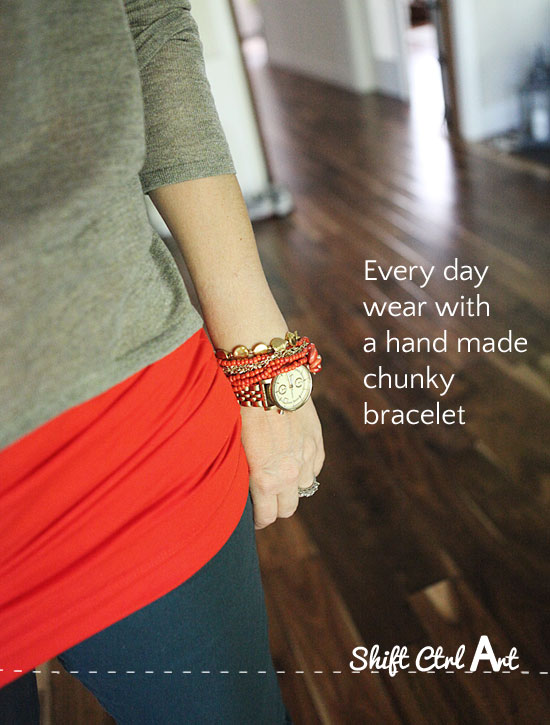 And here I am wearing the bracelet with my currently favorite watch, which I talked about
here
. And I am wearing the outfit as well.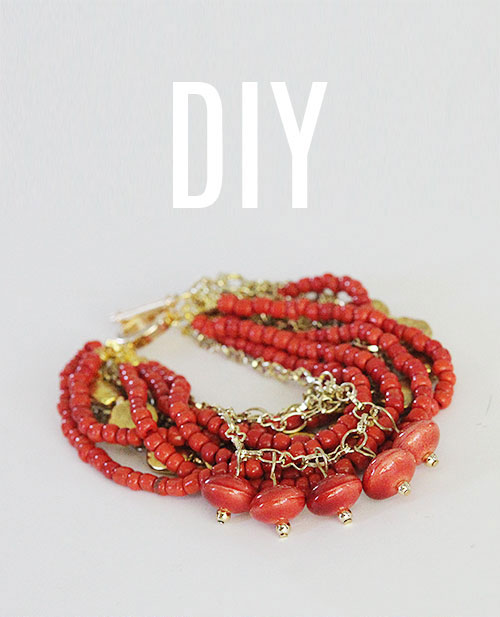 Did I just answer my question of what I should wear when
Better Homes & Gardens comes to shoot our bathroom remodel
in a little while? Maybe...

Do you prefer to wear bracelets over necklaces, or the other way around?
Share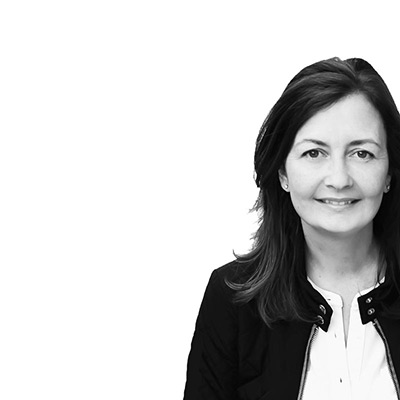 Search
We have been featured here
Full list
here