My new swing arm lamp and living room gallery wall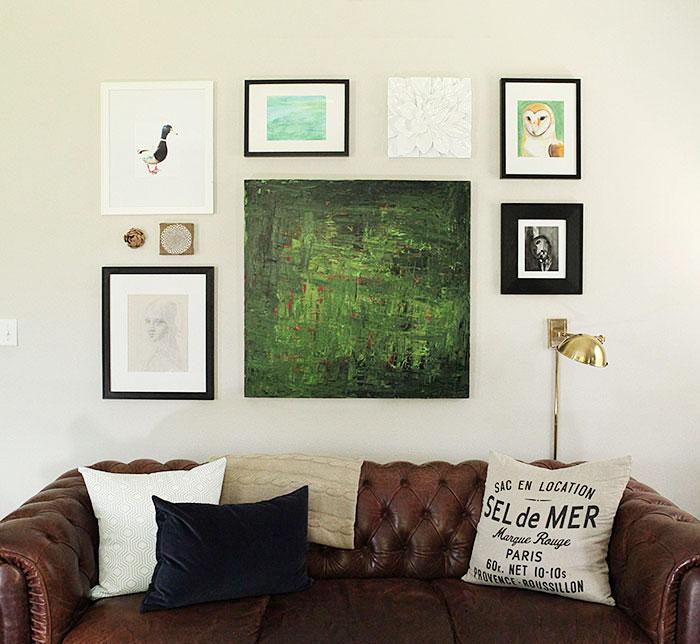 This is a new lamp we got recently for the living room. It looks similar to the one I originally planned for our
seating bench area
in the master bath, only
we changed the plan for vanity lights
up there, and that in turn changed the light we got for the seating bench. Still wanted that brass lamp though.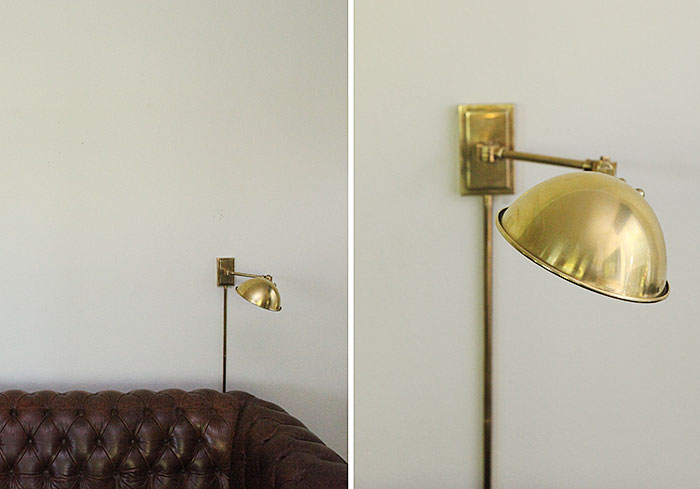 Earlier this year, my friend Emily over at
Go Haus Go
, turned me on to
Open Box shopping
at Lamps plus. New lamps, but with the tape ripped off the box. Or something. Bottom line = less of a bottom line. As in savings. Sign me up.
I browsed around and found this beauty. It's the
Ant Bee antique brass swing arm lamp
. Usually $235.80 plus tax. Open box price only $103.86 plus tax - shipping was free.
This lamp is insanely stylish, but I also have to say that you get what you pay for and a hundred bucks will only get you so much lamp. As in the quality is not dazzling. For instance the screws you tighten to fasten the lamp in a certain position are not working
that
great. This lamp is more for looking at, than swinging back and fourth a lot. Quite possibly the reason it was returned in the first place and up for grabs at a reduced price.
So we did what we always do in a situation like this: we called a family meeting, handed out a 14 bullet long agenda and discussed the cost benefit of keeping vs returning. Keeping won because style met dollars at just the right spot on one of our hand drawn graphs. #notreally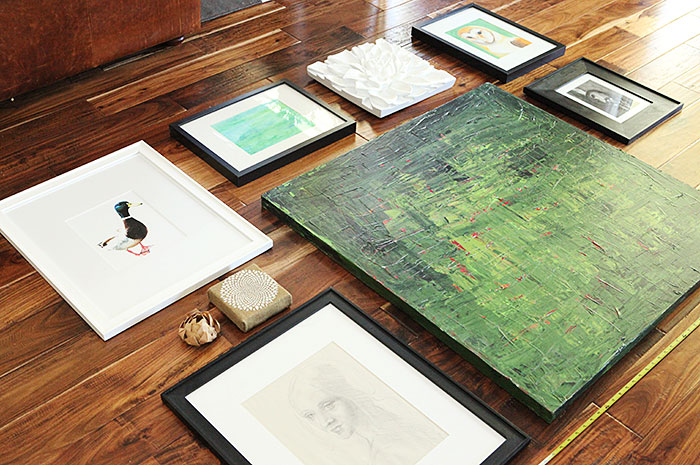 To hang the lamp we had to move one of the pictures of our gallery wall and I took that as an excellent opportunity to re-hang everything in a different style and swap out some pieces. Let me take you through that process, why don't I.
First, I measured the space over the sofa. I thought my old gallery wall was a bit too wide and not tall enough.
I measured out this new space on the floor and arranged all my art here first, making sure that it would all fit. You can see that I rolled out a tape measure at the bottom. I tried to keep all the spaces about the same around all the images. About 5 inches.
Oh, I also filled all the holes from the old gallery wall and touched up the paint. Noticed that the touch up paint is ever so slightly darker than the walls now - probably due to sun fading. So I mentally added a fresh coat of paint in here to my to-do list. Sometime. Fun.
Then I hung everything up. Aaaaand took everything back down and photographed the wall as I was hanging everything back up in the same order. #weirdthingsbloggersdo.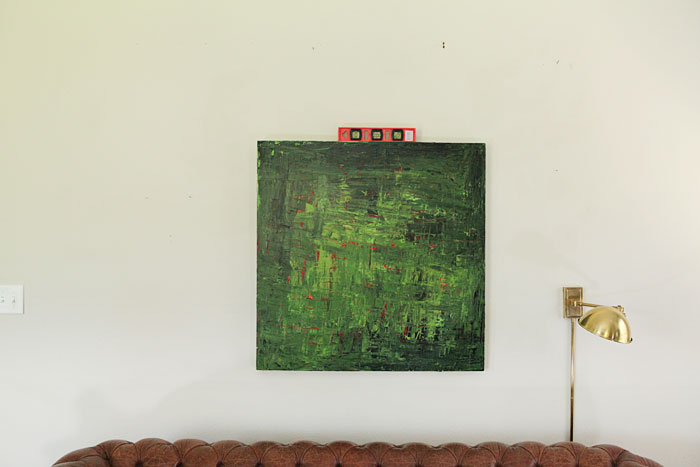 First I centered my 36 x 36 inch green abstract painting over the sofa. I painted this back in 2008 or so. It is by far one of my most favorite abstract paintings of my own.
Next I turned my attention to the three frames for the corners.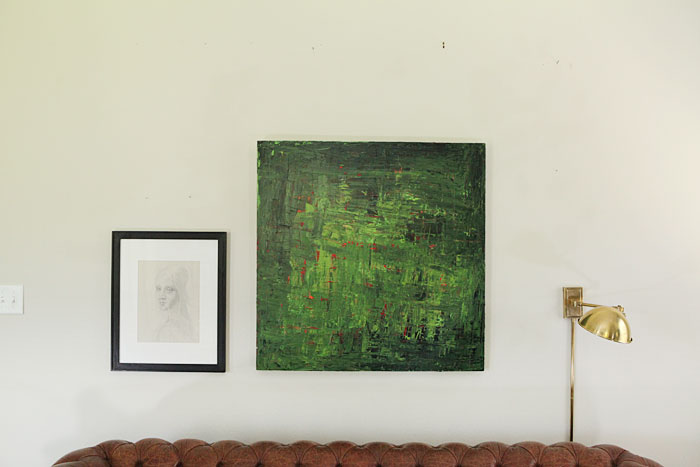 I hung this bottom left corner picture to make sure that the gallery wall overall would look centered. I wanted the lamp to be part of the gallery wall rather than sitting next to it.
I drew that lady on packaging paper at art class a couple of years ago. I was looking at a Leonardo Da Vinci drawing while drawing her.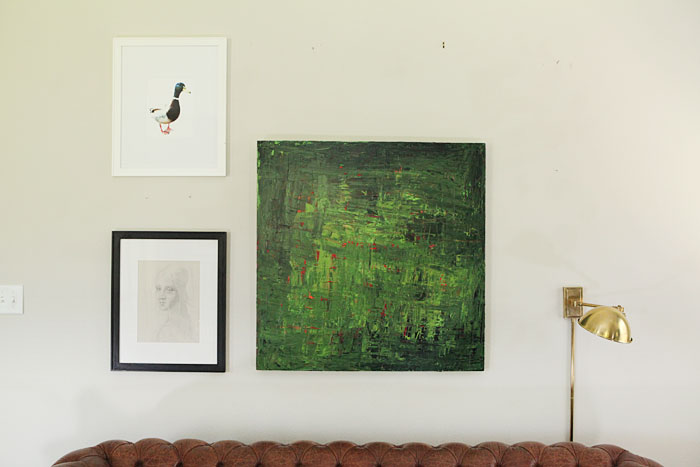 Next, I hung the upper left corner at the new height. I will show you in a minute how this gallery wall now lines up at the top with the gallery wall over on the left.
This is the
watercolor duck
I made recently. I put him in a larger frame with a large white mat to give him more presence. I also wanted this frame to have the same size as the one below for some structure to the arrangement. The watercolor duck is a free
download
.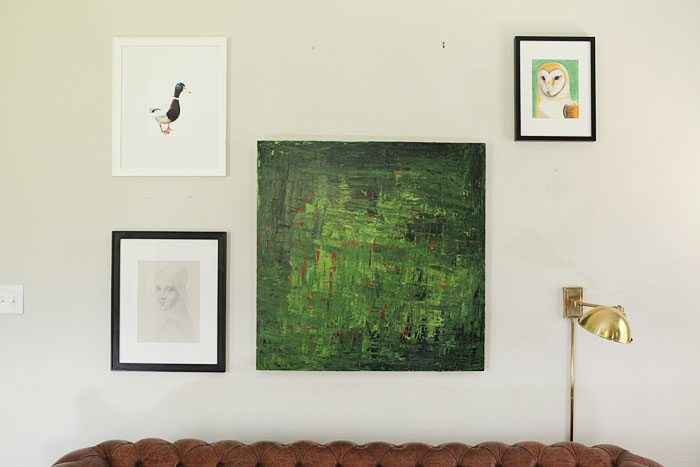 Then it was time for the final corner - upper right. This owl used to hang over by the kitchen, but I moved it here because the green background goes really well with the other greens and the golden tones on the owl go really well with the new brass lamp.
B drew this master piece at art class a few years ago #beamingwithpride.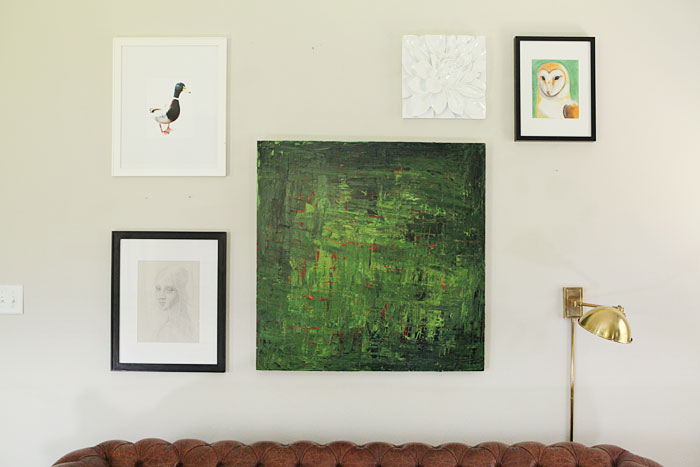 With the four corners in place I moved on to filling in the last spaces. I hung this
ceramic Lotus flower
from Zgallerie at the same height as the owl and the duck.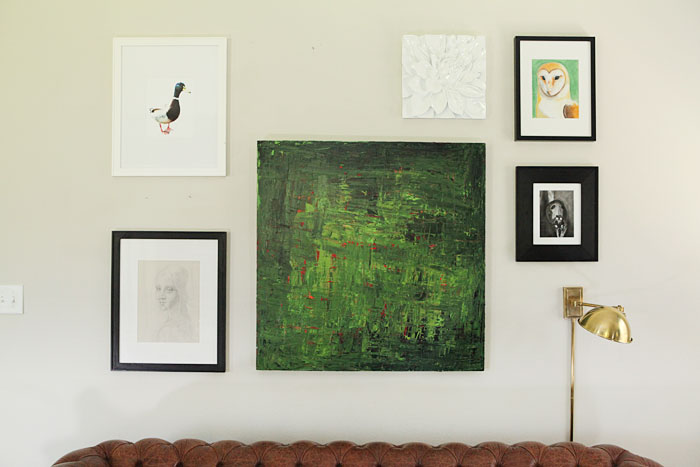 Below the owl, I hung a charcoal drawing of a ladybug I made in art class. I used an extreme closeup photo of a ladybug to look at while I drew it. I debated for a while if I wanted the brass lamp to line up exactly under the center of the owl and ladybug, but decided it looked better a bit to the right of that line.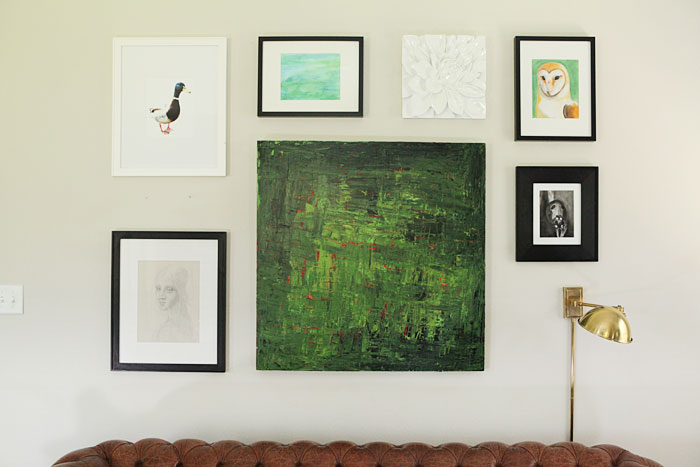 To the left of the Lotus flower, I put an abstract watercolor I did with B a couple of years ago. This was a super quick project. Green and blue water color. Two brushes. A piece of watercolor paper. Go. Five minutes later: Done.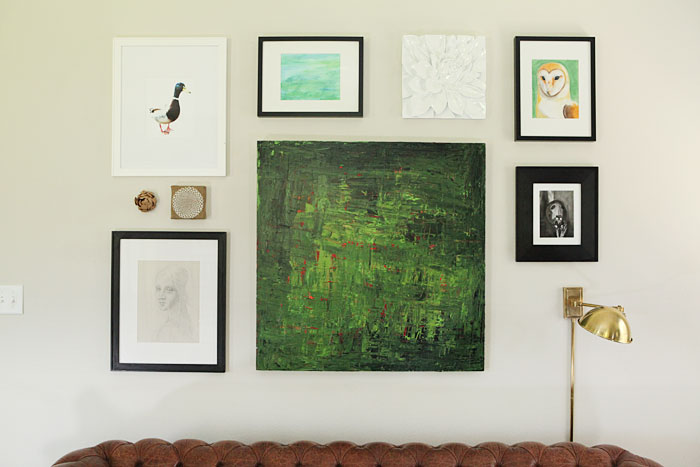 Under the watercolor duck, I filled in with two small things. A little stretched canvas that I covered with some burlap fabric. The circle pattern is ironed on - All three supplies are from JoAnn's. To the left of that a flower B folded for me out of Kraft wrapping pattern. He found the tutorial
here
. He made the leaves the same color as the flower itself.
Here is that whole process as a gif.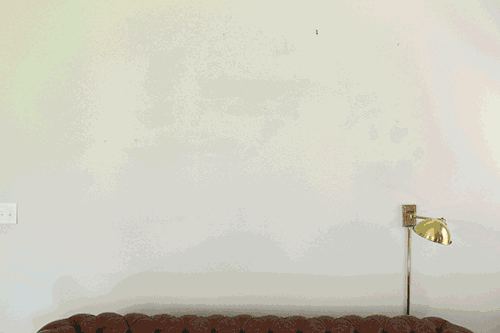 Below is a side by side picture of the gallery wall before and after. Before it was not as tall as the gallery wall over by the console table. Now it is.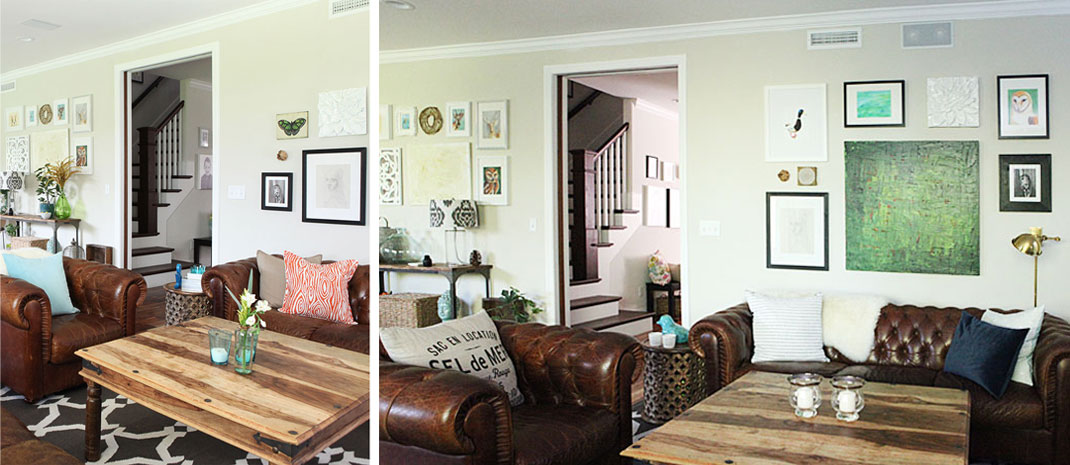 That's the long tale of our new gallery wall and brass swing arm lamp in the living room.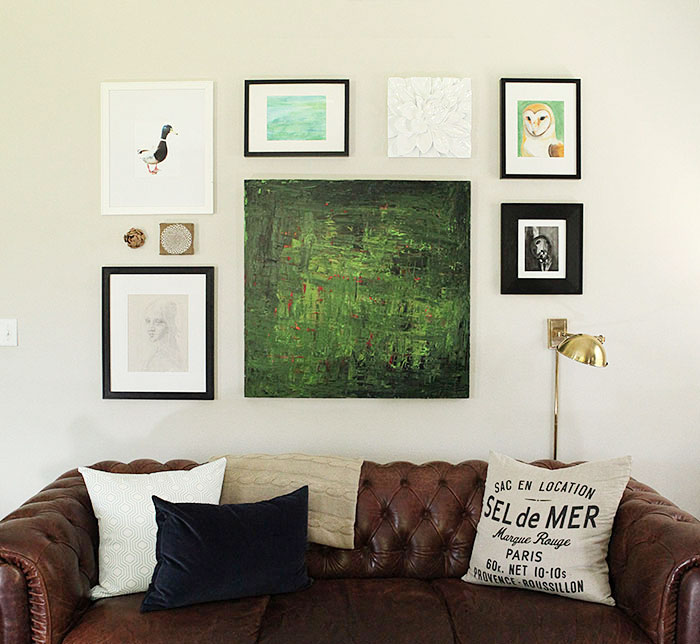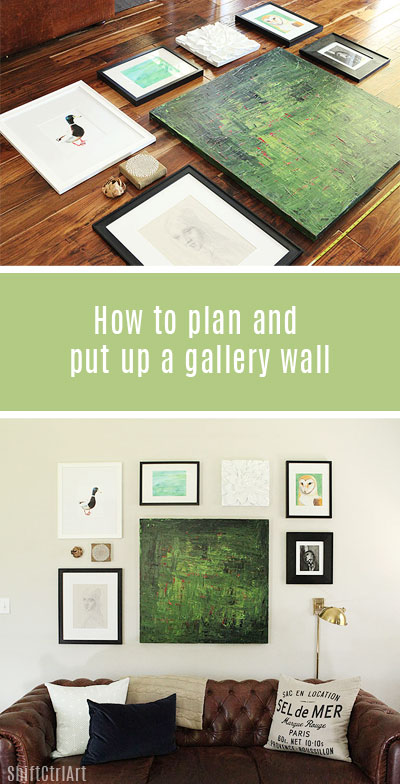 Share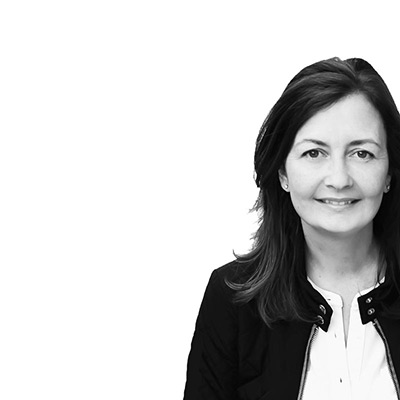 About Katja Kromann
I am a Danish American decorating life in Seattle. I love all things design and DIY.
I can't think of anything more fun than coming up with project, making it, photographing it and sharing it with you on my websites.
I am a
Graphic Artist
and home maker by day.
AHomeForDesign.com
AHomeForFood.com
AHomeForCrafts.com
Categories
My new swing arm lamp and living room gallery wall is posted in the category
Decor
|
Living room
Instagram
Search
We have been featured here
Full list
here
Search
We have been featured here
Full list
here