Advent decoration
This is a Scandinavian tradition: Advent lights. It is basically a decoration, most often a wreath displayed horizontally with 4 candles on it.
You usually burn one candle the first Sunday of advent, two the following etc. until you get to Christmas.
I do not really like the look of the uneven candles as they burn down that way, so instead I burn all of them one fourth each Advent Sunday or as I did this year, had no time and used it as a Christmas eve decoration instead.
I used a silver serving dish as the bowl for my decoration. To protect it I covered the inside with a double layer of plastic wrap. (mine is an heirloom piece, but you could use something more contemporary or search the local thrift stores.)
I added four low glass candle holders (from
IKEA
) and a small succulent that I picked up at
Lowes
. I placed the plant on a lid from a sour cream container for added protection of my dish.
This is what that looked like: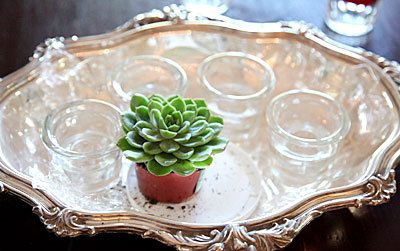 Then I filled in the room with
moss
and odds and ends from my Christmas boxes.
I got some glitter candles from
Target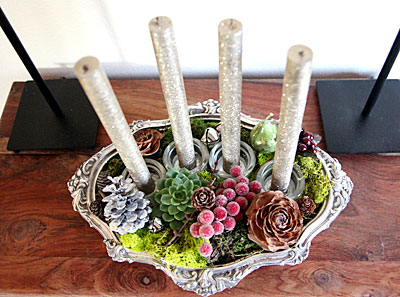 Another view: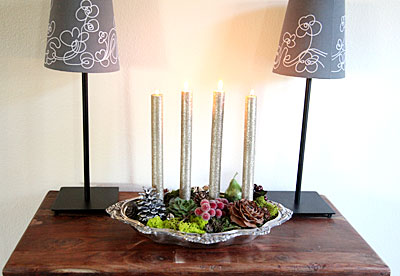 The lamps are from
IKEA
.
Share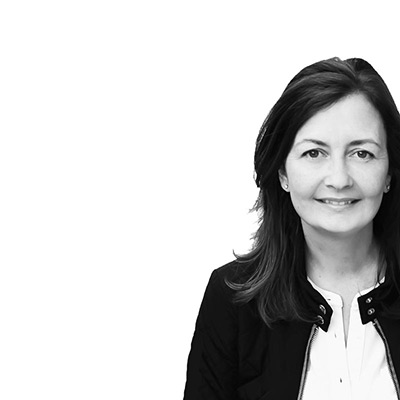 About Katja Kromann
I am a Danish American decorating life in Seattle. I love all things design and DIY.
I can't think of anything more fun than coming up with project, making it, photographing it and sharing it with you on my websites.
I am a
Graphic Artist
and home maker by day.
AHomeForDesign.com
AHomeForFood.com
AHomeForCrafts.com
Categories
Instagram
Search
We have been featured here
Full list
here
Search
We have been featured here
Full list
here